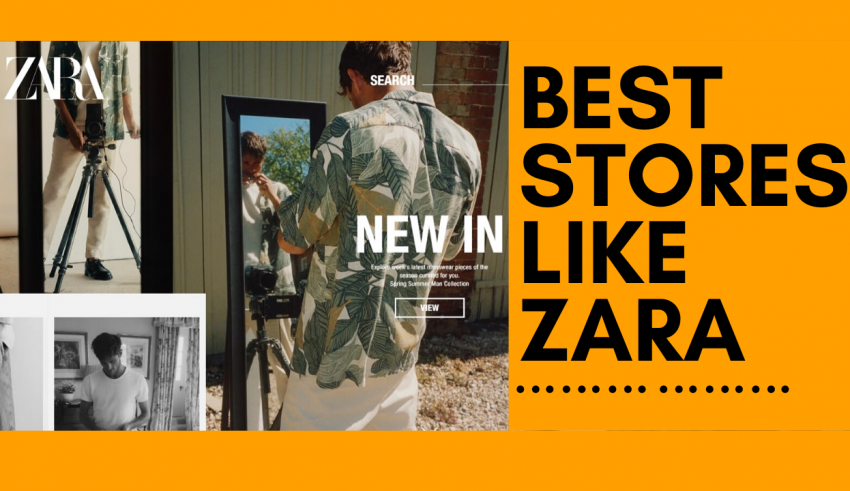 Zara is one of the most renowned global fashion brands and high street fashion retailers, that specializes in fast fashion and trendy ready-to-wear fashion clothing for women and men. With over 500 physical stores around the world, Zara has managed to always produce clothing that is spot-on trending. The nature of trends is itself a fleeting one; they change with a blink of an eye. And this is where Zara's innovative business model comes into play.
They have perhaps, the fastest supply chain in the fashion market, which makes their product turnover rate, the maximum in the fashion world. This ensures them to introduce the latest runway designs and trends before other known brands in the market.
Their classic styles are a must-have to adorn every fashionista of modern times. But even if your closet is filled with the latest pieces from Zara, it is very likely that many other fashion enthusiasts have the same pieces as you. So, we have curated a list of stores like Zara that will offer you the same vibe as the brand and also let you flaunt your unique individual style at the same time.  
Here is the list of Best Alternatives of Zara: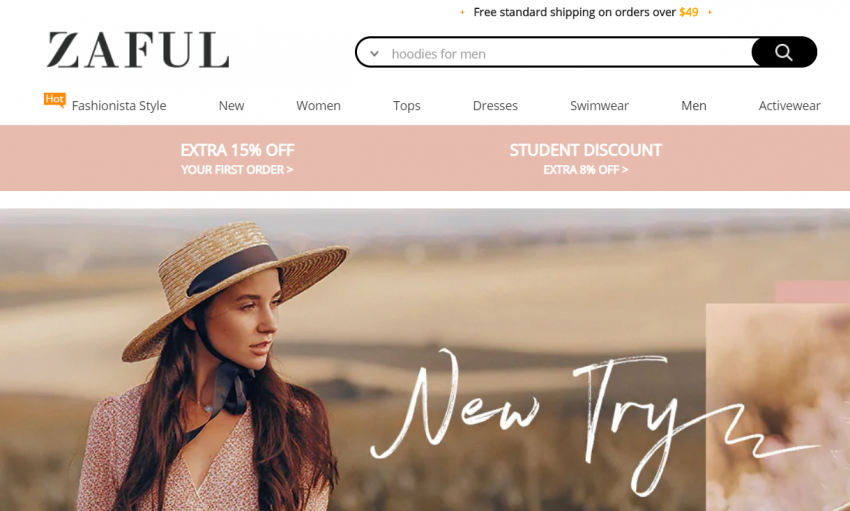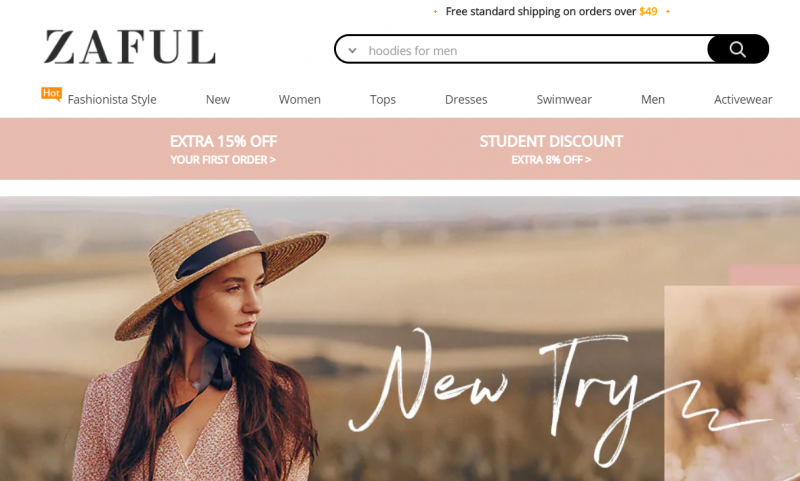 If you are looking for trendy and fast fashionable clothing, look no further than this amazing web store, which is one of the best online stores like Zara, operating globally. Zaful is your one-stop-shop for most daring and edgy contemporary fashion apparel. Their women's clothing collections are all about redefining trends, design intelligence and exceptional quality to satisfy the needs of every aspiring fashionista, and all of it at prices that are affordable for all.  
Their unbeatable variety of prints and patterns, styles, materials is something to mull over. They have everything from florals to animal prints, from formal wear to stay at home pajamas, from athleisure to lingerie, from holiday wear to party outfits -there is hardly anything that you would not get at this online clothing store.
Besides, do not forget to check out their immense collection of accessories which include sunglasses, hats, jewelry, scarves, bags, and footwear among others. While on their website, you can also browse products on the basis of the latest trends.  
---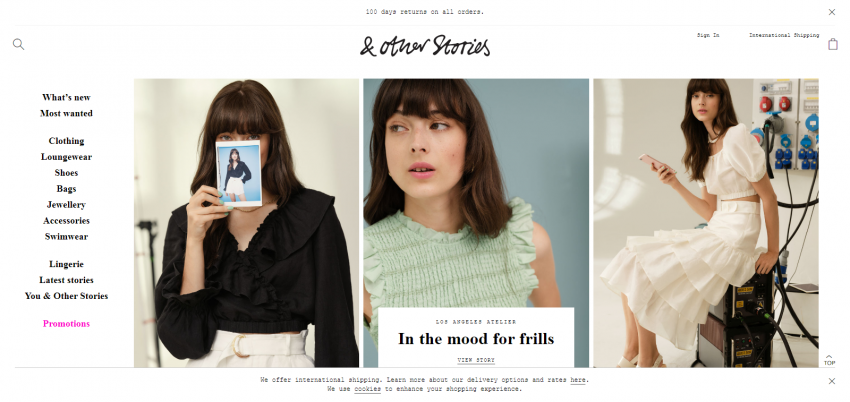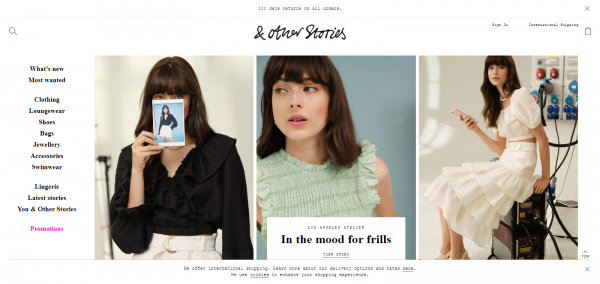 This is one of the most sought after online stores like Zara, which is, in fact, an H&M brand! With an online web-store and many physical stores at its disposal, & Other Stories curates its fashion, by inspiration from the world's top fashion ateliers – Paris, Los Angeles and Stockholm.
Each of these three cities signify an element of their fashion code; romantic essence of a French fashionista, Californian confidence and creativity and the Scandinavian sophistication, all of it is combined in a piece of clothing that you would purchase from this store.  
From clothing, loungewear, lingerie, bags, jewelry and footwear, this store offers everything that you need to look stylish and confident. Plus, the products are all moderately priced and you will easily be able to curate a complete outfit well under $100. Since, this store is a child brand of H&M, you can be sure to avail nothing less than premium quality standards. Also, they have a unique 100 days free returns policy.  
---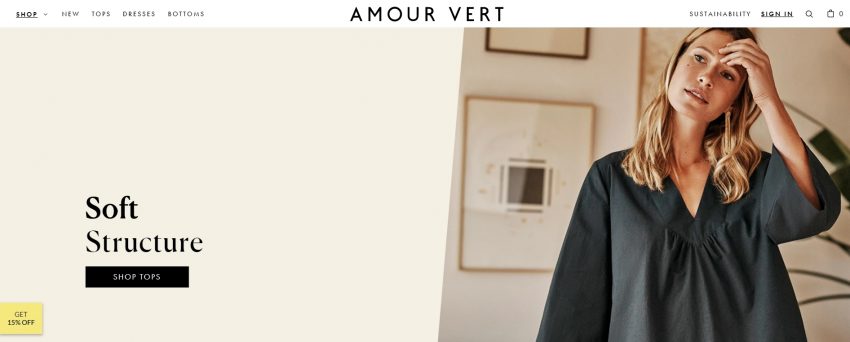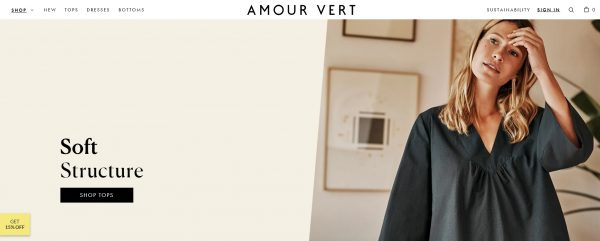 Amour Vert is a classic fashion brand based in the United States. As a brand, they lay strong emphasis on sustainability in every aspect of product manufacturing – from the materials and processes used to employee engagement, packaging and recyclability of their products. Plus, with every t-shirt that you purchase, they will plant a tree, making the brand an eco-conscious one. Another reason to buy from this brand is their exclusively handcrafted clothing, curated in California.  
The clothing from Amour Vert has a signature sophisticated style that is ideal for women who are looking to blend style and comfort. Easy and comfort dresses,  ultra-chic bottom wear and tops that uplift your outfit instantly, they have it all to make you look good. You can also shop designer accessories from the brand. They regularly launch new clothing collections, such as Mother's Day, Spring Collection etc.. so you can match your outfit with the latest trends.  
---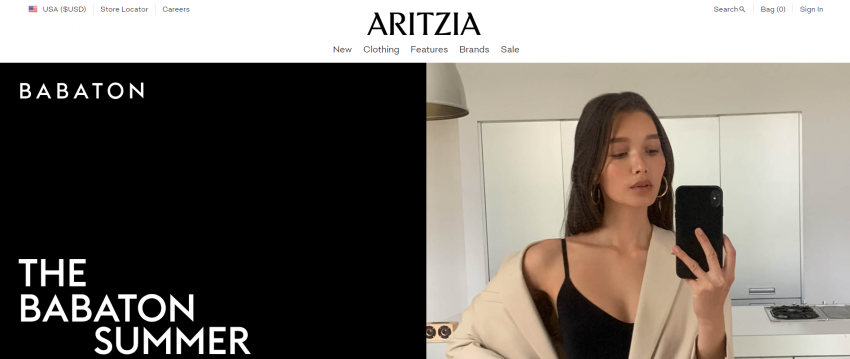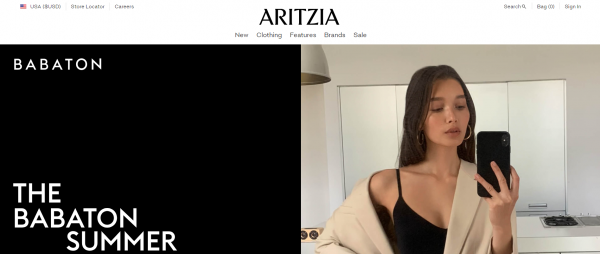 Aritzia Inc. is a Canadian women's fashion brand, which was founded in Vancouver in British Columbia. The tagline on their website reads, 'Beautifully made Clothes. Exceptional Experiences. For Every Woman'. Indeed, they believe in creating individual styles with tailored innovation and design. They develop their own brands with all styles created in-house, treating each as an independent label with its own creative team and aesthetic. Taking inspiration from latest trends in fashion, they curate their unique collections and display them in stores that are all about personifying creative spaces.  
Some of their featured inhouse brands include Babaton, Denim Forum, Wilfred Free, Little Moon and Auxiliary. Collectively, they have every outfit that you will desire for your wardrobe – jackets and sweaters, tops and t-shirts, dresses and bodysuits, trousers and skirts and so much more. The sale prices on Aritzia are worth checking out, for they go as high as a flat 50% off.  
---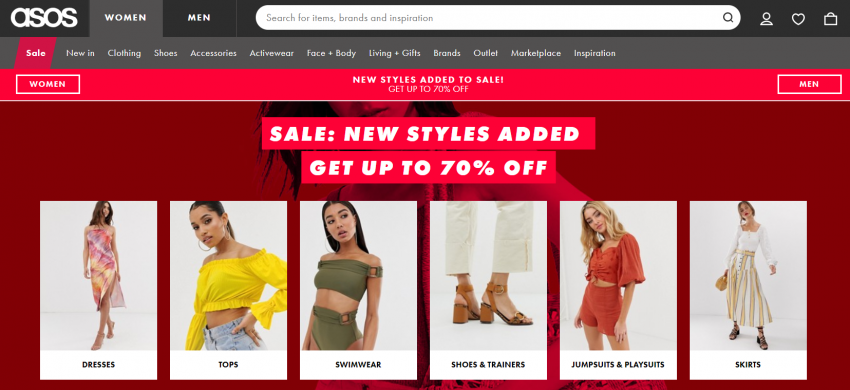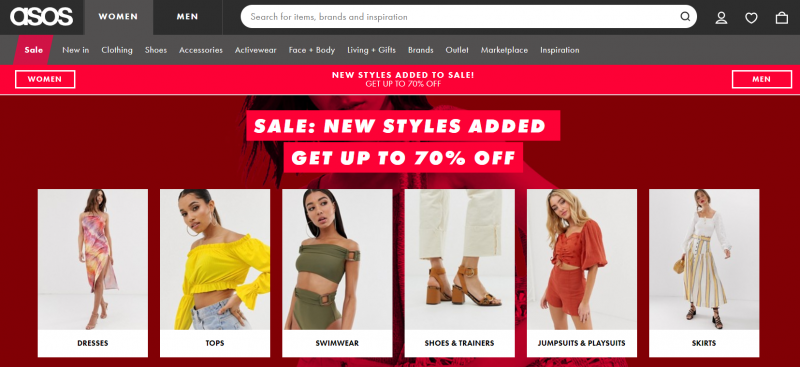 It is indeed, one of the largest online fashion boutique stores like Zara, that stocks designer wear and fashion apparel from a vast catalogue of brands. A lot of its styles are similar to those featured on Zara. As a brand, they believe in diversity and fashion for all. So, their products are available in over 30 sizes and they have additionally partnered with an LGBTQ organization to launch a gender neutral fashion wear collection as a step towards accelerating acceptance. They also actively promote body positivity.  
Here, customers can select from a wide range of products including clothing, beauty and personal care, accessories, footwear, active wear etc.. ASOS ships products worldwide and you can avail free shipping on orders above $40. They have a hassle free 28 days return policy. Pro Tip: Check out their website regularly as they keep on adding some huge and attractive discount coupons for students (and otherwise as well) worldwide! 
---
Barneys At Saks Fifth Avenue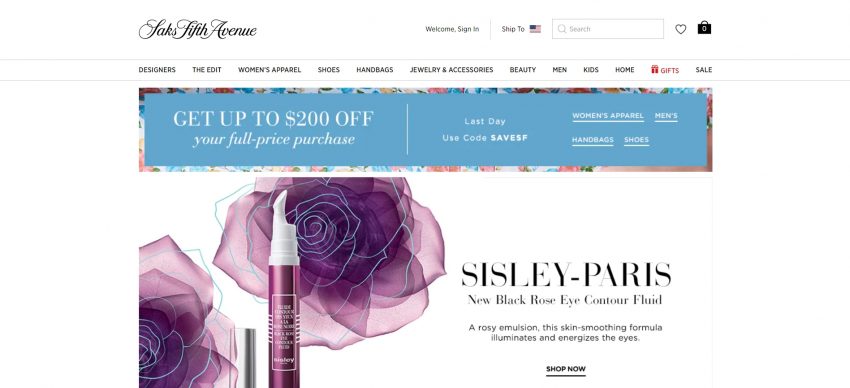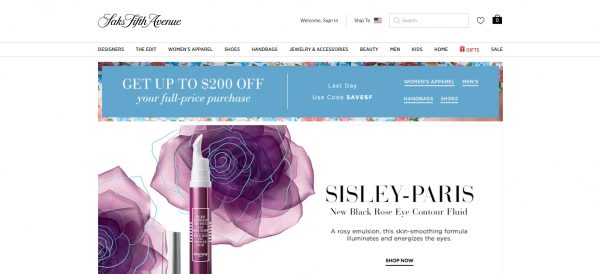 Barneys New York Inc. was an American luxury and fashion clothing department store that had been recently in the headlines for closing many of its standalone stores after the company supposedly went bankrupt. The good news however, is that it sold its stakes to Saks Fifth Avenue and so, you can find your favorite Barneys apparel and accessories at the Saks Fifth Avenue physical as well as online stores.  
They have a great selection of apparel, (some of which you would have seen the girls wearing up in the sitcom FRIENDS). From styles asymmetric skirts, to denim jumpsuits to sweaters that are perfectly irresistible, they offer trendy fashion clothing for men and women that is sure to make some heads turn. Besides, here you can also shop for stylish accessories including necklaces and classic cosmetic products. They also feature products from biggest fashion players including Prada, Gucci, Moncler etc.. Plus, you can find attractive price cuts on most products if you purchase them during sales, so be on the watch.  
---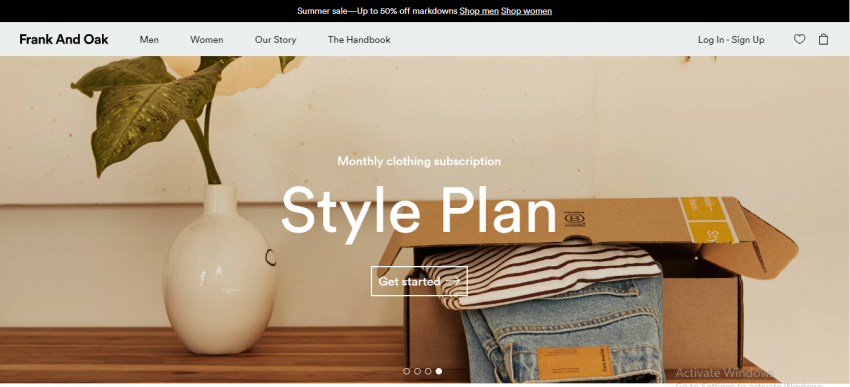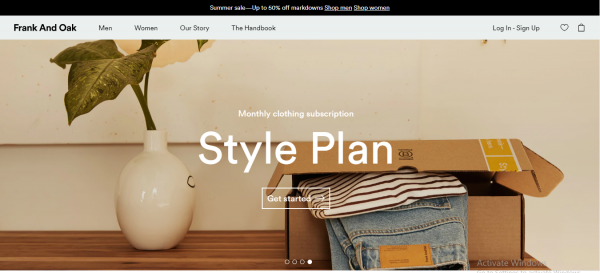 Another Canadian brand, Frank and Oak is among the best stores like Zara, if you are looking for affordable, quality fashion clothing. While style is an expression of the individual, the common trends and necessities of every day Canadian living shapes their relationship with style in significant ways. They are known to design products that are made to last with the highest quality standards and to keep up with demanding lifestyles while ensuring minimal impact on the planet. Hence, their products are sustainable and environmentally conscious. 
They offer a diverse collection of clothing for women and men that are stylish, sustainable, and sophisticated. Here, you can shop for home wear, jackets, sweatshirts, tops and blouses, denim trousers and jeans and much more. They also flaunt an excellent range of footwear and handbags including loafers, leather boots, and sandals being the prime selections. On their website, you can purchase a monthly fashion box subscription. In this box, you will be delivered the latest fashion clothing according to trends at an extra 20% off, right at your doorstep each month, and well within the budget that you set. You can choose to return products or cancel the subscription at any time.  
---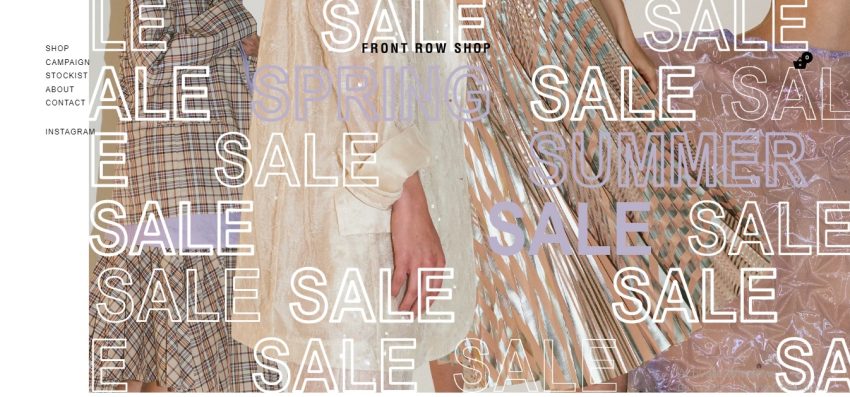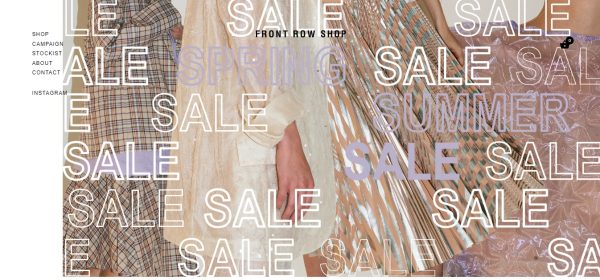 Founded in 2010, Front Row Shop today operates worldwide in several countries across the world. Its characteristic brand quality is the contemporary refined taste of clothing designs, blended with sustainable sewing techniques. Their styles are influenced by two world cities namely, Rome and Shanghai and therefore, clothing from Front Row Shop interprets cultural and seasonal trends thereby, creating avant-garde designs.  
They have plenty of outfits for you to choose from. These include silk blouses, skirts, shorts, trousers, dresses in every pattern and style. You can also upgrade your style with their signature bracelets and necklaces that will surely add an edge to your overall outfit. The favorite pieces from Front Row Shop are the flapper t-shirt, Flora Mesh Trench Coat, Line Art Kaftan, Izumi Pants and Midori Blazer – Pink among others. They also run a global Affiliate program; so if you are a blogger or influencer, you can partner with them and in return, get attractive purchase commissions, price cuts, discounted prices and early access to their sales.  
---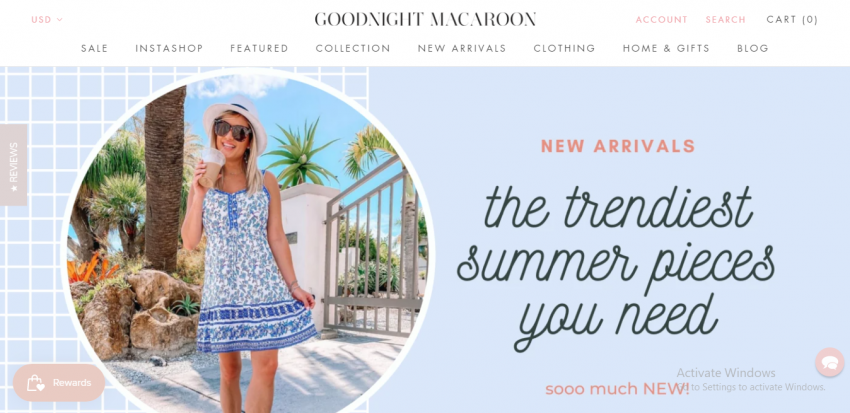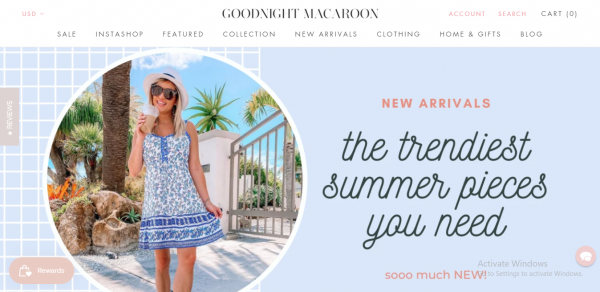 One of the most classic and quality online clothing stores like Zara, Goodnight Macaroon has on-trend, cutesy and casual clothing for women. From boots to bikinis to party dresses, they have everything that you need to look good.
Their collection of turtleneck sweaters is worth a purchase. And you get all of it at minimal prices. New products are added on a daily basis on their e-store and over 100 items are added weekly. You can also choose this e-store as a gifting destination to send presents to friends or family members. 
One of the unique features of Goodnight Macaroon is that they have already curated looks in the Instashop category. So, you can purchase an entire outfit from accessories and clothes to footwear in one go. You can browse products on the basis of best sellers and popular products. You can also find styling tips and weekend outfit inspirations on their fashion and beauty blog. 
---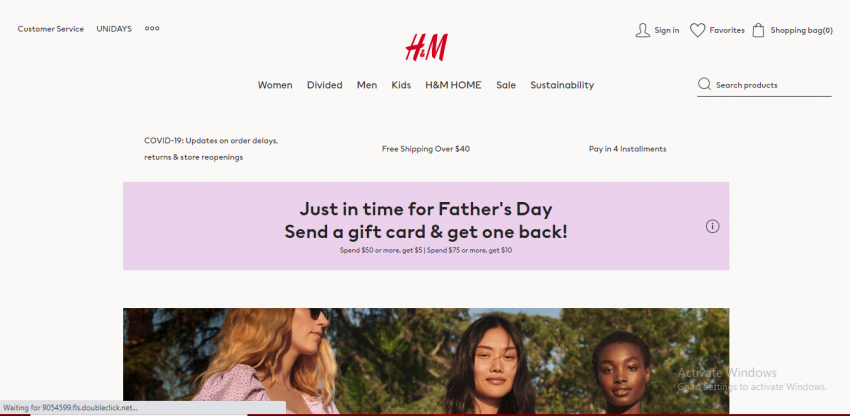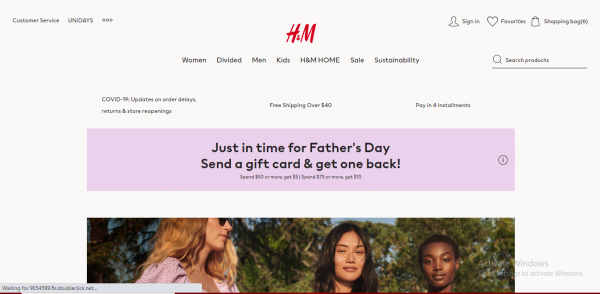 Perhaps the brand is in no need of an introduction, for it is one of the best high street fashion and accessories brands on a global scale. Indeed, H&M is renowned for launching some quality fashion every season and their collection of tops and dresses especially is something to roll over. Here, you can find everything from casual day dresses to sharp office wear. They have jeans in every possible fit, premium quality clothing, and the latest fashion essentials.  
Also, check out their environment-conscious collection made out of more sustainable materials, that makes women's fashion way more sustainable. Besides clothing, they also have bath and body essentials, home décor, and certain furniture items under different brand labels and not to mention their range of flattering lingerie and loungewear, stylish shoes, and bags to perfectly complement your attire every time.
With such a diversity of styles and designs, clothing from H&M is a must-have in your wardrobe, if you are someone who likes to step out in style each day. Do not forget to check out their recently launched Spring and Summer footwear collection. 
---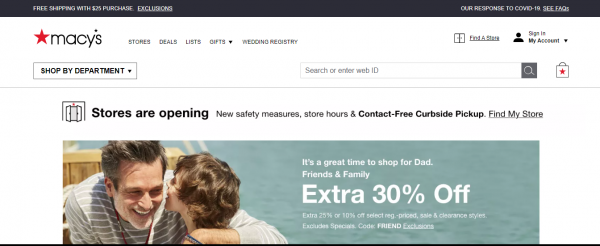 If you are looking for some casual and affordable, yet quality fashion clothing, then Macy's is the place to be. It is one of the stores featuring collections that you will find in stores like Zara, Bloomingdales and Bluemercury. Offering the premium retail experience to customers, Macy's has become one of America's favorite shopping stores for men's and women's clothing and other products. They boast off an exclusive selection of fashion clothing, home essentials such as bed, bath and body care products, kids and baby essentials, jewelry, handbags and footwear.  
It is a complete shopping destination both online as well as offline. One of the unique services that Macy's offers is a wedding registry facility. In this, you will be able to avail access to the Macy's wedding shop, personal stylists, newly-wed discounts and every good that you will need to make your big day special and memorable. And needless to say, do not forget to grab massive discounts on 'everything' at Macy's online sales! 
---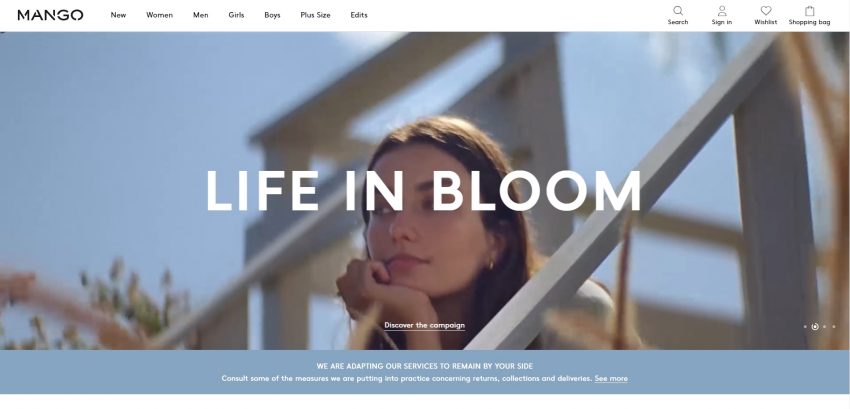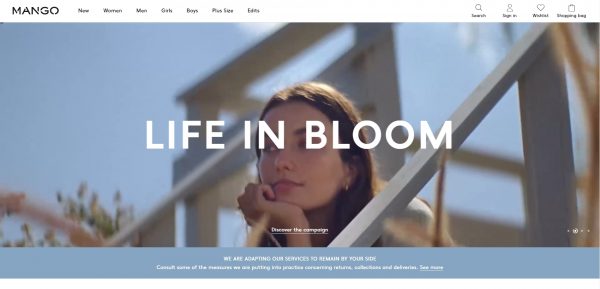 This is one fashion brand that personifies style, sophistication, and classy lifestyle. In essence, their fashion deliverables are spot-on trendy and at par with the latest fashions of the world.
Their philosophy is to enhance your unique and personal style with their voguish fashion collections that are in constant renovation. The essence of MANGO products is a characteristic Mediterranean style with an added, necessary touch to keep the products on the vanguard. 
They're ready to wear apparel is inspired by modern, contemporary women. Therefore, their range of women's clothing is a delicate mix of formal and trendy. High-rise trousers, plunge dresses, crop shirts and casual holiday wear, you are sure to make some heads turn with their attractive designer collections. If you are shopping from their web-store, you can also purchase already curated full outfits and looks. 
---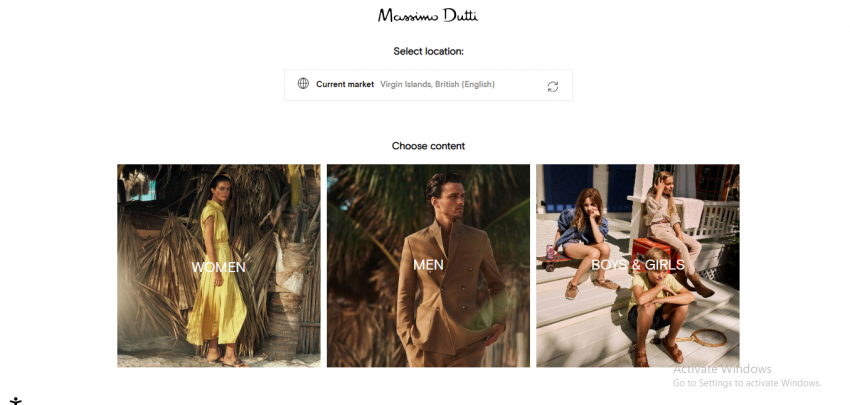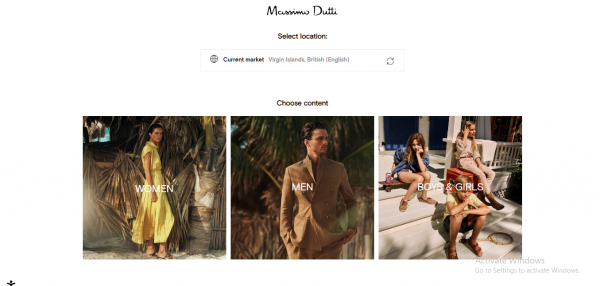 It is a subsidiary brand label of the Inditex Group, the same company that owns Zara, and has more than 700 physical stores in various markets in the world. The fashion clothing range that Massimo Dutti offers, varies from casual to a more urban feel of the design. It is largely defined by three elements – urban, cosmopolitan and independent. They claim that they do not wish to bound women with strictures of trends.
Instead, their clothing is aimed to lead women to perfecting their personal styles and at the same time in fierce competence with International runway standards. Their range of products however are not limited to apparel but an expansive selection of accessories and fragrances as well.    
Besides fashion basics, you can explore their fashion, beauty, and lifestyle blog for hacks, skincare tips, outfit ideas, and generally to get to know the latest trends. They have material-based categories such as 100% Cashmere or Leather for ease of access. You can also shop for seasonal essentials, functional clothing for women, men and even kids, apart from formal wear, stay at home clothing, etc..  
---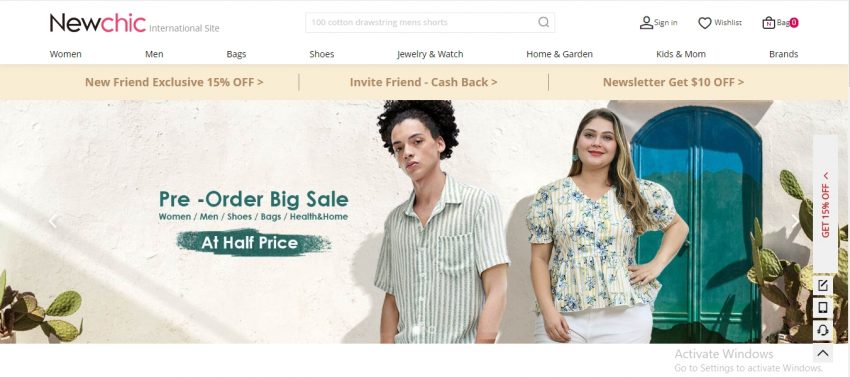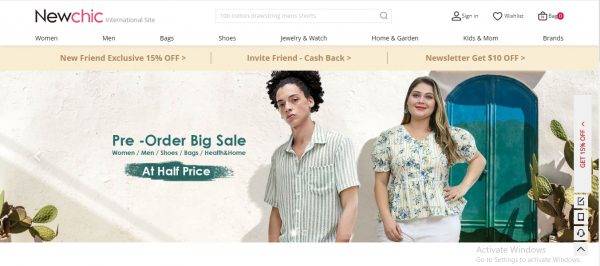 Just like its name suggests, New Chic is an online fashion boutique offering chic women's clothing for every youngster to swear by. With daily deals that go down to $0.99, you would surely not want to miss out on their all in all collections – dresses, tops, bags, footwear, skirts, and every possible clothing item that exists, they have it at your perusal. Besides, they also provide home and garden essentials, beauty and skincare products, makeup accessories, etc.. This store was founded in 2015 and today has acquired shipping in the countries worldwide, which faintly highlights its success.  
Their product range is inspired by providing affordable luxury fashion and beauty to modern 21st-century women, who are looking for comfort and couture simultaneously. Like Zara, their collections are aimed to provide shoppers with a high-quality shopping experience that will last with them. They weekly upgrade their web store with new styles and products, so be on the lookout! 
---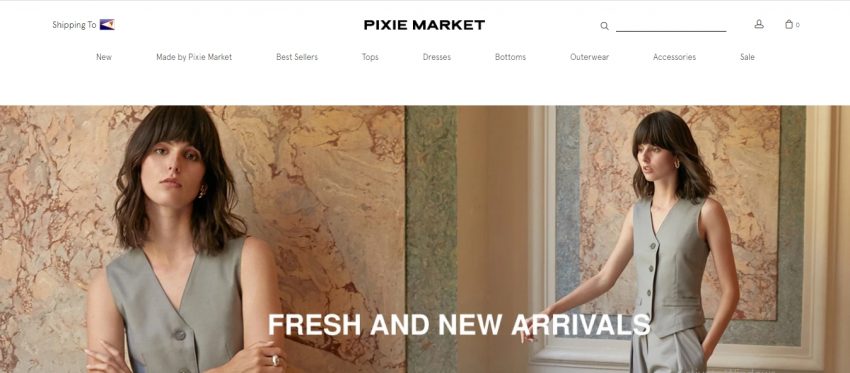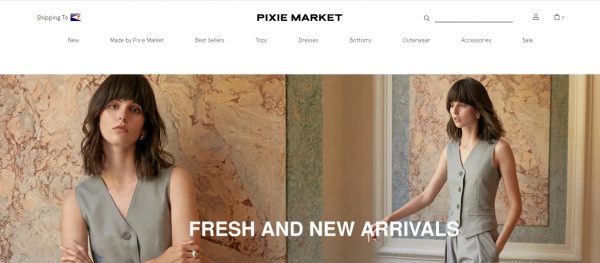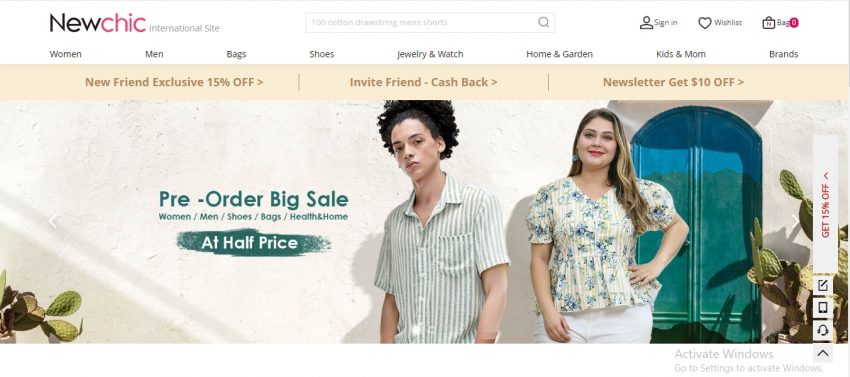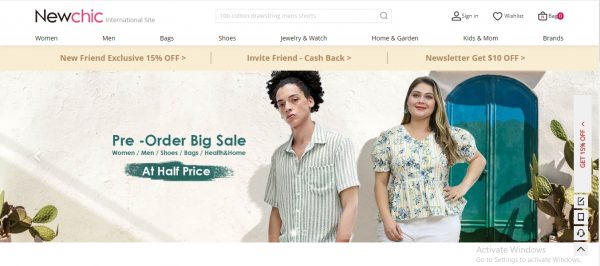 This online women's clothing store is known for its eco-friendly products and sustainability. They use natural materials like Tencel, Lyocell, Modal, Linen and organic cotton. Pixie Market features the latest womenswear and quality accessories, inspired by the best trends each season. You may explore their evolving collection of cutesy tops, trendy dresses, fashionable bags, jewelry etc… They curate their looks from the fashion industry's runways along with the latest trends from independent style influencers across the world. Plus, they are always upgrading their collections, so you will always find something new to suit your style.  
From jumpsuits, playsuits, tops, dresses, outerwear, skirts and much more, you can flaunt your individual style without having to spend a fortune. Currently, their Spring Sale is live with a flat 20% discount on all products. So, hurry and grab some of the best styles to last you all year long. 
---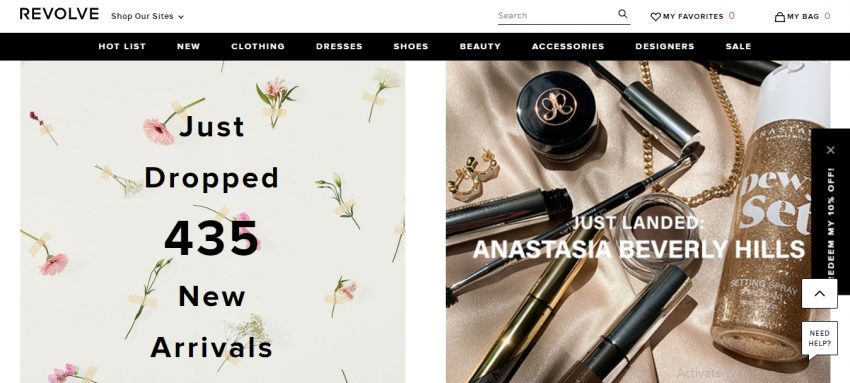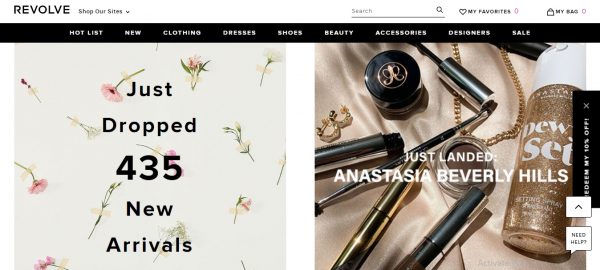 One of the most coveted designer fashion stores like Zara, Revolve was started as a venture by two friends. Today, it has expanded extensively by collaborating with numerous renowned brands all over the world, apart from its in-house collections. Currently headquartered in California, Revolve is a socially driven brand and its apparel is therefore ideal for the American youth that has a rapid and socially active lifestyle.  
From vast fashionable clothing options, Revolve is a step ahead by also selling accessories, beauty, makeup, skincare essentials, handbags, footwear, swimwear, loungewear, and so on. In short, here they have everything to cater to your outfit of all times and seasons. Professional meetings, check. Casual getaways, check. Evening parties, check. Regular college day, check. Beach weekends, check. Stay at home, check. Plus, they have a unique section on their website called 'Hotlists' from where you can shop the most popular and trending clothing items and even complete outfits.  
---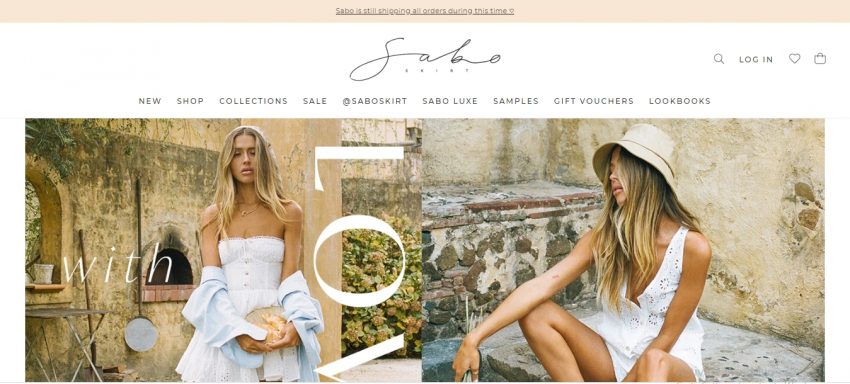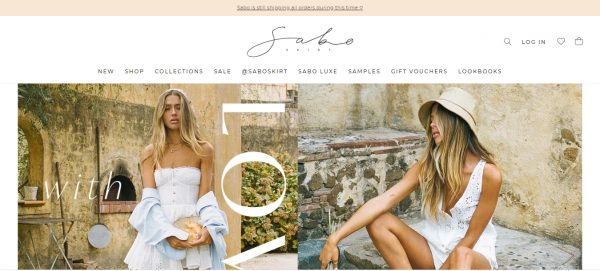 One of the most sought after stores like Zara, Sabo Skirt has been featured in the top fashion magazines including Cosmopolitan, Grazia, Vogue, Elle and many others. This certainly reveals the product quality and designs that it has to offer. They have off-shoulder tops, formal trousers, eyelet dresses, bodysuits and much more in florals, denim, tammy, neutrals, race-day and party trends. Their merchandise also consists of artsy jewelry and accessories, apart from which they also have fashionable footwear.  
Their sale prices go as low as $20, which means that you can buy your perfect outfit, without exceeding your budget. (And this does not include the discounts!) With their exclusive collections named as Sabo Sleep (sleepwear and lingerie), Sabo Luxe (holiday wear), Bridesmaid Edition, Sabo Formal (professional outfits), Sabo Luxe X Matilda (pastel shades dresses and tops), Wanted Shoes X Sabo Skirt and Sabo Paws, they have a unique range of products to make you look good. 
---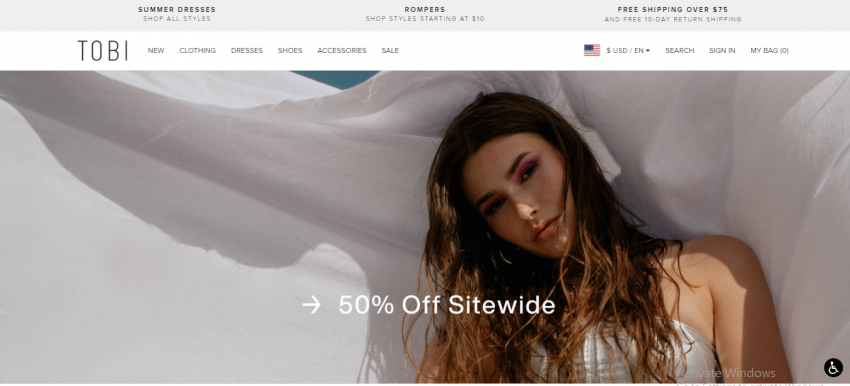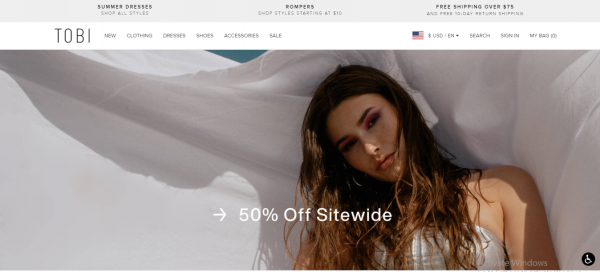 Yet another among the top fashion stores like Zara, shopping from Tobi will not disappoint you. From recently launched spring dresses to irresistible coordinates and floral crop tops, their collection of fashion clothing is worth adding to your wardrobe. Plus, if you are shopping from Tobi for the first time, you get an instant 50% off. The best part however, of shopping from this e-store is that they offer designer wear on massively inexpensive costs during the sales, which you would definitely not want to miss out. Especially worth checking out is the range of designer sweaters on the website.  
They also have on offer, a variety of accessories including sunglasses, scarves, belts, footwear, stylish bags and much more. Another reason to shop from Tobi is that most of their product prices are well under $100! 
---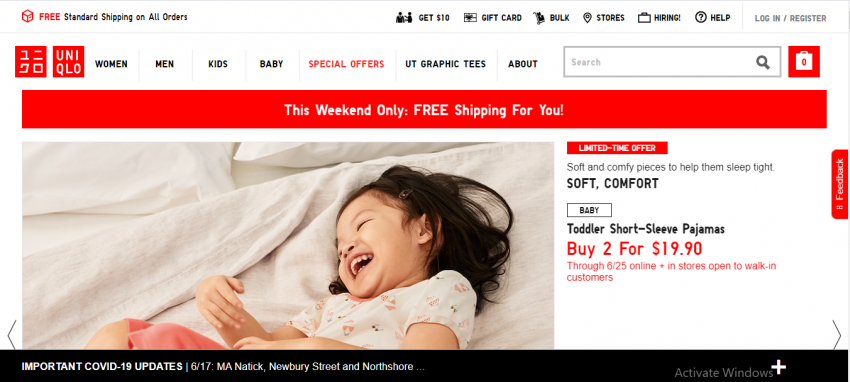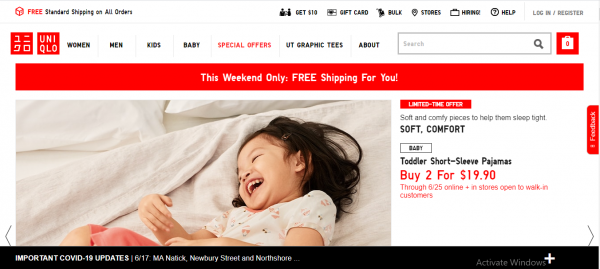 Originally a Japanese fashion retailer, Uniqlo is one of the most similar stores like Zara, that offers budget-friendly clothing and accessories for women, men and kids. If you are the kind of Zara shopper who gravitates towards the huge selection of basic t-shirts, sweaters, jeans, and button downs, this is your ideal place to be. You can shop on the basis of technology, collection or category. They have equally flattering clothing options in each of these, to make you look trendy and stylish instantly.  
And do not overlook the trendier pieces, either, for they go down to as low as $20. You will definitely want to make room in your closet for some amazing styles from Uniqlo. Plus, you will get a flat 10% off if you subscribe to their newsletter. Seems like a win-win deal? 
---
Shein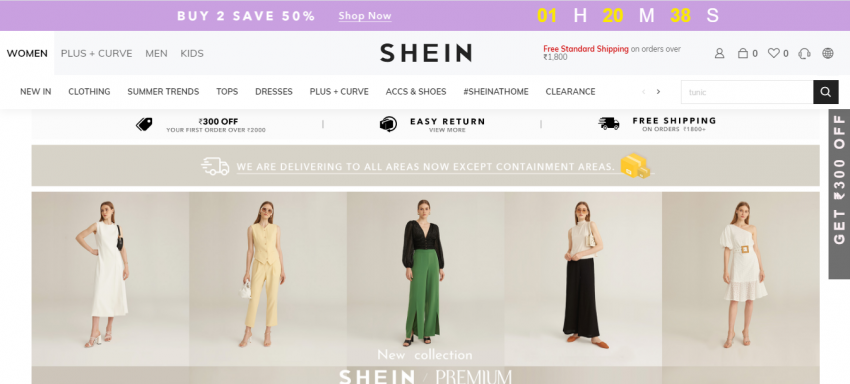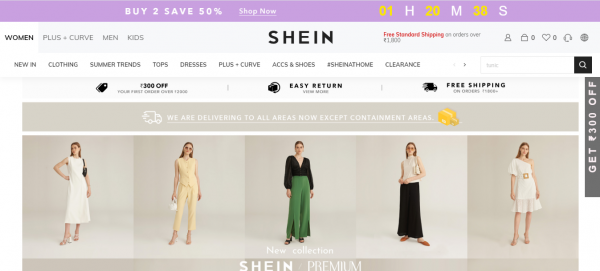 Shein is one among the online fashion stores like Zara operating in over 200 countries currently. Like other fast fashion e-boutiques, Shein, which is a Chinese based web store, it offers a range of fashion apparel for women including crop tops, t-shirts, dresses, trousers and so on. Besides, they also have some cutesy accessories, creative stationery and beauty and personal care products and home essentials. All of it is available at attractive prices that you would not want to miss out. They upgrade their collections by adding more than 500 new styles every day.  
Their philosophy revolves around making fashion affordable and accessible to all. Therefore, they give out free coupons and discount promos quite oftenly; so, you will have to be on the lookout. They have a fluid shipping and return process, with the option of free returns within 40 days from the date of delivery. Their shipping time is usually between 6 to 10 working days.  
---
So, wait no more and make some room in your closet to add styles from these stores like Zara. If you are a Zara lover, yet looking to diversify your wardrobe with fluid trends and clothing that vibes with the brand, you are surely going to love the collections at these brands similar to Zara.