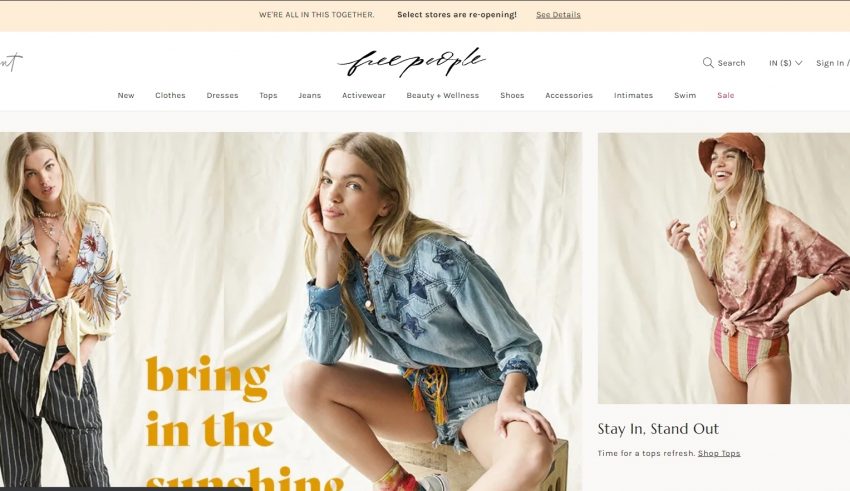 Free People is one of the online women's fashion stores offering bohemian clothing for the fashionista who is always on the go. It is a subsidiary brand label of the company URBN – the same company that owns Anthropologie, Urban Outfitters, Terrain East, BHLDN, and other renowned fashion stores. Therefore, the fashion merchandise sold by Free People is hallmarked for creative designs, innovative approaches, and trendy styles.
From comfy essentials that you will wear repeatedly to that one exclusive party dress, which would go far back in the wardrobe after the first use, everything is at your disposal at this fashion e-store. High-rise athleisure bottoms, basic bodysuits, flared jeans, strappy tank tops, and accessories that add an extra something to your outfit, they have everything that is on your mind. They also have a beauty and fashion blog that you must explore for outfit ideas, beauty and skincare hacks, etc.. They have also launched virtual fitness sessions from home to keep the fitness freak in you on toes.
While shopping from Free People will guarantee you a great wardrobe upgrade, it is always better to have something unique to put up a striking personality and appearance. Therefore, explore the following listicle of stores like Free People that will help you explore several newer and even better styles to flaunt off the next time you step out.   
 Here are the Best alternatives to Free People stores: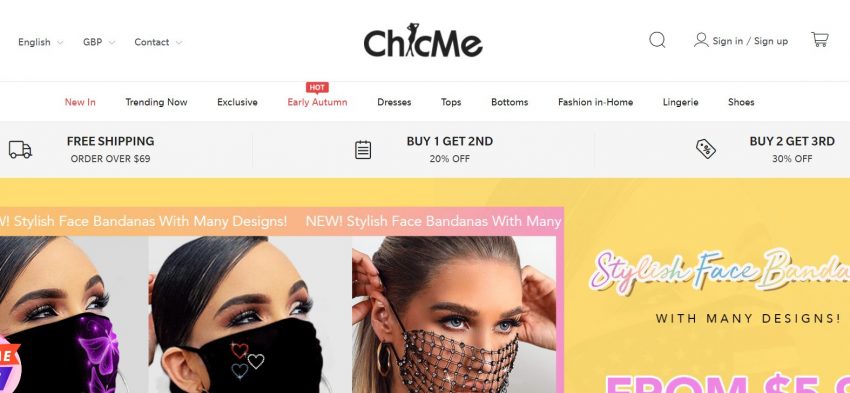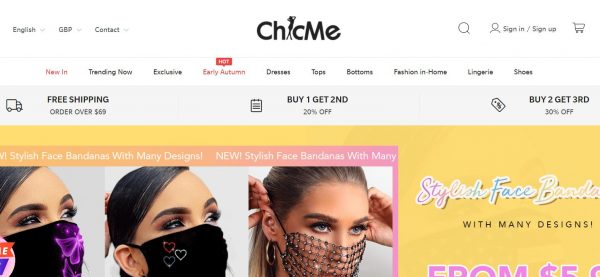 If you are looking for stores like Free People for your next shopping spree, ChicMe is a must-try. The online shopping destination is based out of America and has managed to gain lots of popularity because of its excellent products.
It is almost as if God has answered our prayers by consolidating everything a fashionista needs under one tab. The variety of collections under every category – from accessories to clothes, bags to sunglasses – is enviable. ChicMe is, without a doubt, one of the most sought-after online shopping destinations across the world.
If online stores like Free People are what you are looking for, ChicMe is the right place for a start. It is a great place for fashion lovers, and there is something for everyone. It is, by far, one of the most affordable places for a handsome shopping spree. Besides, there is no need for you to compromise on the quality of your budget buys with ChicMe's plethora of options.
---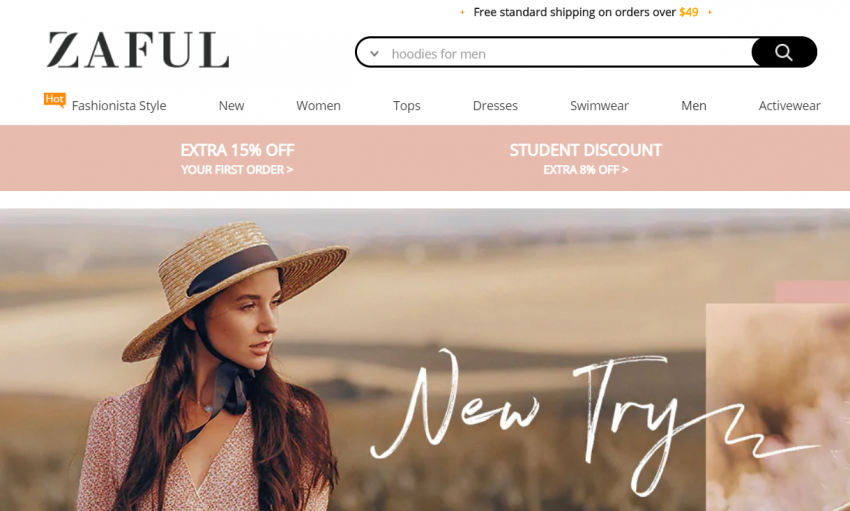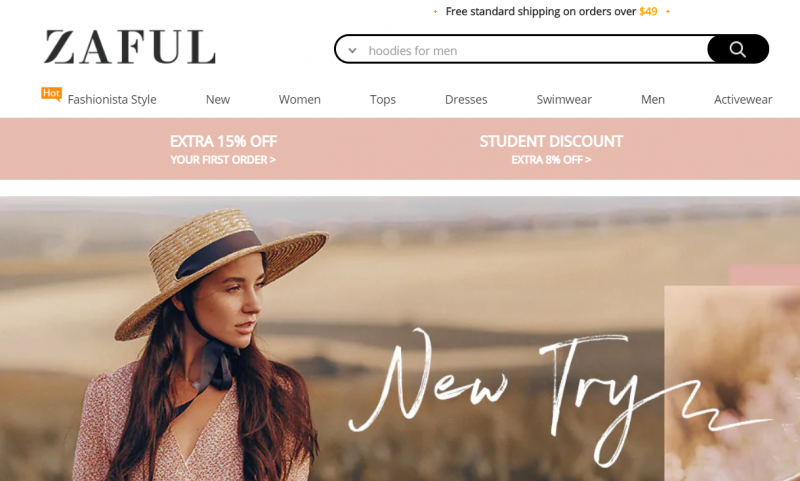 Counted among the best stores like Free People, Zaful is a widely loved and popular shopping destination. The online store is one of the best options for people who are looking for budget buys in the clothes and accessories section. Besides, the interesting shopping store is a hub of fashion, housing some of the trendiest pieces you can eye these days.
Zaful is known to offer trendy, affordable clothing for both men and women. The plethora of options and attractive offers they provide in terms of clothes and accessories is enviable indeed. The range of elegant wear for all occasions is complemented by collections of sportswear and accessories. One can easily lend it the tag of being a "one-stop destination" for every fashion-lover globally.
You would also be delighted to note that Zaful is one of the few online shopping destinations to provide free coupons from time to time. This means one can avail of handsome discounts and even offers such as "Buy 1 and Get 1" and others for free by being a regular user of the website. We have to say, no other store on this list lives up to the expectations of the budget shopper as Zaful does.
---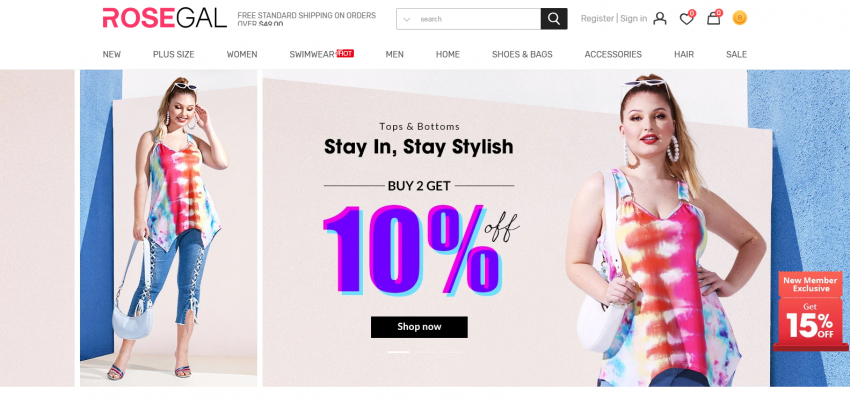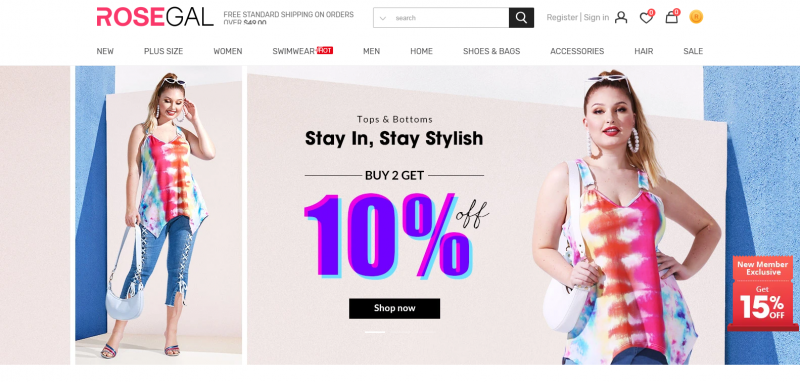 Rosegal is one of the top websites like Free People that offer classic women's fashion at affordable prices. They believe that 'big is beautiful' and their plus size collection is worth envy. Here, you will find everything from vintage to contemporary, athleisure to night wear and everyday casual fashion consisting of a diverse range of tops, dresses, sweaters, cardigans and much more. They also have some quality lingerie, swimwear and accessories that you would not be able to resist.  
Other than this, you can also grab some bed, bath and body essentials at nominal costs. For first time users, an exclusive 15% discount is available. Their clearance sale prices start from $0.99! Do you need another reason to instantly check their website? 
---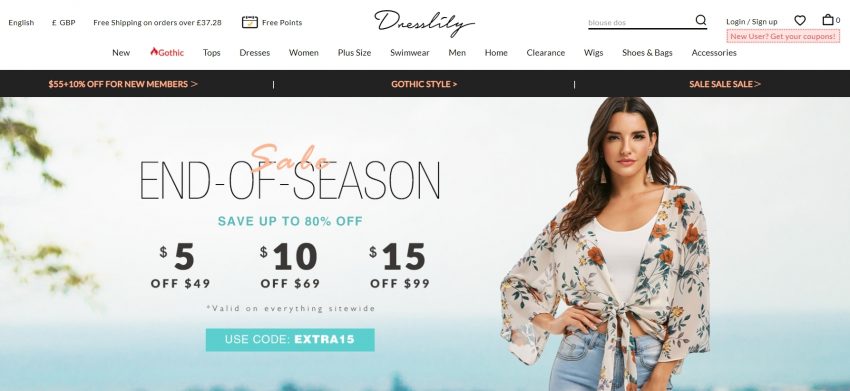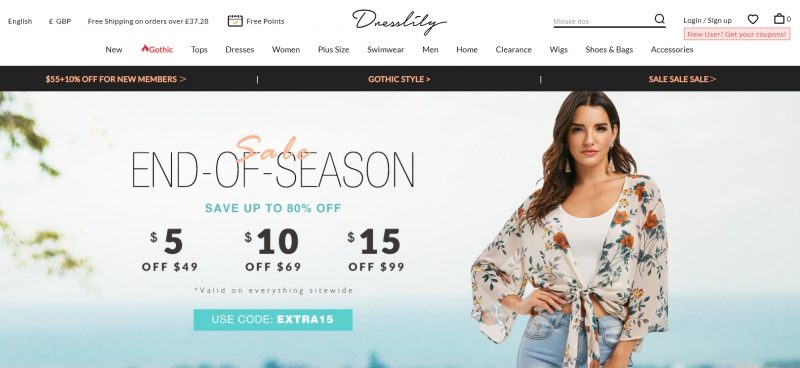 Their tagline reads, 'Praise Every Body' and this most clearly defines their philosophy of fashion for all regardless of body type and size. With their affordable designer women's fashion, they enable women to unleash their beauty with tailor-made sophisticated designs. From unique floral, polka-dot, plaid patterns, and clothing that caters to different occasional needs and theme designs such as gothic dresses, retro, and vintage dresses and tops, they provide customers worldwide with irresistible deals in fashion apparel.
Besides, you can also find some cutesy accessories, home décor essentials on their online store. At par with stores like Free People, Dress Lily ships in over 100 countries worldwide. They have an exclusive 15% discounts for every new user and up to 90% off on all the sale products!   
---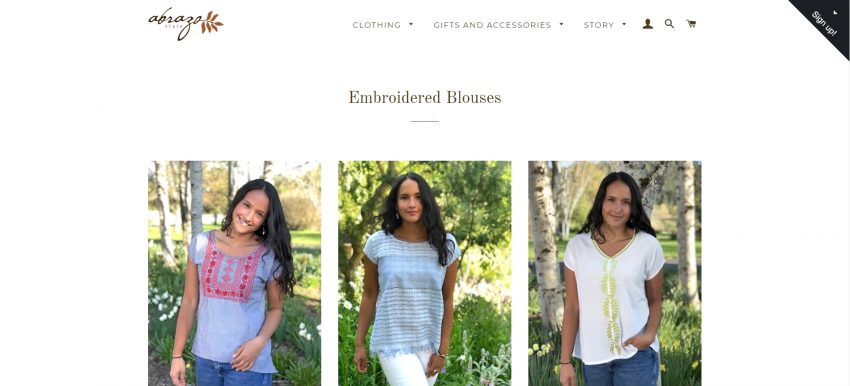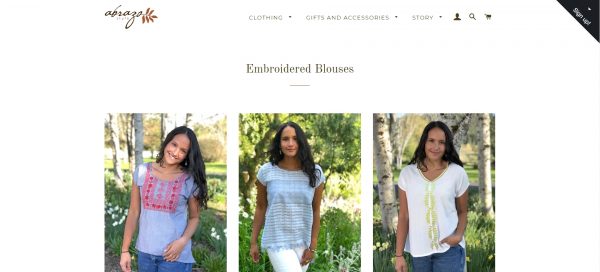 It is one of the stores like Free People that retain indigenous values and roots through the crafting and designing of their fashion. Abrazo Style's artisan-made and handcrafted apparel, accessories, and gifts blend contemporary fashion with rich craft traditions of Mexico. From hand embroidered blouses, dresses, hand-woven scarves, waterproof totes, natural hand-woven jewelry, handmade gifts and more from the cultural ethnicity of Mexico, here you will get plenty of variety to choose from.  
The fashion merchandise from Abrazo Style is quite different from what the mainstream fashion retailers offer. And in this precisely, lies its originality, uniqueness and individuality and their clothing reflects these values. Most of their products are moderately priced and are under $150.  Also, if you subscribe to their newsletter, you would get a flat 10% off.  
---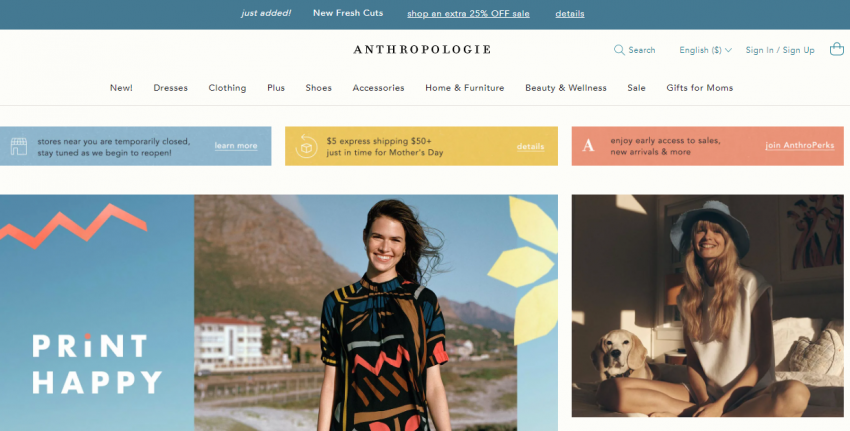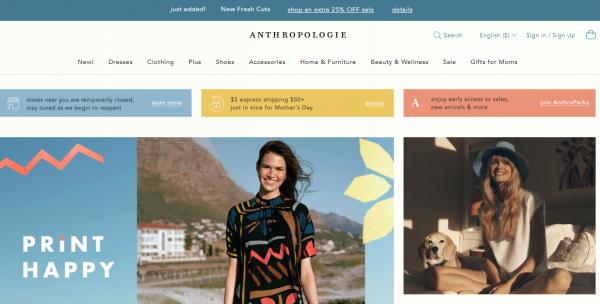 Anthropologie is American apparel, accessories, home décor, and lifestyle retailer brand, that is known for its detail oriented and modernized deliverables. They are also renowned for the state of the art décor and the sophisticated ambience of their physical stores, which are present all across the globe. Here, the customers can get everything from bohemian apparel and exotic home décor to indulgent beauty products and one of its kind accessories.  
Anthropologie is an inhouse brand and therefore, most of their products are exclusive and are constituted under their own brand name. However, often, you will find them partnering with other lifestyle labels and brands to launch products that are worth drooling over. Three characteristics make Anthropologie the ultra-bohemian, chic yet sophisticated brand that it is – aesthetic appeal, creative presentation and premium quality products. This one-stop shop destination is every shopper's haven with clothing, accessories, beauty and wellness products, home décor and furniture items available at reasonable costs. 
---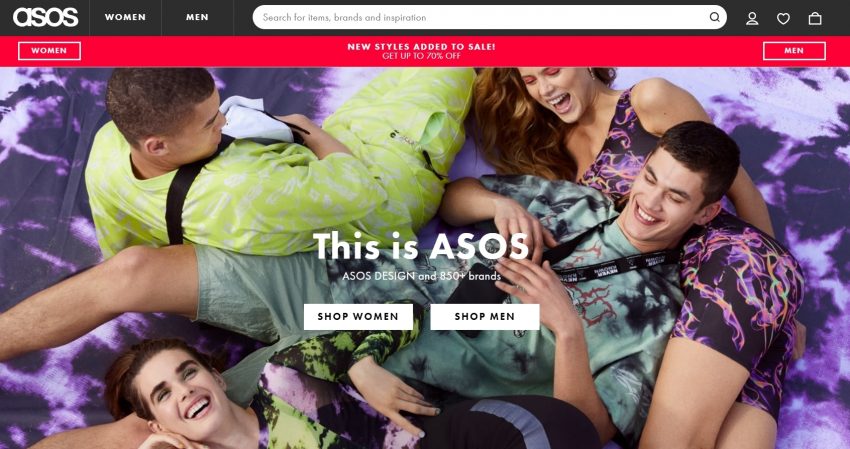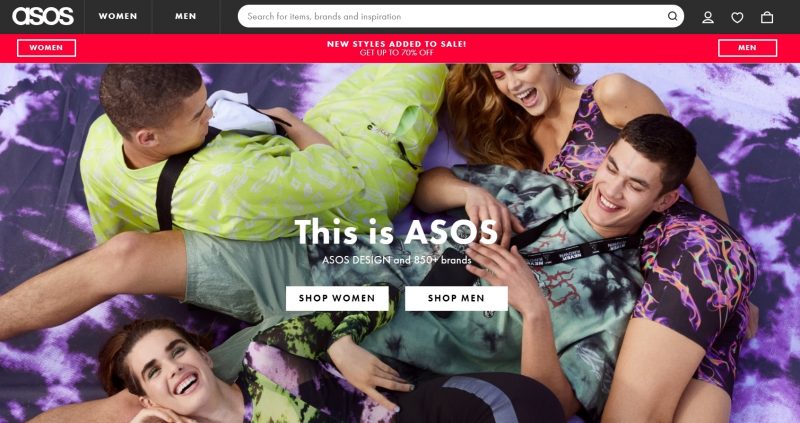 It is indeed, one of the largest online fashion boutique stores like Free People, that stocks designer wear and fashion apparel from a vast catalogue of brands. A lot of its styles are similar to those featured on Free People. As a brand, they believe in diversity and fashion for all. So, their products are available in over 30 sizes and they have additionally partnered with an LGBTQ organization to launch a gender neutral fashion wear collection as a step towards accelerating acceptance. They also actively promote body positivity.  
Here, customers can select from a wide range of products including clothing, beauty and personal care, accessories, footwear, active wear etc.. Sites like ASOS, ships products worldwide and you can avail free shipping on orders above $40. They have a hassle free 28 days return policy. Pro Tip: Check out their website regularly as they keep on adding some huge and attractive discount coupons for students (and otherwise as well) worldwide! 
---
Barneys at Saks Fifth Avenue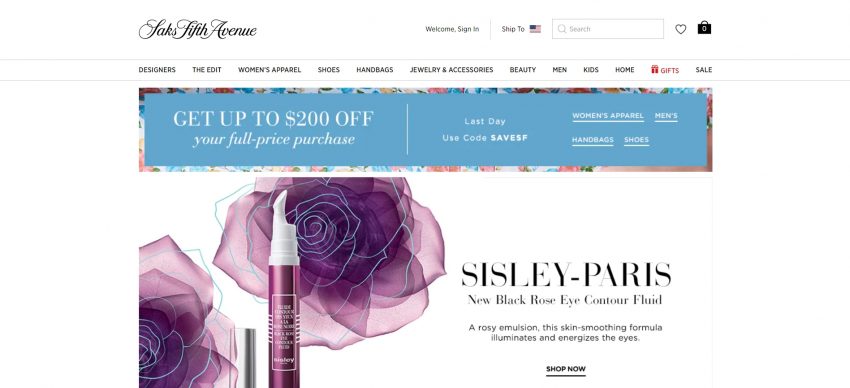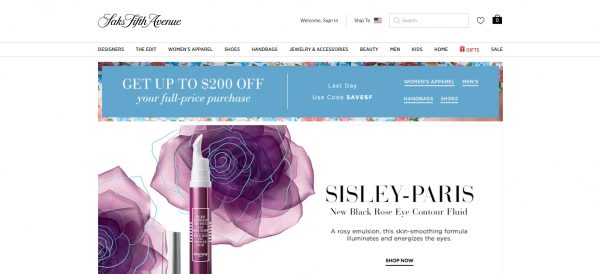 Barneys, New York Inc. was an American luxury and fashion clothing department store that had been recently in the headlines for closing many of its standalone stores after the company supposedly went bankrupt. The good news, however, is that it sold its stakes to Saks Fifth Avenue and so, you can find your favorite Barneys apparel and accessories at the Saks Fifth Avenue physical as well as online stores.  
They have a great selection of apparel, (some of which you would have seen the girls wearing up in the sitcom FRIENDS). From styles asymmetric skirts to denim jumpsuits to sweaters that are perfectly irresistible, they offer trendy fashion clothing for men and women that is sure to make some heads turn. Besides, here you can also shop for stylish accessories including necklaces and classic cosmetic products. They also feature products from the biggest fashion players including Prada, Gucci, Moncler, etc.. Plus, you can find attractive price cuts on most products if you purchase them during sales, so be on the watch.  
---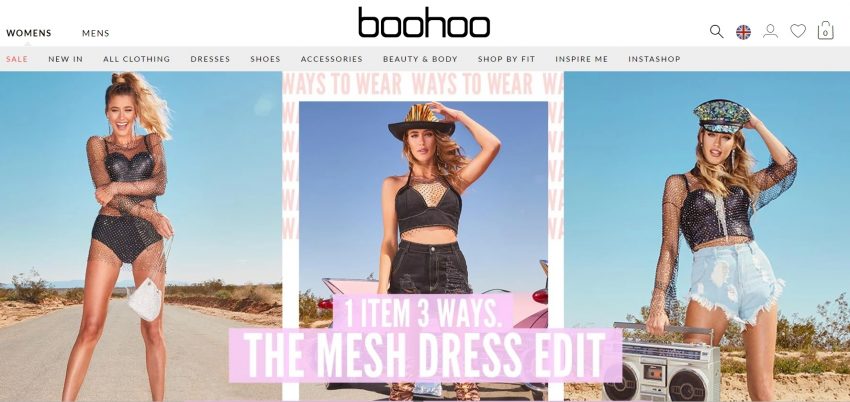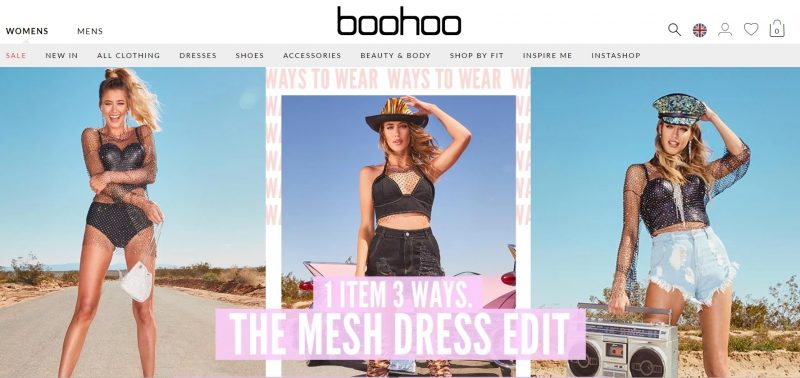 Launched in 2006, Boohoo is an online fashion boutique, originally from the UK, that delivers about five hundred new products every week. So here, you will always have the latest looks at minimalistic costs. They make fashion accessible and fun for all, which means that every girl can create the wardrobe of her dreams, by embracing her individuality. Their prices start from as low as $10 and accessories start from $4.  
With new collections and newer styles, they have a plethora of options for you to choose from. From gym wear to maternity wear, from size clothing to casual day wear, from trendy tops to prom dresses, you name it and they have it! They have Express delivery slots available. Therefore, you can get your orders in as little as four working days. Also, they have a 45 day free returns policy. 
---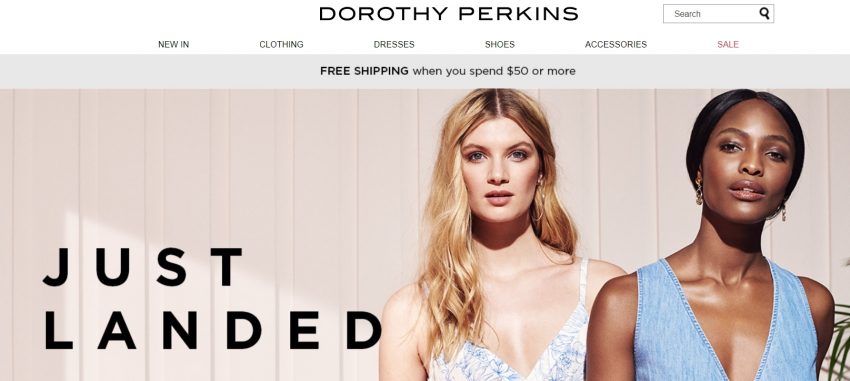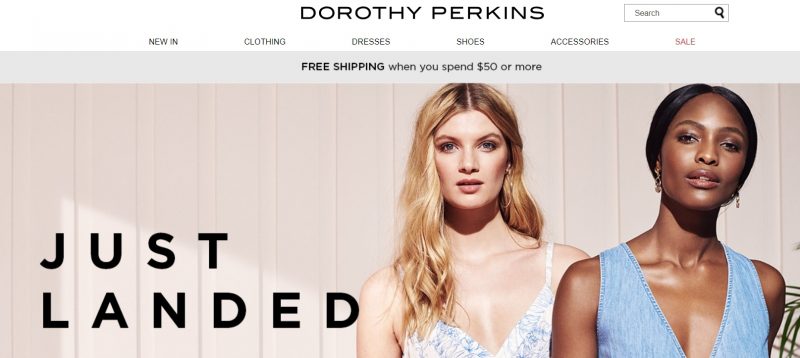 Dorothy Perkins is a multi-national women's fashion retailer, originally based in the UK. It sells both its own range of clothes and branded fashion goods all over the world, through physical outlets and an online web-store. From the e-store, you can shop on the basis of category, fit (which includes, petite, curvy, plus size, tall or maternity) and occasion. In this way, you can find an ideal outfit to suit your needs.
Explore their collection of women's clothing, which features going-out dresses, perfect partywear, covetable cardigans, nightwear, jeans, jumpers and more. Complete your look with gorgeous finishing touches, selecting from scarves to statement bags and they have all of the women's accessories you would need to look gorgeous, from head to toe!  
Their products are not at all heavy on the pocket and if you subscribe to their newsletter, you would get an instant 15% discount coupon, among other promos and price-cuts. So, renew your wardrobe with contemporary and comfortable feminine fashion, with select women's clothing from Dorothy Perkins.  
---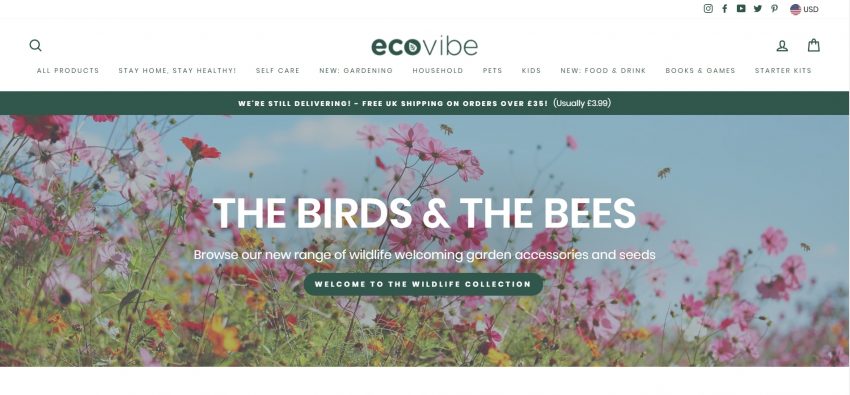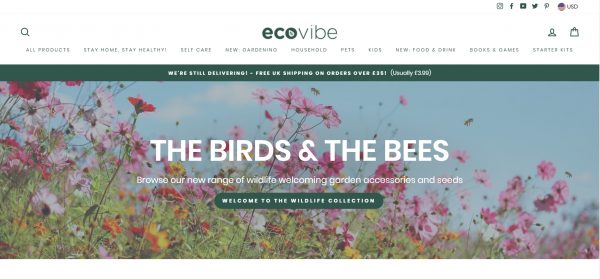 EcoVibe Apparel is one of its kind online retailer, specializing in women's fashion clothing. It also has a sizeable collection of men's clothing as well, besides home décor basics like rugs, plants and pots, gardening essentials, kitchenware, apothecaries, baskets and macramé etc.. In apparel, EcoVibe has almost every piece of clothing that would make you look trendy and stylish.
One of the unique features of the brand is that it offers certain services like Private Shopping Appointment at EcoVibe Home, Plant Care Consultation via FaceTime and Private Shopping Appointment at EcoVibe Apparel; all these services are available for minimal costs as low as $20. They also hold workshops of a similar kind from time to time.  
Their selection of clothing is worth checking out. They have ponchos, dresses, skirts, shorts, rompers, jumpsuits and several other items to give you the perfect outfit of your dreams. Also, they have a specialized Curve Collection, accessories such as face masks, sunglasses, watches, jewelry and the list goes on. Being one of the stores like Free People, EcoVibe online store is genuine, every shopper's all-in-one destination.  
---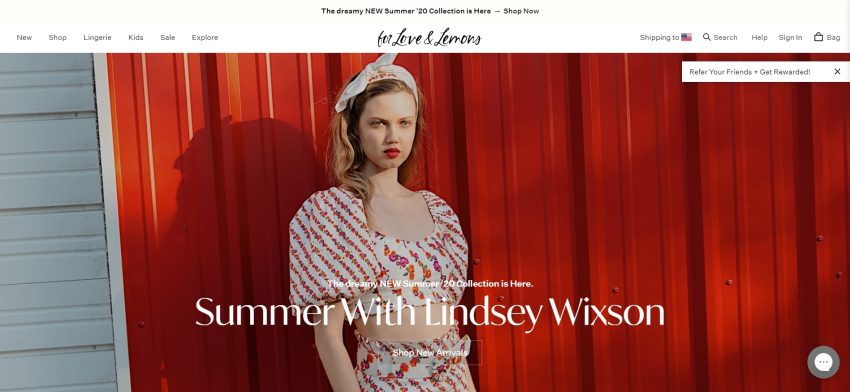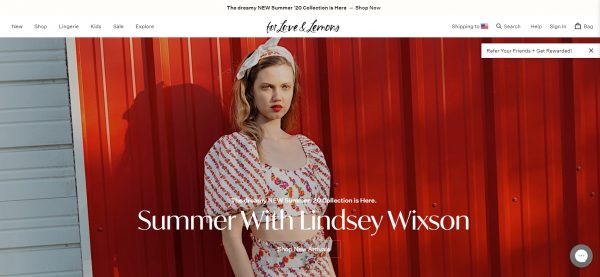 This online store began as a startup venture in 2011, that was cultivated on the values of confidence, femininity and individuality. Today, it has become among the favorite shopping destinations for young women looking for high end street clothing. Their fashion range, as they claim, is for the woman who is unafraid to take risks, forges her own way and embraces adventure. Currently, they offer five clothing lines including ready-to-wear apparel, Lingerie, Knitwear, Swimwear and Li'l Lemons, which is the clothing collection for stylish little kids.  
With an extremely creative team of designers backing the products, this brand offers an irresistible fashion clothing collection. Pretty dresses to define your curves, artistically designed bottom wear, unique range of tops, flattering lingerie and cutesy accessories including earrings, pendants, etc.. they have everything that a fashion enthusiast woman would need. Hurry and head to their website to grab some style pieces at heavily discounted prices in their Sales section.  
---
Lulus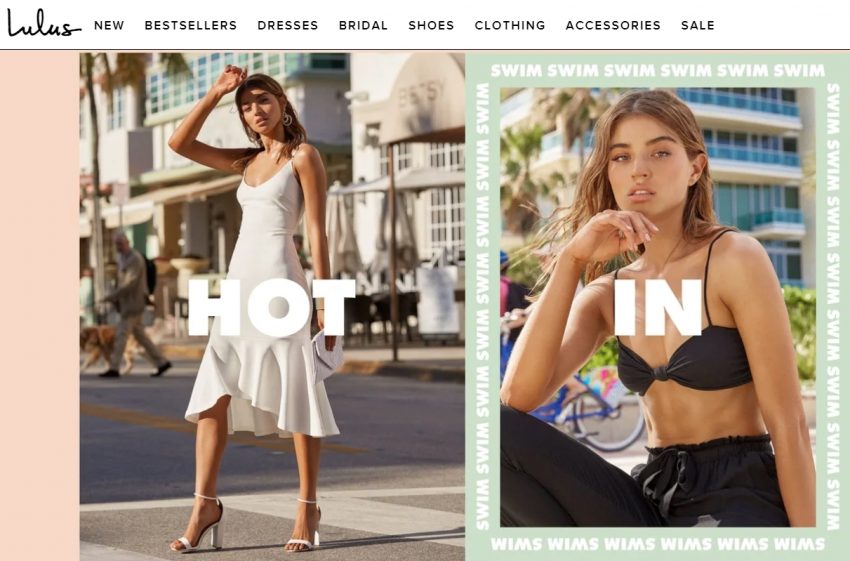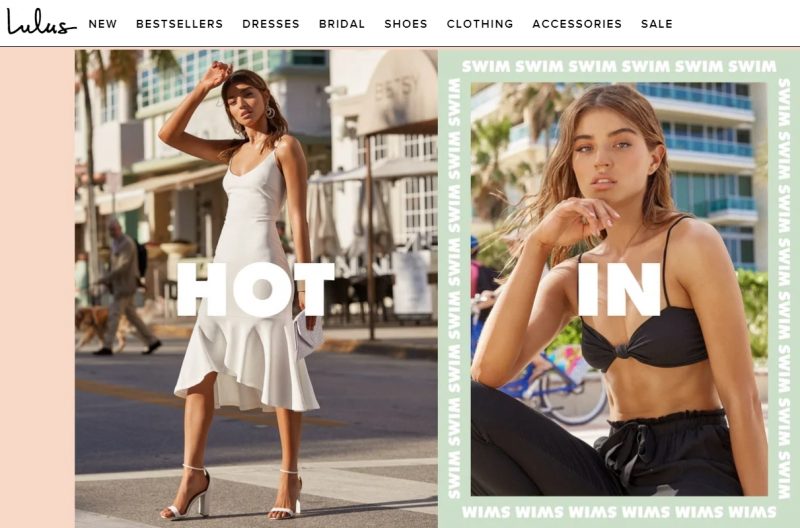 Lulus is yet another online forward fashion online store dealing majorly in women's clothing. It is headquartered in California and serves customers globally. Initially, this store specialised in vintage apparel but has now expanded to include almost everything that you need to look good and strike a statement-making appearance. Clothing from Lulus is the true personification of affordable luxury.  
They have neatly categorized menus to help you access the website with ease. For instance, you can shop from lists of bestsellers, new arrivals, bridal category, the Honeymoon Shop, Formal Wear Shop, etc.. Besides, they also offer an attractive range of accessories such as hats, sunglasses, hair accessories, shoes, handbags, jewelry and so much more. Also worth exploring is the content on their exclusive blog. Here, you will find certain great health and wellness articles, fashion and beauty hacks, makeup and skincare tips, etc..  
---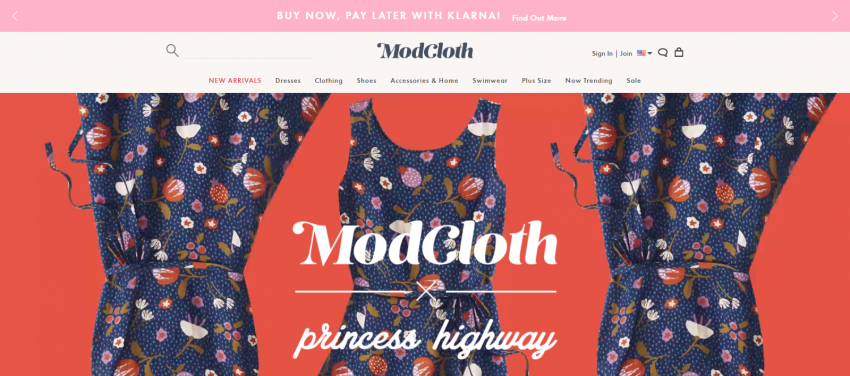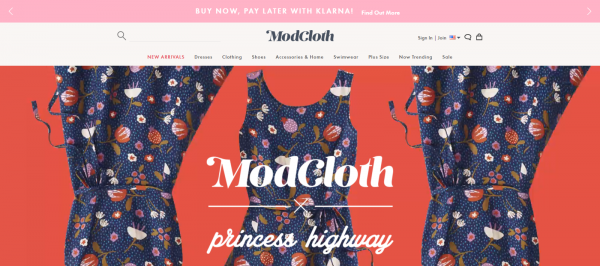 Another American fashion retailer, ModCloth is one of the best websites like Free People to shop for women's clothing and accessories. Their apparel is Indie and Vintage-inspired. They offer women's clothing with hand-drawn prints and classic silhouettes that celebrate the American community and lifestyle. The products are available in a diverse size range from 0-28, including plus sizes, thereby making fashion accessible for all. You can find the unique assortment of fashion clothing is available online and in physical stores across the country, where you can meet with ModStylists for one on one fit and styling consultations. Their claim is that women must not be afraid to wear what they want, go against the current, and be unapologetically themselves.  
Designed to make your everyday outfits dressy and impressive, they offer everything ranging from casual dresses to wedding dresses, cosy sweaters to pulled-together blouses, shoes and handbags, weekend outfits and so much more. Their exclusive fashion collections are intricately checked for details and this is one of the reasons why Madison Style is among the most sought-after stores like Free People. 
---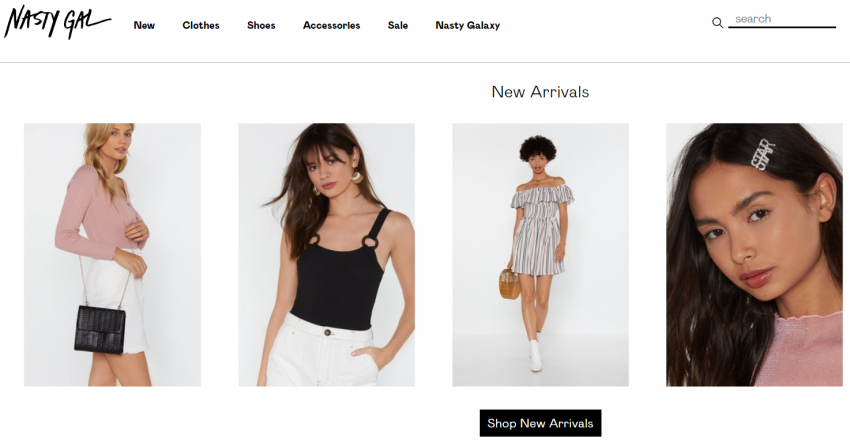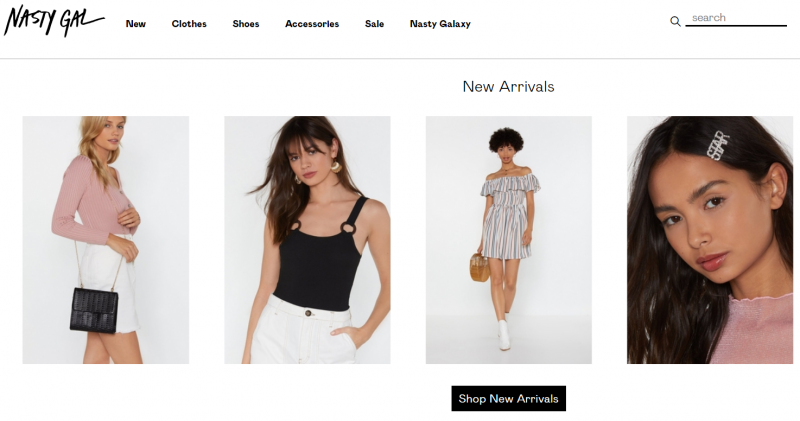 It is one of the fastest-growing American fashion retailers that was once a platform for second hand apparels. Nasty Gal has turned things around and has now become one of the highly sought after online fashion shops for young and vibrant women. Just as its name implies, the platform offers trendy women's fashion clothing for every occasion, be it a party or a weekend getaway or a formal meeting, if you are looking for trendy apparel or accessories, Nasty Gal has you covered. Here, you will find everything that you are looking for – knitwear, stay at home clothing, trendy dresses, statement tops, exclusive bottom-wear, athleisure, swimwear and what not. Their fashionable apparel will truly awaken the diva inside of you! 
They regularly post attractive daily deals on their website, that is a must to check out, for it comes with massive price cuts. One of the perks of this platform is their 30 days returns policy. You will also qualify for free shipping for orders above $75. 
---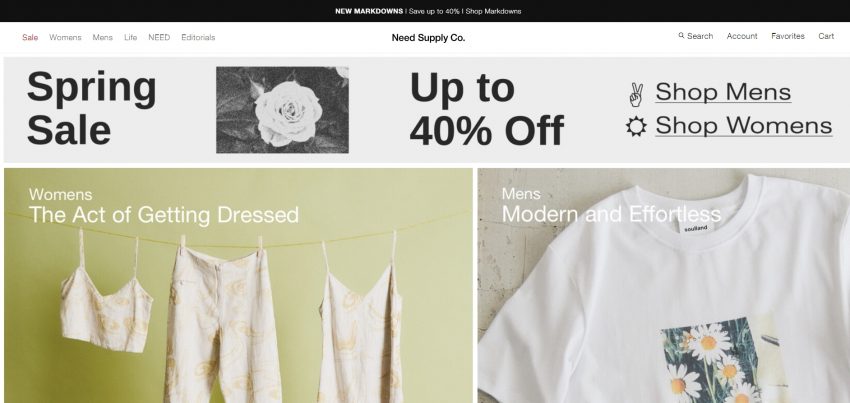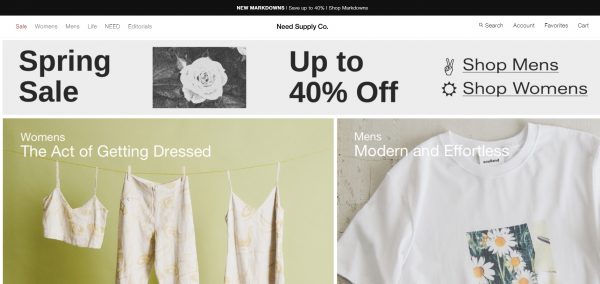 One of the best alternative stores like Free People Need Supply Co. is a fashion and lifestyle store based in Richmond, USA. Their sleek, modern physical boutique stores offer trendy men's and women's clothing, shoes, bags, beauty products, home accessories and so on. You can also shop for these items online through their website, which ships products worldwide. Just as creative as their store spaces, fashion clothing from Need Supply Co. is equally unique, trendy and creatively designer inhouse.  
Here you will find all fashion basics like tank tops, comfy trousers and shorts, little black dresses, hoodies, cardigans, shirts and much more. They also collaborate with budding young designers to launch newer collections from time to time. Also, you will find certain very good quality beauty, hair and skin care products, cutesy casual accessories to complement your outfits. They also boast off a special section for travel, office, bath and wellness essentials. Indeed, this brand is there to offer a complete lifestyle experience, no less than the best, to the customers.  
---


Initially a small shoe shop in Seattle. Nordstrom has come to be one of the leading fashion and lifestyle retailers of the global market. They offer customers with a compelling clothing collection, shoes and accessories for women, men and kids. Claiming to have an incredible eye for style, their products aspire towards individuals, helping them embrace their uniqueness. They have everything from apparel and accessories to home essentials and designer collections from their brand and retail collaborations. You will also find skincare and beauty products besides other products from high end fashion brands such as Gucci, Chanel, Nike, etc..  
Besides, they also offer to stay at home wear, wedding wear, formals, plus and petite clothing and almost every piece of fashion that you need. Free shipping, free returns and mobile shopping are the other perks that will make your shopping experience, a unique and fulfilling one.  
---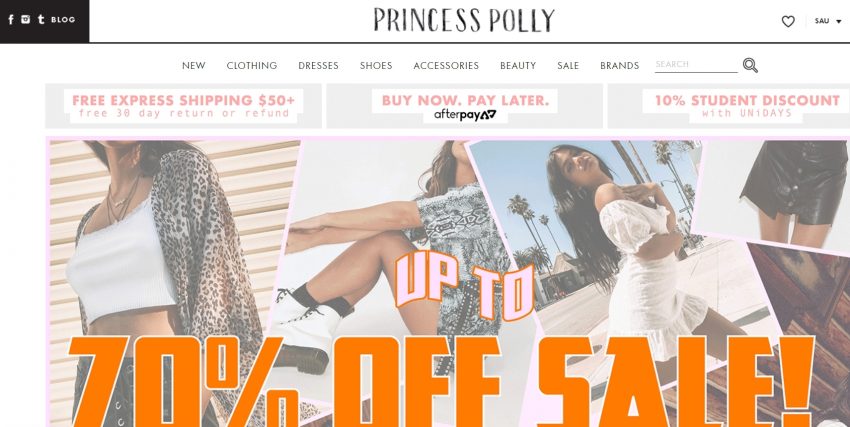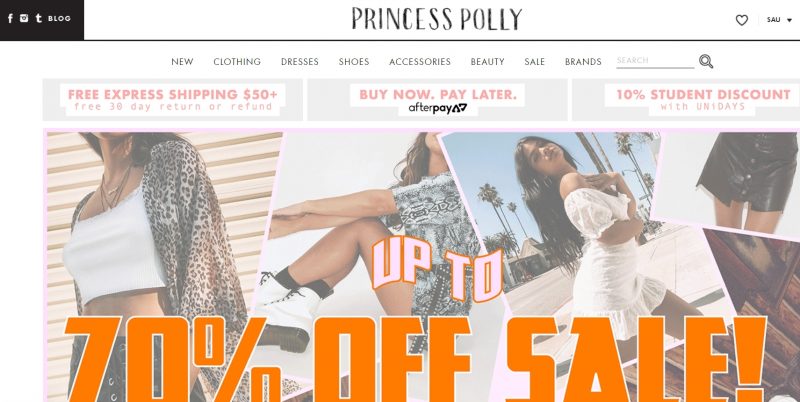 Princess Polly is one of the world's most renowned online fashion websites like Free People, that stocks up on latest designer trends at much lower costs. It began its journey as a startup in a small apartment flat in Australia and today, this e-store ships worldwide and has based its second headquarters in Los Angeles, USA. Moreover, it has turned out to be the most sought after online shopping portals for women who are looking for hi-street savvy or Boho-inspired apparel without having to spend a fortune.  
Inspired by the latest trends of fashion, street styling and pop culture, this online store has also become a go to shopping destination for several women all over the globe. One of the reasons for the fame, which is ascribed to Princess Polly is that they produce imitations of actual designer wear. This means that from here, you can select designer style level clothing, but at nominal prices. Plus, their product turnover and store upgradation time is minimal. So, you will be saved from the hassle of wishlisting and waiting for the products to restock.  
---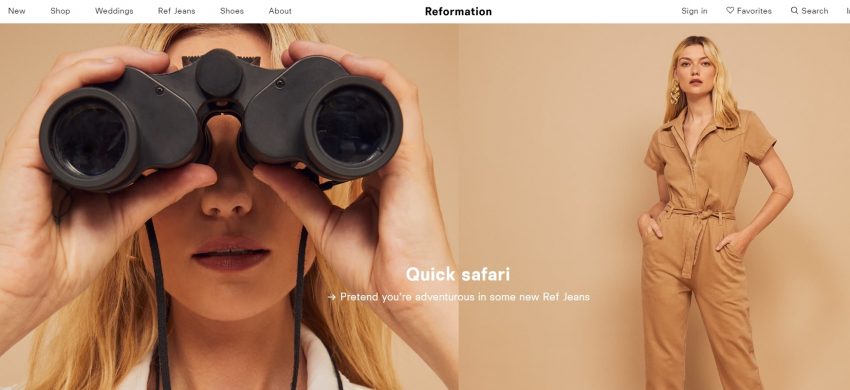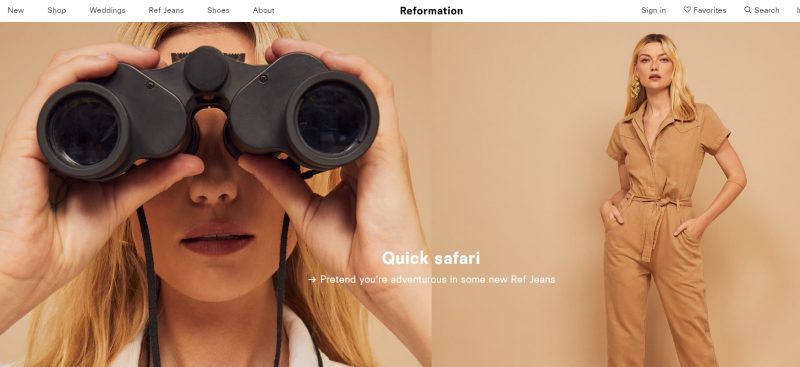 Being a store similar to Free People, Reformation offers certain high-quality fashion apparel and effortless silhouettes for women that celebrate femininity  and feminine elegance. Here, fashion clothing is available in a variety of sizes, making fashion accessible for everybody, regardless of body shape and size. From dresses that will undeniably make you look pretty to tops that will add charm to your outfit, denim jeans to define your curves to bridal wear for brides and their bridesmaids, they have it all to awaken the fashionable diva inside you.  
The brand, which also has several walk-in stores across the globe, is an environmentally conscious one. They continually try to upgrade to more sustainable practices and generate innovative ways to reduce the impact of fashion on the immediate environment. Reformation also boasts of its unique feature, which is that of a wedding salon. Through this, brides to-be can get in touch with their expert stylists, designers etc.. to get custom styling for your big day.  
---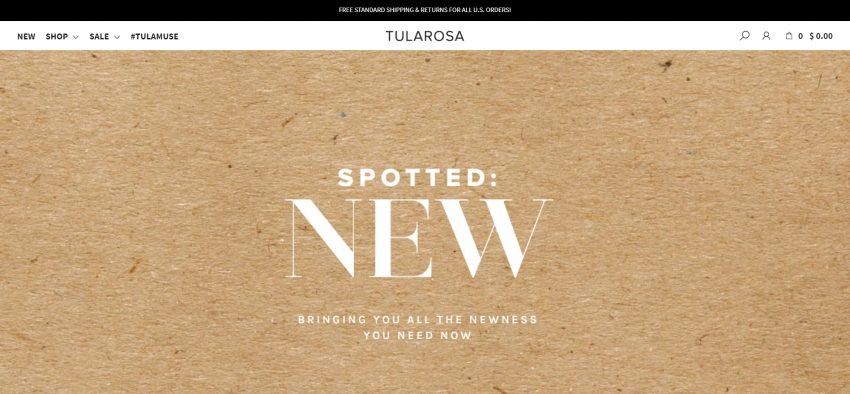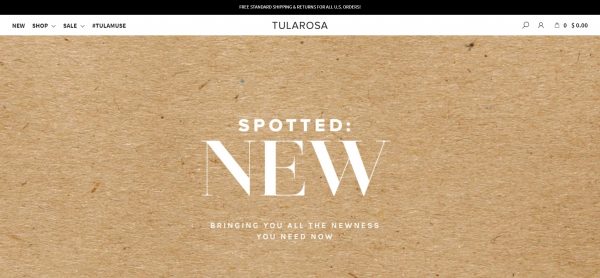 This is one of the women's fast fashion stores like Free People, that offers affordable casual apparel. From Tularosa, you can shop for cutesy, pastel dresses, envy worthy variety of tops – floral, bell-sleeved, cropped, solids, tanks, crochets – flattering jumpsuits and defining rompers, comfort shorts and chic trousers. This means that you will get almost everything you need to look fashionable, at one place.  
They have an exclusive #Tulamuse section on their website. From this section, you can pick up outfit ideas and even shop for complete looks in one go, saving you the hassle for matching and curating outfits. In addition, they have quite a fast product upgradation rate, so you can find new styles added almost every week at Tularosa.  
---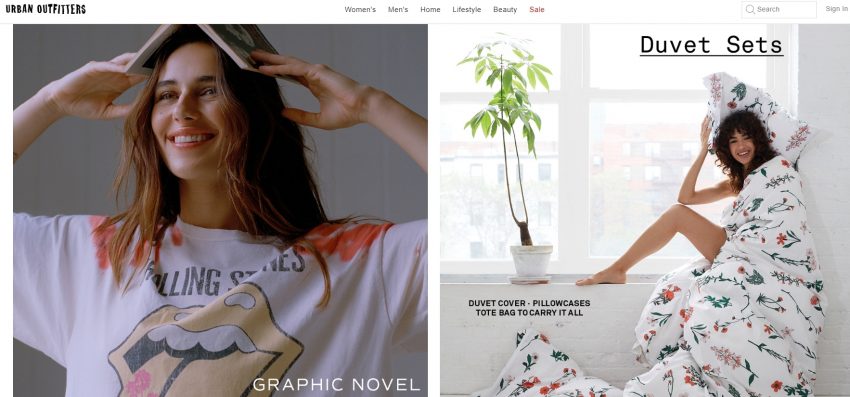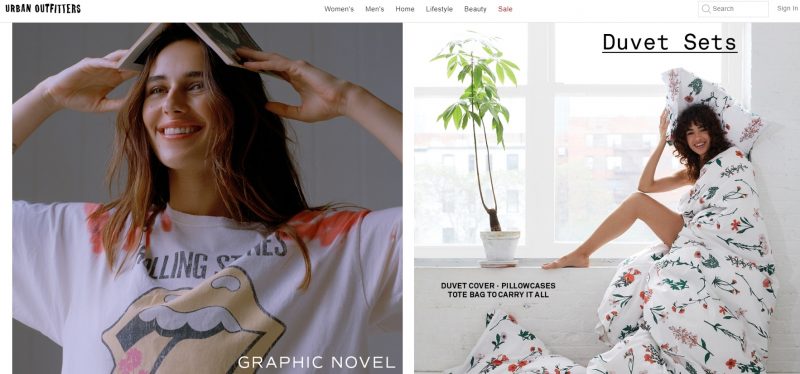 This is yet another among the online fashion and accessories websites like Free People that is a subsidiary brand of the URBN business group – the same company that owns Anthropologie. It has a diversity of products for the fashion-forward youngsters of today. Graphic t-shirts, tie and dye prints, stay at home pajamas along with collection fulls of lifestyle, beauty, décor and stationery products, here you will find everything at one place.  
They have more than 200 physical stores in the United States presently and ships to several other countries worldwide. Their physical stores are specially designed to offer experiential retail environments for its customers. From time to time, they announce massive discounts on their website, so you can be on the lookout. Presently, they have a flat 40% off on dresses and rompers. So hurry and revamp your wardrobe! 
---
Romwe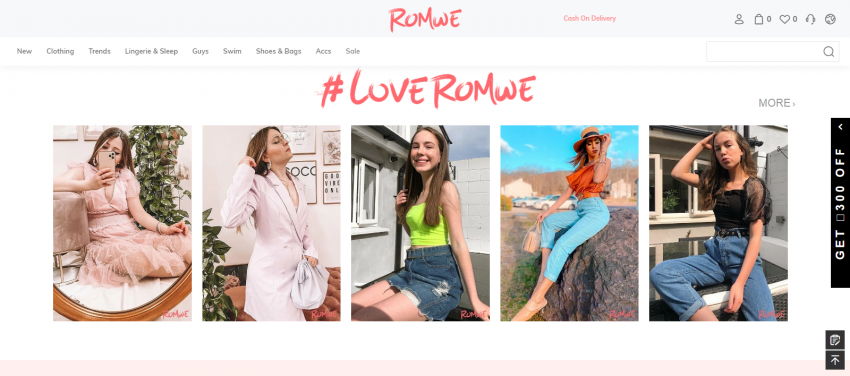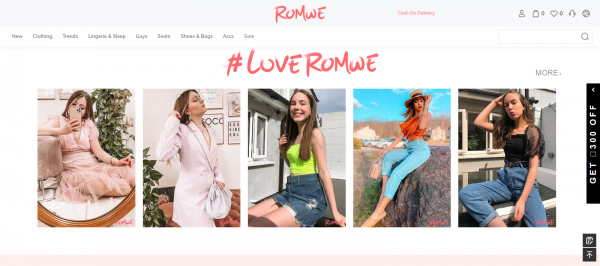 This is a complete online shopping multiplex for college-going youngsters that is hands-on trendy and affordable. They design, source, market and sell men's and women's clothing, accessories, and home and lifestyle products, by ensuring quality standards.
Here you can find almost everything you need for an attractive outfit. Dresses, tops, pajama sets, swimwear, accessories, shoes, and bags, you name it and they have it. Besides, you can also shop for cute stationery items, home décor basics and essentials, jewelry, basic electronics, cosmetics and beauty, skin and personal care products.  
They have a fluid and hassle-free shipping and returns process. However, your order may take up to 16 to 25 days to process completely. Free deliveries are also available for orders above $35. Their sale prices start from as low as under $5. Plus, if you are a student, they have some dirt-cheap prices and bulky discounts for you! 
---
Shein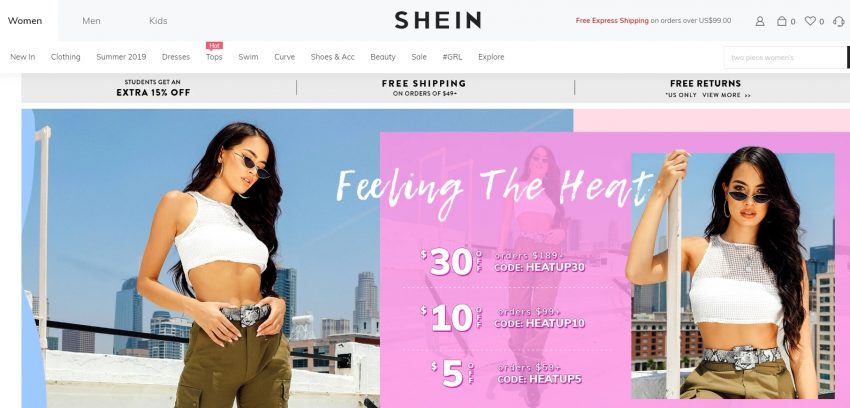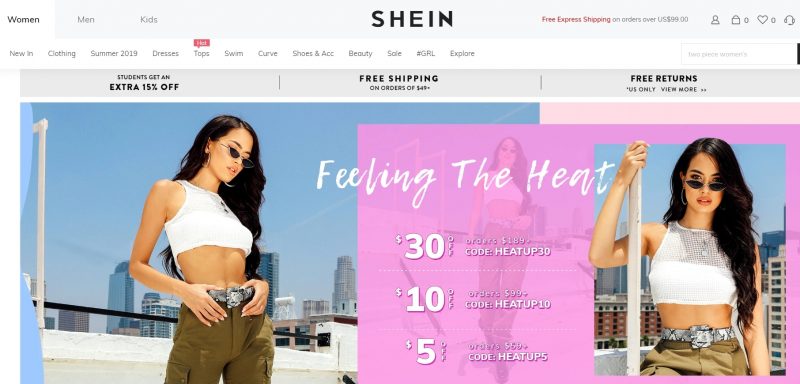 When looking for the best online stores like Free People for lovely clothes, Shein is one destination you cannot miss. The online women's clothing store is based out of China. It is considered no less than an exotic boutique for women's apparel; however, it has a bonus of affordability. Now you can easily avail classy and elegant dresses on a budget for any occasion you want.
There are multiple reasons for Shein's popularity and ranking. The pieces offered on Shein are not just elegant and trendy, they are also very unique. One could easily compare the clothes on Shein to top designer ones. Yet, they cost much lesser – a relief for your pocket. Although a lower price means a little sacrifice in terms of quality, customers barely complain about these budget buys.
In a nutshell, if you are looking to be called trendy and fashionable, you have to be at Shein. There is enough good reason for the online store to gain such popularity across cities and countries. Therefore, it deserves a mention on this list of the best online clothing stores like Free People.
---
Stores like Free People do make fashion affordable for all. So, whether or not you're a big spender, you can curate your own outfits and parallel the latest fashion trends with the aforementioned stores. And we are sure, they wouldn't disappoint you.