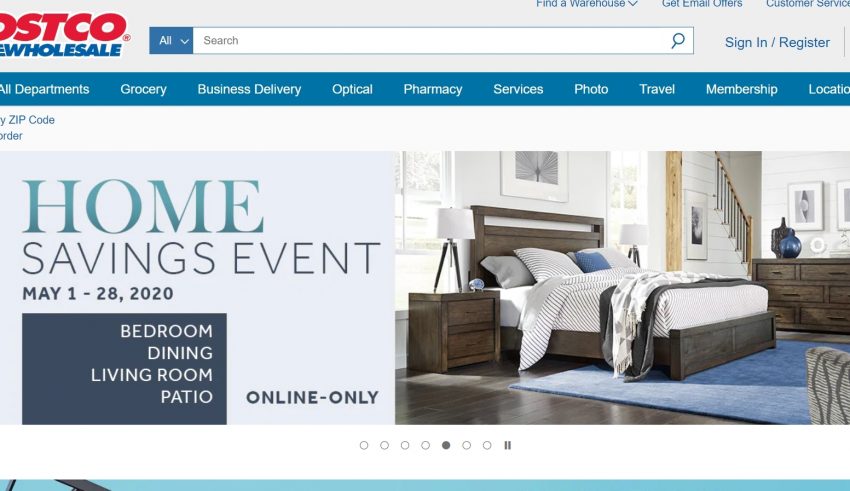 You cannot deny the happiness and satisfaction shopping at Costco brings to the mind. Walking through store aisles is like the trip you were waiting for the entire month. With stacks on either side full of things you'd love to take home, shopping at stores like Costco is also about choosing budget over urges.
Perhaps this is why Costco is such a favorite among enthusiastic buyers. The warehouse store has been functioning since 1983 and has a huge following. Costco is one among the top three warehouse clubs in the country, which sells a wide variety of goods and products in bulk at wholesale prices. From electronics to food, furniture to movie tickets, Costco has everything you need under one roof.
Yet, we cannot deny that several walk-in and online shopping stores like Costco have emerged in the recent times. If you are a bargain-hunter too, take a look at these 10 budget-friendly stores like Costco for your next haul.
Here are the best alternatives to Costco: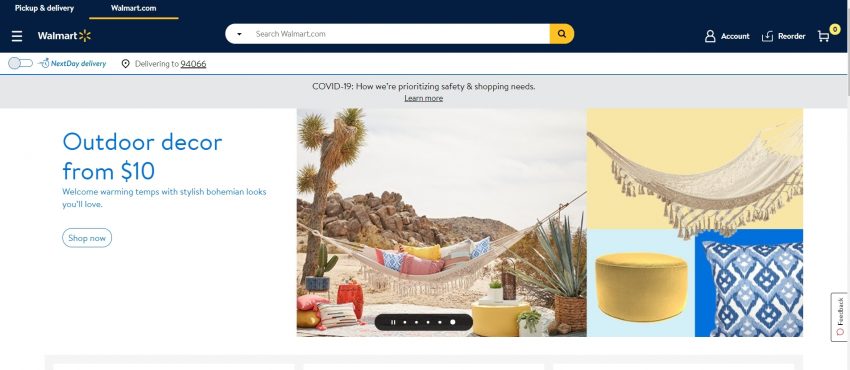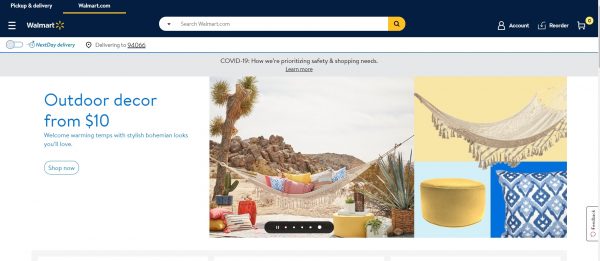 A discussion on stores like Costco is incomplete without the mention of Walmart. Boasting more than 5000 stores across USA alone, Walmart is spread across multiple countries. With the kind of perks Walmart offers, it is easily one of the best alternatives to go for.
The selection of products at Walmart is broader when compared to Costco. For example, you might not expect to see a scooter at Costco. Besides, the membership card offers perks like discounts and freebies for restaurants Walmart has partnered with. Shopping and food are, after all, the two gates to heaven, don't you think?
It might seem initially that Costco offers products at lower prices compared to Walmart. Yet, if one compares the membership fees and other costs, there is not much difference. Besides, you can expect to walk into Walmart in your neighborhood, considering its widespread presence. The same cannot be said about Costco.
---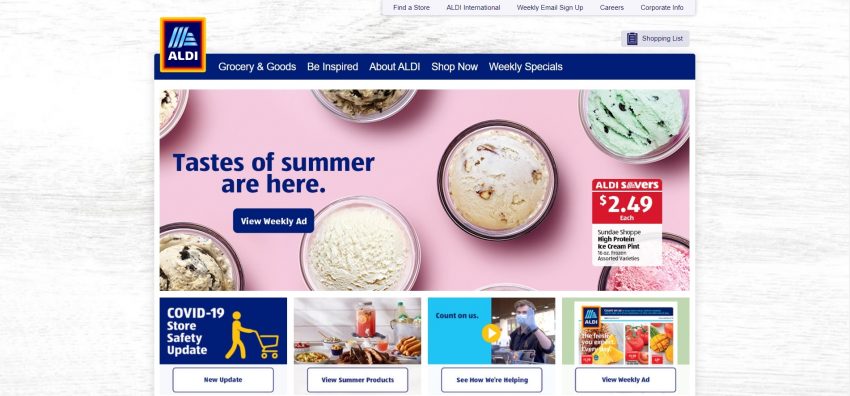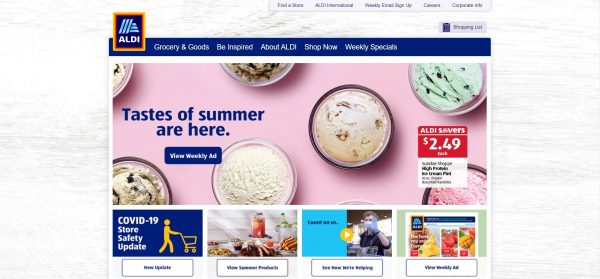 Aldi is one of the best alternatives for anyone looking for stores like Costco to buy goods from at pocket-friendly prices. What makes Aldi stand out from the rest is that you don't need to pay any membership fee. This is a great sigh of relief, considering membership fee at Costco is often increased mercilessly.
Aldi sells numerable products to its buyers, including frozen food items and regular groceries. Products come boxed, including multiple packs, adding to your convenience if shopping in bulk. Therefore, shopping at Aldi brings comfort not just to your budget but also in terms of carrying the goods.
Yet, what you need to know is that Aldi stores only food and drinks. Unlike Costco or some other warehouse stores which provide you greater options, Aldi restricts you to groceries and food. You can always avail of some chosen goods from their Special Buys section though.
---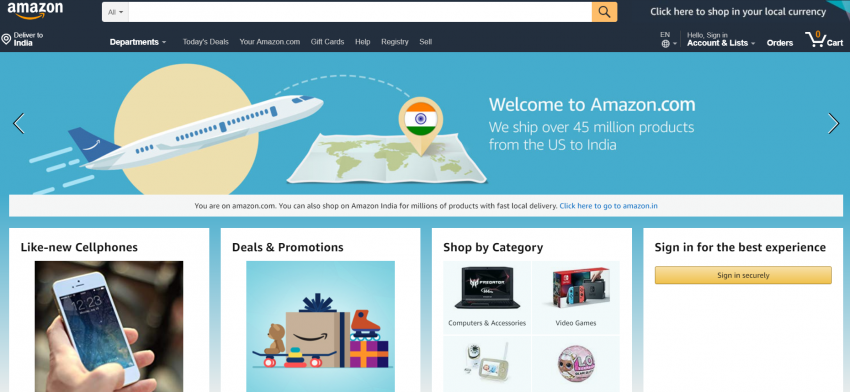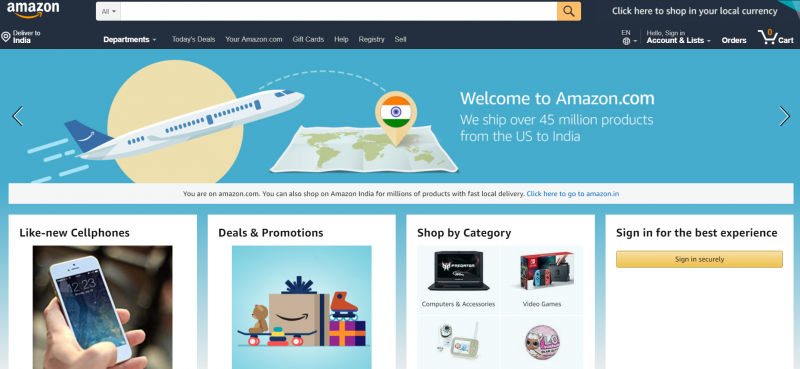 Amazon has, in recent times, become the world's largest marketplace. With an Amazon Prime membership comes multiple perks. Prime members are guaranteed free shipping within two days. Besides, Amazon Prime even delivers on the same day itself in a select few cities, for orders above a certain price.
The comfort of shopping from home has been revolutionised through Amazon in the recent times. Amazon Prime Pantry is just like the conventional warehouse club, where people can avail products in bulk. There is a fixed extra charge for the boxes, but this is a great investment. After all, you only have to walk as far as up to your main door to get the goods.
Another feather to the cap is how Amazon Prime membership doesn't provide just goods, but a number of services too. This includes movies, TV shows, music and much more.
---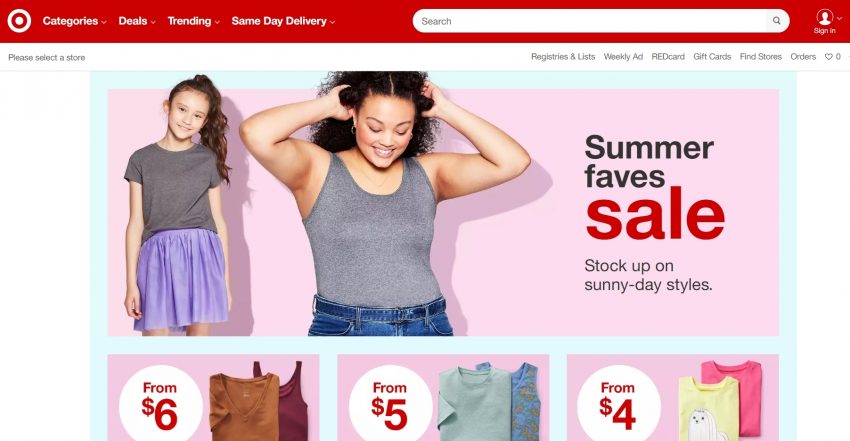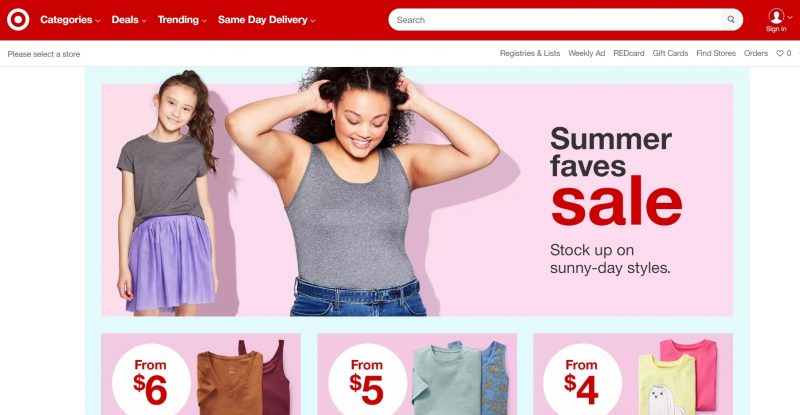 Target is not identical to warehouse stores like Costco in terms of buying in bulk. Yet, the attractive perks and discounts available at Target compel us to feature it on this list. Target boasts of w rich variety of products at affordable prices and frequent sales.
We cannot deny that the option of buying in bulk lends an upper hand to Costco most of the time. Yet, there can be times when you do not want to buy good in such numbers. For all such occasions, Target is the best store you can go to. Target offers dependable brands and amazing quality for quite low prices.
Besides, Target is also famous for its apparel line-up. A visit to the store for some goods doesn't mean you are not allowed to peek into their clothing collections. Target offers you a great chance to buy your favorite products at attractive prices, while sipping coffee and hopping clothing labels in between.
---
Boxed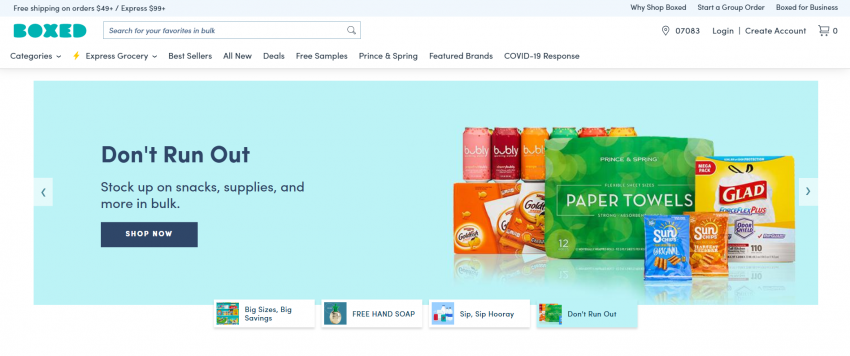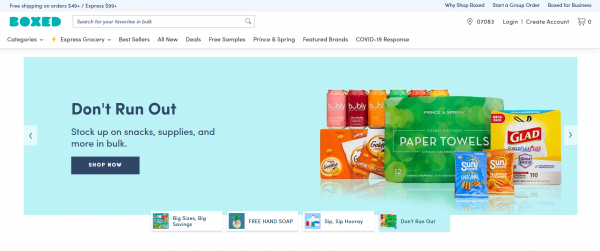 Boxed is another leading online retailer when it comes to household products. Just like warehouse stores like Costco, Boxed also offers the perks of buying goods in bulk quantities at slashed prices. It was established in 2013 by a tech-entrepreneurial group. Besides, there are added benefits such as no membership fee, free samples just like walk-in stores and free shipping for orders worth a certain value.
Customers seem pleased with Boxed, consider its timely delivery. Certain items, such as perishable goods and requested products, see an express delivery system at place. The shipping and packaging ensure that there is no harm to the environment.
Boxed, unlike Amazon or Costco, does not cater to electronic products or furniture. This limitation seems a little disappointing, considering people also prefer to shop for these products online. Nonetheless, Boxed is a great alternative for shopping stores like Costco if one doesn't have the time or the means to step out.
---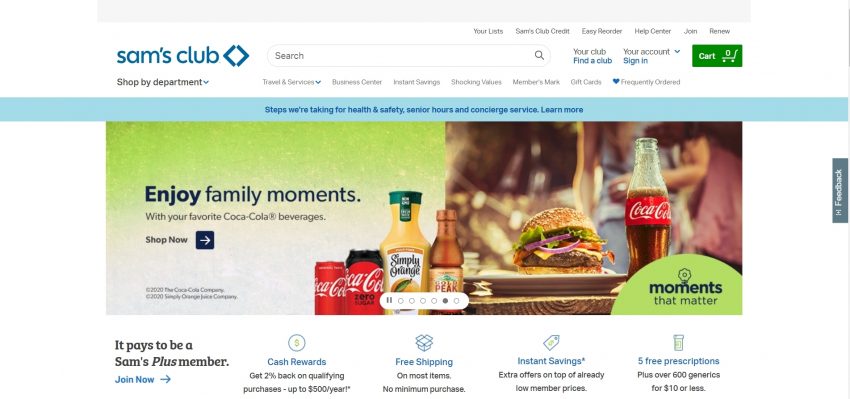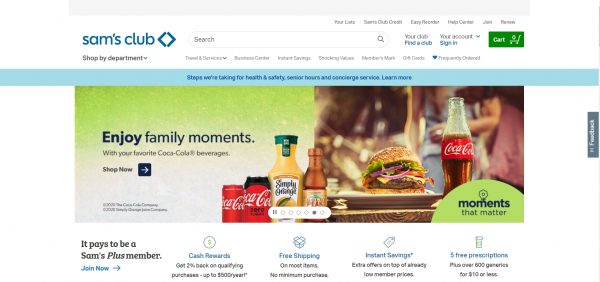 The established truth is that there are only two stores like Costco which can compare to the warehouse chain's name in the US. One of them happens to be Sam's Club. Just like Costco, Sam's Club charges an annual membership fee from its customers. They can avail goods and products in bulk quantities at wholesale rates.
If you have been shopping at Costco and have loved it, you might wonder if you need to try Sam's Club at all. Well, Sam's Club charges a much lesser membership fee yearly. The range of products is almost the same, while the ambit of services provided is wider. If you are looking for an elevated shopping experience, complete with great food, clothes shopping, movie tickets, you need to visit Sam's Club.
Besides, Sam's Club is also known for its unique vibe and lovely shopping experience. So, if you are someone who loved to hop out on a weekend to spend some time with your partner or friends shopping for goods, visiting Sam's Club is something you might want to consider.
---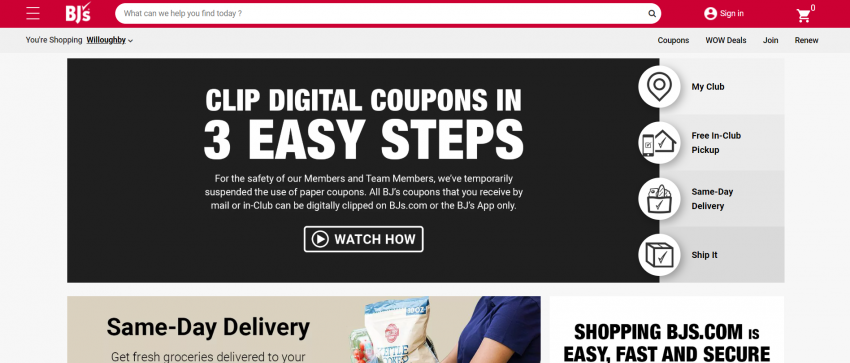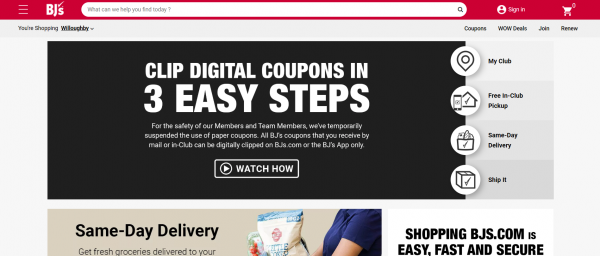 The BJ's Wholesale Club is counted among the top two stores like Costco, the other being Sam's Club. The business model of this warehouse store is almost similar to the other two, besides its own perks. We assume you would like to know if it is a better choice than Costco.
Firstly, BJ's Wholesale Club offers a membership fee that is much less compared to stores like Costco. Their online-only membership is even more budget-friendly, at just 10$ a year. Despite the low membership fees, BJ's Wholesale Club doesn't fall short of offering almost as many products as stores like Costco. Besides, the discounts are attractive for all products – furniture, electronics, food and groceries, alcohol and so on.
The store is much more convenient when it comes to shopping, thanks to the level of organization of products. Adding to that is the hassle-free checkout process, which tends to get cumbersome at other stores. And if you are thinking BJ's Wholesale Club is only about products, you may be wrong. It provides customers with numerous services, which include lip-smacking treats.
---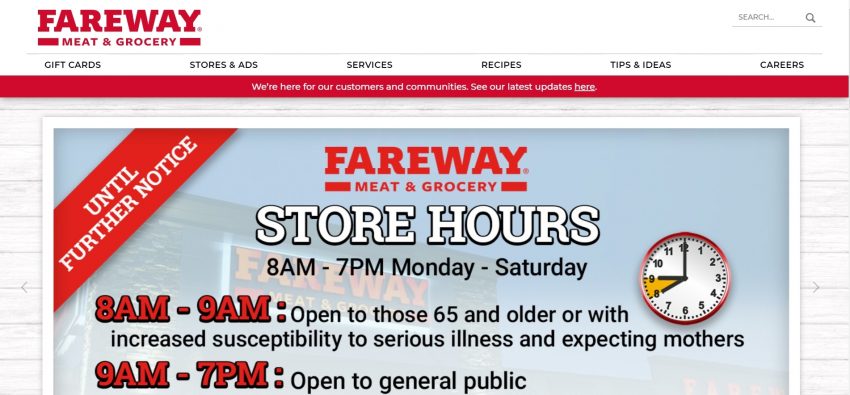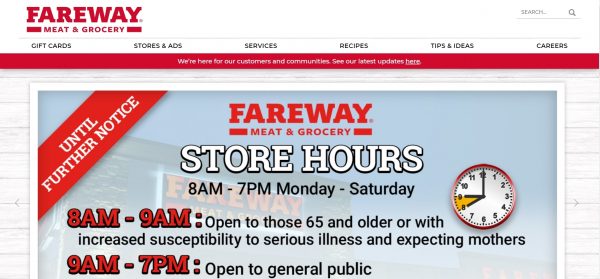 Fareway Stores is a family-owned institution, operating since 1938 in the Midwestern USA. The store is not available across all states though. You can hope to come across this store only in places like Nebraska, Minnesota, Illinois, South Dakota and Iowa. So, if you are hoping to shop in stores like Costco in any of these places, Fareway is a reliable option.
Fareway is loved by customers because of the regular promos and coupons it provides them to avail extra discounts. The service provided by this store is one of the best in the entire country. This holds true not just in terms of customer support, but also for factors like cleanliness and hygiene, variety and collection, speedy and hassle-free checkouts and its jolly, helpful staff.
Also, if you are looking for budget-friendly shopping for meat or other poultry products, Fareway is the best option. The store has a wide-ranging collection of fresh, natural meat, including pork, beef, and poultry. We may not call Fareway the cheapest alternative to stores like Costco, but it is certainly a reliable and time-trusted one.
---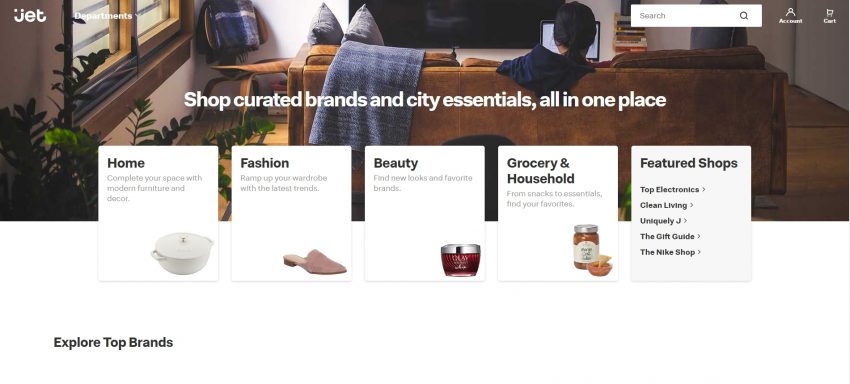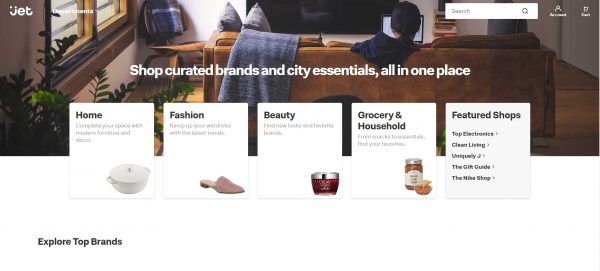 Even though Jet is an online marketplace, it has earned a reputation at par with other stores like Costco. Ever since its inception, it has been described as a 'thrift-centric' retail shopping site. The reason is that Jet offers an enormous range of products to buyers at cheap prices.
The major goods and products available on Jet encompass household goods. These include electronic items, pantry and grocery items as well as clothing items. The only downside to the store is that some products are overpriced as compared to other warehouse stores, where you can avail them at higher discounts.
Yet, shopping at Jet assures you premium quality products with free shipping within two days of order. Besides, contrary to stores like Costco and BJ's Wholesale Club, you are not charged any membership fee. The same cannot be said about its biggest online rival, Amazon Prime.
---
Kroger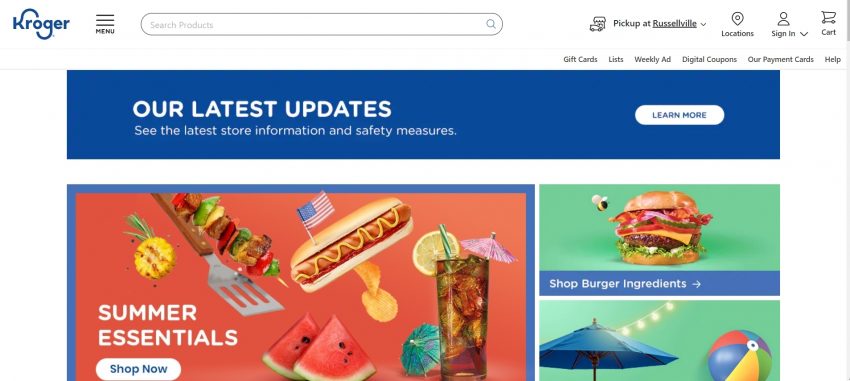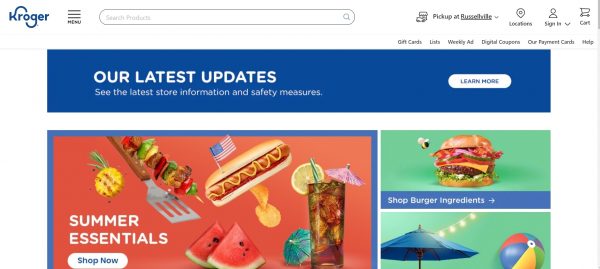 Kroger is already a well-known name in the retail market and stands only second in terms of the most widespread retail store, the first being Walmart. Established in 1883, Kroger is headquartered at Cincinnati, Ohio. It is one of the most successful retail chains in the US, being the largest supermarket based on revenue.
Although we cannot strictly call Kroger comparable to stores like Costco, which are essentially warehouse clubs, Kroger still deserves a mention. The kind of variety in terms of products is unparalleled. Customers always speak highly of not just the quality of the products but also the cleanliness and order at the stores. In recent times, in a bid to compete with emerging giants like Amazon, Kroger has also shifted to making a strong digital presence.
We admit that there is a marked difference in prices compared to warehouse stores like Costco, but you are not compelled to buy bulk products here. This makes Kroger the ideal choice for anyone on a low budget, in need of fewer items from the top brands. We suggest Kroger because of its time-trusted performance as well as it's promising service.
---
Why shop at Warehouse Stores?
For anyone who is either too busy to shop often or on a tight budget, shopping at warehouse stores is a great alternative. With a day-by-day increasing presence of such stores on the internet, things have become even easier.
All you need is a membership card to most of these stores, and timely renewals. The clubs and stores keep the prices quite low compared to supermarkets. Even the online stores play the game well, despite their prices being a little high. They make up for this by providing free shipping to your doorstep, which is a sigh of relief for many. If you are also looking for bargain products, this list is for you. Just keep in mind that you'd be buying in bulk, and everything else will be smooth and budget-friendly. Happy shopping!