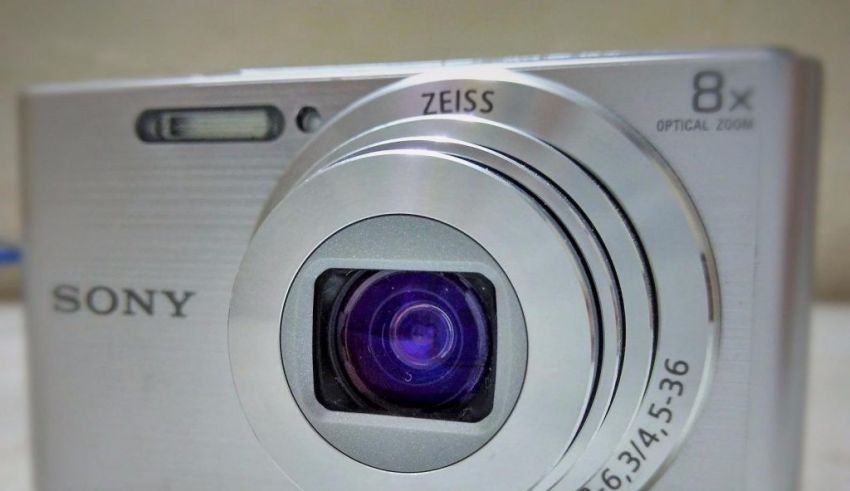 The Sony Cybershot W830 is a mid-range point and shoot ultra-compact and sleek camera with an 8x optical zoom and 20.1 MP high-resolution HAD CCD sensors. It features Bionz processor which can shoot at the highest resolution of 5152×3864 pixels with aspect ratios of 4:3 and 16:9. It has a native ISO range of 80-3200 but does not support RAW file. W830 can shoot high-def 720p HD videos with a resolution of 1280×720 pixels and a rate of 30 frames per second. It is powered by a proprietary NP-BN lithium-ion rechargeable battery and includes both composite standard video output (SD) and USB 2.0 high-speed data connectivity. Available in various colours, the Sony W830 priced at Rs.7139 with two years warranty.
Like any other Sony compact cameras, the DSC W830 is a good-looking camera. The built quality is excellent as it has a strong all aluminum body. The camera is, in fact, an exceptionally small and lightweight product even by ultra-compact standards, measuring 91.7×51.9×19.7mm and weighing 124g including battery and the memory card. The dual-format card slot is capable of accepting either SD/SDHC cards or Sony's own proprietary memory stick pro duo cards. In the back panel, the camera has relatively large 2.7-inch LCD screen. The six-place mode dial is very small, but it has both a spline edge and a raised knob, which makes it easy to turn despite its size. I found the buttons a bit smaller and fiddly. The top panel is home to the flush mounted on/off button. The zoom function is controlled via a rocker switch in the rear panel. The shutter button is lozenge-shaped like on/off switch. It was difficult for me as the half press distance which activates the auto-focus and exposure is very small.
The DSC W830 features BIONZ image processor, Swiss-German Carl Zeiss branded 8x optical zoom lens with optical steady shot image stabilization. The lens is 25-200mm in 35mm terms. The optical SteadyShot image stabilization helps to get blur-free images at slower shutter speed as the maximum aperture is a bit concern. It is slightly dim, starting from f/3.3 wide angle and falling to f/6.3 by the telephoto position. The W830 has 20.1 MP CCD sensor, 720p (1280×720 pixels) video recording, advanced nine-point autofocus and a 360 degree sweep panoramic shooting. The ease of use features includes Intelligent Auto mode, which recognizes the scene type and configures the camera appropriately which makes it easy for beginners. The camera features a number of other scene modes and face detection focus.
The Beauty effect function lets you retouch portrait images to smooth and tone your subject's skin, whiten teeth, widen eyes and remove shine. The sweep panorama feature can capture wide panoramic shots by simply panning the camera across the scene while holding the shutter button. The self-timer option can be accessed by pressing the bottom position on the four-way pad. The camera can take 210 shots on a fully charged battery. For convenient movie shootings, there is a dedicated movie button on the camera that instantly starts recording HD videos without going to the menu. The HD videos records at the highest resolution of 1280×720 pixels and they are saved in H264 formats. The 720p HD mode is available in two quality settings, fine and standard. Both are encoded using the efficient H 264 codec and save as a quick time file with mp4 extension.
The DSC W830 is one of four very similar cameras in the W series. It shares most of the same features with W350, W360, and W390 with variations in monitor and lens size. This camera is equipped with fast BIONZ processor, but its overall performance is good-by most standards. It takes about 2.5 seconds to start up and take a picture which is about average for cameras in this range. In continuous shoot mode, it can take a burst of four frames in about 2.5 seconds. The noise control is generally good, but like the most 14MP small-sensor camera's it is not perfect. Image quality is excellent up to 200 ISO only as it starts deteriorating at ISO 400. The colour output remains consistent up to 800 ISO, which is good in my opinion. The camera does not feature Wi-Fi and other connectivity option but is one of the cheapest compact cameras available with optical image stabilization.
Sony CyberShot DSC W830 Specification:
20MP – 1/2.3″ CCD Sensor
ISO 80 – 3200
25-200 mm F3.3-6.3 Zoom Lens
Optical Image Stabilization
2.7″ Fixed Type Screen
1 fps continuous shooting
1280 x 720 video resolution
122g. 93 x 52 x 23 mm
Pros:
Sleek and modern design
Impressive image quality
Good noise performance
Cons:
Average IS performance
Min focal length could have been wider
Ratings:
Design & build: 7/10
Features and performance: 7/10
Image quality: 7/10
Value for money: 7/10
Sony CyberShot DSC W830 Price:
Sony Cyber Shot DSC W830 Sample Images:
YouTube Reviews:
Featured Image: Chopnews
Read Also: 10 Best Cameras under Rs 20000 to Buy