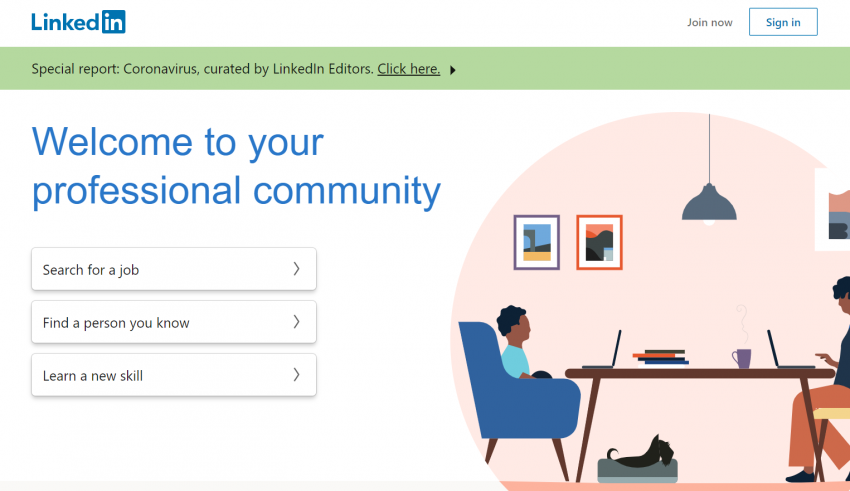 Indeed is one of the prominent sites used for job hunting. Being the most widely used job portal owing to its user-friendly interface. There are innumerable reasons for the success of Indeed. It is considered as the best job portal in many countries.
This article will include the best alternatives to this popular job search website. This list is compiled after extensive research considering various parameters like accessibility, intuitiveness, response rate amongst others. The list contains 11 alternative job services to Indeed.
Here are the best alternatives to Indeed: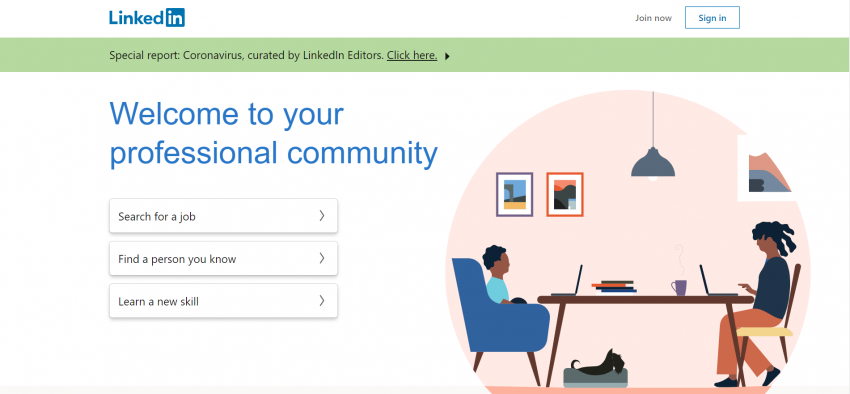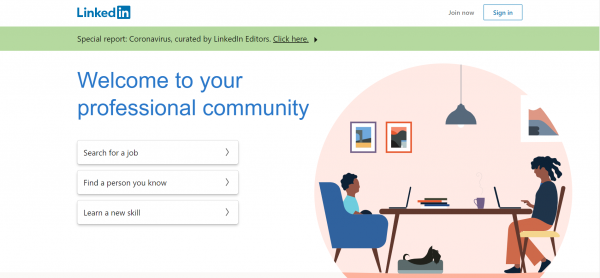 Related: Best Sites to Buy LinkedIn Connections
This job search service is provided by Microsoft Corporation. It is an ATS based site that inculcates a pipeline builder to target the deserving talent. It has a website as well as an app. It has a free as well as a premium edition. The latter comes with exclusive features and is a boon for entrepreneurs. The major highlight of this site is the plethora of connections and the opportunities to connect with professional people.
Moreover, you'll receive connection requests from all legitimate profiles. You can highly digitize your work profile and emphasize professional affiliations, work experiences, skills amongst others.
This service fetches you an excellent opportunity to collaborate with your peers and widen your social network. A glance at the features reveals support in 24 languages.
Further, you'll get an intuitive interface that facilitates the connections with people and make the process easy and rapid. Users are able to customize the settings. Currently, LinkedIn has more than 690 million registered members. It has 33 global offices.
---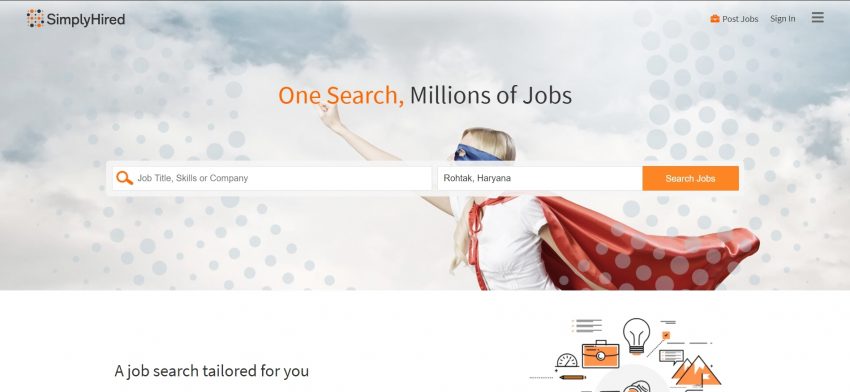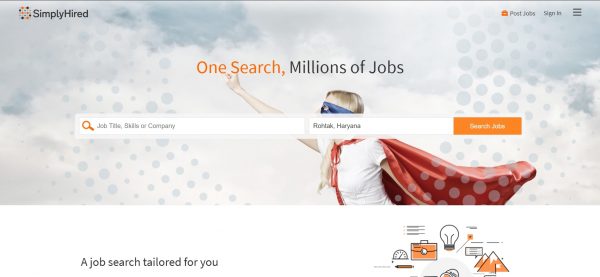 Simply Hired is an outstanding platform for both employers and employees. This company provides potential professionals access to plethora of jobs across all categories and industries. The service gives job results from various websites and job boards which characterizes its larger base. Further, it has support for web, mobile devices. Members can search for jobs via email and even partner sites like The Washington Post and ABC News.
Candidates can receive job offers from multiple companies or employers at once. Some of the notable features of this service are a user-friendly interface, easy searching with the help of location options, etc. The service has exceptional criteria for job search. It comprises the salary estimation option apart from the traditional job title, employer options. Simply Hired uniquely portrays the correct information for your career needs. This is one of the most trusted job platforms.
---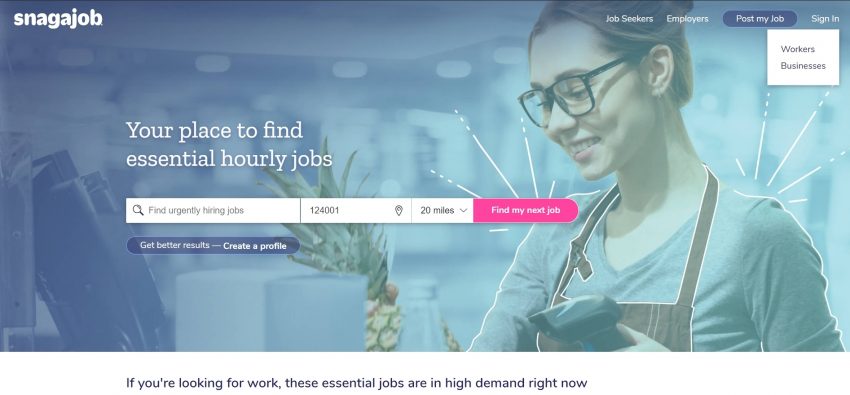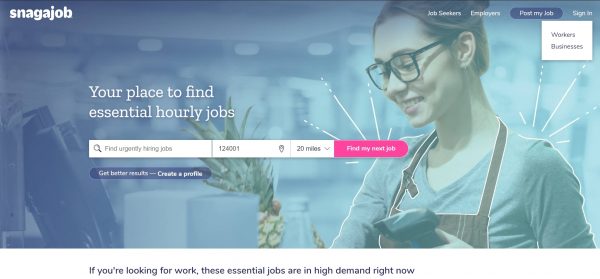 This is an online staffing platform founded in 2000. It was given the title of "Great Place to Work" by Fortune magazine for eight years. In April 2018, the name of the company was changed to Snag after launching a re-brand. This service is made for hourly workers. This site can work best for employers who are looking forward to hiring candidates for entry-level positions.
The mission of the organization is to provide the most suitable or right-fit position to people who aspire greater things in life. Let's have a look at some of the exciting features. You can sort jobs by location, title, type, and other factors. You will find both full-time and part-time work. A sizeable chunk of the jobs includes freelancing. It is an ideal destination to search for internships which further determines its suitability for students. Get a new job with the click of the button.
---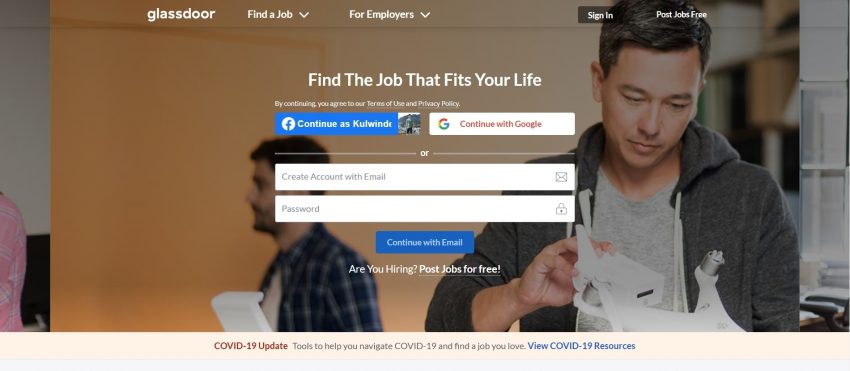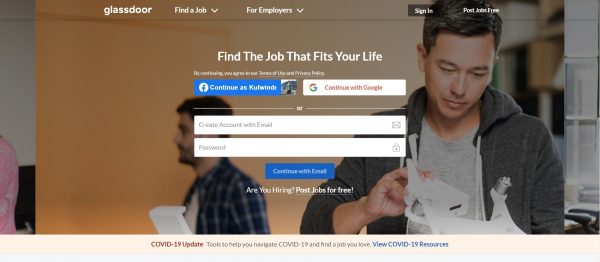 This organization was established in the year 2007. It is highly popular among the young candidates who are increasingly in need of high paying jobs. These people need to get acquainted with the culture of a company. Accordingly, Glassdoor has provided them an opportunity to become familiar with each and every aspect of a company, be it salary, work environment, and other factors.
You can critically analyze each aspect and select the best organization yourself. Some of the characterizes are many free features, intuitive interface, easy search amongst others. Even in the times of adversity, the company has succeeded in providing the best service to prospective employees. Recently, it released new features like a hiring surge explorer, innumerable tips & advice, and a virtual event for job search. Such methods can surely be considered as smart ways to apply for various jobs. It has over 67 million resumes.
---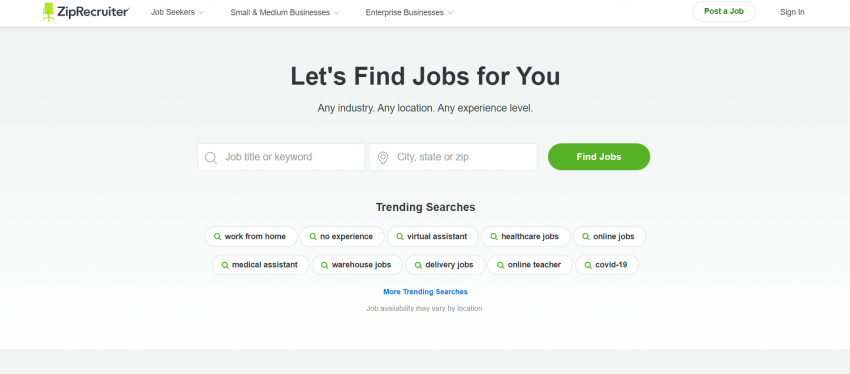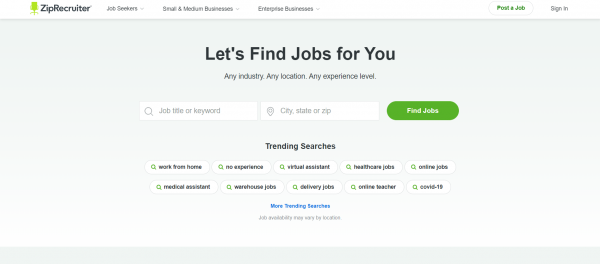 It has a website as well as an app that is mobile-friendly. It has a centralized database of applicants. There are more than 30 ATS integrations. Further, the company boasts about 40 million members who have subscribed to job email alerts. Owing to the large availability of job boards, so you'll not face any trouble in searching for work.
You'll receive pre-written and personal messages from employers. Moreover, you will witness email alerts that are pretty convenient as relevant jobs become much easier to apply to. It has got customer support which can guide you in your professional journey.
Other highlights of this service include integration with various social sites/networks, shareable resumes, and embedded resume viewer. There are more than 6 million vacancies available. Another intriguing fact is that Zip recruiter has an Artificial Intelligence tool that can easily match the right candidate to the right job. You can go for a free trial or a premium version.
---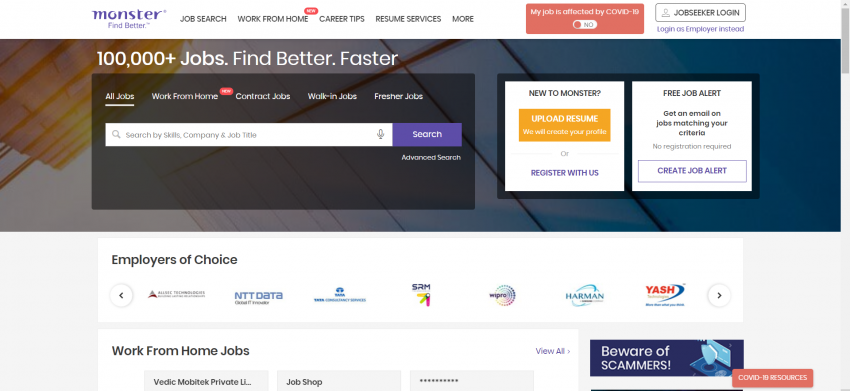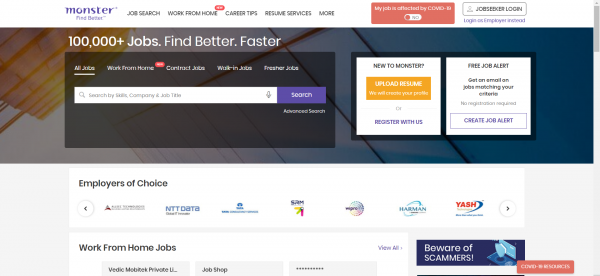 Yet another popular job-hunting site is monster. It is one of the most used services by both employees and employers. The jobs are listed on 500+ job and news websites. There are numerous appealing features of the intelligent mobile application by a monster.
This app is completely compatible with major mobile operating systems. Vital among these are assigning avatar to candidates (career status), regular notifications on job alerts, company/recruiter update, etc. Take advantage of a unique feature known as smart job recommendation which will allow you to find prospective employers according to your profile.
Moreover, you can gain insights into your account activity. Along with that, even importing contacts from other networks is possible. So, it is relatively very easy to expand your employer base. This is a one-stop solution to all your employment needs. There are decent candidate management tools for assisting employers with finding the best professional person.
---
This classified ad website is highly reputed worldwide and almost everyone is aware of it. The service operates in over 70 countries. It is available in English, French, German and other leading languages. The job section of the site contains almost each job that is available in the world. This service has advantages to job posters also. Employers can list their requirements at a nominal rate, which otherwise would have been costlier.
There is clarity about the compensation to be offered to the candidate. Always ensure that you possess the necessary skills required to get your dream job. You'll be extremely delighted to know that the Craigslist Dominator platform, which is completely automated was launched. More assistance to employers implies greater help to employees. Not only this, but you can also send emails to many people at once. This feature is appropriate for businessmen. This service is worth trying.
---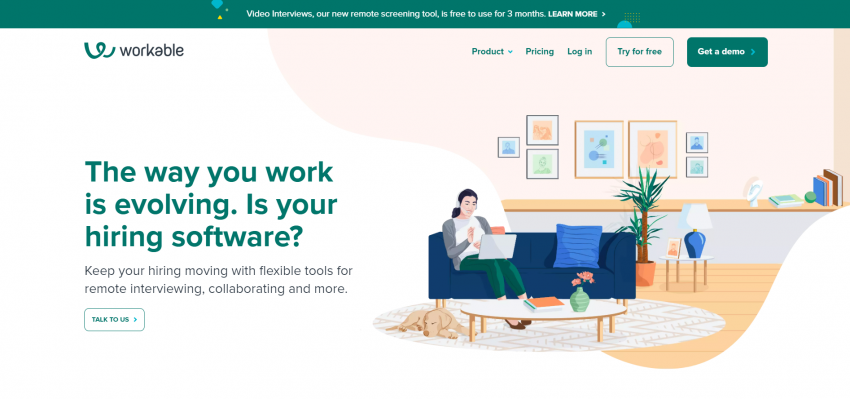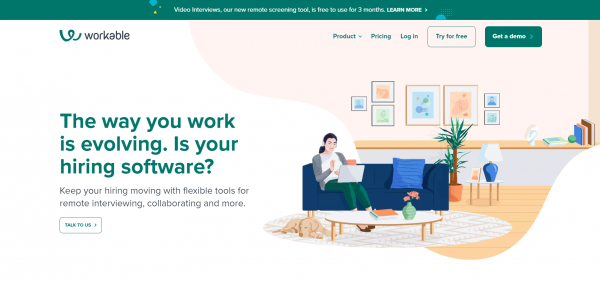 Workable is one of the best job platforms globally. This recruiting software works great for young people who are in search of a promising career. It is probably the best ATS available in the market today. This company is exceptionally quick in delivering the services. There are numerous third-party integrations like background checks. This tool is very user-friendly.
It has got a decent workflow. The main highlights of this tool include self-scheduling of interview, centralized hiring, etc. You can synchronize it with Google, Outlook, and other apps. The tool is also powered by AI tech. You are free to use the tool or go for a premium version for extended features.
---
Resume Library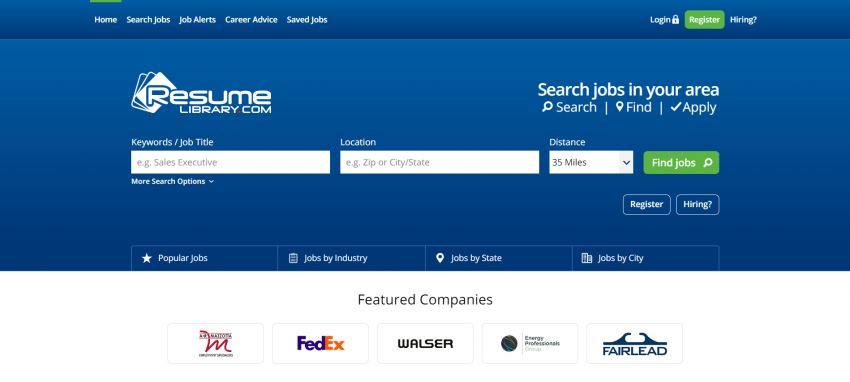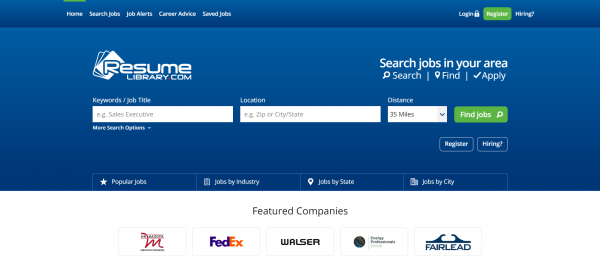 Not many people are familiar with this job providing company. The company has many big clients. It is quite affordable for the employers. About a million resumes are available on the site. There are 13 ATS systems.
Resume Library has a dedicated account manager. It provides a suitable platform for hiring the right people. It even has an android app that will enable you to apply to hundreds of jobs in seconds. Some of the features are fast job search, addition of new jobs daily, secure storage of resumes, etc. You can also save jobs in order to apply for them later. Moreover, there are job alerts that notify you regarding new relevant work opportunities. Apply to jobs within seconds.
---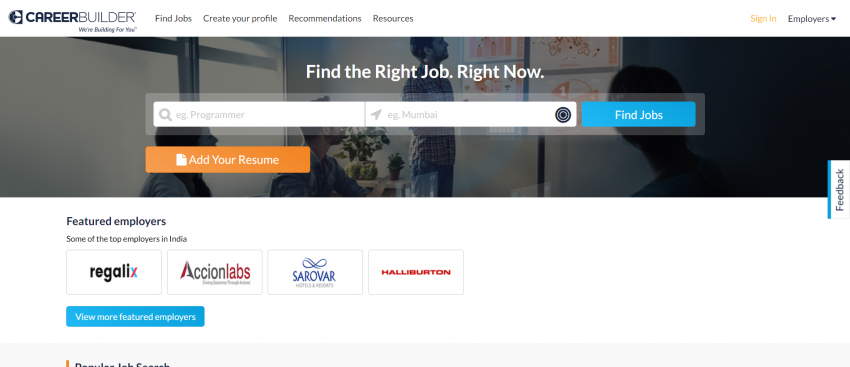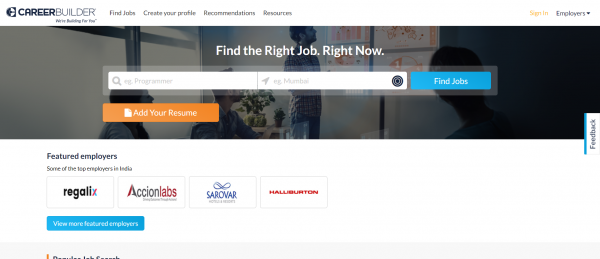 This job service was founded in 1995 in the United States. It is a well-reputed service that doesn't lag behind in any aspect. Further, it is available in various major languages. It has multiple offices around the globe. It operates in 23 countries. The service is resourceful for small businesses too. Its sites witness about millions of visitors every month. It encompasses the response tracking report option, which is indeed commendable.
Basically, it offers a number of perks to companies who want to attract top talent such as employment screening amongst others. Companies can send emails targeted at the best candidates. It has over 70 ATS integrations. Some of the features include intuitive interface, application alerts, etc. You'll get the jobs that fit your requirements. Furthermore, the software is extremely reliable. A major thought should be given to the reviews of the companies.
---


This site is specially designed to cater to the needs of university or college students. It is famous as LinkedIn for college students. As we know that young minds are ignited, there was a need to create a service that would take care of their interests. Students are special and deserve the best employment experience. There is tailored search available that lets you apply to only relevant work.
The communication is pretty straightforward. Recent graduates can easily find relevant jobs matching their skills. This is also an ideal destination for internships. The major highlight is that very Fortune 500 company is available on the website. Diving further into the features reveals the option of company reviews (which is pretty important nowadays), easy applying to jobs, etc. What's more? You can even register for recruitment events on your campus/college.
Next, it is recommended to join the Handshake community to enquire about anything related to your prospective job. Owing to the large no. of jobs offered, some students even call the site an 'online job fair'. Don't forget that it has got a ton of benefits for the job providers. Indeed, this company has redefined the way in which students get a job. But who cares? After all, the whole process is quite a convenient one.
---
These were the best alternatives to the world's best employment site Indeed. We hope that this list will help you to select the right job search service for yourself and your acquaintances, be it friends or family members.
Before selecting the right service, don't forget to consider whether the concerned company/portal can fulfill your task or not. For instance, Handshake and LinkedIn are appropriate for students. Likewise, Glassdoor can do the job of highlighting the secrets of a company better than other sites. With all this information in mind, get ready to land your dream job.