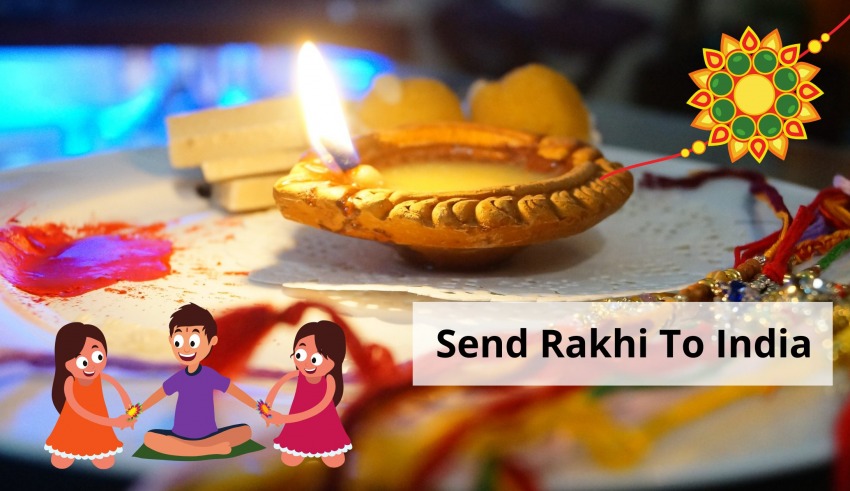 Rakshabandhan is a festival widely celebrated all over India and now even parts of the world. It depicts a strong bond between brothers and sisters. But the main idea behind this festival is to bring the families together and celebrate. Sisters buy rakhis for their brothers as they celebrate this auspicious occasion. But for the people staying abroad, it is difficult to get back for a single day. Various websites are available which send rakhi to India directly through online orders. Also Some Gifts for Brothers.
This way in these tough times when traveling is difficult, the families can keep their special bond. They can connect over video calls and enjoy Rakshabandhan together. The joy that families get after getting the rakhi goes beyond imagination. These sites keep the families close and the siblings stay together even though they are staying apart. These websites are perfect because of their timed delivery and extensive ranges of rakhi.
Here is the list of the 10 Best Sites to Send Rakhi to India: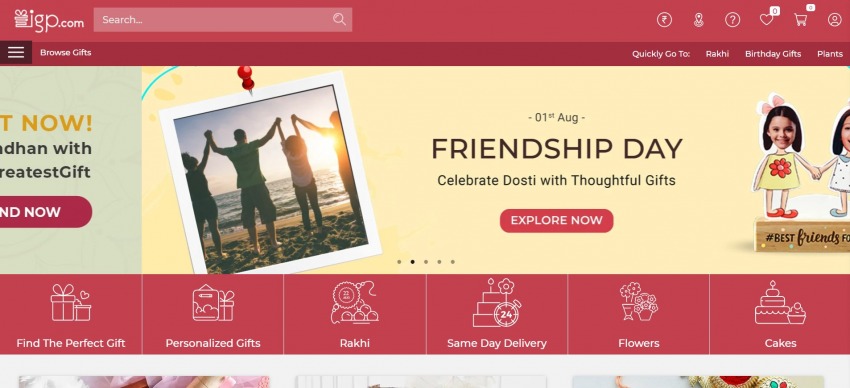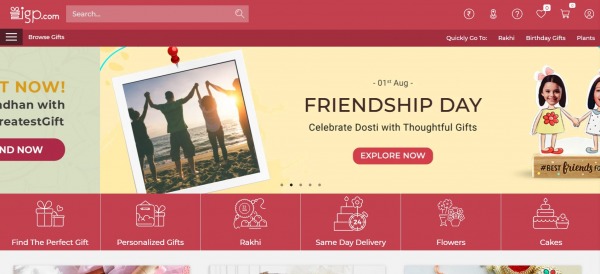 Rakhi and special gifts for the occasion are available for online ordering at IGP.com. This is a perfect gifting website where users can order rakhi and get it delivered all over India. They offer rakhis for everyone starting from special rakhis for kids to eco-friendly rakhis. Buyers who need more than a single rakhi can send complete sets of it. The buyers can choose up to 5 rakhis from a single set making it easy to send multiple people in any household.
But the best part about these rakhi orders is that the buyers can get special hampers. Combining the rakhi with a gift makes it even better. Chocolates, dry fruits, and sweets are available as hampers with rakhi. Special hampers for kids are available for ordering as well. They have filled their shelves with multiple choices including rakhi with puja thali.
Buyers can choose from the most eye-catching options of rakhi and send rakhi to India. Kundan pearl rakhi, antique divine rakhi, decorative enamel rakhi, and gold-plated bracelet rakhi are just a few exquisite options to look out for. Beyond these creative rakhis, there are personalized rakhis as well to get the pictures of your choice on the rakhi. All these come at the most affordable price and sisters can choose the best one for their brother based on their choices, likes, and personalities.
---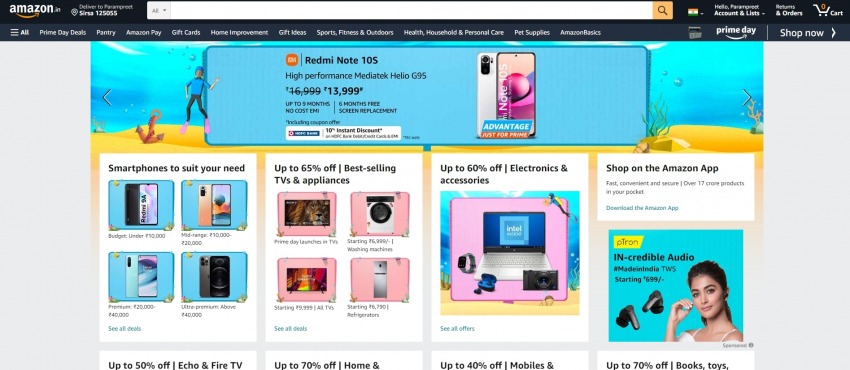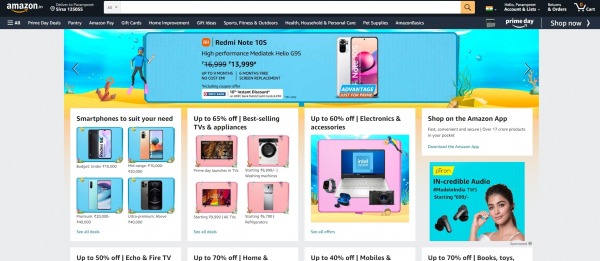 Amazon is one of the commonest websites both internationally and in India. For Rakshabandhan, they have opened their gates to rakhis from all around the country. Men's accessories with the rakhi like wallets and belts are the best choices among sisters who are gifting. Cards, explosion boxes, and chocolates are available as a combination with the different types of rakhis. There are extensive options to choose like stone or jewelry rakhis.
Beyond that, the metal rakhis and ethnic handcrafted rakhis look more royal and elegant. Royal patterns or ethnic rakhis are the best choices for sisters to send rakhi to India. Families are going to like something that looks creative but has the touch of old India to it. Along with it, the most iconic sweets like Sohan Papdi, Gulab jamun with Namkeen, or dry fruits are the best options. All of these are perfect to maintain that personal bond with the family even from far away.
Different bracelets are present as well as metals or stones. Combos of multiple rakhis are all unique from one another. Silver bracelets are a bit expensive but the design makes it worth it. The metal bracelet feels really attractive for the brothers and cousins all around India. Since Amazon already has its personal supply chain, they make sure each product reaches the brothers perfectly.
---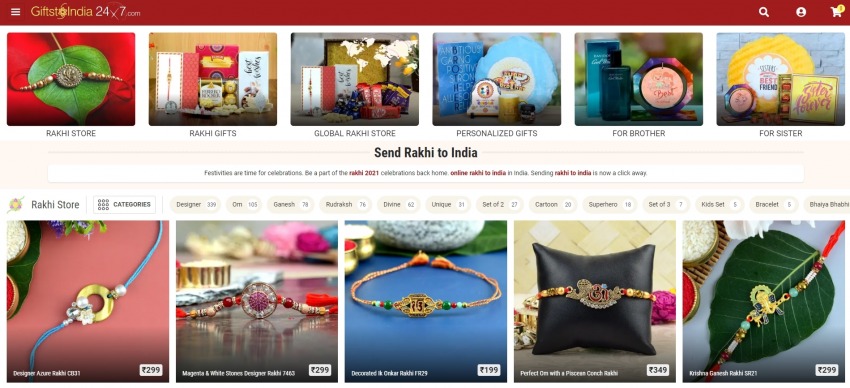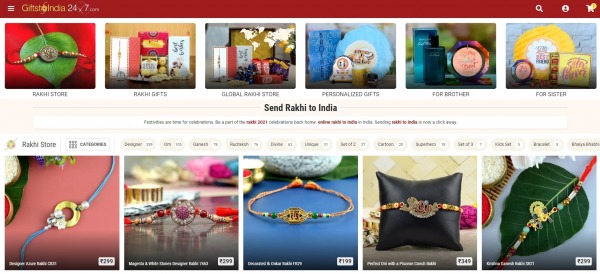 GiftstoIndia is a perfect online platform that has a huge collection of rakhi. Beyond rakhi, they have a personalized gifting and rakhi gifting range for the buyers. Gift packages for brothers, sisters, and kids go perfectly with the rakhi. Sisters from all around the world can send the rakhis to their brother with easy ordering. They can order gifts for every person in the family if they are not able to meet them for Rakshabandhan.
Rakhi collection is especially available on this website right now but there are gifting ranges for birthdays, weddings, and anniversaries. Flowers and Cakes are the commonest gifts for different occasions. They have the best range for kids' collections of rakhis. Designer and colorful rakhis are the commonest on the website with price ranges around 500 rupees. Bracelets, divine collection, and a combination of multiple rakhis are the most unique choices.
Regular rakhi is there for everyone while premium and exclusive choices are available for sisters who want to surprise their brother. But only a rakhi is not enough when a sister is sending their love to her brother. They must send exclusive rakhi gifts with the rakhi. Even after staying abroad, the sisters can stay close to their family and cousins. They can sit at the comfort of their home and send the rakhi this year celebrating it being far from them but close to their heart.
---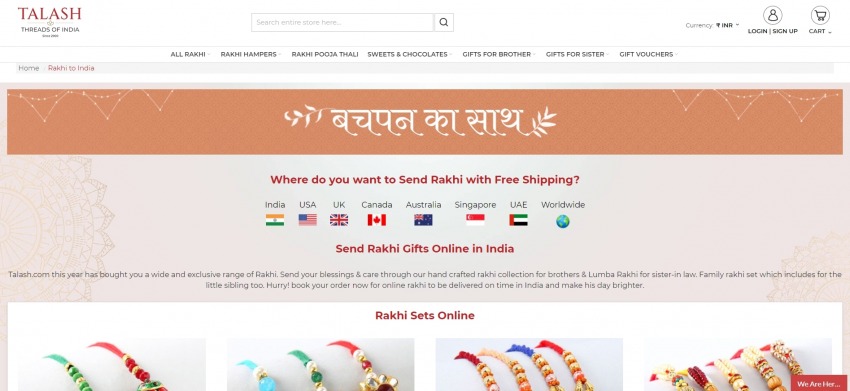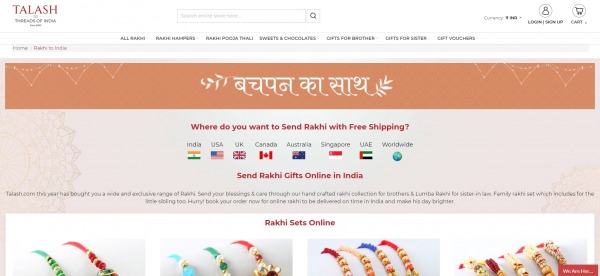 Talash is mainly a fashion website for buying ethnic Indian clothing all around the world. As a Rakshabandhan special they have introduced rakhi. Cousins can send their blessings and care for their brothers from abroad in the form of handcrafted rakhis. The extensive collection of rakhis is specially divided into 15+ categories. All these are exclusive collections like rudraksha rakhi, jeweled rakhi, silver, and gold plated rakhi, zardozi rakhi, and sandalwood rakhi.
Buyers can choose rakhi according to the person they are sending it and send rakhi to India. Personalized rakhis and real gold plated rakhis are the most exclusive among the choices. These prices for rakhis at Talash range around 300 rupees, which is a pretty small cost for such exclusive choices. Additional rakhi puja thali is also available for the sisters to compliment the rakhi order.
They have the best possible rakhi hampers for the brothers and cousins. Mithai gift hampers, dry fruit hampers, chocolate hampers, and cards with the rakhis are going to give a sweet message and love for the family. It is best to send these gifts out to people all around India. Some exclusive gifts are perfect for the rakhi season. So, sisters can send the perfect gift with the rakhis they send as a combo.
---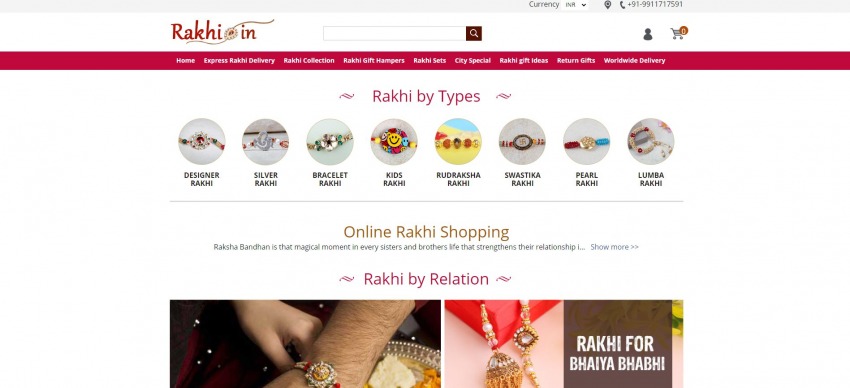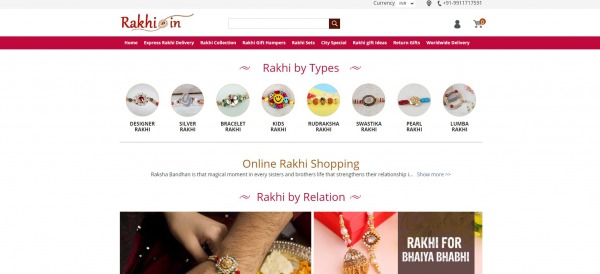 Rakhi. in is famous for its express delivery. Sisters who are ordering rakhi for their brothers or cousin in India want the rakhi to reach on or before Rakshabandhan. Multiple gifting ideas and options are available to cater to the needs of people. They are not just bound to the gifts but return gifts as well. Among the rakhi options, the commonest orders are for designer rakhi, kids rakhi, pearl rakhi.
People from multiple countries can send rakhi to India to their families. Dry fruits and sweets are the best choices for Indian occasions. Including them with the one rakhi or sets of multiple rakhis is perfect. It is a gesture for the elders as well to get their blessing on a great day. For the kids, the rakhi special combo including different types of chocolates is the bestseller online.
They design the gifts with the rakhi so perfectly that the package visually looks attractive. The same package is going to reach their brother. But the most unique thing that Rakhi. offers like very few other websites are gifting plants with the rakhi. Buyers can send the plants to their siblings who love gardening. It is the best material gift that is going to stay with their family. So, all the choices of gifts are perfect if the person getting them likes it.
---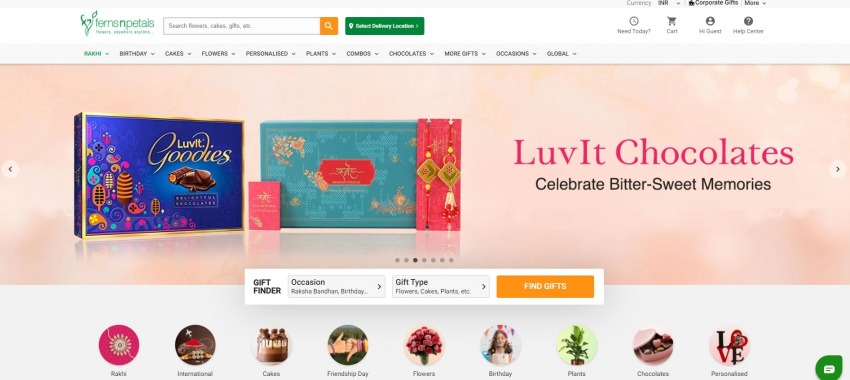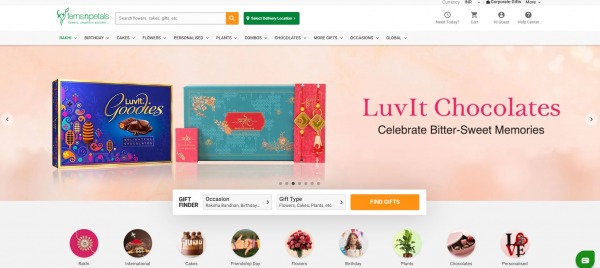 Premium Rakhi sets come with metal rakhi, peacock rakhi, and designer rakhi. But the best part is that sisters can get both personalized rakhi and personalized gift options for their brothers. Starting with the American diamond rakhis, there are Kundan, ethnic, and Lumba rakhis for the sisters to buy and send rakhi to India. But apart from the sets of rakhis of different types, there is an option for family rakhi sets. The family sets are perfect for gifting rakhi for the whole family with premium rakhis.
Best combos from FernsnPetals include rakhi with gadgets like AirPods and more. This is the perfect gift for tech-savvy people. If your cousins are into style and are fussy about their appearance then cosmetics and daily accessories are the best gift combos with rakhi. If they have a sweet tooth then various options like chocolates, sweets, cookies, and cakes are there to choose from.
Above all of this, there are personalized gifts, dry fruits, and plants. The prior experience of FernsnPetals in the field of gifting makes the buyer experience the best. An extensive range of greeting cards, cushions, and mugs are available as exclusive gifts. There are ranges for return gifts for the sister like flowers or accessories or cosmetics. Every rakhi people order from here shows the love and care for the family in combination with a gift. Sisters must make the most of these choices to connect with their families.
---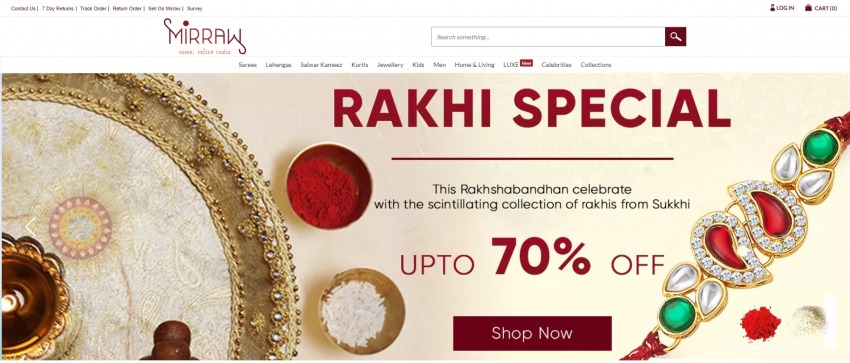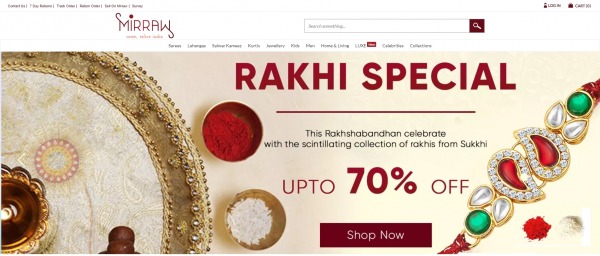 Mirraw is a pretty famous fashion website where people buy ethnic clothing and jewelry. So, their rakhis are going to have that shine as well. Starting from the common Kundan designs, bracelets and bead rakhis are some of the unique choices. But the best option is for the jeweled rakhi because they have the best options for jewelry. Rakhis are going to have similar designs that are so unique as the jewelry that people order from Mirraw.
The most exotic choices for rakhi buyers at Mirraw are the gold-plated and designer rakhi. These designer options are the most eye-catching and available at discounted prices. The prices are extremely affordable for the people ordering from abroad. Most of the rakhis are available at around 250-300 bucks. Mirraw delivers rakhis all around India which makes it perfect for online ordering.
Users from around the world can access the website and order for their families. A complete set of rakhis can be sent out for the whole family. A combination of multiple types of rakhis is perfect for the families to make everyone happy. They have the best designs to send rakhi to India because it is a pretty famous fashion website. Sisters who want to send the best rakhi to their loving brother are going to love these options.
---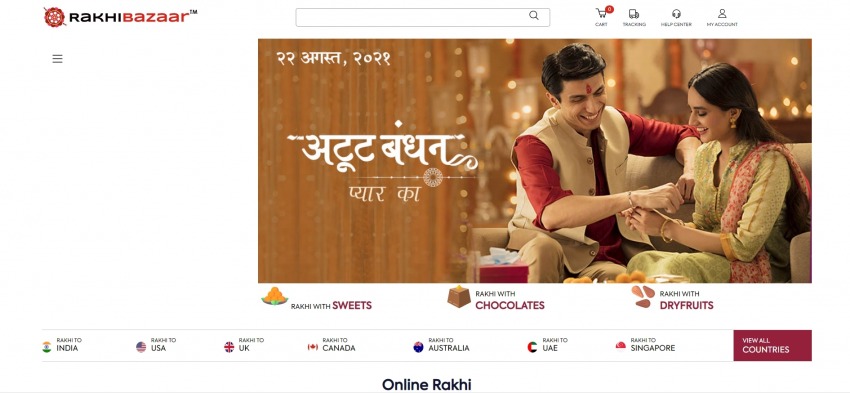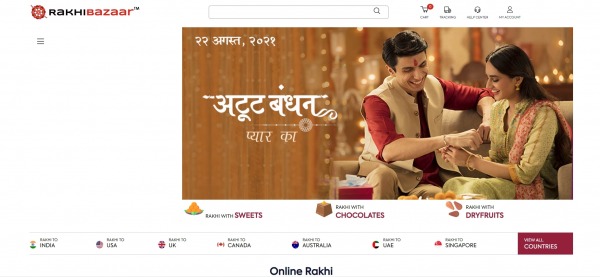 Rakhi Bazaar mainly specializes in combos of gifts and rakhi instead of just the rakhi collection. Among all the websites they have the most extensive choice of combos. Sets of rakhi for one package can go up to 6 rakhis. Uncommon choices of rakhi here include sandalwood rakhi, antique rakhi, Resham dhaga rakhi, and navratna rakhi which are exclusive here. From the 25+ list of only categories of rakhi, sisters can choose the one which suits their brother.
Same-day delivery with the gift makes it the gift reach on the right day. Rakhi with plants is the bestseller for the buyers with a green thumb along with an almond and chocolate combo for couples. There are hampers to select multiple gifts with the rakhi at a cheaper price range. A personalized coffee mug with chocolates is a perfect way to surprise your brother. Sweets are perfect for the elders in their family.
The occasion deserves the sharing of mutual love between a brother and sister. So, it is only appropriate that there are separate gifts for brothers and gifts for sisters. Buyers can select from even more choices other than rakhis to gift beyond the combos they send to their family members. This brings the family close even while staying away.
---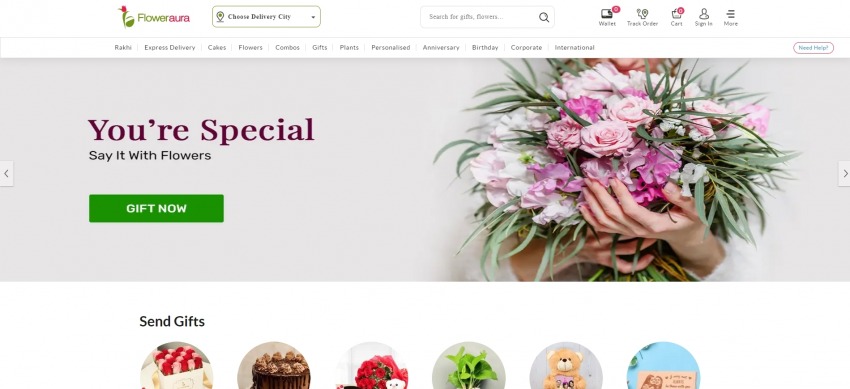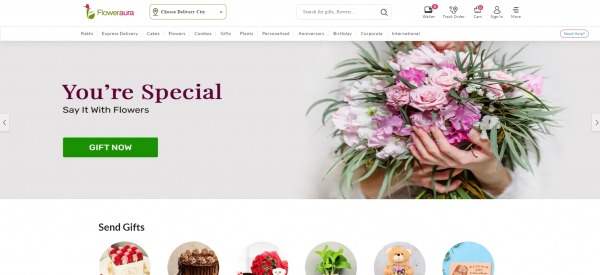 Flower Aura is a one-stop solution for a birthday, anniversary, and corporate gifts. This includes personalized gifts that brothers are going to like. They have made a place for rakhis just for this ceremony to send rakhi to India. Multiple choices of rakhis are there, but that is not all. They have the very special premium rakhis that are the rarest and most designed options. Choices ranging from stone and metal rakhis to ethnic handmade rakhis all are available here.
When it comes to gift combo with rakhi, Flower Aura is already a website delivering gifts. The feature for same-day delivery is really attractive for those procrastinating on ordering. Sisters can give their brothers the best rakhi on time. As gifts, there are many options with rakhis like plants, mugs, cushions, dry fruits, chocolates, sweets, and also thali for puja. They have taken a step ahead with the multiple rakhis or family sets of rakhis from a single order.
Flower Aura went a step ahead with the premium gifting range for rakhi. They have a special Rakhi Signature box with multiple rakhis and gifts for the whole family. Gifting combos and return gift choices for the sister just add to the enjoyment. So, brothers can send gifts to the sister as Flower Aura delivers the products to many countries abroad.
---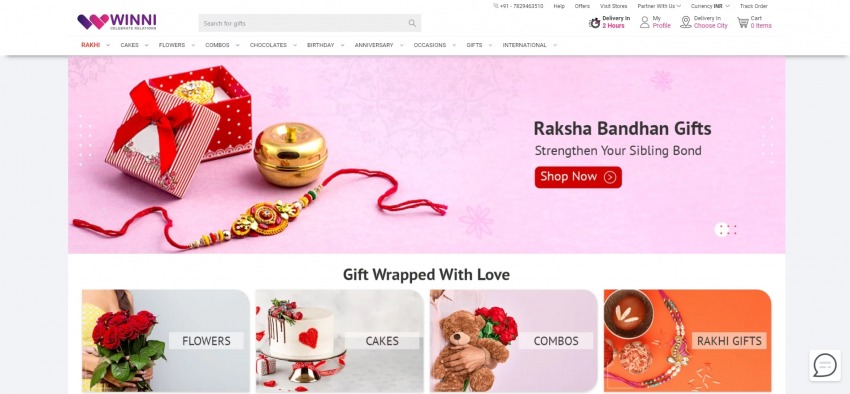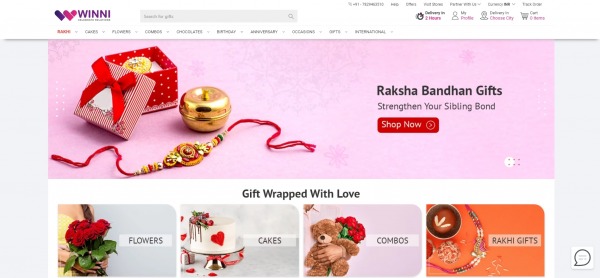 As a perfect place to get rakhis for all, Winni sets up a better standard. From personalized rakhis to the royal ethnic ones, they have everything on their platform. Designer rakhi, Kundan rakhi, and peacock rakhi are the best sellers after personalized rakhi and gifts. Winni offers the highest possible options for personalized gifts. Personalized cushions, mugs, and plants are common with the other decorative pieces for the home.
Some of the best options for rakhi are available at Winni. The combos do not stop as the gifting option never stops. Most of the exquisite rakhi options remain between 200-300 rupees. Multiple rakhi sets come with gifts as a combo for sisters who want to buy and send rakhi to India. These gift sets are best to send a whole family. If you are sending gifts to the family, you must explore the best picks. Chocolates, sweets, and dry fruits are special gifts for everyone in the family to enjoy.
As a special gift for the brother, a plant for their garden can be suitable. Above greeting cards and flowers, the hampers are the first choice. Many gifts together with a complete set of rakhi can reach the family within a single day. This fast delivery makes the choices more attractive for the buyers. With so many options and gifting ranges of Winni, delivering around India becomes easier and faster.
---
Conclusion
Many people around the country are right now away from their families for work or something else. They are going to miss their family members during such occasions. Online orders for rakhi to send the cousins, brother, and brother-in-law is a great gesture to keep the familial bond. It helps them enjoy the day in the best possible manner. People from abroad send rakhi to India just with the push of a button. The exclusive range of rakhis that buyers can order online gives them the chance to make their family happier on Rakshabandhan.