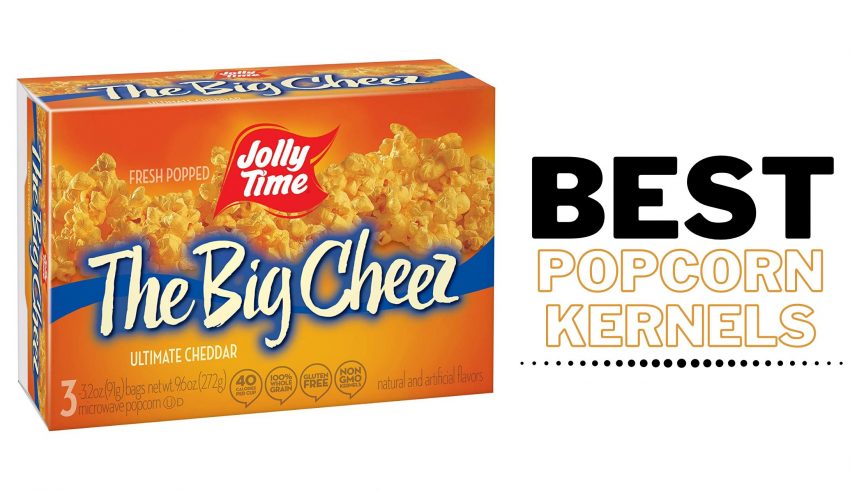 Popcorn is a favorite pastime snack of many. Whether you are enjoying a movie or binge-watching a series or you are feeling snack and need something to munch on.
A good thing about popcorn is they are not overflowing with flavors and are generally considered to be healthy. You do not have to put in too much effort to make yourself a bow of these.
Just pour some kernels in a bowl and pop them up on a stovetop or in a microwave oven. With the holiday seasons beginning and the next year being just around the corner we decided to compile a list of best popcorn kernels 2021 which you can purchase and snack on this holiday season.
Here is the list of 10 Best Popcorn Kernels To Buy In 2021:
Jolly Time The Big Cheese Microwave Popcorn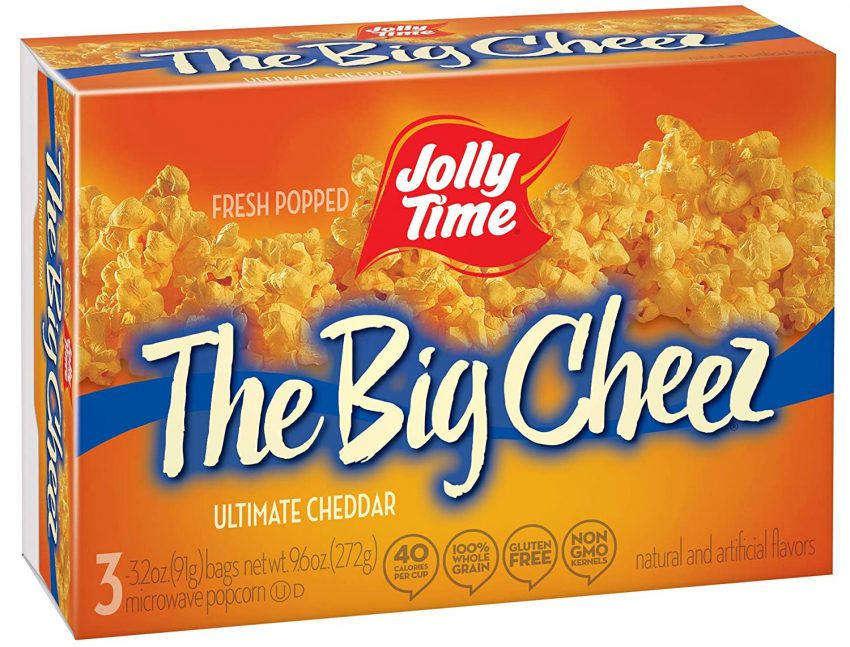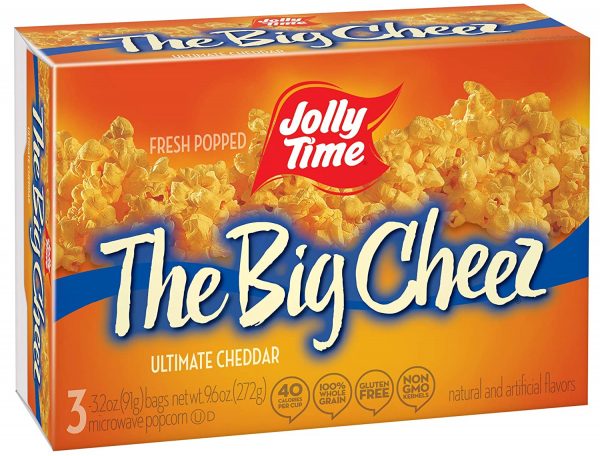 Jolly Time is the brand to kick-start the list with its microwave popcorn with the big cheese flavour. Yes, if you like popcorn which has cheese flavour then you will enjoy this product.
It contains 100% whole grain popcorn which are mixed with a few ingredients like soybean and cottonseed oil, soy lecithin, soil and other artificial and natural flavouring agents and Annatto has been added to give the popcorn some colour.
The product is free of gluten but it does obtain egg, milk and soy ingredients. So, if you are allergic to those then you can avoid this popcorn. The cheesy flavor of the popcorn comes from the cheddar cheese.
This sumptuous flavor of cheese comes along with ye bag. You can easily prepare the popcorn in minutes. Thus, you can have a tasty snack ready for you to munch on while watching a movie or binge-watching a series.
To get the popcorn ready you just have to put it in the microwave for a few minutes and you can enjoy the rich and savory cheddar cheese-flavored popcorn. The kernels are naturally produced and non-GMO.
You can buy a pack of 12 boxes on Amazon. Each of the boxes contains a 3.5-ounce bag of popcorn. The Jolly Time The Big Cheez Cheddar Cheese Microwave Popcorn is priced at $43.85.
---
Great Northern Popcorn Premium 8 Ounce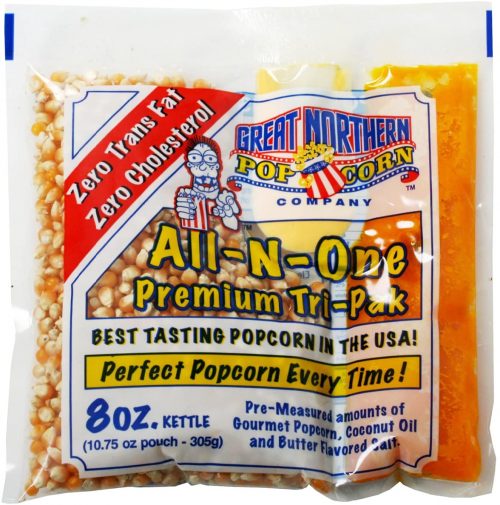 The Great Northern Popcorn Company brings you the next popcorn. The company claims to make the best-tasting popcorn in the US. You will get perfect popcorn every time you decide to cook a bag of popcorn by the Great Northern Popcorn Company.
Each bag contains around 8 ounces of popcorn which has gourmet popcorn in pre-measured amounts, coconut oil, and salt which is butter flavored. The company is pretty confident about its product. You really don't need any skill to make these.
Just pour the kernels and put in an oven to pop them open. The seasonings and flavors are all provided already so your task is to just pour and pop. You don't have to put in any effort and your popcorn will taste great each time.
Doesn't matter who is popping the next batch it will be delicious. This popcorn will pop up fluffy every time.
If you already have a popcorn machine or have bought a new one by this brand then this popcorn is great for the machine because of the high volume that comes in each bag and the delicious taste.
These gourmet popcorn are of premium quality and seasoned with extra-fine diacetyl free salt and the oil that covers the kernel has a buttery flavor and will provide a delicious flavor. This brand is great if you have a shop with a popcorn machine.
You can buy these cheap but tasty popcorn kernels and treat your customers to theatre-quality popcorn. You can buy a pack of forty 8 ounce bags of the Great Northern Popcorn Company popcorn on Amazon for $39.99.
---
Arrowhead Mills Organic Yellow Popcorn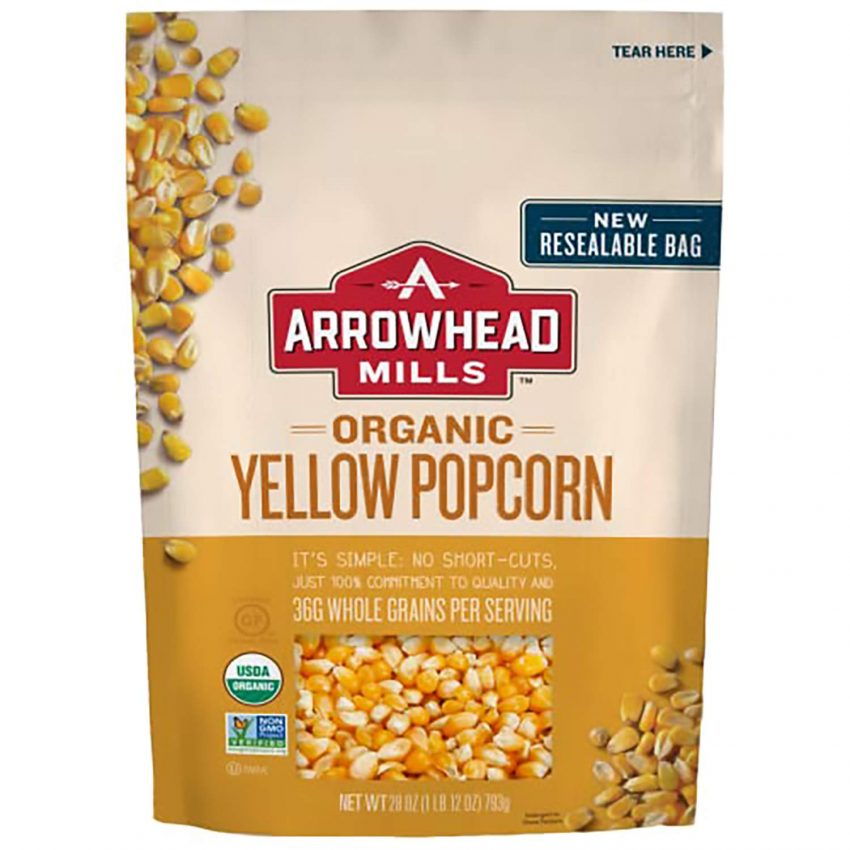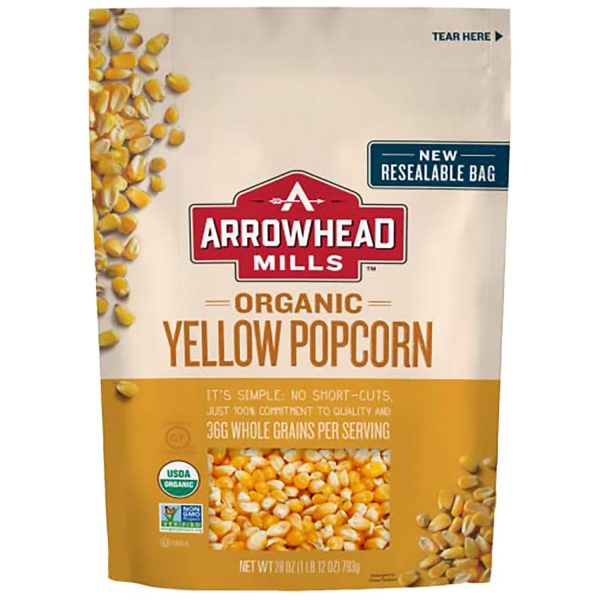 The next brand on this list is Arrowhead Mills. It brings you a bag of popcorn which contains 28 ounces of the product. This brand is over 60 years old and started in Texas. Over these decades the company has grown a lot and has thousands of customers.
But the company still remembers its values and still strives to provide healthy and tasty products. The company uses the same trusted milling proceeds and works closely with the growers and builds a good relationship with them.
This product contains organically produced yellow popcorn which you can pop in a microwave oven and enjoy with your family and friends while watching a movie or a series. This product is certified organic by the USDA.
It is also non-GMO project verified and is also certified to be free of gluten. The company wants to give you the best popcorn experience and completely commits to provide you with a product of high quality. These organic popcorn are a good source of fiber and hence snacking on them can be nutritious for your body. You can use this product to make popcorn balls and various other snacks which involve yellow popcorn as an ingredient.
Each serving contains 140 calories, 1.5g of fat with no trans fat or saturated fat. You also get 4 grams of protein and 23 grams of carbs without the dietary fibers. You can get the 28 Oz bag of popcorn on Amazon for $37.63.
---
Orville Redenbacher's Butter Popcorn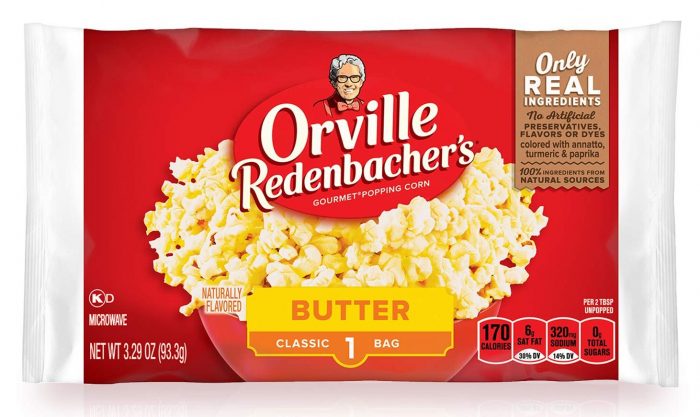 The next popcorn kernel on the list is Orville Redenbacher's Butter Popcorn. It is one of the popular popcorn brands on Amazon and has received a lot of ratings and largely positive reviews.
You can purchase one bag of this classic butter popcorn which contains 3.29 ounces of the product for $24.44 on Amazon. The brand claims to use only real ingredients in its popcorn because it believes that if you want to enjoy a delicious and healthy bag of popcorn then you need to use ingredients that are sourced from nature without any artificial flavoring agents or coloring agents or preservatives.
The Orville Whole Grain Popcorn is made from non-GMO popcorn and thus provides you with a snack that is not only gluten-free but also contains no fat. The founder of the company Orville Redenbacher tried to perfect a lighter and a fluffier popcorn that you can enjoy.
He worked with a small group of farmers to produce a good variety of popcorn kernels. The company works with these farmers to this day and the same goal is followed by it seven decades later as it tries to give you a light and delicious popcorn that you can just pop up in an oven and enjoy snacking on it.
Orville Redenbacher's is a brand that uses real butter to give its popcorn the flavor it has. Each serving has around 170 calories. So, if you wanted to snack on some butter popcorn then you can purchase a bag of Orville Redenbacher's butter popcorn on Amazon.
---
Also check: 10 Best Late-Night Snacks to Buy on Amazon in 2021
---
Country Harvest Yellow Butterfly Gourmet Popcorn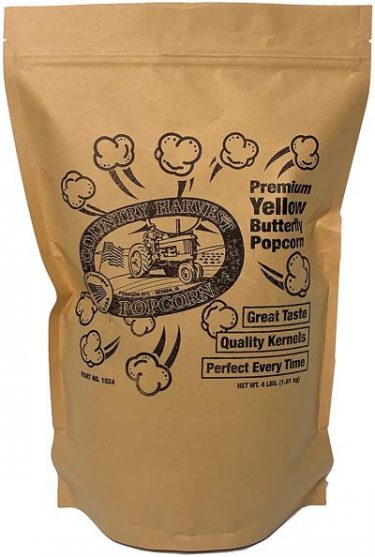 Country Harvest is the next popcorn brand. This brand brings you the yellow butterfly popcorn kernel of premium quality. It will feel as if you are consuming gourmet popcorn while eating this. Country Harvest is an American company.
It uses ingredients that have been produced in the US. The premium-quality popcorn that you consume from this product is all grown in Iowa. These popcorn are non-GMO and 100% whole grain.
You will feel the natural taste as you pop these kernels and get a bowl of this fluffy and tasty yellow butterfly popcorn to snack on.
The company tries to keep everything gluten-free so that you do not have to worry too much about your health while consuming this product as the company strives in producing good-quality food.
Kosher standards are followed by the company and it has received Kosher certification, OU-D. You can cook this popcorn perfectly every time. It is easy to cook them. Just pour them in an appropriate container and pop them on a stovetop, microwave oven, electric popper etc.
The product comes in 4 pound resealable Kraft pouches so that you can snack on the amount you want and store the rest safely. The total fat present in this popcorn is 1.5 grams only and each serving gives you around 4 grams of protein.
You also get 27 grams of carbs. In total, you get 110 calories per serving. You can buy this popcorn kernel on Amazon for $12.42.
---
Amish Country Popcorn | Popcorn Kernel Variety Set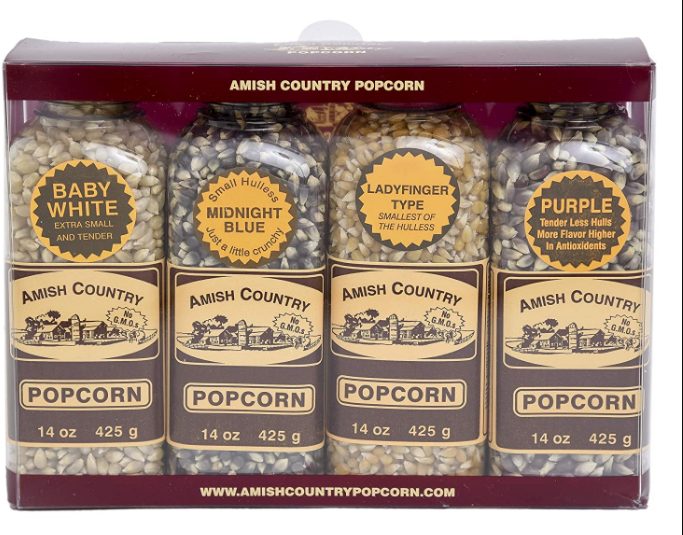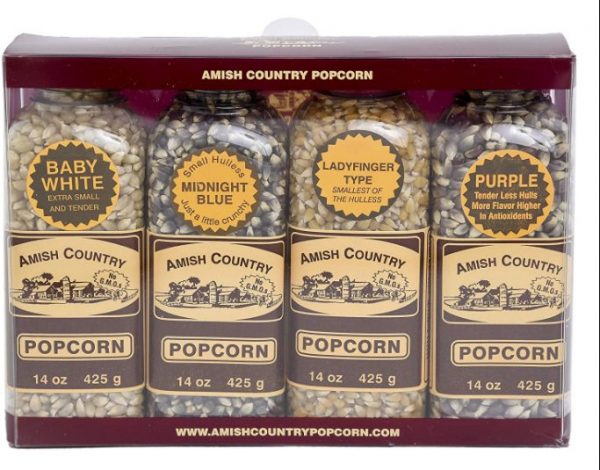 Amish Country is an American brand. You will find around 13 different varieties of popcorn from this brand. All of these are grown in farms or cornfields of Berne, Indiana.
The brand is committed to keeping everything natural and effort is taken to keep everything non-GMO, gluten-free, and not having any artificial preservatives.
As mentioned before this brand produces over 13 varieties of popcorn. When you purchase this product on Amazon you basically buy a pack of four 14 Oz bottles each of which has a different variety of popcorn.
You get 14 Oz baby white popcorn, which is extra small and tender. Then you have the 14 Oz midnight blue popcorn which is small and hulless and has a little bit of crunchiness.
The 14 Oz ladyfinger type is the smallest of the hulless and the last one is a 14 Oz bottle of purple which is tender, has lesser hulls, and has more flavor. When you purchase this product you get a recipe book that has over 15 popcorn recipes.
The product is low on carbs and does not have any kind of nuts as it may cause allergies to customers. It is also low on harmful fats and tries to keep ingredients as natural as possible so that you can have a healthy and natural experience.
To purchase a bag of popcorn by the Amish Country from Amazon you have to pay $24.99.
---
Bob's Red Mill Whole White Popcorn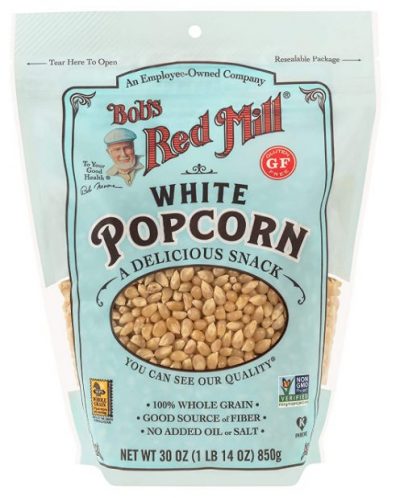 The next bag of popcorn kernels comes out of the factory of the brand Bob's Red Mill. It is a popular brand on Amazon having received over 1.7k ratings and mostly positive reviews.
This is a resealable stand-up bag which means that you can use the amount of popcorn you currently need and then store the rest of the kernels in the bag itself as it is a resealable bag.
The corn is 100% whole grain and is grown with care. It is a vegan i.e. plant-based product and provides a good amount of fibres which can be healthy for you. The product is kept unprocessed as much as possible.
This popcorn is quite a good source of dietary fibers if you are into these sort of things. To make these flavourful salt and a few other ingredients have been added. There is no added oil though.
Like other popcorn kernels it is quite easy to open a bag of popcorn, pour it in an appropriate utensil to get it hot on the stovetop as well as the microwave oven.
The total calories you get from a single serving of the product is 100. There is only 1 gram of total fat and total carbs of 19 grams. You can purchase the 30 Oz pack of Bob's Red Mill Whole White popcorn on Amazon for $10.49.
---
Pop Secret Popcorn, Butter Microwave Popcorn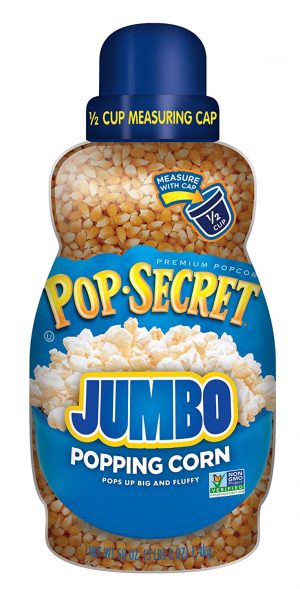 A good popcorn comes from a good kernel. Pop Secret Popcorn puts effort into ensuring that the popcorn are grown 100% naturally and with decent care. These are jumbo popcorn which are much bigger and fluffier and can be easily enjoyed at any time of the day.
You can pop these and put any kind of appropriate seasoning and topping which you like and enjoy yourself a bowl of this jumbo popcorn. This is a delicious and healthy snack and is made from 100% whole grains which are non-GMO project verified.
The popcorn can absorb any kind of flavor. You can put butter on it or put cheese powder. If you so wish you can make it savory as well using an appropriate seasoning. These jumbo popcorn come in a 50 Oz bottle. This makes it very easy to use the product.
You can just pour the amount of popcorn kernel you want to pop and easily tighten the cap and store the rest safely. The bottle has a ½ cup measuring cap which can be used to measure the appropriate quantity of kernels you want to consume.
Each serving of the Pop Secret Jumbo Popcorn contains 120 calories. The total fat content is 1.5 grams, the total carb content is 23 grams and the total protein content is 6 grams. You can purchase a pack of 2 bottles of jumbo popcorn on Amazon for $33.33.
---
Benchmark Popcorn Packs 4 oz (24 Packs)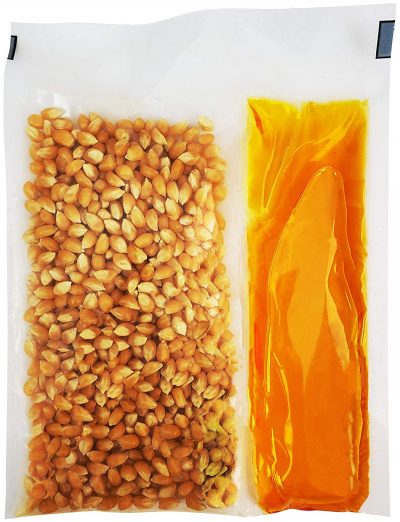 Benchmark is the next popcorn brand on the list. Each of the packs of Benchmark popcorn that you purchase is pre-measured to give you the right quantity of popcorn to consume at a given time.
These are theatre quality popcorn which is flavored with the right amount of seasoning salt and coconut oil. Since everything is pre-measured you don't have to put any effort there as well.
Just empty the pack content into a bowl and pop them in an electric popper, microwave oven, or stovetop. There's no mess. Just pop up some popcorn of movie theatre quality every time you need it.
Each of the bags is 4 Oz and comes with the popcorn sealed in one section and the coconut oil and seasoning in the other. Try to store it in a sort of warm place as coconut oil tends to go soils under 75 degrees Fahrenheit.
One of the main reasons to purchase Benchmark popcorn is because they produce light and fluffy popcorn at a cheaper price than many other brands. It is great for you if you have a smaller budget.
The oil and seasoning provided give you a lighter tasting popcorn. You buy a box of 24 packs of Benchmark popcorn with each pack being 4 Oz from Amazon for $19.
---
ACT II Butter Microwave Popcorn
Act II is a popular popcorn brand which is quite popular not only in the US but also has a good number of customers worldwide. These butter popcorn are perfectly seasoned and are easy to make.
Just pour the content of the bag into a container and pop them in a microwave oven. You can also put them in a covered container and pop them on a stovetop.
The ingredients of each bag are popping corn, palm oil, butter, salt, and natural flavoring and coloring agents. There are also trace amounts of citric acid to add freshness.
This ensures that each of the fluffy popcorn that you bite into has a nice balance of buttery and salty taste. These are 100% whole grain popcorn and contain no trans fat.
Every 2 tsp unpopped Act II popcorn gives you around 130 calories. You can get 12 boxes each containing 3 bags, 2.75 ounces each, of the Act II butter microwave popcorn on Amazon for $21.99.
---
Conclusion
Popcorn is healthy and cheap. It is a good idea to purchase a bag of these as you will always have something quick to make and munch on. It is a snack that brings everyone together.
So, we hope you have found a favorite brand from this list and are on your way to getting yourself some popcorn delivered.