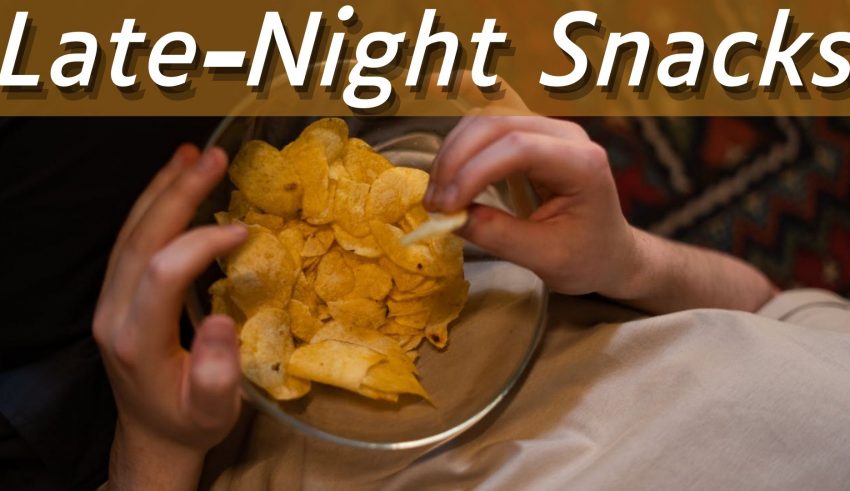 Despite your best efforts for a night of sound sleep, there lies one crucial factor that may frequently keep you tossing and turning at night. It is the midnight craving for late-night snacks.
Smoothies, juice, fruit-nut-topped oatmeal, etc in the morning, and healthy picks like salads, whole-grain sandwiches, etc. at the lunch are fine. And sure, food options like salmon, sweet potatoes, kale, etc. are good options for dinner.
But what about the food options for midnight hour? Well, that food option comprises crispy, cheesy, flavourful, or meaty, and to be more precise satisfying food options. The food options for such hours comprise of chips, fries, chocolate, cookies, etc., and these options are commonly termed as midnight or late-night snacks.
The best thing about late-night snacks is that it's always satisfying and you don't have to look after the various cautions like calories while eating, as there is no one around to judge you at that time of the day. So, if you are feeling hungry at midnight, you should not restrict yourself from eating food to satisfy your hunger and should just go for having it.
As it isn't the time to cook anything or order anything online, the first thing you'll look for is the leftovers in the refrigerator. But, most of the time either there is no leftover food in the refrigerator or the food options available are not good enough to satisfy the midnight appetite. Therefore, the best thing to do is to order and keep a stock of late-night snacks in the refrigerator to satisfy the hunger in the earliest hours.
With so many snack options available you should take your ordering very seriously and make it count. You should order in such a way that the snacks are able to satisfy your midnight hunger.
To make it easy for you after consulting some expert sources, we've prepared a list that you should have a look at once and consider while making the choice of your midnight snacks.
So, here's a list of the 10 best late-night snacks that will satisfy your late-night cravings:
Nutella and GoSnack Packs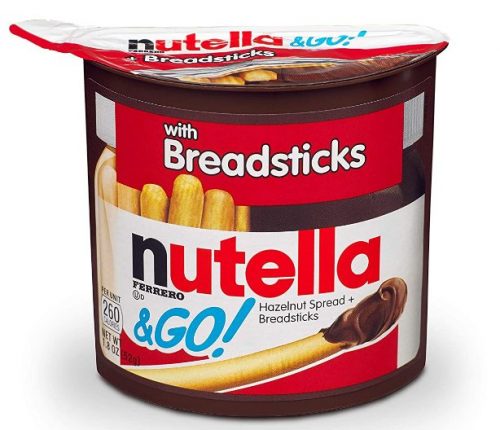 Everyone does love Nutella and what could be better than having breadsticks dipped in Nutella's chocolate hazelnut spread as late-night snacks. The delicious Nutella hazelnut spread comes in a pantry-perfect box that holds 20 individual packs.
It is a quality product as the brand uses the freshest raw materials to make their product and similarly this product is also made with premium quality hazelnuts. Nutella also does not use any kind of GMO ingredients in the manufacturing of its products.
The pack will give you the perfect mix of taste and texture that will satisfy your midnight cravings. It is packed in a manner that it is travel-ready, convenient to store, and its good do-anywhere package helps to keep it fresh.
Apart from enjoying its uniquely delicious taste during the late-nights, you can also enjoy it as a mid-morning, lunch, or office snack. Nutella hazelnut spread, paired with crunchy and breadsticks will definitely give you a delicious salty-sweet and one-of-a-kind snacking experience.
It is not only a great option taste wise but it is also a healthy snack option suitable for today's busy on-the-go lifestyles.
---
Pringles Snack Stacks Potato Crisps Chips Pack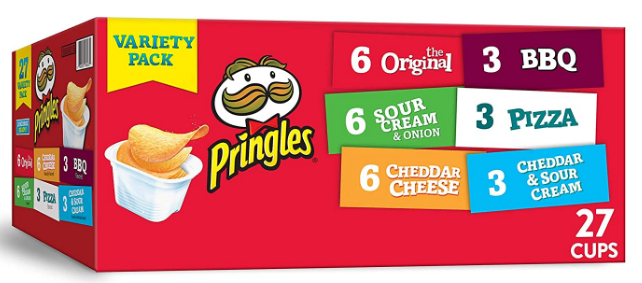 The product is the perfect late-night snack for all kinds of mid-night cravings. Potato chips are one of the best options for late-night snacks, especially when it is Pringles snack stacks potato crisps chips.
Pringles not only offers a variety of flavors but also its chips are unique from the rest of similar crispy chips available in the market. The chips are uniquely shaped and seasoned with a variety of busting flavors and you will get more crunch from its every bite.
It is one of my favorite late-night snack options as the varieties offered are the perfect option to satisfy the irresistible midnight cravings. Apart from using it to satisfy your midnight craving, you can enjoy these on-the-go snacking options at any time of the day.
Whether using it for lunch in school or enjoying the potato crisps, these travel-ready crisps are a very satisfying and perfect nacks option. With this snack option, you will able to experience some of the best bold flavors.
Pringles flavored pack has a total of 6 types of flavors which includes flavors original, BBQ, sour cream & onion, cheddar & sour cream, pizza, and cheddar cheese.
---
Frito-Lay Mix Variety Pack, 40 Count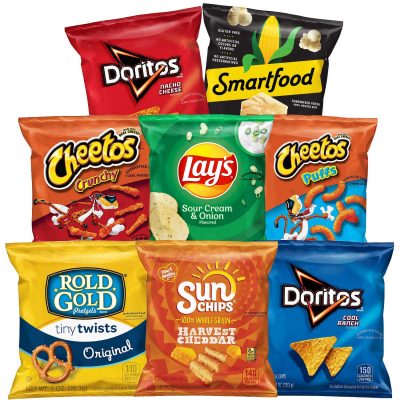 If your midnight carvings include carvings for flavourful and crispy chips, then Frito Lay's fun times mix variety pack will be a great option for you. The variety pack consists of perfect flavors and varieties of chips from one of the most liked brands all in one place.
It consists of 8 different varieties of flavored chips of brands like Lays, Cheetos, Dorritos, etc. With so many different types of treats, the product becomes something that everyone will love and can satisfy the need for late-night snacks.
The variety pack comes with its manufacturing and expiry date so that you can keep a check on when to eat it. It is one also of the best unhealthy late-night snacks that can be stored for a good period of time (app. For 60 – 90 days).
You can also enjoy it at lunchtime or can use it at parties. It is the best late-night snack as you can grab a particular pack of a particular flavor from a wide range of options and can enjoy it during the late nights comfortably.
It is also a great option if you are looking for snacks while watching a movie or something during late nights.
---
Utz Pub Mix, 44 Ounce Barrel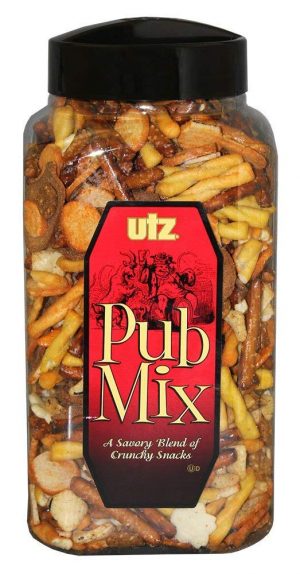 UTZ has been making and selling a variety of delicious and quality snacks since 1921 and this product is no exception to this. UTZ is a family-managed business that provides quality snacks that are crunchier, lighter, fresher, and simply better.
The Pub Mix is one of the best snack options in the market as it will give you a blend of savory, crunch, and flavors. It is a blend of crunchy snacks which includes blends of pretzel stix, nacho bagel chips, honey mustard twistix, cheddar cheese twistix, honey mustard sesame chips, and many more.
The product is also one of the best healthy late-night snacks because it is not only cholesterol-free but also trans-fat free. It is also Kosher certified, which itself is proof of its quality.
It can also be stored for long term use as it comes in a resealable plastic barrel which will help to keep the snacks fresh and crunchy.
The combination of yummy flavors and a blend of various types of crunchy snacks makes it perfect for late-night cravings. You just need to put it in a bowl and enjoy it at any time of the day.
---
Hershey's Nuggets Assorted Chocolate Candy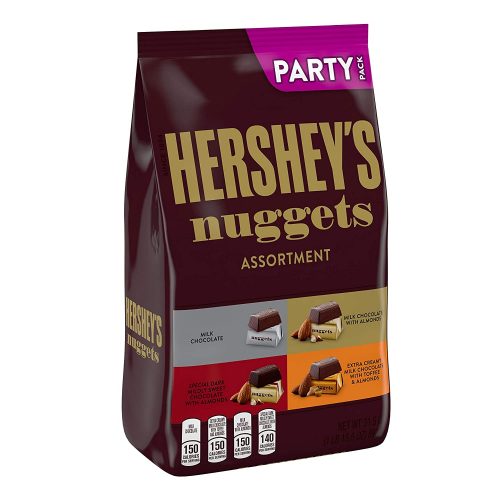 If you are a chocolate lover and your midnight cravings are for chocolates, then Hershey's nuggets assorted chocolate candy is the perfect option available for you.
It is the perfect late-night snack not only for chocolate lovers but for others also as it is the perfect snacking suitable for both office and home. Hershey's chocolate nuggets party bag is the best thing you could order for your late-night snacks to give yourself a satisfying treat.
Chocolate craving is something that can drive you crazy at the midnight and it cannot be satisfied with any other kind of snacks. This product by Hershey's is the perfect solution for such cravings.
The chocolate nuggets in this product come in four different flavors – milk chocolate, milky chocolate with almonds, special dark mildly sweet chocolate with almonds, and extra creamy chocolate with toffee & almonds. Therefore, it has a nice variety of chocolate treats so that everyone can enjoy their favorites.
---
Welch's Fruit Snacks, Pack of 40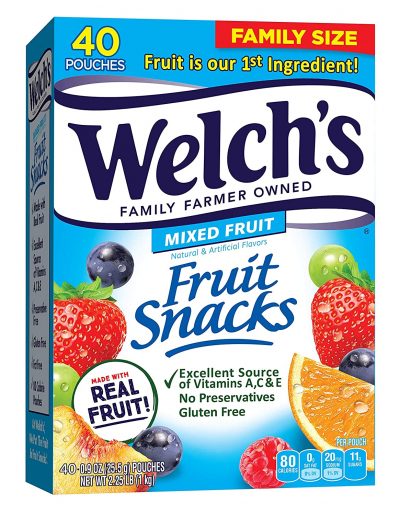 Welch's fruit snack is one of the most unique and tastiest options to satisfy your midnight cravings. It is not only these fruit snacks are delicious but they are also very healthy.
Unlike other fruit snacks or any healthy snacks, this product is gluten-free, fat-free, and preservative-free, which itself makes it one of the best healthy snack options available in the market.
This product is a family pack containing a total of pouches 40 0.9 oz single-serving bags. For those who love the flavors of fruits in their snacks, no other product in the market can be more suitable for their late-night snacks than Welch's fruit snack pack.
As the name of the product suggests, it is a delicious fruit snack where food is always the first ingredient in its making, and therefore, is made with real fruits.
It includes ingredients such as fruit puree (grape, peach, orange, strawberry, etc), corn syrup, modified corn starch,  gelatin, citric & lactic acid, etc.
From school lunch to office or sports, it is a perfect and healthy snack option for every purpose as the snack is a great source of vitamins. It is an excellent source of vitamins A, C, D, E, and calcium.
---
VELVEETA Original Microwavable Shells & Cheese Cups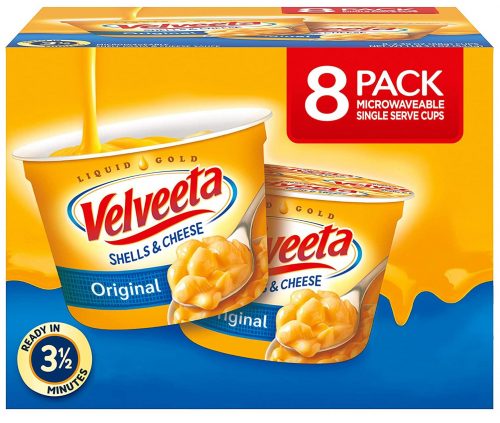 Ready in just 3.5 minutes, Velveeta's microwavable shells & cheese cups are one of the best late-late night snacks with rich taste and creamy texture. Pasta shells and sauce in this product is made with real cheese.
It is a perfect late-night creamy snack that is very quick and easy to make. Anyone can prepare it in minutes because it does not require any additional ingredients.
Unlike other macaroni brands in the market, this product will give you a more creamy experience and Velveeta will add more texture to your macaroni and cheese. All these factors make it the #1 best seller in packaged macaroni and cheese.
You need not worry about how to prepare it as this macaroni and cheese only require a microwave to be ready to eat. You just need to add water, put it in the market, and it will be ready to satisfy your midnight cravings.
The product contains eight 2.39 ounce Velveeta Original Shells & Cheese Cups. It is also portable enough so that you can carry it along with you to the office, work, school, etc.
and one cup may even fit in your pocket. From kids to adults it is the perfect late-night snack option that will give a rich creamy experience.
---
Emerald Nuts, 100 Calorie Variety Pack, 18 Count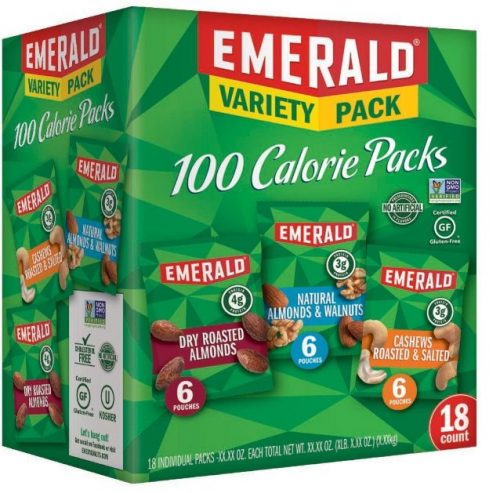 Emeralds have been in the industry for almost 80 years and have been consistent with providing quality and flavorful nuts to their customers all over the world. The company calls themselves the masters of nuts and their product comprises mainly three kinds of nuts cashew, almonds, and peanuts.
They call themselves the Picasso of cashews, Vincent van Gough of almonds, and Michaelangelo of peanuts. Therefore, if you are a nut lover, then you must try products by Emeralds and, this 100 calorie variety nuts pack will be a great option for you.
The pack contains 18 individual packs of different nut varieties. In addition to the quality, these nuts have unique flavors perfect for cravings. This snack option will give you one of the tastiest breakthroughs for your midnight cravings.
It is also a very healthy option as you will get 3 grams of protein in each individual bag. Apart from quality nuts, the company also offers other facilities with the product like single-serve options, resealable packs, and a variety of package sizes to meet all kinds of needs.
---
Nabisco Classic Mix Variety Pack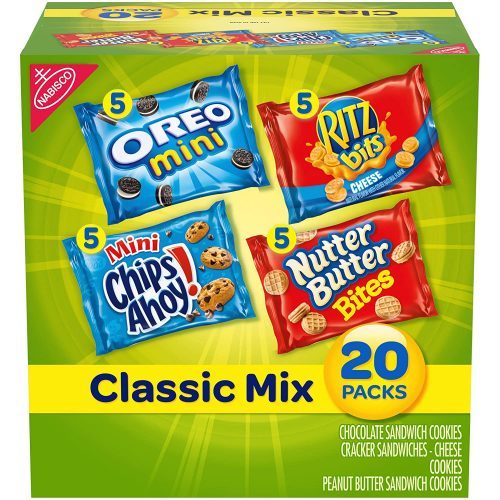 Nabisco's classic mix variety pack offers bite-size versions of your favorite snacks such as OREO Mini cookies, CHIPS AHOY! Mini cookies, Nutter Butter Bites, and RITZ Bits Cheese.
For all the lovers of these classic snack brands, this product is the perfect option for late-night snacks as it offers convenient snack-size packages. The product contains 20 individual packages of snacks with easy packing for facilitating storage and long term use.
Apart from using late-night snacks, you can use these bite-sized assorted snacks to curb afternoon hunger, pack it for your lunchbox, or office without a second thought.
It is individually packed for convenience, transport, and storage. These are on-the-go-nibbling snacks perfect for having them in late-nights to satisfy the carvings.
---
Jack Link's Beef Jerky 5 Count Multipack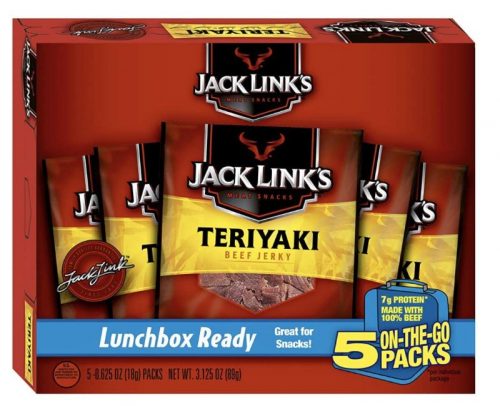 If you prefer to have protein stacked snacks during your midnights, then Jack Link's beef jerky is the right late night-snack for you. The product is made to satisfy the strongest meat-seeking urges and therefore, it is a great snack choice for meat lovers.
It will not only satisfy your hunger, but it will also feed your wild side. This product contains 5 snack packs (0.625 ounces) of Teriyaki beef jerky.
It is made up of 100% real and high-quality beef meat and you will be getting 7g of protein and 50 calories per serving. The product also has no added MSG or Nitrates/Nitrites.
Unlike other meat brands, Jack Link provides you with premium quality real beef jerky, which is slow-cooked and hardwood smoked. It is full of flavors flavor as the Teriyaki has soy, ginger, onion, brown sugar, and other flavorful ingredients included in it.
Sometimes you may fail to meet the daily protein requirement of your body or you may miss some of your meals. So, for such cases, when you don't have the energy to cook something and you miss out on your meals, this product will be one of the healthiest options for your late-night snacks.
---
Conclusion
Midnight pangs of hunger are the most annoying, especially when you have nothing in your kitchen to satisfy them. It is always better to maintain stock to satisfy your midnight hunger.
We hope that the above list helps you to order some delicious snacks to stop your cravings late at night. However, the final decision may vary depending upon one's personal choice and preference.