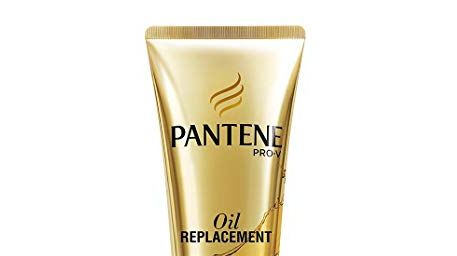 With Oil Replacement, Pantene promises an exciting alternative to oiling your hair. Oiling can come as much of a work, especially with such tiring schedules that keep you on the run continuously.  As the name suggests, it trades with the role of oiling your hair. Oil can be sticky and can take much of your time and shampoo to wash away from your tresses.
Most of us don't have that time to spare out of our routines to put in the effort oiling demands. Pantene Oil Replacement comes in a tube and is spill-proof. Thus you can carry it without the risk of spilling it on your clothes while travelling. Hence, this Pantene Oil Replacement comes as a saviour.
And not just oiling, it can cover the role of your serum, leave-in conditioner and heat-protectant, ALL IN ONE! It is everything your hair needs to stay nourished, packed in a unit. Now get hassle-free, detangled and easy to manage hair effortlessly!
How to Use: 
Pump out a generous amount of the product, a walnut-sized pump works, on your palm and rub it lightly. Spread it evenly between both your palms.
Apply it evenly from the root to the tip throughout the length of your hair.
Pantene Oil Replacement can be used as a replacement for various other products for your hair.
You can apply it as your serum over towel-dry hair and style it effortlessly.
You can also apply it as a heat-protectant before blow-drying, straightening or curling.
Apply it as a leave-in conditioner and have hassle-free and tangle-free hair on the go.
---
What is it made of?
The Pantene Oil Replacement is a blend of
Water
Stearyl Alcohol
Cetyl Alcohol
Stearamidopropyl Dimethylamine
Dimethicone
Glutamic Acid
Benzyl Alcohol
Phenoxyethanol
Methylparaben
Propylparaben
EDTA
Citric Acid
Panthenol
Panthenyl Ethyl Ether
Hexyl Cinnamal
Sodium Chloride
Hydroxycitronellal
Limonene
---
Benefits or Uses: 
It has a non-sticky, rich and creamy consistency. Oil consumes a lot of time and effort, which is much difficult to afford out of today's busy schedules. Moreover, oil is sticky which weighs down the hair, making it flat. Pantene Oil Replacement is light and comes with the goodness of oil while leaving all the hassle behind.
You don't have to make a session for oiling and washing it off your tresses, it takes minimal time to apply and much less work and shampoo to rinse off. It nourishes your hair like oil while stopping it from breakage and damage. The smoothening effect it brings lasts long and prevents the hair from getting tangled, hence preventing damage.
Hair needs conditioning essentially after washing. Apply a small amount of the cream from the root to tip while the hair is still damp and leave it on. This doesn't need to be rinsed off essentially unlike typical hair conditioners. It leaves your hair looking healthy and nourished.
It also doubles up as a serum as well. It makes your hair look voluminous and bouncy keeping the frizz at bay. A humid climate brings in all that frizz which makes it hard to detangle and manage the hair. Applying the Pantene Oil Replacement saves your tresses from the humidity and pollution. Although it doesn't make your hair sticky, it doesn't dry it out either. Instead, it helps to bring back the missing or lost necessary hydration from the dry hair.
You can apply it over your hair before using any appliance that brings heat to your tresses. It even doubles up as a heat-protectant, so applying it before styling with blow-dryers and irons can prevent your hair from damage from heat. It can also be used in day-to-day life as a sun-screen. It can protect your hair from the harmful sun rays.
It has a pleasant fragrance that lasts long. This gives a fresh feeling continuously and isn't too harsh on sensitive noses.
With all the purposes it fulfils, it's a good buy for its price. It is affordable and replaces more than just oil out of your hair care routine. It also has a manageable packaging as it comes in a tube. It is spill-proof and easy to travel with, making it hygienic and handy
---
---
Packing Sizes:
The Pantene Oil Replacement comes in two packaging sizes. One a tube of 180 ml and a smaller packaging of 80 ml, both are available.
---
Prices:
It is available at affordable prices. The 180 ml packaging is available for 150 Rupees while the 80 ml packaging is available for a price of 85 Rupees. You can get the products at lesser prices often on different sites online, as well.
---
Good

or

Bad

?
Good
As of now, you must've known that it is good for price product by Pantene. It is good for the flat to normal and hair that is dry at the intermediate level. It provides the nourishment and care of oil to your hair follicles and they look all healthy and shiny. Besides making it soft and easily manageable, it prevents hair damage and mid-follicle breakage. It therefore also reduces the tendency of split ends on your hair.
It works well as a preventive and protective product for the hair as it can also be used as a leave-in conditioner and heat protectant before styling.
However, it also helps to revive back health in damaged hair. It doesn't make it sticky, unlike oil but brings back the lost hydration from the dry hairs. If you have oily and flat hair, this won't weigh down your hair or make it look flatter as it has a very light composition. If you have dry and frizzy hair, it'll help keep the bounce and volume of your hair while revitalizing the hydration in your hair.
Bad
The bad is, it doesn't work equally well on highly damaged hair or even on very dry and frizzy hair. Also that however it lasts for a long time, it isn't a permanent solution to the hair damage. It also has alcohol content in its ingredients.
So, while it is a good and fast alternative to oil, but the alcohol content doesn't make it a complete oil replacement from the nourishment point of view. It also doesn't have any effect on hair fall. As of oil, massaging your scalp with oil can induce lessening of hair fall. As a replacement for oil, it lacks in this field.
---
Caution
It is possible that a certain product might not suit you and have adverse side effects. So, if you have sensitive skin and hair, it is better if you consult your dermatologist beforehand and test it on a small section before applying completely.