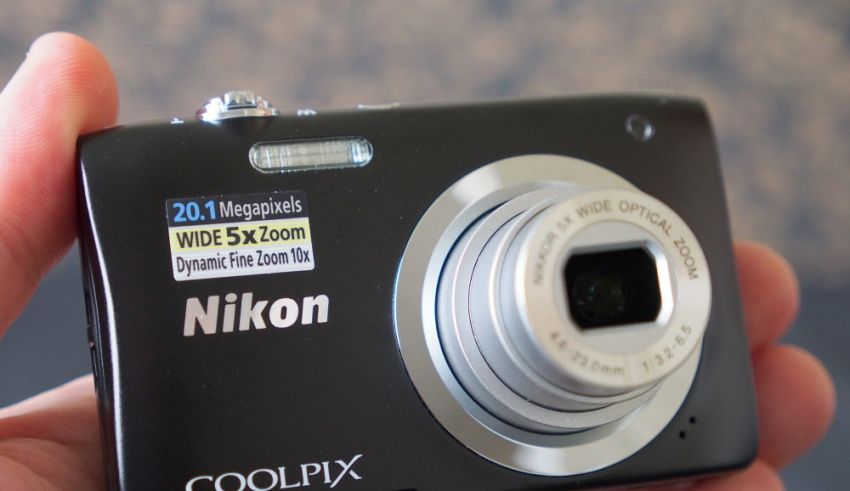 The Nikon Coolpix A10 is Nikon's cheapest entry-level coolpix camera, priced at a wallet-friendly tag of Rs.5450 and is available in 3-4 different shades of colour. With its 16.1-megapixel image sensor, wide-angle 5X optical zoom lens and an array of intelligent features; it will put the thrill and joy of photography right at your figure tips.
The 5X optical zoom is equivalent to 26mm to 130mm in 35mm terms. The camera has a USB 2.0 (480 Mbit/sec) port to connect your camera to other devices. This point and shoot camera powered by two AA rechargeable batteries, which provides a shooting life of 200 shots according to CIPA standards and features a 2.7inch LCD screen at the back. It can shoot 720p HD videos and features six creative effect filters. The smart portrait mode enhances the shots.
When it comes to design, the Nikon Coolpix A10 is an ultra-compact, lightweight camera and is very easy to use. It is refreshingly ergonomic when compared to other slimmer camera. It can easily slip into your pocket because of its ultra slim design. The A10 has a plastic body and feels reasonably solid at the available price range. The pronounced finger grip does not have a rubber coating, but the camera is fairly light and weighs only 160g with an external dimension of 96x59x29mm and a thickness of 29mm which is an average thickness for a camera of this size.
The textured thumb rest at the back provides an extra grip to the camera making it more secure. From my personal experience, I would recommend using a wrist strap to avoid dropping the camera. The menu option is very clear with a limited number of options and is easy to use. The 2.7-inch, 230k dot LCD screen is quite of low in resolution, which makes the menu icons and fine detail looks pixelated. The view can appear quite grainy at times. But while taken outdoors, it was viewable, even in bright sunlight.
The performance section is where we look at the image clarity and overall photography quality performance of the camera. The 16-megapixel camera with 3.5-inch (6.17×4.5 mm) sized CCD sensor can shoot at the maximum resolution of 4608×3456 pixels with aspect ratios of 4:3 and 16:9. It has a native ISO range of 80-1600 and it does not support RAW file. A10 can shoot continuously at the max speed of 1.2 fps and has a maximum shutter speed of 1/2000secs. The camera has some scene modes making it easy to use it. But those who want a bit more control can set the ISO and white balance settings themselves.
There are six creative effects, a small portrait mode and auto (programme) mode where you can set the white balance. The noise performance is pretty visible, even when the camera is using ISO 80. The colour reproduction and saturation are also good. While taking portrait pictures with flash, red-eye was occasionally a problem.
Sadly, A10 has only been given a cut-down version that only softens the skin and enables the self-timer to snap a shot when the camera detects a smiling face. Whether it is a scene auto selector mode or plain auto mode, you can adjust the size and quality of your image and apply up to +/-2EV of exposure compensation using the rear panel button that doubles as the right directional control in playback mode. The left directional button activates the self-timer.
The camera allows you to record your videos at the highest resolution of 1280×720 at 30p fps with a built-in mono microphone and a mono speaker. The optical zoom is not available while recording. I found that with electronic image stabilization switched off, the video is quite unstable. Another disappointing aspect of the Nikon Coolpix A10 is its speed. It isn't the fastest camera and the focus can be quite slow, especially in low light. It takes 3-4 seconds of processing time which isn't very fast. The A10 is identical to Coolpix L31 which itself was identical to L29. Overall the exposure is reliable and the camera works well as a point and shoot.
Taken as a whole, the Nikon Coolpix A10 is a reasonable performer at this price, with bright colourful photos and a number of creative effects that can be applied while shooting or in playback. The noise performance drops off at ISO 200 and above and if you want the best results, I highly recommend to sticking to lower ISO settings.
The plastic casing does not flex or squeak. The 230k dot LCD screen is the obvious sign of exterior cost-cutting as it gives a minimum resolution as compared to other cameras these days. If you are looking for more advanced controls and high-quality video recording, then Nikon Coolpix A10 is not for you. But for an easy to use the camera with a compact size and available at the decent price, you can always opt for this model.
Nikon Coolpix A10 Specification:
16MP – 1/2.3″ CCD Sensor
ISO 80 – 1600
26-130 mm F3.2-6.5 Zoom Lens
Digital only Image Stabilization
2.7″ Fixed Type Screen
1.2 fps continuous shooting
1280 x 720 video resolution
160g. 96 x 59 x 29 mm
Pros:
Good image quality at this price
Good battery backup
Compact and slim design
Smart Portrait and Blink Proof systems
Low price point
Cons:
Plastic body
Low res display
Slow image processing
Ratings:
Design & build: 7/10
Features and performance: 7/10
Image quality: 7/10
Value for money: 7/10
Nikon Coolpix A10 Price:

Nikon Coolpix A10 Sample Images:
YouTube Reviews:
Featured Image: Daldigital
Check Also: Best Cameras under 70000 Rupees to buy in 2020.