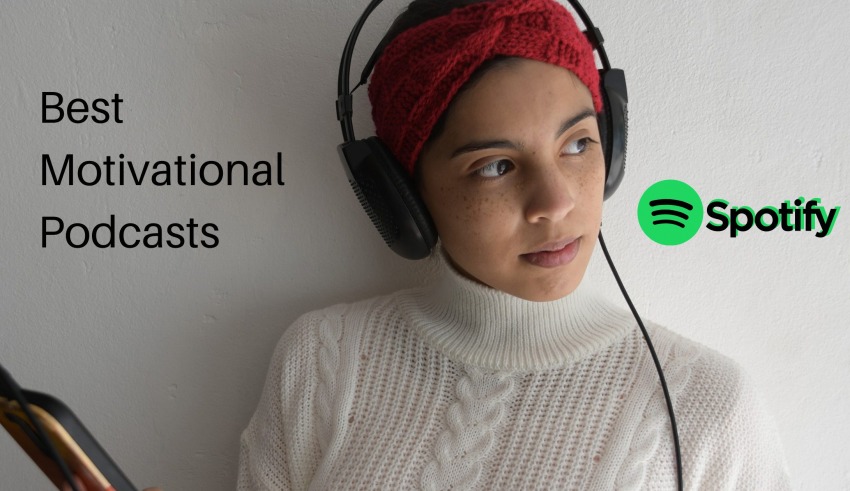 Each and every day of the week is considered the best time for pumping up your spirits and make a few goals for the upcoming week and keep yourself motivated so that you can achieve them. But you might face a situation where you cannot find the motivation inside yourself. So, in that case, it is better to get help from some outside sources. Along with self-help books and inspiring speeches and movies, some Motivational Podcasts on Spotify can also help you a lot when you require a lot of motivation.
Also Check: Best Sites to Buy Spotify Plays
Now, where can you get such good podcasts? Well, according to me, the best destination is Spotify. It is a truth that Spotify has helped a lot of skilled and talented people to boost their popularity on social media but on the other hand, the streaming platform has also included a few better things to keep you motivated.
So, here are the 15 best Spotify podcasts for motivation in 2021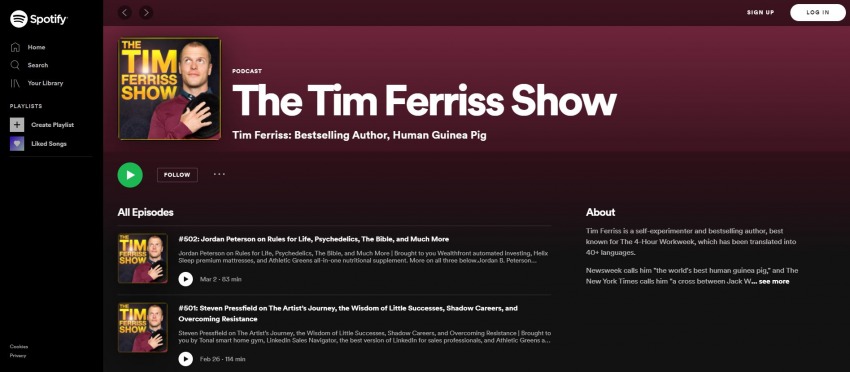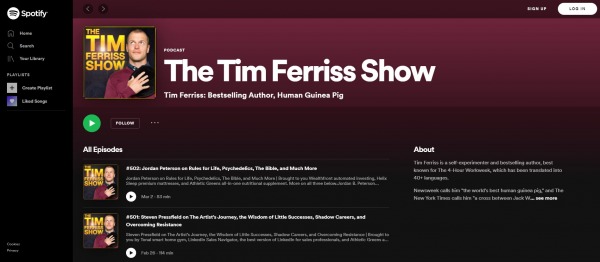 The Tim Ferris Show is also known as the "the Oprah of audio" by The Observer. It is one of the best Motivational Podcasts On Spotify to start from. It has been ranked in the 1st position among 500,000 podcasts on various occasions and it is also the first business podcast that has crossed around 300 million downloads and has been selected as the best of Apple podcasts for around three years.
The podcast is hosted by best-selling author Tim Ferris and the guest list includes names like Arnold Schwarzenegger, LeBron James, Maria Sharapova, Jamie Foxx, and many more. In this podcast, Tim invites the best and world-class performers for discussing their habits, routines, and secrets that helped make them what they are today and helps listeners to follow those steps and become more successful in their life.
Every episode deconstructs the best performers from eclectic areas like investing, sports, business, and art for extracting tactics, tools, and routines that can be used by you. It also includes the best books, morning routines, exercise habits, time-management tricks, and others.
---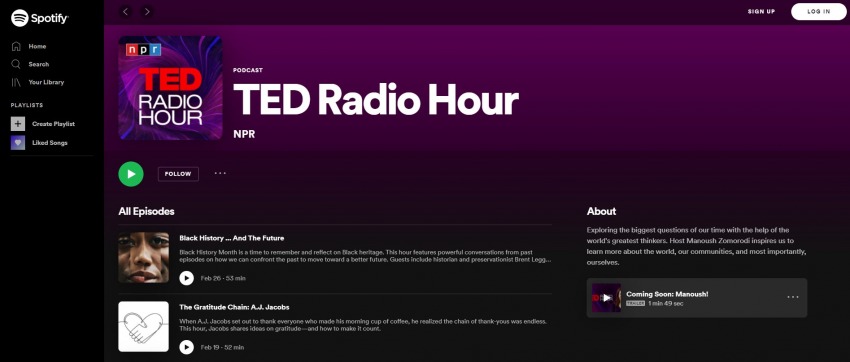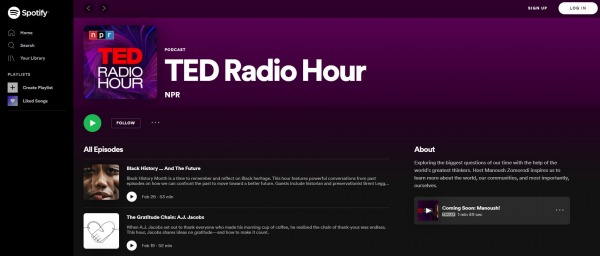 TED Talks has been able to receive positive reviews from critics and audience and after the successful run it, TED Radio Hour can be considered as the next level. It is the best podcast that features together some of the best remarkable minds from around the world. It is being hosted by Guy Raz and it is a co-production between TED and National Public Radio (NPR).
The podcast explores topics starting from inspirational leadership to self-awareness and it is an 18-minute talk show. The podcast promises to make people think, question, and introspect and also provides new approaches and solutions to the old problems.
For instance, we are living in a time where there are immediate gratification and a few things can also reach their full potential; we need water to live but with rising seas and so many shortages of water, water is in crisis and even we are.
---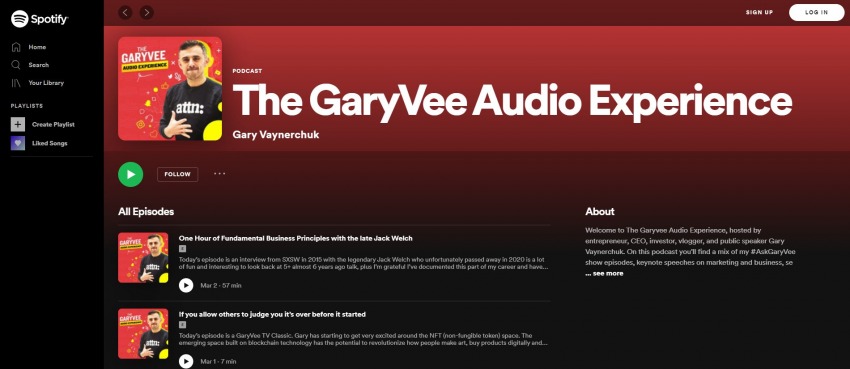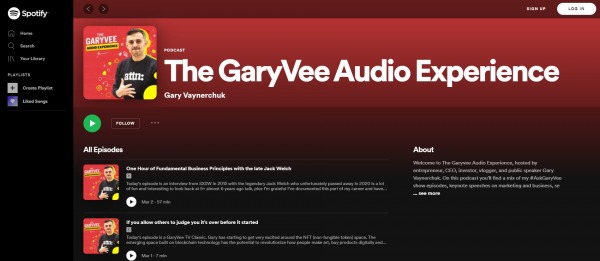 You should definitely listen to The Gary Vee Audio Experience if you are feeling listless and low on energy. You should make this Motivational Podcast a part of your everyday routine and it is guaranteed that you will get to see a positive change in your perspective. The podcast is hosted by Gary Vaynerchuk, who is an entrepreneur, author, CEO, public speaker, and vlogger. The podcast is a very good approach for getting you up and running.
The host imparts motivational advice through speeches and interviews in a riveting way that will make you sit up, listen and note down everything.
The show is a mix of the host's best highlights from his DAILYVEE documentary video series, keynote speeches related to marketing and business, interviews, fireside chats, and any of his new and present thoughts that he records specifically for this audio experience. Along with Spotify, you can listen to this podcast on Google Home by just saying "Ok Google, listen to The Gary Vee Audio Experience".
---


We all have seen the show "Lifehack". Well, the podcast named The Lifehack Show is a part of it. The podcast provides outstanding insights from experts about how to overcome obstacles and break free from limitations. In every episode, the host of the show interviews experts in various fields for sharing their thoughts and experiences to get over challenges and reach their goals.
The podcast has helped many people forgetting the root of the purpose of their life by taking the complicated and breaking it down to a very simple process. It is a place where you can find answers to all your questions and answers that can help you to overcome the limitations that keep you from your goals.
The podcasts would inspire you and show you how to tackle your limitations head-on and live the life you actually want to. Overall, it can be said that if there is any obstacle standing between you and your dreams, listening to this podcast will help you to cross it.
---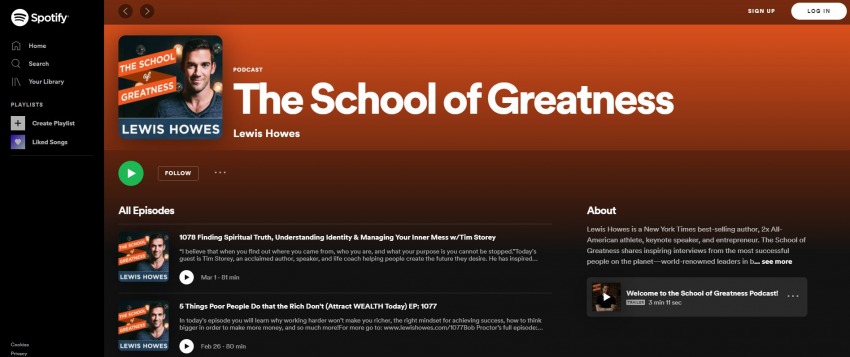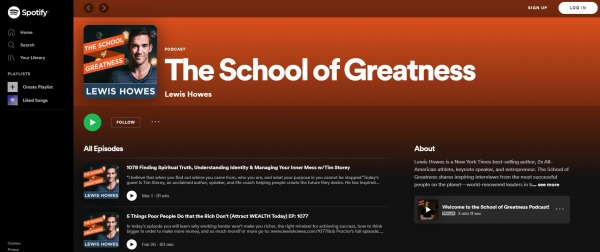 School of Greatness is hosted by Lewis Howes and aims at inspiring people for dreaming bigger and living better. Starting from relationships and entrepreneurship to self-development and health and the podcast also includes solo sessions with the host and interviews well-known people belonging to the field of business, sports, and entertainment and they share their secrets of success.
For one time in a week, listeners also get the chance for enjoying the 5 Minute Friday that includes the host where he inspires people with some really fast advice on a few of the very relevant topics with which we can relate ourselves.
The podcast was launched in January 2013 and has grown to be one of the best-ranked Business and Self-Development podcast. Past guests that came on the show were people like Tony Robbins, Alanis Morissette, Scooter Braun, Julianne Hough, Jack Canfield, Arianna Huffington, and others. It covers topics like fitness, money nutrition, spirituality, and others.
---


The podcast Inspire Nation has a wide range of subjects. You just have to name your choice and they will get it covered. The podcast aims to help people shine bright with the help of their motivational episodes that touch on every aspect of our lives. The podcast is hosted by Michael Sander. He shares some life-changing experiences and invites authors, spiritual leaders, and others for providing inspiring advice that would fill you with positivity and will get you fully charged.
The podcast has a lot to provide when it is about self-improvement and you will surely get hooked on this podcast in a short span of time. The guests of this podcast are the best of the best leaders, Fortune 100 CEOs, spiritual teachers to millions, and also personal coaches to rulers of countries. They are considered as movers, shakers, and change-makers. They have written NY Times Bestsellers and have been on Oprah and have also given millions watching Ted Talks.
---

Brendon Burchard, who is the world's leading personal development coach is the host of this podcast known as The Brendon Show. With this very inspiring podcast, the host shares the mantra of his life and the things that keep him going, and how all of us can shape the extraordinary life that we want to live.
The host dives deeply on some common issues like all of us are a victim of such as dealing with self-doubt, why people don't support you, and the motivation killer.
The show includes all about finding the correct direction in life and has the power for inspiring people to take action. You can go behind the scenes with the host where he talks with around 20,000 people in arenas, coaches celebrities, helps his students, and reaches many people each week with a message on how we all can live, love, and matter. The host also shares the things he is struggling with and working on and it is an intimate and inspiring look into the life and strategies of Brendon Burchard.
---

One particular and highly recommended podcast for you is Gretchen Rubin's Happier. It is considered a thought-provoking podcast that includes a lot of practical advice on how to live a very happy life. The host and her sister Elizabeth discuss habits and habits for making each and every day joyful in this very enjoyable podcast.
Gretchen Rubin has been the very thoughtful and influential voice on the subject of happiness, habits, and human nature and she is also the author of many New York Times bestsellers like The Happiness Project and Better Than Before. Her latest book, The Four Tendencies explored a personality framework she made that divides people into four types.
The co-host Elizabeth Craft is a television writer, producer, and showrunner and also the co-host of Happier in Hollywood and it is a podcast on how to survive and thrive in LA or anywhere else. She also published a young-adult novel named Flower in the year 2016.
---

If you have a lot of questions related to chasing your passion, living your dreams, taking risks, quitting a 9 hours job, and the same type of other concerns, this podcast is known as Goal Digger will answer everything for you.
Jenna Kutcher is the host of this show and she brings a lot of inspirational stories that will surely bring a difference in your life. The host also talks about tips and tricks for keeping yourself motivated, be productive and become a self-made millionaire.
This particular podcast is mainly directed to help 'girl bosses' for making their dreams come true by adopting a live-workshop-style business podcast. It is a live-workshop-style business podcast that has been helping thousands of people redefine success and chase bold dreams. You will also get training from the experts on the way to dig in, do the work, and tackle the biggest goals in your way. The host is obsessed with business and marketing keeps her up at night.
---

The podcast called The Mastery Sessions is comprised of powerful everyday tools coupled with profound insights. It is being hosted by life coach Robin Sharma and he will help you to live the best of your life.
Robin's words of encouragement and advice will also inspire you to be optimistic and hopeful. If you are having a bad day, you can tune in to this podcast and if you listen to just one episode, it is enough for bringing you back on track. The podcast is being followed by millions of people from around 67 nations.
Robin Sharma has been one of the best leadership experts in the world. His work has been appreciated by rock stars, royalty, billionaires, and other celebrity CEOs.
He has sold around 15,000,000 books and clients like Starbucks, Nike, GE, The Coca-Cola Company, NASA and Microsoft have been using his leadership methods for driving into real growth and the best performance at the same time.
---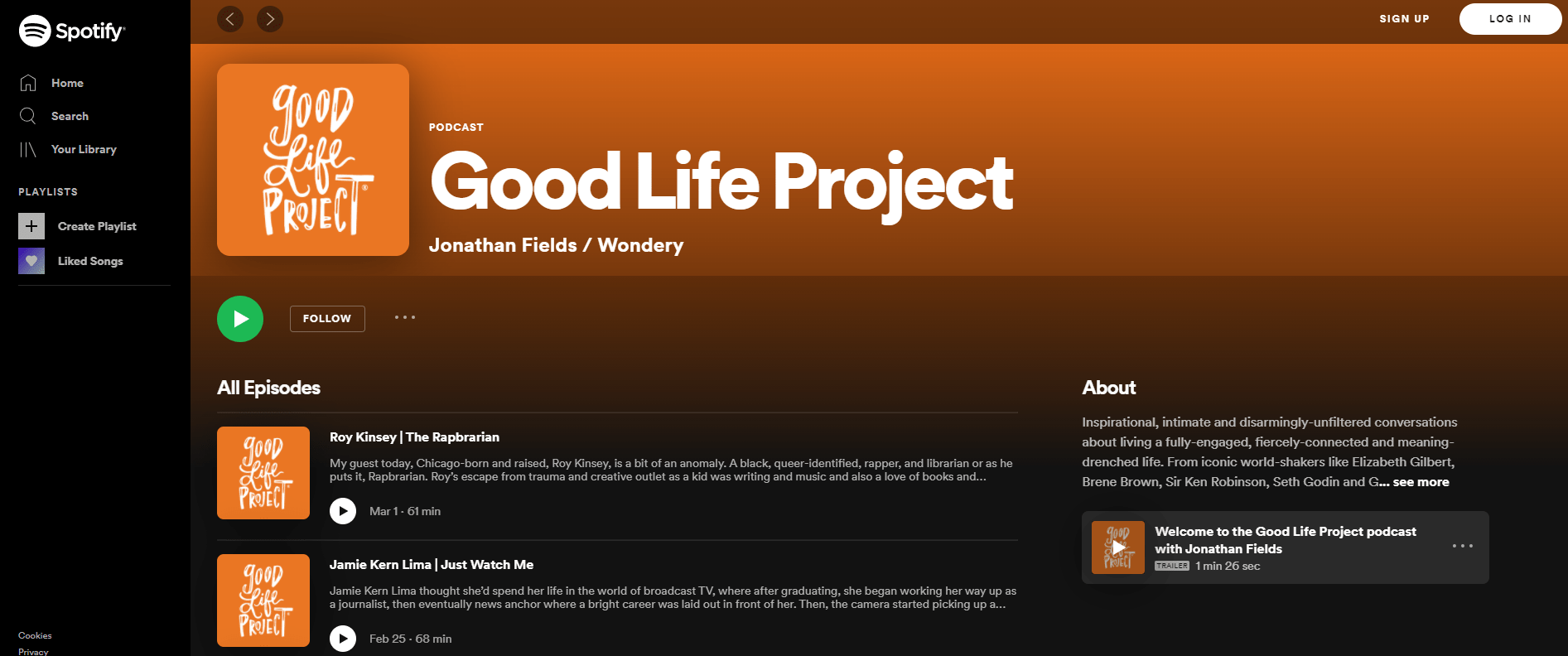 The Good Life Project includes in-depth conversations that are considered honest and deeply moving. The podcast is hosted by Jonathan Fields, who is a writer and entrepreneur and aims to share stories of experts and everyday people who mean to inspire listeners. Stories can easily connect everyone and this is what is embodied by this podcast.
This podcast airs two days a week on Monday and Thursday and you can also listen to it at their website. The podcast shares inspirational, intimate and disarmingly unfiltered conversations on living a fully-engaged, fiercely-connected, and purpose-drenched life.
The podcast features guests like Elizabeth Gilbert, Brene Brown, Sir Ken Robinson, Seth Godin, and Gretchen Rubin. You should definitely include this podcast in your list of weekly activities.
---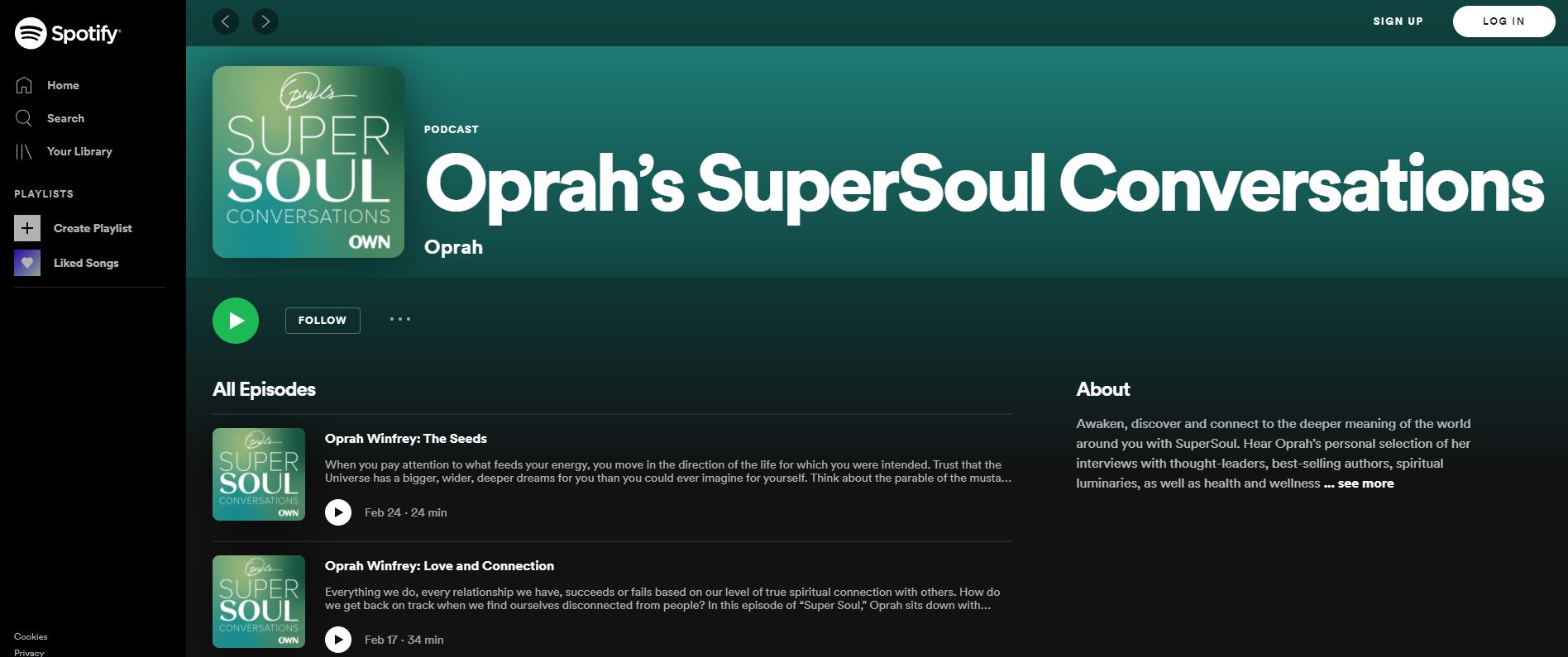 It is a truth that Oprah Winfrey is a famous personality on television. But you are wrong. She also has her own podcast known as Oprah's SuperSoul Conversations.
The podcast aims to help people find the actual meaning of the world around them and the podcast also includes Oprah's personal selection of her interviews with thought leaders, authors, spiritual leaders, and other well-known experts. This podcast will help you to find value and meaning at turbulent times and get the victory.
You can get up, discover and connect to the deeper meaning of the world with the help of this podcast and it has been designed to light you up, guide you through life's big questions and help to bring you one step closer to your best self.
---

It is a truth that life is actually like a marathon and motivational speaker Bruce Van Horn has a wish that you should live it with a positive outlook and this can also be seen in his podcast, Life is a Marathon.
Bruce has a lot of passion in terms of personal development, positive thinking, and self-esteem and he shares his thoughts on how to break negative thought patterns for living a life of joy and abundance with the help of this podcast.
The podcast provides you inspiration, motivation, and resources for empowering you to thrive and win in the marathon that is known as 'life'. The host brings his respected insight, wisdom, perspective, thought leadership, and storytelling abilities in this podcast and other live training tips, entertaining and heart-warming stories that can help you in bringing a change in your life.
---

You might have thought every day that you might have the time for reading and soaking motivational content from a few of the best blogs but if you don't have it, then you should surely subscribe to Optimal Living Daily as it chooses up the best content from the internet and summarizes it in a clip of 10 minutes. The podcast is hosted by Justin Malik who provides daily readings that cover topics like minimalism, productivity, life-hacking techniques, and others.
If you have this podcast on your list, there is not a single chance that you can miss any inspirational content for boosting your morale.
---
The One You Feed
The One You Feed is being hosted by Eric Zimmer and Chris Forbes and the podcast is based on the principle that it takes conscious, constant, and creative effort for making a life worth living.
This podcast brings conversations with guests from different walks of life. The podcast discusses various topics that involve mental health, motivation, self-awareness, spirituality, and other such topics that can help you to become a better version of yourself. So, it is the second-best choice for you as a Spotify podcast for motivation.
The podcast features topics ranging from embracing emotions at work, getting things done, mental health issues, living with chronic pain, and others. The podcast provides wisdom for handling common problems of your life and makes them look more manageable. At a time when people are facing heavy losses because of certain issues, this podcast is a must-have in your list and everyday routine.
---
Conclusion
Motivation is something that we require in order to carry on our normal routines and become successful at a point in time. We all have a habit of listening to all genres of music but what we are missing here is a good podcast. It is compulsory that we all should make this a daily habit of listening to podcasts. Podcasts are something that will definitely inspire you if you have failed at a certain point in time.
We all have already seen the phase of failure and loss together and this happened during the Covid-19 pandemic where people lost their jobs and they lost all the hope in their life.
We need to ensure that such kinds of thoughts should never come inside our minds and the best way is to think and be positive at every point of life. So, if you wish to remove negativity and other bad thoughts from your life, download Spotify, open it and start listening to a podcast.