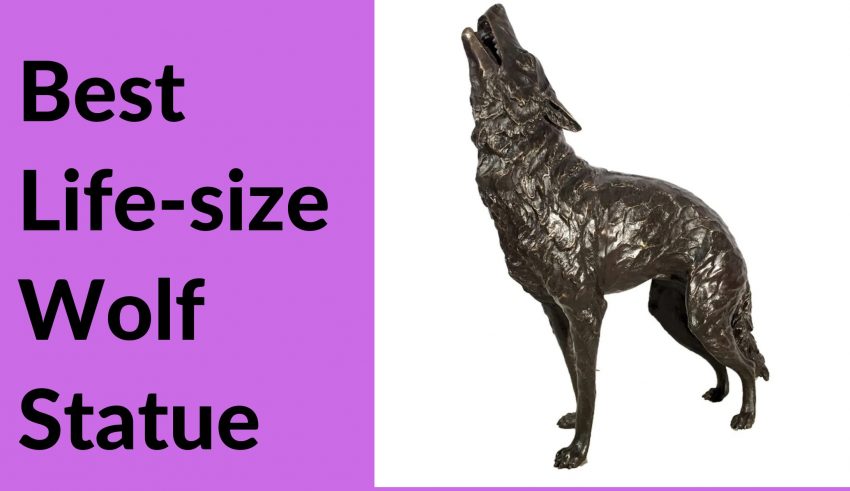 Wolves are a symbol of intellect and sharp instinct. They are always alert and are ready to take on big prey. They are generally part of a pack and each pack has an alpha wolf. A lot of people love wolves because they look amazing and are quite strong.
If you are an animal lover and are looking for a piece of décor then consider buying a life-size wolf statue. These are very decent statues with realistic details. It will enhance the look of your home, office, cabin, or garden. So, let's get into it.
Here is the list of 7 Best Life-size Wolf Statues to buy in 2021: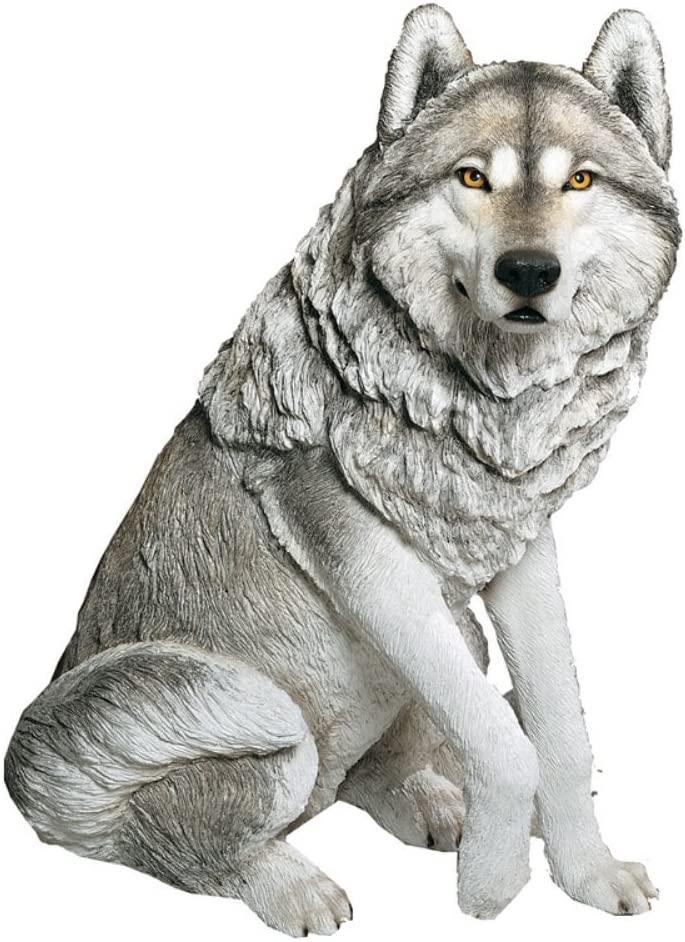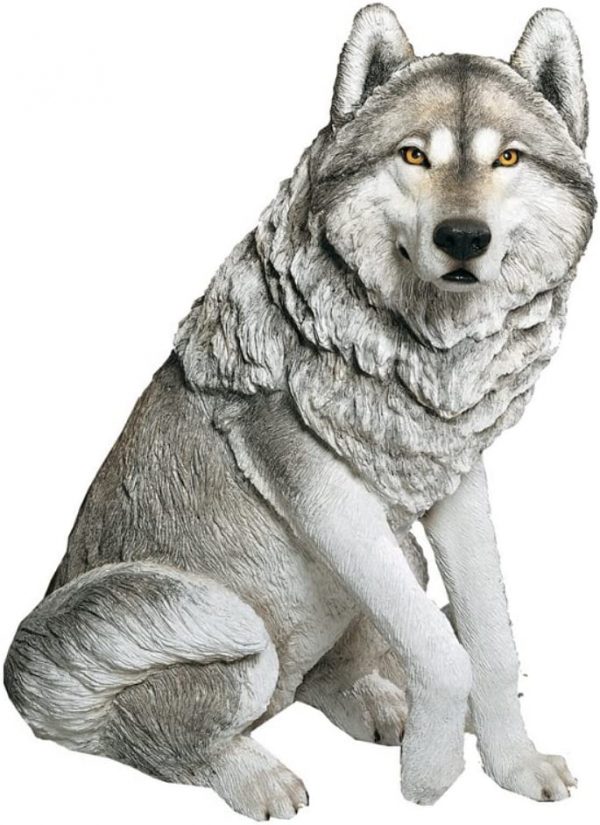 Metal statues though very nice in their own way do not give a realistic vibe. When it comes to animal statues a lot of people will want to have a much more life-like appearance.
This is where the next option on the list comes in. This is a life-size wolf statue by Sandicast. Sandicast is a popular brand when it comes to animal sculptures and statues.
The founder of the company is artist Sandra Brue. She started the company in 1981. Sandra was a very good artist and was an intense animal lover. She realizes that combining these two things can be a good idea and thus the company came into existence. Sandicast is a very popular company which produces animal statues.
Some really popular people like Queen Elizabeth and Bill Clinton have animal statues by Sandicast. Wolves are strong and ferocious animals. They are intelligent and are good hunters. A couple of them can take down a large animal. Wolves generally have gray fur and their torso is short and they sport a long tail.
This statue depicts a sitting Gray wolf. The dimensions of the statue are 24 X 15 X 27 inches. Everything looks so real and the craftsmanship is amazing. The statue has been hand cast with Resin and the details have been hand-painted to give the realistic look. You can buy this statue for $429.33.
---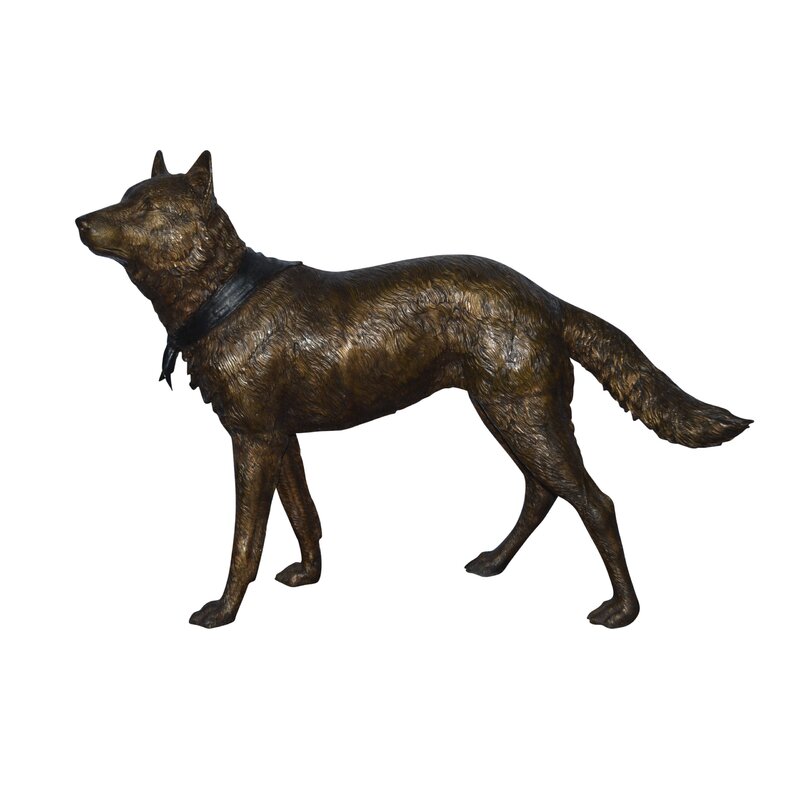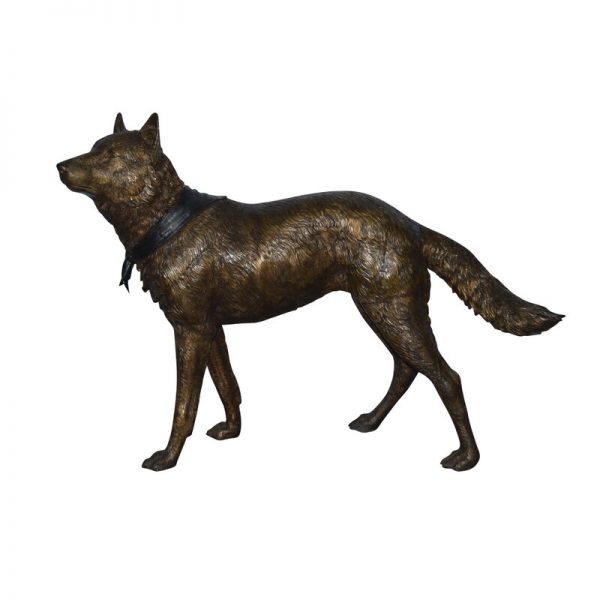 Wolf are amazing creations of nature. This wild animal is ferocious, lethal and a phenomenal hunter. Though strong alone the power of a wolf grows tenfold when hunting in a pack. It is a common belief that if a pack of wolves marks you it will be very difficult to escape as they will hunt you down. Wolves look quite awesome as well.
The biological name of this species is Canis lupus. You may think that a wolf looks similar to a coyote but they do have visible differences in appearance. Wolves have short ears and a broad snout. They also have long tails and short torsos.
If you really love wolves and are looking to buy a life-size wolf statue then take a look at this one. This is a wolf statue made completely out of bronze. So, this is a good choice for metal statue collectors.
To give a nice color to bronze statues you need to apply patina. The artists have been able to skilfully apply classic bronze patina by hand to give it a nice coloration.
Being a metal statue it has some good resistance against weather conditions so you can keep it outside. This statue is 33 inches tall and 45 inches long which does mimic a real-life wolf. The price of this life-size wolf statue is $2749.99.
---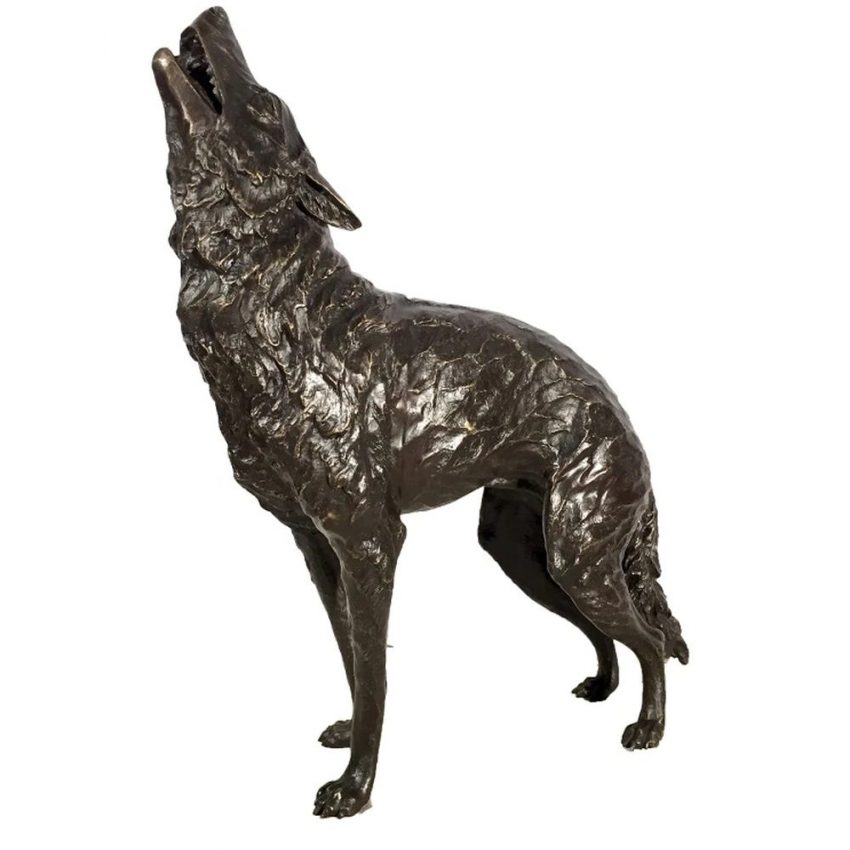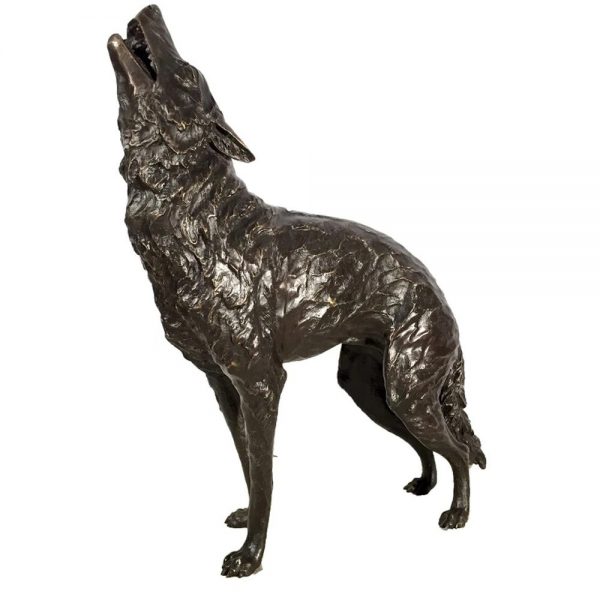 The next statue on this list is for people who want a sort of dynamic wolf pose. This is a metal statue that consists mainly of bronze and the sculpting on this one is quite good. Of course, the coloration is not life-like but the design of the face and the fur detailing is very decent. We see the wolf in a howling pose.
It looks amazing and will enhance the look of your home, backyard, garden, or office. It is sure to turn heads. Anyone who likes to collect big metal statues should consider buying a howling wolf statue. One of the primary methods that a lot of artists use to make bronze statues is the lost wax method.
This method is decent and allows for more detailing. First, the artist makes the wax model of their design. Next, they apply a ceramic coating and heat the model in a kiln. The ceramic hardens and the wax melts away.
This is the reason for the name lost wax. The hard ceramic shell now acts as a cast and you can pour in molten bronze to get the shape. This statue has a deep brown, fire-applied patina and it is very durable. You can leave it outside but the coloration of the patina will change. This will give a sort of different look to the statue which a lot of people enjoy. The cost of the statue is $4200.
---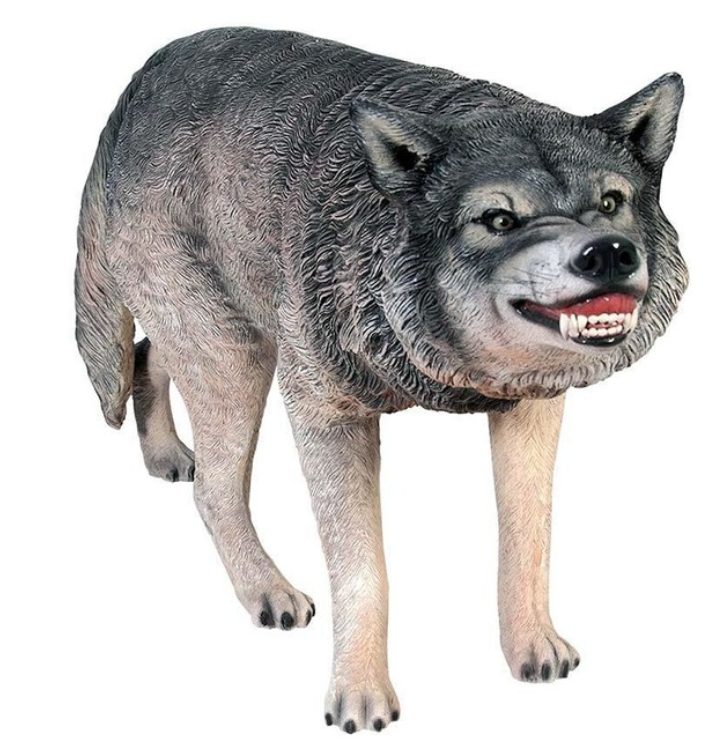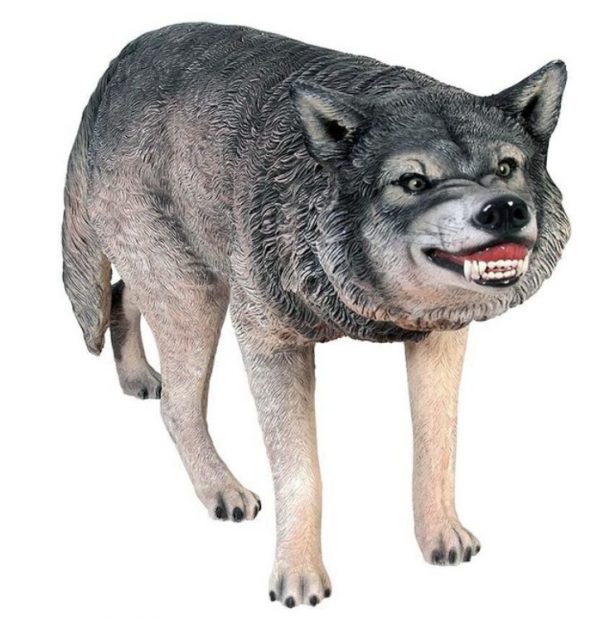 Wolves are dangerous wild animals. They are not pets. If they want they can kill you. They hunt in packs generally but even a single wolf has enough strength to tear you apart. If you want something which shows the ferocious and scary side of wolves then you can consider this statue.
It shows a wolf snarling. It is quite scary to see a wolf bare its white fangs. The detailing on this statue is quite good. The fur looks very real especially because of the paint job. You can really see the skill of the artist at display here.
The different shades of grey on the fur fit so well that it almost looks like real, soft fur. The facial features are very nice as well,  especially the eyes. It seems as if the wolf is starting right at your soul. The white sharp fangs look very real and scary.
This statue is by Design Toscano which is a popular brand. If you are looking for good furniture or interesting pieces of décor like a statue, sculpture, etc. then this is a good brand. You can purchase this statue from houzz.com. The wolf is in a standing pose, snarling, and ready to pounce. It is 27 inches tall and 50.5 inches long. It weighs 35 pounds. You can purchase this life-size wolf statue for $656.
---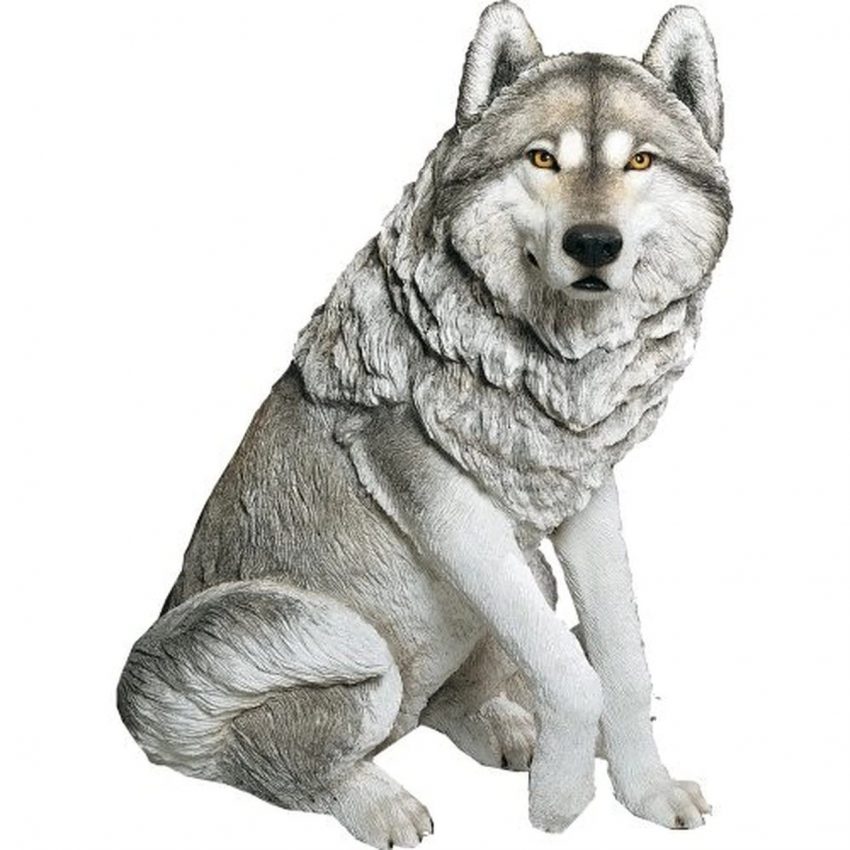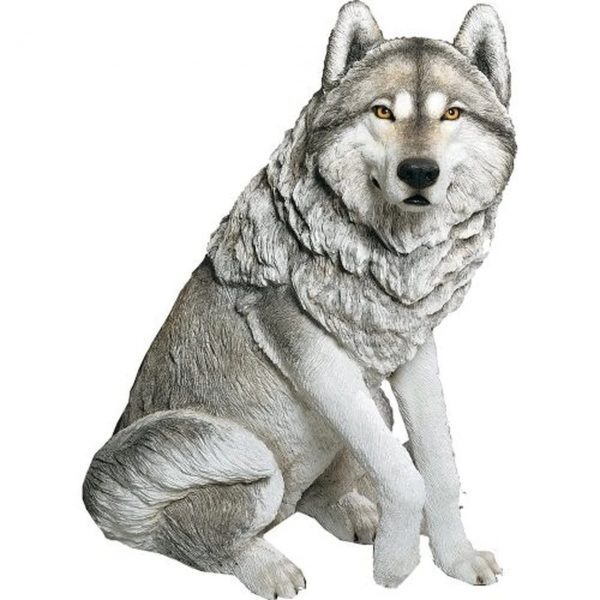 Wolves have been walking the earth for a long time. They have had a continuous hostile relationship with humans. This is because wolves harm livestock and humans did not like it. This leads us to kill or chase away wolves whenever we see them.
So generally, they don't take well to humans. From their birth itself, they have a sort of aversion to humans. Wolves are beautiful creatures. From their built stature to their long furry tail, they look amazing. Their ferociousness and hunting capabilities make them much cooler.
This sitting wolf statue looks very decent. Every detail that is present on it looks good. It looks very life-like. You can literally see the amount of skill and craftsmanship that went into creating this statue.
The main material of the statue is a resin which is the common material for most kinds of light sculptures and statues. The fur looks quite real and the detailing on it around the neck is spot on. We also like the eyes of this statue as it looks very real.
This statue is over 26.5 inches in height and weighs around 32 pounds. This sitting wolf statue costs $411.12 and you can buy it on nationalfurnituresupply.com. This website has furniture items, pieces of décor, kitchen appliances, etc. The brand which makes this statue is Sandicast which is a popular brand for animal statues.
---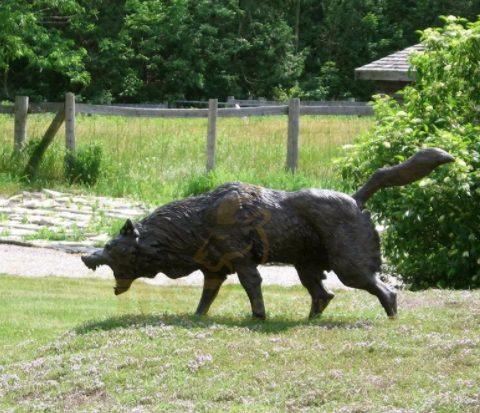 The next online store on the list is D&Z sculptures. This is a brand that produces a variety of sculptures. You can get metal sculptures, stone sculptures, fibreglass and resin statues, etc. The company has a team of artists who design and sculpt the models. They have decent skills and are able to produce amazing stuff with good details.
Wolves may look like cuddly little balls of fur when they are young but do not take them as pets. They are ferocious wild animals who are capable of hunting down large prey. The life expectancy of a wolf in the wild is around 13 years. They can live up to 16 years in captivity. Wolf pups are adorable and live with their mom for 3 weeks. Wolves generally hunt in packs but a mated pair of wolves have a higher success rate of catching prey.
This is a bronze wolf statue that shows the animal in its ferocious form. We see the wolf growling as if warning someone of its presence. This statue is made using the lost wax method which is a common method for making bronze statues.
This life-size wolf statue has a good coloration due to the application of quality patina. You can decorate your garden, home, office, store, etc. with this statue. The company provides door to door delivery. If you want to know the price you can click on the inquire now button and fill out a form. The company will get back to you.
---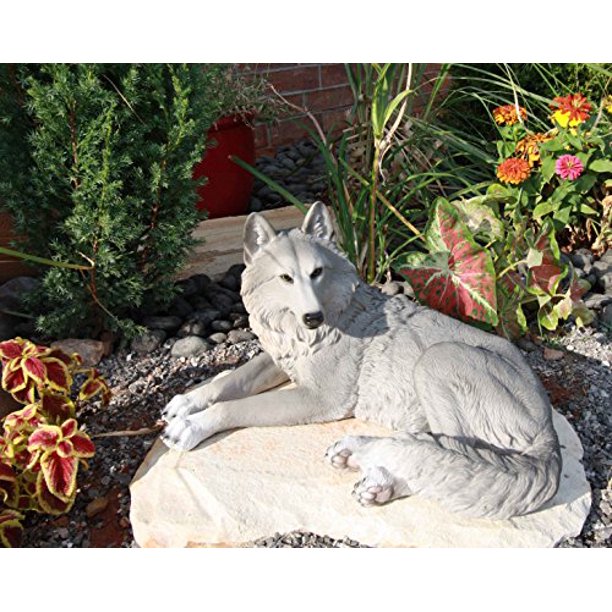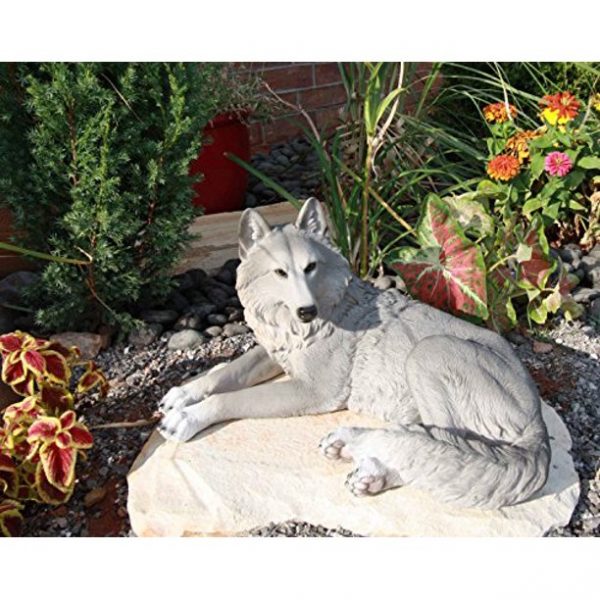 If your budget is low but you still want a decent size wolf statue then this last entry on the list is for you. This is a wolf statue that you can purchase from walmart.com. The artist used resin to make this statue.
It is light, sturdy, and can be a decent décor piece for your cabin or lodge. You can also put this in an animal theme park or a school to show kids. This statue is extremely detailed and is handmade and hand-painted to give it a realistic color and features.
The wolf appears to be resting while looking at the stranger before it. It looks graceful while at the same time it is alert and ready for any confrontation. Wolves are handsome creations of nature.
They are amazing animals who live in a pack and the entire pack cares for the pups. You can easily put the statue on a flat surface. The height of the statue is 9 inches and its length is 15.75 inches. If you live near the Atlanta area you can get the statue in a week. The cost of this statue is $58.95.
---
Conclusion
You now have multiple options that you can choose from. If you like the color of bronze and the feel of it then go for the bronze statues. If you want a more realistic depiction of a Wolf at a cheaper budget then go for the resin statues.
The last entry on the list is of a cheap life-size wolf statue. It can be a good buy for a children's park or school. We hope you find the perfect statue for your setting. If you are a movie buff check out our article on the best life-size Star Wars statue or life-size Hulk statue. Happy Shopping!