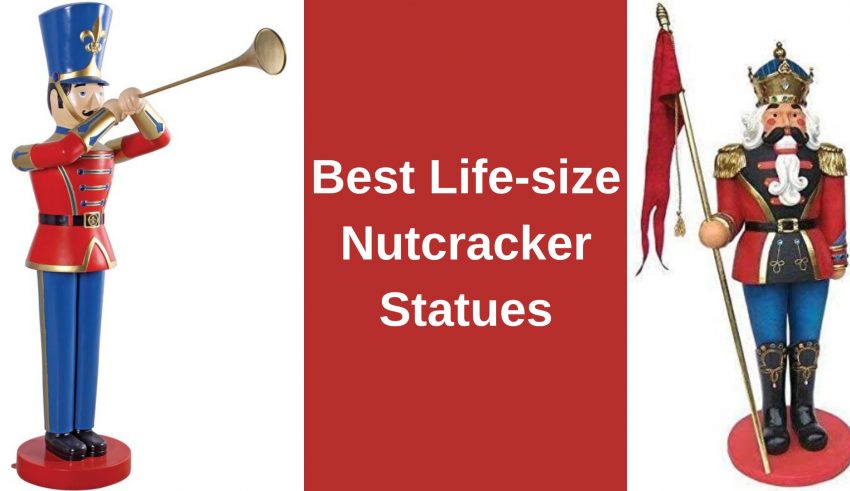 The Nutcracker soldier is a figure which had been attached with Christmas for a long time. Nutcracker is an integral part of Christmas décor for many. If you want to buy a life-size nutcracker statue then we have a bunch of sites that sell these. But before we get into it let's get into a little bit of history about the nutcracker soldier.
It started in Germany a few centuries ago. A common belief that links itself to the statue is that owning it will ward off evil spirits and gain you good luck. The nutcracker soldier becomes popular after the story 'The Nutcracker and The Mouse King' by E. T. A Hoffmann was published in 1816. This figure becomes more popular after a ballet is choreographed based on it in 1892.
Now, a nutcracker, as the name suggests, is for cracking nuts. It used to come in various shapes and designs but since the last century, it has become more of a decoration piece. Most Nutcracker soldiers are only for display purposes.
This list mentions websites that sell these items in a life-size form. These can be a good Christmas gift as well. So, if you want to buy a nutcracker statue, check these sites out.
Here is the list of 9 Best Life-size Nutcracker Statues: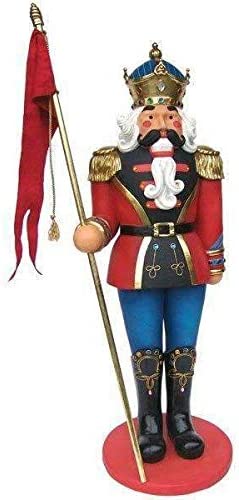 Owning a nutcracker can bring you good luck. So, why not go to amazon.com and get yourself a life-size nutcracker. It will scare away the evil spirits with its fierce-looking teeth. This statue comes from the LM Treasures store which is a popular place to buy this kind of stuff.
This is a 71-inch tall statue so just an inch short from feet. The design of this statue is very entertaining. We see the nutcracker soldier sporting a big white beard and wavy white beard. But you don't have a decent nutcracker statue without the black mustache.
This statue also sports a black mustache and red blushes on its cheek. The eyes are just black dots giving the nutcracker a more cartoonish look. The crown is of gold color and we see the red, black, and blue combination on its dress.
This statue comes from the Philippines where the artist handcrafted and hand-painted this statue. The details are quite decent and high-quality material goes into its making. You can buy this statue from Amazon for $907.99.
---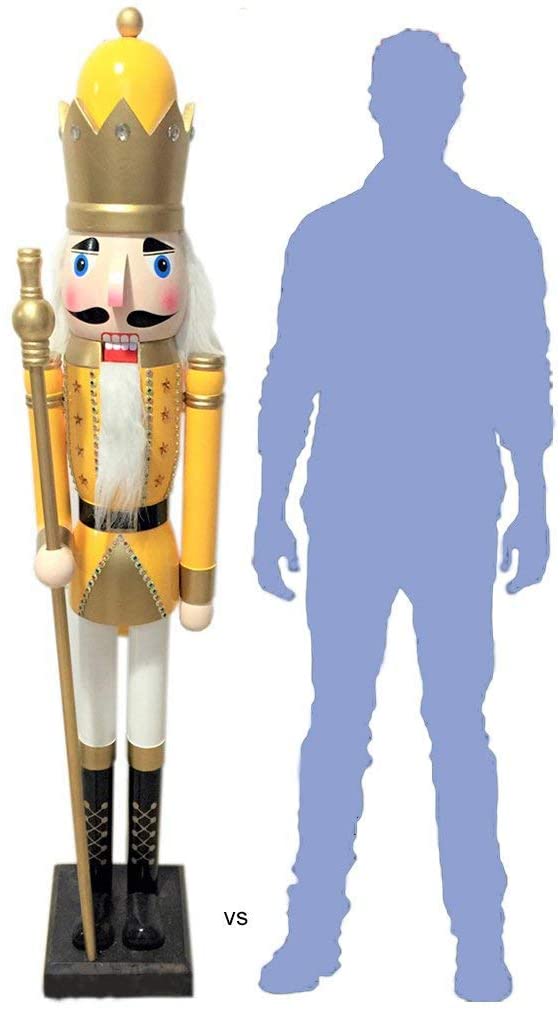 So, the next product is something you can find on amazon.com. This is a 6 feet tall nutcracker king statue. Yes, this statue looks more like a king than a soldier. One of the main design changes to notice is the crown and the staff that the statue holds.
These are the features that make it look a bit like a king. It is a very lean statue which is quite tall. The open mouth with the teeth on display is present in this design. Now, that's one of the original designs of the nutcracker. After all, these devices were meant to crack nuts. So, the open mouth with teeth is there in one of the original designs.
We really like the dress of the statue. It is very different from the soldier uniform and sort of gives a royal vibe. The color of the dress is yellow with some gold accents. There are 8 stars on the costume adorning either side of the mid-region of the body.
The nutcracker king is wearing white pants with black boots. The boots have a gold design on them. This time the hair and beard are white and are actually made of fibrous material giving it a more hair-like texture. You can purchase the statue for $727.49.
---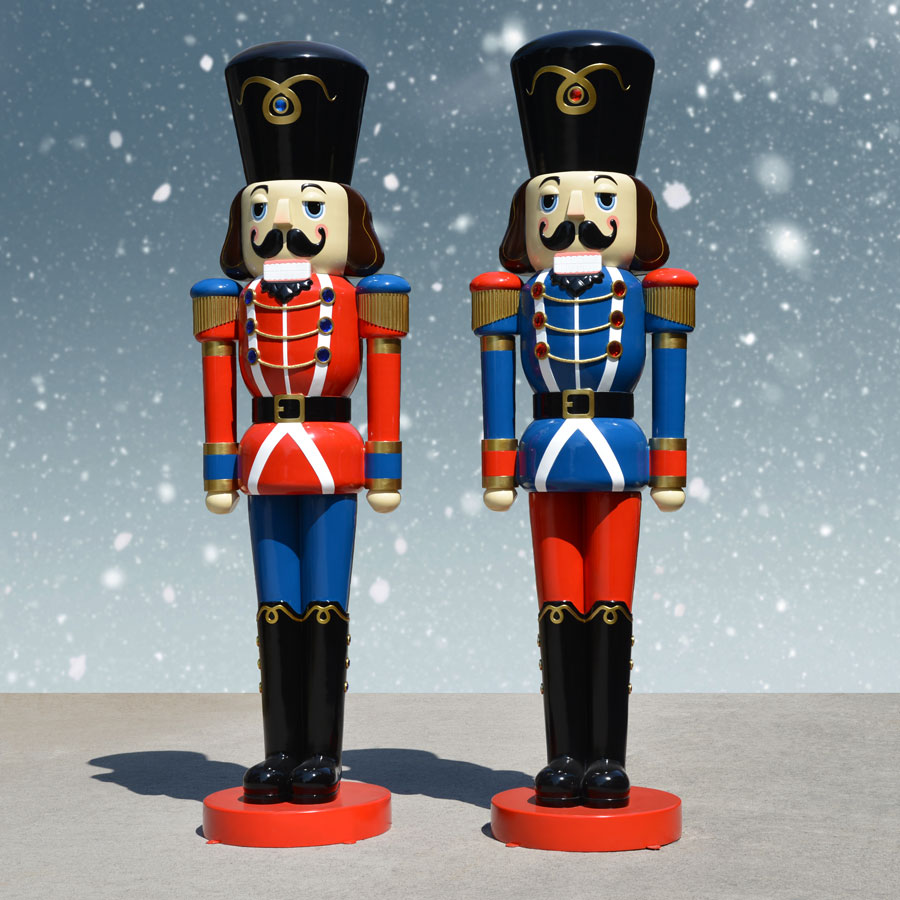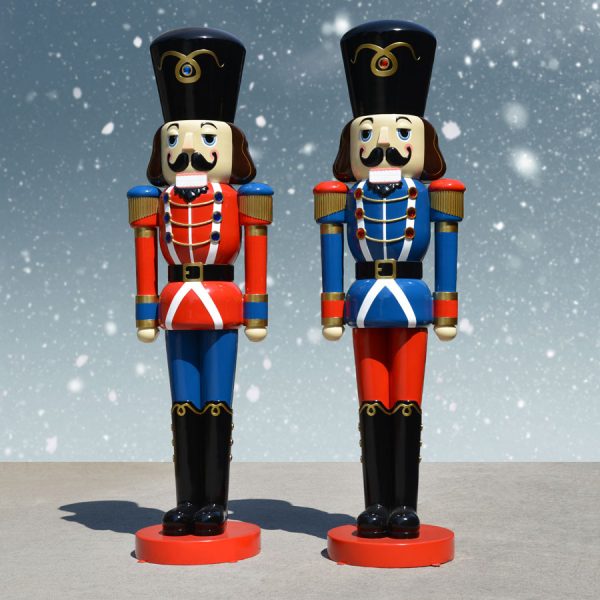 ChristmasNigthInc.com is the first website that we are featuring on this list. It brings you the humongous statue of the nutcracker Soldier which you can use to decorate a big party or event. Nutcracker has been a part of the Christmas tradition for decades.
It has been in the German culture for a few centuries now. It is basically a nutcracker made in the form of a toy soldier. Now, obviously, this big statue is not functional i.e. you cannot crack nuts using it. But this is a head-turner for sure. If you want your Christmas event to look amazing then this can be one of the decoration options to go for if you have the budget.
This statue costs $3798 and it is huge! It is over 10 feet tall! And guess what, you get two of these for that price. Each of the statues weighs around 140 pounds. When you order these the total shipping weight becomes 400 pounds.
The craftsmen used highly durable fiberglass. This material is chip-resistant meaning less prone to cracks or breakages. The detailing on the statue is very good. They did an absolutely decent paint job on this one. Now, you can buy a single nutcracker Soldier as well. It will cost you $1899. There is a 6 feet version available as well. Check out the site for more details.
---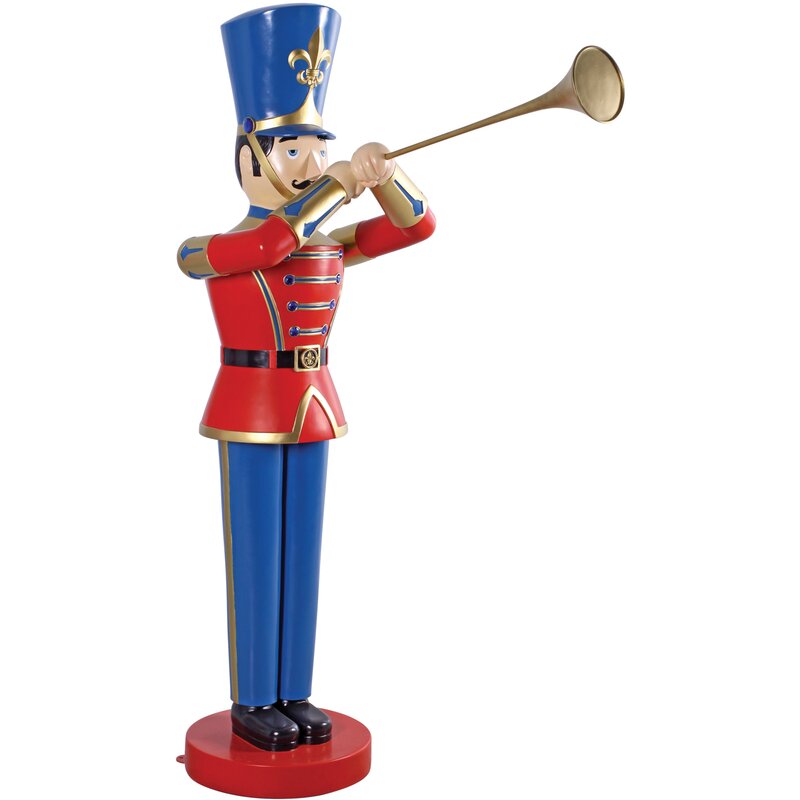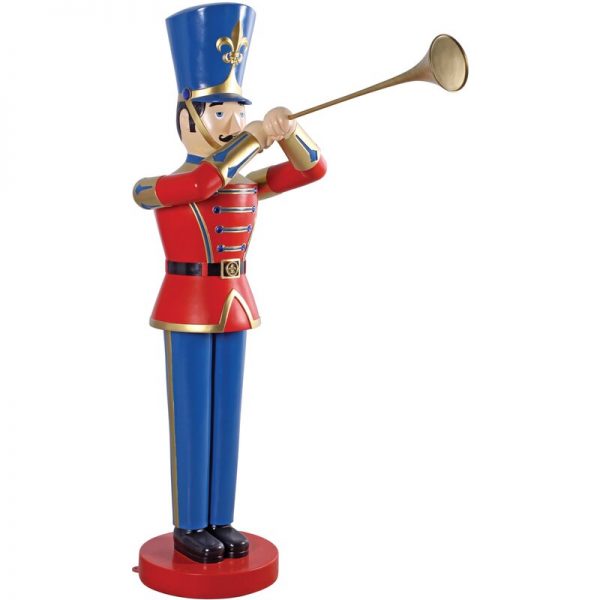 It's time to trump up the Christmas magic with a nutcracker Soldier. If you are looking for a life-size nutcracker statue then Wayfair.com is one of the websites to take a look at. This website has a bunch of décor items and various other products which can be of utility. Now, we all know the story of The Nutcracker and the Mouse King.
This is a story that sort of popularized the concept of the nutcracker soldier. The association of the nutcracker soldier to Christmas is a few centuries old. It was a popular cultural thing in Germany. It is a common notion that owning a nutcracker statue brings luck.
This particular design of the statue is quite beautiful. We see the nutcracker soldier holding a trumpet and playing it. The artists made this statue using designer grade resin. Fiberglass reinforces this resin to give it strength.
The paint job on this statue is pretty decent as well. The red and blue color combination with gold accents makes this statue stand out a lot. You will like the design of this one. It is 4 feet tall and weighs 18 pounds. The cost of the product is $429.99.
---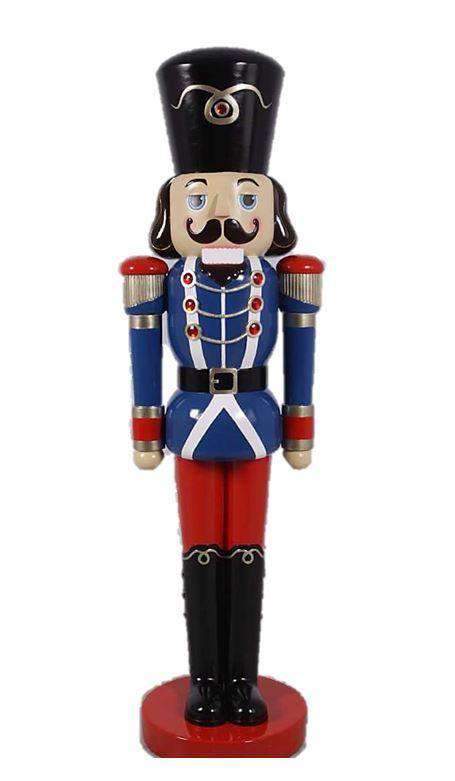 Let's go to a popular website to buy life-size statues Viz. lmtreasures.com. We have multiple articles on our website listing different types of life-size statues. In most of those lists, we have one or two statues popping up from lmtreasures.com.
This is because the website has a wide selection of statues and it decently categories its products. You can get animal statues, seasonal statues, licensed statues, theme statues, restaurant statues, and even second-hand ones. So, if you are trying to get a statue as a piece of décor then this is a good website to check out. It also has nutcracker statues.
This life-size nutcracker statue is shiny and features a thick, black mustache. It also sports black hair. This statue has a black soldier-hat on top and is in full soldier gear with blue and red colors having silver and white accents.
It is standing atop a red base. The price of this life-size nutcracker statue is $759. It is almost 6 feet tall (just an inch short) and shipping takes around a week to 10 days.
---

The Interior Gallery is the next online store that brings you the life-size nutcracker statue. This is a nice website where you can buy a bunch of different products.
You can purchase furniture items, lighting items, statues, décor pieces, and bathroom furniture. one of the life-size statues that the website sells is the nutcracker statue.
This is a nice statue that has good enough detailing. This is a tall statue having a height of 6 feet. If your budget is not too high, you can probably get this one as it is on sale. You can get it for $500.
The material used to make this statue is cast resin which is mixed with fiberglass to give it good strength and structure. If you put this statue in your house or store it will get people's attention. You can put this during the Christmas holidays in your restaurant and store.
It will bring in good vibes. This will be a sort of conversation piece if you choose to decorate your house with it. The black hat of the soldier has golden designs. The costume is red and white with black boots, straps, and a belt. We do not see the iconic nutcracker teeth on this statue.
---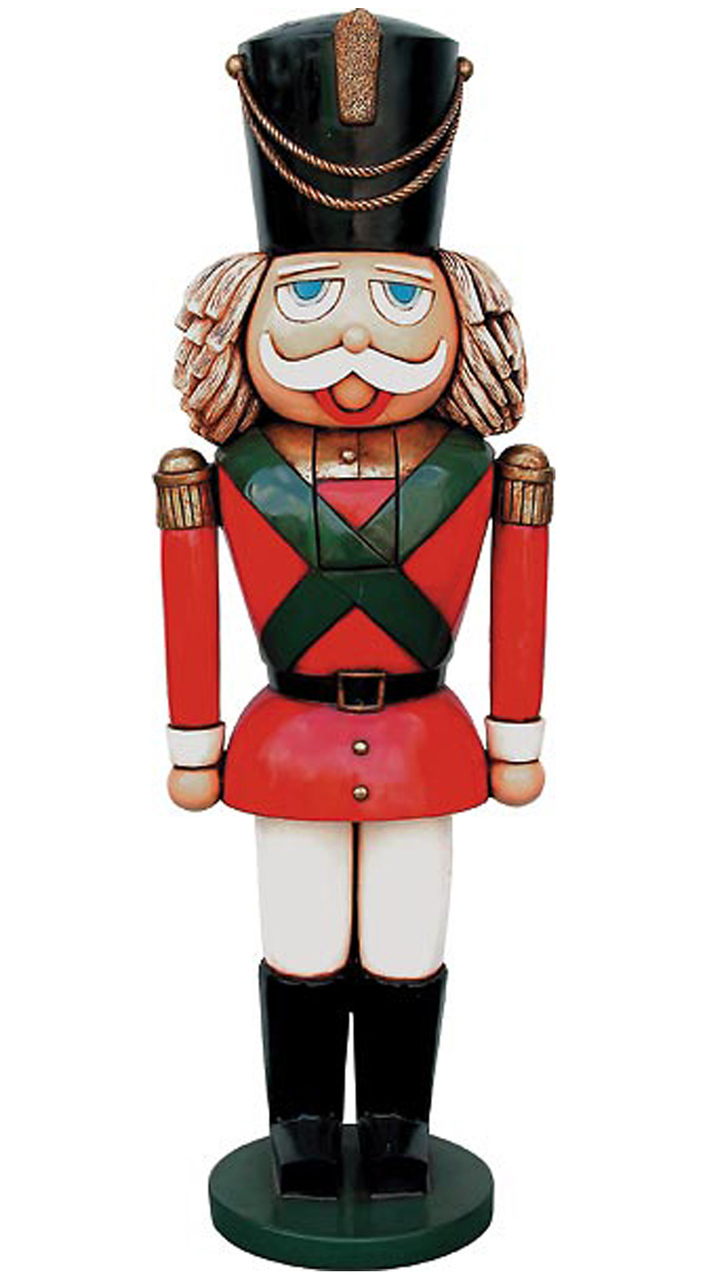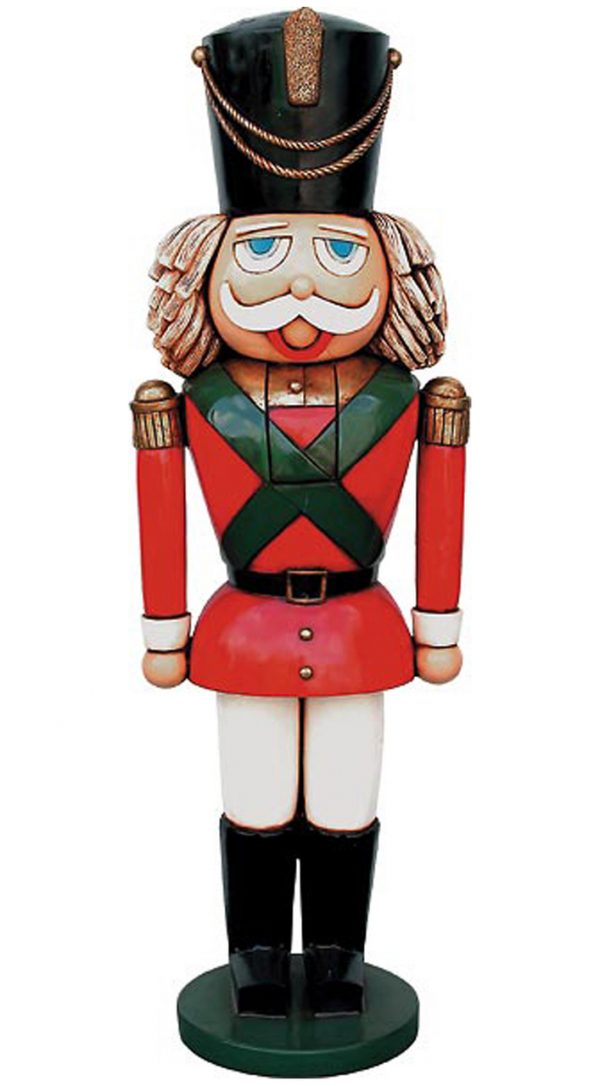 The next life-size nutcracker statue resembles a somewhat Russian design. It looks quite good and if you are looking for a Christmas decoration piece then this should fit nicely. This is a statue that will get a bunch of attention.
It goes well with restaurants and stores that are looking for décor items during Christmas. If you have this at your home this can easily become a conversation piece at the party. The original form factor of a nutcracker soldier is very much prevalent. After all, you are buying for that design.
The uniform of the soldier is red and white. The dress has some gold accents and a dark green strap across the chest. There is a black belt as well on the soldier. It has a black hat which has some designs in gold.
The white pants and black boots make a nice contrast. To give the statue vertical stability it stands atop a dark green base. Durable fiberglass is the main material that the artist uses for creating the structure. The statue is 6 feet tall and is handcrafted and hand-painted. The craftsmanship is pretty decent. It is currently going for $731.69 on worldofdecor.com.
---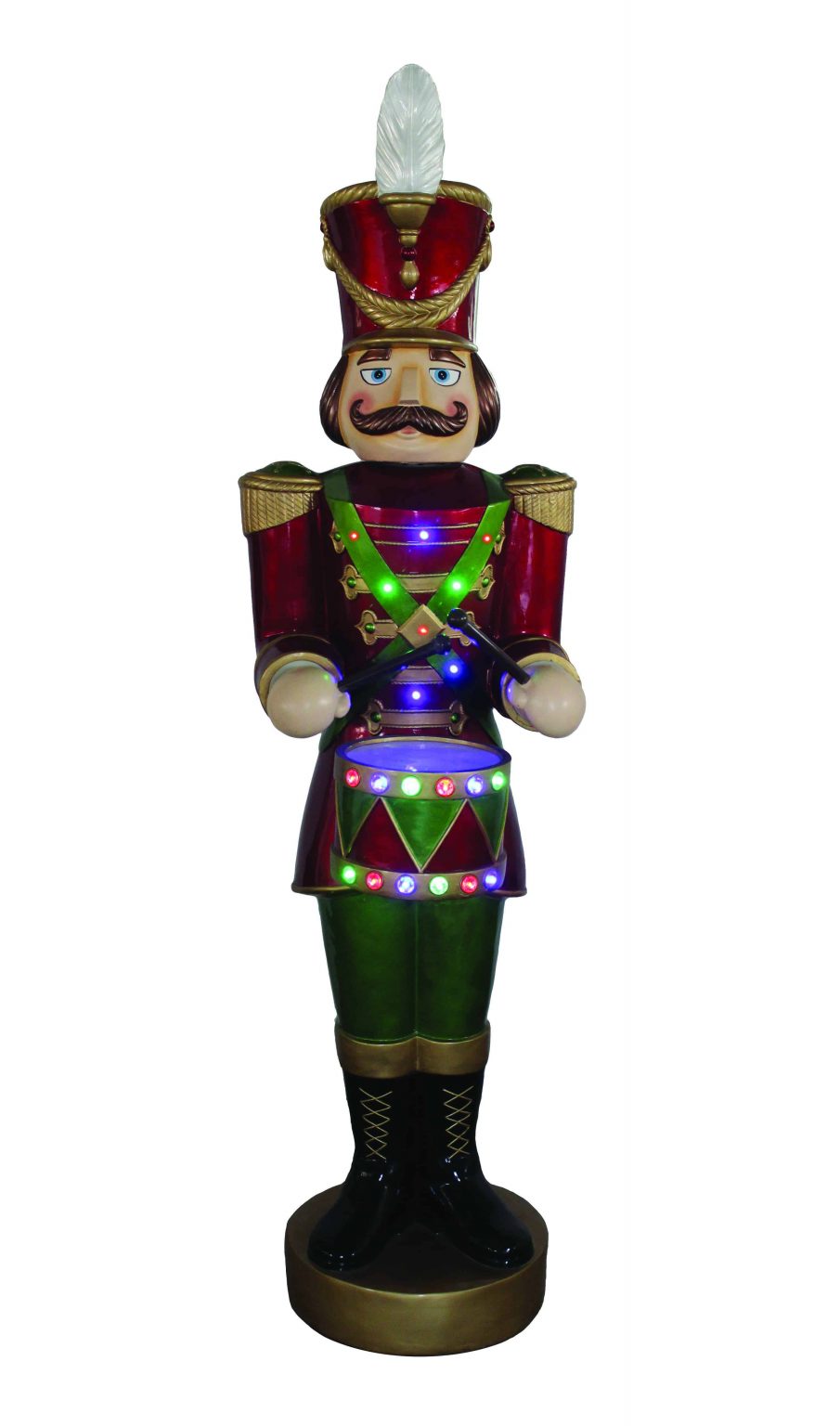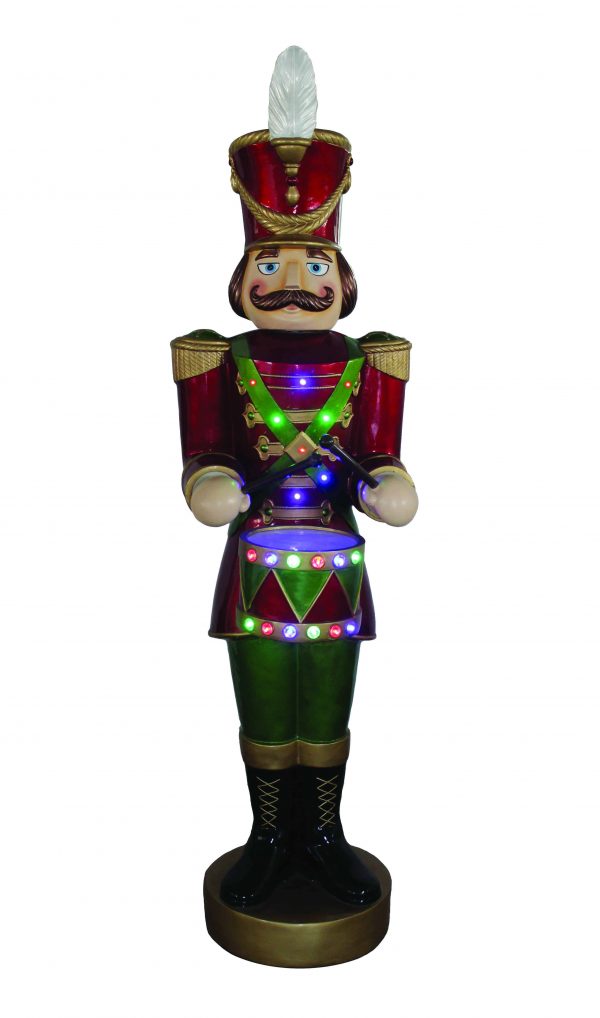 If you are looking to buy a life-size nutcracker statue that is doing a different pose than just standing then the next one can be kind of an interesting choice. It is a nice nutcracker statue that has been hand-painted beautifully. Every detail looks pretty solid and the colors look quite good.
Now, this nutcracker soldier is not just in a standing pose. It has a drum hanging on it which it is playing with the drumsticks. This statue is around 5 feet tall and has a bunch of LEDs on it.
These LEDs add another dimension to the design. Everything lights up beautifully and the statue goes very well with the Christmas theme as everybody will be lighting up their houses and you may want your nutcracker to relate to the Christmas vibe.
So, just turn on the LEDs on this bad boy and you have got yourself a sparkly statue. Fiberglass resin is the main stuff in this statue. It makes the statue somewhat durable from the harsh weather conditions.
This makes it suitable for both indoor and outdoor usage. It has a red and dark green uniform with golden accents. The hat seems to have a white feather-like decoration. It is made of the same resin material.
---

If Walmart is the online store that you often go to then you can find a life-size nutcracker statue there. This is a nutcracker soldier statue that is 5 feet in height. It uses wood and fabric as the material to make the structure.
The statue looks funny as it should and has various details that are accustomed to seeing on a nutcracker soldier. This version of the nutcracker depicts a soldier in an old man form. The hair and beard are completely white and yes the mustache is white as well. We still see the iconic open-mouth teeth-baring design.
The soldier is wearing a red and white uniform with blue and black accents. There are some gold accents on the black boots. The hat is black and has a feather-like design on it. This is made from actual fiber as are the hair mustache and beard. The rate of this statue is $515.74 on walmart.com.
---
Final Verdict
Nutcrackers can be a good item of décor during the Christmas season. It looks good and is a good conversation piece. In restaurants and stores, it sort of lightens the atmosphere and brings a sort of cheerful mindset in kids. We hope you find a good life-size nutcracker statue and derive the satisfaction you need from it.