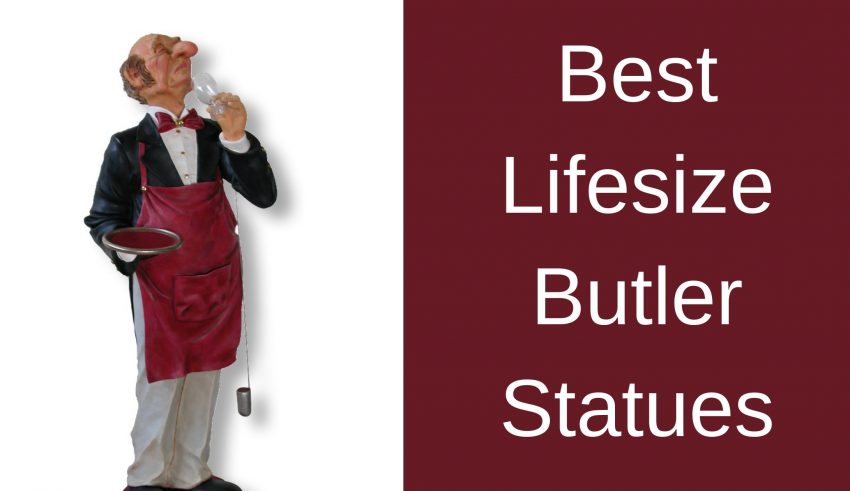 Butler statues are quite a popular décor item in parties, events, and restaurants. A lot of them come with a tray in the hand. You can put a lot of stuff on it. You can put beverages, candies, cookies, mints, etc. for your guests. If you are a Life-size statue collector and want something whimsical then this can be a good option as well. We have listed nine websites where you can purchase a life-size butler statue. Each of them has a different design. So, let's get started.
Here is the list of Best Life-size Butler Statues:
Butlers are the head servant of a house. They take care of all the unpredictable needs of the house and manage social events and parties. In general, there is only one butler in a house.
He has multiple servants working underneath him. Butler statues can be a good addition to a restaurant, an event or a party. This Life-size butler statue is available on Amazon. Amazon is one of the biggest online retail websites.
They have hundreds and thousands of sellers selling millions of products. You can find a wide selection of items on Amazon. So, if you want a Life-size butler statue you can find one there. This butler statue measures approximately 6 feet in height which is quite tall.
We see the butler standing in a saluting pose. His right hand is up in a saluting position while the other one is holding out a tray. This tray is removable so it can serve a variety of functions. You can put stuff on the stray that you want your guests or customers to take.
These can be stuff like candies, mints, business cards etc. If you just like whimsical pieces of décor then too the piece will fit well. The cost of this statue is $799.99. It will take around a week to ten days for the item to arrive. The statue weighs 65 pounds. So, be ready to unload the stuff since a lift gate service may cost you extra.
---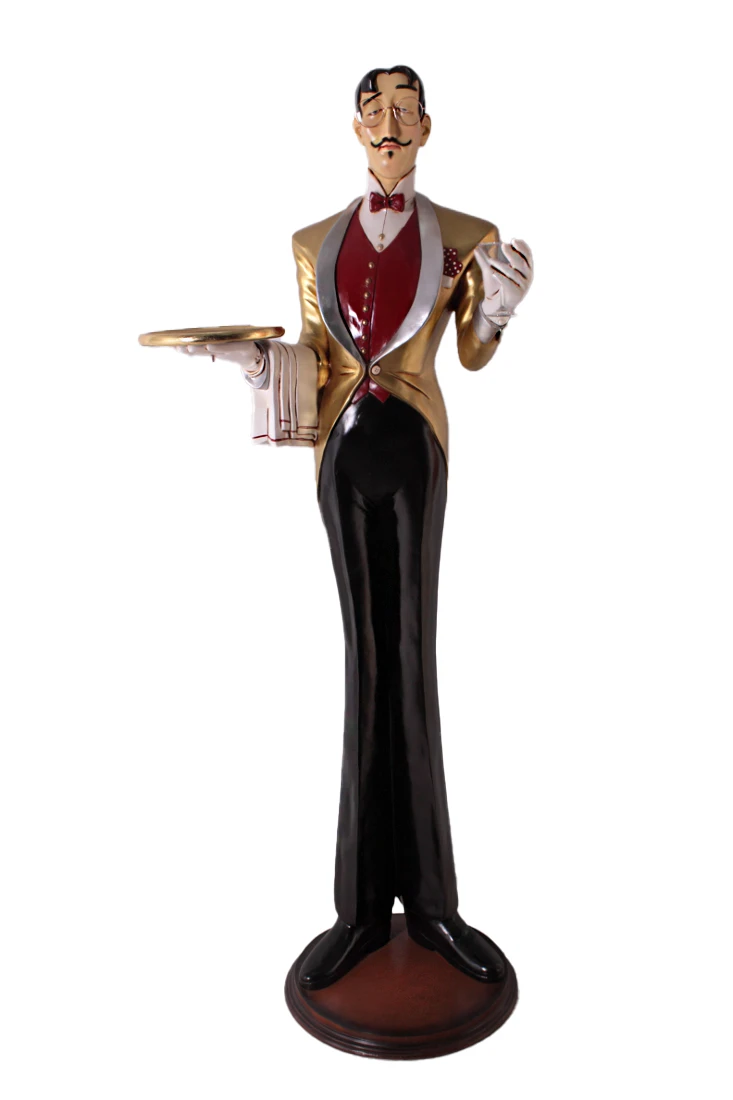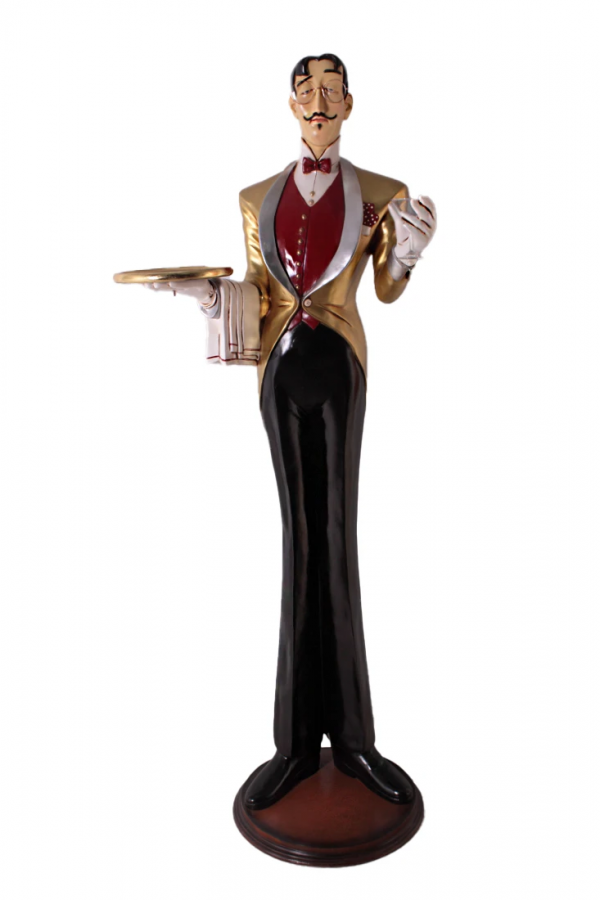 The occupation of being a butler has been present throughout history. Wealthy families did not want to associate themselves with organizing events or dealing with household tasks. So, servants were in charge of it.
Now, of course, you need someone to manage them. This became the job of the Butler but it was not so earlier. LM Treasures is a really popular online store to look for pop rentals and statues.
They have a huge stock which contains a wide selection of various items. In most articles that we do about statues or sculptures, we include this website. You can find restaurant statues, statues of animals, rental stuff, Christmas statues, and a lot more.
So, if you are looking for a large piece of décor for your house, office or store check it out. This statue resembles a French butler. You can easily tell it by the design of the face especially the mustache and the hairstyle. This statue has a very cartoon-ish vibe and will definitely entertain your guests or customers.
The butler is holding a cocktail glass in one hand and a golden tray in the other. You can easily put stuff on this tray that you want people to take. The statue is 74 inches tall and weighs around 40 pounds.
This is a resin statue that uses high-quality resin. It is a completely new and shiny statue with really good detailing. The craftsmanship and skill of the artist really show. The cost of this statue is $819. It looks stylish and cool.
---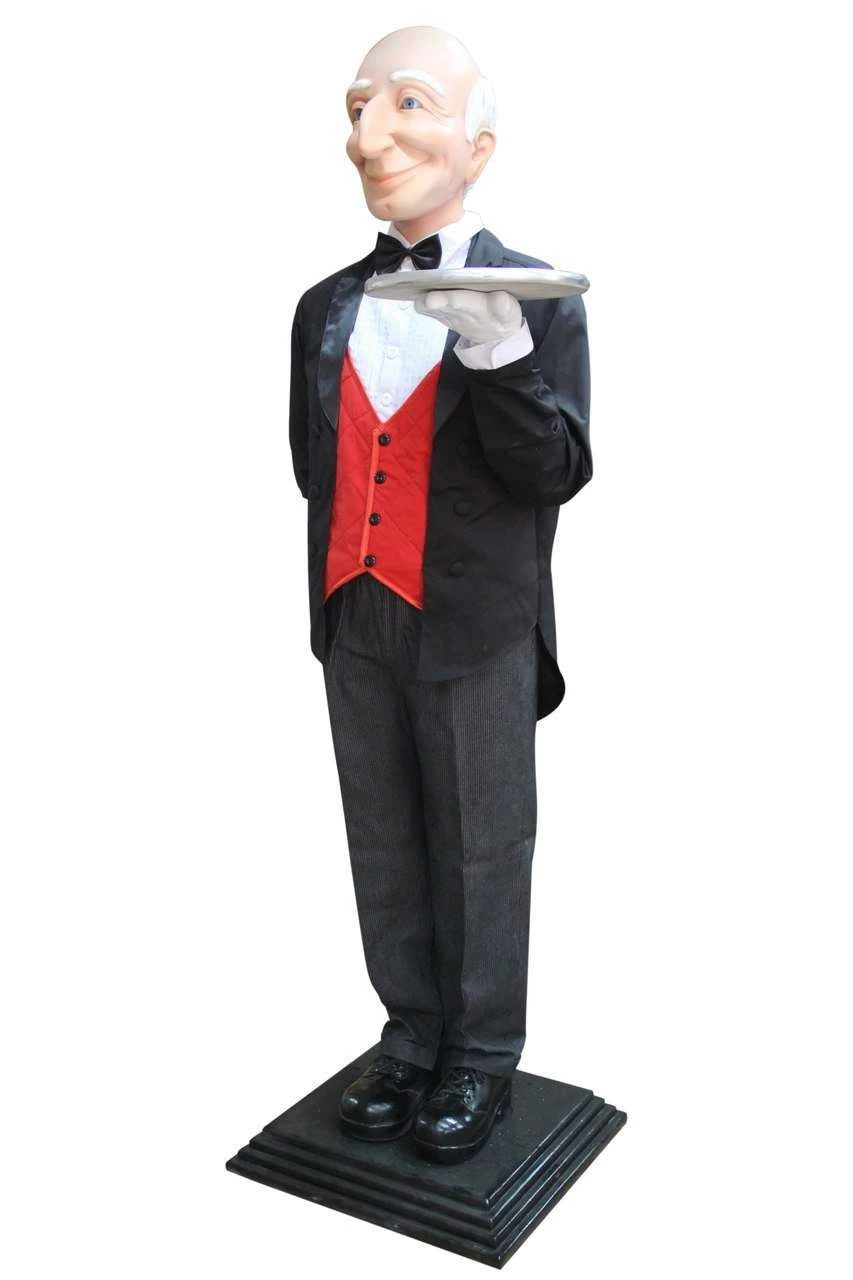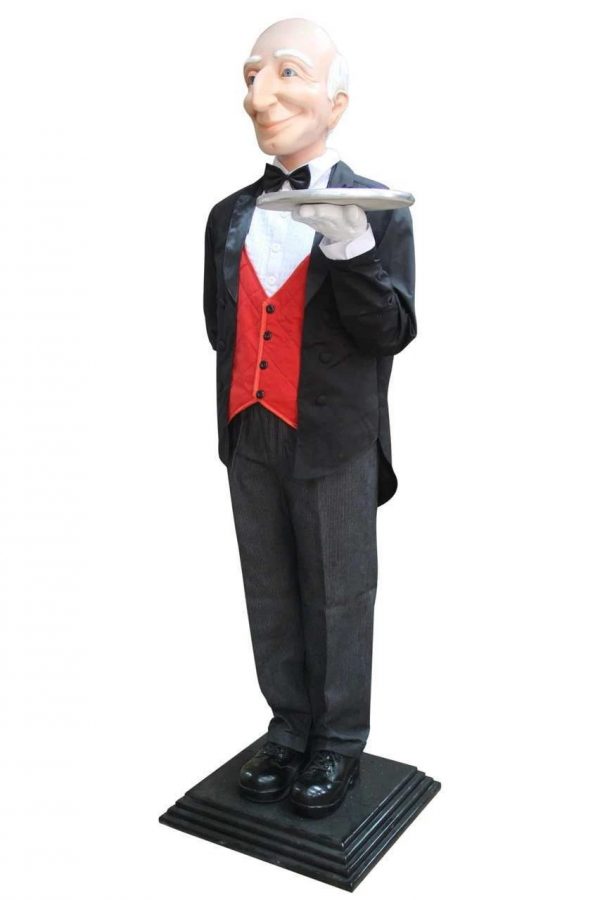 The next statue on the list looks more like a modern house butler. This is a statue you can consider if you want a more realistic vibe. It does not look too cartoonish. You can find this butler statue on LM Treasures. This is a really nice website where you can find statues belonging to different categories.
For example, if you want something for your restaurant you can click on the restaurant statues option. They also have a good collection of furniture, animal statues, seasonal statues etc.
You can also buy second-hand statues, seasonal statues. If you are a pop culture fan and want a life-size alien statue or a Life-size Batman statue or various figures and sculptures of characters from movies and comic books then check out their licensed statue section.
This life-size butler statue looks very decent. It can be a good decoration piece for a restaurant. You can also use it in events. The butler is wearing a black suit and black trousers. You can see the white shirt and the red vest over it.
The butler looks quite professional and ready to tackle any problem of the household. He is wearing white gloves and holding a tray in his hand. The statue stands atop a black base making it easier to put it anywhere.
The cost of the statue is $864. It stands at 72 inches tall and weighs 50 pounds. The paint job on this statue along with the fabric work looks amazing. This is a resin statue and can be quite good for attracting people's attention.
---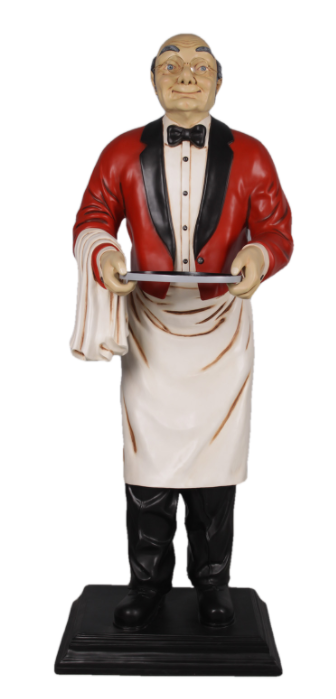 Butlers have been a part of the upper class of society for a long time. We see this in movies and literature a lot. One of the most famous fictional butlers is Alfred from the Batman comic books. He serves as a father figure to our hero, Bruce Wayne. He is the voice of reason at times of crisis in Wayne's life.
Generally, butlers do not directly enter into that position. They start at a lower post and then work their way up to a better position before becoming a butler. There are some training schools as well. Since butlers have a good history with the European culture there's a British school which trains butlers. Nowadays, even hotels train certain employees to be a butler.
The Interior Gallery is another good place to buy items of décor. This life-size butler statue stands over six feet tall. He is holding a tray with both hands and seems to be ready for taking the order from his master.
This is a great décor item for bars, restaurants, office parties, game room events, hotels, etc. The waiter is wearing a red suit with a white undershirt and black trousers. He is wearing a white apron on the waist and has a white towel hanging on one hand.
This is a fibreglass and resin statue. It is tough and the peanut work has been done by hand. It has a nice finish and you can install it anywhere because of the flat base. The cost of the statue is $877.80. it is on sale so if you like the design get it at a lower price.
---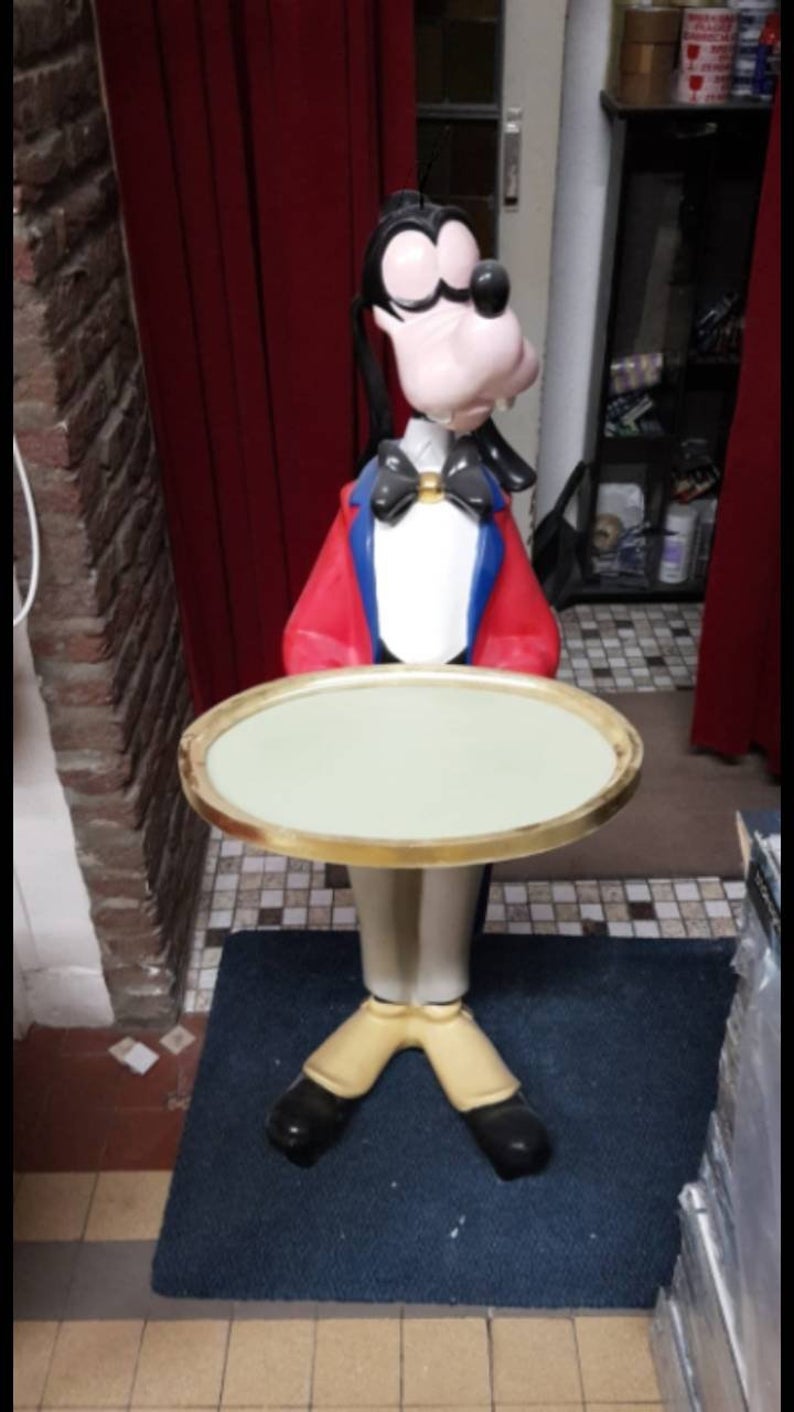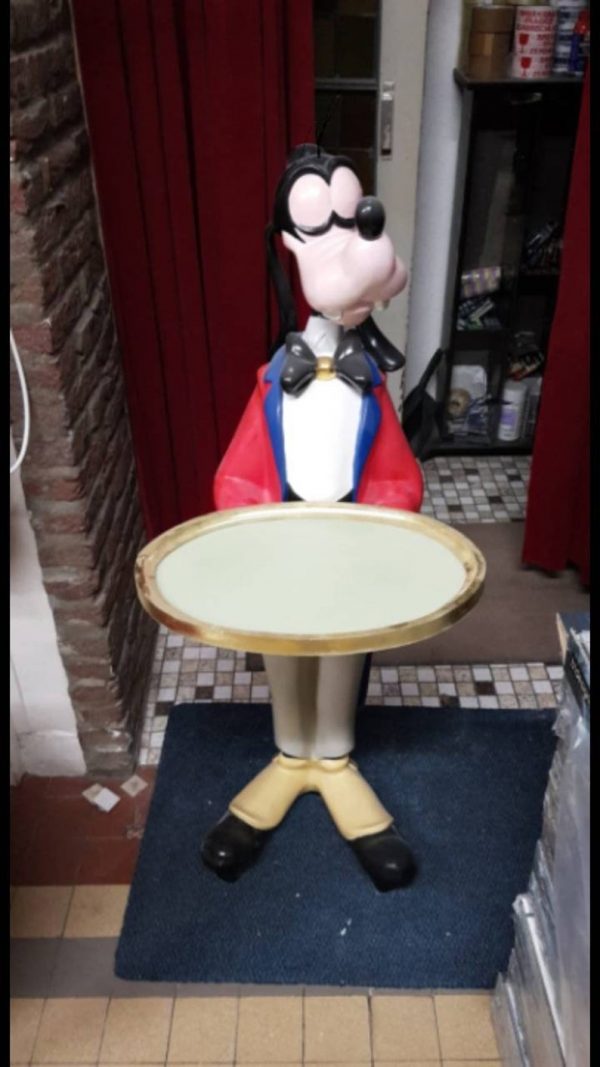 The next statue on the list is a bit different. Yes, it is a life-size butler statue but the butler is not a human figure. It is Goofy, the funny dog character from the Disney cartoons. This statue can be an entertaining piece of décor for your home.
This is a polystone statue which stands around 47 inches tall. Goofy is one of the early characters of the Disney franchise. He is an anthropomorphic dog who generally wears a turtleneck and vest.
He talks in a funny way and is a close friend of Mickey Mouse and Donald Duck. In this statue, Goofy is in the getup of a butler. He is wearing a red suit and a black bowtie. His trousers are of a light grey colour. He is wearing big shoes.
Goofy has his eyes closed and is holding a tray in his hands. This statue can be a great fit in any children party. You can put chocolates or candies on it. The finish of the statue is amazing.
It looks really good because of the superb paint job by the artist. Since this is a polystone statue it is quite heavier than your average resin or polyester statues. The seller is ready to ship the product in custom packaging. To know the price you have to contact the seller. This is a limited-edition statue and is pre-owned. So, if you like it get it before it's gone.
---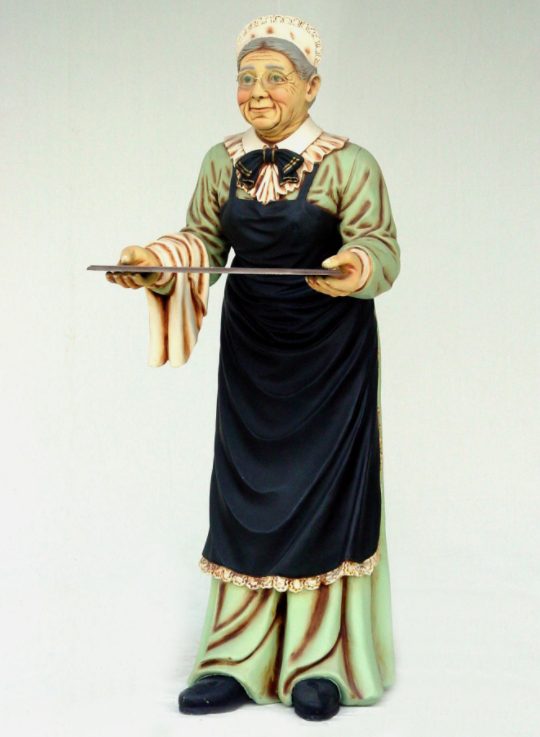 Butlers and Signs is a website which has a variety of décor items. You can purchase butler statues, signs, statues of people, animals, food and candy displays, etc. There are also tables and benches you can purchase which have a unique design. If you are looking for a more feminine option then check out this life-size butler statue. It is the statue of an old lady butler.
Now, in earlier times it was always a male servant who was the butler. The head female servant was generally the housekeeper. But now it depends on the household. If the owner wants a lady butler then they can have one. But still, a lot of upper-class households follow the traditional format. There's a male butler who is in charge of the unpredictable needs of the household. Then there's a female housekeeper who is in charge of the predictable needs of the household.
This is a 6 feet tall statue that depicts an adorable and charming old lady butler. She is in her maid uniform wearing a bowtie and a black apron over her gown. She also has a colorful mobcap on her head. Like most of the butler statues, the old lady is holding a tray in her hands. This is one of the uses of the butler statue.
You can put candies, chocolates, cookies, etc. on the tray for people to take during a party. You can even out your business cards on the tray. This is a resin statue and the craftsmanship and the skill of the artists really show. Everything looks so detailed. The lady is even wearing glasses. The statue weighs around 54 pounds. Because the design is quite decent and it is a big statue the cost of it is $1079.
---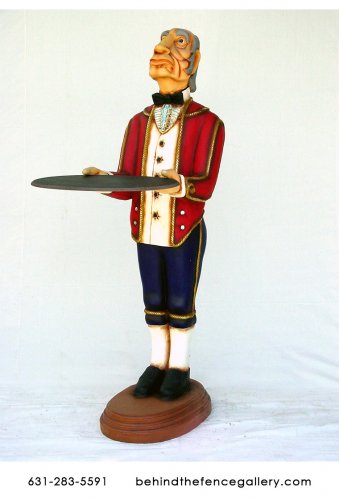 Lifesizestatue.com is a nice little place for people to purchase unique pieces of décor. These are generally large statues and sculptures you can buy to add to the look of your home or office. Under the restaurant props section, you will find the butler and waitress option. It is there you can find the royal butler statue and various other designs of a life-size butler statue.
This is almost a 6 feet tall statue falling just an inch short. This is a fibreglass statue. The company claims that the material they use has lots of advantages over others. One of the biggest benefits is that it is a lightweight material. So, even big statues are lightweight which makes them easier to ship.
This means you don't end up paying a lot for shipping. The statue is quite strong. This enables you to keep the statue outdoors without worrying much. This is because it can withstand the elements of weather.
You still have to worry about people stealing it though. The company also has options for customers to order custom statues. So, if you have a design in mind and you want a statue of it then contact them. The cost of this life-size butler statue is $999.99.
The uniform of the butler resembles that of a royal butler with a red suit and blue pants. The statue is holding a tray where you can put stuff to display or share with the guests.
---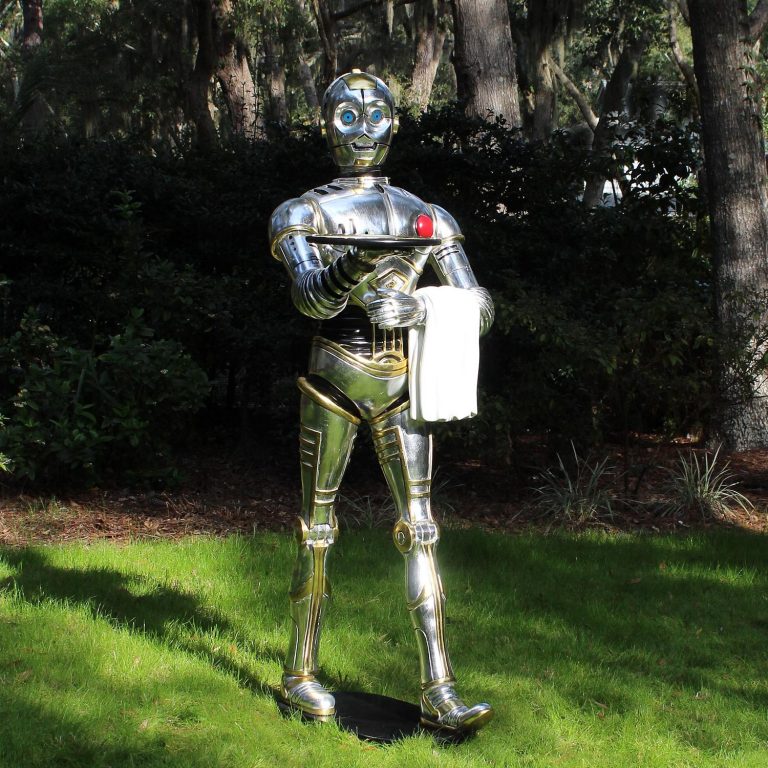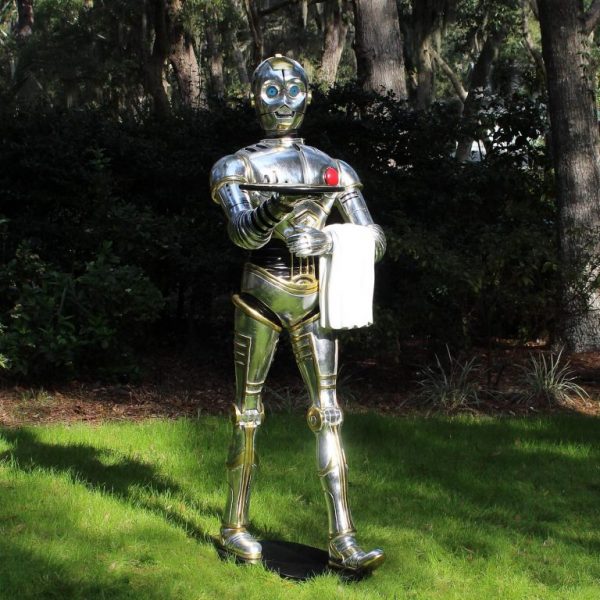 C-3PO is one of the popular characters from the Star Wars franchise. Jedi Anakin Skywalker was the one to make this android. Anakin programmed it for etiquette and protocols. The android becomes a companion to another robot, R2D2. C-3PO has a variety of features. For instance, it knows over 7-million languages thus helping his companions communicate with other species.
This android has been at the forefront of a lot of Galactic wars and was quite instrumental to the resistance. After the defeat of the Empire, C-3PO has been serving Leia Organa. Since this android was designed for service it can be a great butler. This is why this butler statue is unique and awesome.
If you like Star Wars and want a life-size Star Wars statue then go for this option. You get a life-size statue of a popular character from the franchise while also buying a butler statue. Yes, two birds with one stone! This is a fibreglass and resin statue. It is shiny most probably because of the faux silver paint and looks amazing.
Like most butler statues, we see the android holding a tray. You can utilize this in a lot of ways. You can put glasses of Martini or Chocolate cookies, candies, towels, etc. The statue is 73.25 inches tall. The head is spinnable so you can make the statue look in any direction. To get a price quote you can email the seller from the website.
---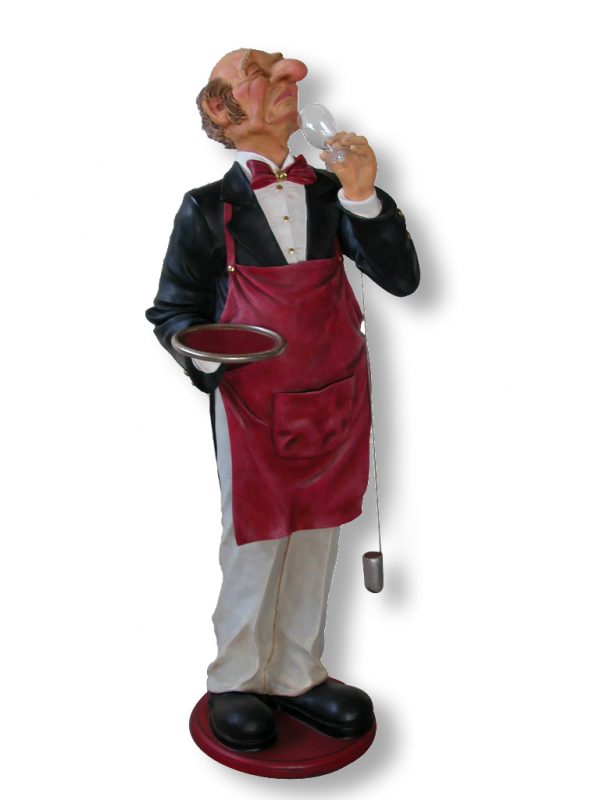 The Interior Gallery is a company we feature multiple times in various articles about life-size statues. This is an American company with its warehouse in Carrollton, Texas. The company directly deals with factories and there is no involvement of a middleman. This ensures that no extra charges add to the cost of the product.
This allows the company to get the products at a cheaper price. The company wants to share its savings with you and thus you can get a variety of products for cheap. You can purchase home furniture, bathroom furniture lights and fixtures, statues and other items of décor. If you are looking for a life-size butler statue with a different design then how about the next one? It is a butler who is also a connoisseur of wine.
In many cases, butlers are not just ordinary servants. They have a variety of skills. Some understand high-quality food and drinks. In many households, there is a butler who is in charge of the wine cellar. You can consider this statue resembling a butler, like that. The statue is holding a tray in one hand and a wine glass in the other.
The butler is taking a whiff of the exquisite wine that is present in the glass. You can put items on the tray that you want your guests to have. You can also put a liquid in Inthe wine glass to enhance the effect of the statue. This is a 6 feet tall statue and it costs $659.99. This is a sale price so get it before the sale is over.
---
Final word
These butler statues look very decent. All of them are life-size and have different designs. If you want something unique you can go for the C-3PO statue or the goofy statue. If you want a female butler then go for the old lady butler statue. Hope you have a blast owning the statue you buy. Happy shopping!