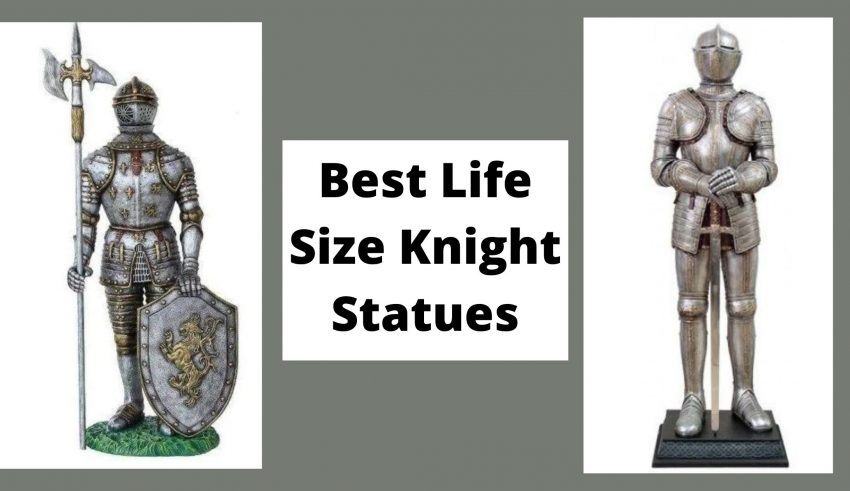 Knights were some of the strongest military personnel in the medieval era. It was not easy to become a knight. You need to belong to a family of nobles or royals to be able to become a knight. If you were an offspring of a knight or the lord's then you had a chance to become one. But commoners could join the ranks of knights as well. It was more difficult for them.
If their military accomplishments were amazing then they might be knighted by the king or queen. If you want a life-size Knight statue to go with your medieval-themed home, store, club, or office then this list gives you different options to choose from.
Take a look at these Best websites to buy Knight Statue Life Size: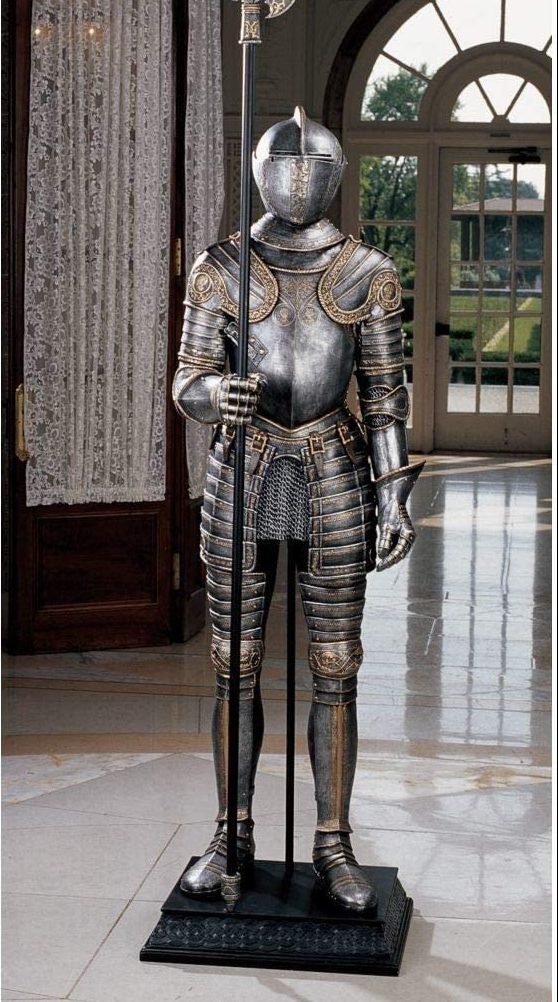 If you are into life-size armours from the medieval era then this option might interest you. The design resembles that of a 16th-century Italian armour. It is an armour you can also wear.
The company can make custom items but if you want assurance we suggest you contact them first. The statue is made from 18 gauge steel. It has brass accents on it. It is full-size, completely wearable armour which comes with a cool looking helmet. If you are into cosplay and want to dress up as a 16th-century knight then you can purchase this armour. It has nice designs on top giving it a decent look.
You also get a halberd to go with this armour. Yes! The cool-looking weapon which serves as a battleaxe and a spear come along with this armour. This makes it a complete set.
The total height of the armour is around 7ft. If you do not want it as a showpiece and want to wear it then contact the company and see if the armour will fit you or if you can get custom-size. The armour is currently going for $1244.88 on amazon.com. You get free shipping as well.
---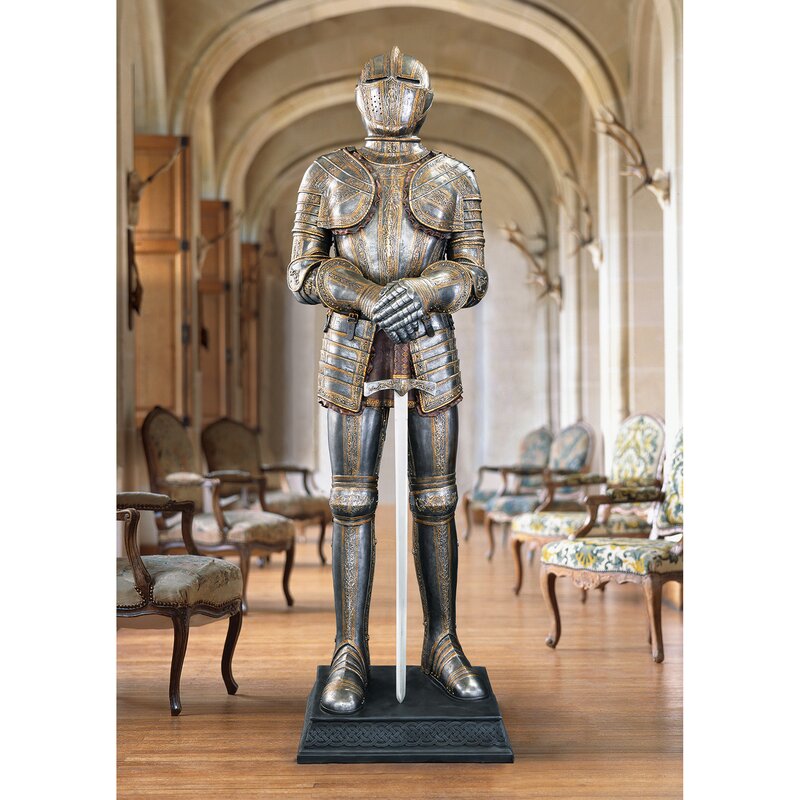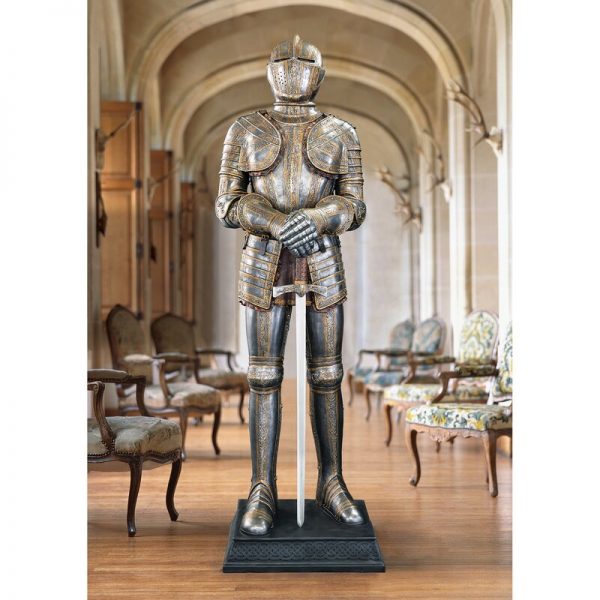 Wayfair is an online store which sells a variety of interesting items. If you are looking for something decent to decorate your home, office etc. then you can check out this website. For individuals interested in the medieval era the life-size knight statue can be something worth checking out.
Design Toscano is the manufacturer of this statue and it looks just awesome. The detailing on the surface of the armour is just amazing. This will be a perfect décor item if you are into medieval stuff. You cannot wear this armour though which is alright. It is just a life-size statue. But the details on it make it so realistic.
The main materials used to make this statue are crushed stones which are mixed with resins. The artists skillfully sculpted this beautiful armour. Then they hand-painted it with faux silver. To give the designer accents pewter and gold paints are used.
The armour is fitted to a museum mount which makes it easier to display. Did we mention that this armour comes with a beautiful sword? Yes! The statue brandishes a sword, making this a complete set. The price of this life-size Knight statue is $1,311.
---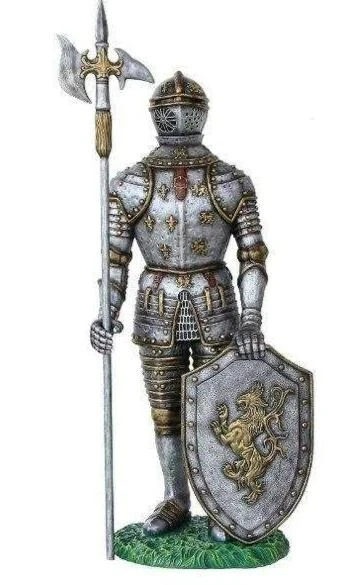 The next statue features another awesome looking medieval era knight. This is a 6 feet tall statue with amazing details. It seems as if a real knight is standing in front of you ready to rush into battle. The armour of the European knights is some of the toughest armours. These armours look amazing as well.
If you have a medieval theme room or store or you just want a cool décor item then this life-size Knight statue can be a good choice. One of the amazing features of this statue is the weapons that it is brandishing. It is holding a fierce-looking awesome battleaxe in one hand while the other is brandishing a shield.
The shield has the emblem of a lion on it. The statue weighs 80 pounds. This statue comes from the Philippines. It is completely handcrafted and hand-painted. The artists did amazing work on this. High-quality resins are used to make the statue. Since everything is handcrafted each statue that you order will be slightly different. Thus, you will be getting a unique item. The price of this life-size Knight statue is $1791.
---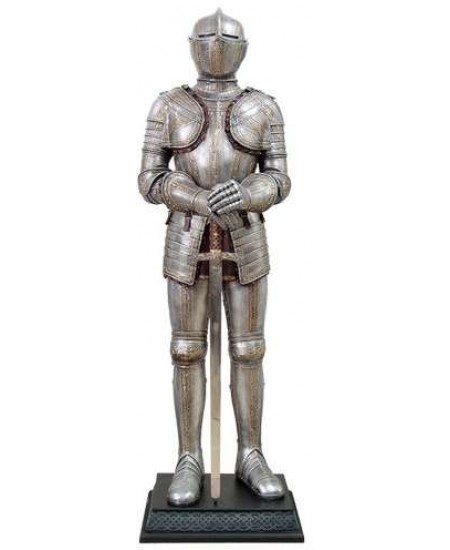 The next website on the list is mythicdecor.com. If you like statues, sculptures, figurines and other home décor items then this website has plenty of options. You can buy stuff related to dragons, fairies, Celtic and Norse, Greco Roman etc. You can find life-size Knight statue as well. This particular product is a knight armour statue.
This statue looks amazing mainly because of the realistic details on it. It stands over 6 feet tall and has beautiful accents on its armour. These gold accents on a metal-coloured surface give the armour a premium look.
The statue is for indoor use only as sunlight will fade the paint. Also, there can be breakages. If you have a medieval-themed room, office or hallway then it is a perfect fit. The statue also has a beautiful sword which also features gold accents.
This statue is made from cold cast resins. Fibreglass and wood reinforce the resin to make it stronger. The shipping weight of the statue comes to around 75 pounds. The price of the statue is $1800. If you live within the continental US then there is no shipping charge. It takes around 2 weeks or more to deliver the statue.
---
Also check: 5 Best Life-size Master Chief Statues to Buy in 2021
---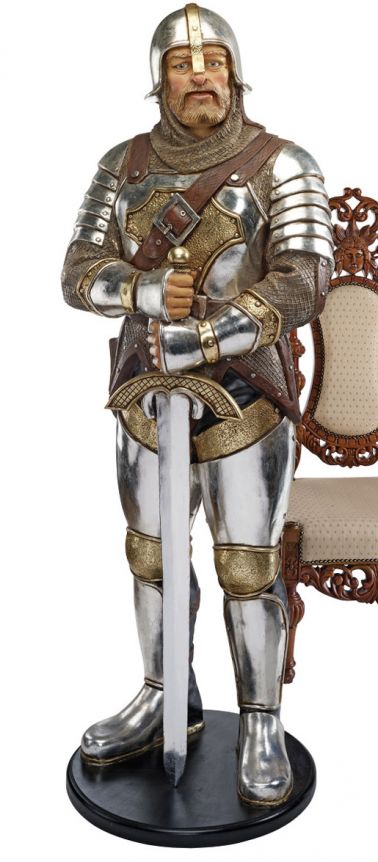 This next statue actually features a knight. Yes, unlike the previous statues which have closed helmets or have been mounted atop museum mount this statue is of a knight which is clad in medieval armour. This is a great showpiece and will easily attract the attention of people. It is a good conversation piece as well.
Anyone who is looking to decorate their room or store or office with medieval-themed items can put this statue to good use. The knight is a rugged-looking bearded man. The detail in the facial features is quite good. This knight is wearing a shining Italian-style medieval armour. You can also see the chain mail armour clearly.
We really like the craftsmanship on this statue. Resin reinforced with fibreglass is used to make this statue. The armour looks metallic thanks to the amazing skill of the artists. It has gold-coloured accents which give the design more details.
This statue is almost 6 feet tall with the base falling just an inch short. It weighs 52 pounds. We all know a statue of a knight will not be complete without a sword. This statue brandishes an attractive sword. The price of the statue is $749.
---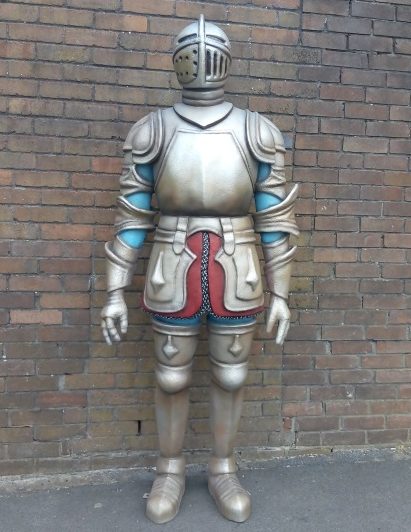 The name of the next website is enough to give you a hint about its contents. life-sizemodels.com is a good website to purchase good-looking statues of different kinds. This life-size Knight statue resembles the design of an armour-clad knight.
You cannot see the face due to the closed helmet. This statue is over 200 centimetres in height and weighs over 19 kilos. Similar to a lot of the other statues on the list this one is made from resins reinforced with fibreglass. This gives it a good structure and sturdiness. Everything is handcrafted and hand-painted. The details on this statue are quite decent. This is a nice item for décor.
If you want your life-size Knight statue to have a sword then this one is not the right choice. The hands of this statue are empty. But if you are looking for a life-size Knight statue then you can easily purchase this. It is a robust statue. You can keep it outdoors. The company suggests putting a coat of varnish to increase longevity. This knight statue costs £495.
---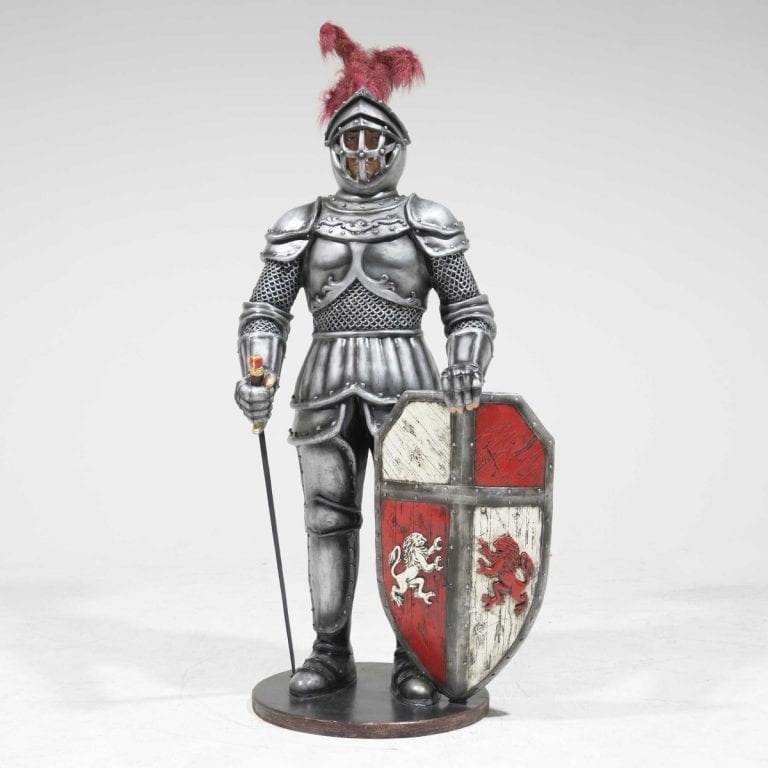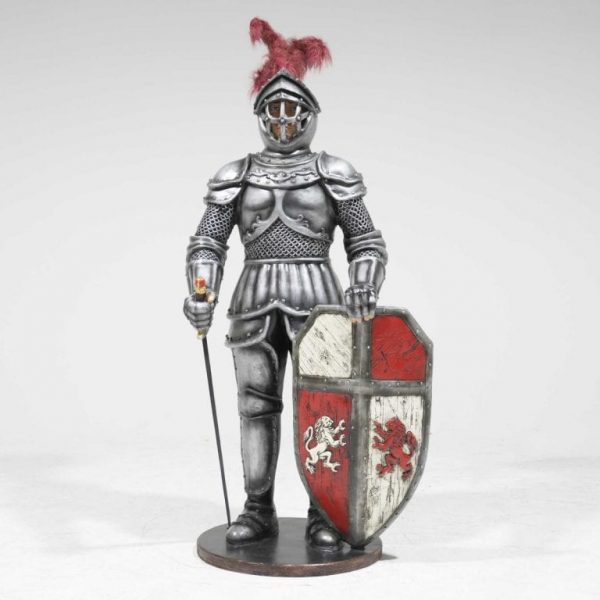 The last statue on the list is a tall and heavy statue which features a strong knight. You can see the face of the knight through the openings in the helmet. The design of this knight statue is on point. It weighs 60 kilos and is 2.2 metres tall.
The artist used fibreglass and metals to make this statue. It is holding a sword in one hand while brandishing a shield in another. The helmet features a red-fibre profusion which gives the knight a royal look. You can rent this statue from sydneyprops.com.au. It will be a perfect fit or décor for a medieval-themed event.
---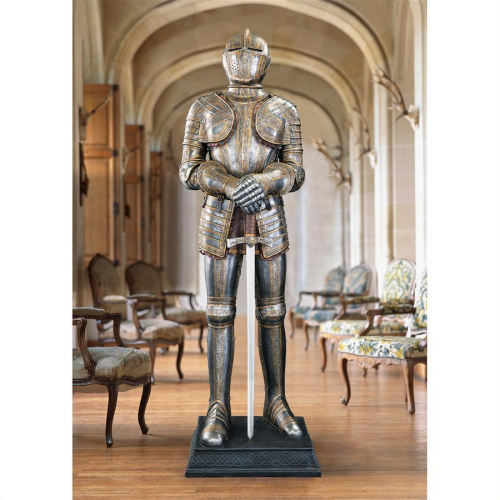 Well, the next website is aptly named statue.com. It has a wide selection of statues, sculptures and figurines which you can use to decorate your home or office. The website categorizes the products into different sections. This can help you easily select the product you want. Now, since you are looking for a life-size Knight statue then this particular one might interest you.
It is a statue made to 1:1 scale. It is a statue which is 69.5 inches tall with very realistic details. You can fool most people into thinking that this is a real knight armour. But the material used in this one is not steel or metal. To make the statue light and to give it a good structure high-quality designer resins are used. The armour looks pretty accurate.
The craftsmanship on this is amazing. It looks very much like a knight's guard armour. Everything is handcrafted and hand-painted. Faux silver, pewter and gold paints are used to give the statue the metal-like look and the beautiful gold accents.
The helmet looks pretty awesome as well. There is even a working hinge which you can use to open the helmet. The armour also has a sword which makes it more amazing. You can purchase this statue for $1495. It weighs 64 pounds.
---
Conclusion
A life-size statue is a good item of décor. It elevates the look of a room. Id your home, office, store or club has a medieval then a life-size Knight statue can be a perfect decoration piece. Since this is a costly investment we hope you find an interesting product which satisfies your needs.