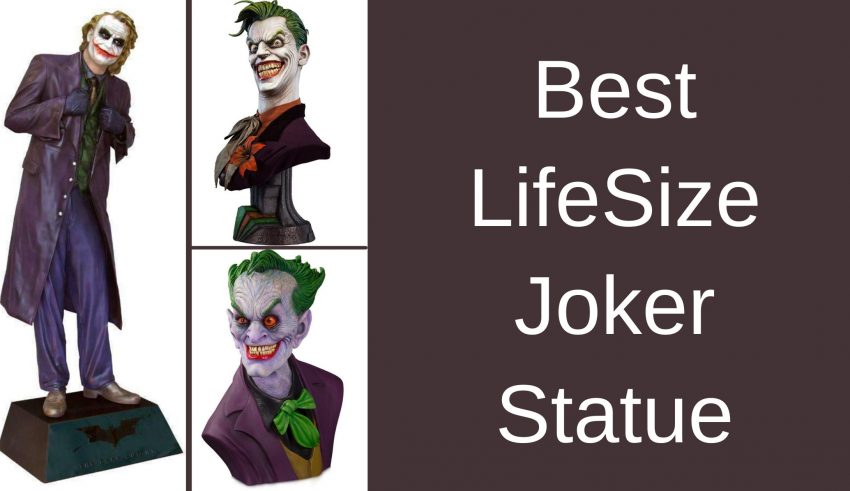 Batman comic books are known for their villains. DC has some psychologically complex villains who have become iconic. Joker is arguably one of the most recognizable villains from the comic book world. Joaquin Phoenix was phenomenal in his portrayal of the character. We hope to see him reprise the role of the madman in upcoming installments. We already have a life-size Batman statue article on our website so we figured why not do a life-size Joker statue article as well.
These are some of the best products out there. Each has a different design and size but one thing remains common, they are all so damn cool. So, without further adieu let's get into the list.
Here are the 5 Best Life-size Joker Statues to Buy in 2022: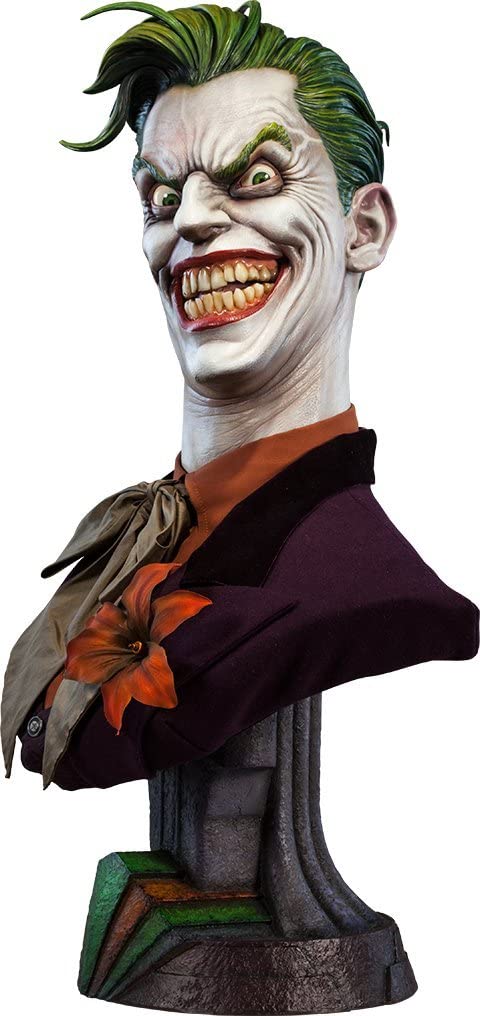 One of the main reasons that Batman is popular is because of the wonderful array of villains he has. Each vile character from the Batman comic books represents a conflict within Batman. So, most of the time that he has to go head to head against one he will have to resolve a conflict within himself to catch the guy.
This is why Batman's villains are so popular. One of the prime examples of this is the clown prince of crime. The Joker is all about bringing chaos to the world. He likes a crazy, psychotic world. He is the archnemesis of Batman. Batman has to constantly keep himself in check around the Joker. This is because the latter is always trying to get under Batman's skin and get him to break his no-killing rule.
In many storylines, we see him wanting to prove that everyone is just one bad day away from being him. Sideshow Collectibles has to be one of the top-tier brands that distribute pop culture products. So, you can't really talk about life-size statues of movie characters without mentioning the brand. The is a life-size statue of Joker which features the bust of the character.
This bust has some high-quality detail which is something you expect from Sideshow. Every detail looks so amazing and the face of the Joker looks so scary and menacing. The teeth look completely real. You can purchase this amazing product on Amazon for $2494.95.
---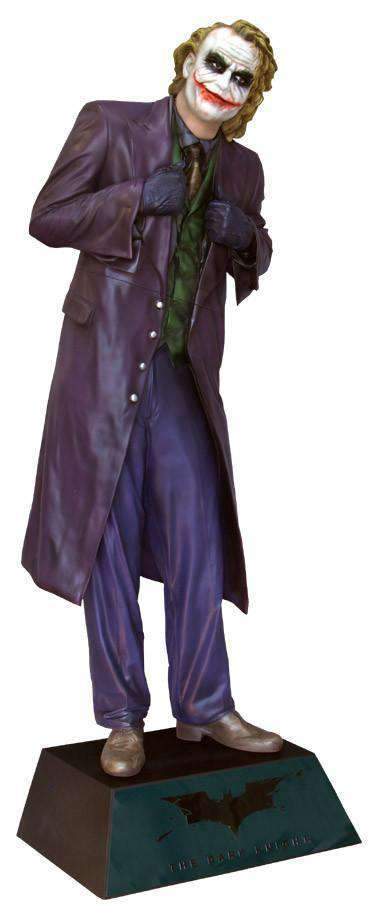 Batman is an iconic comic book character. He is a man with no power but is able to use his intelligence to go head to head to monsters. His character and life-story is a lesson on how to turn tragedy into motivation to do good. But you cannot talk about Batman without bringing up the agent of chaos, The Joker.
Joker is one of the primary villains in the Batman comic books. He is a madman who just loves causing trouble. He doesn't care about anyone but himself and his agenda. Once he finds out about Batman's no-killing rule he sets out to do everything and anything he can to make him break his rule. One of the most iconic portrayals of the character on the big screen was by Heath Ledger.
He was able to bring the character to life and give one of the best performances ever. It's too bad we will not be getting any more of it. The Dark Knight is one of the best superhero movies. Christopher Nolan was able to create a very realistic depiction of the Joker. We really like the design of the character. Though he is in a clown costume it does not look too "cartoon-ish".
If you like the design then you can get a life-size joker statue that resembles the character from The Dark Knight movie. It is an 86 inch tall statue standing atop a base with the movie logo on it. This is a made to order statue so it will take time to reach you. The statue costs $4297 on lmtreasures.com.
---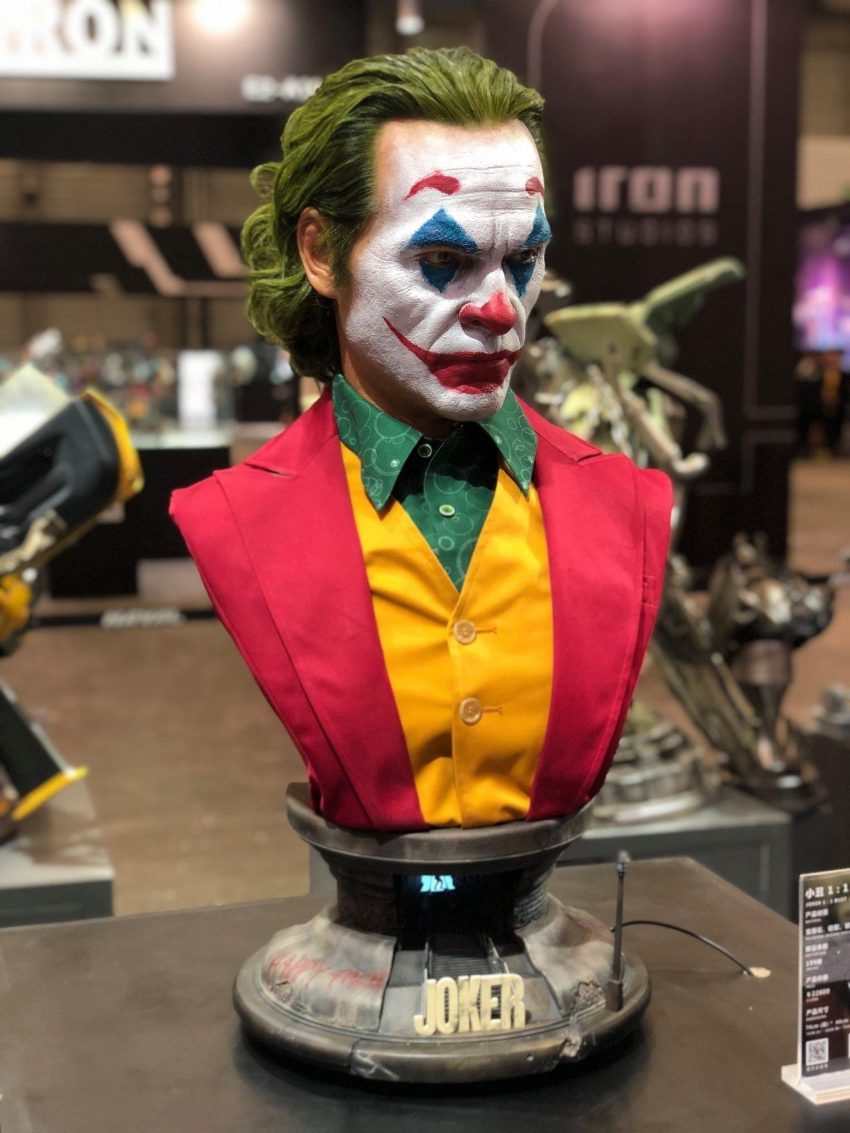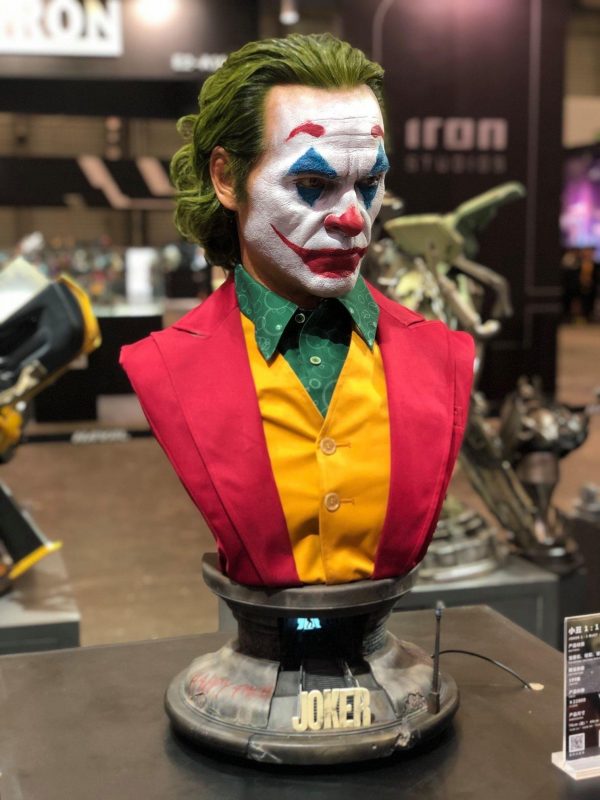 Joaquin Phoenix is one of the most talented actors. He has an awesome screen presence and completely embodies each character he plays. The Joker was no different. We did not feel like we were watching a Joker movie. It was a Joaquin Phoenix movie.
Director Todd Philips wanted to make a movie that sort of involves in-depth character study. But of course, such a movie will not be commercially successful. This is why he sort of decided to sneak in what he wanted in the guise of a comic book movie.
The Joker is an awesome character with a lot of layers. In this movie, we get to see one possible origin of the character. It is not a concrete origin because it is The Joker after all. Nobody knows his true origin.
The character design was spot on. It looks very different from the earlier renditions of the character while still preserving the core theme. If you like the character design then buy this life-size Joker statue which is a 1:1 scale bust. The details on this bust are so freaking realistic. It is almost uncanny. Everything is spot on and there are some extra features as well.
The stair scene from the movie is replicated below the bust. You get LED lights to it up. Behind the bust, you have another scene from the movie. This is the scene where Arthur Fleck is sitting in front of the mirror getting ready. This is an officially licensed bust and costs $3440. It is an awesome purchase for any Joker fan and will be an exquisite piece in your collection.
---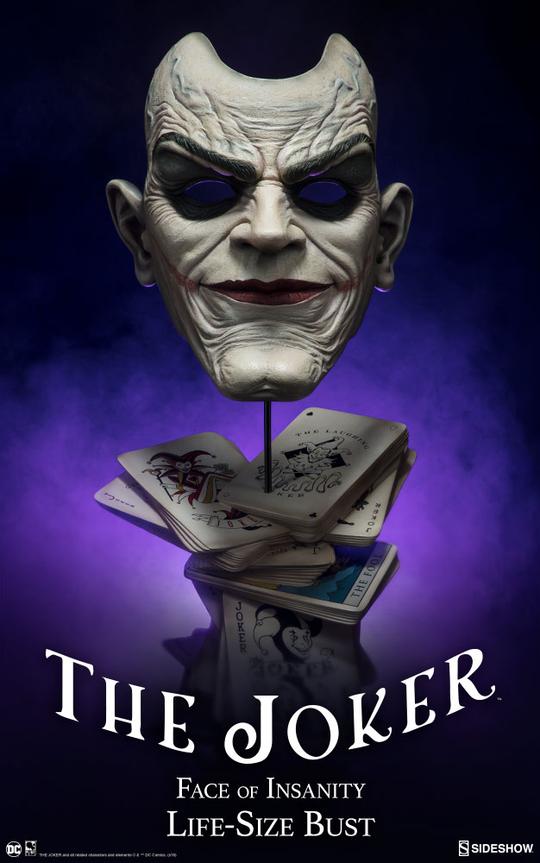 Up next, we have another life-size bust of the Joker. This time it is a little different because we want to include different designs. This life-size joker statue is basically a mask with awesome details. We really like this design. It is so different and at the same time so freaking cool. The Joker is an iconic comic book villain.
He is the archnemesis of Batman and his aim is to break the Dark Knight. He proposes that he and Batman are the same. They have a weird relationship going on. Batman can't kill the Joker because of his rule and Joker wants to break Batman and make him kill. We can see this plot in the movies as well as in the Arkham series. This statue is a decent piece of craftsmanship.
Sideshow Collectibles is the brand which is behind the manufacture of this product. So, you know that this is some high-quality stuff. The design is very unique. Each and every crease on the face and the fold of the facial skin looks real. The mask stands on a black rod that has stacks of cards. These cards feature the Joker in different designs.
If you have this in your room or man-cave it will garner a lot of attention. High-quality designer resins go into the making of this bust. Sideshow Collectibles always brings exquisite products and this is one of those.
The stick is very limited so hurry up if you want to get it. The price of this life-size Joker statue is $389.99. Take a look at the YouTube video of the bust on the website. It shows the assembly of the product.
---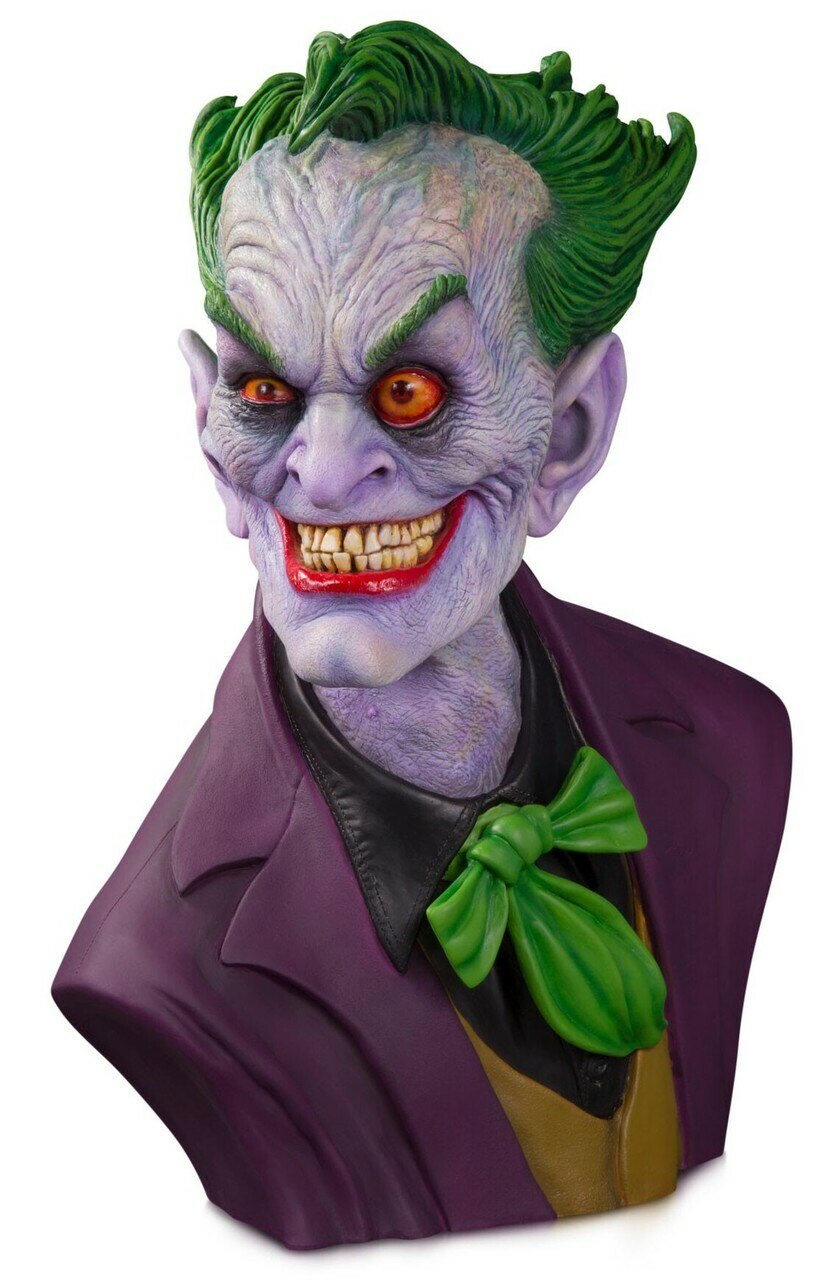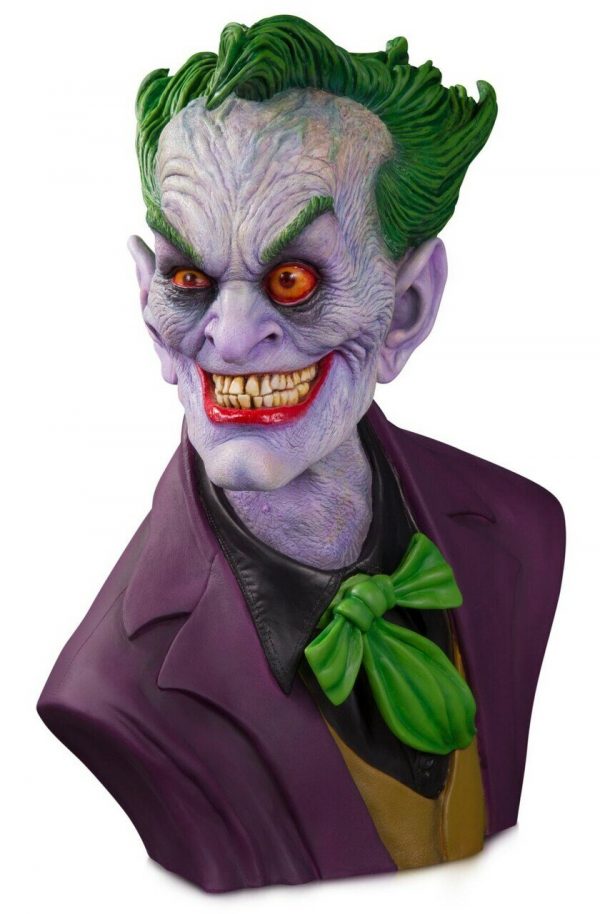 Whenever someone discusses special make-up effects then they have to mention Richard A. Baker. He is one of the most successful artists to work in Hollywood. His skills and creativity are on another level altogether. Guess how many times he won the Academy Award for his work? 7 freaking times! Yes! This guy is at the top of his game.
One of his first works was in the movie The Exorcist where he was the assistant to Dick Smith who is another popular figure in this line of work. If you want something exclusive then the next Joker statue is a good option. The design of this life-size bust is by Richard Baker.
This statue just looks amazing. It feels as if the clown prince of crime is in front of you, grinning. The statue looks so realistic that it feels almost uncanny. The skin texture carries a lot of details and the eyes seem to be peering directly at your soul.
Every fold and crack on the skin looks real. The yellowish-white teeth just add another realistic detail to the already awesome bust. This is a limited edition piece and a few are left. So, if you want a life-size Joker statue that will fit on your desk or shelf consider this one. The cost of this statue is $1099.99.
---
Final Word
Comic book characters have been some of the most popular pop culture symbols. These fictional characters are able to take you on a ride of creativity. The Joker is the same. Any creator be it a director or a writer or an artist can take this character and add their own imagination and creativity and give something entertaining to us fans.
We saw it with the Dark Knight, we saw it with Arkham games and now we saw it in The Joker. We hope you have a blast buying a life-size Joker statue and you get your money's worth. Happy shopping!