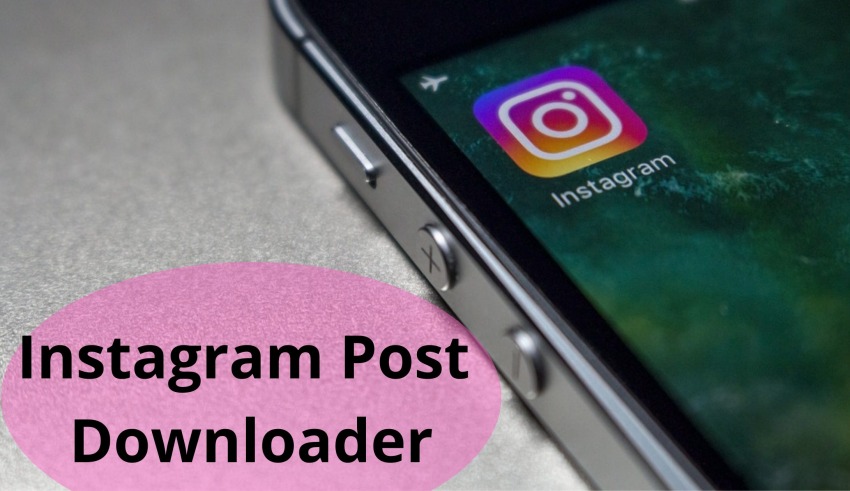 Instagram is a storehouse of good content. Some new posts and videos are published on the application every day. Many creators come out with unique content that is pleasing to watch. We might want to save these posts for later. The save function on Instagram is not the best. If you want to view posts offline you do not have any options given by Instagram. An Instagram post downloader helps you to download and view these posts later. These downloaders are a blessing if you want to consume Instagram content offline.
Here below is the list of Top 10 Instagram Post Downloaders that you can consider-
Hashtags For Likes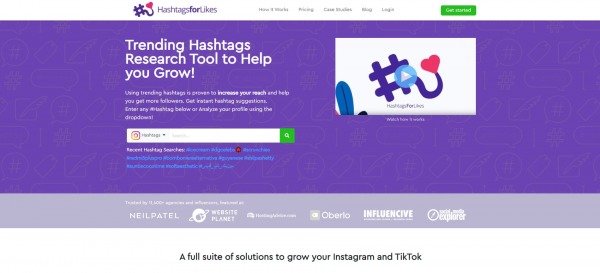 Hashtags for Likes is an online Instagram post downloader. This tool helps you to download all of your favorite pots from Instagram. The platform is very easy to use. Just with the click of a few buttons, you can successfully download the content that you need from Instagram. The website offers a load of other services related to Instagram. This is a multipurpose website that has tools for downloading as well as for Instagram growth.
When you access the free version you can download photos from Instagram. These can be photos posted on the feed or stories. There are two ways to download the photos. You can enter the username of the Instagram profile whose post you want to download on the search bar. It c+scans through Instagram to find your account. The more convenient method requires you to share the URL of the post. Just log on to Instagram and get the accurate URL of the post. This is much a much quicker method.
The website is free to use for a limited amount of downloads. When you cross this limit you have to choose one of their premium plans. These premium plans allow you to download videos from Instagram as well. They promise that all of the downloads will be of the highest quality available. These paid plans have monthly and weekly payment options.
The regi+ular plan is available at $38 per month while the pro plan is available at $89 per month. These plans give you unlimited access to the downloader along with many Instagram growth features. 
---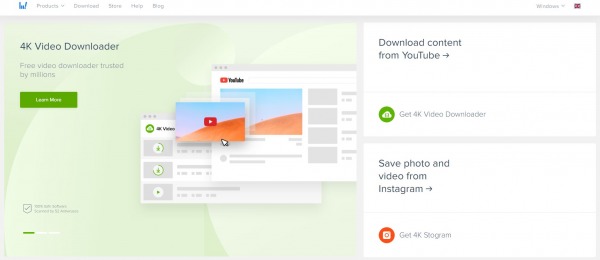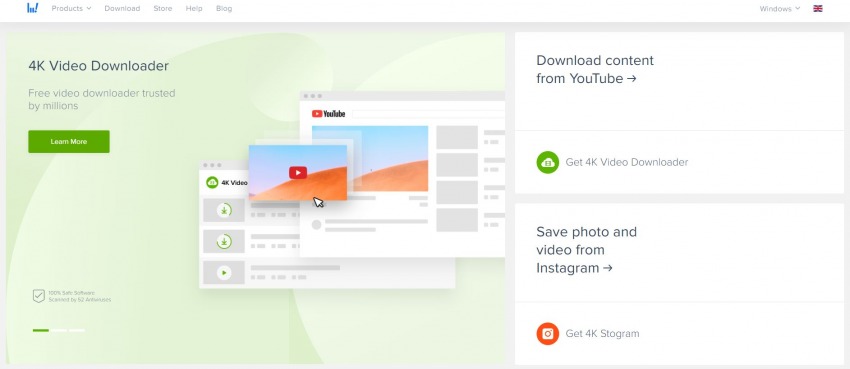 4K Stogram is arguably one of the best Instagram post downloader tools available for download on the Internet. The software has been developed to provide a great user experience while downloading content. The developers have kept a clean interface while adding several advanced features to the platform. The download is safe. The software is marked as 100% safe after being scanned by over 50 different antivirus software. 
The application has a very small download size and does not take up much space on your device. This is very helpful for devices that have small storage. You can download all of the content that you want from the application itself. The software aims to make sure that downloading content from Instagram is as convenient as possible to its users.
You can search for an account, location, or hashtag and download images and videos from the search results. If you want to download all of the content that a user posts all you have to do is subscribe to them on the application.
The software ensures that you automatically download all of the posts that the user makes. This saves you the task of downloading every single post manually. The application does not ask for your password. The only instance when the password is required is when you log in to Instagram to download private stories. None of your data is stored and they are trustworthy in this aspect. With a customer base of over 2 million users, they have become quite a popular application.
4k Stogram is not free. You need to pay a one-time fee that gives you access to their services for 3 different computers. The pricing varies with the packages that you choose. Their packages cost $9.95, $30 and the largest pack costs $65. 
---
SocialDown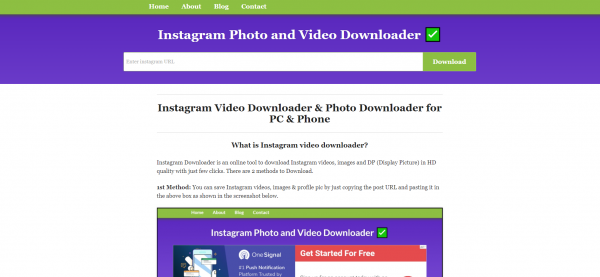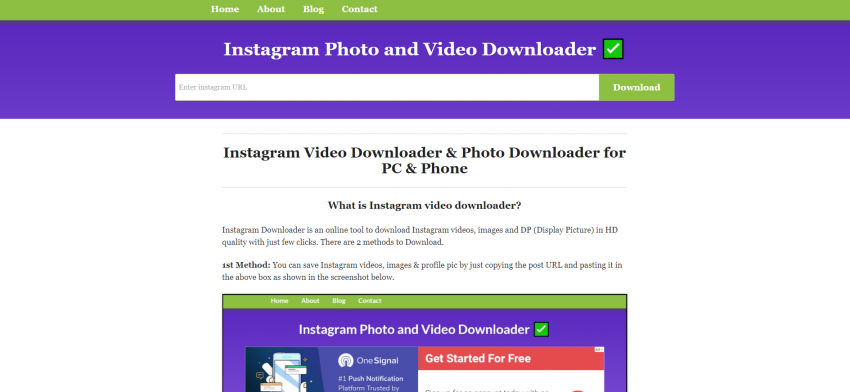 SocialDown is a simple yet effective Instagram post downloader. It is an online tool. The tool can be used on their website completely free of cost. As it is an online tool you do not need to download additional software.
This tool can be accessed from a PC or mobile device. The tool effectively delivers on its promise of simple and fast downloads. They have support for downloading content from Instagram, Twitter, Soundcloud, and other social media platforms.
The website offers two ways to download a post. You can copy the URL of the exact post that you want to download and paste on the website. This initiates the process of the download. There is also a very innovative method to download. If you add "q" before a link to the post, it will redirect you to the website and begin your download.
This is a much quicker method and gives a lot of ease of use as you do not have to go through the whole copy and paste scenarios that take a lot of time. They provide good quality pictures to their clients. All of the content downloaded through their website has HD quality. To avoid any confusion, they have a detailed guide on how to use their platform.
This guide is available on their website. It clearly explains through the use of pictures that how the entire process of downloading works. This is great for first-time users to understand how to use their services. 
---
Ingramer
Download It From Playstore
Ingramer is a popular tool when it comes to finding a reliable Instagram post downloader. They have a safe website from where you can access all of their features. The website was developed mainly keeping Instagram downloading in mind but provides support for other websites. You can download content from Twitter and Facebook as well.
The company assures that they have one of the fastest download services. The content that you want can be downloaded in a matter of seconds. The tool is ideal for downloading content from social media. They have a very intuitive interface. This interface has all the different services and options listed out.
There is a search bar where you can enter the URL of the post that you want to be downloaded. You can bulk download the content. This saves time and effort. You are even given the option to download entire profiles. They have a separate tutorials segment where they help you understand how the website functions.
Watching these tutorials should solve any doubt that you have about their services. They have a dedicated FAQ section as well as a customer support email id. Using these you can get answers to any queries you have.
---
InsTake Downloader
Download It From Playstore
InsTake is an android application. It is available on the Google Playstore and has amazing reviews. It has accumulated a rating of 4.5 stars out of 5 based on more than 14000 reviews. The majority of their users have given them a rating of 4 stars and above. It is free to download application but it does contain advertisements.
The application has secured over 10 million downloads making them the biggest Instagram post downloader on Android. Downloading videos and photos from Instagram have never been easier. The application is extremely easy to use. You can download the posts directly by entering the URL.
The company has emphasized making its application as safe as possible. You are never at the risk of your password being stolen when you access stories and posts through their application you remain anonymous to the account. You can download posts in seconds. The application has a built-in media player.
This allows you to play the videos and view the photos you have downloaded. The offline player offers smooth performance and the users haven't had an opportunity to complain. The dark mode options can be toggled to reduce the strain on your eyes. All of these small features have a big impact on the overall satisfaction of the application. 
Through the application, you can repost the downloaded content to your Instagram. This is a seamless process and works like a charm. You should download InsTake if you want an android based Instagram downloader that offers premium features for free.
---
Repost for Instagram – Regrann
Download It From Playstore
You cannot talk about downloader applications without the mention of Regrann. Regrann is one of the highest-rated applications on the Google Playstore.
It has been rated 4.7 stars by over 400,000 people who have rated them. The majority of their ratings comprised 5 stars. Such great reviews show the excellent tools that this application contains. The application is listed under the social category on the Playstore and is free to download.
It has been developed by JaredCo. The application is best known for its simplicity and ease of use. They allow you to download and repost content with proper credits. When you repost the downloaded content the app automatically adds credits to the owner of the content. 
Using their services you can add signatures to your downloaded material. You can decide to add watermarks and signatures. The best part about this application is that you can download the images and videos without ever having to leave Instagram.
When you configure this particular feature of the application you can download content with just 2 clicks. This application is a must-have for users who want a quick and efficient application that gets the work done without any complications.
---
Saver Reposter For Instagram
Download It From Playstore
The Saver Reposter for Instagram is one of the top tools you must have for downloading photos and videos from Instagram. This is an application developed for mobile devices.
It can be downloaded from the Google Playstore. While the application might just look like a regular Instagram post downloader, it is much more than that. It offers great tools that help you download content as well as text from Instagram.
A great addition to this application is the one-click switch. This helps you to switch between the app and Instagram with a single click. This makes it very convenient to download content while surfing Instagram and is a huge boost to user experience.
While many applications help you to download photos and videos Saver Reposter goes above and beyond. They allow the users to download the text in the captions as well. You are given the ability to selectively only download the hashtags that are present on a post. 
These additional features might not seem like a big deal but they greatly improve the utility of the application. When you start using the application you understand the major impact that these small features cause.
The application has 3.8 stars on an average based on over 90000 ratings. This Instagram downloader makes downloading content, text, and hashtags from Instagram a breeze.
---
Download It From App Store
For people who use IOS devices, Regrammer has emerged as one of the finest tools to download content from social media. The developers at New Marjeting Lab, Inc have worked day and night to make sure their application has optimal performance.
The application can be downloaded for free. To download the application you need to have an IOS 12.0 or later version. With a size of 49.1 MB, the application is a bit on the bulkier side. The application gets regular updates that are aimed at improving the software even further.
Unlike many applications, you do not need to have coins or tokens to perform the downloads that you want. When downloading posts the app automatically copies the caption of the post. This makes it convenient for their users.
You can mark the downloaded posts as favorites. This helps you access these posts quickly. There is no limit to the number of reposts that you can make.
This tool alternates as a scheduler as well. You can plan and automatically post content on your Instagram at predetermined times. These features have made this application an Instagram post downloader that has racked up high ratings on the Apple AppStore.
---
Instaoffline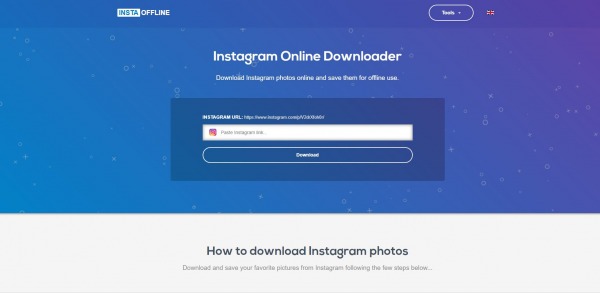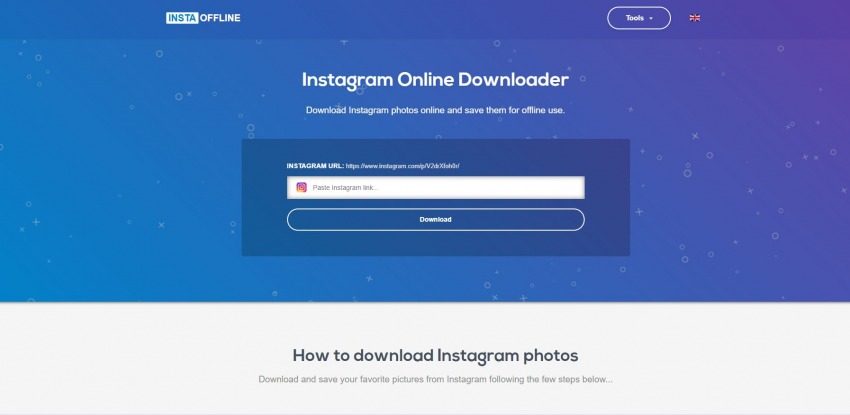 If you are crunched up on storage space an online tool is the best option for you. It allows you to have all of the features of a downloadable application without having to compromise on space. Online tools are not inferior to any of the downloadable tools. Instaoffline is an online Instagram post downloader that is very simple to use. You can download all types of Instagram posts by using their services.
To get the downloads all you need is an URL. Just go to the post, carousel, story, or video and copy the URL. Pasting this copied link to the website allows you to start the download. The website provides you with unlimited downloads. You can download as many reels, posts, and videos without any limit. Their services are free and there is no need for you to pay for any premium packages.
You can access the website through your mobile devices as well. They have support for mobile browsers creating an amazing user experience. All of their downloads are safe. The downloads do not contain any malware or viruses that could harm your devices. They make sure that your devices are protected at all times.
---
Free Instagram Download
Free Instagram Download is a tool that can be downloaded on your PC. They provide support for Windows 10, 8, 7, Vista, and XP. Having this backward compatibility helps people with older devices to access its features.
You can get started on the application by just downloading and installing it on your device. The process of downloading is kept as simple as possible. The clean user interface is a big reason why many people prefer this application. The application has all of the essential features while having a minimalist design.
They allow you quick downloads of different posts from Instagram. You can download single videos and multiple pictures. When downloading you can decide the storage space of the files. A big feature that makes them very popular is the support for proxy servers and VPNs. You can use your favorite proxy servers and VPNs while downloading different posts.
Using a VPN gives you anonymity while using the internet. This guarantees more safety while you are downloading the posts. If you are looking for a downloader for PC, It is highly recommended that you give this Instagram post downloader a try.
---
Conclusion
The majority of these downloaders have additional features to them all of the applications listed above perform well in the downloading function. The perfect downloader for you would depend on what additional features are required by you.
If you want to post the downloaded content on Instagram chose a downloader that can repost. On the other hand, if you want to view videos offline choose a downloader that has a built-in video player. The best application for you depends on the needs that you have.