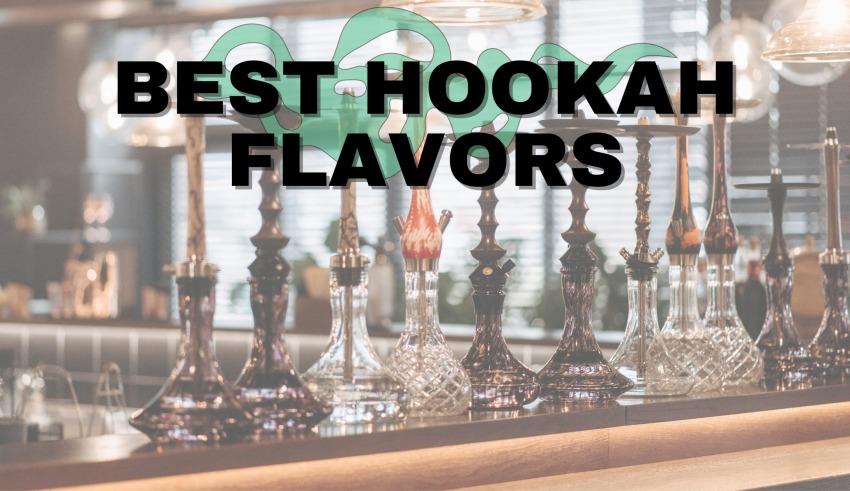 Hookah smoking is becoming increasingly popular, so companies are introducing more and more flavors to the market. So many brands and flavors are available today that picking the right one to meet your needs has become virtually impossible without reading dozens of consumer reviews. The good news is that we have summarized it for you in this article. So, if you're curious what the top hookah flavors are at the moment, keep reading.
Here is the list of the 15 best Hookah Flavors You Should Try in 2022.
Tanya Shisha Herbal Flavor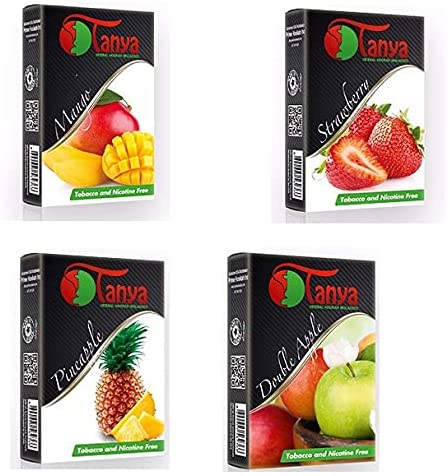 Tanya's herbal Shisha/Molasses is used in the same way as hookah tobacco, except that they do not contain nicotine or tobacco; instead, they have mouthwatering herbal flavors you won't believe how great they are. It is made with a unique blend of herbs and natural fruits for a taste you've never experienced before.
Tanya has some of the best flavors in the market with an amazing smell and delicious taste. Their unique and exclusive herbal flavor Tanya is very different from other herbal flavors. Among the 50 flavors available, we're sure you'll find your favorite. Tanya Shisha Herbal is one of the best tobacco free hookah flavors available in the market.
---
Hydro Herbal Hookah Shisha Flavors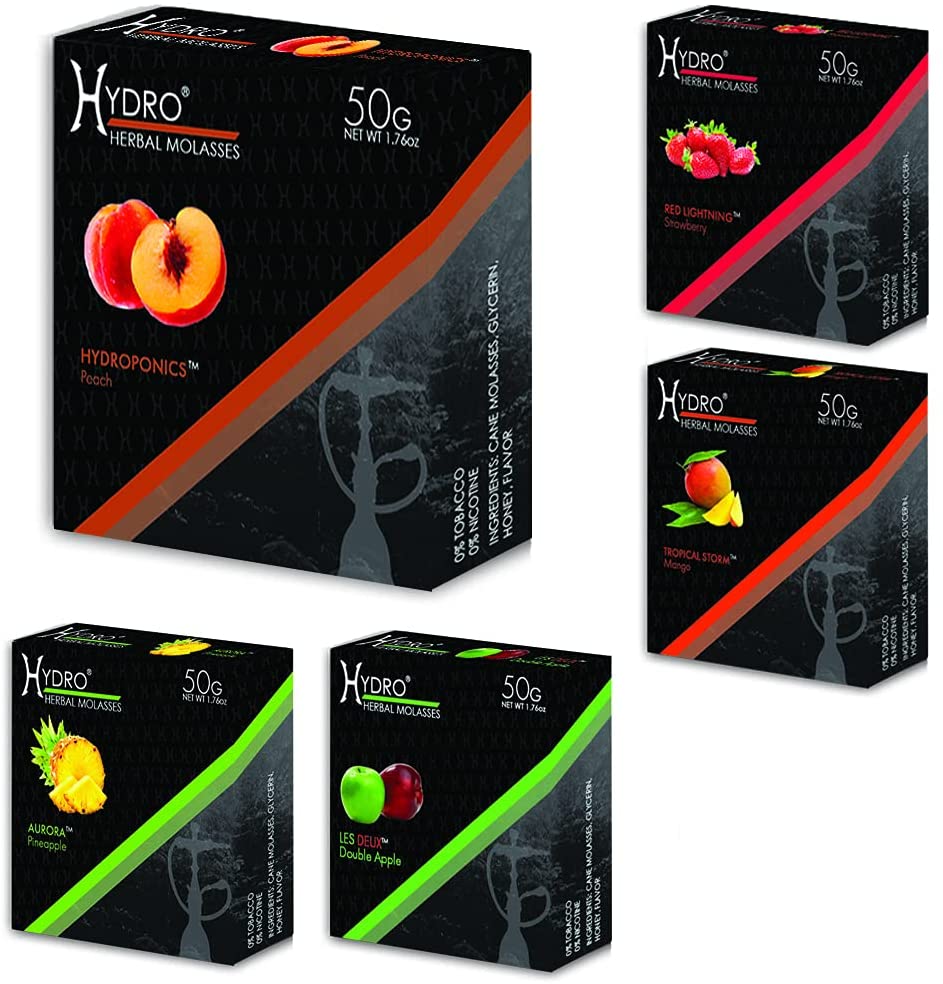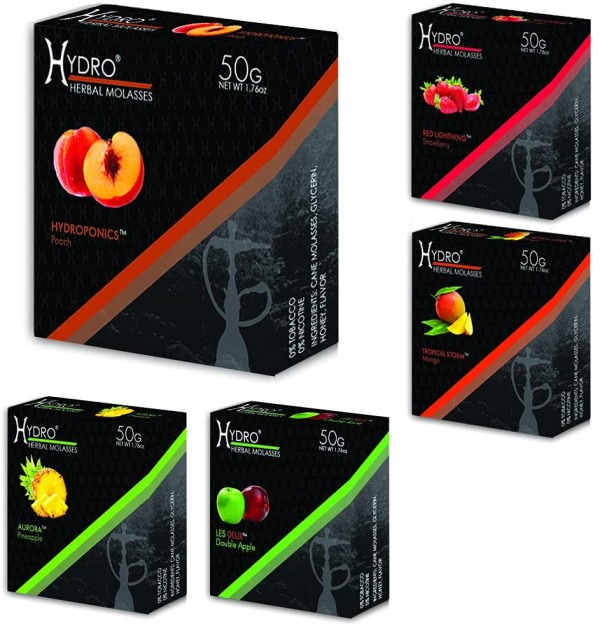 Hydro Herbal Hookah Flavors are made only from the finest ingredients in the United States. These handcrafted flavors do not contain hookah tobacco; instead, they are made with molasses derived from sugar cane, which is tobacco-free. In order to replicate the hookah experience, hookah flavor blends are applied strategically to cane molasses.
Hydro Herbal tobacco free hookah flavors are available in 5 different flavors- Double Apple, Peach, Strawberry, Mango, and Pineapple.
---
Fantasia Herbal Hookah Shisha Flavors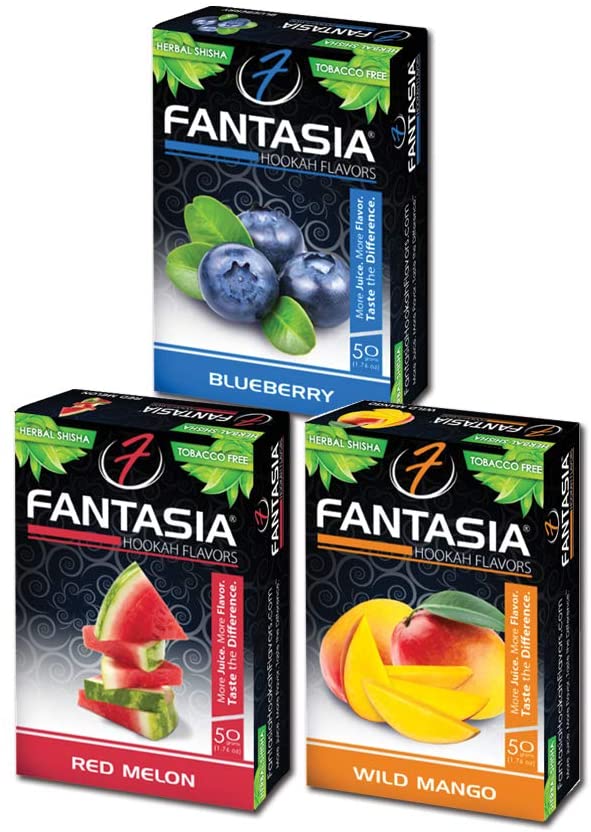 Fantasia Herbal is the best hookah flavors mix on this list. Herbal Hookah Flavors by Fantasia are made with only the best ingredients from the USA. Unlike hookah tobacco, these handcrafted flavors are made with sugar cane molasses, which is a tobacco-free option. To simulate the hookah experience, cane molasses is blended strategically with hookah flavoring.
This brand offers 10 different hookah flavors to give you the best experience.
---
Charcoal Master- Incense Coal Tablets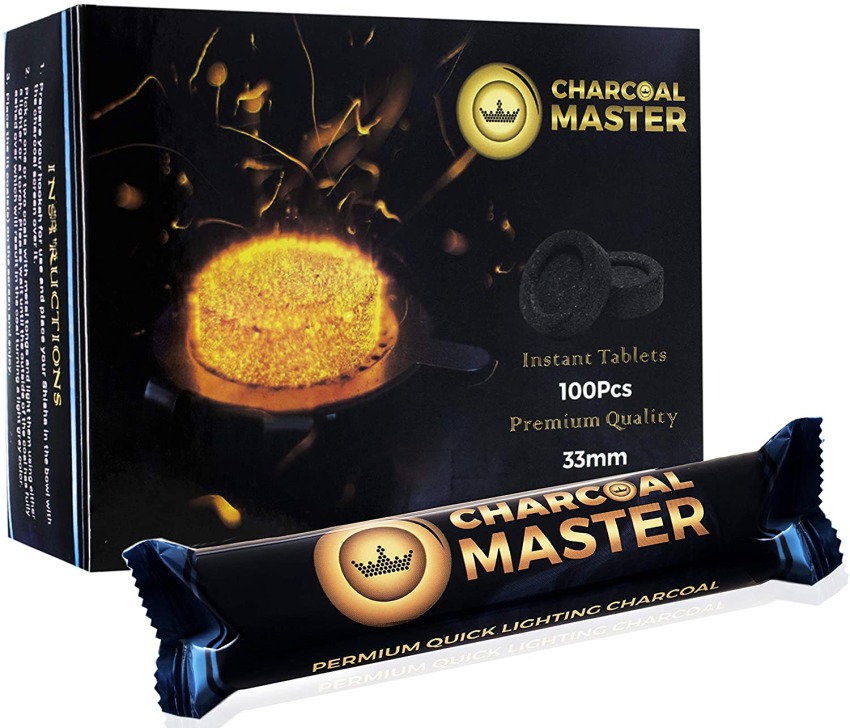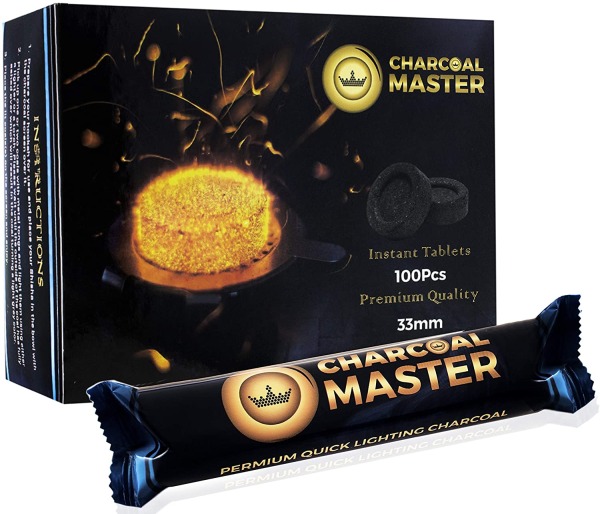 These amazing instant charcoal disks allow you to enjoy your favorite incense flavor faster! Upon illumination, they ignite almost instantly and provide a long-lasting burn for up to 45 minutes. The coal briquettes in this product are made from 100% natural fruit tree wood. Due to their odorless and flavorless nature, the charcoal tablets provide you with the opportunity to enjoy the aroma of your incense.
The set contains 10 rolls each with 10 capsules. The quick light charcoal measures 33 mm or 40 mm in diameter. They allow you to enjoy incense burning while relaxing and allowing you to enjoy it to the fullest. They can be used as hookah flavor as well and are counted among the best tobacco free hookah flavors.
---
Soex Pan Raas Herbal Hookah Flavor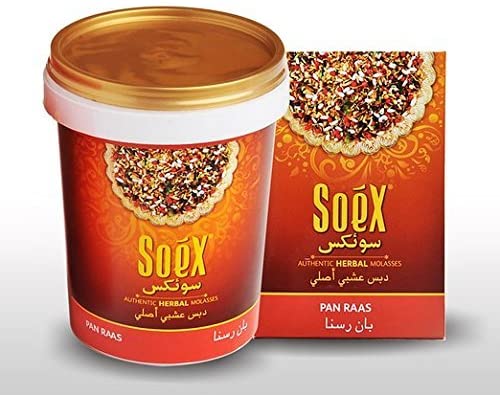 Soex herbal hookah flavors use the same herbs as Hookah Tobacco, but they do not contain smoke or nicotine. Pan Ras Flavors are not just pleasing to the senses, they are also smoother, more enjoyable, and easier to swallow. Taste this exotic flavor or add a pinch of it to another flavor and discover its magic. Especially recommended for heavy smokers and preliminary smokers.
With this fascinating flavor, you can enjoy a slice of sweetness with the intrinsic qualities of the Indian betel leaf and enjoy a grand Hookah experience. Pan Ras can therefore be found worldwide among Hookah Lovers.
---
Sunlight Charcoal Store- Charcoal Tablets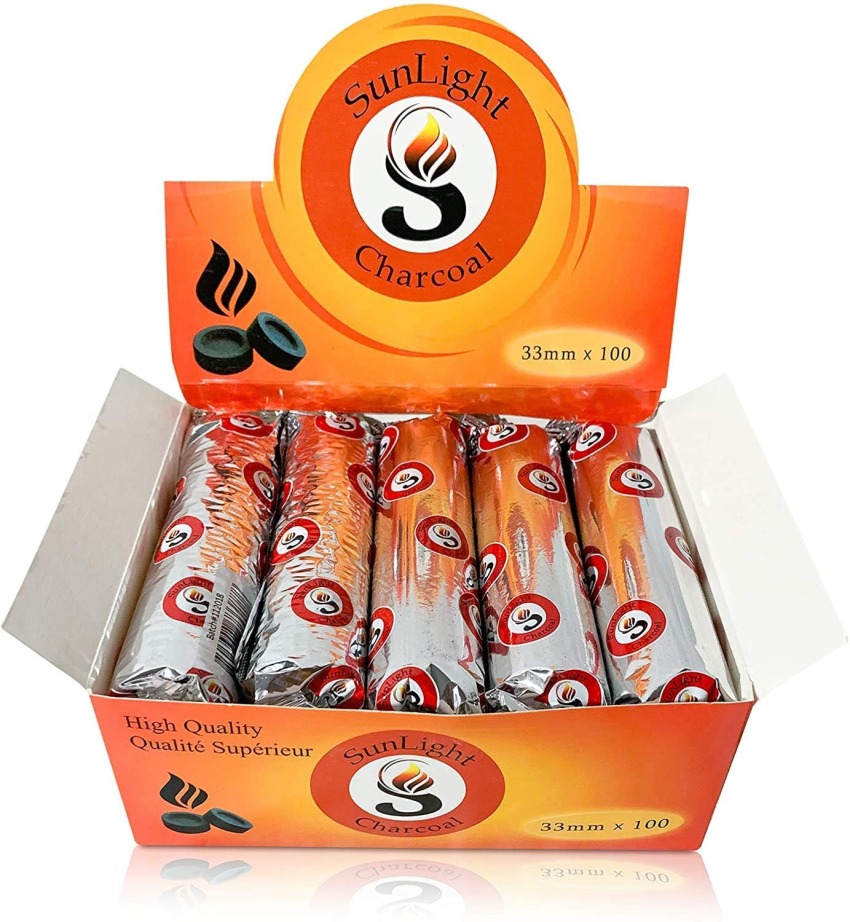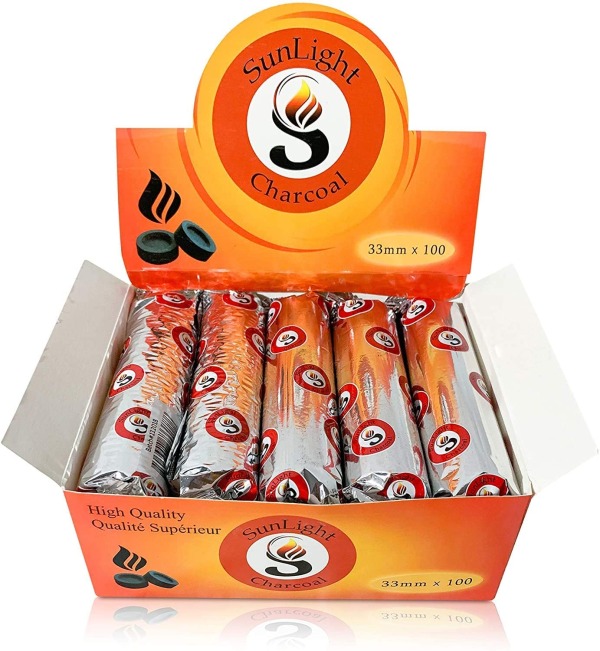 Whether you have a fancy ritual or you enjoy burning resin incense, Sunlight Charcoal Store has an essential accessory that will transform your ritual into a true relaxation oasis. You can find these charcoals in homes, churches, and spas all over the world. You can get 100 coal disks per order from them at the best price.
These charcoal incense rounds are highly regarded by their customers. Why? A single match is all it takes to light one up in an instant. There is absolutely no smell from these charcoal discs. With the resin incense coal lighters, you can experience aromatherapy and Turkish treatments. A coal briquette for incense can burn for up to 45 minutes with a constant flame.
For risk-free purchases, they provide premium customer service and a 30-day money-back guarantee. You can also use them as a hookah flavor as they enhance the flavor. It is the best hookah flavors brand available in the market.
---
Hook It Up Hookah Flavors- Mint Hookah Shisha Flavors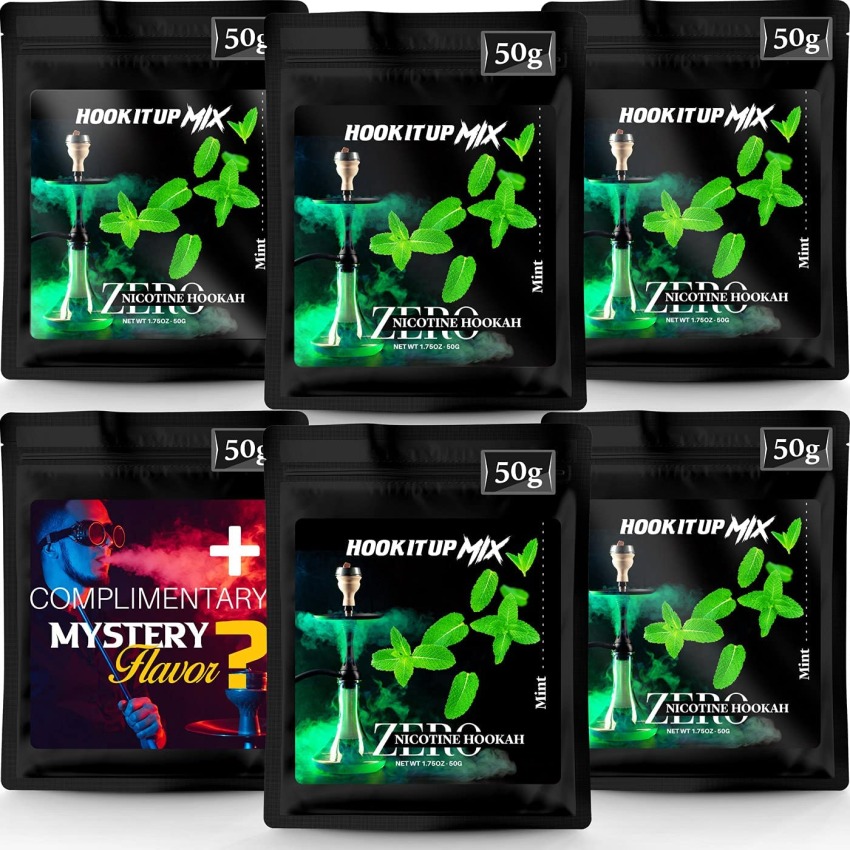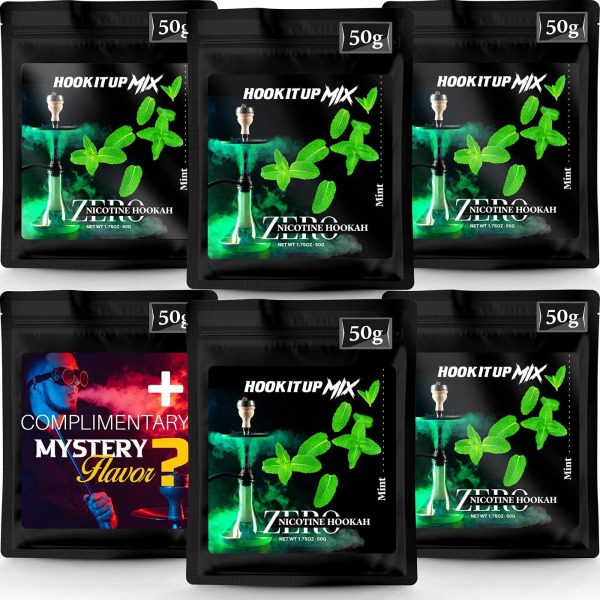 Hook It Up Hookah Flavors are made in California, USA with the finest ingredients. If you're looking for some good hookah flavors, then this one might be your best choice. Firstly, they are tobacco-free, nicotine-free, tar-free, and coloring-free, so you do not have to worry about damaging your health while inhaling hookah.
It comes in a pack of 6 with 5 min flavors and 1 mystery flavor. It not only smells great but also tastes heavenly.
---
M.A. Traders Afzal Pan Ras Flavor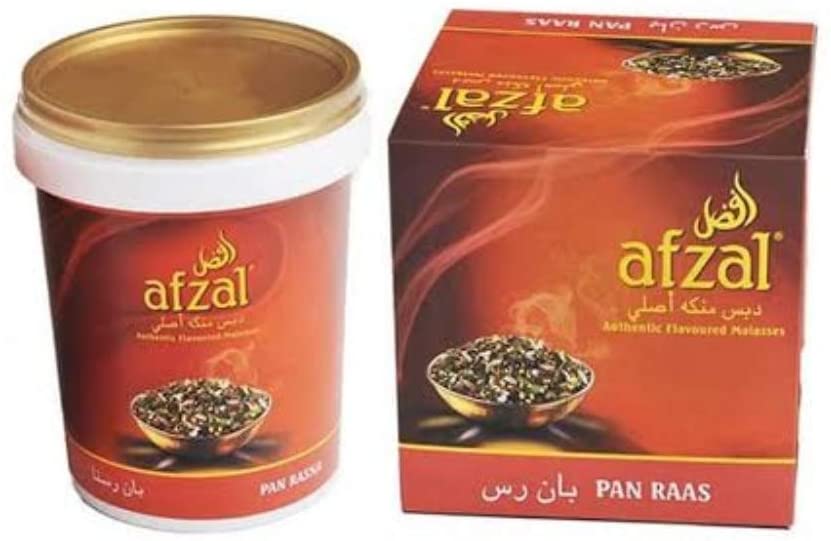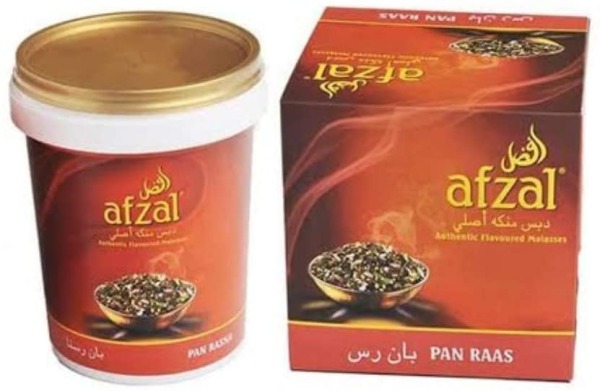 M.A. Traders' herbal hookah tobacco flavors contain the same herbs as hookah tobacco, however, they do not contain smoke or nicotine. Flavors made from Pan Ras are not only pleasing to the senses, but they are also smoother, easier to swallow, and more enjoyable. Experience the magical taste of this exotic flavor on its own or as an addition to other flavors. It is especially recommended for heavy smokers and people who have never smoked before.
With this fascinating flavor, you can enjoy a slice of sweetness with the intrinsic qualities of the Indian betel leaf and enjoy a grand Hookah experience. Pan Ras can therefore be found worldwide among Hookah Lovers.
---
Cocous Coconut Charcoal Hookah Shisha Incense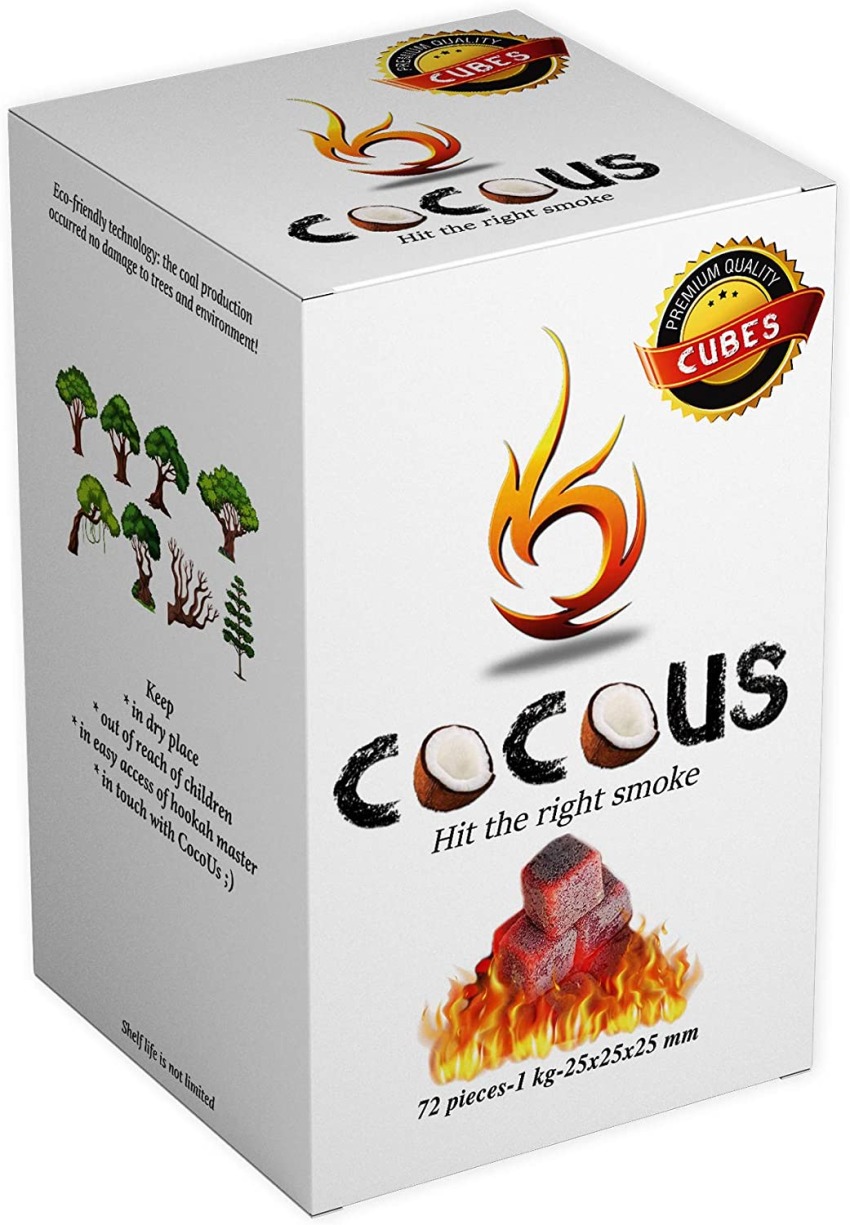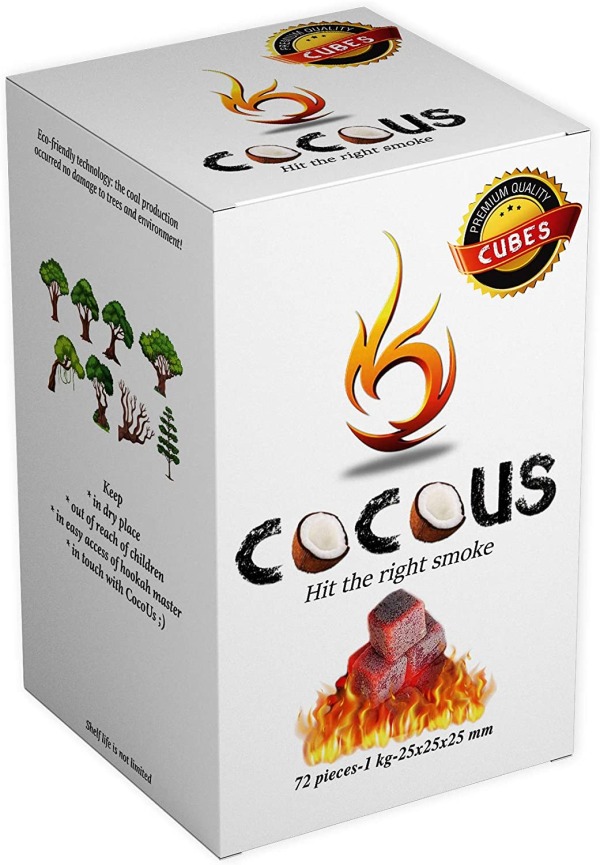 Cocous coconut shell hookah coals are made of 100 percent natural coconut shells without any chemicals, so they have no impact on your shisha's flavor. Since coconut hookah charcoals burn four times longer than quick light coals, you can smoke less per session, leading to a longer smoke session and a lower cost.
Coconut briquettes under 2% are denser, and the ash they produce is less powdery (less mess!). They have no odor or taste and are very strong, so if you dropped them they would not break.
---
Hempookah Mint Natural Hemp Hookah Shisha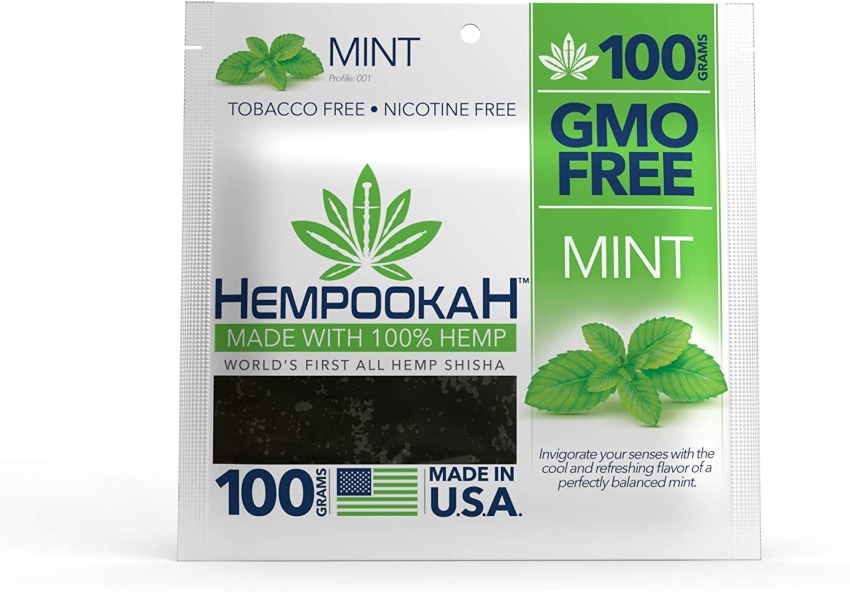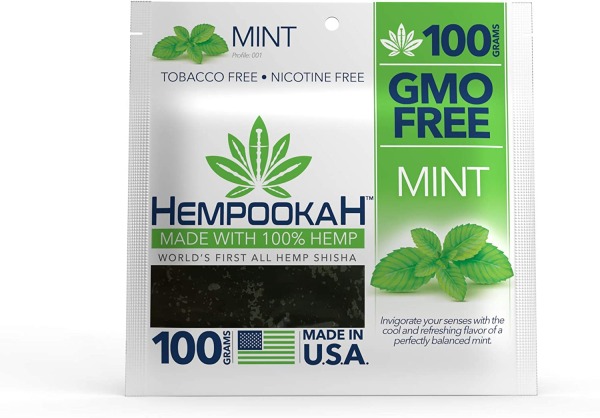 Hempookah is the world's first and only Shisha made with 100% Natural Hemp. The product is manufactured in the USA with all the finest ingredients. There is no artificial color added to this hookah flavor mix. It is completely tobacco and nicotine-free.
This is one of the best hookah flavors brand renowned all over the world.
The mint in this hookah flavor helps in invigorating your senses thanks to its perfectly balanced flavor of cool and refreshing mint. Additionally, it is made with 100% GMO-free hemp.
---
Hook It Up Watermelon Hookah Flavors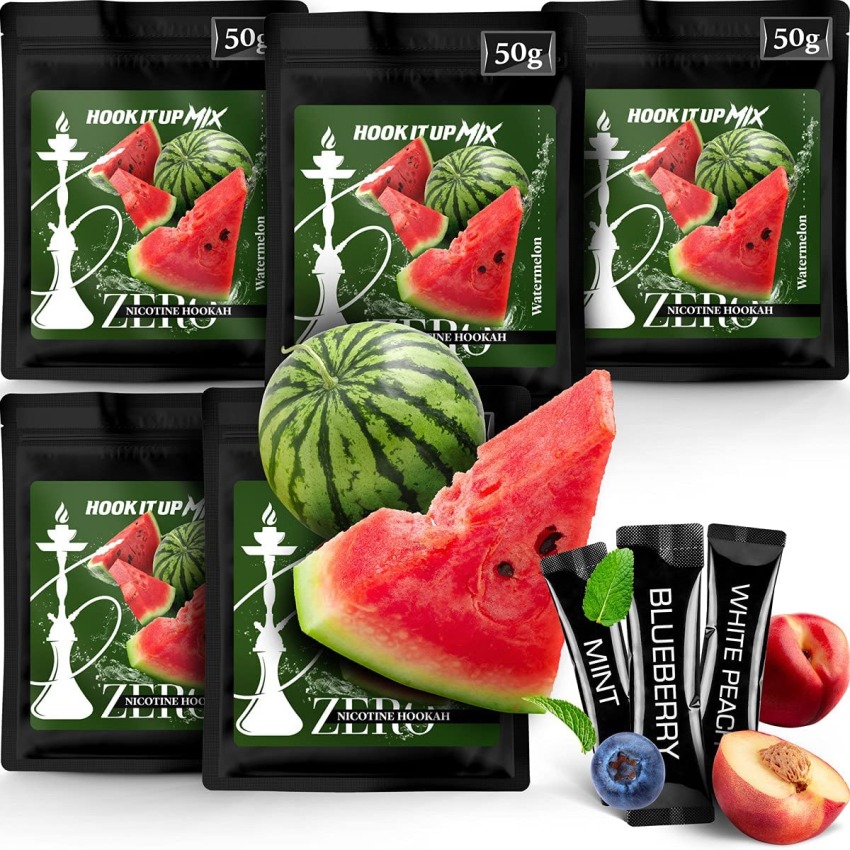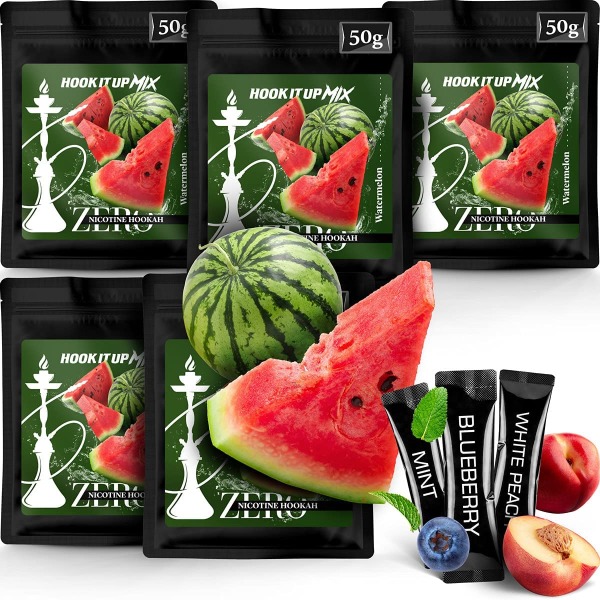 Another Hook It Up product in this list with the same properties but different flavors. First of all, it is made with sugarcane, making it 100% nicotine and tobacco-free. The pack contains five at a low cost. The watermelon flavor is fruity and refreshing and makes you feel like heaven. This too is one of the best hookah flavors mixes on this list. All the products of this brand are manufactured in the USA with premium quality ingredients.
---
Beamer Herbal Hookah Watermelon Flavor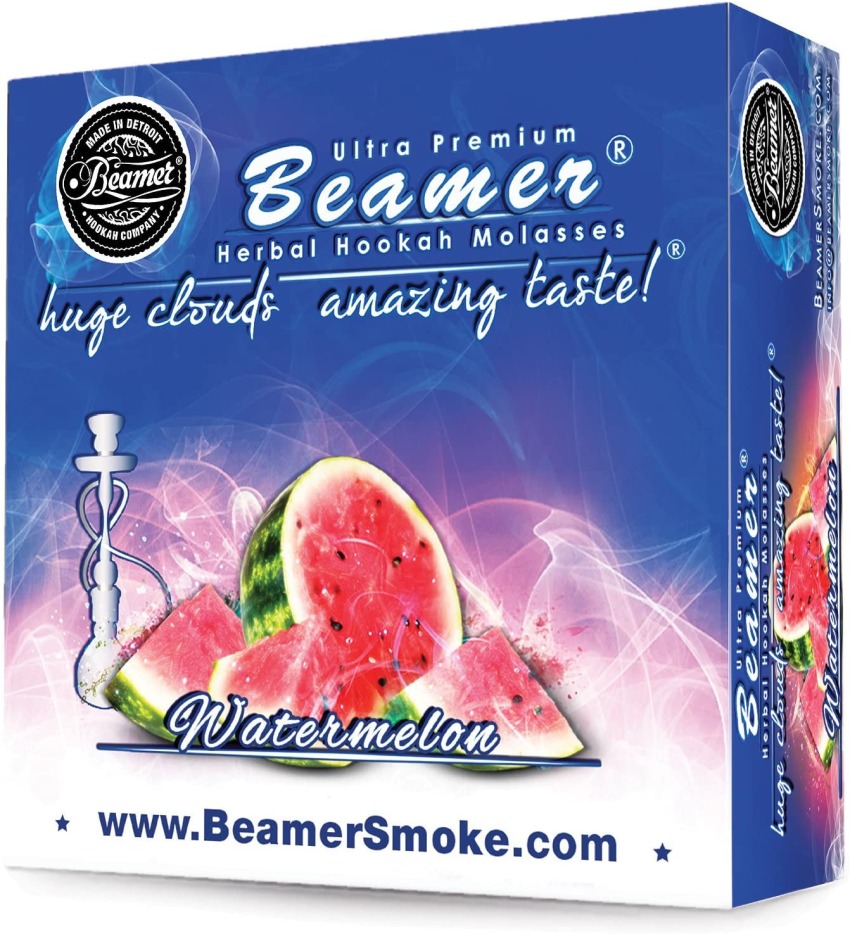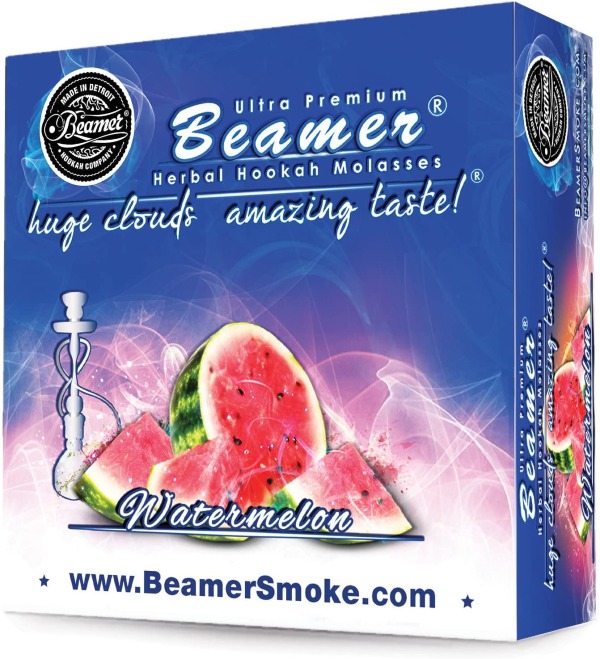 If you could enjoy hookah in a more gratifying way, and have a better cloud, a more global hookah lifestyle, then wouldn't that be amazing? Looking for an alternative to traditional hookah tobacco? Or for a way to smoke hookah that doesn't involve tobacco or nicotine? Using Beamer Ultra Premium Herbal Hookah Shisha Molasses, you'll experience all of these benefits and more. You can enjoy massive clouds, delicious flavors, and an incredible variety of flavors when you use Beamer. They have the same appearance, texture, and taste as hookah tobacco flavors. However, they are tobacco-free and nicotine-free. It is the best hookah flavor mix.
---
Hook It Up Double Apple Exotic Hookah Flavor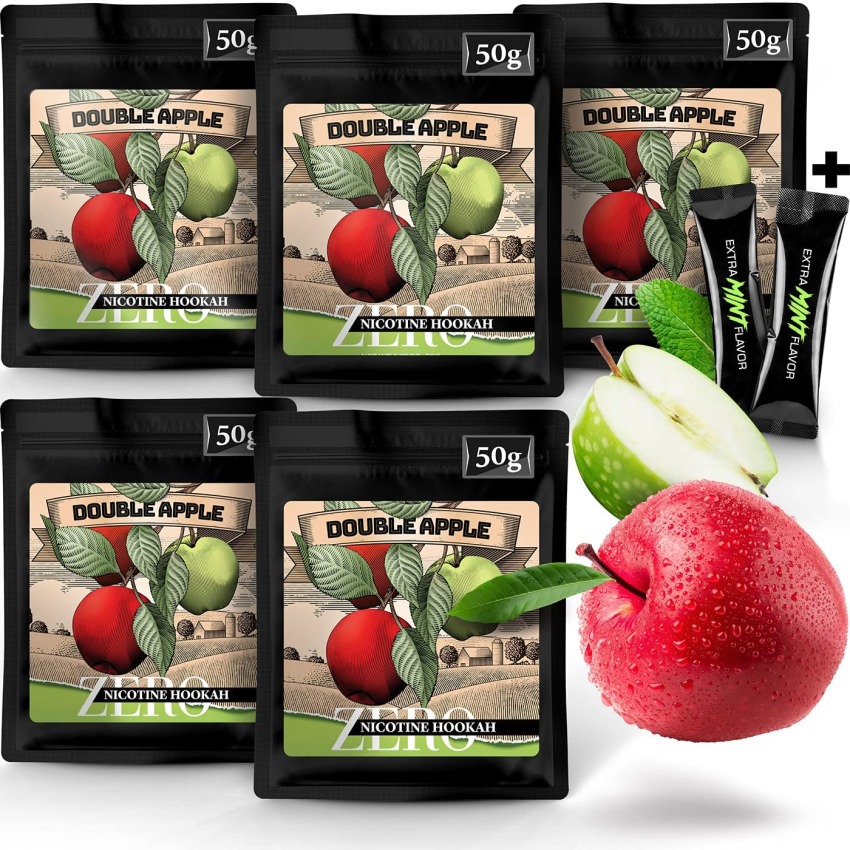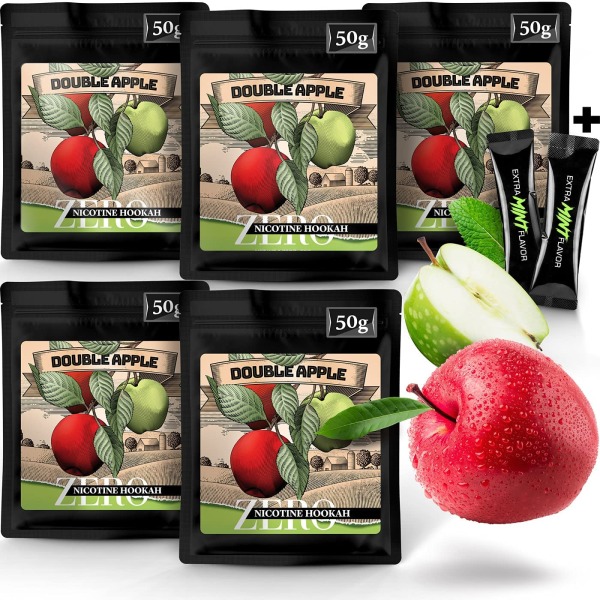 The third Hook It Up product on our list, this one is its Double apple hookah flavor. It comes with 5 packs, 50g each of double apple Shisha flavor. It serves as an amazing Hookah tobacco flavor-alternative as it is made with sugarcane instead of tobacco leaves. Also, It contains no tobacco, nicotine, and tar. This hookah flavor produces thick clouds and has a great smell and taste. The product is made in the USA with premium-quality ingredients.
---
Starbuzz Blue Mist Hookah Flavor
There is no doubt that this Starbuzz product is one of the top-selling and best shisha tobacco products. This brown flavored shisha is made of blonde leaf tobacco and contains no nicotine molecules (less than 1% nicotine). The taste and smell of this hookah flavor are incredible and it won't leave you disappointed.
It produces thick clouds. The flavor is like blueberry candy floss that feels like instantly melting in your mouth and leaving the smoothest flavor. Do not forget to store it in an airtight container to maintain its shelf-life.
---
Fumari Ambrosia Shisha Flavor
One of Fumari's top-selling flavors is Ambrosia, which is known as one of the juiciest shishas available. Fumari Ambrosia is made from brown leaf washed tobacco with 0.05% nicotine, and is packaged in an air-tight pouch that preserves the flavor and juices of shisha.
One of the first things that would deceive you is the smell. As if it were fruit candy, the scent is truly mesmerizing. From brands like Fumari, the clouds are spectacular; even with a single or two coals, this shisha provides you with quite a lot of thick, large, and dense clouds. This is literally one of the best hookah flavors in the market.
---
The Hookah Guide
In order to simplify the process and make it easier for new users, we created a complete beginner's hookah guide.
What is Hookah?
Hookah is a smoking device designed for enjoyment. The hookah can have a single hose fitting or several hose fittings. The hookah has a long history, and it is not something new. Originally from India, it spread fast to other Middle Eastern countries where it became a tradition.
The hookah has traditionally been used for smoking aromatic tobacco, called Shisha, but people also use it for smoking cannabis.
Different types of Hookahs
Traditional Hookahs- Traditional pipes come in three types (Indian, Egyptian, Syrian). A traditional hookah is usually handcrafted by highly skilled craftsmen. It is impossible to find an identical hookah in shape, color, or size. Because they are all handmade, they can vary greatly in appearance.
Hookahs made from traditional materials are a true masterpiece, and owning one makes you feel good, as is evidenced by the fact that many hookah enthusiasts prefer this type of pipe over other types.
---
Shisha pipes made of glass solved a problem common to traditional hookahs, such as rusting. Many shisha bars choose these pipes because they look elegant, and they are also easy to clean.
The evolution of hookah design over the centuries is an example of how true that is. However, the principle still remains the same, designers were seeking a way to deal with problems people have with traditional pipes, and there are many. Shisha pipes made by a combination of traditional and modern techniques provide stability, airflow, and shisha juice leak protection.
Basically another type of e-cigarette. The maker of some disposable hookahs claims that their liquid has no nicotine, tobacco, or tar in it. However, there is no independent research to prove this point.
Every hookah part has a different material, with the exception of glass hookahs of course. In most cases, the vase is made of glass. Materials with tempered properties are the best for creating a non-penetrable base.
Stainless steel is typically used in hookahs to make the body and stem, so you're likely to get the best results unless the hookahs are made from cheap metal or aluminum.
There are several types of hookah hoses available, but the most common and most effective are made of plastic and silicone. The same goes for the types and lengths of hoses. Hoses are classified as washable or non-washable.
Various materials are used to make tobacco bowls, and they include ceramic, clay, silicone, metal, plastic, and glass.
---
The composition of hookah coals
Hookah coal is mostly made from coconut shells, however, a lesser-known fact is that shisha coal is also made from lemon trees and bamboo.
Other types of coals include quick lighting coals. They are made with coal dust along with other ingredients, usually sulfur, which speed up the lighting process. The coconut coal is undoubtedly better, and every serious shisha smoker would agree.
This is due to two main reasons.
Coconut coals have natural ingredients, no unpleasant smells, and long burn times that make them better.
They are healthier because of no chemical substances preventing any health issues
---
Composition of hookah tobacco (shisha)
Did you ever think about what you smoke? The ingredients in shisha tobacco are simple and quality depends mostly on the brand you smoke. However, there are usually four main ingredients:
Tobacco- Dried and washed tobacco that does not linger like a classic cigarette smell. Unwashed shishas are usually made from dark leaf tobacco, which contains more nicotine and isn't recommended for beginners.
Molasses or Honey- These two ingredients are the main components of tobacco juice, and they also make tobacco burn more slowly.
Natural glycerine- This is what causes the enormous clouds of smoke.
Fruit pulp and fruit aromas- Shisha's taste is significantly influenced by these ingredients, even though spicy herbs may also be added.
---
How to smoke a hookah?
How to smoke hookah properly isn't rocket science, here's an explanation. It is not possible to smoke from a hookah in the same way you smoke from a cigarette; the smoke must be inhaled slowly and steadily. Inhale the smoke slowly, filling up your lungs before exhaling.
Sometimes you can feel dizziness or buzz, however, this is not necessarily caused by shisha, but by the amount of air you inhale. Take a deep breath and exhale several times to experience the same sensation. In terms of brain health, the tobacco that you are smoking won't harm your brain, but tobacco that contains nicotine can probably lead to health problems in the long run. Avoid inhaling too fast and too much when you smoke, to avoid burning your tobacco.
---
Conclusion
So, wrapping up the whole article, we hope that you found your most favorite flavor from our list of 15 top hookah flavors. We included the guide too for your convenience so that you could