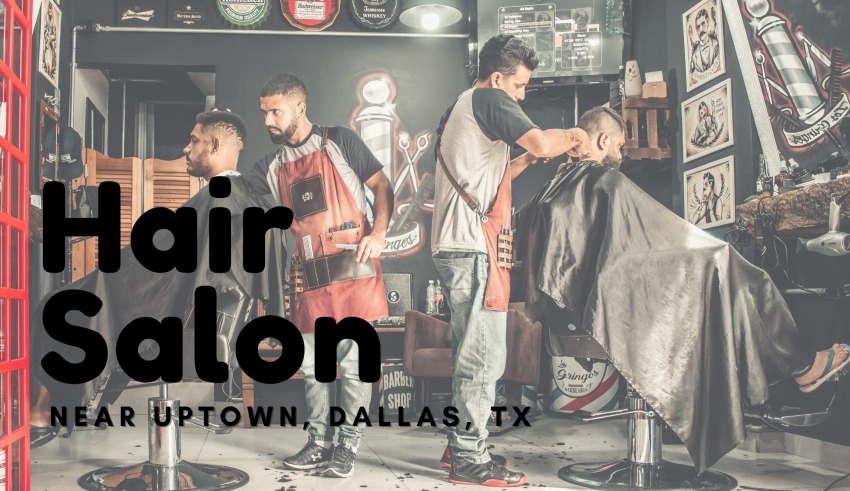 Everyone aspires to be attractive and beautiful like a garden requires upkeep and care, which is best handled by an expert. Many benefits may be obtained by visiting hair salons in Dallas that you would not be able to obtain at home. People of all ages want to appear and feel fantastic when they go down the street with a trendy haircut, and most importantly, they want to attract the attention of even strangers. A consultation like this might make a huge difference in your look and self-esteem and you should not put off caring for your appearance.
To begin with, a trip to the hair salon can help you de-stress. As people's lifestyles change and their schedules become more hectic, there may not be enough time for such indulgences. Most people, on the other hand, make an effort to preserve their look by visiting a hair salon regularly. Hair salon visits are an excellent method to maintain your appearance while avoiding the aggravation and difficulty of doing your hair at home.
Here is the list of the 10 best Hair salons In Dallas.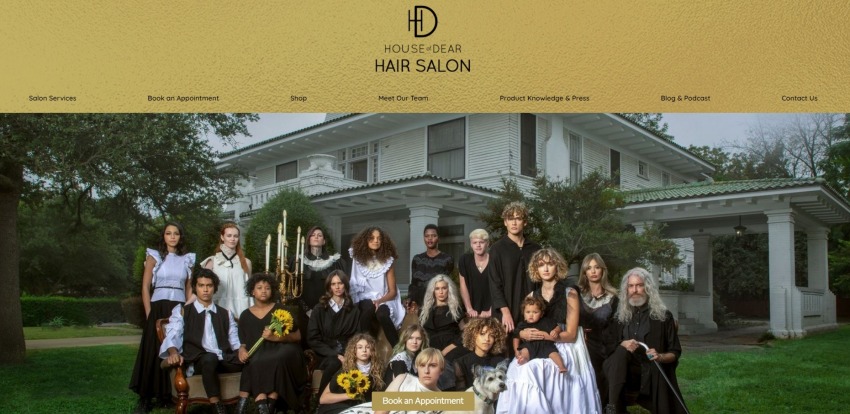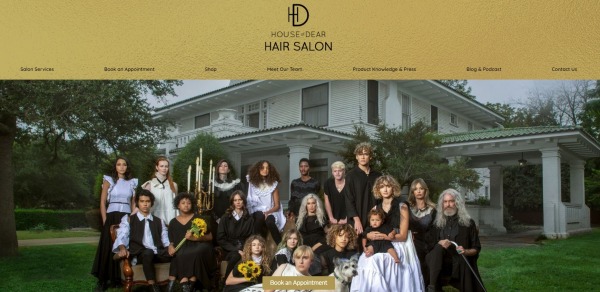 House of Dear emphasizes that appearing and experiencing your best begins with making decisions that you are delighted with. They produce breakthrough pure beauty products that don't compromise luxury for integrity, and they're committed to empowering their clients to buy goods that heal from within. They encourage you to enjoy the self-care regimen. For an amazing hair care experience, pay them a visit at the award-winning House of Dear salon in Dallas, TX. Their full-service salon guarantees that all of your haircare requirements will be met, and they are certain that you will leave feeling great.
Holly, the master hair artist behind House of Dear, has harnessed her real passion for beauty and hair care and turned it into an exceptional business based on this innovative premise: haircare is not only an artwork but also a science. She's worked with cutting-edge artists, chemists, botanists, and product developers to produce haircare solutions that use nature's power to tackle our beauty problems.
---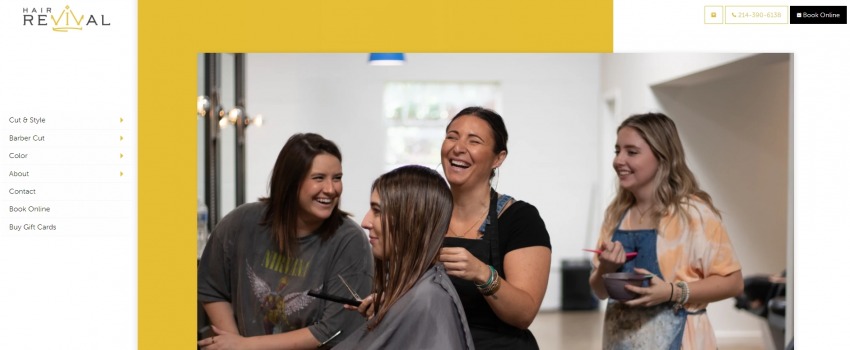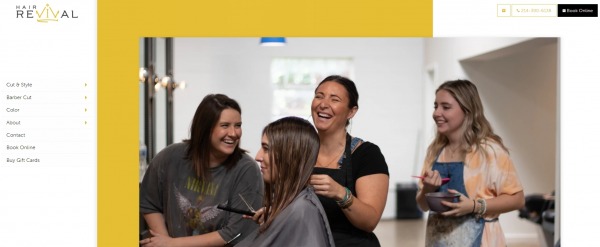 Blake Brister, the proprietor of Hair Revival Studio, founded the business in January 2015. Blake got the studio up and running with a lot of help from his wonderful friends who were there for him every step of the way. The Hair Revival Studio brand has huge plans to grow into more salon locations and create a hair school that educates all hair types and embraces all hair cultures. 
Their aim is simple: to inform the world that they are beautiful and to help individuals express their inner beauty via their outer beauty by providing great hair consultations and services. Relationships abound in the hair revival narrative, as do otherworldly experiences. It is one of the Best Hair Salons In Dallas.
---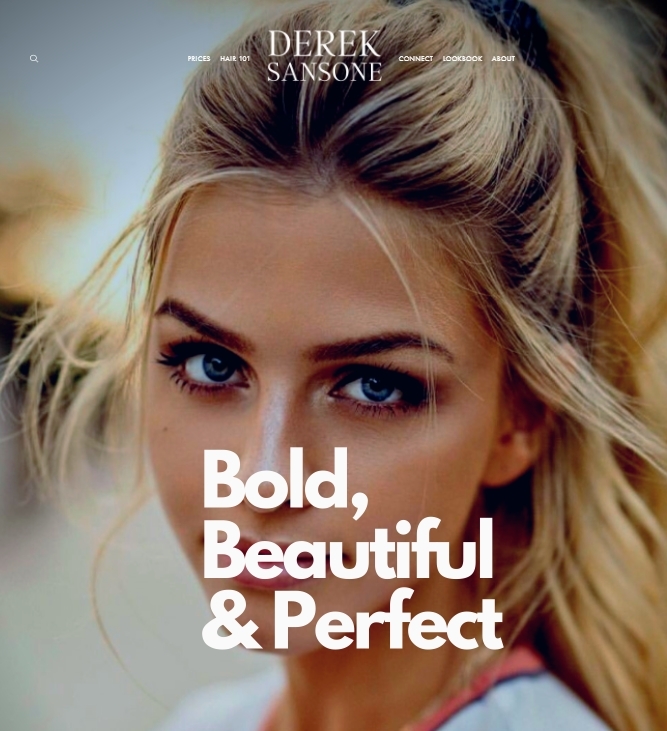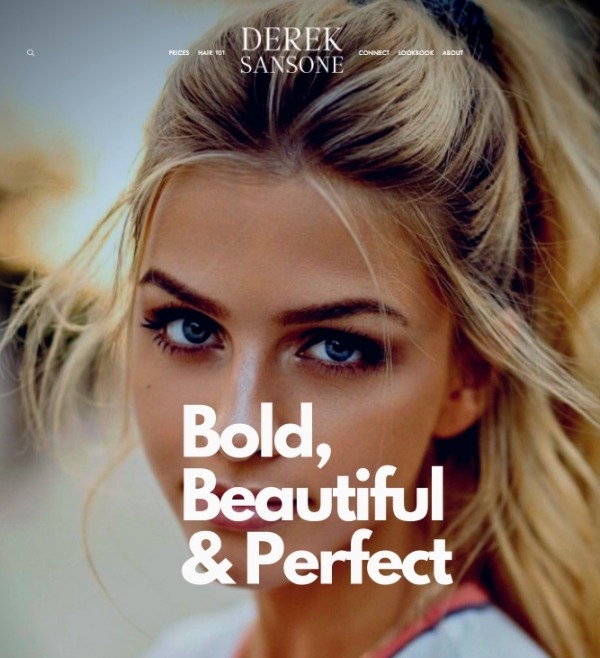 Derek Sansone has built a reputation for himself in the haircare business as a master stylist with over 25 years of experience working with industry heavyweights like Frederic Fekkai, Oribe, and Bumble & Bumble. Nothing is out of reach at Derek Sansone, whether you're searching for a new style, highlights, color correction, or just need to cure a terrible hair problem.
Derek left Dallas for New York City to work as an apprentice at Bumble & Bumble after graduating from The Ogle School in 1993. Their ability to work together provided him with a lot of inspiration. Before returning to Dallas to work for Looker Hair Group, he stayed in New York City and worked as an editorial stylist assistant for celebrity hairdresser Oribe. After gaining a devoted fan following for his work as a result of these experiences, he opened his own hair shop under his own name.
---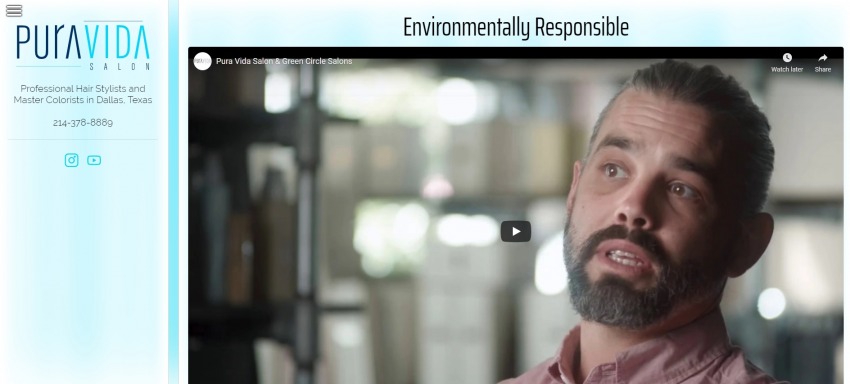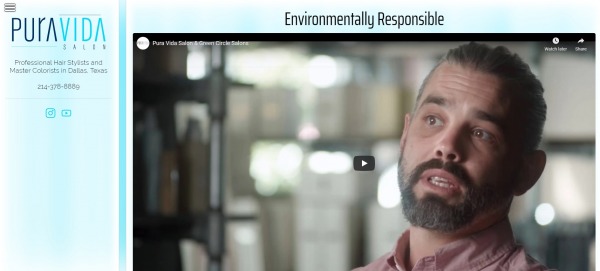 Pura Vida Salon is unrivaled in terms of quality, providing high-end treatments and services that are individually tailored to each customer. Between Uptown and Highland Park, the salon is located in the charming Knox/Henderson area. Pura Vida Salon is pleased to be one of the most renowned salons in Dallas, Texas, with a staff of stylists that are well educated in the newest trends in hairstyle, cutting, and coloring.
They've established more than just a one-of-a-kind salon culture. They've developed a training and education structure that allows each employee to provide the greatest level of service to each client. Pura Vida's ability to produce traditional, eye-catching, and cutting-edge designs is due to its versatility. They set themselves aside from other salons by providing unrivaled hospitality in an unusual setting.
---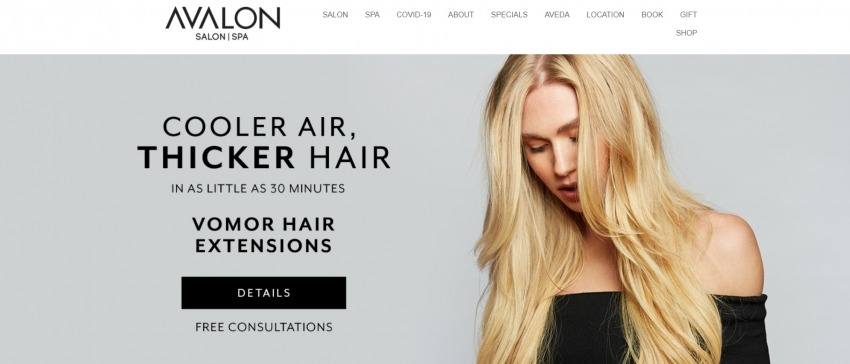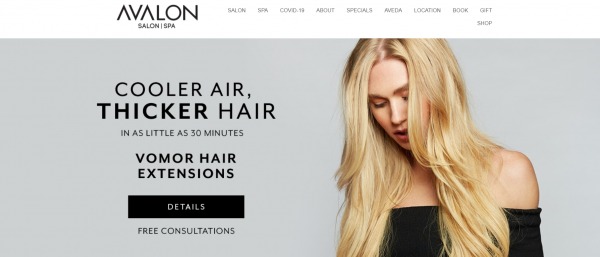 Avalon Salon and Spa, which has been named Best Salon in Dallas 15 times by the Dallas Observer, first opened its doors in 1990. Ric Bowden and Lawrence Bonanno, the owners, had a simple aim in mind: to cultivate a family-first atmosphere while providing visitors with a superior salon and spa experience. 
Their eco-friendly Dallas hair shop provides stylists with continuous education, advanced training, competitive salary, great benefits, and promotion possibilities. Their dedication to their staff draws the greatest talent in Dallas, while their commitment to their customers makes them the best hair salons in Dallas. Haircuts, color, blowouts, botanical treatments, extensions, bridal services, the finest waxing in Dallas, massages, the best facial in Dallas, and much more are among the services they provide. A complete list of treatments may be found on their salon and spa menus.
---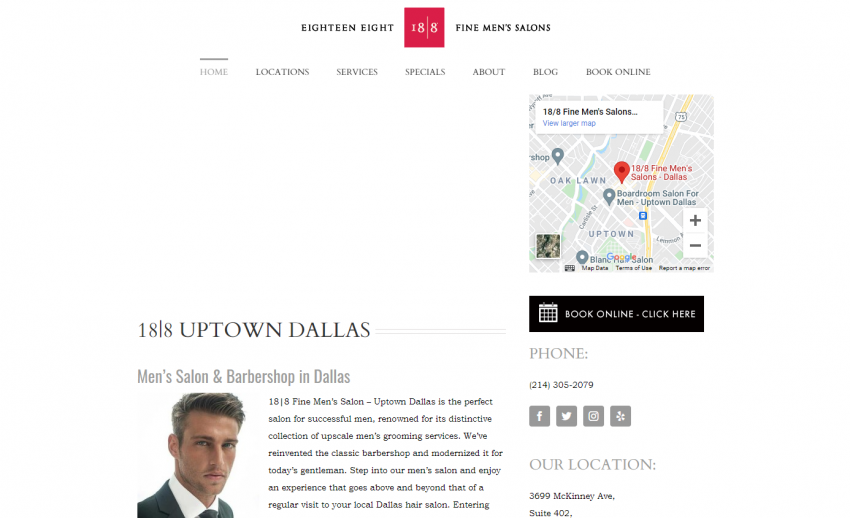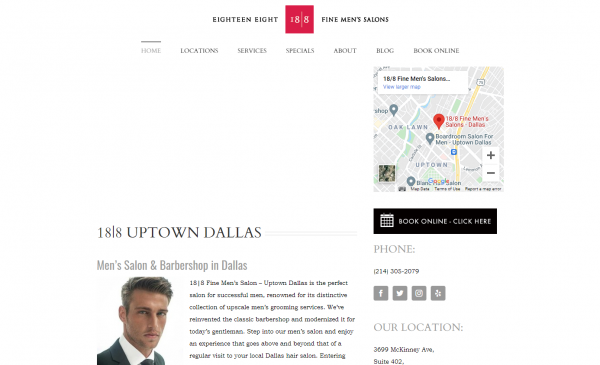 Uptown Dallas' 18|8 Fine Men's Salon is known for its unique assortment of luxury men's grooming services, making it the ideal salon for successful men. They've updated and reimagined the traditional barbershop for today's gentleman. When you visit their men's salon, you'll get more than just a standard haircut. You are greeted with a drink of beer, wine, or a cool beverage when entering their contemporary barbershop and asked to relax in their waiting room. Your barber will meet you and ask you to change into a robe so that your clothes do not become hairy.
After that, you'll be placed in one of their quasi stations for an introductory consultation with your hairdresser, during which you'll discuss your haircut and style preferences. After that, your barber or stylist will create the ideal appearance for you, tailoring your new haircut to your facial shape, hair type, and style.
You'll get a hot towel finish once your hair has been shampooed and conditioned, which will help you relax before going about your day. Finally, your hairstylist will demonstrate how to recreate your favorite look at home so you can maintain your new look in between salon appointments.
---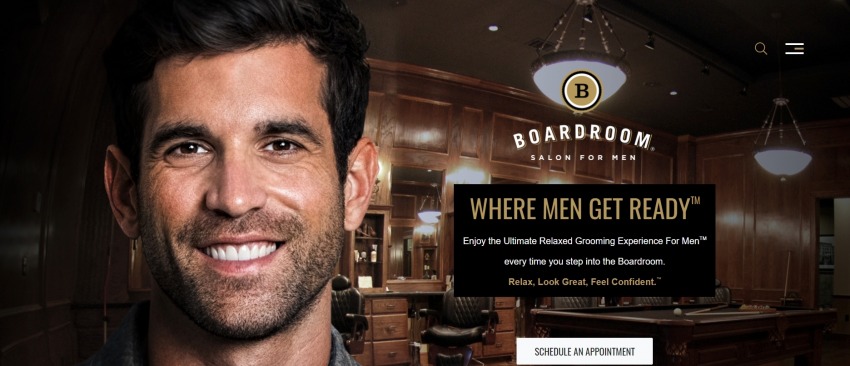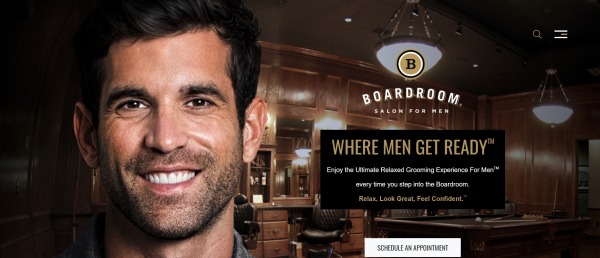 The Boardroom, which opened in 2004, was designed to be a high-end men's salon. The men's grooming industry was started by the Boardroom. The Boardroom has led the industry in innovations such as unlimited haircut memberships, complete benefits for team members, an emphasis on an exceptional customer experience, and the benchmark haircut since establishing its flagship facility in Texas.
The Boardroom is a high-end men's salon in town that provides the greatest haircuts, shaves, and spa treatments. They provide more than your average barbershop as the Authority in Men's Grooming. The ideal grooming experience is delivered by Boardroom, which blends a calm, elegant setting with a friendly, competent crew. Every client receives outstanding service on every visit to the Boardroom.
---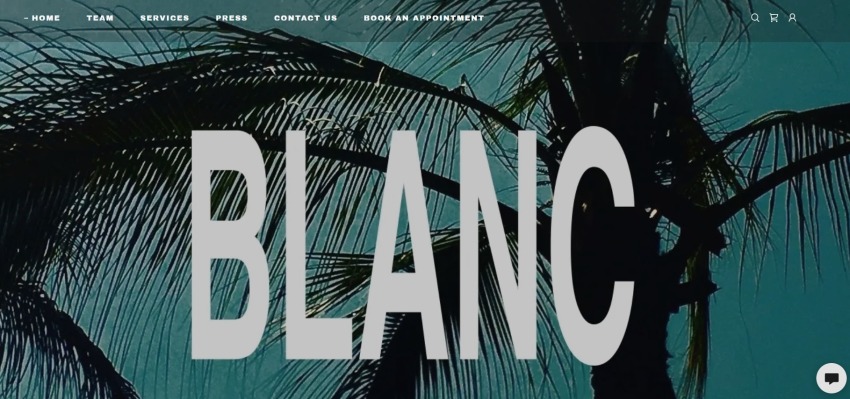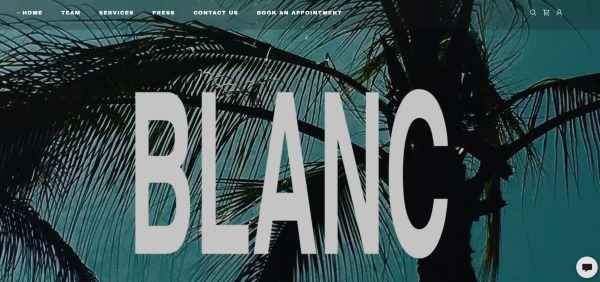 Michael Canalé, celebrity hair colorist and 14-time Best-of-the-Best by Allure Magazine, brings his expertise To Dallas at the Blanc Hair Salons In Dallas. Michael Canalé is attempting to raise the bar in the hair business. The man behind Jennifer Aniston's, Carolyn Murphy's, Vanessa Villela's, and Lisa Marie Kohrs' famed strands is changing the way the beauty industry perceives hair color, demonstrating that he is the color expert in any market. 
Canalé is most recognized for being Jennifer Aniston's longtime colorist, and his unique technique and sharp eye are regularly sought out by celebrities, models, and industry elite. He's known for his corrective color technique, which emphasizes the inherent beauty of hair while also protecting and preventing damage. Canalé has been a genuine innovator of his style since the start of his profession, providing customers with hair that is as healthy as it is beautiful.
---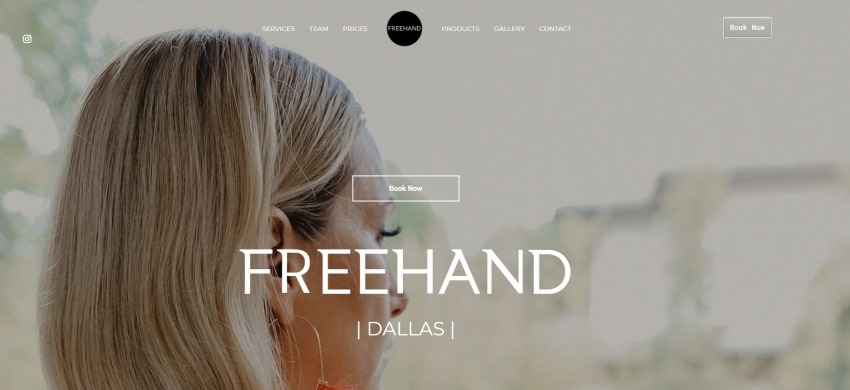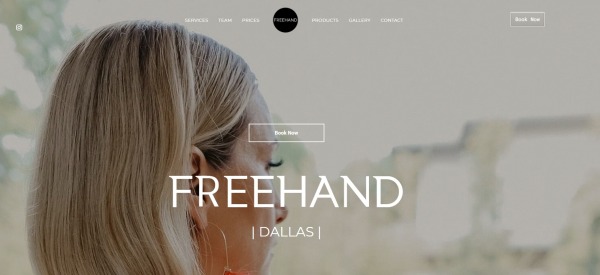 Every guest at FreeHand Dallas receives exceptional service and attention. Their stylists are all seasoned experts that utilize only the highest-quality materials and tools to guarantee that your haircut complements your personality and style. They are beauty aficionados that travel the globe to share their knowledge and find inspiration.
They develop a custom color narrative for you using creative interpretation, expertise, and skill, as well as classic, elegant, informal, and current styles. They'll develop a look that best expresses your unique style and enthusiasm, whether you're looking for classic upkeep, something more avant-garde, or just want to try something new. Visit FreeHands to repair hair that has been damaged by chemicals, artificial heat, or the elements. Their treatments revitalize your hair, allowing you to appear your best. Inquire with your salon professional about the many treatment choices available to best suit your requirements.
---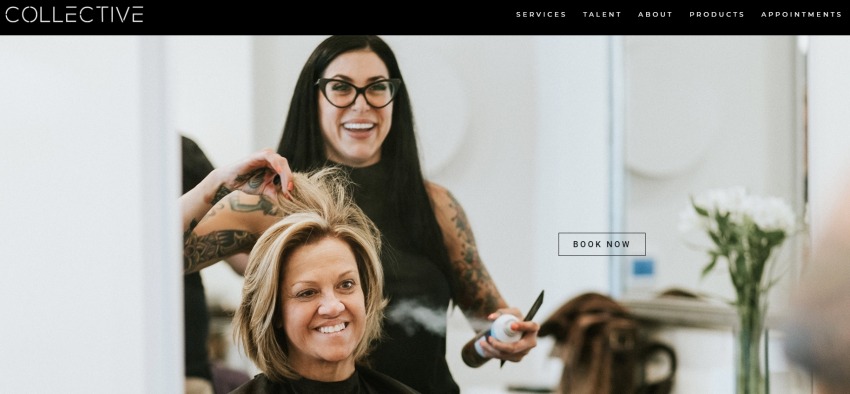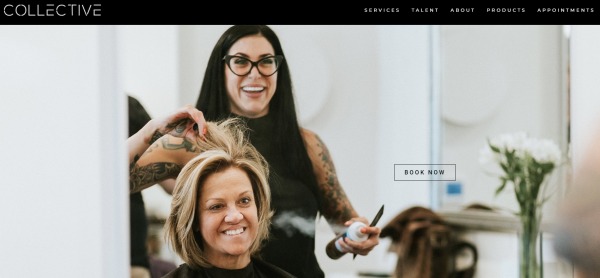 Between Uptown and Highland Park, Collective Salon is conveniently located in Turtle Creek Village in Dallas' Oak Lawn neighborhood. Collective Salon creates an environment for its clients where they may unwind while enhancing their inner and outer attractiveness. Their salon is filled with highly trained and experienced hairstylists, colorists, and makeup artists that give clients with outstanding beauty treatments in a quiet, relaxing, and sophisticated setting that will completely alter your appearance.
Collective Salon's team works together to provide each visitor with a first-class salon experience. Moroccan Oil, R+Co, Kevin Murphy, Glo Skin Beauty, Brazilian Blowout, and Maria Nila are some of the highest-quality, cruelty-free product brands available via Collective Salon. In-store purchases of luxury and high-quality items are offered.
---
What is the significance of hair care in a good hair salon?
A competent hairdresser would give great professional hair care products to clients, not just for the marketing, but for the ultimate maintenance of the hair strands, scalp, and follicles, in addition to being educated about new hair trends. A skilled hairdresser understands that if a client is happy with the health and care of his or her hair, they will return for more of the same quality of treatment nine times out of ten.
A glass cabinet or shelf with different hair care items for different hair types is common in a reputable hair salon. The greatest salon hair care products are exclusively available through salons and are not available at mass stores. The hairstylist will propose one of the products if necessary.
Hair that is not maintained might have split ends, frizz, and be excessively dry, which is not medically nor psychologically healthy. Hair salons in Dallas will provide you with the necessary treatments to keep your hair healthy and vibrant, giving you the confidence that comes with having good hair.