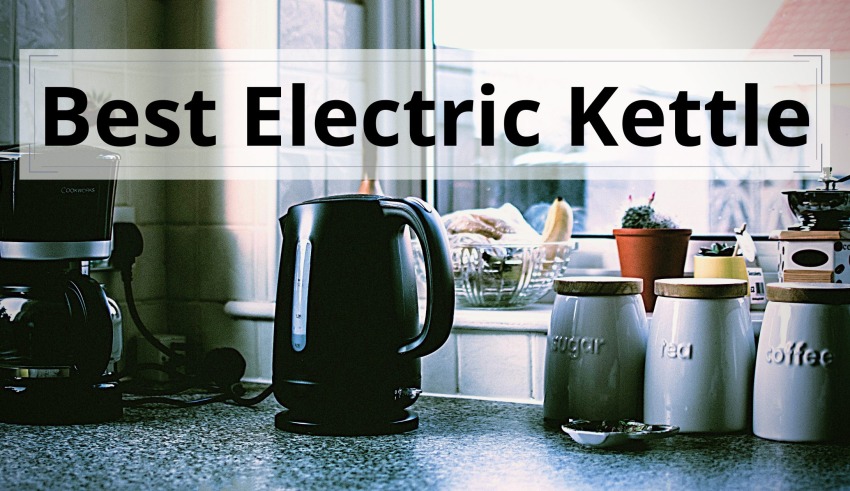 Redefine the way you make tea, boil water and cook through the use of electric kettles, these kettles come in various designs and shapes. However, some are not quite as good as some, which is why this list is here to guide you when buying your electric kettle.
Here is the list of some of the 15 best Electric Kettles.
Amazon Basics Electric Glass and Steel Hot Water Kettle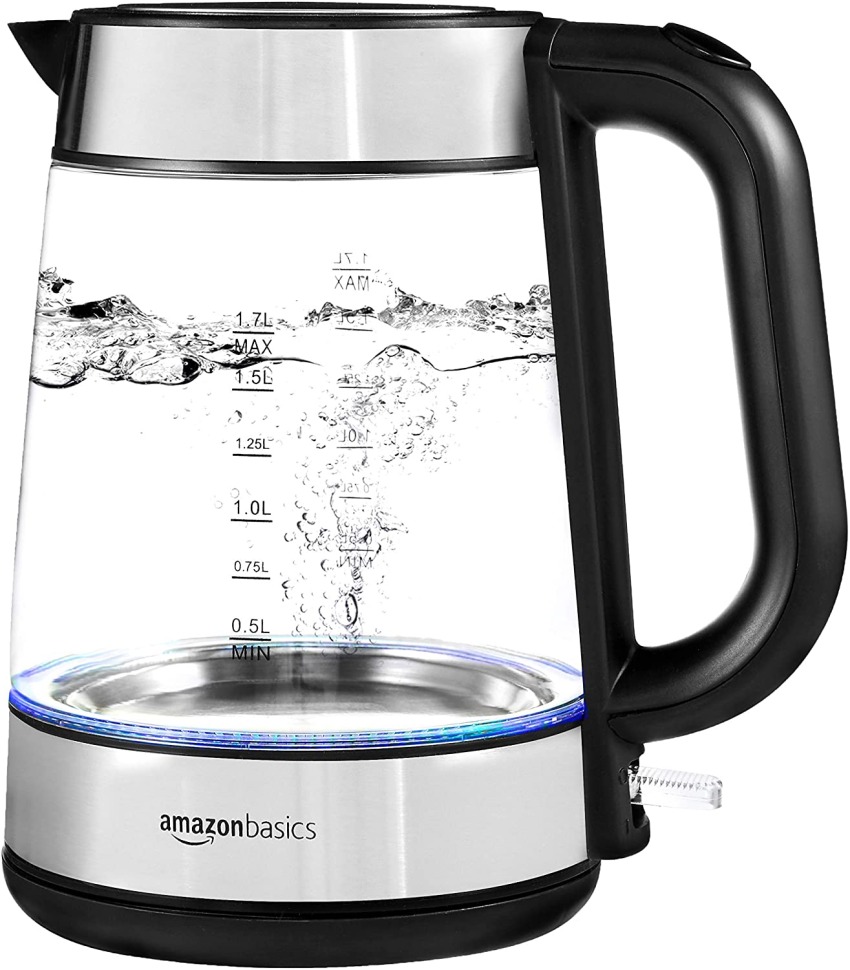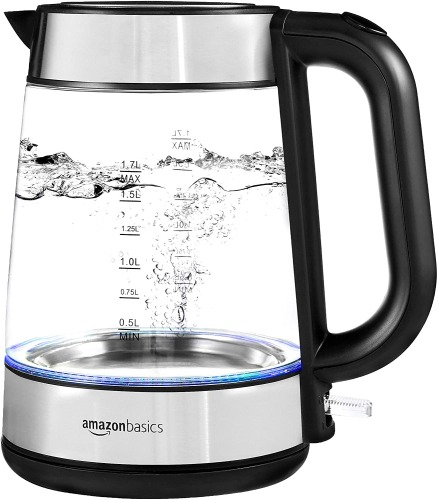 Manufactured by Amazon Basics, you already know it's gonna be pretty good. For all your hot water needs, this kettle has got you covered, you can now conveniently make hot coffee, chocolate drinks, and tea at an extremely quick pace, all you have to do is plug it in and your water begins going through the heating process.
However, you would be dealing with water and electricity, so you would need to be extra careful but this kettle has built-in features just to further ensure your safety, you can't be too careful after all some of them are; boil-dry protection, non-heating handle, and auto shut off. It also has blue operational lights to let you know that the kettle is plugged in.
Actually, It also has other features including its convenient design that fits snug in the kitchen and allows the kettle to be removable from the corded bottom for easy serving and mobility. It also has a 1.7-liter holding ability so you can boil that much water or less. Finally, this kettle heater which also has transparent glass is sold at $32.32.
---
Ovente Electric Hot Water Kettle 1.7 Liter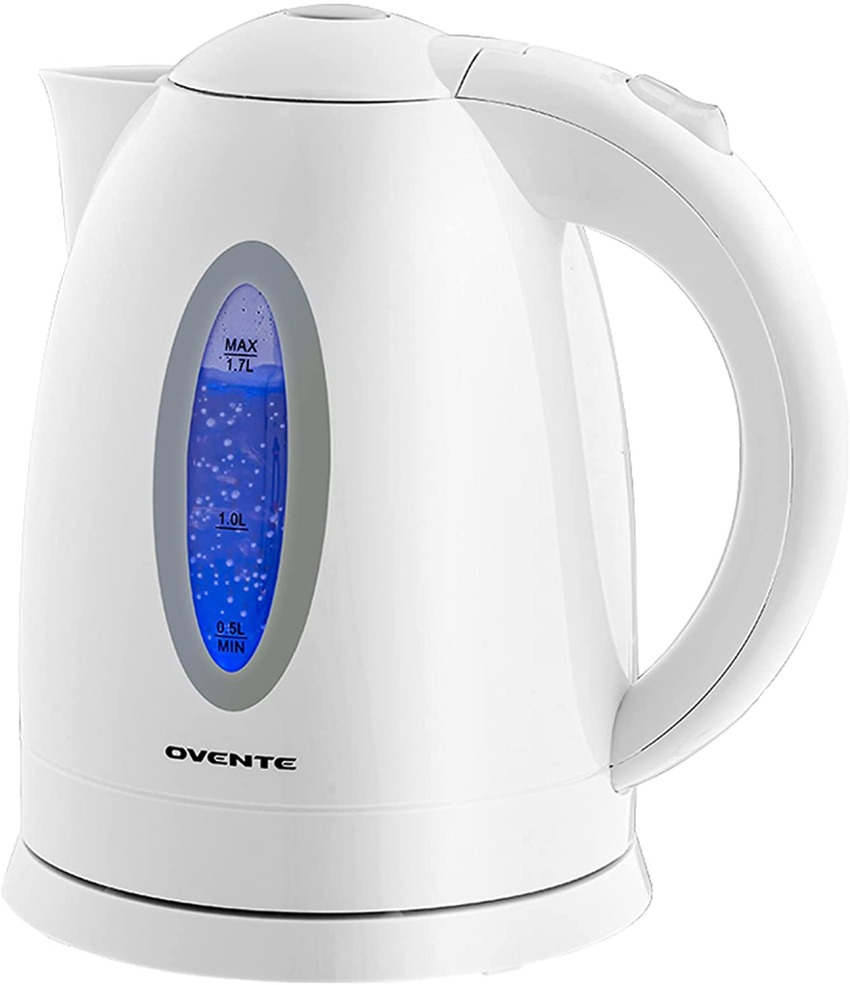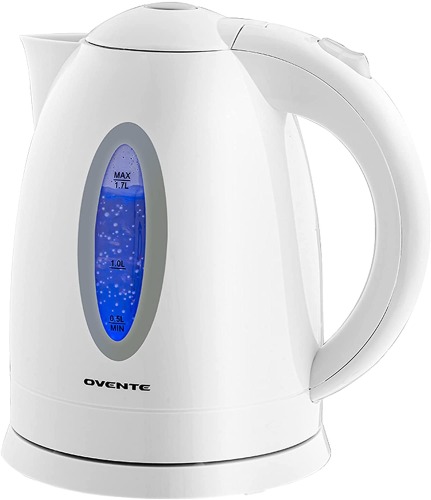 Ovente is no rookie when it comes to making quality electric water kettles, this particular product of theirs is a very good option for you if you like your liquid boiling hot in a nick of time. It boils up to 212 degrees Fahrenheit within a couple of minutes from when it has been plugged in. 
Among the top features which this electric tea kettle possesses is the non-heat sensitive handle and button, so while the body may get hot you have the convenience of using this electric water kettle without any reason to fear because all the places you need to touch would never get hot. It also has an automatic shut-off feature so when the water, tea, or whatever liquid you are boiling reaches the maximum boring point, it goes off by itself, this would prevent drying up, and with an indicator light, you would know when the heating process has begun.
This electric water kettle is definitely one of the bests in the market today, with features such as the energy friendly1100 watts power and the environment-friendly BPA free plastic, no wonder it also happens to be pocket friendly too, as it comes at the price of $16.76
---
COMFEE' Stainless Steel Cordless Electric Kettle.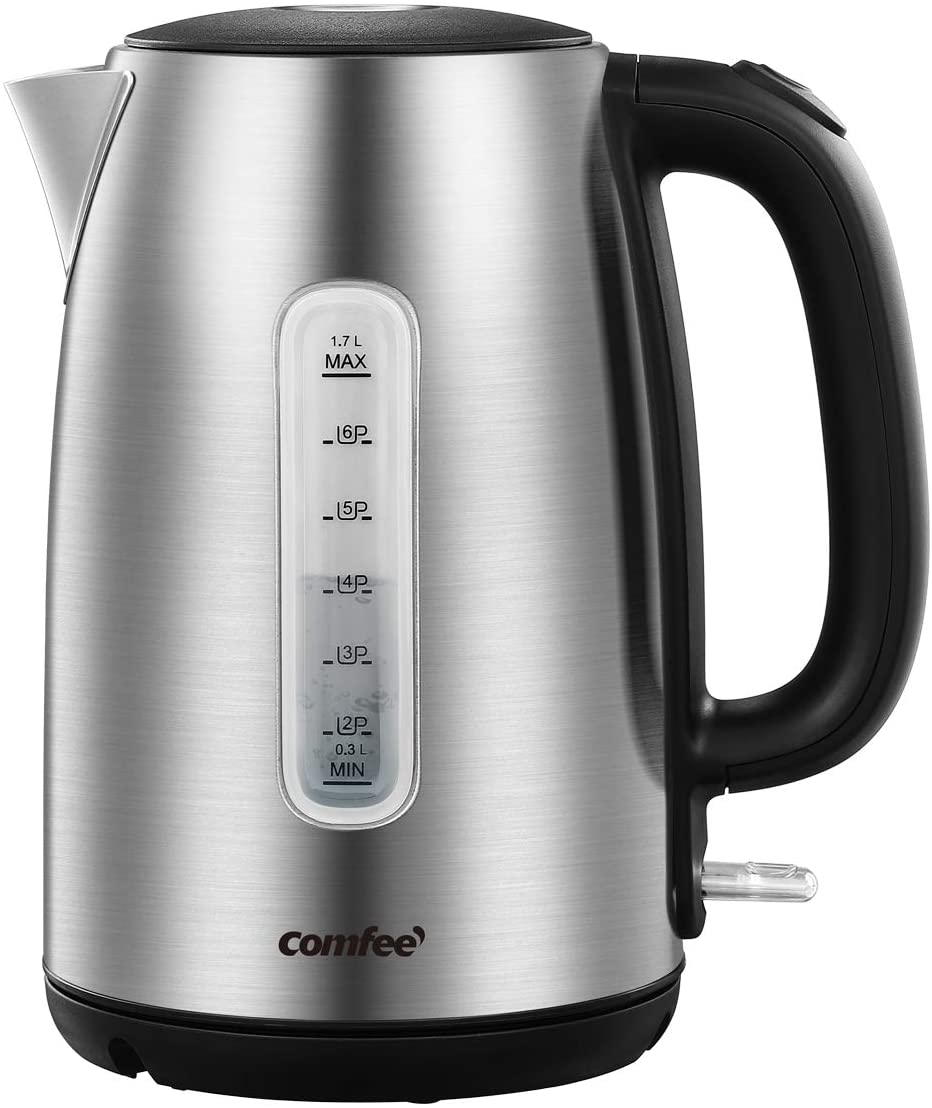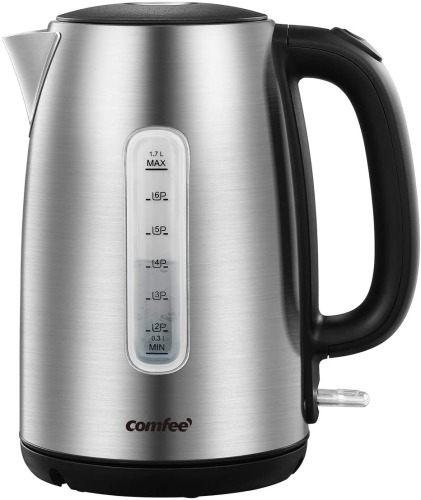 Made by Comfee, and comfy it is indeed, this brand assures the user of a truly comfortable experience when using their products. This electric water kettle does the job perfectly, your tea would be made in an instant, you only have to wait from 5 to 7 minutes for the once cold water to start boiling, this applies to when the kettle is maxed out to the top which is 1.7 liters.
 It is suitably designed to increase the user's experience while ensuring their safety. Some of the key features of this electric water kettle are the heat-resistant handle and a lid that pops open, which would protect the user from accidental burns. Furthermore, it is easy to clean due to the nylon filter which can be removed and put back, and for $24.99, you can add this electric tea kettle to your collection of home appliances.
---
Mueller Ultra Kettle: Model No. M99S 1500W Electric Kettle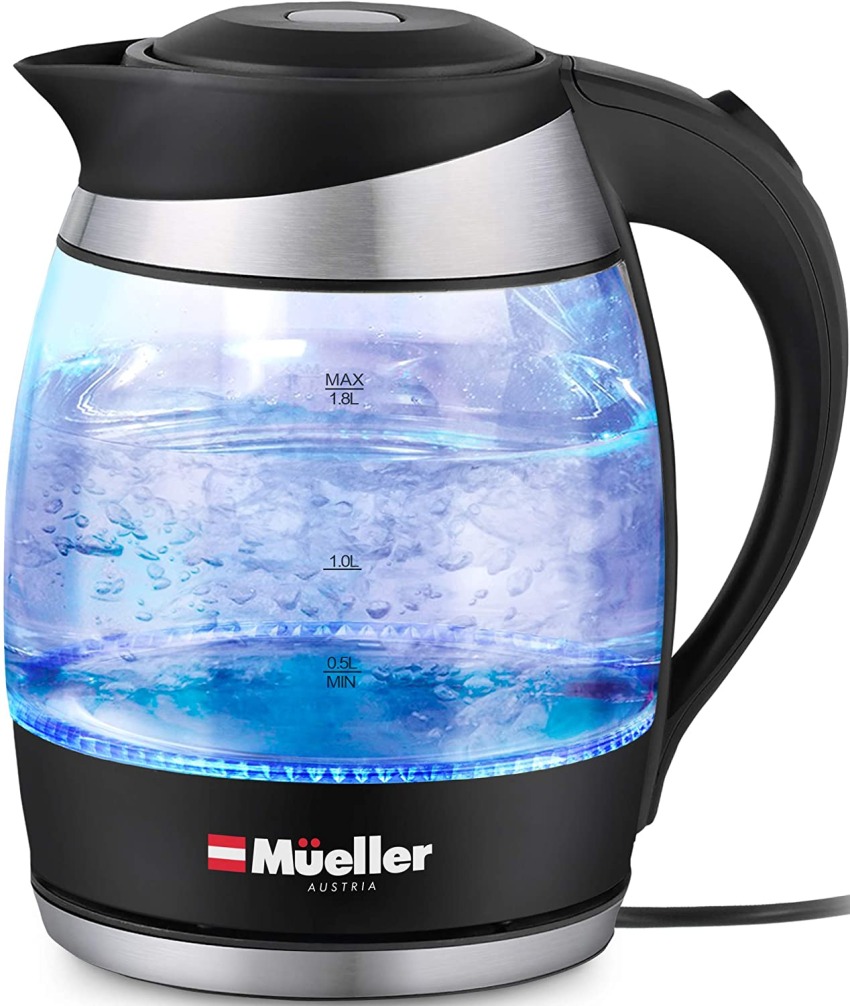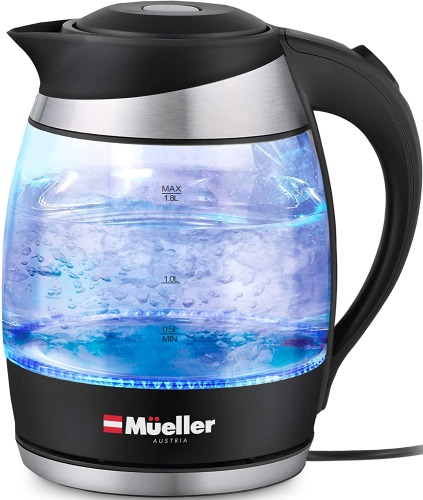 This is not the first nor second electric water kettle from Mueller Austria, so you can be certain that they produce nothing but the latest and best electric tea kettles. This 1.8-liter electric kettle stands out among others because of features such as its LED light indicator to let you know that the heating process has begun. In addition, the process is not a long one as the electric kettle which uses 1,500 watts makes your water reach peak boiling point in a very short time.
For your safety, this electric water kettle is designed with a heat-resistant handle to protect you from the hot body, the kettle also automatically stops the heating process once the water has started boiling.
It also has a detachable body that can be removed from the cord base so the kettle can be easy to move around with and used for whatever purpose without the discomfort of the cord. Finally, with the transparent glass body, you can know the exact quantity of water which is in the kettle, you can get this electric kettle for  $29.97
---
Cuisinart CPK-17 PerfecTemp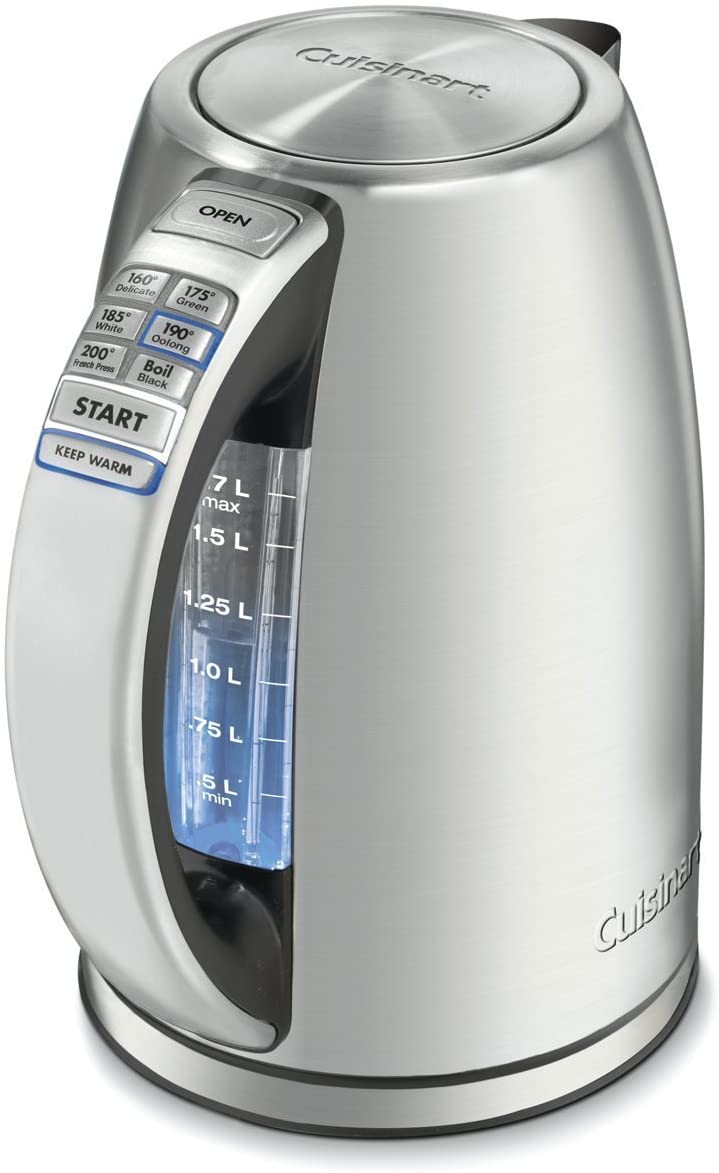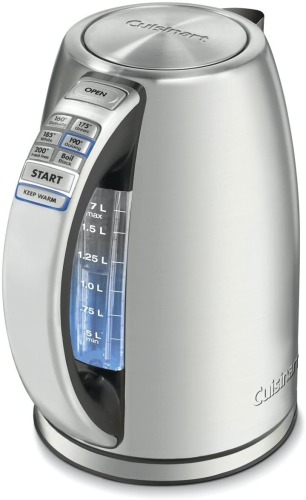 Cuisinart outdoes their selves with this piece of modern technology. It comprises many features which make it impossible to exclude from the list of best electric kettles. It has a detachable body that can be removed from the 36-inch cord base for easy mobility. Cuisinart also comes with an LED indicator light to let you know when the kettle has been well plugged in and the heating procedure has begun. 
Furthermore, this electric kettle has settings that let you preheat the liquid to your desired condition as well as a memory function of two minutes, you also can keep the water warm for up to thirty minutes all through the controls at the top of the handle. 
In addition to these features, the design also includes a transparent part at the side of the kettle to let you easily measure the amount of liquid that you have put into the kettle. This product is sold at $86.40.
---
Elite Gourmet EKT1001 Electric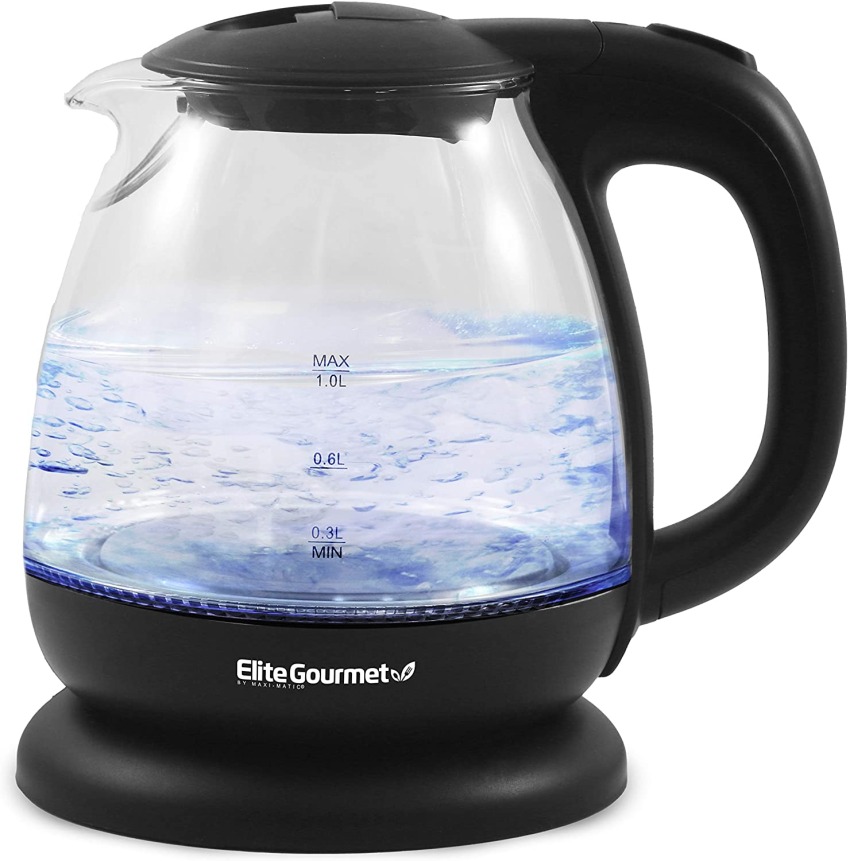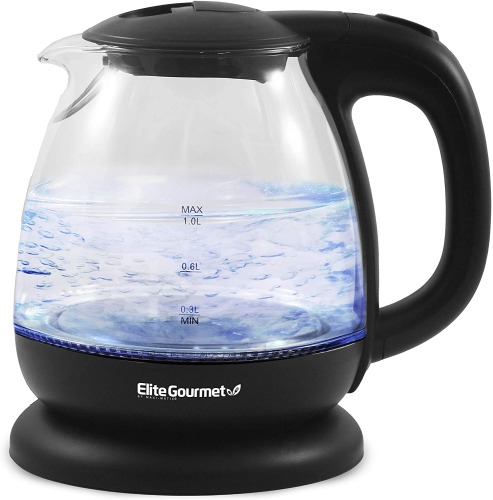 A product by Elite Gourmet, this well-designed piece of modern technology is sure to give you maximum satisfaction while cooking and after. Its usage of 1,100 watts grants you easy and fast cooking which would make your water boiling hot in no less than a few minutes. 
It has an LED light in the interior which indicates that the kettle had been plugged in as well as adds an aesthetic feel to your kitchen. This kettle can be removed from the base, so you can use it conveniently without the cord. 
It also has an automatic off feature which lets it go off by itself once it starts boiling without you having to manually turn it off. This kettle is priced at $18.99 which makes it relatively cheap compared to many other electric water kettles.
---
Ovente Portable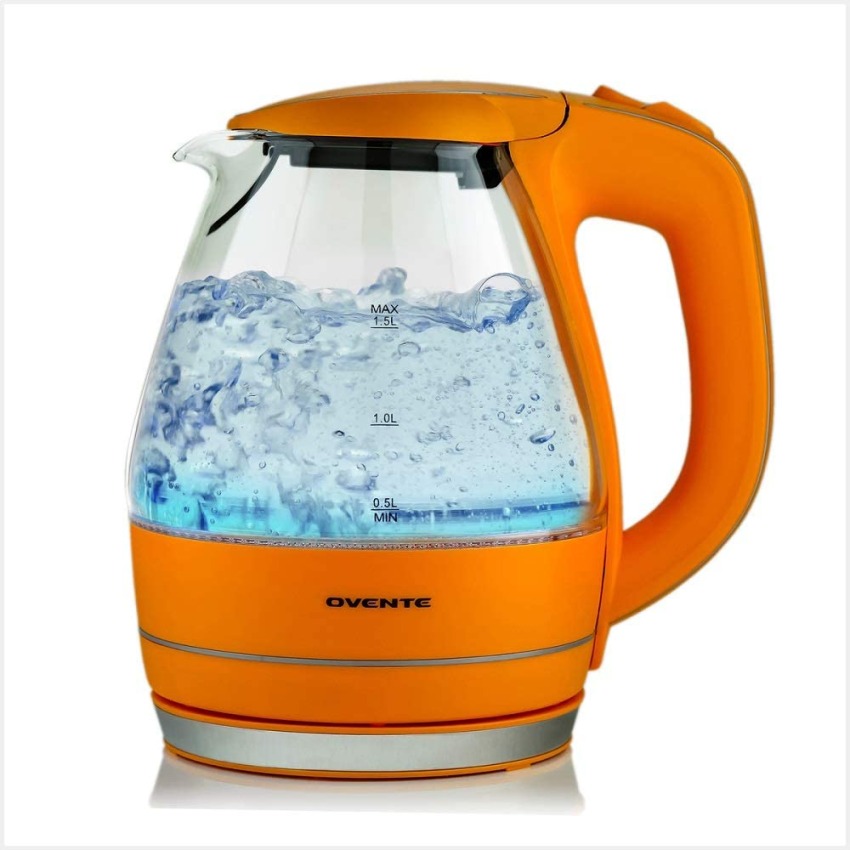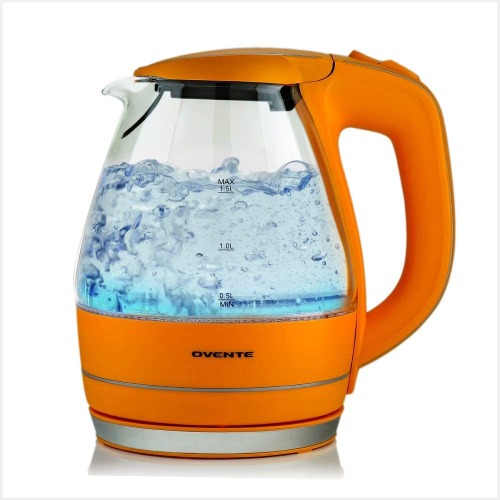 Another splendid product by Ovente, this electric kettle is designed to satisfy all the user's boiling needs within a very short time. This is possible with the 1,1000 Watts and the 1.5 liter which is the maximum amount of water zit can contain, this makes it portable and perfect for just you. 
This kettle also has more features which makes it one of the best electric water kettles today, some of the features are; the automatic shut off button which makes the electric kettle go off instantly once the water is boiling, it would prevent the water from denying up and would let you complete your task at hand without worrying about the water in the kettle.
Another good feature is the environmentally friendly BPA-free system which it adopts. This electric kettle also comes at $18.50 so it is quite pocket-friendly as well.
---
Dezin Electric Kettle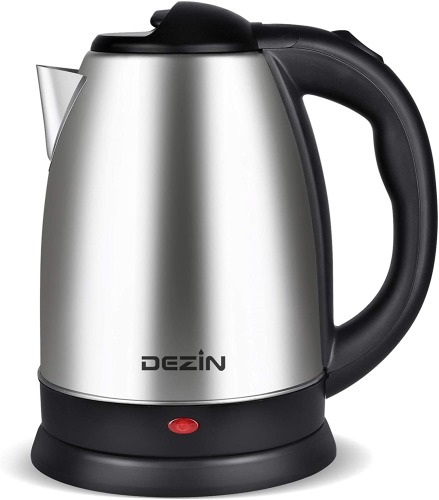 Manufactured by Dezin, this product was well constructed to every last detail. It has a unique design that lets it blend into your kitchen counter because of its stainless-steel color. It is designed with features that make it easy and safe to use, some of which are; the cold handle to protect you from accidental burns, the single switch to change from on and off, the detachable body which can be removed from the base with the cord to help make it easier to move around with. 
This electric water kettle is considerably larger than many others with a 2-liter capacity, you can now make enough tea for the whole family within minutes, furthermore, if the water starts boiling, the kettle automatically switches itself off, this is very efficient and would ease your cooking by a lot. 
This electric tea kettle is sold at a cost-effective price of $22.99.
---
KRUPS BW260850 Cool-touch Electric Kettle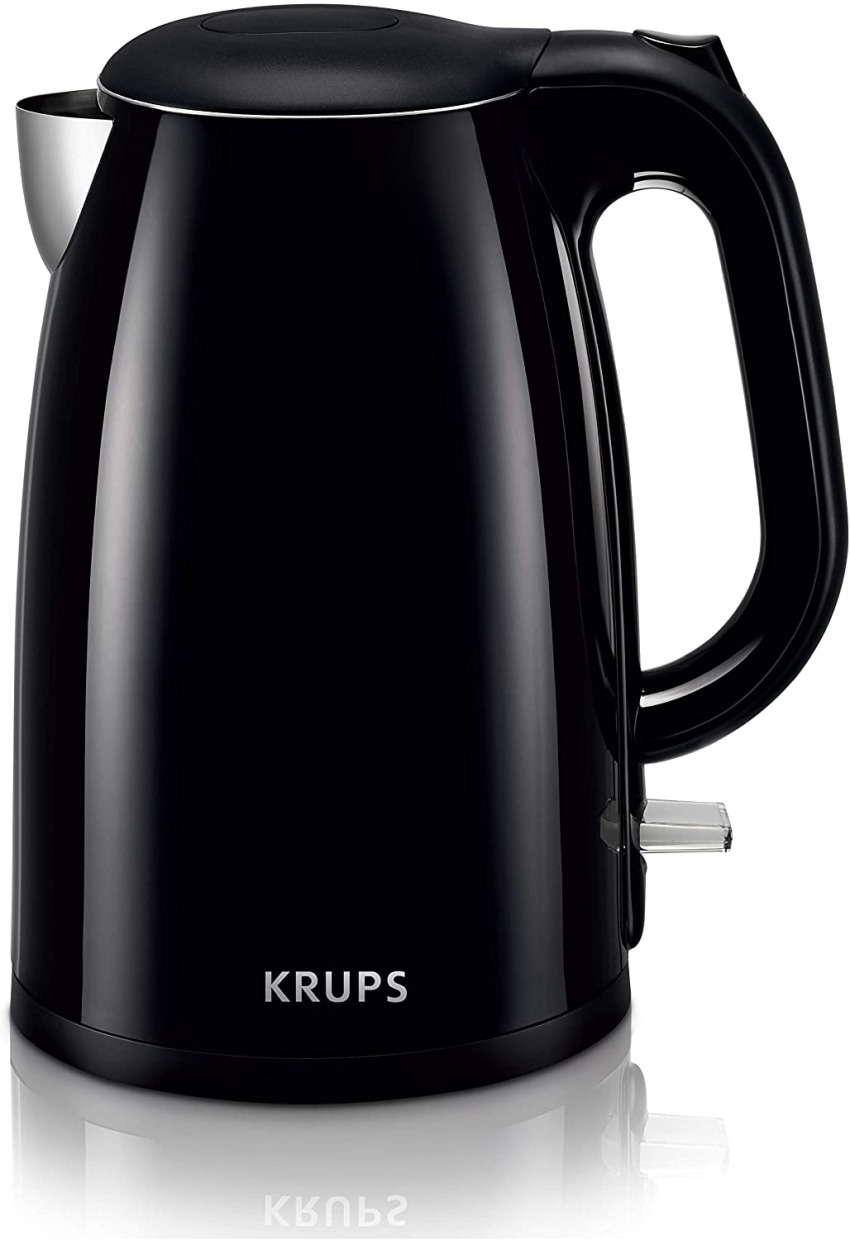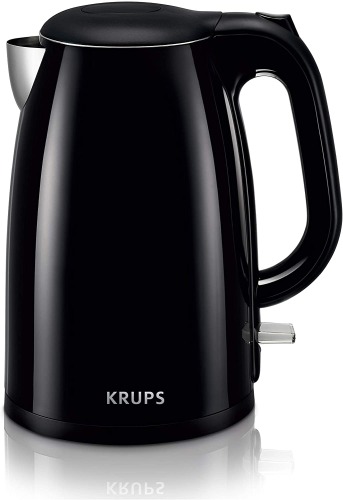 A product by Krups, a company with decades of experience in making your kitchen and cooking experience more enhanced as well as easy as possible. This product is particularly built uniquely, with characteristics such as the double heat layer, this kettle could also conveniently serve as a flask due to the double layer on the interior which lets the warmth remain inside the electric kettle so you can use the water when you are ready.
This electric water kettle also has a body that can be removed moved from the cord base so you can take the kettle to wherever you need to go in your house, without the discomfort that may come with the cord, also with 1,500 watts, your tea or coffee would be ready in an instant. 
The outer part of the kettle, just like the interior, is also made with extra coatings but this time, to prevent the heat from affecting the outer surface and protect you from accidents and burns. This electric kettle is sold at $37.35.
---
MEISON Electric Kettles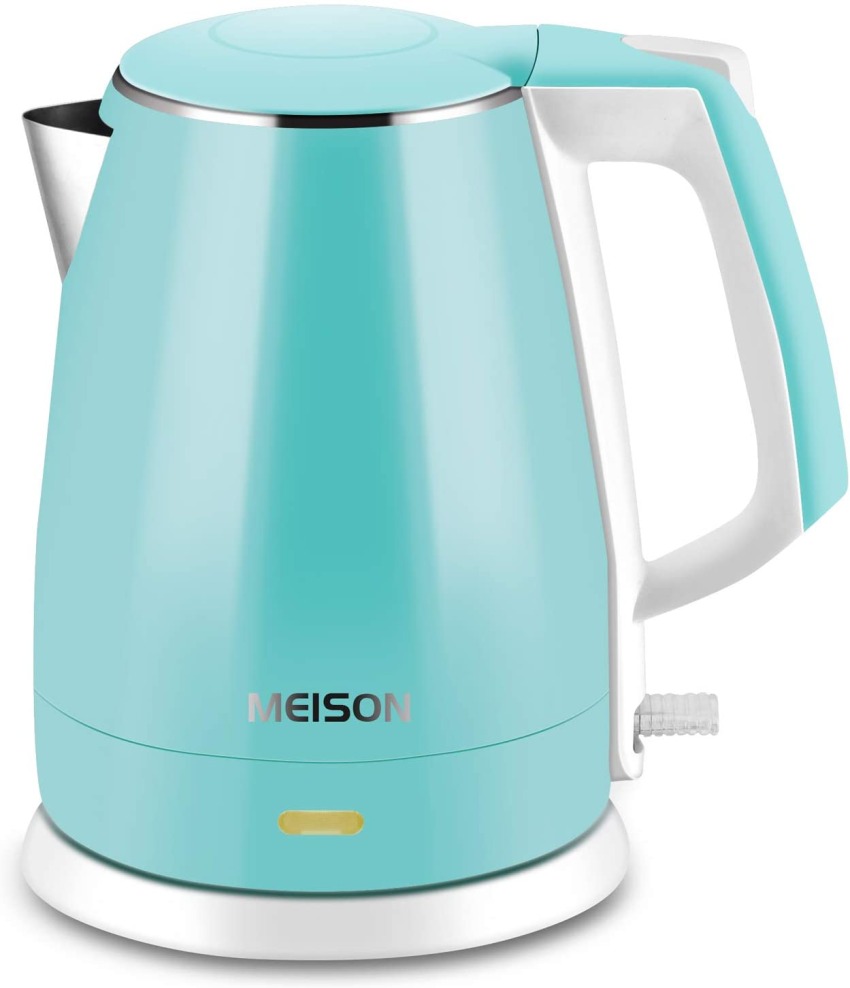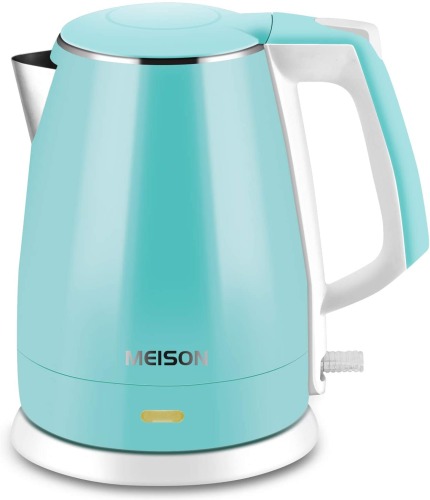 By Meison, this electric water kettle does the job perfectly. It has a design that is jam-packed with useful features to make sure that you get the best electric water kettle. 
The first of the design is the double heat layer which would make your water heated at a faster rate as well as let it stay hot for a longer period. It is sculptured in a way that adds a futuristic and aesthetic look to your kitchen. It also has a separable body that can be removed from the base to ease mobility.
 This electric kettle also has an automatic shut-off feature that lets the electric kettle stop boiling after it has reached the maximum boiling point. It is sold at $25.99 but also comes with a 2-year warranty so you can be well certain that you would be getting a quality product.
---
Zwilling Enfinigy Cool Touch Kettle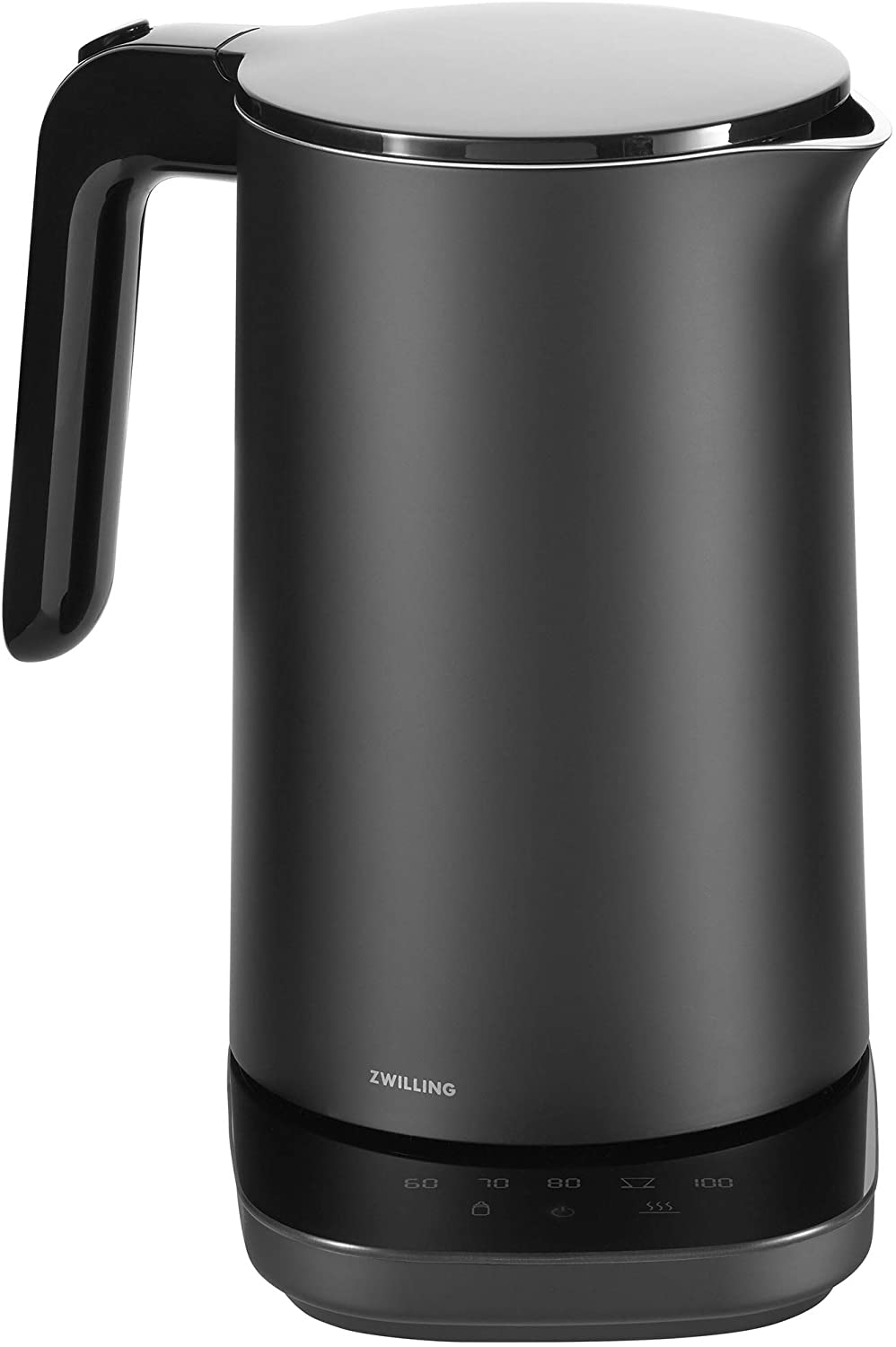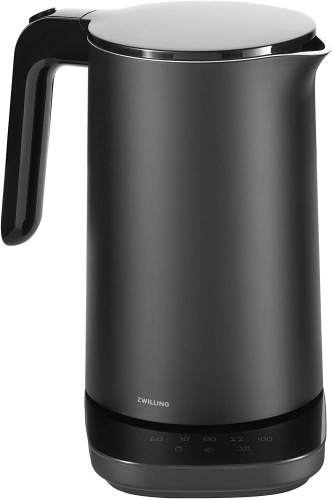 Zwilling must really pride themselves on this piece of technology, it doesn't just let you boil water, it lets you decide how you want to boil the water, with 6 distinct options, this electric kettle lets you boil the water in the most appropriate manner for your beverage, whether tea, coffee, baby food, water for Ramen and so on, you could just go through the settings at the bottom side of the kettle and adjust the temperature to the most suitable option, you could also keep water in this kettle in your desired temperature for as long as thirty minutes.
In addition, this electric kettle is modeled in a way that ensures your safety. It has a cover that shields you from the steam that would come out from the electric kettle. It also has a cold handle and body that would not get hot and lead to accidental burns. This multipurpose electric kettle is sold at $129.95, and with all these functions, you would be getting value for your money.
---
Also check: 15 Best Wine Glasses With Premium Design To Buy In 2022
---
DmofwHi  Kettle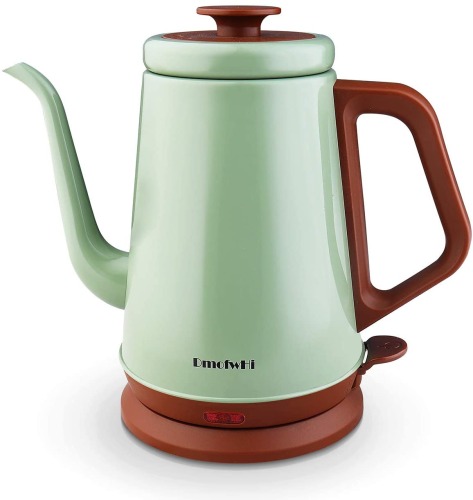 This is a product by FeiweiHome. It has a flawless gooseneck design which makes it easier to pour water into your cup without the worry of splashing on your body. Your water gets purified by boiling it and with BPA plastic-free, you would be drinking nothing but purified water, this is because it is entirely made of stainless steel on the inside with all the heating elements contained therein. 
In addition to getting pure water, you would also be getting the boiling water at a quick pace, this is because this electric kettle also has a 1,360 watts heating capacity so if you are in a hurry to work, you would only need about five minutes to make yourself a coffee. 
This electric water kettle also has the automatic shut-off feature which lets the kettle go off by itself without you having to switch it off manually once it gets boiling to a certain degree. This kettle is sold at $39.99 with the assurance of durability. 
---
GREECHO Electric Kettle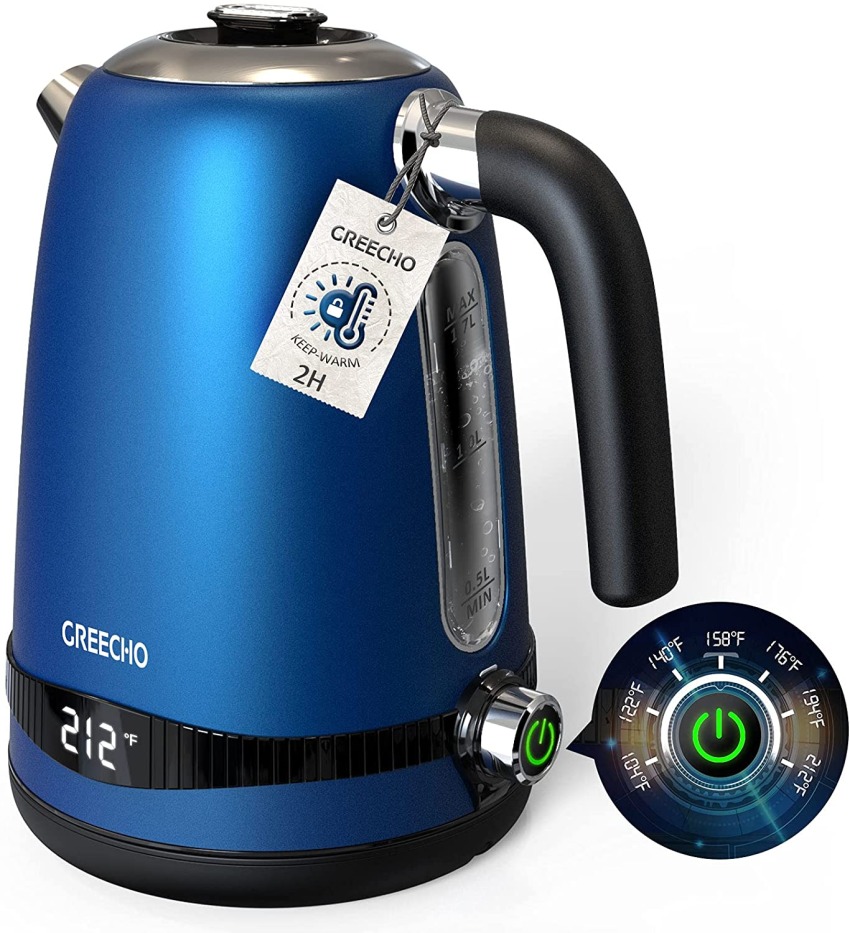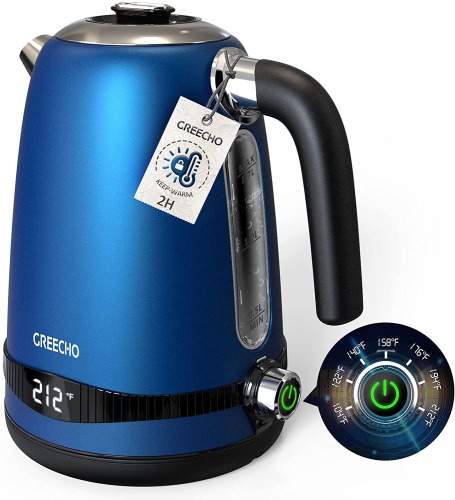 This electric kettle by Greecho is very much capable of sorting out all your hot water needs. It has features that make it quite distinct from other types of electric kettles, one of such features is the LED display that lets you track the water temperature as it rises, not just as an indicator that lets you know that the heating process has begun. 
It is also able to identify when there is no more water in the kettle or when the water has reached maximum boiling capacity and it automatically shuts off. 
This electric kettle has a total of 7 different options for temperature control which is something you definitely do not see every day. It is sold for $39.99, which is definitely a good price for the functions it offers.
---
COSORI Electric Kettle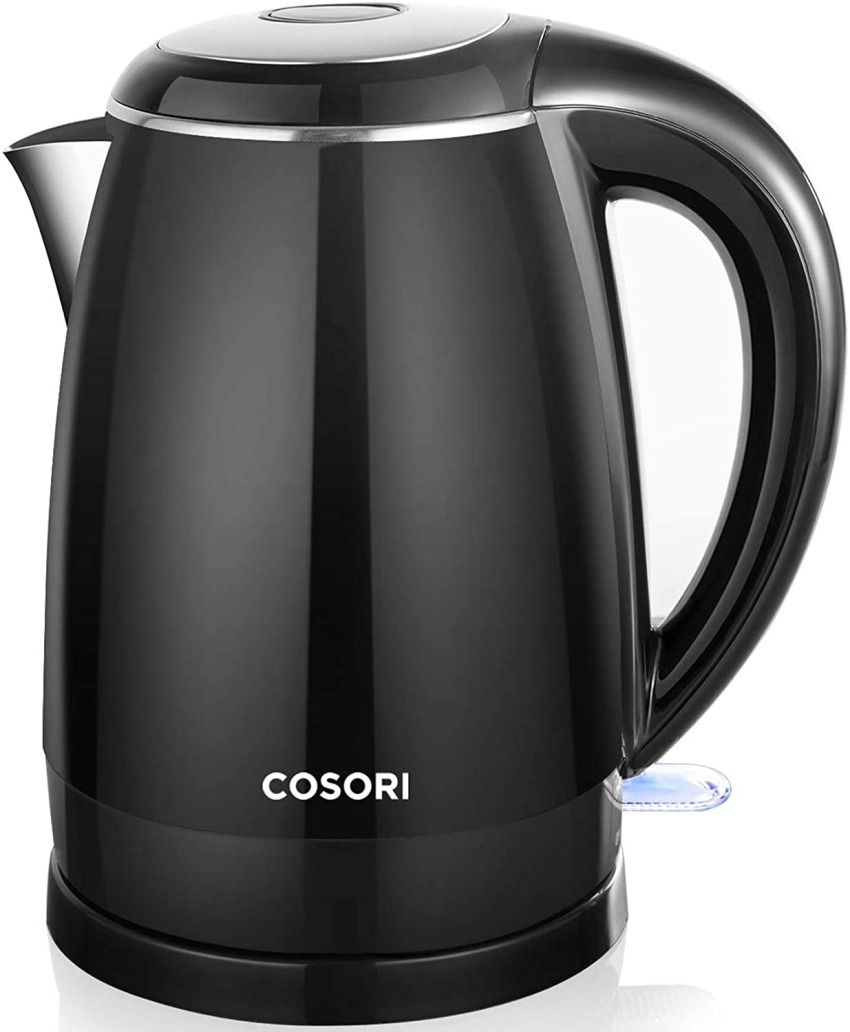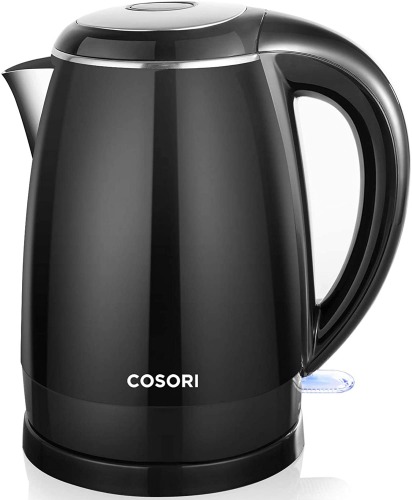 There can be no doubt that this is a quality product since it is made by Cosori- a guru in the art of electric kettle making. This electric kettle has a 1.7-liter filling capacity which makes it enough water to make tea for you and your family. 
It also has the uncommon British Strix thermostat which makes boiling safer, easier and quicker. In addition, it has an automatic shut-off feature and an LED indicator to let you know when the hearing process has begun and with a cool handle, you can move around with the kettle even when the water in it is boiling. 
It is designed with a transparent glass body that lets you see the amount of content in the kettle. This electric kettle is sold for $27.99.
---
BELLA 1.2 Liter Ceramic Tea Kettle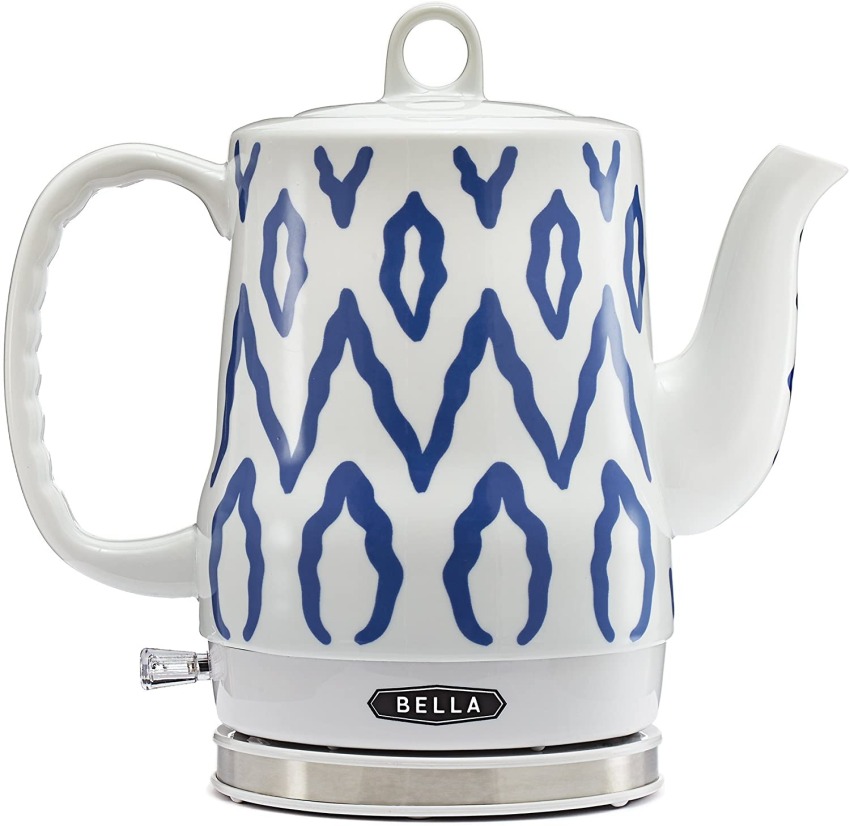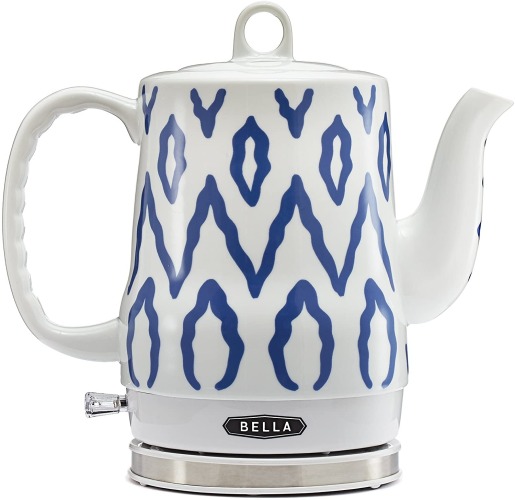 Manufactured by Bella, a brand that is dedicated to helping you make the best of cuisine, this electric kettle has a unique design of ceramic which adds both a fancy and modern look to your kitchen. 
This electric water kettle has a body that can be removed from the corded base with ease, this allows the user to take the kettle as far as possible without anyone knowing that it is even an electric kettle. It also has the automatic shut-off feature that eases the use of manually switching off the kettle once it starts boiling. This kettle is sold at $39.99 which is not too much for the style and class that this kettle would bring to you and your home.
Conclusion
Whether you want to make tea, coffee or simply need boiling water for cooking, abolish the traditional way of using a  stove kettle or your microwave to boil water. The new and modern way is the use of electric kettles and here is a list of the best out of the best electric water kettles that would ensure that you get the most out of your boiling water