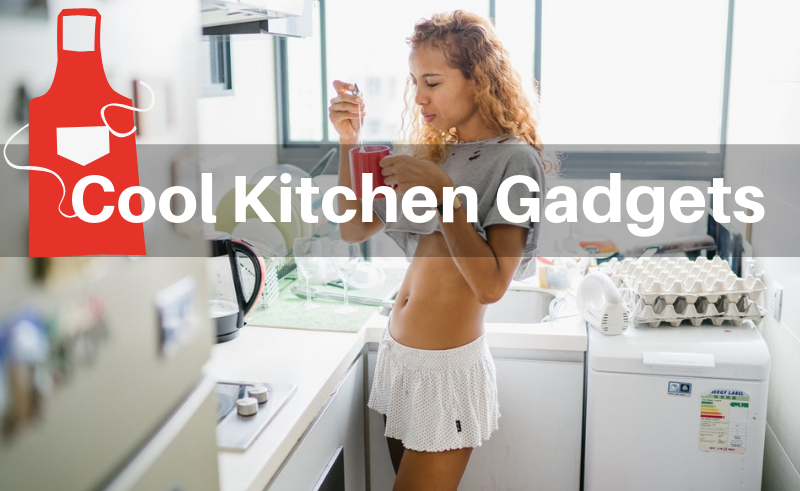 Whether you're an amateur cooking learner or a Master-Chef level aficionado, or just trying to cook food for the first time, you need a dash of cool kitchen accessories in your cooking space to turn your experience in the kitchen a fun-filled one.
From sharpening knives to scooping to essentially self-cooking, there are plenty of amazing kitchen accessories that you've got to have right-away. After all, cooking isn't about simply cooking the meal anymore. Its a whole lot of world of carefully picking up your accessories and tools, the more fancier, the better and utilising them in your odyssey to making a perfectly round fluffy cheesecake!
Below are some of the most amazing kitchen accessories we've scoured for you in this roundup so that you never miss out on your fun-filled journey of cooking.
1. Kitchen Knife Sharpener with Cut Resistant Glove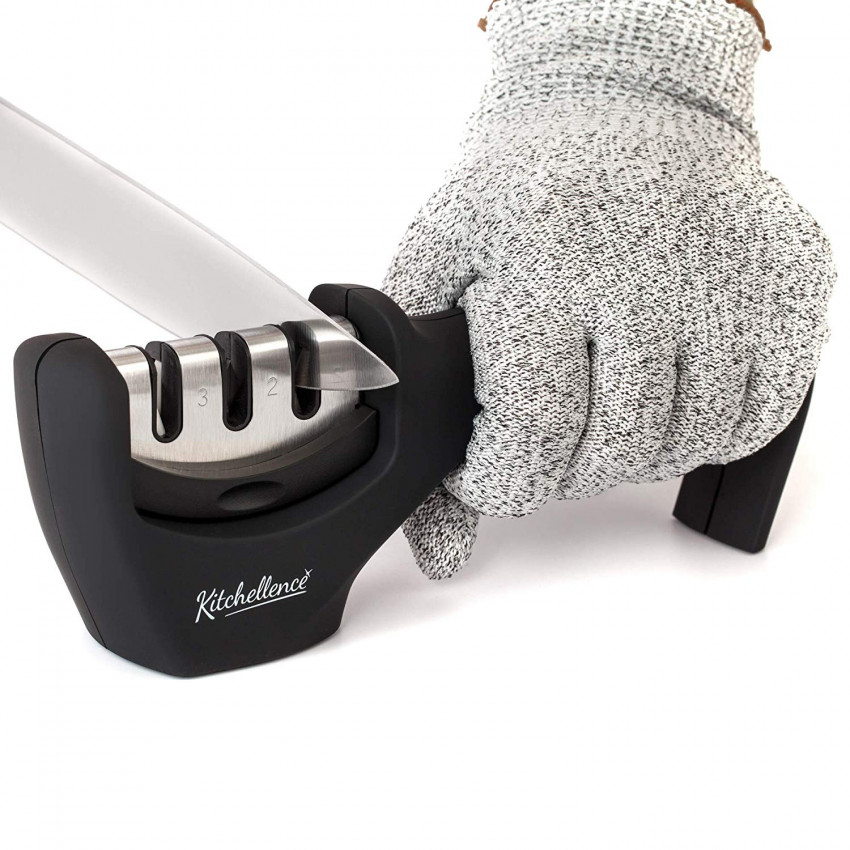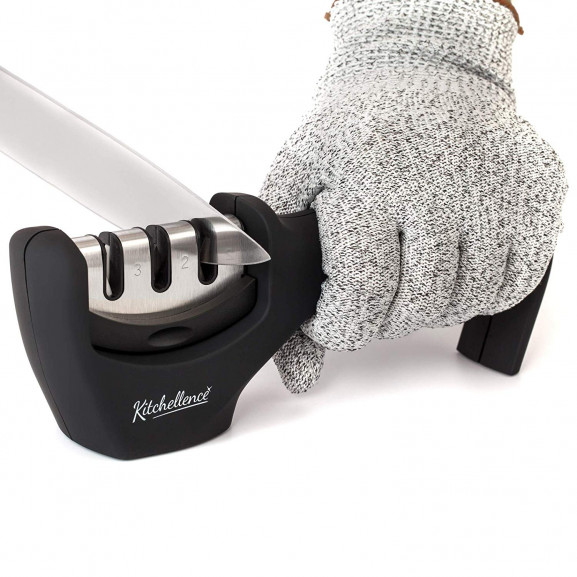 Don't you just hate it when your knives go blunt and almost everything that you want to cut keeps slipping away from the knife? Yes, we hate it too! The Kitchen Knife Sharpener with Cut Resistant Glove is the perfect buy to sharpen all your old knives, without shelling even a single penny on buying new ones.
The sharpener consists of 3 slots for the purpose of straightening, sharpening and clean polishing even the most dull lot of knives. The ergonomic handle is an added bonus which lets both right and left-handed people use the product with same levels of comfort. This knife sharper is an easy and an economic solution to revamp your cutting game.
---
2. Snap 'N Strain Silicone Strainer
Straining your freshly boiled fusilli directly from the pot into the sink is an arduous task. More than straining the water, you'll end up spilling the pasta in the sink in no time! Make your straining game strong with the Snap 'N Strain Silicone Strainer which is designed to fit into any bowl, pot or pan regardless of their size.
Because its made up of silicone, it can be easily stored even in the tiniest corners of your kitchen. BPA free, dishwasher safe and FDA approved, its safe to use and can withstand straining of heavier foods like potatoes as well.
---
3. 360 Degree Kitchen Multi Peeler
Tired of peeling your potatoes with a regular knife? Get your 360 Degree Kitchen Multi Peeler today and start peeling your veggies the way they're supposed to be peeled. Peeling veggies and fruits with a regular knife can also peel away large chunks of edible parts of fruits/vegetables.
The 360 Degree Kitchen Multi Peeler is specially designed to peel off the skin while rolling 360 degrees and skims the uppermost layer only. You can peel, julienne, oval slice or split your veggies and almost everything else that a regular knife won't do easily.
---
4. Super Scaler – Kitchen Skinner/Scaler 
This multipurpose scale skinner and cutter is the perfect buy for a roasted-fish dinner kind of day. Made of stainless steel, this scaler is perfect to scale any fish or peel any kind of fruit or vegetable. Extremely compact and handy, the blades are very durable which are meant to last for a long time.
---
5. Mega Spiralizer – Multi Use Kitchen Spiralizer
Cooking game has moved a notch higher in recent times. Food that looks good, sells more. All the fancy artistry with food we see in 5-star hotels is no magic. Few know that a $3 spiralizer is the trick behind all those curled up carrots and cucumbers showcased on TLC every week.
This spiralizer is the perfect buy for when you want to woo your friends at lunch by showcasing your bit of creativity on the dining table. Made of stainless steel, this spiralizer is meant to last long and will hardly occupy any space in your kitchen.
---
6. Kitchy Pizza / Multi Purpose Cutter
Who doesn't love a cheesy burst pizza brimming with loads of hot, slushy cheese! But sometimes, separating a slice from the other can loom heavy on our ability to enjoy the pizza whole heartedly!
The Kitchy Pizza / Multi Purpose Cutter is perfect when you want to separate those cheese filled heaven-like slices apart. With its ergonomic handle and flawless stainless steel finish blade, you can cut your pizza is just one go without having to cut back and forth.
---
7. 360 Cut – Easy Kitchen Cutting Bowl
Preparing for a huge dinner party? Tired of chopping everything single-handedly? Don't worry, we have you covered with the 360 Cut – Easy Kitchen Cutting Bowl which lets you chop almost everything in just a jiffy.
Whether its makings salads or chopping down hard vegetable and fruits, place the cutting bowl on the ingredients and chop away. This cutting bowl cum strainer also lets you wash your veggies under running water easily. Pick your favourite one from the shades of white, blue or green.
---
8. Crevice Cleaner – Ultimate Kitchen Tool
Tough oil stains are bound to give you a tougher time when you decide to clean them. The Crevice Cleaner – Ultimate Kitchen Tool can scrape off almost any tough stain that has been sitting on your kitchen slap for decades.
An ultimate kitchen accessory, it can also be used to open tough tin cans and bottle caps.
---
9. HandySlice – Watermelon Slicer
As much as we love ourselves a watermelon on a hot sunny day, admit it, this fruit is a hard one to crack open. The two-in-one HandySlice – Watermelon Slicer combines the functionality of a knife with the handiness of tongs to easily serve slices of watermelon.
With ergonomic curved handle for an easy grip, this slicer is made of stainless steel and is dishwasher safe. Durable and easy to use, cut away juicy slices of watermelon without worrying about any mess.
---
10. MeatClaws Meat Shredders
Become a grill master with these MeatClaws to shred the toughest of meats to pieces. Wolverine shaped claws let you shred that gorgeous piece of tasty smoked pork while, also satiating your deep desires to be Hugh Jackman's signature Marvel superhero.
Not just a shredder, these claws can also be used to mix any kind of salad or spaghetti in the most efficient way possible.
---
11. SpoonRest – Silicone Spoon Ladle 
The multipurpose fashionable Silicone Spoon Ladle comes in variants of blue, green, red and orange. They are a perfect ensemble for your kitchen use and can be used for varieties of purposes.
Heat resilient and durable properties make it an ideal accessory for you to lay our hot pans or bowls and make your dining experience more vibrant.
---
12. Fold-A-Funnel Portable Funnel
Pouring a fluid from one bottle to another is no less than climbing a mountain top! With Fold-A-Funnel Portable Funnel, pour almost any liquid from one bottle to another without worrying about making any mess.
Available in varieties of colors, these funnels are silicone based, light-weight and can be fitted in as least space as possible.
---
13. Ant Army Food Holders
Get creative in your food preparation game with these super adorable Ant Army Food Holders. When displaying food for guests becomes mundane with your regular accessories, switch to these holders for enhancing your dining experience even more.
Extremely durable, the holders are made in the shape of ants and have a pointed top to fix snacks onto them. Perfect for home use as well as gifting, your guests are just going to love you!
---
14. Hedgehog Cheese Grater
Who would've thought grating cheese can turn out to be such a quirky experience! These quirky little cheese graters are super cute and have sharp blades to grate cheese perfectly.
Not just cheese, grate anything and everything with these graters with absolute precision and perfection. Time to toss your old grater into the bin!
---
15. RunnyNose Egg Yolk Seperator
Eggs are one of the most versatile food item there is in the entire world! From omelettes to French toasts to tasty cheesecakes, eggs have taken over the world on account of their utility.
While we love cake and cake has eggs in it, separating the yolk from the egg white is not always a piece of cake. The RunnyNose Egg Yolk Seperator is the perfect tool to separate the two parts of eggs without any hassle.
---
16. Panda Stamp Bread Shaper
Who doesn't love pandas! The black and white fluff balls are just too difficult to not love! The Panda Stamp Bread Shaper is the perfect kitchen tool to spice up a nice and a hot cheese sandwich.
Kids who throw all types of tantrums while eating food are going to love this simple trick their moms do to make their eating experience a fun-filled one!
---
17. Auto-Stir Automated Pan Stirrer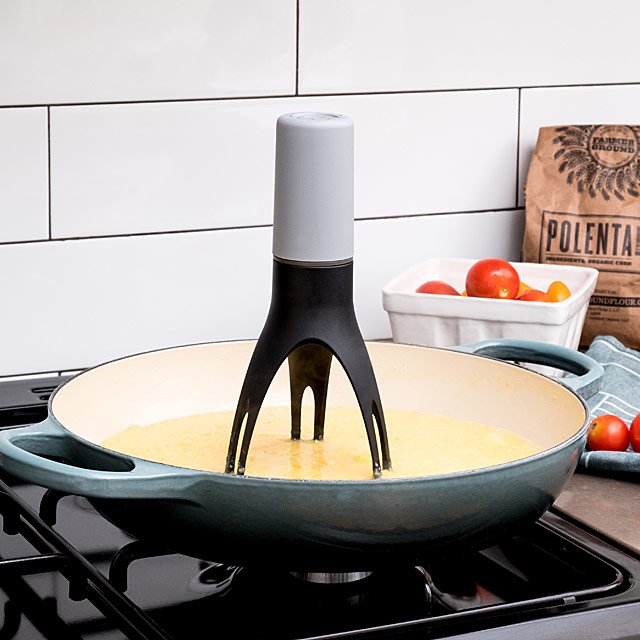 Instead of eyeballing your vegetable soup every now and then, use this nifty stirrer to keep things on the move. For those recipes that call for continuous stirring, the cleaver time and arm saver, Auto-Stir Automated Pan Stirrer is a big time saver.
Place it in your pan with any simmering or low-heat liquid, set the timer, and go do the million other things you need to do.
---
18. Unzipper Glass Zip Candy Holder
Made to look like any regular zip-lock plastic bag, this Unzipper Glass Zip Candy Holder is an unconventional contemporary piece of art to include in the ambits of your kitchen.
Typically used for storing small items, its an ideal place to store candies, cookies or chocolates for your mid-night sugar cravings.
---
19. Darth Vader Bread Toaster
This one of a kind toaster serves two purposes: it lets you toast breads, waffles and muffins and, makes you slip into the oblivious fantasy universe of Star Wars while your bread gets toasted for your breakfast.
Automatic manual switch-off and adjustable thermostat, this toasts your bread upto the right temperature with right crispiness. All the die hard Star Wars fans, this is your go to kitchen accessory!
---
20. R2-D2 Measuring Cups
All the Star Wars fans out there, if you have any Star Wars memory left to be rekindled, then this is a must have for you. Perfect for kitchen use and an amazing gift item, the R2-D2 Measuring Cups let you measure grains, pulses, flour to almost any kind of liquid.
---
21. Squeeze N Pour Measuring Cup
This honeycomb patterned silicone based measuring cup is a multifunctional accessory of your kitchen. It lets you measure almost anything with accurate precision.
Microwave safe and BPA free, melt away any frozen item in this cup by placing it in the microwave. Measure your cake batter the next time before baking to get a perfectly round fluffy chocolate cake.
---
22. Super Chop Potato Fry Shaper
We all tried making McDonald's style French fries at home but miserably failed. For making the perfectly elongated and thinly sliced, restaurant like French fries, use the Super Chop Potato Fry Shaper the next time you're about to make them.
Stainless still blades and super sturdy PVC lets you spice up almost every vegetable and fruit.
---
23. Skull Chill Ice Cube Maker
With your regular ice tray next time when you invite some friends over for a cocktail party. The uniquely eerie Skull Chill Ice Cube Maker adds a dash of style to your drinks.
Fill in the tray with colorful fruits or herbs to enhance your beverage. Since the ice tray is made of silicone, you can even make candles, jellos, chocolates, soaps and much more in them.
---
24. Quick Press Dumpling Maker 
Dumplings have been around for centuries now and thanks to the Chinese food techs, they are more famous in the word today than they ever were. The Quick Press Dumpling Maker is an extremely easy way to make your own set of perfectly shaped dumplings at home.
Why shell out extra bucks for a plate of dumplings when you can easily make them at home with this amazing kitchen gadget!
---
25. Joie Egg Separator
Egg separating hacks are all over the internet today. Rather than trying out new time-consuming methods to separate the yolk from the egg white, why not just buy a $5 tool to do the job for you!
The Joie Egg Separator will separate the components of an egg in a jiffy to save you loads of extra minutes on your way to your office after breakfast.
---
26. QuickStop Wine Spout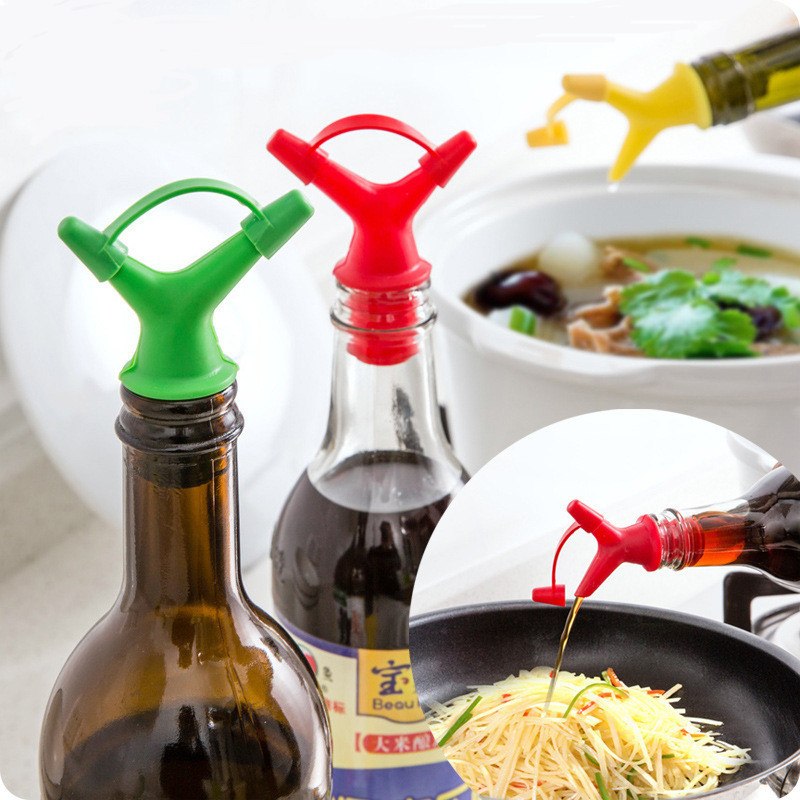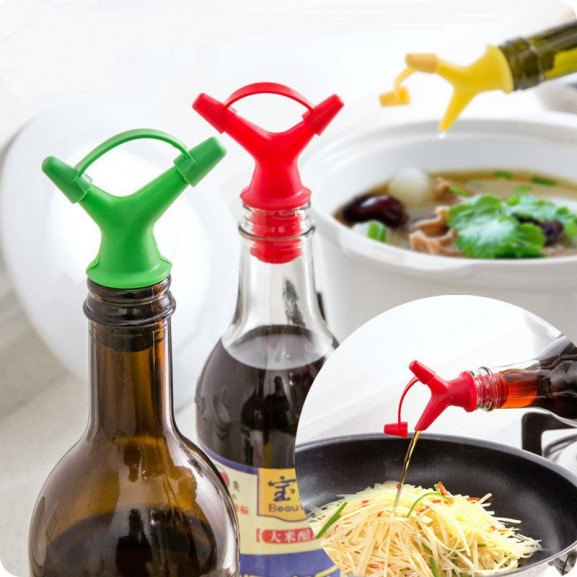 We know how much you regret pouring extra wine in your friend's glass because the mouth of the bottle is just too big! Well, to have that under control, there's the QuickStop Wine Spout that'll let you pour exactly what is required.
Compatible with almost any type of bottle, use this stopper on your oil, wine or juice bottles and get more judicious at saving.
---
27. Press N Spray BPA Free Lemon Sprayer
The Press N Spray BPA Free Lemon Sprayer has literally revolutionized the traditional lemon squeezing method. Who needs to squeeze lemons anymore with this sprayer handy.
Use this sprayer with almost any kind of citrus fruit to enjoy a more convenient way of juicing the fruit. If you're a nature junkie and love inculcating lemon in our beauty regime, spray some lemon essence on your face with this sprayer and feel fresh all day long.
---
28. Kliner Home Butter Churn
If you've ever made butter using a mason jar, a marble, and some heavy cream, this is basically the same thing but less labor-intensive. You can have fresh, hand-churned butter in just minutes by using this crank, or you can use it to exhaust your child when they have too much energy.
---
29. Easy Clean Veggie/Fruit Brush 
Fruits and veggies are loaded with heaps of unwanted chemicals and pesticide nowadays. No matter how much you wash them, there are certain harmful elements are bound to stay back no matter what.
Use the  Easy Clean Veggie/Fruit Brush to get the toughest lot of chemicals out of the vegetable's skin to live a healthier lifestyle.
---
30. Happy Eggs – Custom Egg Shaper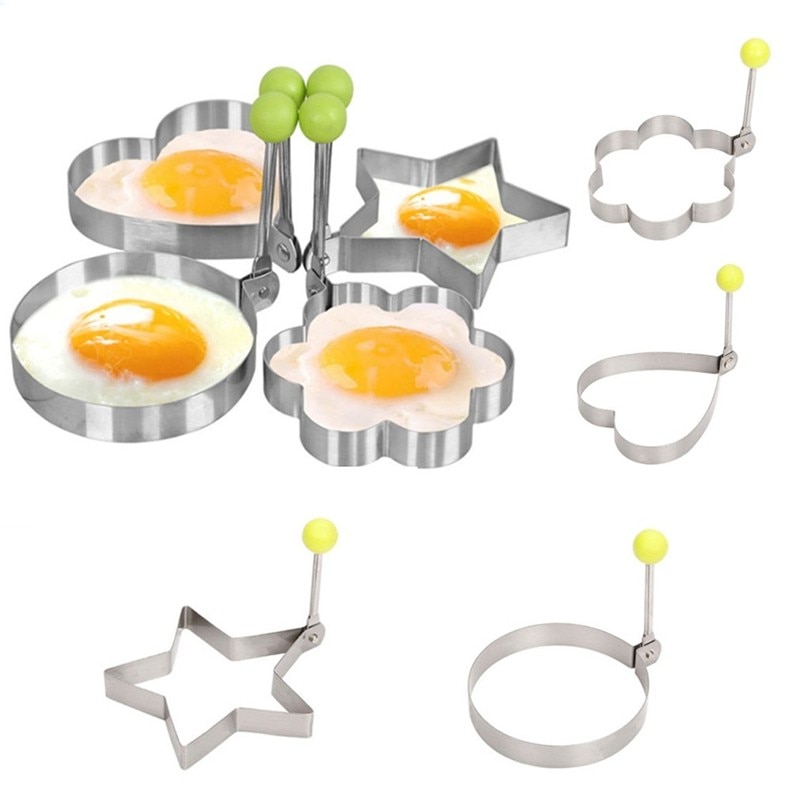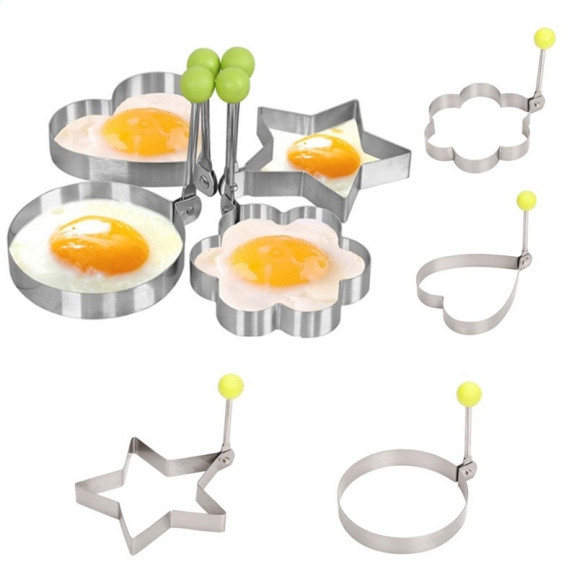 Sunny side up is a lot of fun for kids when it comes in all shapes and sizes. An easy and a fun-filled way to teach shapes to a toddler, the egg shaper comes in the shapes of star, heart, circle and flower.
Top any dish with cute looking custom egg shapes to win the hearts of your guests.
---
31. Hamilton Beach Multi Breakfast Sandwich Maker
Continuously running out of time in the morning? Are you constantly skipping breakfast to reach your office on time? With the Hamilton Beach Multi Breakfast Sandwich Maker, make breakfast for upto two people in a jiffy and never run late for office ever again.
---
32. Panda Guard – Kitchen Sink Splash Guard 
Its exasperating when you bend over the sink to wash dishes and instead, end up splashing water all over your dress! For times like these, use the Panda Guard – Kitchen Sink Splash Guard to save your expensive dress from unwanted spillage.
Extremely convent to use, this splash guard can also be placed between you and the stove for times when heavy oil usage is involved.
---
33. Infrared No Touch Kitchen Thermometer
The Infrared No Touch Kitchen Thermometer is extremely handy especially when you're on a kitchen equipments maintenance task. It lets you monitor the accurate temperature of a utensil and tell you whether its past boiling point or below freezing point.
The LCD screen is backlit, it also has an auto-off function to extend the battery life, and features a low battery indicator so you never accidentally run out of juice.
---
34. Cat Butt Kitchen Magnet Set
A set of 6 different types of cat butt magnets, these magnets are absolute essentials for your kitchen decor. Extremely handy for sticking up important notes or photographs, these magnets are very strong and durable.
Perfect buy for cat lovers, these set of hilarious cat backs are a purrfect way to share a laugh with your friends and family.
---
35. Easy Clean – Dishwasher Magnets
Extremely handy and easy to use dishwasher magnets come with the labels of 'dirty' and 'clean'. You can label your dishwasher according to the level of its cleanliness and let any outsider know to not disturb the dirty dishes.
---
Fully stocking an efficient kitchen with accessories doesn't have to be frustrating or cost a lot of money. By purchasing only high-quality multi-purpose items that have a strong value proposition, you can end up with a fully stocked kitchen that will last a lifetime (without costing you an arm and a leg!).