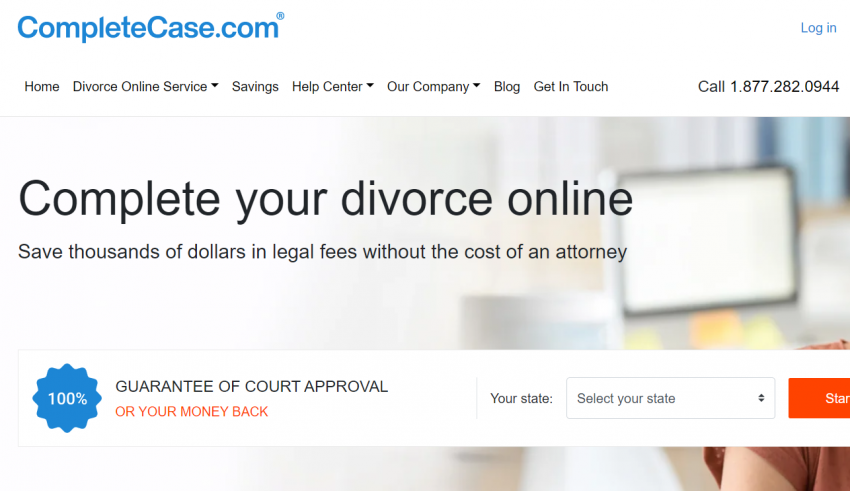 Let us introduce you to the company considered one of the best online divorce websites. In this CompleteCase review, we'll try to clarify the concept of completing divorce online, understand the reasons for the popularity of online divorce services, and consider the main features and advantages of this particular platform among the others.
CompleteCase.com is a leading uncontested divorce preparation service with 20 years of experience, providing its solutions all over the US and Canada. The company pledges to make the uncontested divorce process as swift and inexpensive as possible. Thus, CompeteCase offers all the relevant legal forms required by any court within the US and Canada for the cheap price of $299 and in a maximum of two days – which is definitely the shortest term. Sounds impressive, doesn't it? But first things first.
Let's learn more and start our CompleteCase divorce review by finding out what is an uncontested divorce, what are its peculiarities, and what conditions should be met to prepare the divorce paperwork online.
Uncontested Divorce Overview
Divorce litigation is considered to be a "traditional" method for dissolving a marriage. Nevertheless, fifty years of no-fault divorce have changed the US family law and legal procedures considerably.
Since Ronald Reagan signed the first no-fault divorce statute in 1969 in the state of California and other states have enacted similar legislation, the process of simplification of marriage dissolution began. Along with it came the tendency to decrease spousal hostilities and lower litigation costs. And though no-fault divorce is not the same thing as uncontested divorce, the growing popularity of no-fault divorce has given rise to increased interest in an uncontested divorce, as well as the development of related tools and solutions.
Nowadays, in the US, only about five percent of divorce cases go to trial. The other 95 percent are uncontested, meaning that the spouses settle their differences out-of-court by other methods like divorce mediation, arbitration, collaborative divorce, or online divorce.
An uncontested divorce is the main way to make the divorce process more straightforward. While contested divorce typically takes about one year or even a few years (especially in big cities), an uncontested divorce can be finalized in a few weeks or months, depending on the regulations of a particular state. And where litigation is expensive because both spouses usually hire attorneys who charge hourly fees, an uncontested divorce is much cheaper, and in theory, can be almost free. Still, we should emphasize "almost free" because each US court requires the plaintiff in a case to pay a court filing fee (from $50 to $450 depending on the state), which is mandatory for everyone except those who qualify to waive it due to indigency.
So, saving money and time are the main reasons for the popularity of an uncontested divorce. However, we should not also forget about the moral damage usually caused by divorce proceedings to both spouses and especially their children. Long-drawn court battles often mess up the spouses' relationships, even if things were quite smooth right after the actual separation. On the contrary, an uncontested divorce is often called "peaceful" and even "amicable." The rules to which this procedure is subject, as well as all various related services, are aimed at facilitating the interaction of spouses, instead of confrontation.
So, in an uncontested divorce, the couple is required to make a Settlement Agreement. This is a document in which the spouses define the terms of their agreement on a full range of dissolution matters, including alimony, property division, and any other issues that are relevant to the certain case. Child custody, visitation, and support can be allocated in a separate document called a Parenting Plan, but the rules vary from state to state. To go with the Settlement Agreement, the plaintiff in a lawsuit has to collect, fill out, and submit all the needed divorce forms with the relevant court.
The American legal system encourages divorcing spouses to cooperate. We can see this in the example of custody. Most states presume co-parenting after divorce to be in the best interest of a child. However, arranging an uncontested divorce is still no picnic. Negotiating with your soon-to-be-ex can be truly exhausting, and handling the paperwork can be a complicated task.
The alternative divorce methods mentioned above – collaborative divorce, mediation, online divorce – are committed to helping spouses go through an uncontested divorce without a lawyer. They are a middle ground between the traditional divorce where the lawyers act on behalf of the parties, and a purely do-it-yourself divorce when the spouses do not resort to any help at all.
Today we are talking about online divorce, and about CompleteCase.com, in particular, as one of the helpful resources available for uncontested divorces. Even though companies like CompleteCase have been involved in the online divorce industry for about 20 years, many people are still wary of the concept of online divorce. Let's clarify some of the questions that arise in this context.
---
Is Online Divorce Legal?
The term "online divorce" may be confusing. Some people think of online divorce as getting a divorce decree over the internet, so they wonder: "Is it legal at all? Can this service really grant a divorce in a couple of days?" They think, "The law of my state claims that I should actually file for divorce in the court! And there is a waiting period after filing! Is this a scam?"
It is a misinterpretation of the term which leads to the confusion. Although, in some states, electronic divorce filing is recognized, and you may apply for a divorce online, it is still not a pure internet divorce. Online divorce does not mean getting a divorce online. It is simply a divorce method for completing all the needed legal papers, which is also the most essential part of an uncontested case. CompleteCase is a document preparation service. And using CompleteCase is an entirely legitimate way to prepare for an uncontested divorce.
The plaintiff has to sign, notarize, and file the documents in paper form, but there is nothing illegal about him or her filling out the forms on their own without the help of an expensive attorney. In general, uncontested divorce attorneys charge an average of about $1,000 per case ("flat fees"), which is much more expensive than the best online divorce services.
---
How does Complete Case work for divorce help?
CompleteCase takes on all the paperwork matters of your divorce case. Since family law is state-specific in the US, there is no single divorce route for everyone. Divorce laws, regulations, and forms vary from state to state and even from county to county. Also, each couple is unique, and even a rather simple divorce case may require plenty of different papers to be completed. Add to this the need to draw up a Settlement Agreement, and an uncontested divorce no longer seems so easy. Preparation for the procedure takes a lot of time and nerves, especially for an average person without a legal background.
CompleteCase saves you from having to learn the laws and from having to sort out which papers are needed. CompleteCase even guarantees that the court will approve your divorce forms on the first try. And this is important since even the tiniest mistake on a legal form can lead to you having to start the whole process all over again.
The main requirement of the court is that the full set of documents must comply with the state's templates and be filled out correctly. CompleteCase promises to provide this in record terms.
---
CompleteCase.com  | Basic Information
In 2000, CompleteCase.com became the world's first website to offer online divorce preparation, and it is still the leading provider with more than 700,000 users to date.
The CompleteCase website is user-friendly, and the operation principle is straightforward:
First, you have to determine your eligibility for an online divorce by answering a few simple questions on the home page (spoiler: almost everybody is a good candidate to proceed with the help of CompleteCase if the divorce is uncontested).
Next, you answer a list of questions in a more detailed interview. This information is needed to make the complete portrait of your divorce and to select the necessary forms and documents. Residency of the parties, marital property, active military duty or veteran status of either spouse, income sources, children of the marriage, any prior agreements of the spouses as well as other important conditions and circumstances are identified using the questionnaire.
Once the interview is completed, you can pay a processing fee and let the process start. The price is only $299. So the customer saves up to 93% compared to the $1,500-3,500 paid to an attorney for the same scope of services.
And then, you get the completed documents. Print the forms, sign, and follow the instructions provided on how to file the papers with the court.
CompleteCase customer support is available throughout the entire process by phone or email. CompleteCase can even get you access to legal advice from lawyers in the customer's area, if needed.
Additional services include last will and testament completion and storage.
How Does CompleteCase Stands Out From Competitors?
Pioneer in the Field
Experience matters. CompleteCase has been engaged in the online divorce business for 20 years and was a pioneer in this field. CompleteCase has established itself as a reliable company that values its reputation and continuously strives to improve the quality of services provided. CompleteCase has a great rating on Trustpilot, has received many positive reviews by its users and well-known trusted media services, and has even been called a reliable assistant in bureaucratic issues by family lawyers. The service is also accredited by Better Business Bureau with an "A" BBB rating.
Here you can find another great review of Complete Case:
https://www.wealthysinglemommy.com/complete-case-review/
More new online divorce websites pop up each year. In this information world, it is reasonable for people to be afraid of scams and paying money to bogus companies while looking for the perfect DIY divorce kit. With CompleteCase, you don't have to worry about it.
Professional approach
Each step of the CompleteCase operation was thought out in detail and authored by qualified lawyers. All the requirements and regulations of each American county or Canadian province are taken into account so nothing will be missed and you will always get the proper forms. CompeteCase experts regularly monitor all updates and amendments to the codes and statutes and adjust their templates accordingly.
You will have access to your CompleteCase.com login for 30 days. So you can postpone the process if you need to clarify some matters about your case. And after receiving your forms, you can review the forms and make changes or additions if needed. The client also gets the last word.
CompleteCase, in turn, ensures that the court will accept the provided forms. Otherwise, CompleteCase will take on all the necessary changes at no additional cost or offer a refund.
Go here to read a complete review of another great online divorce service called OnlineDivorce.com:
https://www.reviewsxp.com/blog/onlinedivorce-com-review/
Superfast process
Website statistics show that the average time needed to go through the CompleteCase process is only 27 minutes.
Considering the vast amount of data that is taken into account when preparing the forms, this is a testament to the competency of the questionnaire and clear instructions. Not all divorce filing services can show the same result. With CompleteCase.com, the online divorce service is not only much easier and faster, it is also much more stress-free than filling out the forms by yourself.
Completed printable divorce forms are available to the user within no more than two days, regardless of which state or province is used for the filing.
Security
Preparing divorce documents requires providing a lot of personal information. CompleteCase does not ignore this fact and strives to keep all the data confidential and private.
The website is protected by Verisign, a global authoritative domain registry that enables the security, stability, and resiliency of key internet services. The site is tested daily and audited by McAfee Security, and its servers are housed in one of the most security-conscious data centers in the US.
Help available for all uncontested divorce cases
Unlike some other online divorce companies, CompleteCase is available for any couple seeking an uncontested divorce, regardless of whether they have minor children from the marriage, a lot of marital property, or if either party is applying for spousal support, etc. They have all the necessary documents for any situation.
The divorce platform takes on the cases which are more complicated than those you can handle by yourself. And that is the point of using an online divorce service for the preparation of your divorce papers.
Moreover, the spouses who have not yet reached an agreement concerning their finances, estate, or child custody and support, may use CompleteCase to sort out these details, organize the information they need for their agreement, and learn more about divorce law in their state.
---
Key Findings
With 20 years of experience, excellent reviews, and professional and dedicated customer service, CompleteCase is your reliable partner to start the divorce route. The website is full of useful information, not just a bunch of advertising slogans, so you can get all the answers to your questions and decide whether this option suits you before you pay.
The processing fee covers not only the completed divorce forms but also child support calculation, step-by-step filing instructions, 30-days access to the documents with editing ability, and customer support via phone or email. There are no hidden fees or other unpleasant surprises.
You can safely entrust your uncontested divorce to CompleteCase, whether your case is simple or not. If you have reached an agreement with your spouse to proceed without litigation, handling your paperwork will not be a problem for CompletCase.com.