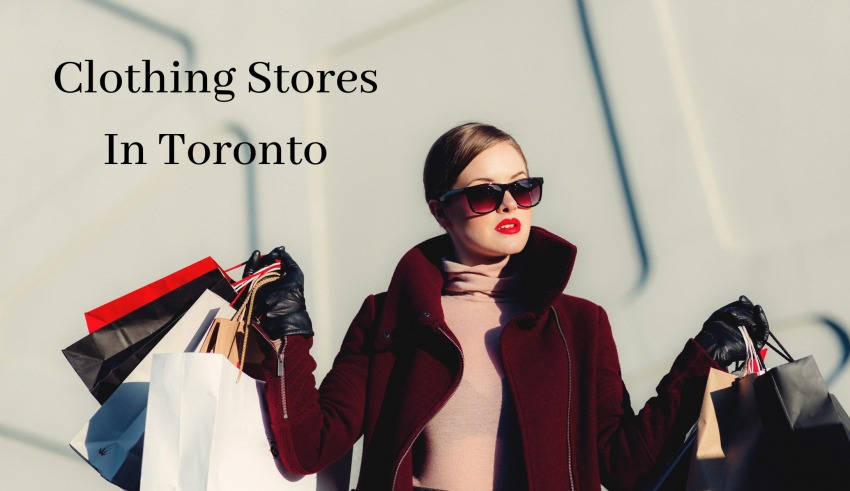 Toronto may not be the fashion capital of the world, but it's nowhere behind when it comes to chic and comfortable style. Toronto is loaded with several stores with the latest fashion collections that can dig out your inner Audrey Hepburn. From all genders to all sizes in all styles, there's something for everyone! However, with so many stores in every nook and corner, it can be challenging to draw a line between the wheat and the chaff. Whether you are a local or a tourist in the hunt for Canadian clothing souvenirs, save some room in your suitcase. We are here with the 10 best clothing stores in Toronto.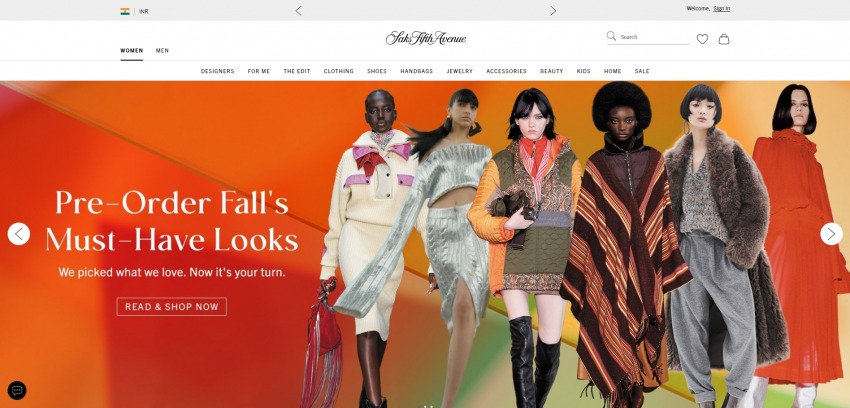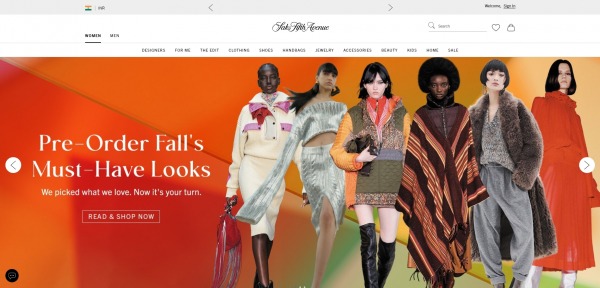 If you want a break from the Canadian homeliness and chic looking for a New York vibe, Saks Fifth Avenue is the place for you! You can head over to the old downtown location of Hudson Bay to find this super trendy clothing store waiting for you. The clothing store has a large space, making it the perfect place for some retail therapy. With more than 1000 clothes and shoes on display along with complementary accessories and more, it can be considered the perfect ground for men and women who like to dress up and look top-notch.
Moreover, this luxury clothing hub spot has something in store for everyone, from men to women to children. And the best part is, Saks Fifth Avenue provides its shoppers with personal shoppers and stylists to enhance the shopping experience by helping one decide the right piece for them or perhaps, the perfect gift item for a beloved. So for those of you who are indecisive when it comes to shopping, you are definitely in for a treat. Being one of the best clothing stores in Toronto, Saks Fifth Avenue meets customer demands by opening all seven days a week. So chase your Carrie Bradshaw dreams by visiting this.
---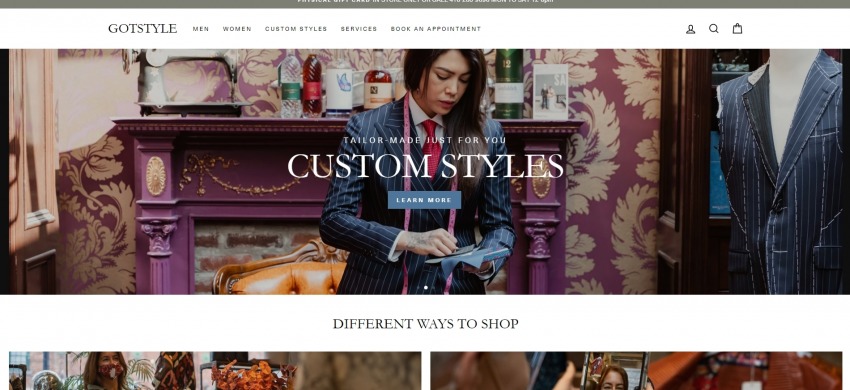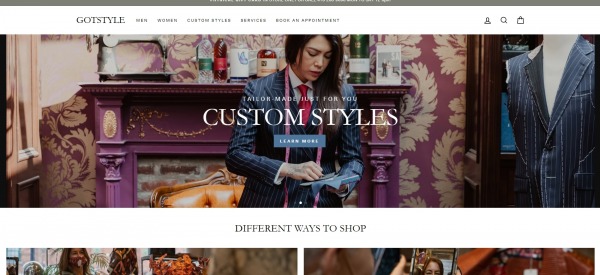 Men have always been underestimated and ignored when it comes to shopping for clothes. And while it's true that not all men are shopaholics, but everyone wants to wear something good-looking and of high quality. So if you're a man looking for trendy and premium clothing, the Gotsyle clothing store has got you covered. This all-in-one clothing store tailored for the needs of men has something for every occasion, be it social, casual, or business clothing.
Not just limited to clothes, the clothing store also consists of a wide range of complementing accessories and shoes that are always on some amazing offers.There are layers to its style and prices, something to meet everyone's needs. Moreover, Gotstyle's Distillery store has a collection for both men and women. But men can choose to visit 62 Bathurst for an all-men clothing zone with barbershops and in-house tailoring to complete that dapper look.
So if you're looking for international menswear that's the perfect combination of sophisticated and swag, pay Gotstyle a visit to find the perfect pieces. Ladies, if you're looking to gift your man a classic style statement clothing piece, grab your purse as you know where to go! You may also bump into local celebrities around this store.
---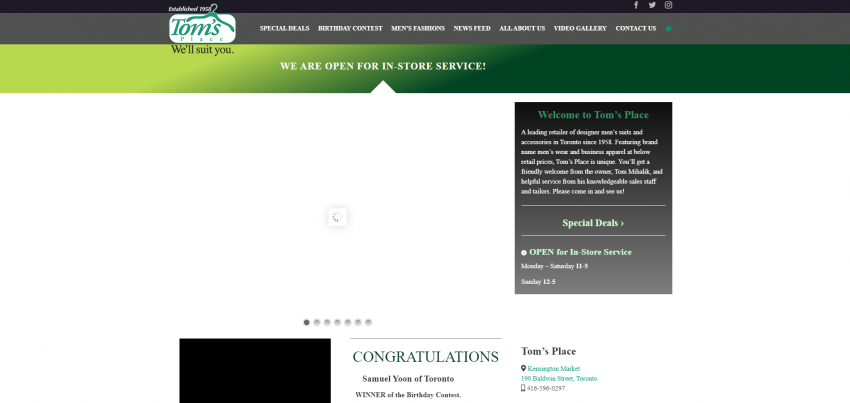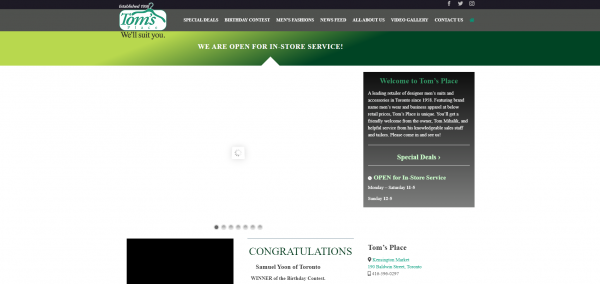 We're here with yet another recommendation tailored for the needs of men. If you are looking for a premium quality suit for an event or simply for an everyday office look, Tom's Place has you back! This clothing store is one of the leading retailers for designer suits for men. The store was established in 1958 and has also expanded to suitable accessories. Moreover, the prices are nowhere par the premium quality of the product.
If you're on a tight budget and don't want to burn a hole in your pocket, you can find apparel and accessories below the retail pricing. The owner of the store, Tom Mihalik has been running the business since he was 12 years old gaining years of experience in customer satisfaction and quality maintenance.
The sales staff is friendly and knowledgeable, providing full assistance to the customers. Their experience tailors is another reason why this store is a must a visit. So if you are looking for homegrown brands with their roots lying in heritage, tradition, and innovation; this is the one! You can visit Tom's Place at Kensington market on 190 Baldwin Street till 5 pm, any day of the week.
---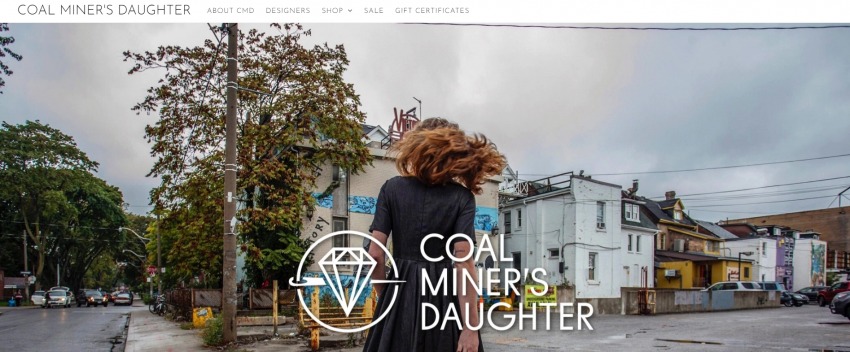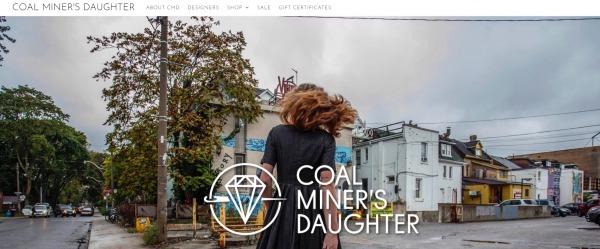 One of the gem clothing stores of Queen West, Coal Miner's Daughter is the right store for people looking for extraordinary pieces of Canadian clothing and jewelry. If you want to promote the local culture and economy of Canada, Coal Miner's Daughter has made it a point to fill 80% of its collection made by Canadian designers. The store boasts itself to also take a social standing by amplifying marginalized voices in the industry.
Moreover, a part of their profit is also redirected towards causes that support the Black and Indigenous communities of Canada. Speaking of fashion, Coal Miner's Daughter has a vast collection of designer items such as jumpsuits, tees, dresses, and more.
Most of its collection is laidback, perfectly going in sync with the trendy street style of today. Most of its collection gives a retro yet chic Toronto vibe. Besides hiring its own tailors and designers from all over Canada, the store also has some stellar pieces from local designers. You can find several Coal Miner's Daughter stories in Toronto. You can visit Coal Miner's Daughter clothing stores at 1360 A Queen Street East, 744 Queen Street West, 3023 Dundas Street West, 87 Roncesvalles Avenue, and 1586 Dundas Street West.
---
Also, Check Liquidation Stores in Canada
---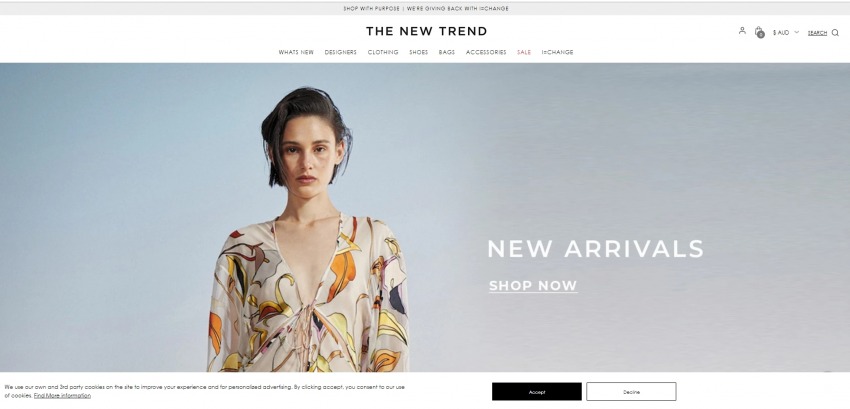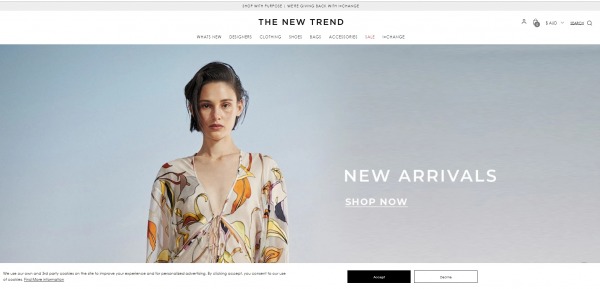 Founded in 1992, The New Trend or TNT boasts itself to be a fashion pillar of style and quality. For all the Blair Waldorf and Chuck Bass out there, The New Trend has a range of collections from many top-notch athleisure designers. Alexander Wang, Equipment, The Row, Proenza Schouler, Isabel Marant; you name it, they have it! Besides having a collection of more than 350 brands, one of the factors that makes this store outstanding and worth a visit is its personalized service as per different customer requirements.
Other than these big names, what makes The New Trend so special is that they always have surprising pieces that can woo anyone, including those conservative and rigid customers. The layout of the store lives up to its style-savvy reputation. With an area spread across 18000 square feet having 2 floors, there's ample space for everyone to find something while getting the luxury vibe. So for all the designer connoisseurs out there in Canada, do give this one a try. You can find them at 87 Avenue Road from Monday to Saturday for the women's collection.
---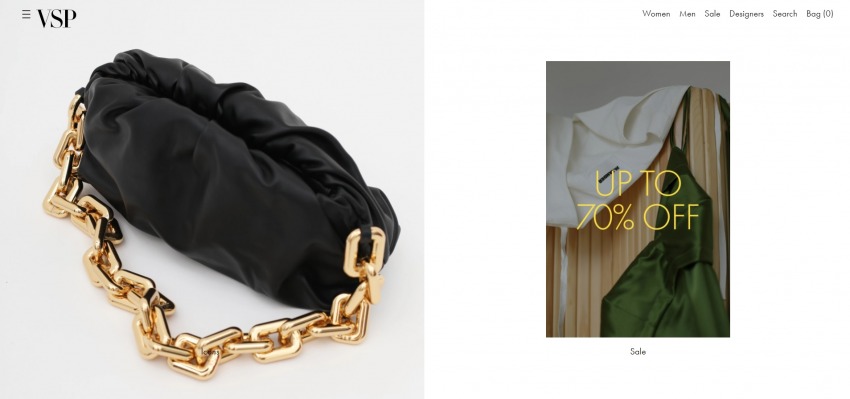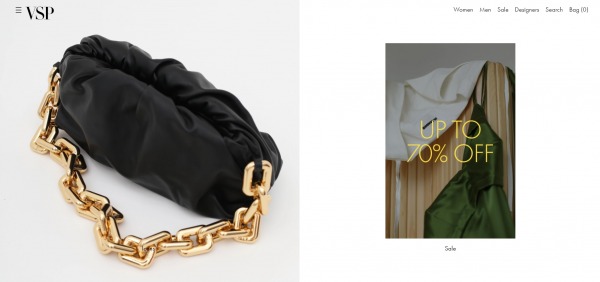 If you are someone with a great fashion sense looking for premium quality high-end products, try VSP Consignment. If you have a boring impression of consignment stores in your mind, VSP is here to change your mind with its designer gems. With an area of 4000 square feet, you can find a number of the luxury brands such as Gucci, Hermes, and Celine. Expanded further in 2013, VSP has already gained a massive fashion cult because of the variety of trendy clothes that it offers.
Earlier having a humble and woody approach, it has now become the go-to store for luxury clothing in Toronto and gradually moving towards becoming an industry leader. It offers its customers one of the best product selections, consignor experience, and customer support. The store is also known to have great relationships with consignors, television and film partnerships, fashion collectors, and staff. The store also provides closet consultation and white glove pick-up. Besides its top-quality variety in classic items, one of the factors that make VSP consignment such a unique store is its attention towards sustainability and upcycling.
---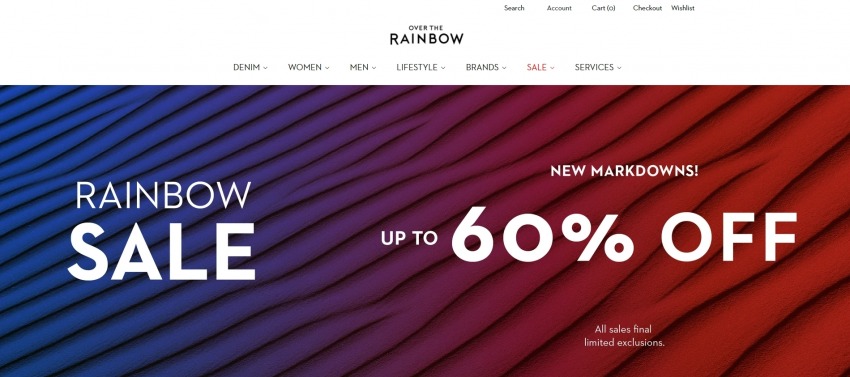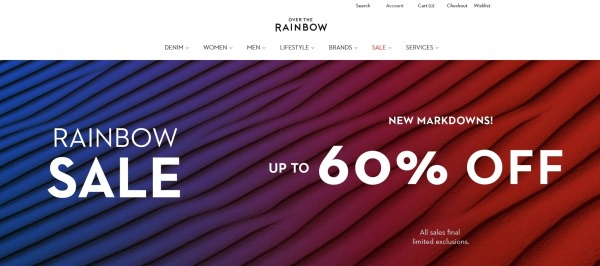 Been in the fashion industry since 1975, Over the Rainbow has become the hub for quality jeans along with other trendy apparel. With more than 40 years in the industry, Over the Rainbow has won loyal customers with its impeccable product quality and not to forget, its one-on-one personal and enhanced shopping experience. The store boasts itself of having the most attentive, knowledgeable, and honest services in the country, so you can always count on them for quality clothing.
They also offer customized tailoring and on-site alterations for better and more efficient turnaround times. However, the biggest attraction of the store remains its incomparable "denim wall". You can find a plethora of denim options of every style consisting of all brands. We all know how struggling it can be to find the perfect pair of denim that has the right fit and style.
At the store, you can name any shade, fit, color, or style and they'll pull out multiple options to fall in love with. Whenever you see a bright neon sign with the store name, don't hesitate in stepping inside as the collection won't disappoint! You can walk into their store on all days at Manulife Centre, 55 Bloor Street West.
---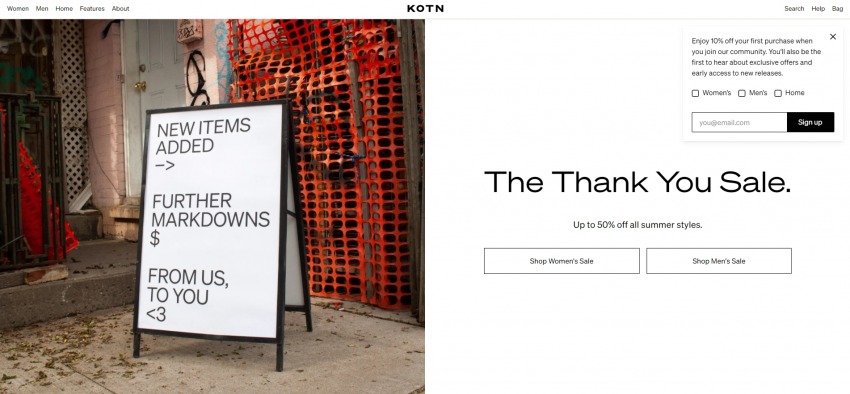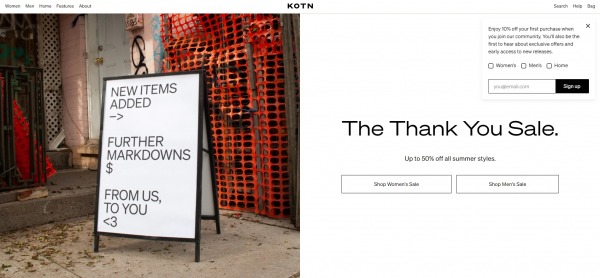 Kotn is considered one of the best clothing stores in Toronto for conscious customers prioritizing sustainable fashion in their shopping experiences. Started in 2015, Kotn aims to set standards for conscious creation as well as consumption.
If you are looking to build the ultimate capsule wardrobe, chances are that Kotn has every single piece that one requires along with much more. From simple white tees to lilac hoodies to sage green sweatpants, Kotn is all about everything minimal yet aesthetic. Kotn has itself undertaken to develop the future of organic farming for cotton, ensuring apparel made up of quality and organic cotton.
Other than selling trendy and minimal clothing and advocating for environmental stewardship, the store also ensures fair and ethical labor practices and a collaborative community. So if you are on the lookout for sustainable brands with a range of classic clothing collections, you can check out Kotn in Trinity boulevards at 754 Queen St W.
---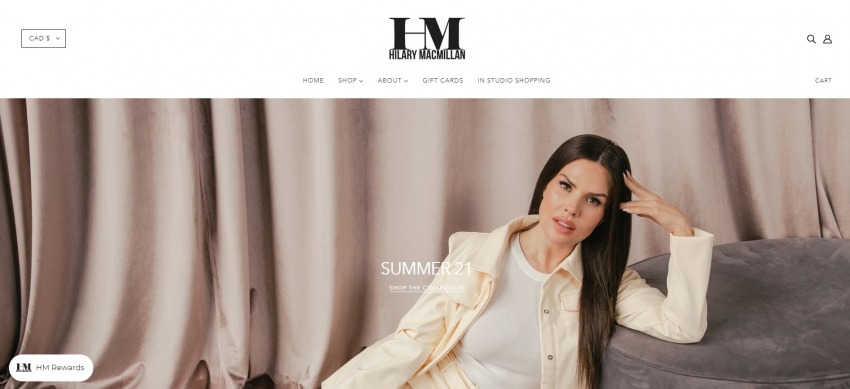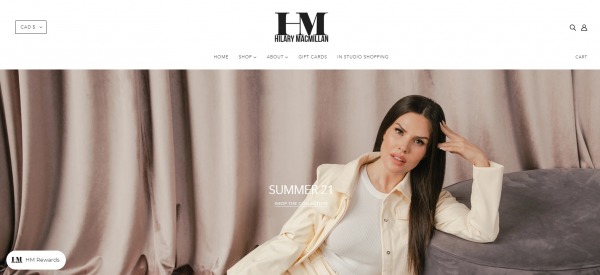 Chic and elevated, Hilary MacMillan is one of the leading Toronto-based brands that woo every eye in the Toronto Fashion Week. Founded in 2013, the brand has created a name for itself owing to its timeless silhouettes and the versatility offers in contemporary fashion pieces. This independent fashion brand is cruelty-free and has a specialization in women's wear. The designer, Hilary MacMillan has weaved in empathetic approaches in all her collections by keeping her focal point on size inclusivity.
People from all across the country have gone gaga for her feminist jacket that had a range up to size 4XL. Other than that, the brand pays high emphasis on the demands of the modern-day person, especially working women. Moreover, you could also contribute to the welfare and a part of their proceeds from every sale are donated to Black Women in Motion and other charities.
If you're someone who enjoys being the center of attraction and making a statement with bold colors and textures, the Hilary MacMillan collection is something you must check out. For all the working women who hate to look boring- pay a visit to the Hilary MacMillan store on 224 Carlton St.
---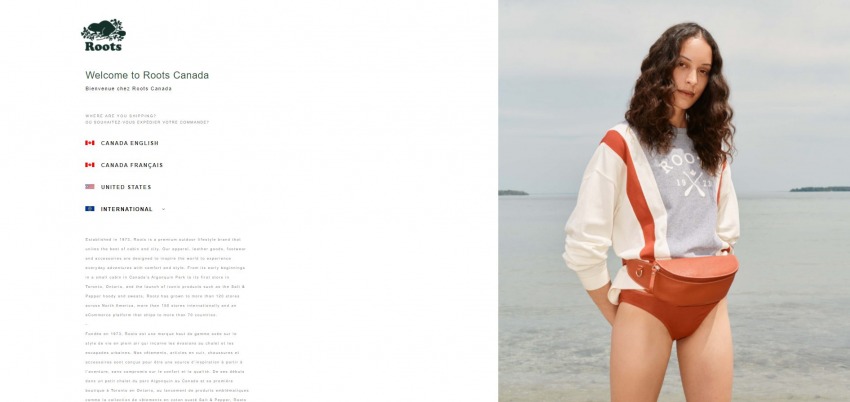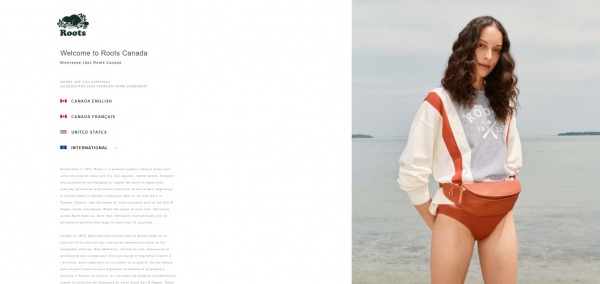 Founded in 1973, Roots has continued to remain an iconic fashion brand based in Toronto ever since. As its name suggests, the clothing brand is all about heritage, tradition, and longevity. Founded by Don Green and Michael Budman, the two fell in love with all of Canada's nooks and corners whose wilderness is reflected in their collection. If you're looking for clothing pieces that can last for ages to come, Roots should be your go-to place for premium quality apparel and uncompromisable efforts.
Not to confuse this with a boring style, as their unmistakable style can enhance any look to make it dapper. Their collection is the embodiment of cabin-meets-style, tailored for everyday outdoor adventures. Some of their most iconic products include salt and pepper sweat sets, the award jacket, roots cabin collection, and their roots genuine leather duffel. Perfect for the cold Canadian weather, their special knit collection is all you need to look chic and feel cozy.
Although the clothing store can be visited in Toronto, the brand has managed to gather approach and love globally. Besides their basic clothing collection for men, women, and children; you can also take a look at their complementary accessories to elevate your look. You can head over to 181 Bay St. Unit S 112 for a quality, trendy and comfortable shopping spree at Roots.
---
Conclusion
Whether you are a fashion collector or simply a street-style junkie, make sure to pay these stores a visit to build or capsule wardrobe or maybe to find the perfect piece for your bestie's birthday! You'll surely be able to find your best picks in many of these clothing stores, so it's time to grab a large shopping bag and head out to max your credit card. Feel free to drop your personal suggestions as there's always room for more clothes in our wardrobe. For more recommendations and top picks, stay tuned.