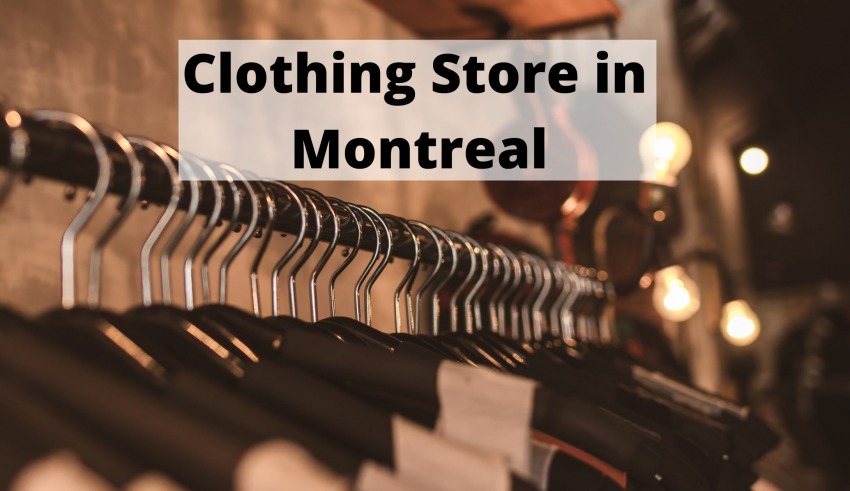 If you are a fashion aficionado then you may be enthusiastic about visiting various fashion boutiques and stores when you travel. One of the best travel locations for fashion enthusiasts is Clothing Store Montreal. This is a beautiful, historic city that derives its name from Mount Royal which is the majestic three-peaked mountain that resides at the heart of the city.
Montreal has a lot to offer when it comes to providing quality fashion to people coming to visit this city. If you want to know the best clothing store in Montreal then this list can help you. There are so many clothing store, Montreal and fashion boutiques in the city that you will be spoilt for choice. In this list, we dive into the fashion market and look at some of the best clothing store, Montreal.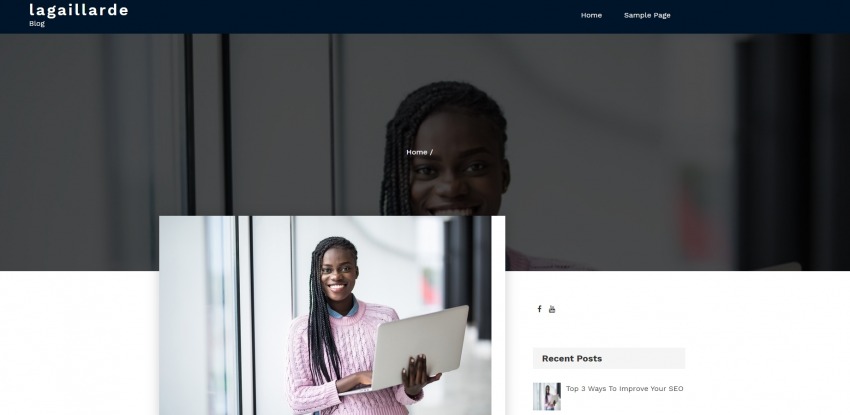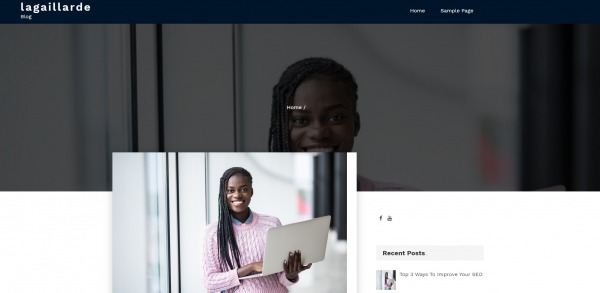 If you are looking for a nice fashion boutique to enjoy then of the choices is Boutique La Gaillarde. If you are looking for the best clothing store Montreal, it wouldn't hurt to check out this boutique. Any fashion aficionado will enjoy visiting this boutique during their trip to Montreal. This is a boutique that sells fashion apparel for men and women. You will find a variety of articles of clothing fit for different occasions.
Whether you want a necklace, a pair of jeans, shoes, belts, hats, purses etc. you will find them in this boutique. It even holds monthly fashion events where you can find their selection of products. These pieces of clothing and accessories have been sourced from local designers and are one of a kind. One of the best things about this boutique is that all the designers use eco-friendly ways to create these fashionable clothing items. The store is situated in Le Sud-Ouest.
This is a historic city where many of its historic buildings have been modified into businesses. This revamping of the city has made it quite popular with travellers and fashion enthusiasts as it has lots of fashion stores and boutiques. This boutique has top-quality items of fashionable clothing and accessories. It is a 3-minute walk from Place-Saint-Henri and a 9-minute walk from Lionel-Groulx.
---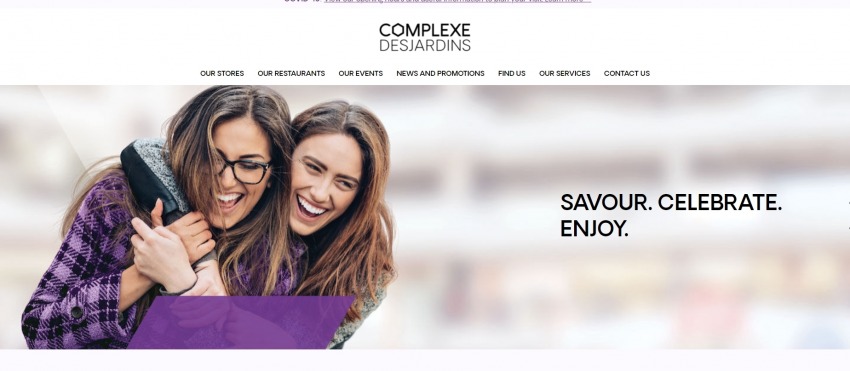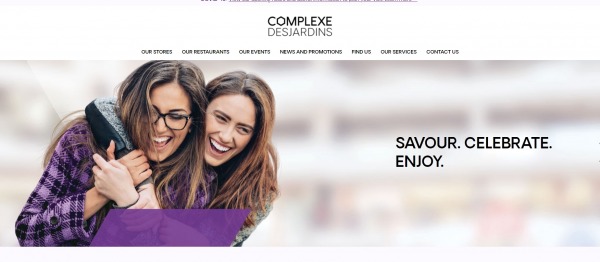 Complexe Desjardins is a big mix-use office in Montreal. It doesn't deal only with fashion but also has other stores like restaurants, hotels, shopping malls etc. In order to make the eastern end of downtown Montreal, this project was created. The Desjardins Group has its offices in these buildings. A lot of people visit Complexe Desjardins to buy a bunch of different stuff. In total, this big complex had more than 100 stores along with the ones mentioned above.
Even many government offices share their spaces in the complex. The ambience of this place is really good. You will have a great experience once you visit these buildings. Of course, there are a lot of fashion stores and boutiques in these building components. These stores contain products from many big and popular brands. But if you want something more personal and unique you can always visit the boutiques that are located in this building complex.
The ambience of Complexe Desjardins is enhanced by natural light. This makes the public plaza within the complex look much better. There are also many plants that add to the look of the public plaza. Concerts, workshops, Jazz Festival etc. take place in this plaza. If you want to find a huge selection of products of fashionable clothing and accessories then you will find everything here located under one roof. You even have wifi access in the entire complex.
---
Also, Check Clothing Stores in Toronto
---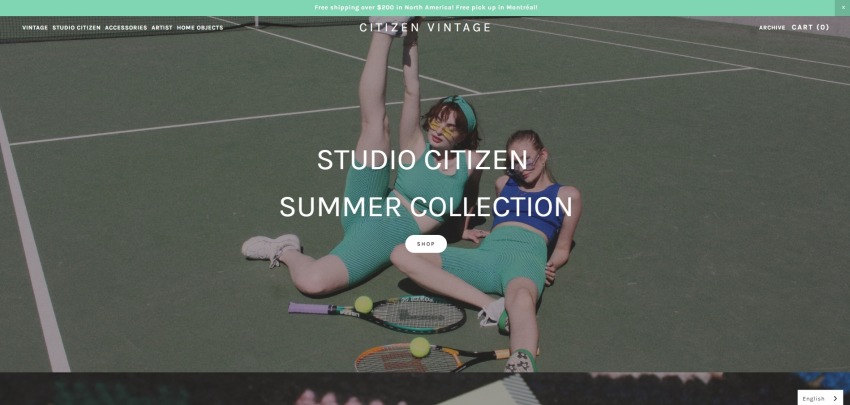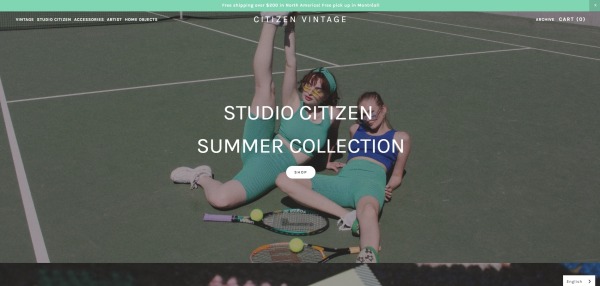 Citizen Vintage is another fashion store/boutique in the city of Montreal, Quebec. This is a nice fashion boutique that anyone can visit if they want to buy something fashionable while in Quebec. This is a company that is an expert in recycling and up-cycling many materials and pieces that are vintage. Citizen Vintage knows that a lot of people choose to go too fast fashion brands or stores to do their shopping.
They just want to provide an alternative to such fast fashion brands. They not only ensure that the pieces of clothing that they make are fashionable, aesthetically pleasing and stylish but also try their best to make each of their products, environment friendly. The company was started by a couple of girls, Lara and Becky. They got vintage clothing and other vintage fashionable items from their mothers who got it from their mothers.
Due to this Lara and Becky ended up having a good-looking and good-quality vintage collection. They met at a pop-up vintage sale and since then due to the common interest, they started working together. Their pop-ups were quite successful and popular in relevant events which led them to make it into something bigger and that's how Citizen Vintage started. They named the company Citizen because they wanted the brand to show that it is for the people on the street. The store is located on St. Laurent Boulevard.
---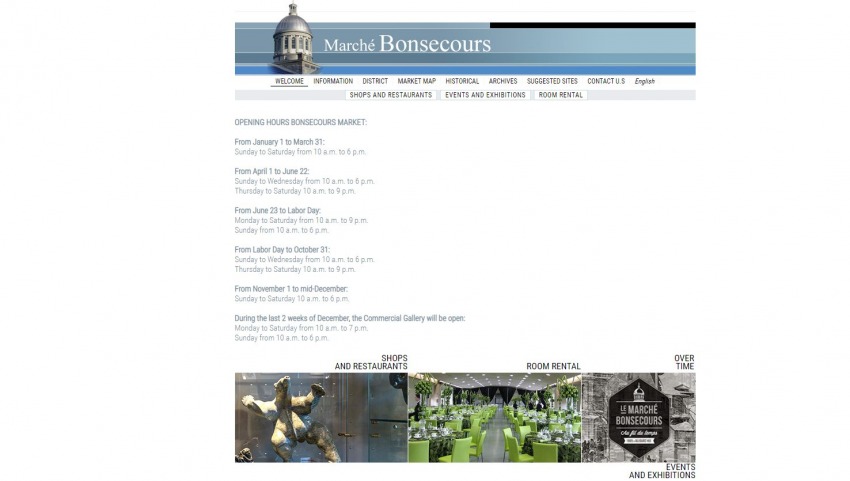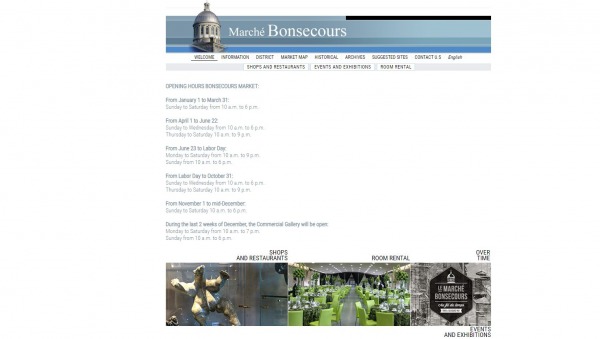 If you want to buy fashionable clothing items and accessories from a beautiful and historic-looking fashion store then you can visit Marché Bonsecours. This is a historic and majestic building in old Montreal. This is one of the most recognisable buildings in the city of Montreal. There is a nearby church and this building shares its name with it. Marché Bonsecours is a beautiful dome-structured building that looks very elegant. It is one of the Best Clothing Store, Montreal.
This building has had a long history and has had various functions over the years. It used to serve as a concert hall, a public market, and at one point it even served as the parliament for lower Canada! Yes, it has had a colourful past. But by 1859 this building became a public marketplace and has stayed that way for more than a century now. Marché Bonsecours is quite popular because of the many fashion and artisan boutiques that it houses.
Thus, many creators, be it, artists or designers, create unique pieces of fashionable clothing that attracts travellers and locals alike. You can find many original creations in this market. So, next time you are in Quebec looking for good fashion stores to buy some good clothes from, be sure to take a look at Marché Bonsecours. You can find a lot of different stores under one big roof and thus, can buy a variety of different products which come from the unique vision of local designers and artisans.
---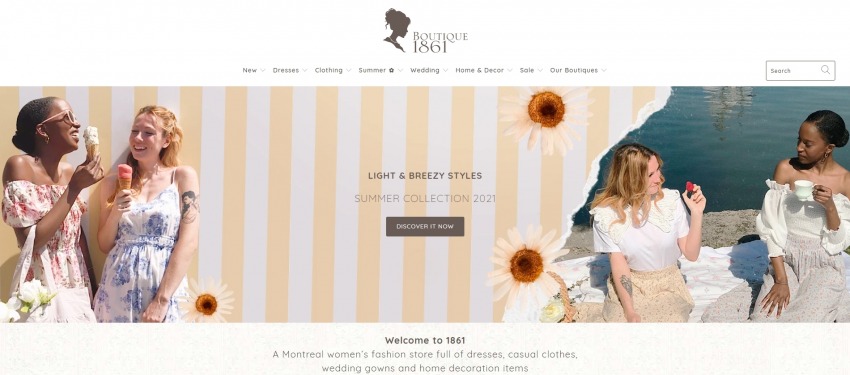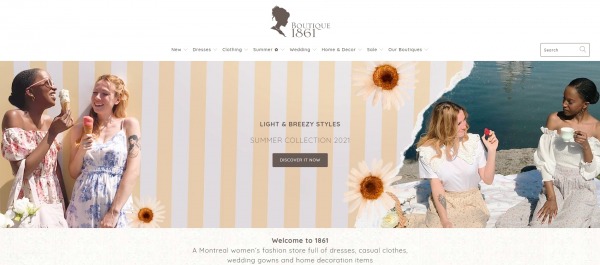 1861 is a fashion clothing store, Montreal and boutique based in Montreal. This is a popular store that many uses to buy fashionable clothes from. Though you can buy its products from its online e-commerce store, it has many physical boutiques in Montreal that you can check out on your visit to Montreal. The founder of this clothing line is Castle. She had always been enamoured with romance and beauty and wanted to share it with the world.
When she grew up she studied fashion and in the later years worked hard into merging her passion for fashion with her affection for people. She soon entered into the retail industry where her dreams could come true. She created her fashion boutique called Razberry. It was her first boutique and she wanted to create quality fashionable clothing for young poetic women. Soon, she also opened a second boutique on 1861 Saint Catherine Street West.
This boutique became quite successful and became the focal point for Castle as well who named her brand 1861. If you like the vintage clothing style where you completely dress up from head to toe then you will like the clothing items that this store sells. Sometimes it is nice to let go of your daily routine attire in favour of beautifully crafted Victorian Era dresses which adds a touch of elegance. So, if you like to wear tulle, frills and sequins or are looking to get into vintage wear then you should definitely check out 1861.
---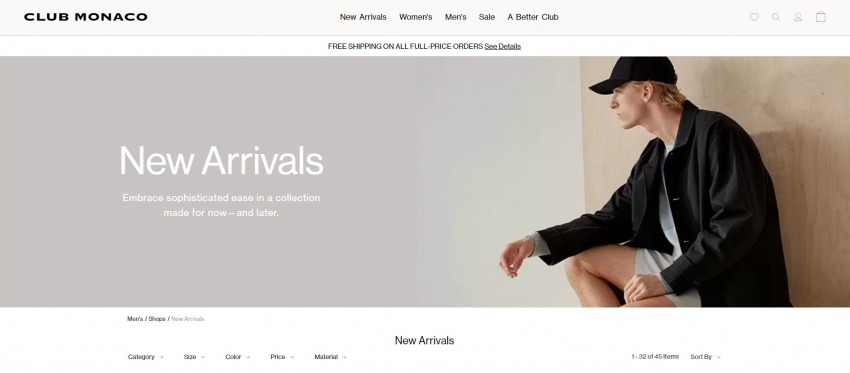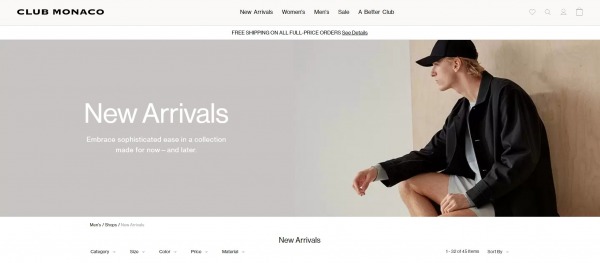 Club Monaco is a fashion store that wants to approach fashion in such a way that its products make the lives of the clients more comfortable and easy. The store started in 1985 and wanted to create effortless pieces. Like many creators, designers and founders the founders of Club Monaco couldn't really find what they were looking for in the fashion market or clothing store, Montreal. So, what they decided was to create something of their own and bring it to interested people as well.
They became inspired by a swatch that was named Monaco. This inspiration was coupled with a drive to create something that is confident, clear and delivers more than it's expected to. If you share a similar desire then you can be a part of Club Monaco as well and purchase their articles of clothing that they sell online as well as in physical stores in Montreal.
The first store started in Queen Street West in Toronto. Once the store became successful, they also opened in New York as well. Today, Club Monaco is not only situated in the US and Canada but also has stores in China, Korea, United Kingdom, Sweden etc. You can find perfect shirts, tops, jeans, blazers etc. for men and women. So, this can definitely be an option to take a look at when you are in Montreal and want to do some shopping.
---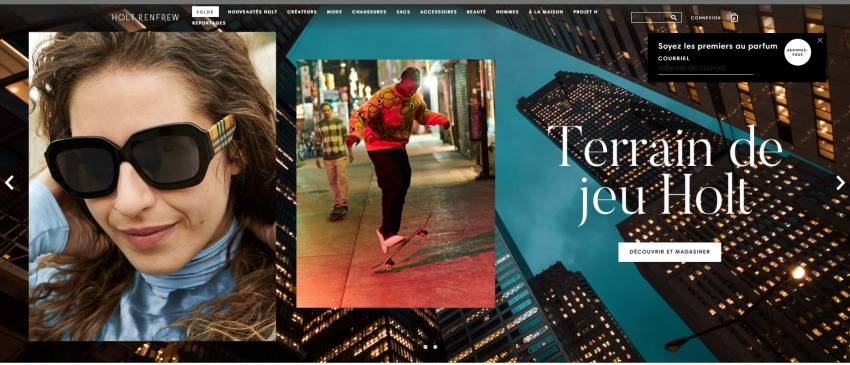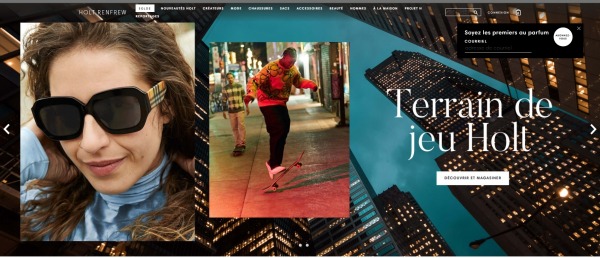 This is one of the popular and high-end fashion stores that has its outlet in Montreal, Canada. Holt Renfrew sells Fashion and Lifestyle products. Due to the quality and design of its products, Holt Renfrew has made quite a name for itself as a trusted voice in global fashion. So, any fashion lover looking for good-quality, high-end fashion clothing should definitely visit this store. The company ensures that its clothing and accessories and other products inspire its customers.
It ensures that it is not only respectful to the people and their customers but also to the planet so as to minimise the negative impact on the environment. The store started back in 1837. Yes! Like a lot of stores and buildings in Montreal this store also has more than a century of history. It used to sell hats to fashion elites of the time. You can have a good shopping experience in this store. You can book a personal shopper as well as get attractive discounts on products.
Today, Holt Renfrew sells products from a lot of different fashion likes Marc Jacobs, Burberry Prorsum, Kiehl's Skincare, Agent Provocateur etc. The store is located in Rue Sherbrooke Ouest. If you want to visit the store during the weekdays then it is open from 10 am to 6 pm from Monday to Wednesday and 10 am to 9 pm on Thursdays and Fridays. On weekends you can visit the store between 9:30 am to 5 pm on Saturday and Noon to 5 pm on Sunday.
---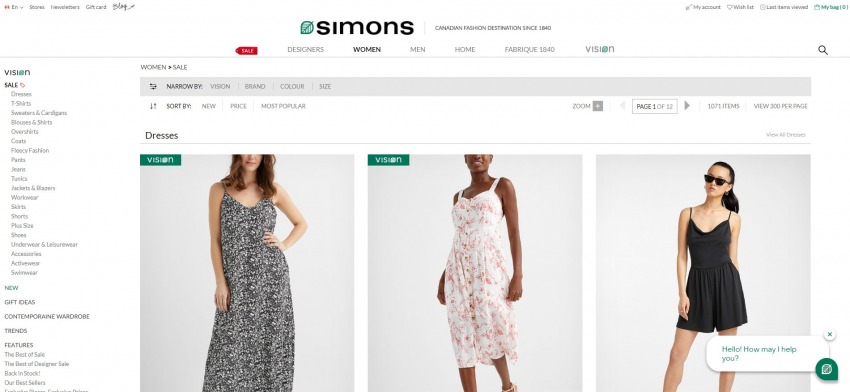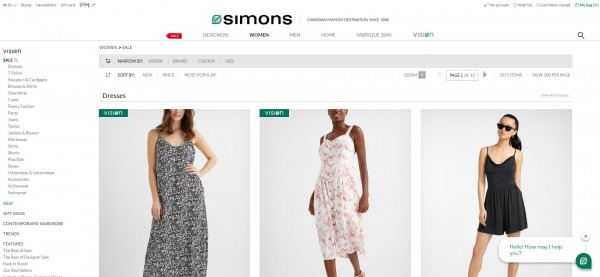 This is another fashion retailer based in Canada having a retail store in the city of Montreal. La Maison Simons is commonly known as Simons in Montreal. This store sells really good quality fashion merchandise that anyone looking for fashionable products will enjoy. But a lot of fashion guides and travel blogs and magazines forget to mention this store. This has made it a sort of hidden gem that fashion enthusiasts can enjoy on their visit to Montreal.
The store started in 1840 as a dry good store. It was started by a Scottish Immigrant who had moved to Quebec. It functioned like that for years before becoming a department store in the 1960s. Today, it is known for selling quality fashion products for the whole family. It has lots of good fashion lines both global and indigenous that have a lot of good products.
There are over seven outlets of Simons in this province. But the one that is more popular is the store located in Ste. Catherine West. You often get good discounts on designer wears allowing you to buy a bunch of stuff at reasonable and affordable rates. There is also an online front of this store that you can check out to get a feel of what you can expect to see in the store.
---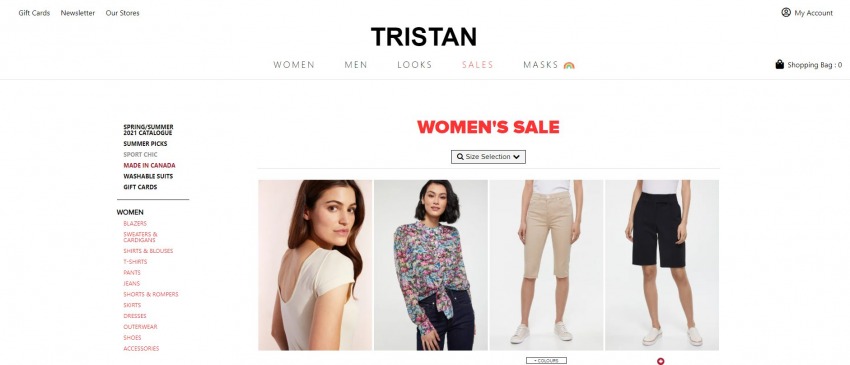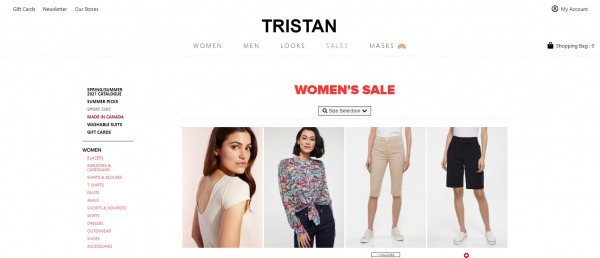 Well, no fashion stores list will be complete without the mention of Tristan. It is our nation's own fashion line that started back in the 1970s. Gilles Fortin and Denise Deslauriers started this brand which has become a cornerstone of the fashion industry in Canada. The name of the brand has become synonymous with top-quality products with elegant design and style with refined, top-tier fabric and precise and impeccable cuts.
It offers good-quality items of fashionable clothing for men and women. There's a wide range of selections that people can choose from. The designers working behind the scenes come from Montreal and they have a good sense of innovation and fashion. They use quality materials and mix them with modern styles while imbibing classic features in them. Tristan chooses to offer a great experience to its customers. Its motto is – 'one stitch at a time, one customer at a time. It wants to ensure that every piece of clothing and accessory that it creates should last long.
It doesn't want to be a part of the fast fashion industry but rather wants to create top-quality fashion products that provide long-term value to the customers. From Tristan, you can buy t-shirts, shirts, jeans, pants, tops, blazers, skirts, shorts, shoes, bracelets, belts etc.
Montreal is a great travel destination that has a lot to offer. From good food to architecture, to rich history it seamlessly blends the classic architectural design with the modernities of today's world. The same goes for the fashion industry and market in the city. We wish you a happy journey and hope you buy good-quality fashionable clothing from the beautiful city of Montreal.
---
La Maison Ogilvy
If you want to purchase from a store that has been selling products even in the 1800s then La Maison Ogilvy is one of the best places to visit. But history is not the only thing going on for this store. It sells good-quality products as well which is why a lot of people use this store to buy various items. Still today, the store has kept the same name even though its owners have changed.
The current owner of this department store is Galen Weston. This store has really nice options for modern-day fashionistas looking for fashionable clothing and accessories. You will find good-quality clothing from La Maison Ogilvy. The company has still tried to keep and follow some of the traditions that used to exist earlier.
For example, there are bagpipers who still pay the pipes to announce the noon hour. If you go around December you will be able to see the store decorated with various Christmas decorations. The You will find various boutiques with original creations along with various fashion brands that have popularity and reputation in the fashion industry.