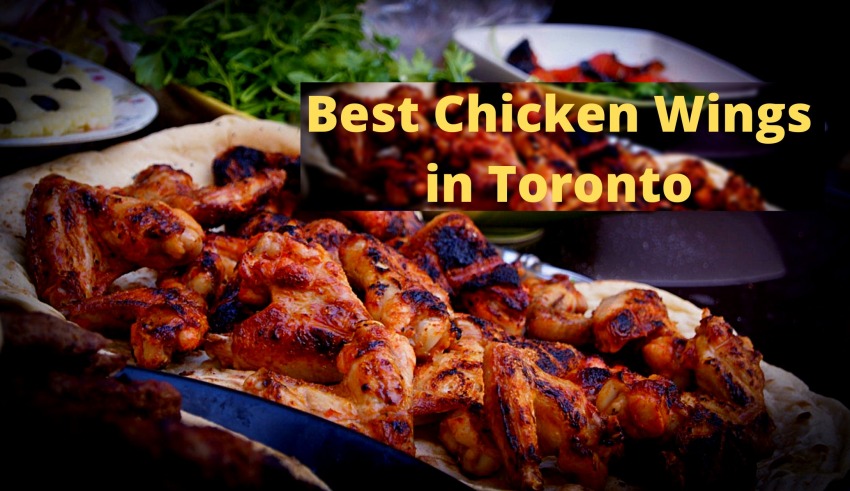 Chicken wings have become synonymous with sports and drinking culture, but they're always worth your time (and hunger). Baked, fried, smoked, grilled, or turned into soup are all options. Chicken wings in Toronto are versatile, tasty food worth learning more about no matter how you consume them. Canada has a reputation for having some excellent culinary offerings. Poutine, a world-class breakfast, and, of course, succulent chicken wings are all on the menu. It's the type of meal that makes you wish for more. It's something so basic, yet with so many variations, it never fails to deliver on full flavour. The fact that you generally drink beer with them is just icing on the cake.
The tastiest chicken wings in Toronto are simple, yet well-known. House sauces are usually what make this popular bar snack stand out, with crudité and dip on the side.  Overall, Toronto offers a lot of fantastic places to eat wings, so we set out to identify the best of the best. Those chicken wings so delicious you'd drive all the way across town to get them. Among Toronto's hundreds of pubs and eateries, there is a handful that provides a somewhat different take on the famous chicken snack. 
What is the flavour of the Chicken Wings?
There are three varieties of wings available at the market: entire wing, flat wing, and drumette wing (the latter being the part that looks like a mini-drumstick). When you put these two pieces together, you can easily envision a bird's wing. The drumette is connected to the breast before the wing is torn apart. Wingtips are also seen on chicken wings, however, they aren't usually included in sectioned-off chicken wings.
Even though they're juicier and have a more concentrated poultry taste than dark meat, chicken wings remain white meat. When most people think of this portion of the chicken, they think of Buffalo wings, and for good reason: they're very popular across the United States. Buffalo wings are buttery, tangy, spicy sauce-coated fried wings eaten with blue cheese dip and celery sticks that date back to 1964 in Buffalo, New York.
Fried wings have a cult following, and deep-frying them is a quick and easy technique to prepare them. Chicken wings may be roasted or baked in the oven (roast on top of a baking rack for crispier skin), and they can also be smoked or grilled for added taste. 
Wings make great soup and stock because they have a lot of bone, connective tissue, and fat. The cooked wings can be taken out of the soup, deboned, and used in a chicken salad.
Here is the list of 10 Best Chicken Wings in Toronto: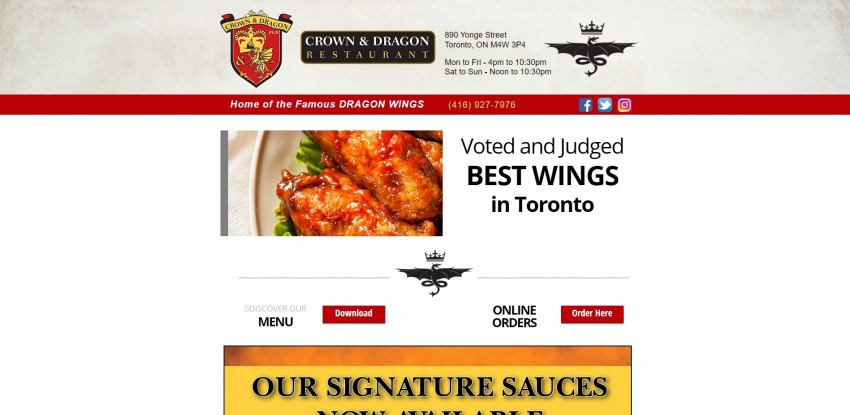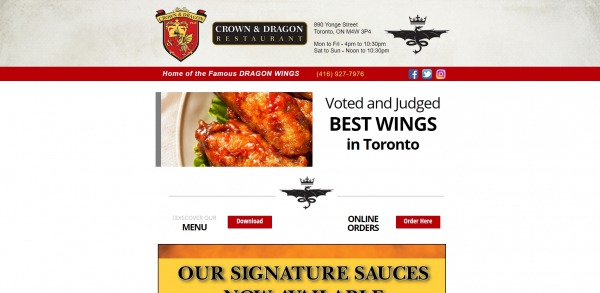 Crown & Dragon is recognised for having some of the greatest bargains in town on the finest wings in town, in a range of house fusion flavours. It also serves as a home base for Maple Leaf's games, with great sound on several TVs and occasional wing and beer specials or prize giveaways on game nights. When wing nights aren't going on, the establishment is a dive bar through and through, with solitary clients preferring to sit at the bar. Despite the weathered table tops, there are numerous bright places near the large front windows, and a sidewalk terrace is immediately outside.

It's simple to understand why so many people consider them to be some of Toronto's greatest wings after just one mouthful. The flavours are unique, and you may get them either conventional or baked. On Tuesdays and Thursdays, they offer half-priced wings. That's a great deal when they taste as wonderful as they do here.
Every other day, fresh wings are brought from Quebec or Ontario suppliers, and they're served with celery and carrot sticks as well as a house buttermilk garlic dill dip that's more thin than chunky in terms of dipping sauces. The wings of the Crown and Dragon are bigger than normal. For an extra crispy touch, the fried choices are coated in a proprietary mixture of flour and herbs.
---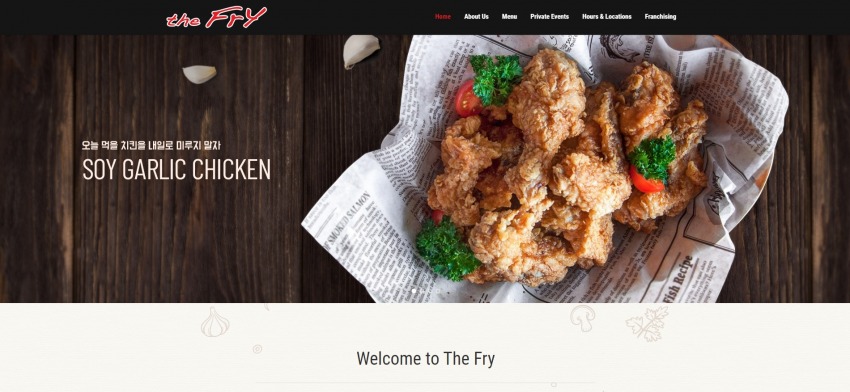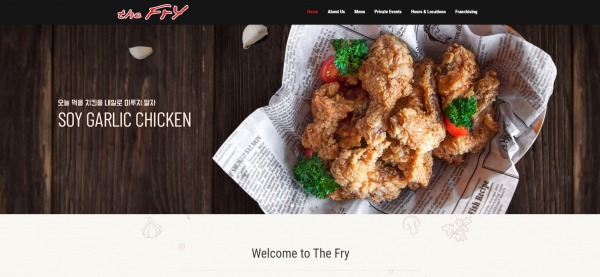 Some of Toronto's most popular Korean fried chicken can be found at The Fry (KFC). The Annex restaurant is one of just a few in the franchise, and it has an unfinished, informal, and no-frills style. The Green Onion Chicken is the most popular dish on the menu, and I can see why. It's served as a pile of fried chicken with a mild sauce and a sprinkling of green onion. 
Fried Chicken in Spicy Sauce is so delicious that there are no words to accurately convey how much you will like it. It's the peak of Korean fried chicken perfection, perfectly fried and covered in a sticky sweet-spicy sauce. This delicacy is also available as a wing. Wings with Spicy Sauce are served with a serving of crisp fries that are crispy on the surface yet soft and flaky on the inside.
Crispy Chicken is recommended for fried chicken aficionados. The name pretty much says it all, and this is by far the most battery-friendly meal on the menu. Get some of their spicy sauce to dip your chips in. Without some soju, it wouldn't be a genuine Korean fried chicken establishment. The normal variety is clear and delicious, but the Cocktail Citron is our favourite since it provides a touch of lemony sweetness that cuts through the meal's richness.
---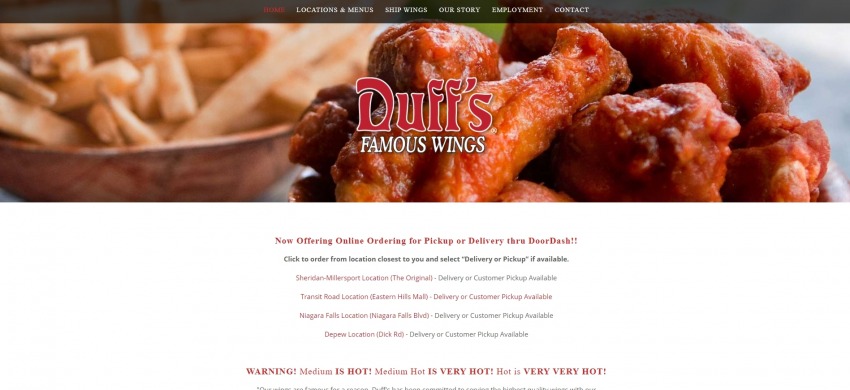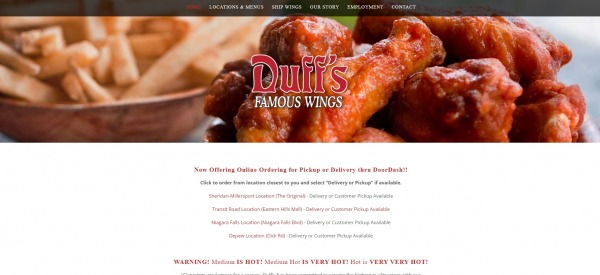 Despite having three locations, Duff's Famous Wings is still a small family business, with seven members of the Erlich family participating. Over 16 years ago, the original Duff's in Buffalo, New York, licenced the fundamental formula. However, the Ehrlich's have since invented their own house-made sauces, such as "Death" and "Armageddon," which, if consumed in sufficient quantities, may result in your name being added to the "Wall of Pain."
Any Canadian will certainly recommend Duffs Famous Wings as one of the best places to obtain good, fresh wings. It's difficult to top the spiciness of the chicken wings in Toronto here, which are flavourful and oozing with delicious sauces. It doesn't matter if they're extremely spicy and saucy or mild and dry; they'll taste great anyway.
Duff's serves classic cayenne pepper-based Buffalo-style wings, which are delivered fresh from a local source every morning. The Ehrlich's keep the technique and formula a secret, but the wings are crisp-fried in trans-fat-free canola oil before being coated in sauce. You'll get more bang for your buck with them, as a ten-piece purchase weighs about 1.5 pounds.
---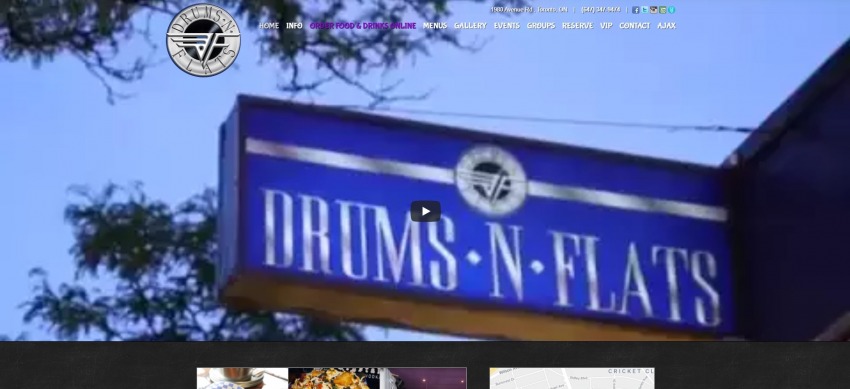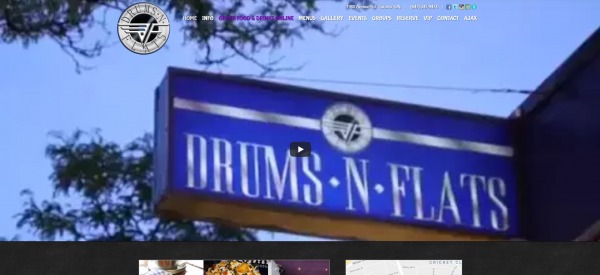 Drums N Flats on Avenue Road, only a few streets south of Wilson, is dark and intimate with a roadhouse vibe. The area has varnished wood tables with drums as light fixtures, all set against a backdrop of TV screens and coloured accent lights. Aside from wings, there's a strong emphasis on sports, beer, and a classic rock atmosphere here. Indeed, live music and dancing are frequently scheduled on Fridays and Saturdays.
The term "custom" is used liberally here, and it refers not just to the type of wing you want, but also to the sauce you pick. The menu may be a little confusing at times, with 12 different flavours ranging from mild to "burn your face off," and three different ways to drown your wings (including a "double-dip" option).
The wings come with a few carrot and celery sticks, as well as a dill sauce for dipping, and are perfectly cooked and succulently soft. The texture is light and airy. Drums N Flats bills itself as Toronto's best rock'n'roll and wings joint. We can't disagree with it.
Treat yourself to some excellent live music and fresh chicken wings in Toronto almost every day of the week. Three questions will be asked of you. Drums, flats, or a combination? Do you want it wet, dry, or double-dipped? Finally, there's the flavour you want to try.
---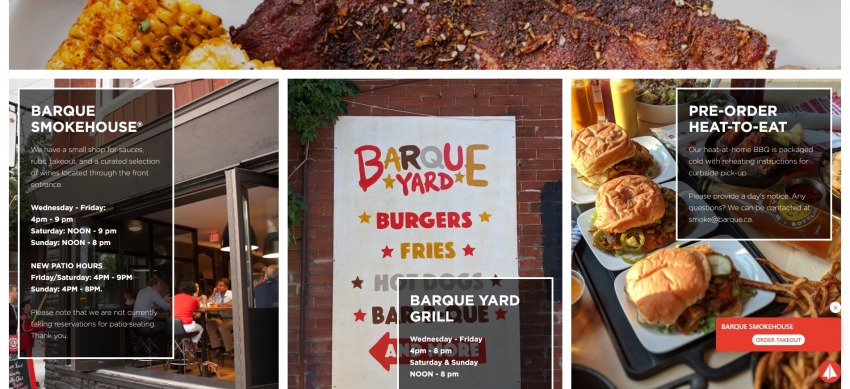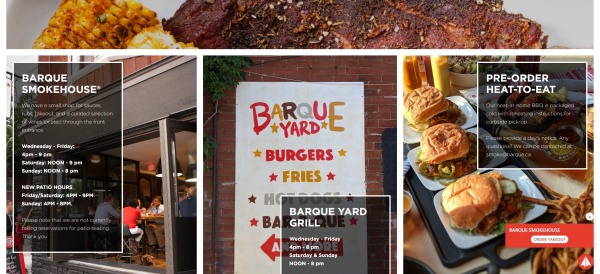 Look no farther than a delivery flier depicting a smiling pig on a scooter to get a sense of Barque's personality. Though the service and atmosphere are both informal and pleasant, the cuisine and beverages served are more akin to those found at a sophisticated BBQ restaurant. Two sommeliers provide an approachable yet diverse wine list, as well as the finest possible matches for smoked foods to be eaten with your hands. Sundays are "Family Night," with everything served on platters because BBQ is best shared.
It should come as no surprise that one of Toronto's top BBQ places also serves some of the finest wines in the city. They create some out-of-this-world BBQ meals using classic Southern flavours and contemporary scratch cooking techniques. The giant and smoked chicken wings in Toronto provide a wonderfully delicious flavour to the already delicate flesh. The Kansas City-style BBQ sauce is a must-try. It's as genuine as you'll find.
---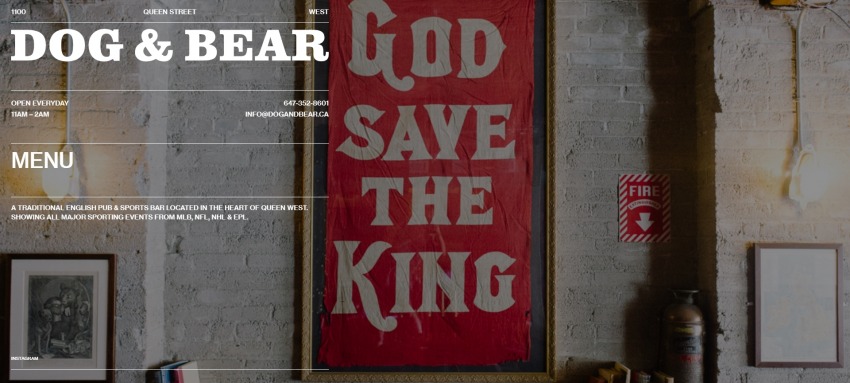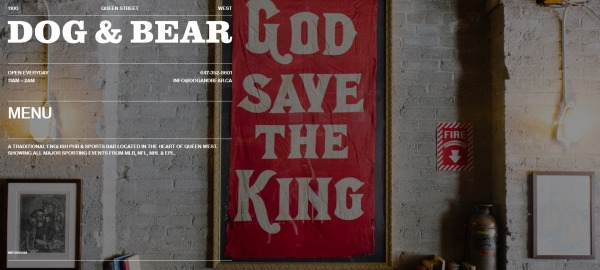 The Dog & Bear bar is the most recent incarnation of 1100 Queen Street West, which was once home to the Social. The once-club-like venue has been converted by members of the team behind Parts and Labour and the Hoxton into an Empire-style pub, which should be fairly popular in a neighbourhood that's seen a large influx of condo-dwellers over the last several years. While there are plenty of restaurants and bars in the neighbourhood, Dog & Bear's sports-friendly ambience and classic pub fare nevertheless fill a void.
50% off Tuesday wings are renowned at this West Queen West hotspot, with seven types to choose from, including a trademark "D&B" version of Buffalo wings with honey garlic and cilantro. On weekdays, there are some really nice offers. The D&B / hot wings are DELICIOUS, and the tallboys are a steal. There's also a good range of tall cans.
Large televisions over the bar face comfortable booths on the opposite wall, and the walls are stone and draped with old-style tapestries (thus giving them solid sight-lines). During a Euro Cup match between England and France. Only One table was left open without a wait, the one with a partial view of the televisions. Because on any other day, the lovely wooden table by the window would be an excellent place to people-watch.
---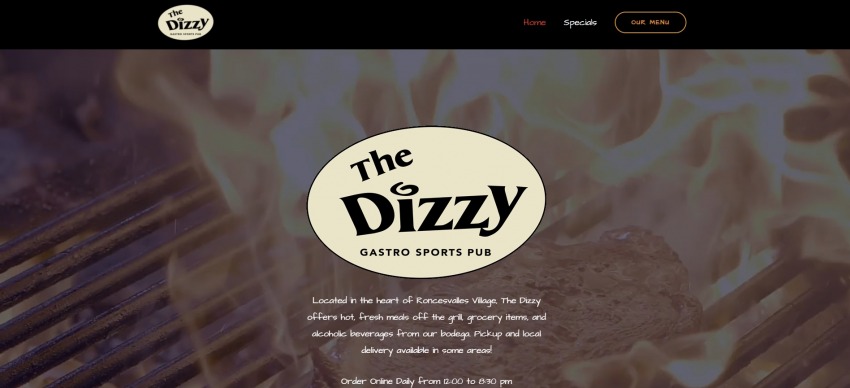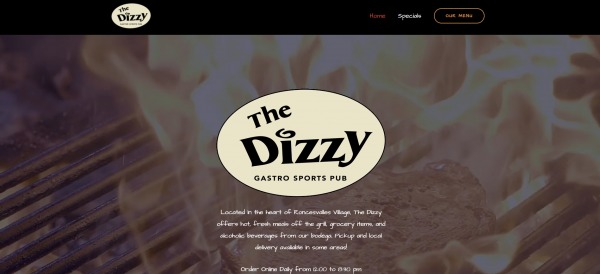 The Dizzy, which is located in the centre of Roncesvalles Village, serves hot, fresh meals off the grill, as well as groceries and alcoholic drinks from their bodega. In some regions, pick-up and local delivery are available. The Dizzy is a friendly Gastro Pub in the centre of Roncesvalles, with flags from all over the world. While some may perceive the cuisine to be little more than ordinary pub grub dressed up, the regulars enthuse about the location.
Every Monday, Thursday, and Sunday, there are specials. At The Dizzy, there's always something unique going on. On Monday, they serve their delectable grilled wings; on Thursday, they provide an outstanding steak dinner; and on Sunday, they serve an outstanding Sunday roast. Take a look at their other offers because they regularly have them.
They take pleasure in being a part of the community at The Dizzy and would be delighted to provide great meals for you and your family. Make it a Dizzy night at the game table. They provide a selection of sports-themed meals that will satisfy your hunger while you root for your side. For a limited time, try the wings and growler combination. 
---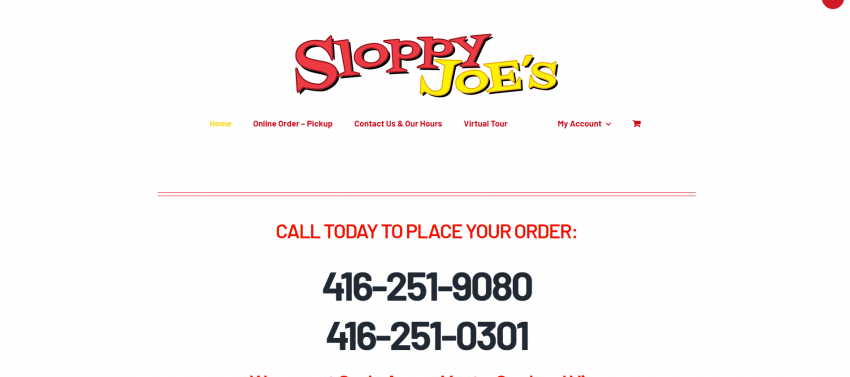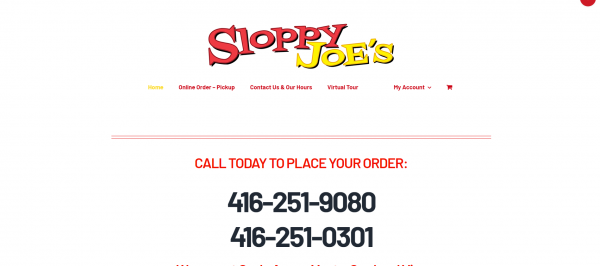 Sloppy Joe's is most renowned for its world-famous wings, which is surprising for a restaurant named after a delicious sandwich. The plump and juicy wings here are popular among the locals. They don't scrimp on the sauce either. Use flavours like their Signature Hot Sauce, Mild, Medium, and Sweet Chilli to fill them up.
They appear to offer some quite big Wings for a reasonable price. To say the least, the wings are enormous. This is the largest wing I've ever seen. It's bigger than anything else out there. It almost resembles a newborn turkey. Aside from the size, it cost 80 cents per wing. Which works out to $8 for a minimum purchase of 10 pieces and escalates in 5 cent increments. The honey garlic wings and the dry Cajun wings are outstanding.
---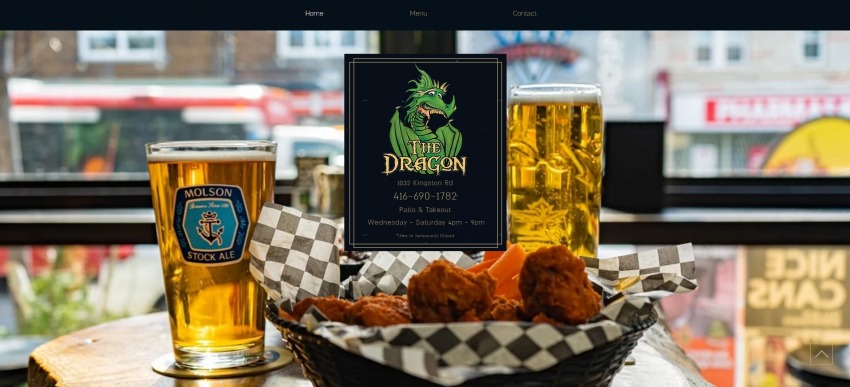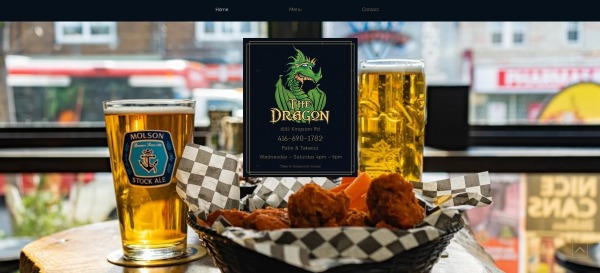 The Dragon is the ideal location to burrow down, grab a chilled bevvy with some excellent pub cuisine, and enjoy the game with friends while maintaining a vibrant and low-key atmosphere. The Dragon is a great place to get up with friends for a cold drink and some high-quality pub fare. It's one of the greatest places for chicken wings in Toronto.  Every last Sunday of the month, from 7 pm to 11 pm, Dragon Jam takes place. Mac Mehew, a great musician, hosts the jam nights. Local musicians are also invited to participate in a song or two.
The Green Dragon is a bar on Kingston Road in the Upper Beaches that serves up crispy and spicy chicken wings in Toronto. Burgers and other pub cuisine are also available. It's no surprise that The Green Dragon is one of Toronto's top chicken wing locations, with over 3 million wings sold. For well over a decade, these 'Dragon Wings' have been attracting residents and visitors from all over the GTA because of their huge servings, much larger wings, and excellent sauces ranging from sweet heat to dragon fire.
---
Conclusion:
The Bottom Line, dubbed Toronto's classiest sports pub, is the type of place where you'd go to spend a pleasant afternoon with friends. If you don't want to be in a bar, but yet want to eat all the delicious pub food, here is the place to go. This is where you belong. Their world-class wings are served bare or breaded, with sauces including Honey Garlic, Plum, Teriyaki, or Suicide. 
The property is located in the centre of Downtown Toronto, only steps away from the Scotiabank Arena. The Bottom Line is a well-known hangout for power lunches, after-work beverages, and as a pre-and post-event hangout.
On game night, The Bottom Line attracts Leafs, Raptors, and other sports enthusiasts looking for a spot to watch the puck drop while waiting for the game to start. Teriyaki Plum Wings are some of the most delicious wings you'll ever eat. Despite the large crowd, the meal is served quickly.