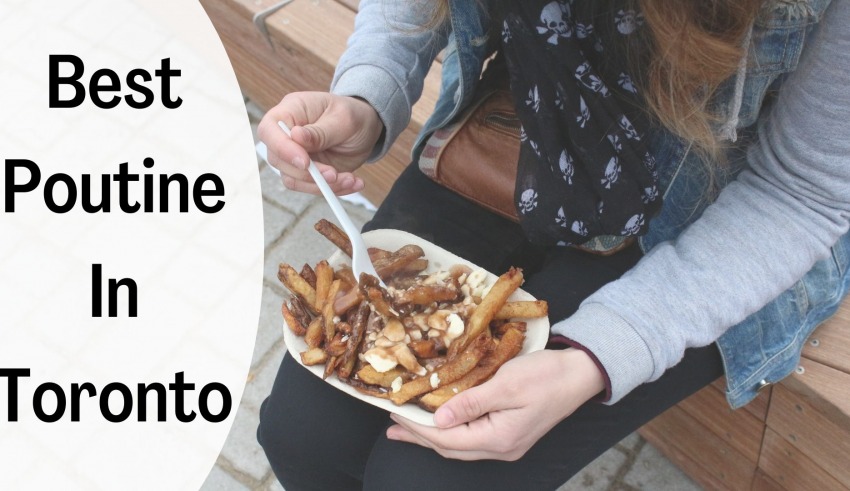 Poutine is a must-have in any discussion about Canadian food. It has been a regular feature of the Canadian food scene since the 1950s. There are always amazing poutine spots in Toronto no matter where you go.
The greatest poutine in Toronto is unquestionably deserving of praise. Poutine in Toronto is a gooey, sloppy, and extremely wonderful blend of fries, melting cheese curds, and gravy, is for those unfamiliar with the Canadian cuisine par excellence.
The more refined form of poutine, which is as much a pub menu mainstay as it is a go-to street dish, is offered at upscale, high-end restaurants across Canada, with a variety of toppings including mushrooms, bacon, onions, and ground beef.
Other Restaurants:
Top 10 Poutine Restaurants In Montreal, Canada
Although locals enjoy eating it for supper, we recommend ordering it as a rich, decadent side dish or snacking on it with friends after a night out at the city's top pubs and clubs. After all, it is Canada's go-to inebriated meal.
Origin of Poutine:
It originated in the French-speaking province of Quebec in the 1950s. Poutine was initially discovered in the kitchens of Warwick. It was a tiny hamlet midway between Quebec City and Montreal.
According to legend, a local restaurant owner developed poutine by topping fries with thick, squeaky cheese curds as well as dousing them with beef gravy to keep the meal scorching hot.
Le Roy Jucep, a restaurant in Drummondville, has claimed a trademark claiming to be the originator of poutine. In 1964, Jean-Paul Roy, the proprietor of this restaurant, was the first to offer "French fries, cheese, and gravy," as we now know it.
The original name was 50-50, which meant 50 percent fries and 50 percent cheese. After that, the gravy was added, and the term "mixte" was coined.
The term "poutine" as we know it today only became popular after major restaurant chains began serving the dish. This term comes from the fact that other potato-based meals are also known as poutine, and it might also be derived from the English word "pudding."
We've compiled a list of the finest locations to have poutine in Toronto-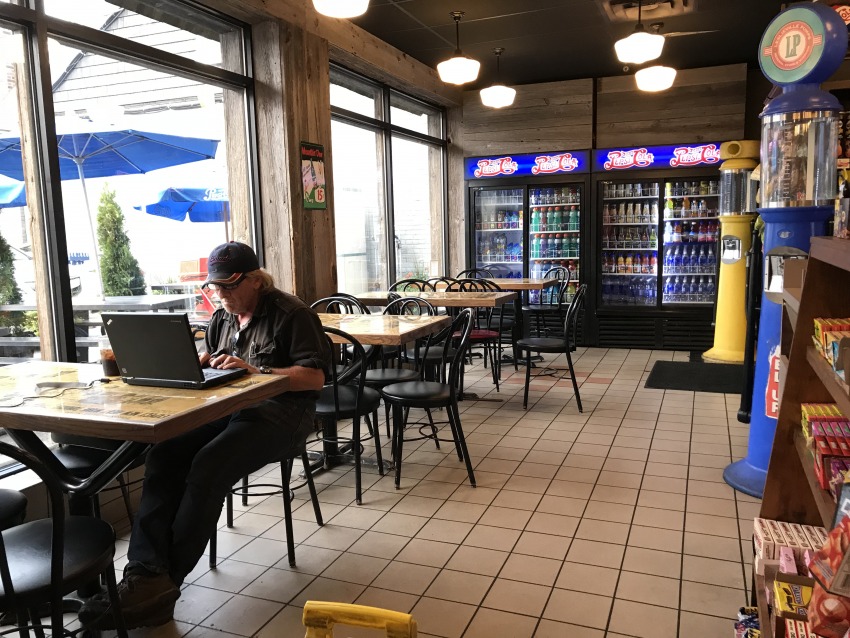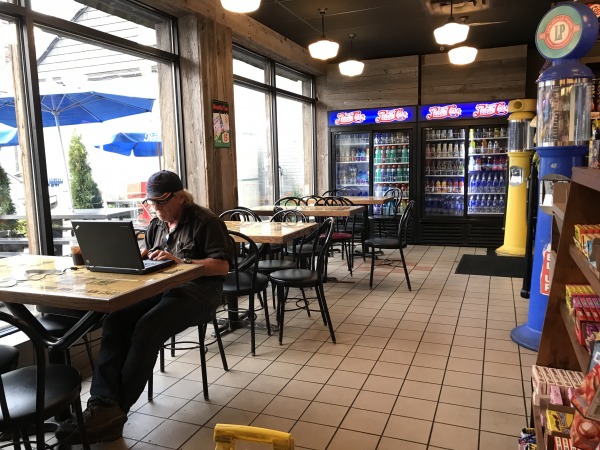 Leslieville Pumps is an East End country-style restaurant, petrol station, and convenience store known for its exceptional mean BBQ tastes. The Flom brothers have left the service gas lines behind and relocated three doors down, but the Pumps' name and ethos haven't changed.
It still has the same rustic cottage country feelings and truck stop-inspired items, but the checkered floors make it feel a little more vintage. The wooden ducks hung from the ceiling say it all: the brothers grew upcoming to their home in Kawartha Lakes.
On the menu at this BBQ smokehouse is poutine with a variety of topping possibilities. Their poutine is smothered with orange and white cheese curds and topped with gravy.
Choose from pulled pork, beef brisket, or baked chicken. Super crispy fries are topped with a dark sauce made with smoked jus and thickened Ontario cheese curds. It'll set you back $6.41 for a basic, or $11.99 if you add pulled pork, beef brisket, or baked beans.
The poutine, which is made with squeaky Ontario cheese curds, dark, thick gravy, and either baked beans, pulled pork, or brisket, is just as remarkable as the menu of sandwiches and Southern-style meals.
Pay notice, tourists with jam-packed schedules and late-night cravings for the delectable fare: the cafe is open 24 hours a day.
Address: 913 Queen St E, Toronto, ON M4M 1J4
Phone: +1 416-465-1313
---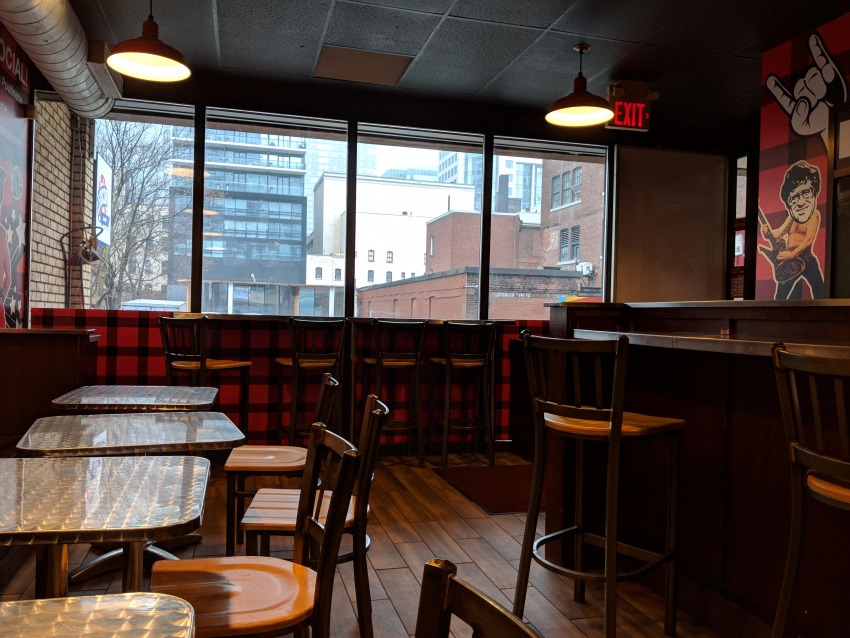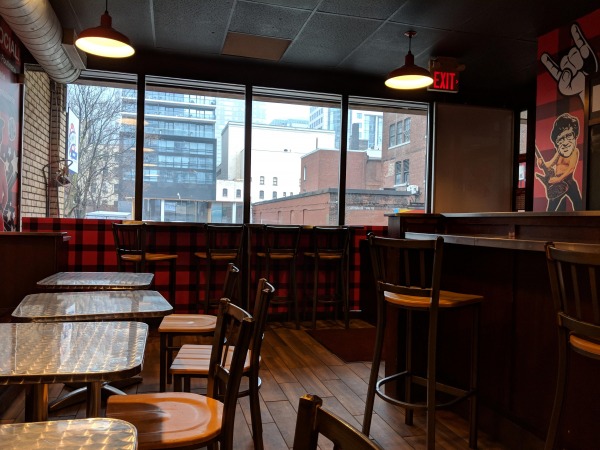 Smoke's Poutinerie is a national chain that serves up some of the most delectable variations on Canada's favorite traditional meal.
It is more of a grab-and-go eatery than a sit-down restaurant. It focuses solely on poutine with a range of topping choices rarely seen at a conventional club or bistro.
Smoke's Poutinerie, which has multiple locations across Toronto, is a must-visit for poutine fans. Choose from a variety of meals such as Canadian Pizza, Chicken Bacon Ranch, Veggie Deluxe, and others.
There are 15 distinct types of poutine on the menu, ranging from conventional to 'out there' alternatives; you can even mix and combine to create your own.
It's not just fries, gravy, and cheese curds at Smoke's Poutinerie. Instead, poutine is all about overindulgence in this town. They ran out of potatoes in their first two days of operation when they opened their first Toronto store, having serviced 1,000 orders in the first two days.
The pulled pork poutine, which is now trending, is not to be missed. The restaurant was churning out fries in a continuous stream for hungry guests craving gravy and curds.
The bacon poutine was the most conventional, and it offered a fair indication of how this place treats its potatoes.
Fresh-cut, skin-on fries with a crispiness that held up nicely to the addition of different toppings, as well as the pleasantly squeaky cheese curds (supplied from Quebec's Eastern Townships).
Address: 218 Adelaide St W, Toronto, ON M5H 1W7
Phone: +1 416-599-2873
---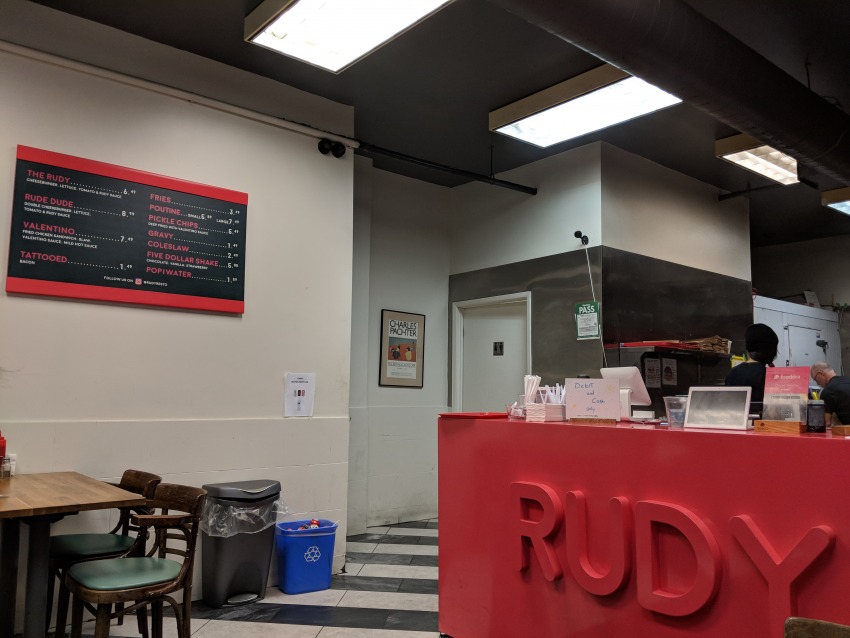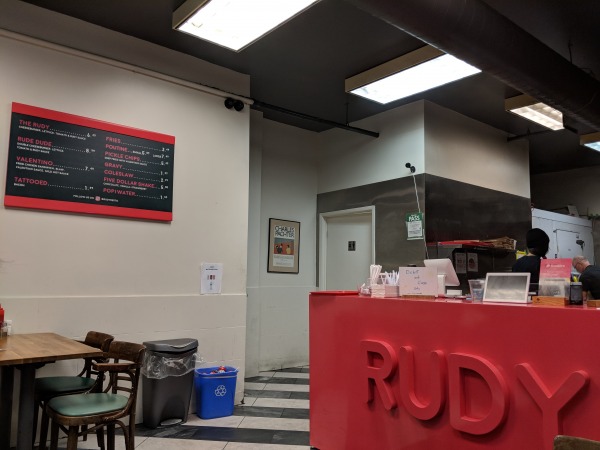 Rudy is a simple burger joint in Toronto that's perfect for a stroll, a workday lunch, or a meal before or after a movie at the Royal Cinema across the street.
They appeal to business people who want a simple, well-cooked dinner, as well as locals who just want a nice meal quickly. The burger joint does classic poutine better than anybody else. Each dish includes thick-cut fries, bits of curds, and a generous amount of gravy.
With tables running each side of the airy restaurant, which has a diner vibe to it thanks to its checkerboard floors and open-air kitchen, the space is tiny but quite friendly.
Rudy is simple to locate, not just because it's in a famous restaurant neighborhood, but also because of the huge hot pink sign with capitalized bubble letters spelling out "Rudy."
Over-the-top toppings aren't necessary for the greatest poutine in Toronto right now. This burger joint's original stands out owing to a sublime trinity of thick-cut fries, large squeaky curds, and a silky soy-onion-beet sauce that tastes so meaty you won't think it's meatless and just $7.49.
They offer poutine here because they wanted to maintain the raucous school days vibe and provide something, they ate all the time in college in Montreal.
The proprietor claims he's never had good poutine cooked with thin fries, specifically these fries are a thick vehicle for squeaky curds that originate from Ontario.
Address: 619 College St, Toronto, ON M6G 1B5
Phone: +1 647-748-7839
---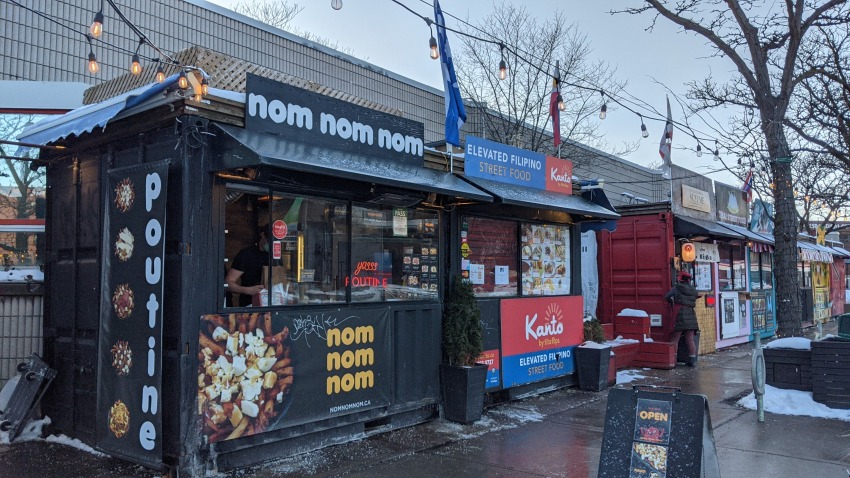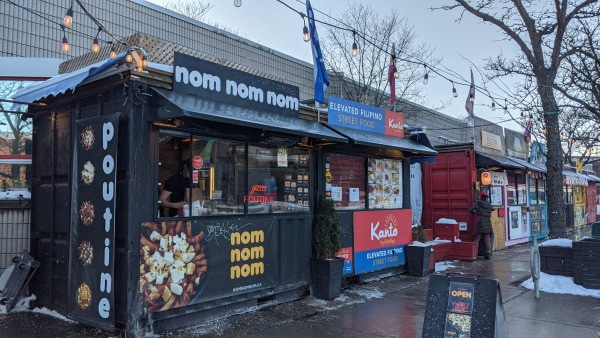 This vendor, which is located in Scadding Court's Market 707, is well-known for its poutine. The ever-boisterous Marc Perraut of Montreal owns Nom NomNom Poutine, a man with a strong enthusiasm for French-style street cuisine.
In the summer, a row of shipping containers that occupy a section of Dundas Street West is a popular hangout spot for residents wanting to have lunch or snacks.
Poutines with a variety of toppings are available, including the classic, bacon, smoked meat, and more.
Nom NomNom has a menu full of tempting crepes, but it's their poutines with handmade cheese curds that steal the show. This is possibly the best genuine poutine in Toronto on this side of the border with Quebec.
Meat is bought from the city's renowned Schwartz's deli at this booth at Dundas West's Market 707, which provides an opulent Montreal-inspired alternative.
The poutine here is inexpensive without sacrificing flavor, and it's cooked with Quebec-made gravy, which is always a plus. If you're looking for the most genuine option on the menu, Schwartz's Montreal smoked beef is a must-try.
Address: 707 Dundas St W, Toronto, ON M5T 2W6
Phone: +1 647-636-0707
---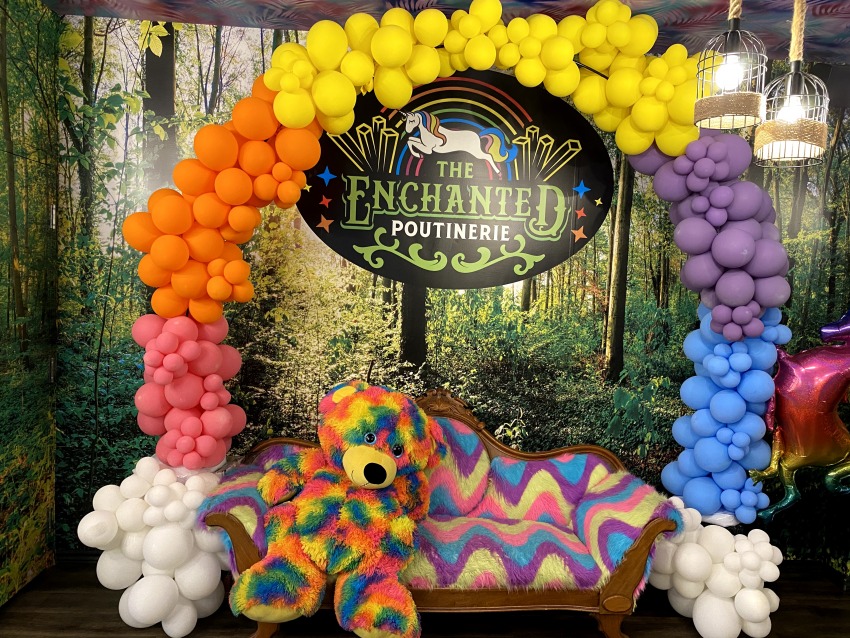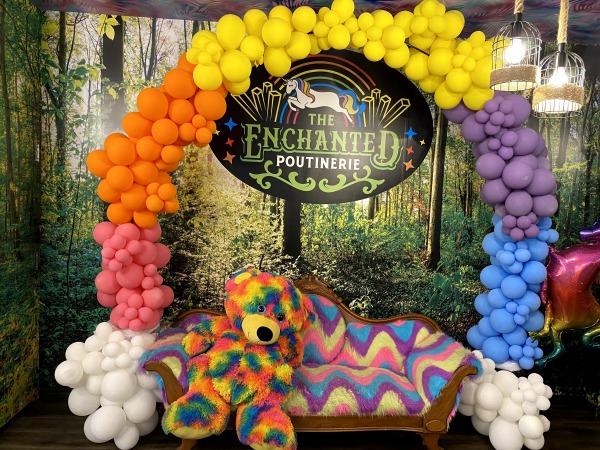 The Enchanted Poutinerie is known for its colorful "Unicorn Poutine," which is topped with rainbow curds and gravy and is Instagram-worthy. The rest of their menu is made up of a variety of similarly crazy poutines prepared using Canadian components.
Rainbow Quebec curds are layered with a multi-colored sauce in this delicacy. Chicken Shawarma Poutine, Montreal Smoked Meat Poutine, Lobster Poutine, and other dishes are available.
The psychedelia extends to space's appearance, with 3M vinyl wrap transforming the casual eatery into an enchanted forest and a dreamy palm frond motif spray-painted in purple, blue, and pink on the ceiling.
All of the fries are prepared using PEI potatoes, while the cheese curds come from Quebec. The Unicorn Poutine ($10.79 for normal size) must, of course, come first.
Curds are colored with food coloring, and some are mixed into a vegan gravy that is drizzled in a striped pattern to create a marbled rainbow appearance.
Spend a lot of money on a Lobster Poutine (the costliest option, at $19.79 for big order), which is topped with lobster from PEI. The lobster is flakes rather than chopped fresh after a quick flash in the pan before being used as a garnish.
The Enchanted Poutine Dessert, prepared with fried bread wedges sprinkled in sugar, is still a Zanier favorite. They're kind of like a sweet version of potato wedges, crispy on the surface and fluffy on the inside.
Address: 730 Wilson Ave, North York, ON M3K 1E2
Phone: +1 416-901-1993
---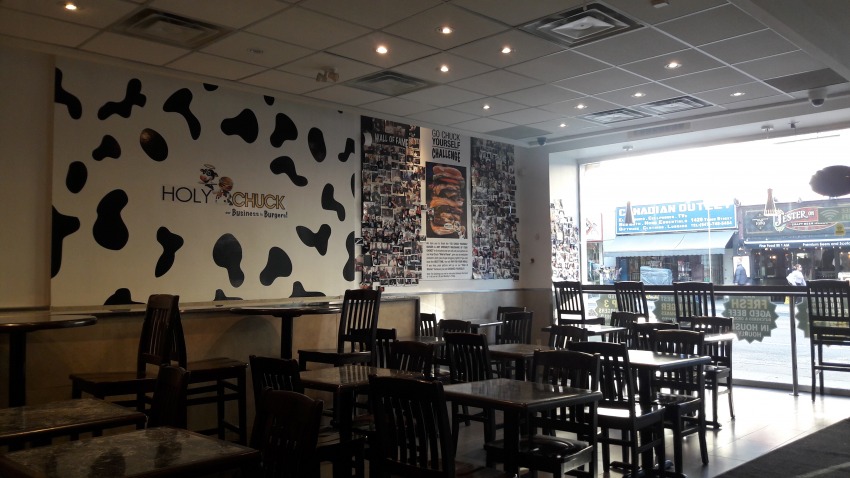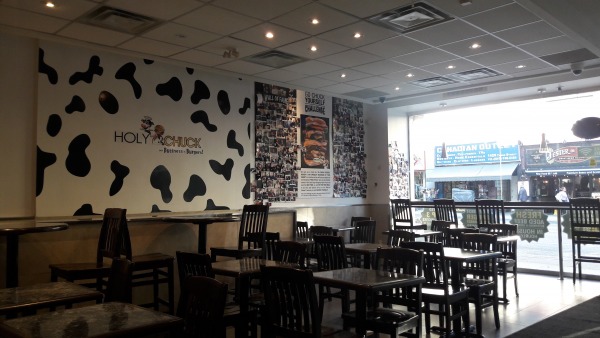 Johnny Prassoulis, the creator of Holy Chuck, is also a native edgy Toronto chef who has worked in several prestigious eateries in the city. Holy Chuck is a lively and family-friendly environment with enough seats for people of all ages to enjoy a fantastic meal at a fair price.
It's simple: go to Holy Chuck if you want wonderful poutine in Toronto that includes so much more than simply delicious poutine, fries, and shakes.  You will not only be overjoyed but you will also be astounded.
Holy Chuck, which is located between Yonge and St. Clair in the former Retro Burger premises, is making a name for itself in the growing culinary scene.
Holy Chuck appears to be a typical fast-food joint. In terms of ambiance, it's on par with any place with primary-colored walls and swivel seats fastened to the floor.
This establishment not only serves burgers, but also a plate of excellent, old-fashioned poutine. You may also add white truffle mayo or even foie gras if you want to go for something a bit fancier.
The numerous reasons why Holy Chuck is "THE" force to be reckoned with include the range of handmade fresh hand-cut fries, poutines, insane desserts, and incredibly pleasant and courteous personnel.
Address: 1450 Yonge St, Toronto, ON M4T 1Y7
Phone: +1 416-962-4825
---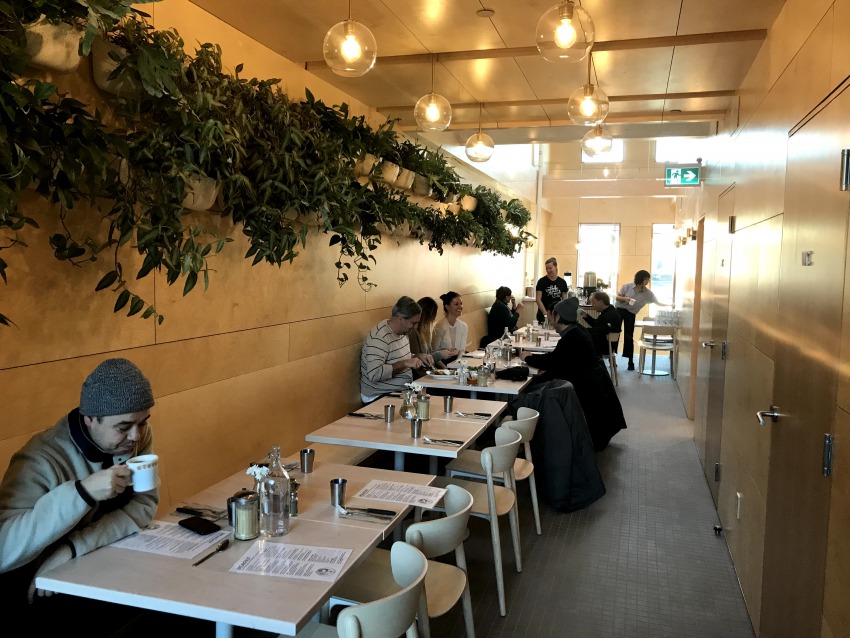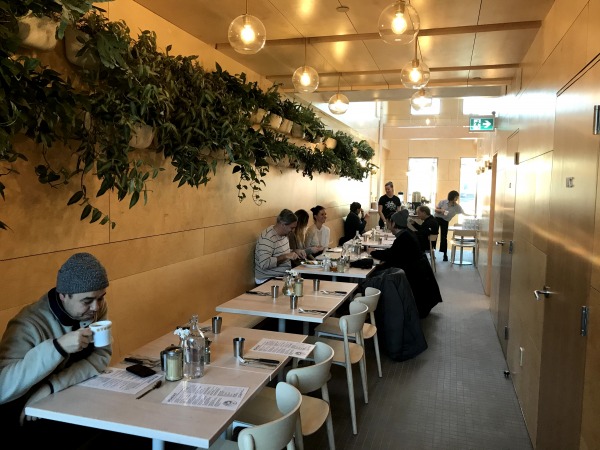 Lady Marmalade is a renowned all-day brunch restaurant in Toronto, serving up some of the greatest eggs benny, and breakfast poutine in Toronto.
Many products are extremely adaptable to fit gluten-free and vegetarian diets, and they utilize free-run eggs, premium meats, sustainable seafood, and local produce as much as possible.
The two-level, 54-seat room, which dates back to 1885, is enrobed in rich but airy light wood, owing to Omar Gandhi's design. The inside is composed of 5,000 square feet of Baltic birch, while the exterior is coated in cedar. The small top-level is bathed in natural light thanks to dizzyingly high skylights.
Poutine isn't only for the late hours at this always-bustling east-end brunch restaurant; it's also for the hangover. With two free-run poached eggs, the A.M. Poutine is a steaming jumble of home fries, curds, and miso gravy. Poached eggs, bacon, and pulled pork are all available as options.
Address: 265 Broadview Ave, Toronto, ON M4M 2G8
Phone: +1 647-351-7645
---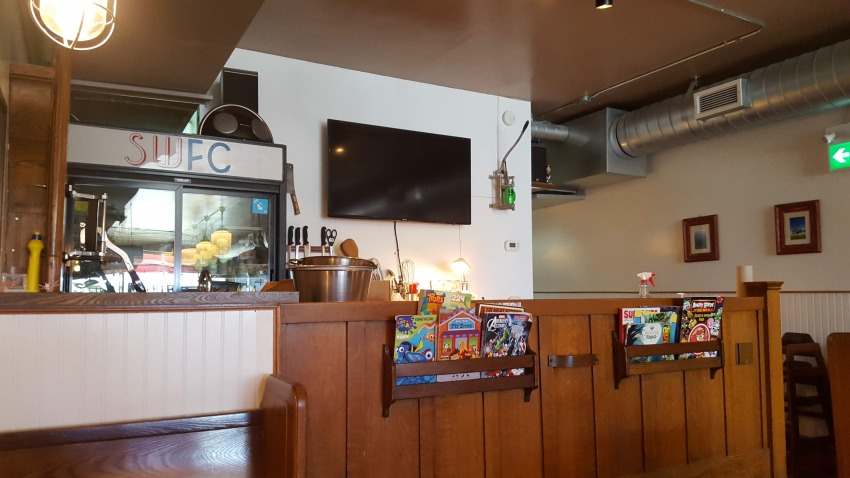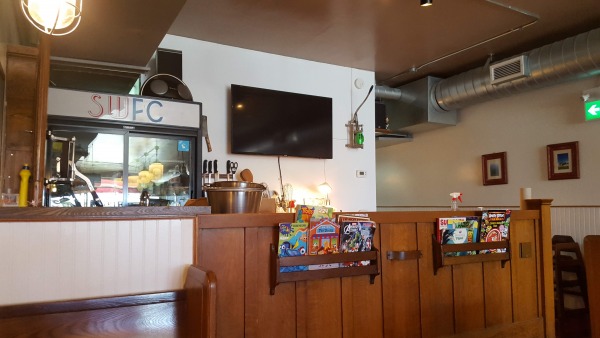 It's all about the fish at Sea Witch on St. Clair West. Haddock, Pacific cod, halibut, pickerel, and arctic char are among the five varieties of fish on the menu. Customers can order their fish in one or two-piece quantities with chips, on a sandwich, or just by itself.
Kevin Kowalczyk, who co-owns the fish fry with his wife Jacki Strahl, has manually fried virtually every piece of fish since they began less than a month ago.
Both have over 10 years of experience in the culinary sector and are excited to launch this new endeavor in their own neighborhood, on St. Clair West east of Christie.
When you can eat poutine with your fish instead of chips, it's a no-brainer. This St. Clair West fish fry's hook is old-school chunky chips cooked in beef drippings, covered with curds and beef gravy, and shockingly good as a side for a piece or two of beautifully golden halibut, haddock, pickerel, cod, or trout.
Address: 636 St Clair Ave W, Toronto, ON M6C 1A9
Phone: +1 647-349-4824
---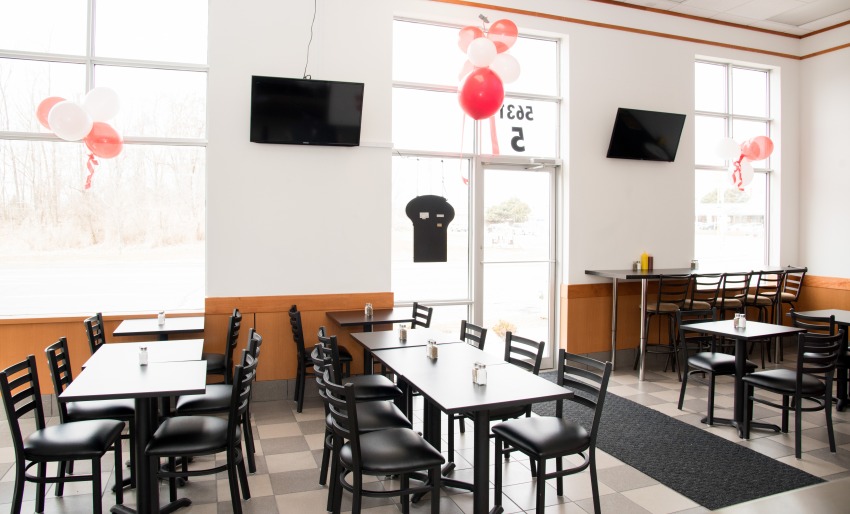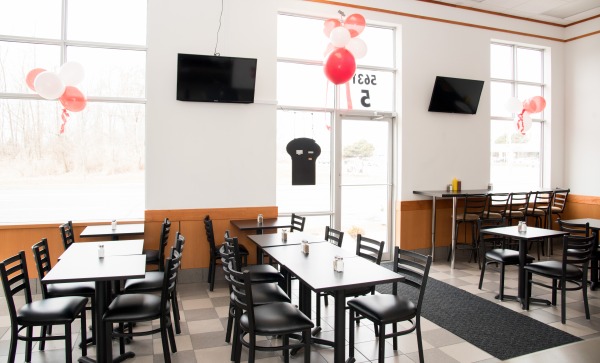 SumiLicious offers smoked meat from Montreal in sandwiches, plates, platters, combinations, and by the pound. Smith Fernando, the mastermind behind it all, who used to work at the famed Schwartz's, is the name of the deli.
From the checkerboard decor to the pounds of smoked meat steaming directly behind the counter and a case full of pickles and peppers, this is definitely a deli.
If you're in a hurry, the takeaway is the way to go. If you have the time and are in the mood for some restaurant vibes, seat in. They have a lot of room inside, including dining-themed seating as well as traditional bar-style window seating.
They also feature television and music from today's hottest artists, some throwbacks from the past, and your favorite sports networks and events.
If you're very sure you don't want the meat, they also serve it on poutine ($7.99). It consists of hand-cut fries with "unique Sumi seasoning," Quebec cheese curds, and vegetarian gluten-free gravy.
Rich gravy and squeaky curds appear to be the only things that could improve this smoked beef, even more, the cheese expanding into delightful gooey threads.
Poutine as you know it is reimagined thanks to the distinctive spice combination. They take pride in their excellent flavor and are dedicated to offering their clients the highest-quality poutine alternatives.
They also feel that casual doesn't have to imply boring cuisine. They're on a mission to elevate casual to the next level.
Address: 5631 Steeles Ave E #5, Scarborough, ON M1V 5P6
Phone: +1 647-347-8899
---
Also check, Best Poutine in Montreal, Canada 
---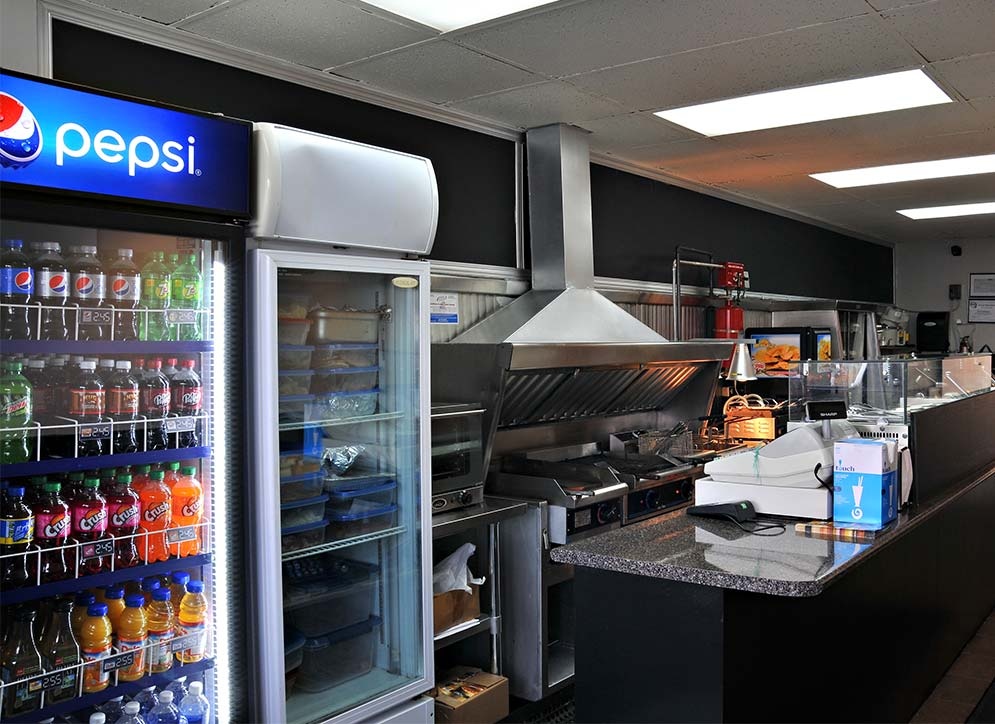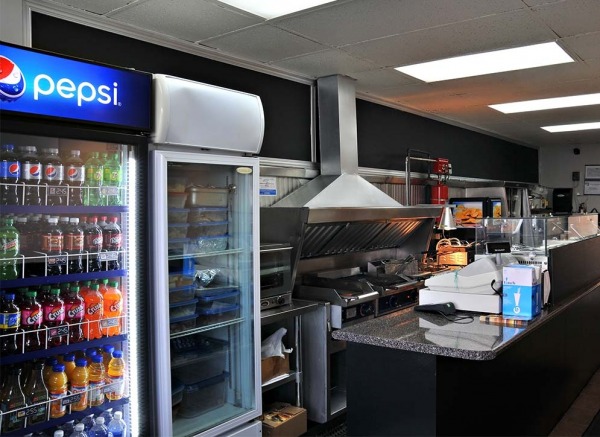 Get your fix at "The 6," where our East Toronto native Chef serves you a range of delectable dishes daily beginning at 11:00 a.m.
From premium Angus Chuck Burgers to Chef-inspired specialty Poutines and complete Dinner Entrees like Chicken and Pork Souvlaki, you can be confident that each dish has a unique flavor profile and is prepared fresh to order.
The 6 Burger Bar has plenty of free parking, a modest dining space. It also has full catering options to make your next occasion simple, easy, and tasty.
These guys create incredible fast food. The burgers are excellent, with a natural grilled taste. Their fries are hot and crispy and cooked fresh for you.
Poutines in Toronto at this bar are almost certainly a heart attack on a platter, but they're worth dying for. The portions are large, and the price is well justified. For sure, it's better than any chain restaurant.
The gravy and cheese curds are not skimpy. Try the bacon poutine, which comes with plenty of bacon. The gravy and curds are just perfect. The squeak is also present in the curds.
They also provide a complimentary drink with your order. You may finish your lunch in a nearby park, full and grateful.
Their specialty is southern poutine. The person who makes the food is very generous and friendly. However, it is better than any poutine in Toronto you'll ever eat.
The fries were hot out of the fryer, and the cheese curds were, well, cheesy. Southern poutine in Toronto is delicious and inexpensive. They also advise slathering crack sauce all over everything.
Address: 3 Chelwood Rd, Scarborough, ON M1K 2K5
Phone: +1 647-347-8436