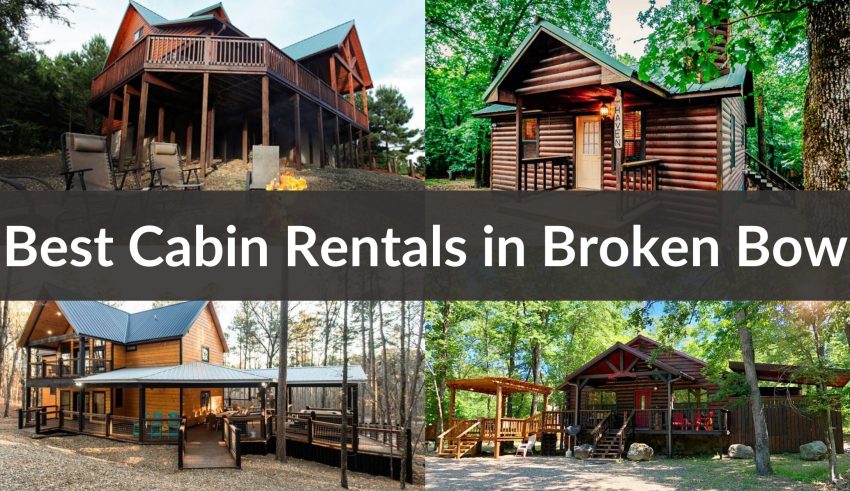 Visiting Broken Bow to get away from all hustle-bustle of the city and kick back and immerse yourself in activities such as Fishing, Kayaking, and trekking? Well that a great idea, but where are you planning to say? The motels? Meh, why do that when you can stay at some of the most gorgeous cabins in the area? Now, are you wondering which are the best cabin rentals in the Broken Bow? Then keep reading this article, you'll find your answer soon enough.
Here is the list of 15 Best Cabin Rentals in Broken Bow: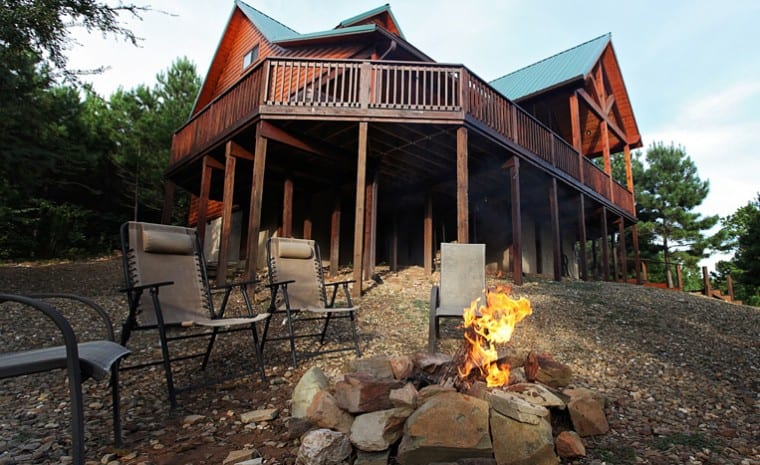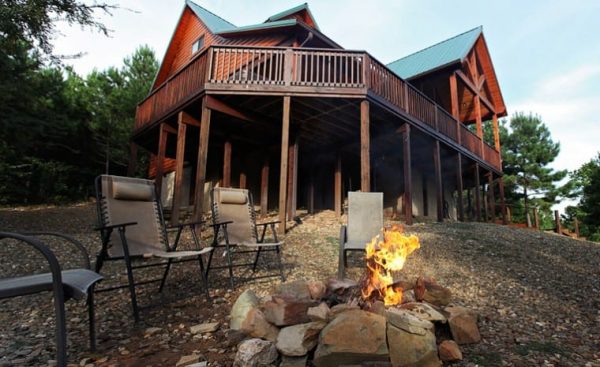 Let's start this list with this breathtaking and homely cabin, Panorama Cabin accommodates up to 4 guests within its 2 Master bedrooms and 2.5 baths. Its peaceful atmosphere and the panoramic view can make you want to stay there forever. Their great room showcases a beautiful rock fireplace, a fully equipped kitchen with a built-in granite dining table is connected with the great room.
This western-facing cabin will offer you a beautiful evening view of the sun slowly sinking in the tree-top filled sky from their spacious wrap-around deck. Their upstairs balcony will offer you even more breathtaking views. While for relaxation, they offer a large hot tub with a Mountain View, outdoor hot tub, and firepit. Plus, they also provide a bonus room with a pool table and TV.
The great thing about them is that they are pet friendly, and won't charge any pet fee. Apart from that, they offer many other amenities including central heat and air, washer and dryer, toss game, boat/trailer parking, and so on.
---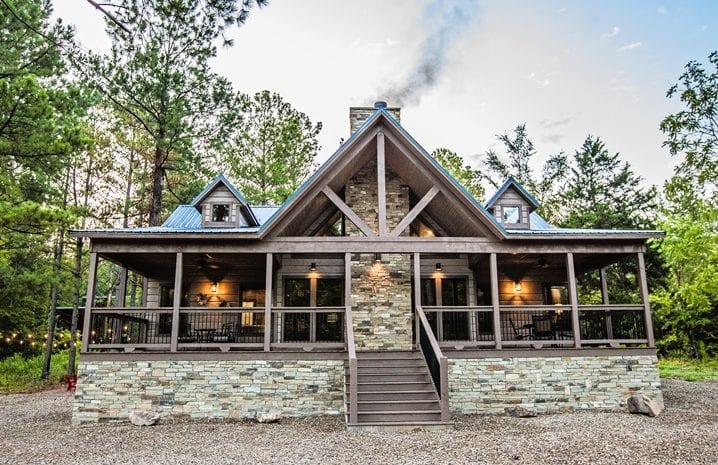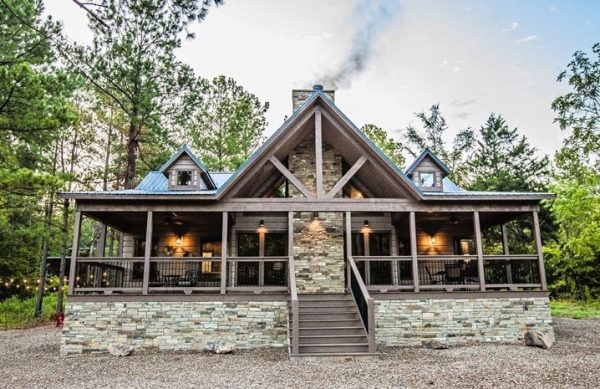 This Broken Bow cabin might be a good example of why one shouldn't judge a book by its cover because if you compare Choctaw Wind cabin to the other cabins given here, it appears almost average. But once you step inside this cozy little cabin, you'll be awestruck by the sheer amount of comfort and coziness it radiates. Choctaw Wind is a perfect place for families and group outings since it can easily accommodate up to 10 people and has 3 master bedrooms, 1 Queen Murphy bed, and 1 Queen Sleeper sofa.
It is located close to the Timber Creek Trail Shopping Center, so you'll get easy and quick access to the popular dining spots and shops like the Okie girls coffee & Ice Cream shop, Shuck-Me Cajun Fish Restaurant, Mountain fork microbrewery, and a lot of other spots. Choctaw Wind has an extra park spot where you easily park your trailer or a boat; they're also pet friendly and permit ATV/ Golf cart riding.
---
3. Riverhawk at Lazy River Retreat on Mt Fork River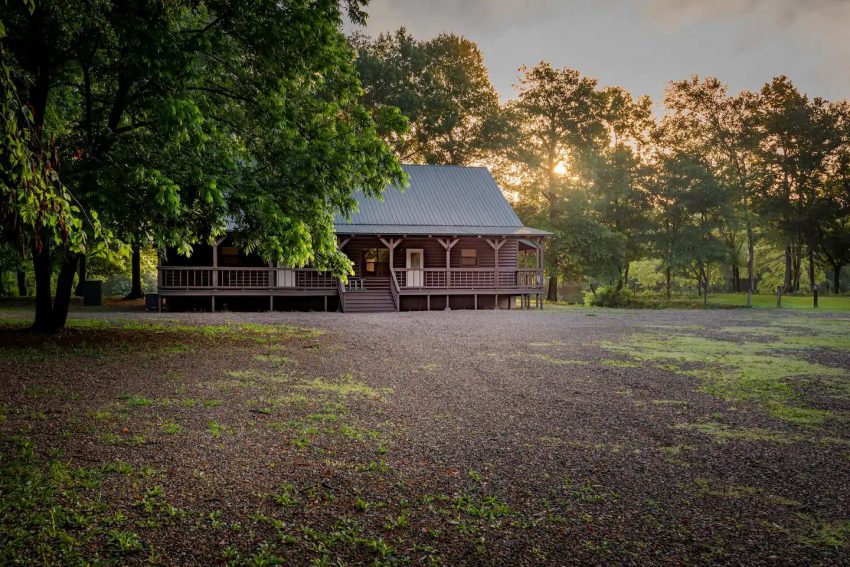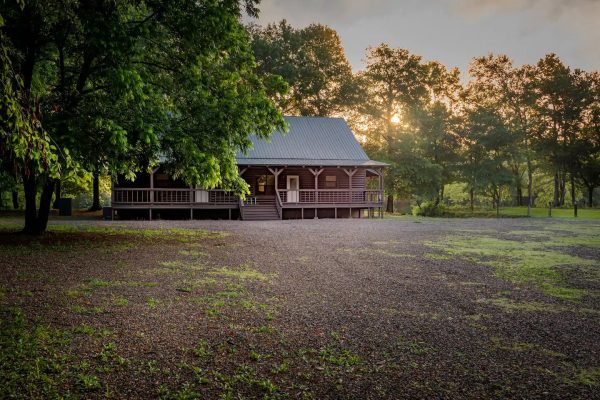 Choctaw Wind cabin can easily accommodate up to 10 people but if you are searching for a cabin that can accommodate even larger groups, then Riverhawk cabin might be the perfect place for you.  This cabin has been designed to host larger groups and can easily accommodate up to 24 people at a time.
Riverhawk cabin offers 3 master bedrooms and 10 bunk beds with a double kitchen and double baths. You'll have a full cabin for yourself but the best part of this cabin is that it is located on the bank of Mt Fork River.
This cabin will not just offer you beautiful views of clear and clean Mt Fork River, but you can also use over 400ft of river frontage for fishing, swimming, and kayaking. It can be an incredible place if you want to enjoy it with your family, friends, or sports activities. Plus, they also offer a fire pit and indoor fireplace where you can relax or have fun, they are pet friendly, but they do charge a minimal fee.
---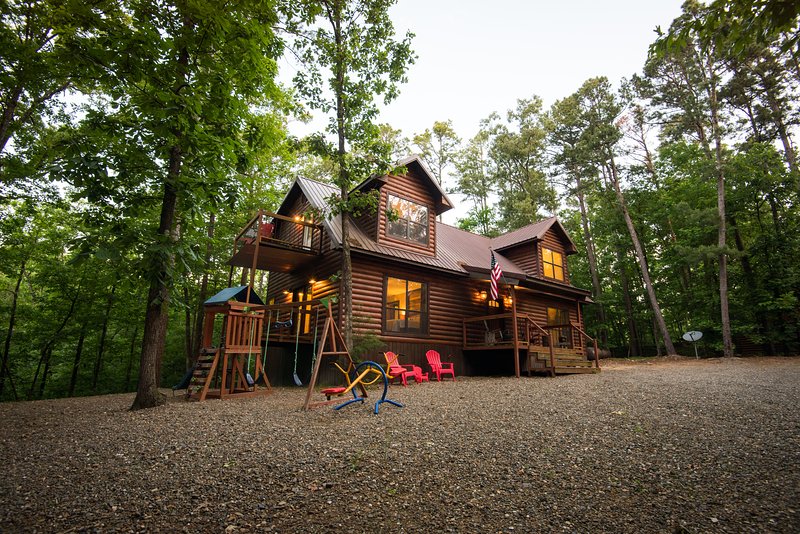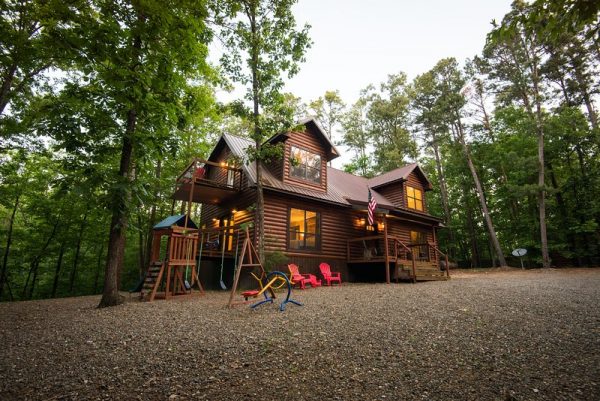 Bear Creek Lodge has such a warm and homelike feeling that even after a fun and adventurous day, you will feel relaxed by just entering through the front door. This cabin offers everything that you and your family will need for an enjoyable and comfortable stay, including a hot tub, play area, pool table, foosball table. Bear Creek Lodge is spacious enough and can easily accommodate up to 12 guests, it offers 3 bedrooms.
If you want to stay connected with outdoor activities and also want to enjoy nature, Bear Creek Lodge can be a great choice. As Bear Creek Lodge is located in a very secluded area, you can enjoy the peacefulness in the sound of nature, plus, it is just minutes away from all the outdoor attractions (Cedar Creek golf course, ATV riding, Broken Bow Lake, and Hochatown).
Apart from that, for each rental, you'll get a complimentary bottle of wine from Girls Gone Wine.
---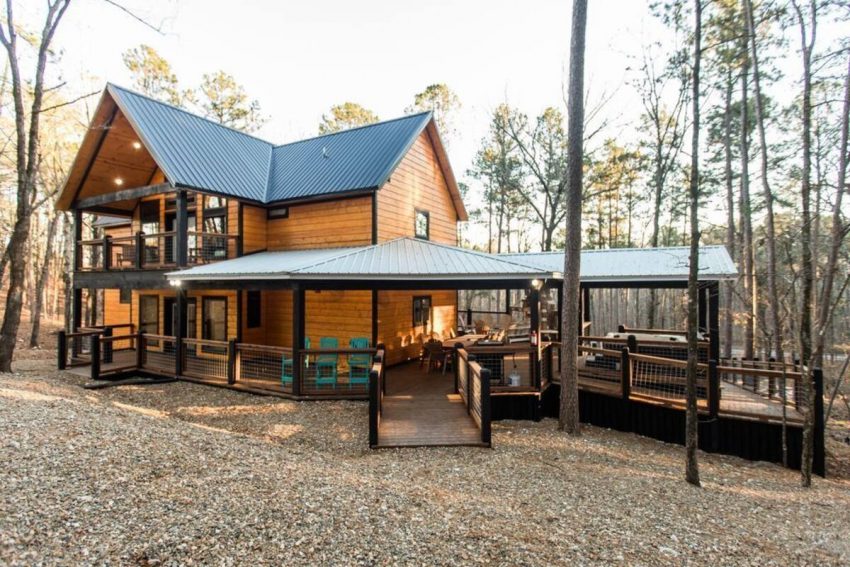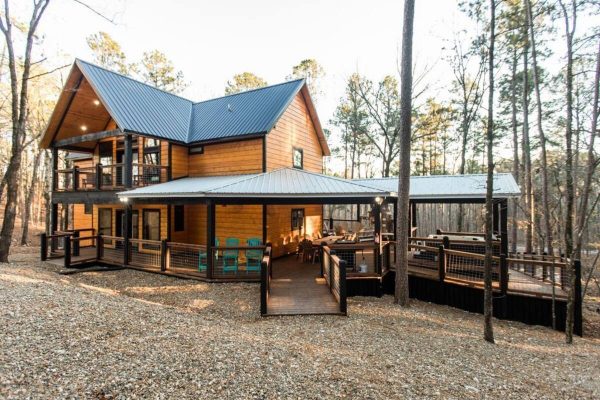 Next, we have this gorgeous cabin, which will definitely leave you awestruck with its immediate beauty. This cabin is a perfect blend of luxury and homely interior, having grand double stairs right from the front entrance plus the rock work just adds to its beauty. The family room where you can hang out with your friends or family, features a beautiful double-sided fireplace, a dining room, and a spacious kitchen.
This cabin offers 3 unique bedrooms and each bedroom features a beautiful vanity and a large shower. It can accommodate up to 16 guests, with 3 king beds plus an open loft above with 6 twin beds. Other than being perfect for relaxation this cabin also offers limitless options for entertainment, as the loft has a 9ft shuffleboard, an air hockey game, and a video game arcade featuring 60+ classic games.
This cabin is located in rural areas, so if you are looking for local activities, want to experience the local culture, or are seeking an adventure, this Glorious Grace Cabin will be a great choice.
---
6. Time Well Spent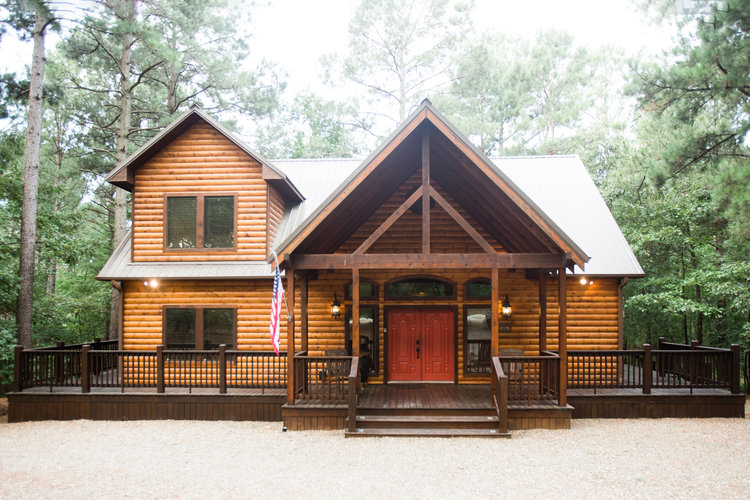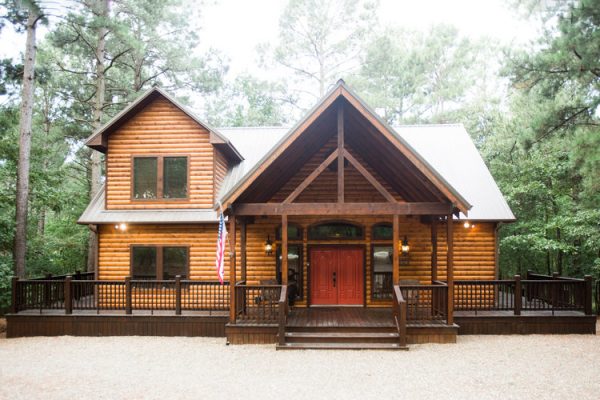 Again another great cabin that will let you enjoy your vacation away from all the noise. And as its name suggests, your time will be well spent in this cozy and glorious cabin, Time Well Spent is a great cabin for families or friends reunion. Just like the last cabin, Time Well Spent also features 3 king bedrooms which can accommodate 10 guests in total.
They offer plenty of things to relax and hang out at the cabin which includes a 2 story rock fireplace, covered outdoor dining area, large fire pit, and large hot tub. And if you want to have some entertainment while relaxing then they have foosball and shuffleboard in the loft.
This cabin is located in the Lakewood Estates development which is close to Broken Bow Lake, you can be close to all the activities of the Hochatown area plus enjoy the towering pines.
---
7. Antler Cabin at Broken Bow Lake, Oklahoma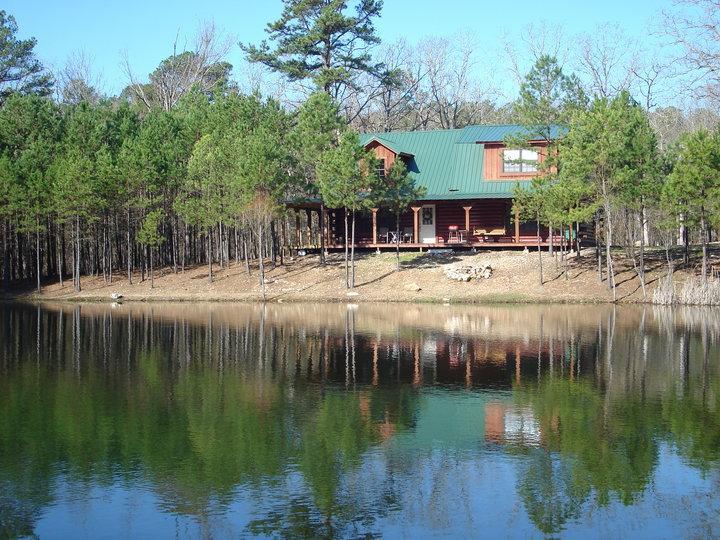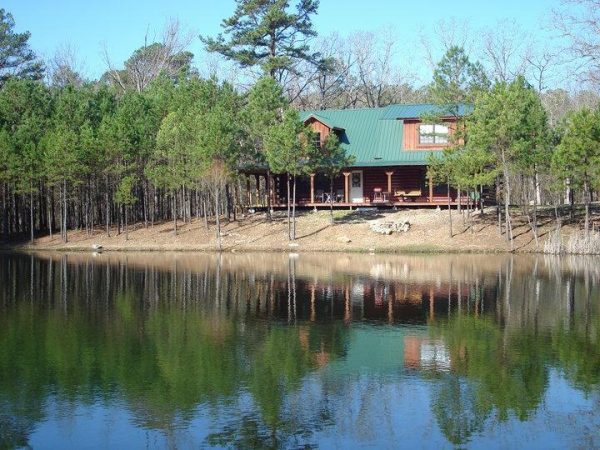 Antler Cabin is quite different from other cabins in this list as this cabin is surrounded by Ouachita National Forest making it secluded, you'll be seeing a lot of wildlife. But that's not the best part, this cabin is on 35 acres of private land offering you enough place to explore. Plus, right off the back porch of the cabin, there is a large stocked pond, where you can do fishing.
Hence, If you and your family are a wildlife lover, then do check out Antler Cabin. Unlike other cabins in this list, this beautiful cabin isn't something luxurious yet it has that welcoming vibes. Instead of a 5-star hotel interior, Antler Cabin is fully furnished with wildlife decor.
They can accommodate 6 guests in total as they offer 3 bedrooms, 2 baths, and 2 story log with 1000 sq ft of the covered porch. This cabin has 2 fire pits, hiking trails, a deer feeder, two stocked fishing ponds.
---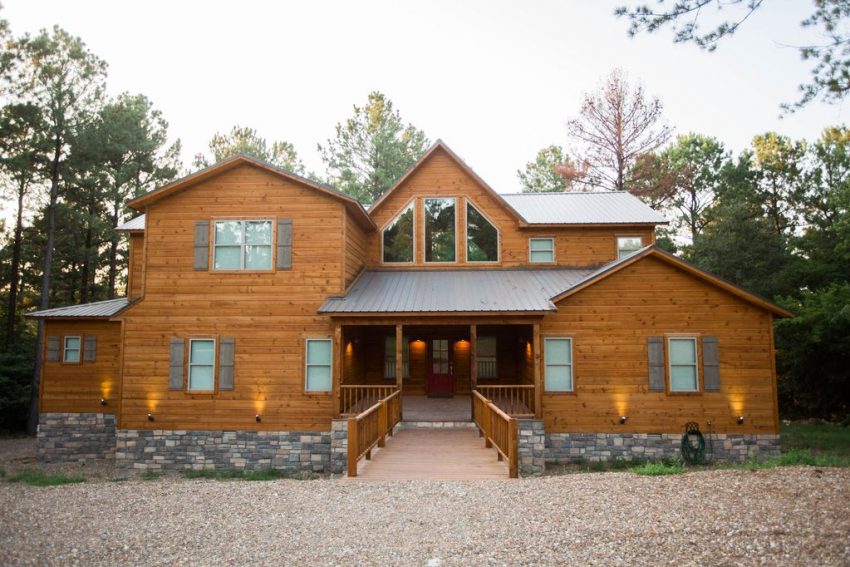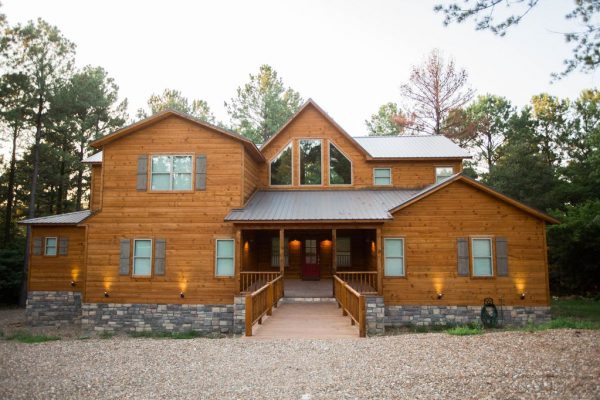 Party of Five is one of the best looking places in this article and also the one that I find a Lil bit funny, why? Because when you hear its name "Party of Five", you get the idea that the cabin must easily accommodate up to 5 people at a time. But that's wrong since this cabin can easily accommodate up to 18 people at a time; this cabin offers 5 bedrooms, of which 4 are King bedrooms and 1 is a bunk room that can sleep up to 4 people.
Party of five located just a few blocks away from the renowned Mountain fork brewery, Okie girls coffee, and ice cream shop which makes it just perfect for a family getaway. The cabin features some large windows that can let you fully enjoy the sensations of being surrounded by the lush greenery while sitting close to the fireplace. Party of five also has a game room that holds a full-size pool table!
---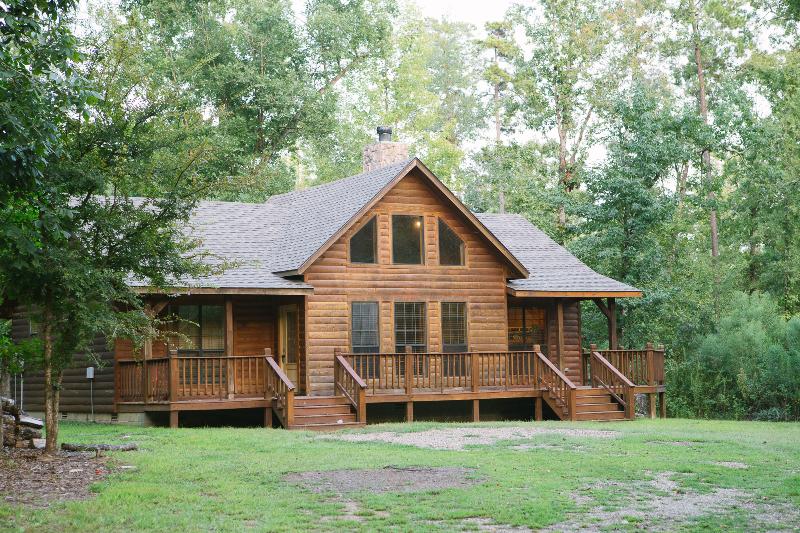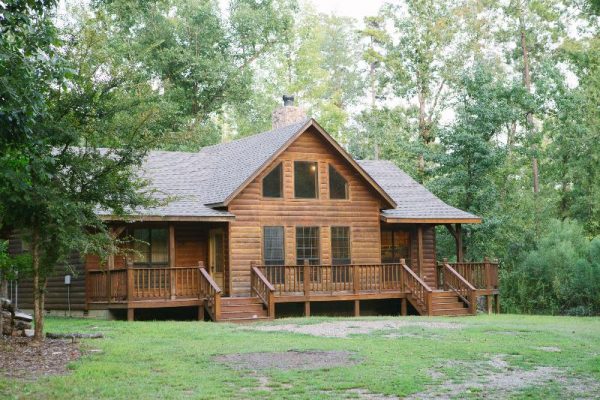 Up next we have this gorgeous single level 2 bedroom log cabin; this cabin is located approximately 2 miles from the Beavers bend Marina, 15 miles from Broken Bow, and just 1 mile away from the closest gas station and other amenities.
This cabin sits on a private wooded area and can house up to 6 guests; as mentioned earlier, this cabin has 2 bedrooms, and 1 of these bedrooms features a handmade King sized Cedar Log bed, whole the other bedroom features a bunk bed with queen sized bottom bunk, both rooms have their own attached full bathrooms.
We felt that this cabin is a perfect spot to hang out with the boys (for no particular reason), but it's also great for families, kids, in particular, love the bunk bed to the point of starting a fight over who gets the bigger bed.
This cabin has a large hot tub in the back deck where you can chill while trying hard to look like the witcher. There's a BBQ grill near the warp around porch and steps away from it is a fire pit where you can roast your s'mores and scare the bejesus out of your kids with ghost stories.
---
10. Tree Top Tango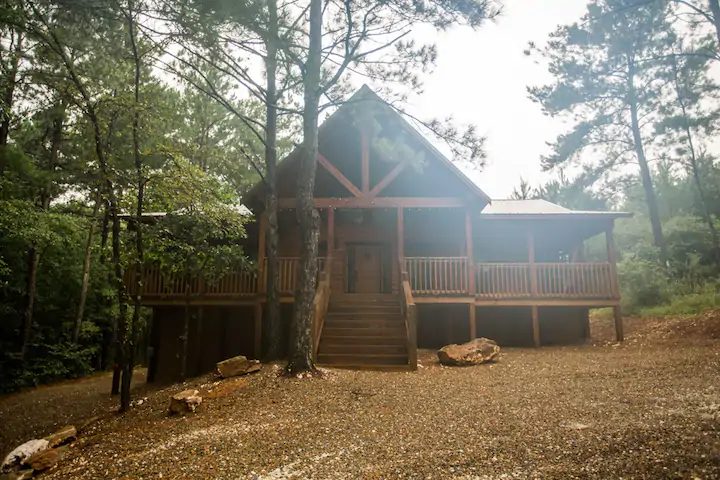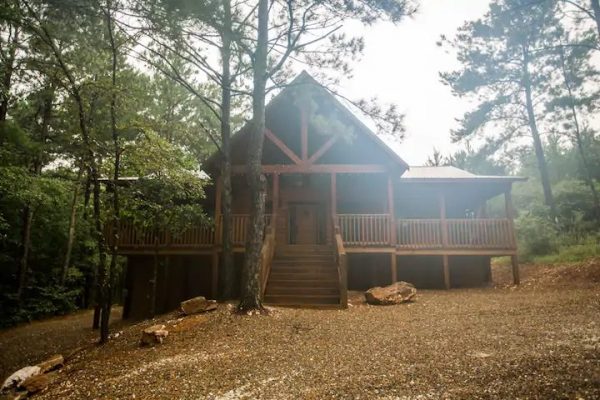 Tree Top tango made me dream of a beautiful cabin above the trees, but my expectations were crushed when I actually saw this cabin because it wasn't above the trees! Oh, how cool it would've been. But anyway, this cabin gave us a vibe that some secret agent must be using this chilling spot while polishing his guns to take down his next target.
Tree Top tango offers 3 bedrooms and 2 bathrooms and is perfect for Secret agents or spies looking to blow some steam. The master bathrooms at Tree Top tango are fitted with a soaking tub and a dual rain shower, which can easily help you wash away all the fatigue and achieve nirvana.
Tree Top tango cabin is located deep with-in the Lakewood Estates and is about 10 miles from Broken Bow and a few miles from the Hochatown community, and Carson creek.
This spot is particularly great if you're looking for great diners (Rock bottom boys BBQ, Stevens Gap diner, Moon Tower, et cetera), wineries (Girls Gone Wine, Vioja's, and Fish Tales), and beer connoisseurs (Mountain fork Brewery and Beavers bend brewery). There are plenty of activities available close to Tree Top tango such as Fishing (there's a grill available!), Fly fishing, kayaking, zip-lining, and of course, hiking.
---
11. Shadow Dancer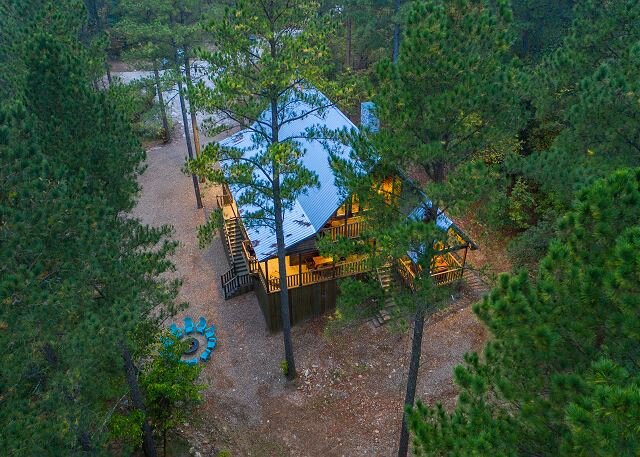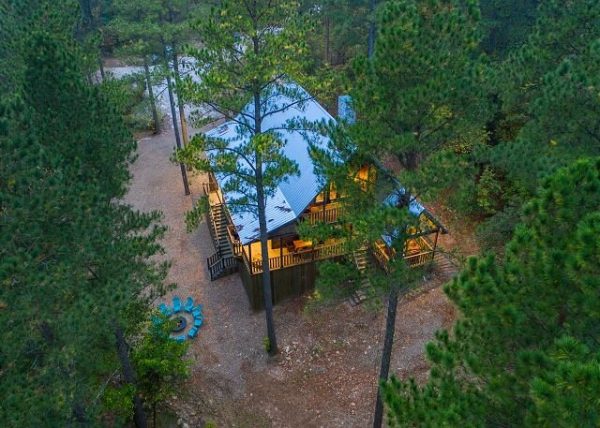 And here we have yet another silly named Broken Bow cabin, while its name says "Shadow Dancer", I was expecting some sexy dark interiors but it didn't offer that, yet what Shadow Dancer offered took my breath away, and I believe you'll go through something similar because the cabin is completely surrounded by the trees and offers a bright and crisp interior that'll help achieve complete comfort and peace.
Shadow Dancer is a 2-story cabin that is located in the Eagle Mountain west development near the Beavers bend state park and Broken Bow Lake. The cabin says that it offers 2 bedrooms, but in-truth it offers 3 bedrooms, the third one is located upstairs and offers twin XL nooks and a queen-sized sleeper sofa.
This cabin offers nearly all the necessary amenities and is close to all the major destinations, but the best part of this cabin would be that it's a great spot for stargazing and roasting s'mores while singing songs.
---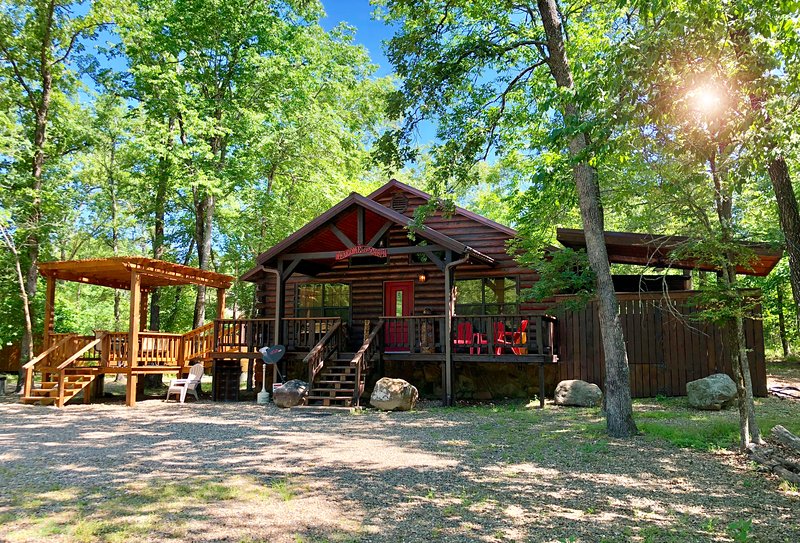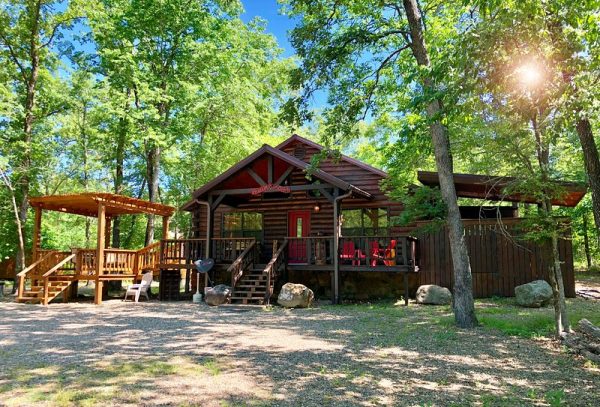 Are you a solo camper or a couple looking for a cabin close to the Broken Bow Lake? Then the Secluded chillin' cabin might just be perfect for you since it is one of the closest cabins to Broken Bow Lake.
This cabin is 1030 sq. ft and appears rather packed from inside, but that's only because it offers nearly everything you'll need and a bit more so you can fully enjoy your stay there. Its size also made me like this cabin was far more suited for a solo camper or a couple (as mentioned before).
This cabin is located East of Route 259 between the Carson Creek Lake and the Stephens gap roads. The cabin features 2 bedrooms, 2 bathrooms, and a clean fully equipped and stocked kitchen that can accommodate up to 4 people easily.
Although the cabin is secluded, it is a few minutes drive away from all the major attractions and restaurants. Secluded Chillin cabin comes with plenty of parking space for ATVs, Cars, and Boats.
---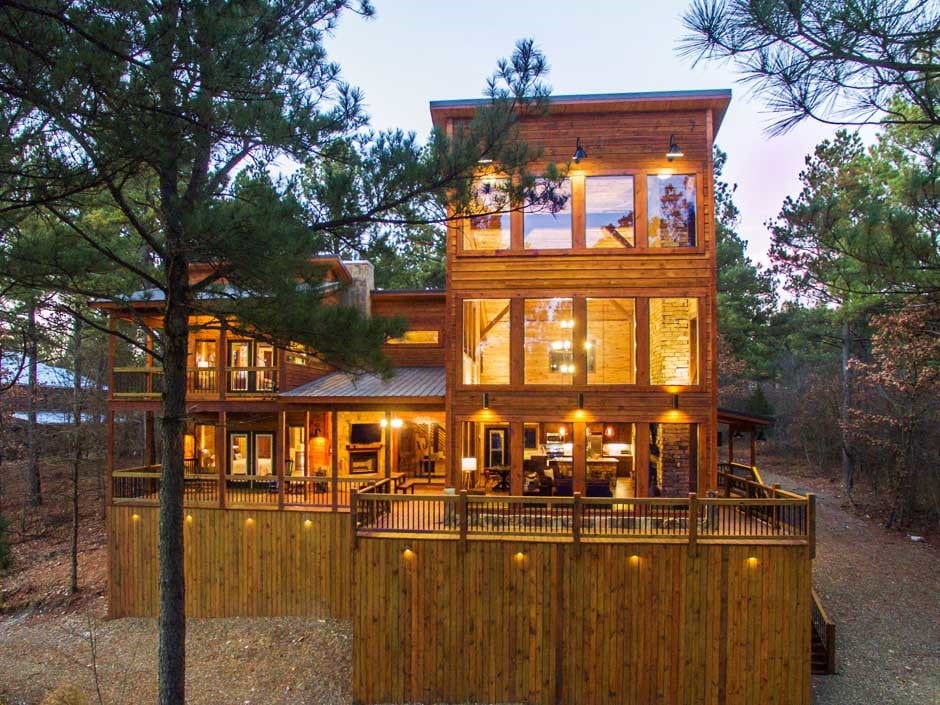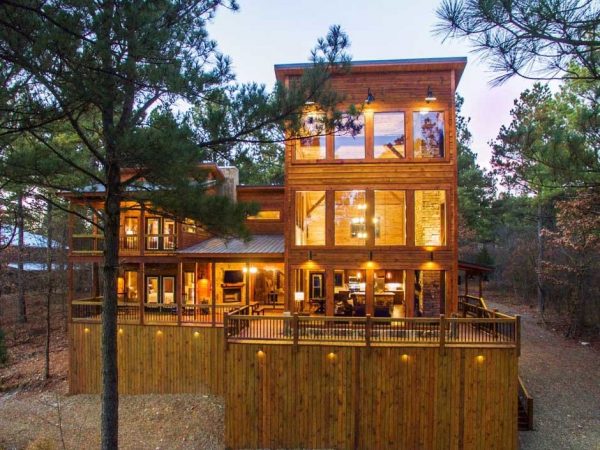 When I first heard about Rustic heights from a close friend; I was expecting something small and cozy, but when I actually saw the place, my first thought was, "Did the Cullens live here?" Because it almost looks like a place where the Cullens would live. This stunning cabin is located at the Timber creek trails south development.
Although it says 2 bedrooms, it can sleep up to 6 people; those 2 master bedrooms are decked out with 2 plush King-sized beds and both of these have an attached bathroom that features a Jacuzzi and a Walk-in rain shower (the most pleasant thing).
The cabin sports 33′ floor to ceiling windows so you can get mesmerized in the nature around you, there's also a wrap-around deck where you can either chill with friends or immerse yourself in stargazing (if the sky is clear). All in all, Rustic heights is the type of place where you wouldn't want to take your kids, especially if they love to wreck things.
---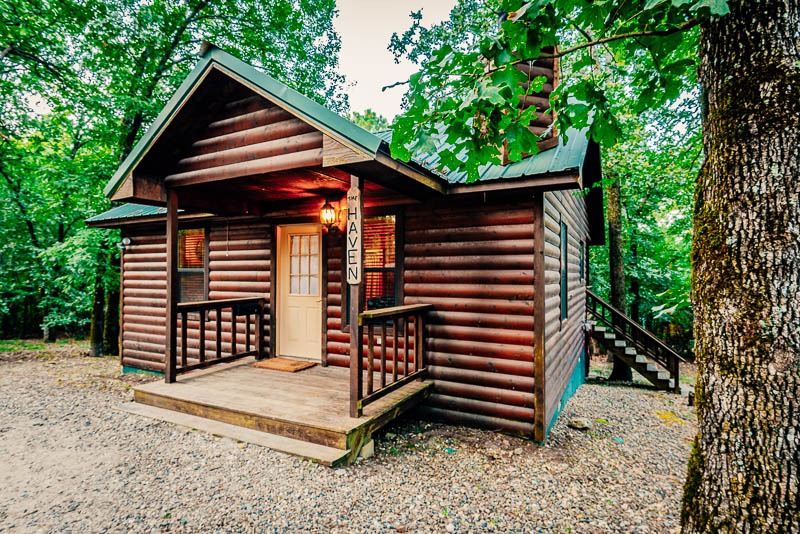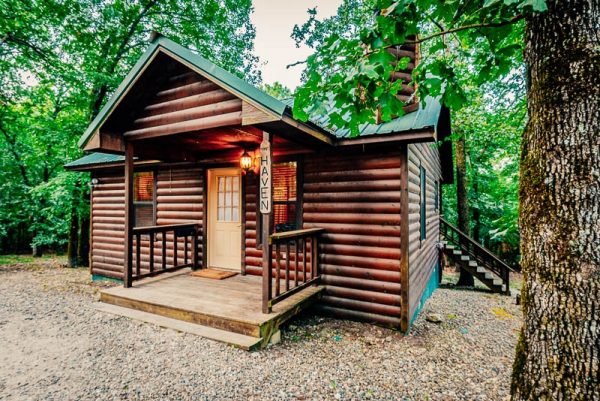 On our 14th spot we have the Haven, and according to them, they're a great spot for newlyweds. We agree with them a little bit, but we felt that it's far more suited for couples who wish to celebrate their anniversaries hidden away from the world (more or less).
This cabin is largely suited for people who wish to stay there for 1-2 days since the Haven doesn't offer a dishwasher or a washer & dryer (subject to changes). But other than that, it is equipped with Wi-Fi, DVD (does anyone even use those), Cable TV, charcoal grill, and an outdoor fireplace where you can probably sing camp songs while roasting s'mores.
The Haven is pretty close to the south entrance of the beavers bend state park and the Broken Bow Lake, Beavers bend Marina, Restaurants, and shopping malls are just a few mins away by car. The Haven is also Pet-friendly so you don't have to leave your precious ones alone at home (although you can leave your kids at home, have some peace for a change).
---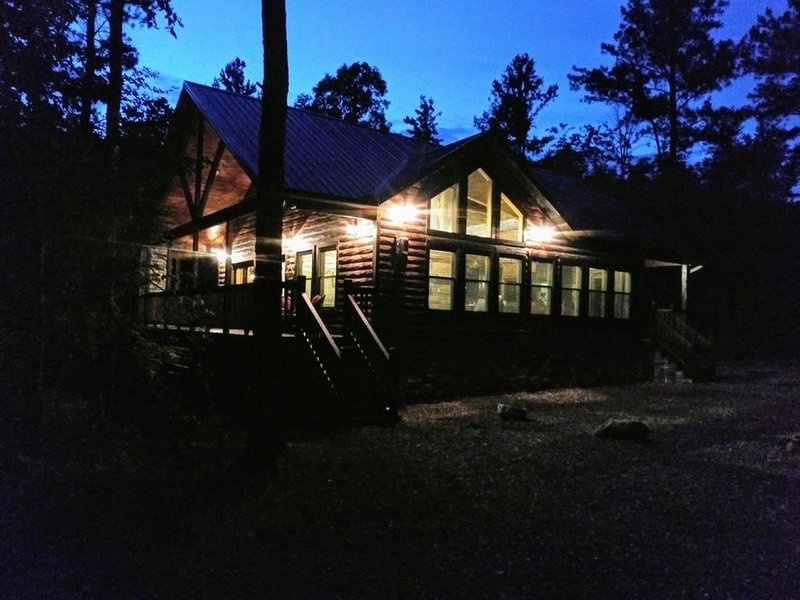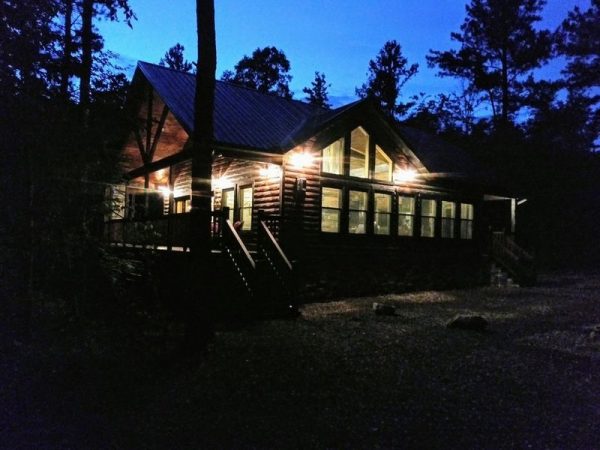 You've finally reached the end of this long article, but hold on! Don't run away, because we have 1 more Broken Bow cabin that you must know about. This cabin is called Leather & Lace Luxury cabin, and I gotta say, this cabin is a must-visit with your lover.
Leather and Lace Luxury cabin is located Timber creek trails south in Hochatown, Oklahoma, and is just a few minutes away from the Broken Bow Lake, Cedar Creek Golf Course, Beavers bend state park, and the other attractions in Hochatown.
The cabin can accommodate 4 people but since it gives off a romantic vibe, I wholeheartedly recommend it for newlyweds or couples who want to spend time together hidden away in the woods and in a small and beautiful cabin.
In this cabin, you also get a rock fireplace where you can chill (or cuddle) in the cold evenings and enough for the blissful sensations.
---
Also Check, Best Hostels In Washington DC
---
Author's Note
You've reached the end, and I sincerely hope you found yourself a perfect cabin at the Broken Bow in this article. Although we've named only 15 cabins here, there are above 40 cabins located close to Beavers Bend State Park and Broken Bow Lake. If you've visited any other cabin in that area and want to tell us about it, do drop us a comment.