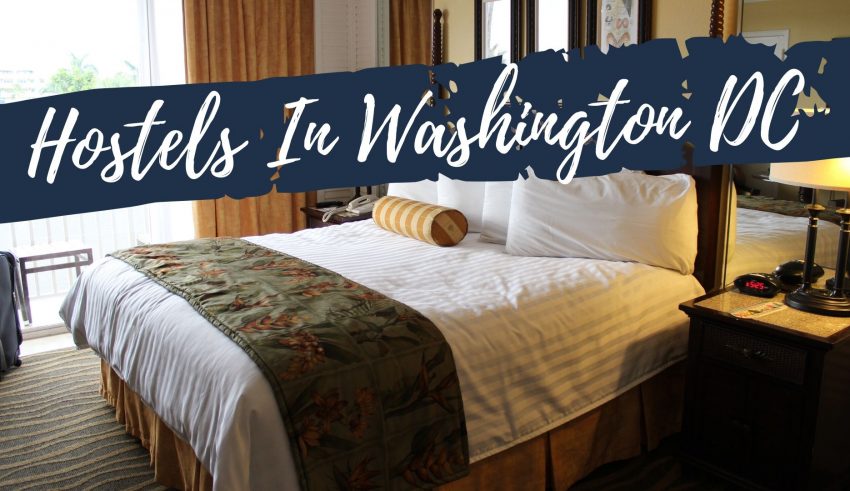 Washington DC is the capital city of the USA and is a place unlike no other in the world! With magnificent monuments and memorials, eclectic neighbourhood that give away the true local flavor of the city, this place is worth visiting for every passionate traveller. While visiting the city, you'll experience a dining scene as colorful and eclectic as the diversity of America itself.
During spring, the city hosts the nation's greatest spring time celebration, the National Cherry Blossom Festival, to capture the blooming of the city's beautiful cherry blossom trees. There is so much more to it: captivating pro-sports action, cutting edge theater performances, outdoor revelry in Rock Creek Park and on the waterfronts. Indeed, the city is much more than just a place to visit.
It is a perfect blend of art, culture, history and modernity, combined together in the space of 68 square miles. What better way to experience the most out of the city than to stay at some of the best hostels in the city? Check out the following list of hostels in Washington DC to rest up for a fortnight's worth of adventures.
Here are the Top Rated Hostels In Washington DC, USA:
Generator, Washington DC

Generator Washington DC is one of the highest rated hostels in Washington DC. It offers stylish and affordable accommodation, conveniently located in the popular and thriving Dupont Circle neighbourhood of the city. The hostel offers as many as 148 rooms, including shared dormitories, female only dorms, private bedrooms and exclusive suites for the guests to stay. All the bunk beds are equipped with a USB port for charging, a reading light, a stocking net, a private locker and comfortable mattresses. It is an ideal choice to stopover for solo travellers and groups of friends.
The hostel combines the amenities of luxury hotel stays, with the sociable atmosphere of a hostel. It has plenty of spaces for guests to interact and other social experiences. The hostel also features a café, a bar and a restaurant to keep you full for your day of exploring. Here, you will also find eerie artwork on the walls and a small library of books to spend some quiet time.
Although the booking prices are a little on the high-end, it ensures that your stay is as comfortable and memorable as possible. Their tours and travel desk would be more than happy to assist you in planning your day to the best locations of the city.
Address: 1900 Connecticut Ave NW, Washington, DC
Phone: +1 202-332-9300
---
Highroad Hostel DC

This hostel, which is situated in the Adams Morgan neighbourhood of the city, is one of the most famous boutique hostels in Washington DC. It is located about an hour's walk away from The White House, and the Washington Monument is only about half an hour drive away. Also, several shops, pizza-by-the-slice outlets and lively nightlife is present in the neighbourhood of the hostel. It is constructed inside a mansion with Italian Carrara marble work on the floors and kitchen surface. The hostel attracts young backpackers from all across the world because of its sociable and friendly atmosphere.
Here, at the hostel, budget accommodation is available in both private bedrooms and shared dorms. Female only dorms are also available. Besides, the hostel boasts off a large and spacious common room with a fireplace, retro sofas and a television with Netflix! There are plenty of board games available, with which you can entertain yourself.
A complimentary breakfast is provided every morning at the hostel. For other meals, the hostel possesses a fully equipped kitchen with a dining area for self-catering. You can mix with other travellers by participating in the free events organized by the hostel staff, including bar nights, neighbourhood outings and ice-cream socials.
Address: 1804 Belmont Rd NW, Washington, DC
Phone: +1 202-735-3622
---
Duo Nomad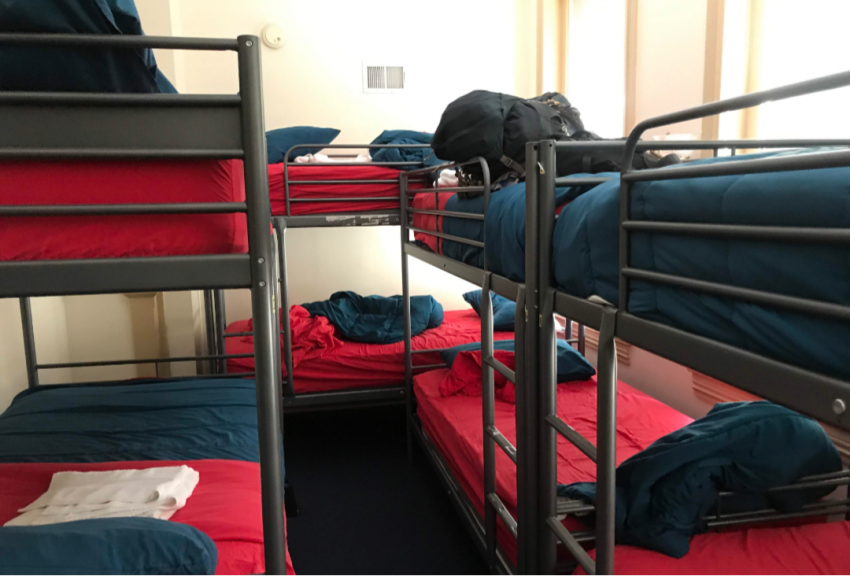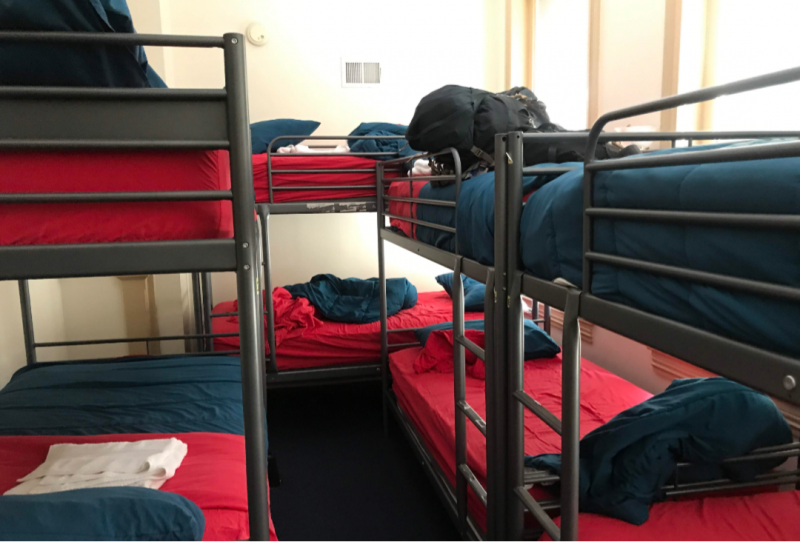 One of the best hostels in Washington DC, Duo Nomad welcomes guests from across the globe. The hostel is run by people just like you and therefore, they know well, all your needs and necessities. So instead of coming home from school or internship or a hectic day of exploring the city to an impersonal warehouse of beds, you feel like you are coming home! Here, you will stay with people who will surely become your friends; you would cook with people from all over the world and you would get to experience the city first-hand with friends like a local.
Mixed dorms with different capacities are available for accommodation at reasonable prices. An onsite café is present at the hostel, which offers some sumptuous delicacies so that you never go hungry. Also, a free breakfast is offered every morning of your stay. Tea or coffee are served throughout the day.
Moreover, the hostel is located only 5 minutes from the US Capitol, The Library of Congress, The Washington Navy Yard and many other renowned attractions of the city. Furthermore, many restaurants and cafés are situated within walking distance, easy for you to reach at any time of the day.
Address: 1010 Pennsylvania Ave. SE, Washington, DC 20003, United States
Phone: +1 202-629-3495
---
Hi Washington DC

Hostelling International hostel is situated at the heart of downtown Washington DC and in close proximity to the most famous attractions of the city such as The White House, the National Mall, ChinaTown and many other performing arts centres and the city's most famous bars and eateries. Accommodation here, is available in shared dormitories with different capacities, twin-shared private bedrooms and private ensuites. All the rooms are equipped with storage lockers and are air conditioned.
Besides, the hostel also has a spacious and tastefully arranged common lounge area with comfortable modern couches, a co-working space with desktops and a play area with table tennis and other indoor games. Internet stations can be accessed at a minimal price of $3 per hour. There is also a TV room with a flat screened television that has more than 150 channels, DVDs and a free movie library and is equipped with comfortable leather club chairs.
The hostel's convenient location makes it accessible to the nearby restaurants, pubs, grocery shopping, pharmacy and other essentials available only a few blocks away from the hostel.
Address: 1009 11th St NW, Washington, DC
Phone: +1 202-737-2333
---
Duo Housing DC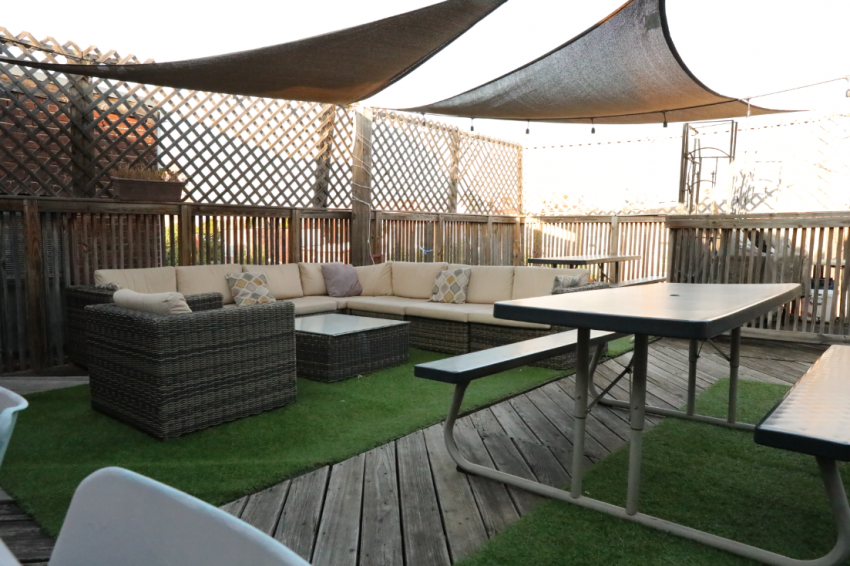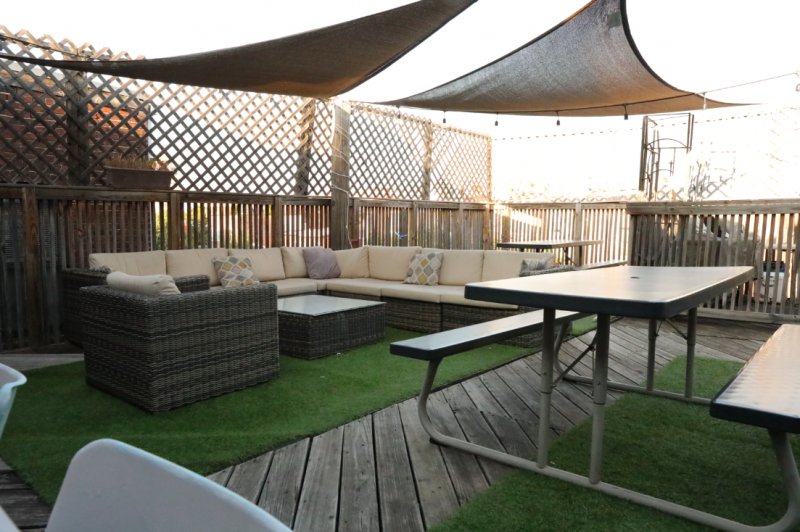 This is one of the most preferred hostels in Washington DC especially among backpackers and students staying in the city for a brief interval. It provides a peaceful, comfortable and enriching space for the travellers to stay. One of the features that makes the hostel stand out is their no-shoes inside policy. This means that all guests and staff remove their shoes before entering the hostel premises, which ensures cleanliness in the hostel.
The hostel is located only a 15-minute walk to the US Capitol and just five minutes to Chinatown and is surrounded by cafés, shopping stores, and vibrant nightlife. It provides budget accommodation in shared dormitories with different bed capacities. A free breakfast is available every morning and tea or coffee is offered 24/7 at the hostel. There is also a large and fully equipped kitchen so that you can prepare your own meals.
The hostel environment is designed to encourage sociability and interaction among guests. Therefore, the living room of the hostel has comfortable couches, a flat screen television, free movies and DVDs; there is also a fireplace by the side of which you can enjoy a warm and cosy evening with friends or fellow travellers.
Address: 1223 11th St NW, Washington, DC
Phone: +1 202-808-2195
---
U Street Capsule Hostel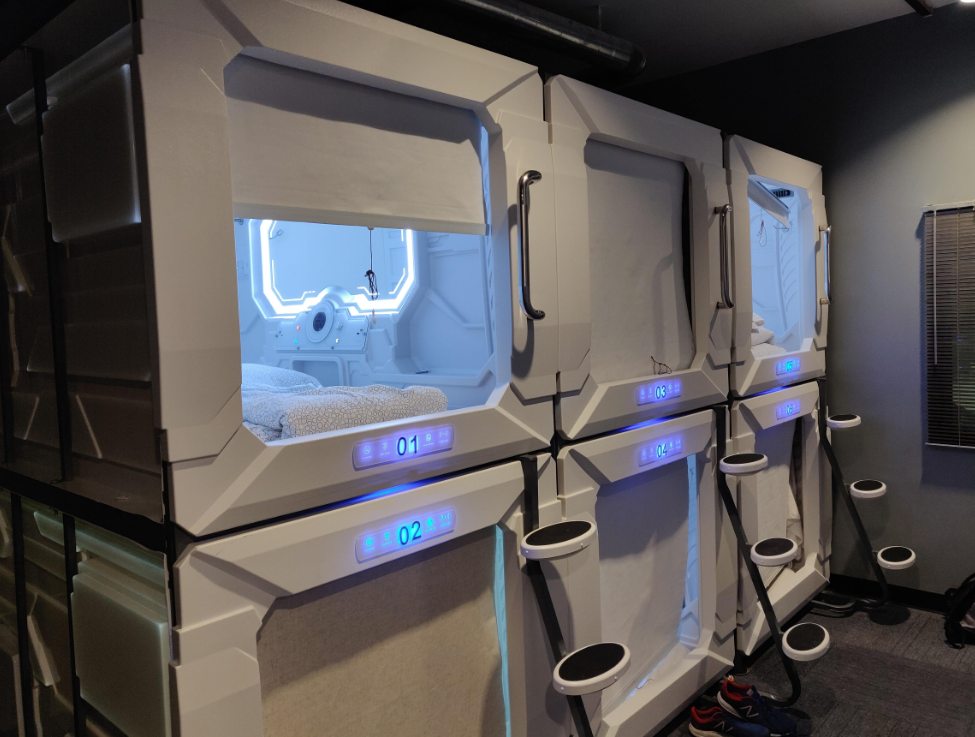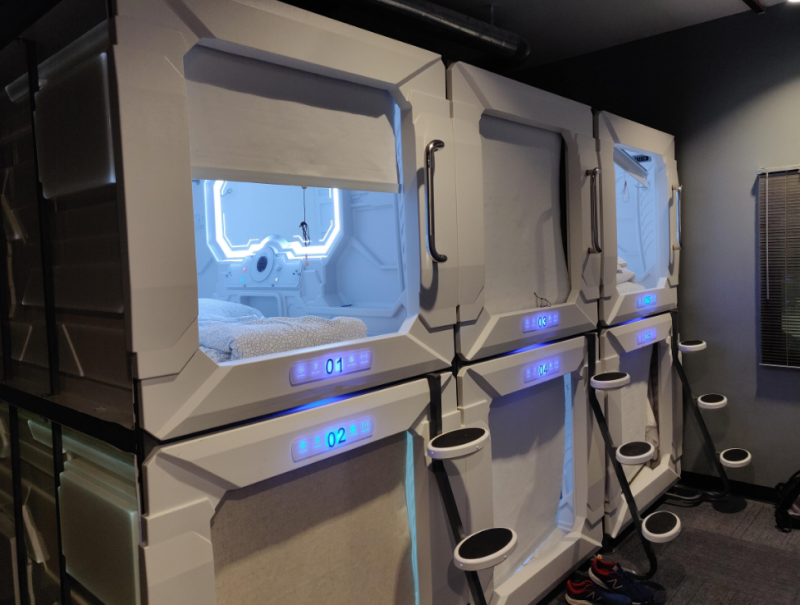 It is one of the top rated capsule hostels in Washington DC and a most preferred one among those looking for a little adventure. Budget accommodation is available here in both private and shared settings in spacious capsule rooms. Both male-only and female-only dorms are available. These rooms provide comfort and privacy and are designed with fluorescent dim lights, making your capsule room a warm and cosy cocoon for sound sleep.
The building is situated in the vibrant and historic U Street district, which is only a few steps away from the metro network of the city. The hostel provides multiple hangout areas and a quiet working space on the second floor, equipped with office chairs and a table, with hi-speed Internet. The first floor has a beautiful communal space, with free coffee and tea all round the clock. A complimentary breakfast is offered every morning at the hostel.
Besides, free access to the gym, sauna and a steam room is provided to the guests. Along with this, fun events every other day are organized by the hostel staff such as Comedy Nights, which is held on every first Friday of the month. This means that here, you are never going to feel even a hint of monotony!
Address: 1931 13th St NW, Washington, DC
Phone: +1 202-892-1122
---
Washington International Student Centre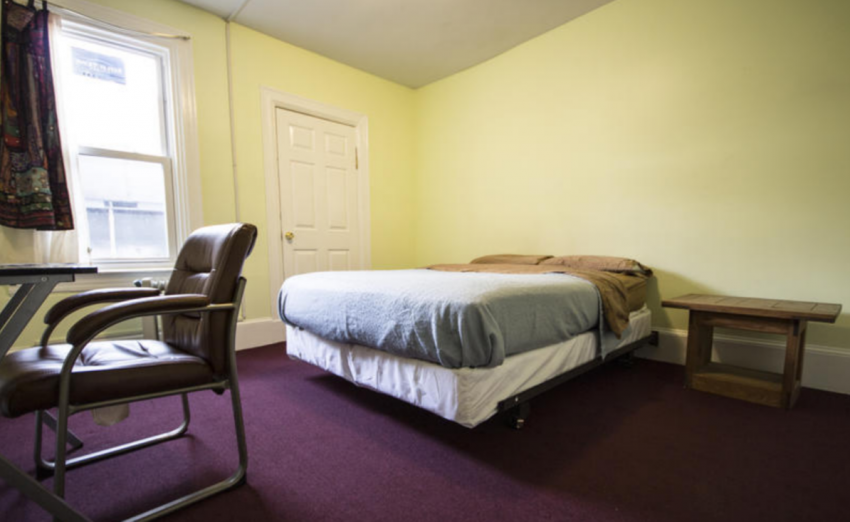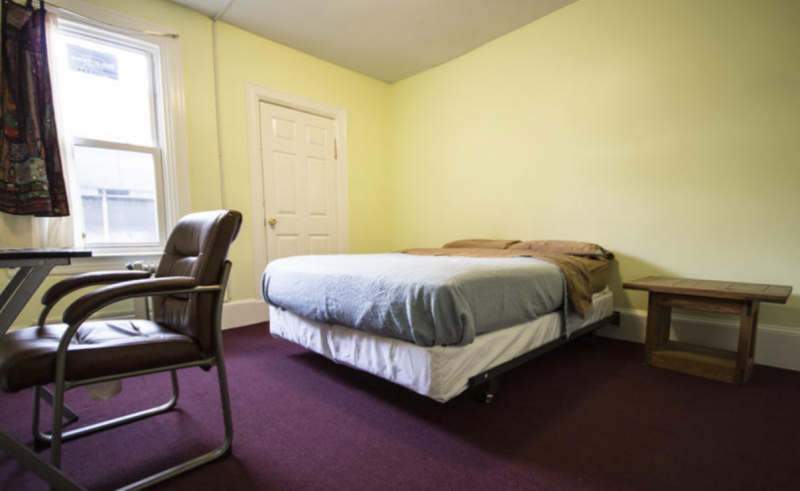 This hostel is ideal for visiting students or for travelers looking for a simplistic and pocket friendly accommodation in the city. It is a small and hospitable hostel located in the Adams Morgan neighbourhood which is lined up by many ethnic restaurants and nightclubs. It provides accommodation in shared dorms and private bedrooms with differing capacities at highly affordable prices. All the rooms are air conditioned.
The hostel houses a small kitchen with a dining area for self-catering. It is fully equipped and has a complete stock of essential ingredients. A free English breakfast is served every morning. There is a common room with sofas and a co-working space at the side.
The central location of the hostel makes it easy to reach some of the worth visiting attractions of the city such as The White House, FBI, Smithsonian and US Capitol. Plus, it is within easy reach from bus and metro stations.
Address: 2451 18th St NW, Washington, DC
Phone: +1 202-667-7681
---
Capital View
The Capital View hostel in Washington DC is one of the hostels in the city to receive the best reviews and ratings from first hand travellers, visiting from across the globe. With simplistic and traditional interiors, this hostel provides budget accommodation in both private bedrooms and shared dormitories. Male only and female only dormitories are also offered. Each bunk bed is equipped with a reading light so that you can sleep at your comfort and convenience.
It is situated right at the center of downtown DC providing great stays, ideally for backpackers, young professionals and interns. The hostel provides plenty of options for entertainment including board games, foosball, free WiFi and several exclusive events for the guests. Barbeque evenings are also organized frequently. Self-catering can be availed.
Address: 301 I St NW, Washington, DC
Phone: +1 202-450-3450
---
DC Lofty – Convention Centre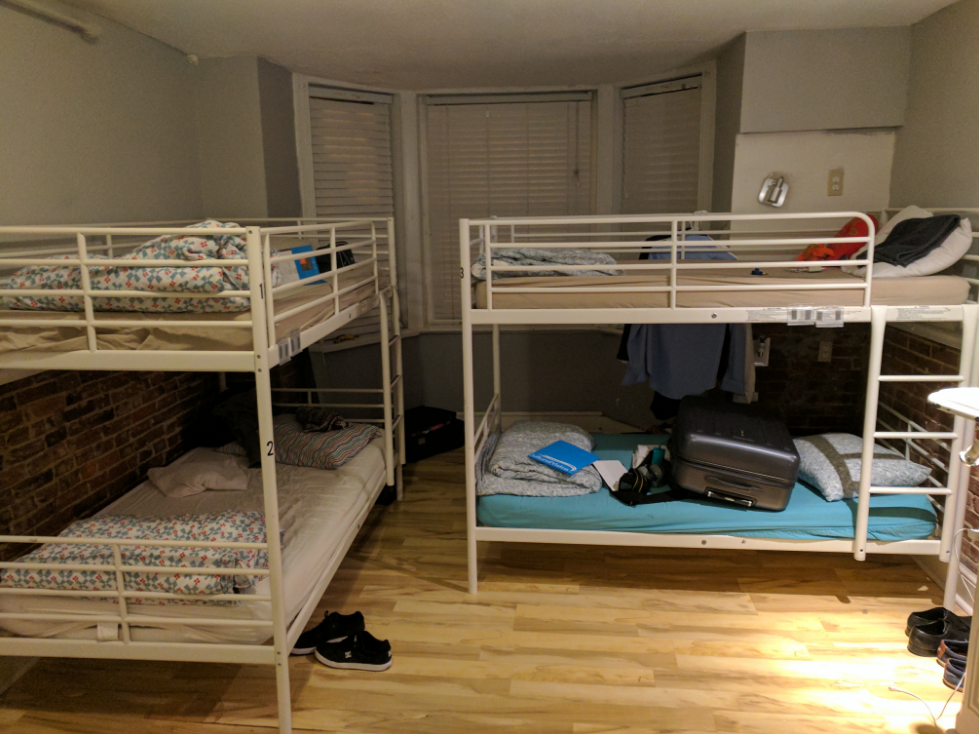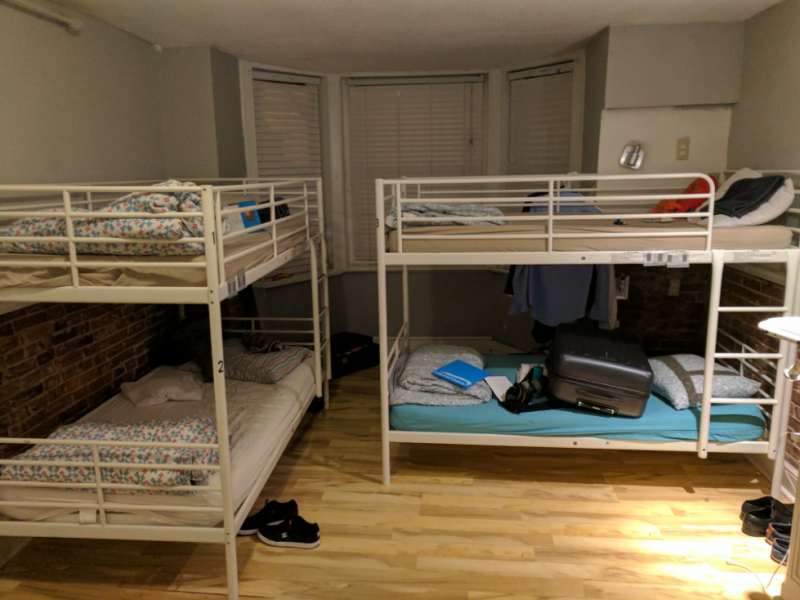 Located in downtown part of Washington DC, this hostel is situated at a walking distance from some of the major historical sites of the city. Moreover, it is located right adjacent to the Convention Centre, making it one of the most sought after hostels in Washington DC. It truly provides a home-like environment in an alien city. The interiors of this hostel are tastefully designed, giving it a sophisticated and urbane look.
Here, the guests can accommodate themselves in both private bedrooms and shared dorms. Separate dorms meant for only males or females are also present at the hostel. The furniture is minimal yet alluring. Besides, there is a well lighted common lounge area at the hostel equipped with sofas and a mini-library.
The guests can also access a fully equipped kitchen and two fully stocked refrigerators at the hostel to prepare their own meals. The hostel organizes fun events for its guests from time to time including free Tuesday pizza night, free Friday beer evenings, Sunday Fun Days and many more. The room bookings come with a number of freebies which include, free Hulu, Netflix, and a television with multiple cable channels on a projector screen, or common room flat screen. For meals, they offer free peanut butter, coffee, tea, sugar, creamers, cooking materials like oil and salt, essential syrups, and pancake mix all day long. This means that there is no holding back on food and fun here!
Address: 1335 11th St NW, Washington, DC 20001, United States
Phone: +1 202-506-7106
---
DC International Hostel – 7th Street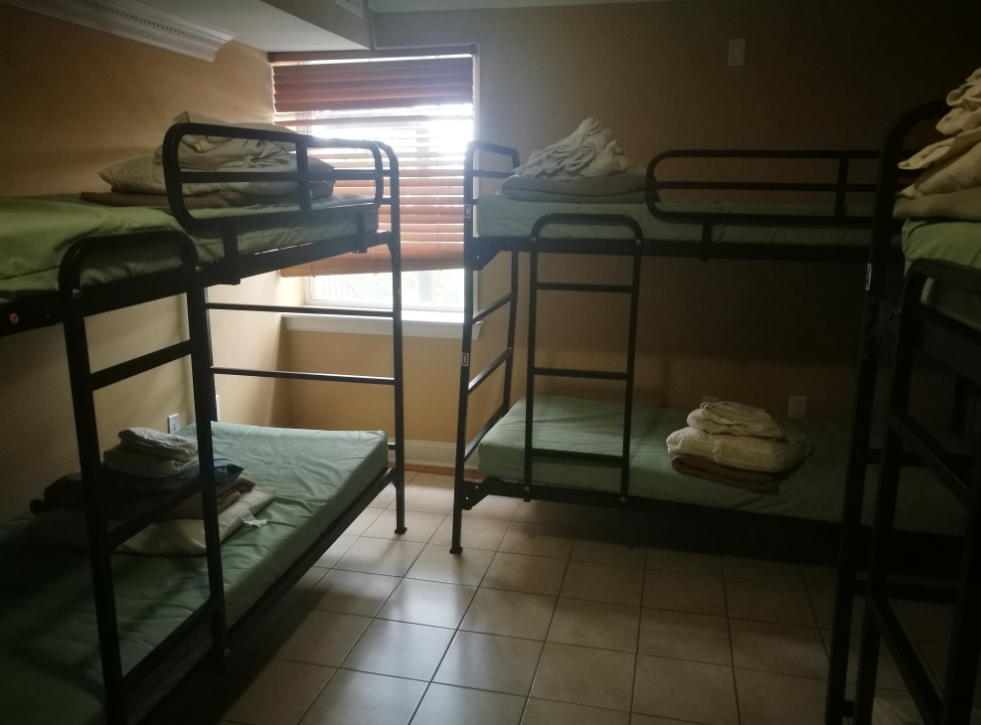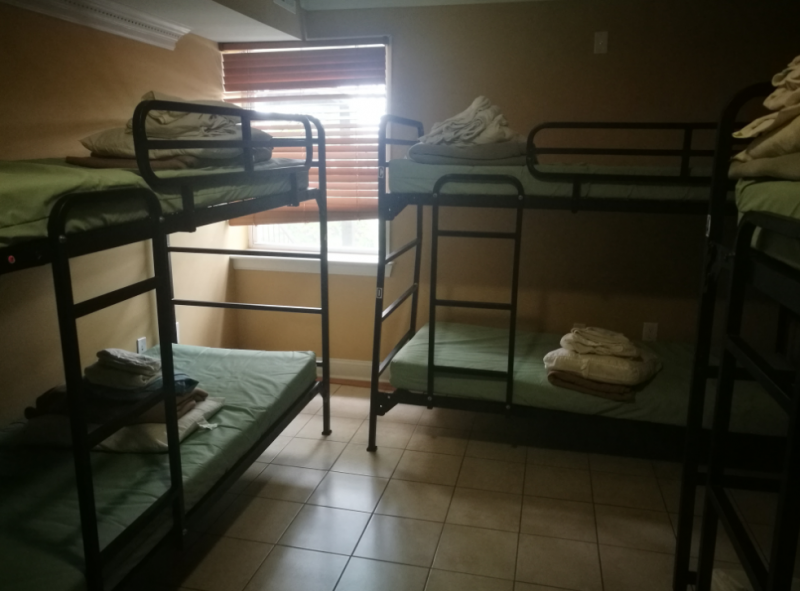 This is yet another simplistic hostel that has been welcoming travellers from across the globe in its humble abode. They provide a safe and comfortable accommodation in private bedrooms and shared dorms with varying capacities. You can also choose to stay in female only dorms. All the rooms have shared bathrooms. All the rooms are well furnished with all essential amenities. Some units also have facilities such as air conditioning, cable TV and so on. Free Internet access is available throughout the hostel premises. Other than this, they contain minimal furniture.
Besides, the hostel consists of a fully equipped kitchen area where the guests can prepare a meal to their own liking. Tea and coffee making facilities are available throughout the day. The hostel is centrally located, which makes it an easy reach to the metro station and other local eateries. This ensures the comfort of the guests and also, that they never go hungry during their stay.
Address: 1610 7th St NW #3204, Washington, DC
Phone: +1 202-621-9344
---
Conclusion
These hostels in Washington DC are guaranteed to provide you with a memorable and fun stay during your trip to the city. Here, you will not only meet people from around the world, but also pack your bags with some amazing souvenirs and even more amazing friendships, to take home.
So, what are you waiting for? Book from among these hostels in Washington DC, which await your presence and awaiting to welcome you with their warmth and hospitality.