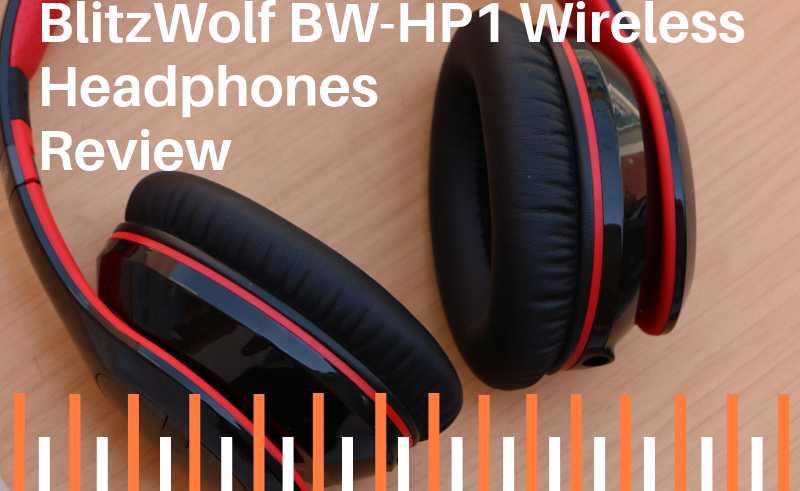 With Bluetooth devices especially audio peripherals getting so popular in the market, it is often confusing to choose the one which is best in the desired price bracket. Headphones are often preferred by most of us as they have both a comfortable design and offer a better sound experience even at a lower price range in comparison to earphones.
BlitzWolf has already amazed me by its budget sport Bluetooth earphones and this time I got my hands on its bass focused wireless headphones dubbed BlitzWold BW-HP1.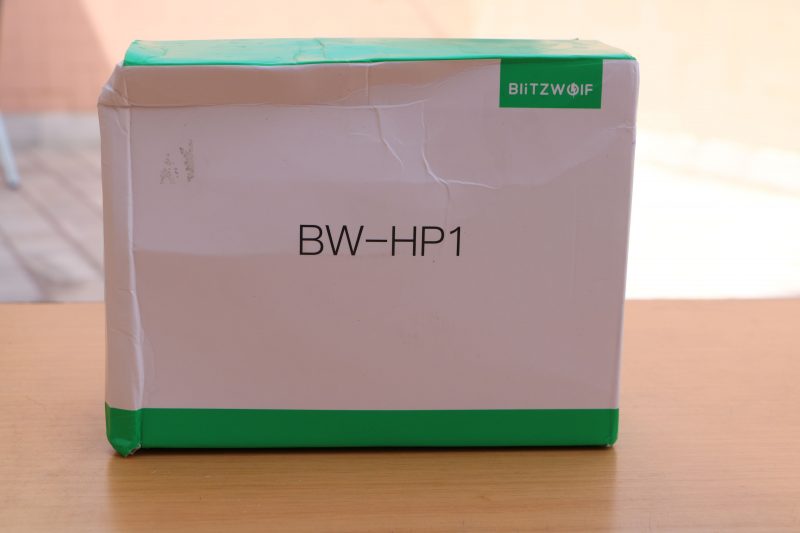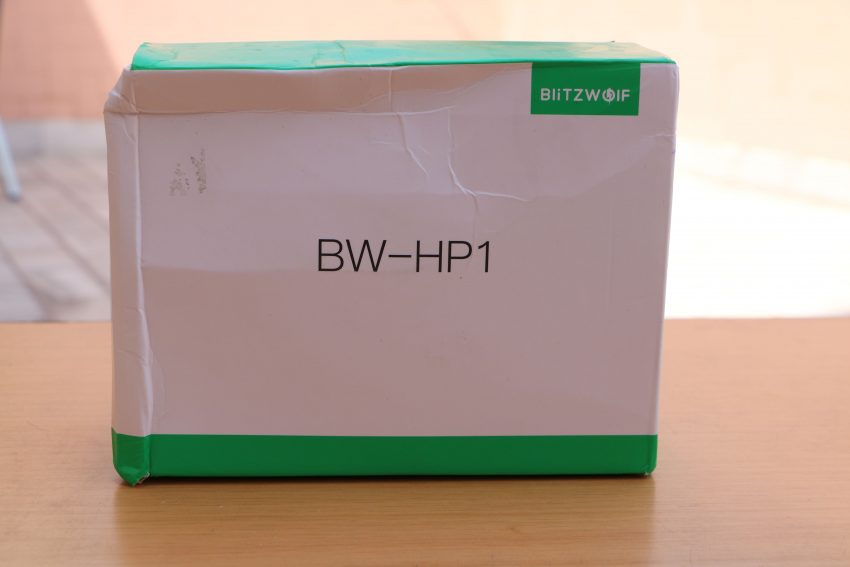 If you are in the market looking for a budget wireless over-ear headphone that doesn't cost your wallet much, here is a worthy contender to look at before buying anything. Here is a full review of the BlitzWolf BW-HP1 Wireless Bluetooth Over-Ear Headphone boasting some attractive coming at an affordable price tag of just £32.99.
Interested in Buying This Amazing Wireless Headphones – Click Here Now !
Technical Specifications:
Model: BW-HP1
Wearing Type: Headset
Control Type:  Button Control
Transmission Distance:  10 meters
Working Frequency: 2.402GHz-2.480GHz
Charging Time: 4H
Music Playback Time: 13H
Call Time: 15H
Standby Time: 120H
Battery Capacity: 420mAh
Box and Contents:
The headphones are packed in a thick white cardboard box with green accents. The cover displays the BW-HP1 model number along with the centre and Blitzwolf written in a negative font.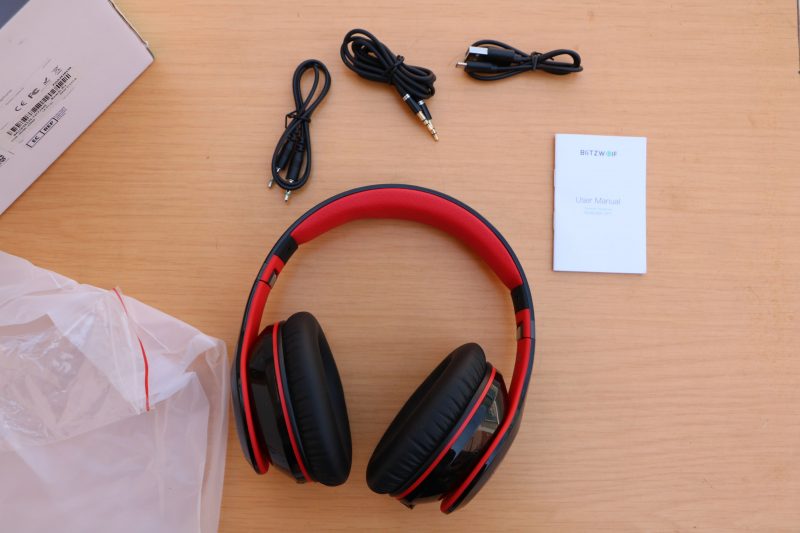 The rear panel provided useful information including the company name, model number, and specifications. Lifting the lid, we get the BW-HP1 Over-Ear Foldable Wireless Headphones. The accessories included a USB Charging Cable, a 3.5mm Audio Cable and a User Manual in English, Germany, French, Spanish, Italy and Japanese.
Design:
The construction of the Headphones features a glossy-black plastic shell. The colour we get is a catchy black and red combination with the logo on the side of both sides. Even with the plastic built, they feel sturdy and also give comfortable wear.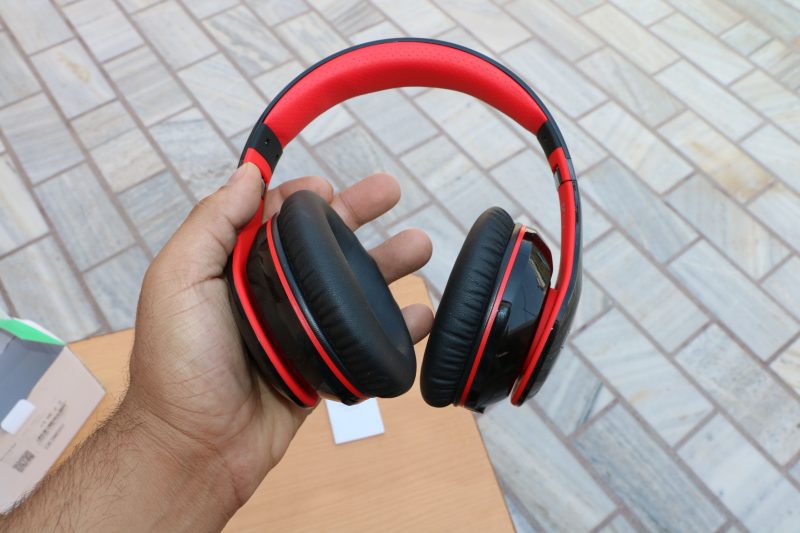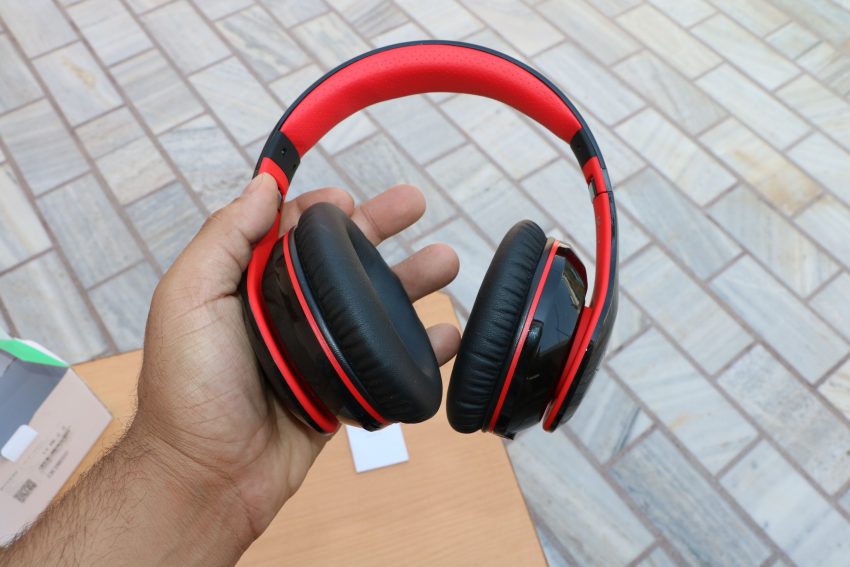 Thanks to the soft and spongy headband across the top with the adjustable headphone arch which can be easily used to move the earcups up and down. This allows the HP1 to go on for several hours straight with hardly any discomfort. With the oval-shaped and foldable design, the HP1 is not only compact, but it's also reasonably lightweight (at just 274g).
Coming to the controls, on the right we find the volume up, volume down, and the power button. The volume up/down buttons also double as the track forward and previous track buttons respectively.
The power button is also used to enable pairing for new devices. Offering both wireless and wired connectivity, you can also the plug into a source via the 3.5mm jack to boost the audio quality by sacrificing the controls.
They do not come with a case or bag, which is obviously not expected at this price tag.
Comfort:
With a weight of just 274g, the BlitzWolf BW-HP1 is reasonably lightweight. The cushions on each side are soft and comfortable but do not compromise a secure anti-fall fit in your ears.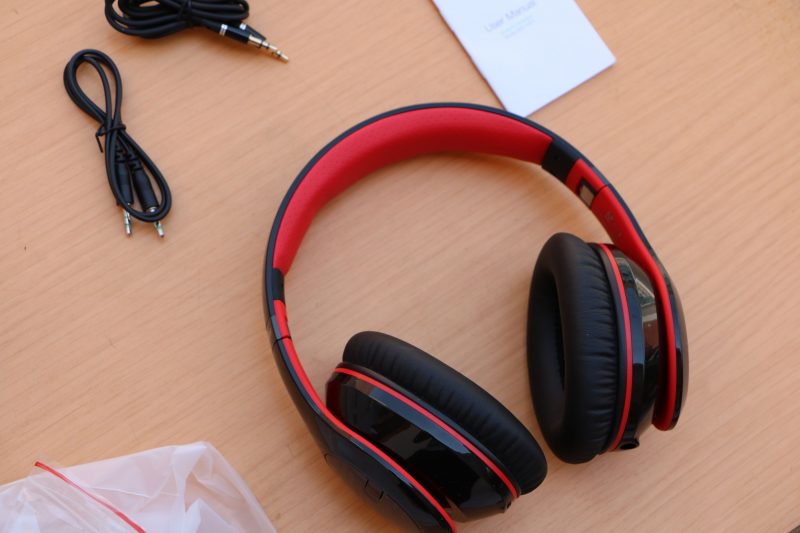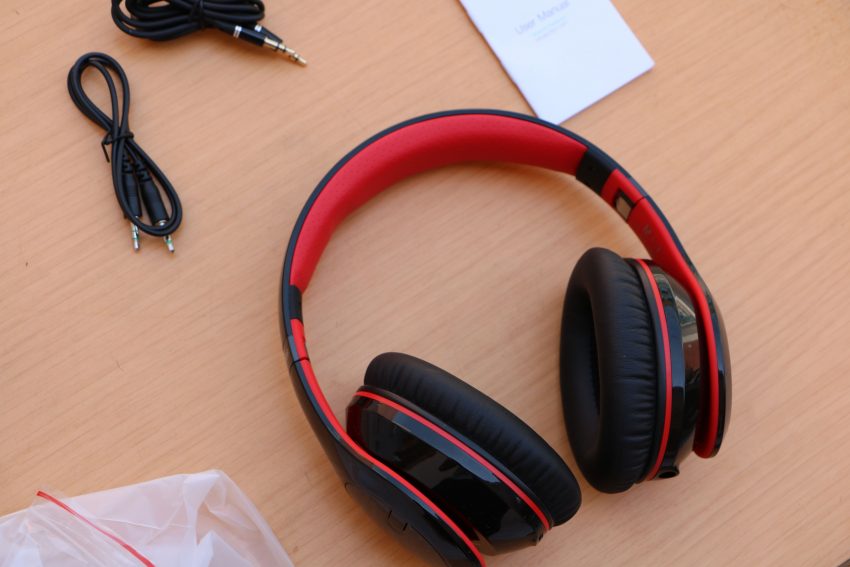 Click Here to buy
On top of the adjustable metal band, the spongy headband also gives a comfortable feel allowing you to enjoy your favourite music on the go for several hours straight with zero
discomforts. Since I spent most of my time working on my laptop, I use headphones for a fairly larger time duration. I used these headphones for straight 4 to 5 hours.
For the price point, the headphones are pretty decent in terms of comfort. The headphones started itching me because of all the sweat (Yeah! I live in a region where scorching summer is very common). After 4 hours, my ear started hurting and I end up going back to my HyperX headphones.
For the price point, BlitzWolf BW-HP1 wireless headphones still offer decent comfort and expecting "high-comfort" from this would be a little unfair.
Connectivity and Battery: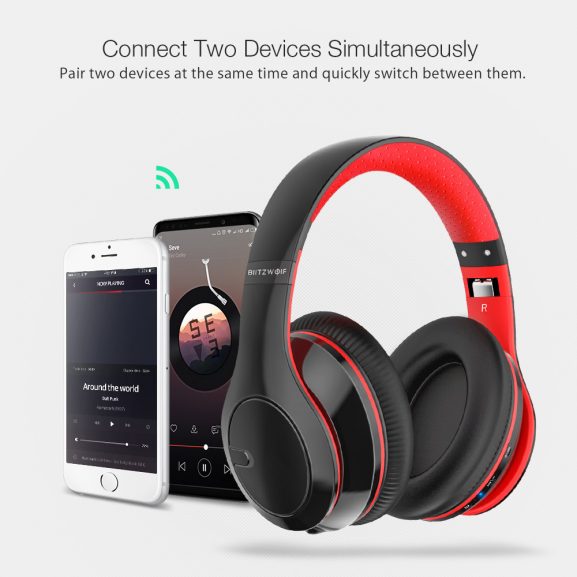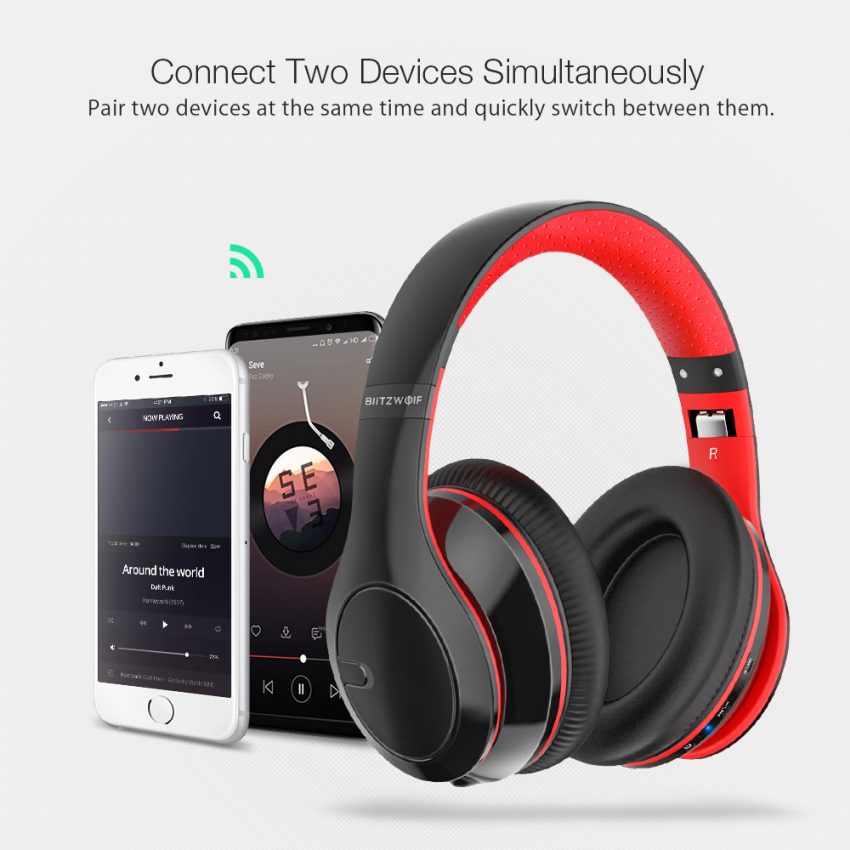 The CSR8635 V4.1 Bluetooth chip inside the HP1 gives a transmission distance of 10m, allowing a fast, stable and reliable connection. The headphone is juiced by an impressive 420mAh battery offering a good 13 hours of listening. However, the 3.5mm jack is always there if you run out of battery making them well suited for long trips.
The  BlitzWolf® BW- HP1 Wireless Bluetooth Headphones also comes with an HD built-in microphone for hands- free calls. Placing and receiving calls with the headphones on, the person we are talking to can be heard perfectly, and they could hear us just fine.
When I went to some other room while wearing headphones, I did notice some distortion within a fixed interval. To be honest, that's the case with almost all the budget Bluetooth headphones. If that is going to bother you a lot, then you might want to spend some extra.
Sound and Performance: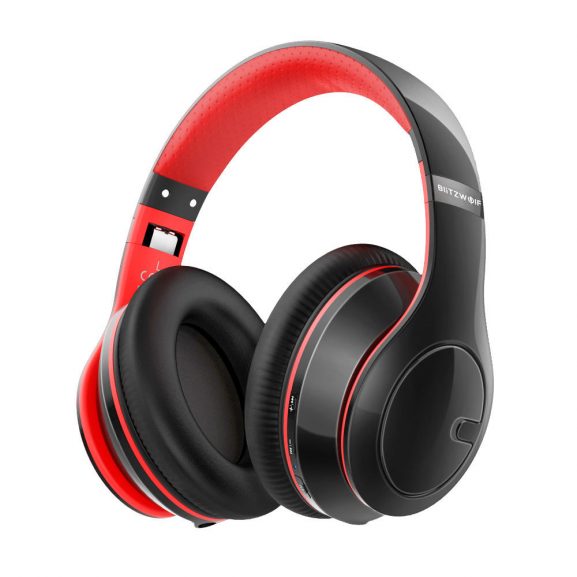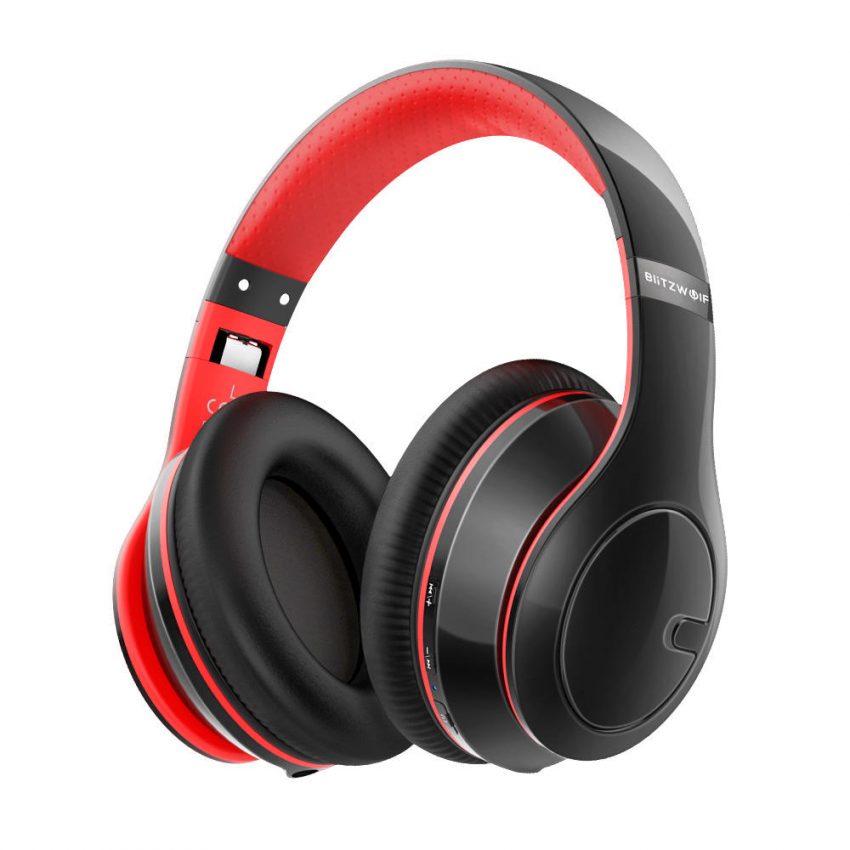 The most important part of all audio peripherals is the sound quality which matters the most. The headphones offer a decent range and a nice warmth, which really helps you to enjoy what you're listening to.
At the money you are spending, you won't be disappointed with the HP1. The HP1 features 40mm drivers offering a well-balanced audio signature and can cater to a wide range of users.
It performs well whether you're into music, gaming or movies. Bass performance is decent and not to harsh to take too much attention away from the mids and highs.
We get pronounced mids and sufficient clarity and sparkle in the highs emphasizing a lot on vocals. Distortion was hardly noticed and separation between the mids and highs is considerably good.
Another very best part is it has pretty effective sound isolation. With no extra power and battery drain, the foam used in the large pads does a great job at isolation noise from the world. Overall, the sound quality of these headphones is quite good for the price.
Conclusion:
The Blitzwolf BW-HP1 Wireless Bluetooth Over-Ear Headphones offers a smooth, warm and a decent bass sound quality as compared to other Bluetooth headphones at this price tag.
Their comfort around the head and ears is impressive and you can go on for hours without any discomfort. They also have a really impressive battery life coupled with aux support to never let you out of your musical world.
Providing high audio quality, and there is nothing to complain about. With soft ear cups and the 40mm drivers, you get both a comfortable and soothing sound quality with sufficient bass and negligible distortion.In short, the Blitzwolf BW-HP1 is a true value for money product and you can buy it without any more confusion in mind.