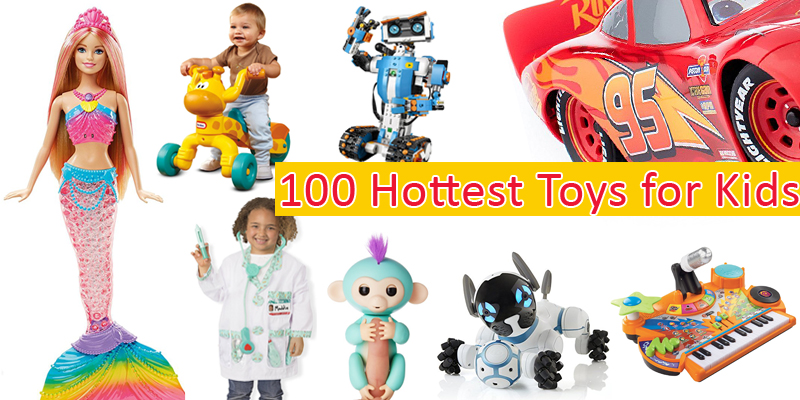 Humans are extremely curious about the world when we're children. As kids, we are eager to learn everything that we can about our surroundings. Just as grown-ups mould themselves through books, children familiarize themselves with their surroundings through toys and puzzles.
Toys are an integral part of your child's formative years. Even play schools and kindergartens lay a lot of emphasis on toys and using show-and-tell as a form of learning. Buying the right toy, however, can be a challenge for many parents. First of all, new parents want to be sure if a certain toy is good for their kids' development.
Moreover, parents also want to be reassured that the toy they're purchasing is of high-quality and not made from toxic materials. It is also important that toys should be safe for kids to handle.
Are you a parent of a small child? Well you don't need to worry about whats the best toy to purchase for your kids. We did some extensive research and have listed out the 125+ hottest toys of 2023. This list contains the most popular toys of 2023 for both girls as well as boys.
Browse through this list and pick up one of the best toys of the year for your little tot: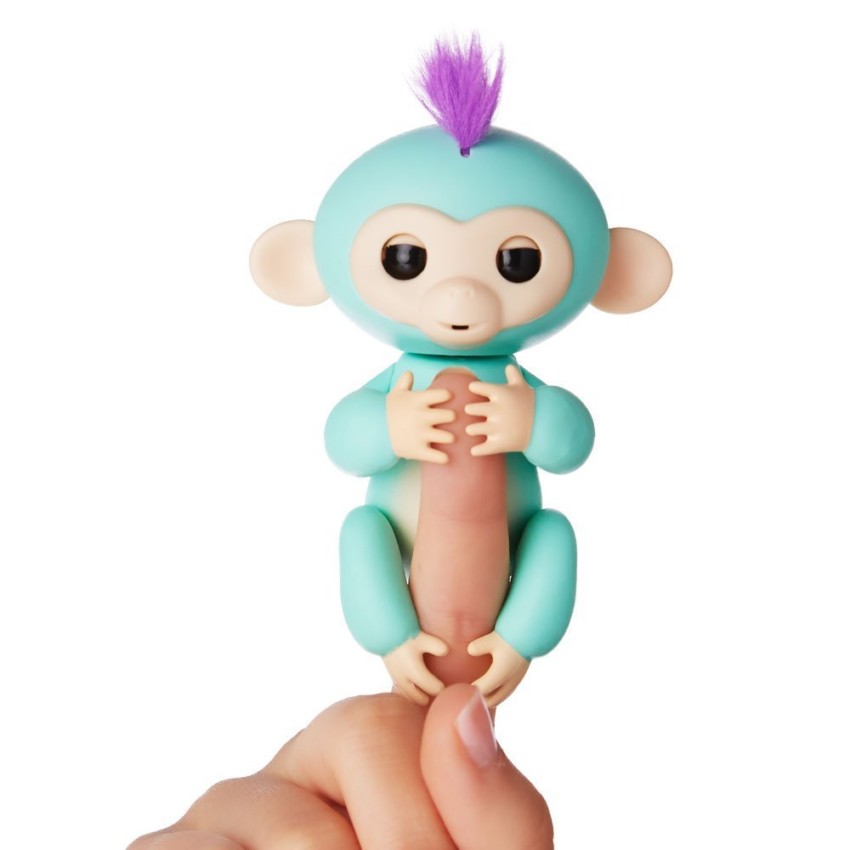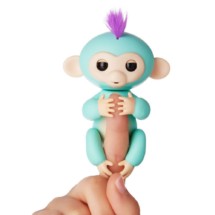 This interactive toy is almost like a virtual pet for your little boy or girl. Featuring several special animations and SFX effects, this is one of the hottest toys of 2018 and will keep your little kid enthralled with their antics.
This purple monkey toy called Zoe can make sounds, do acrobatics, and reacts to motion and sound thus giving your child a friend that they'll adore.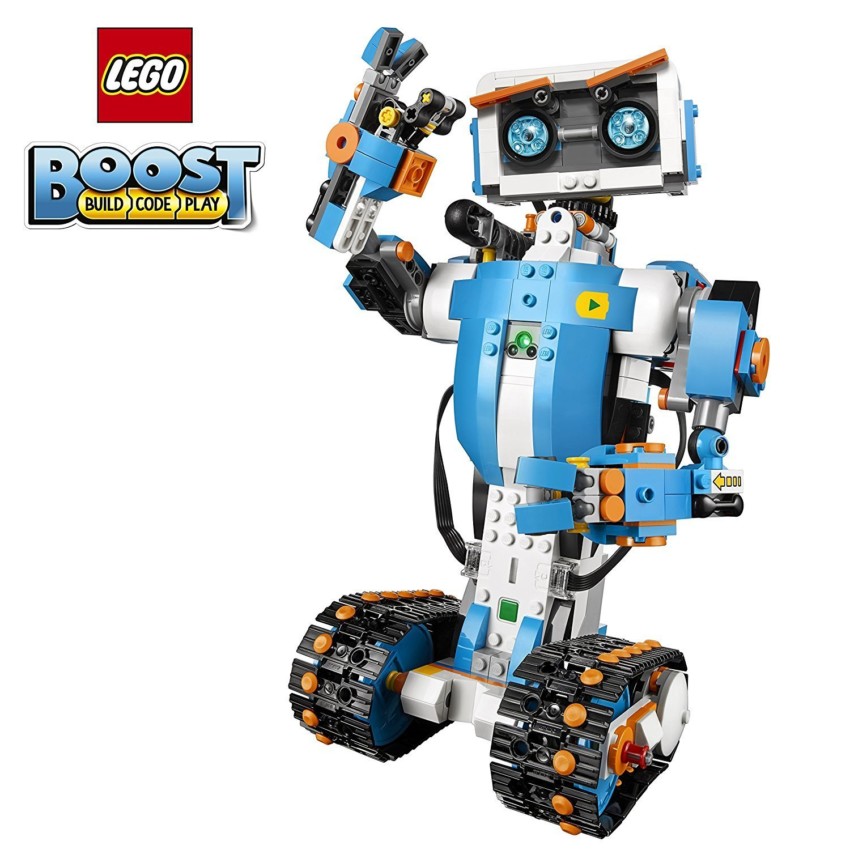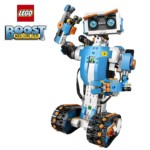 LEGO is famous for DIY toys that boost your child's creativity while keeping them entertained. This LEGO set allows your kid to build his own robot called Vernie.
Featuring bluetooth connectivity, motion sensors, and a distance gauge, Vernie the robot is a hi-tech toy that can be built from scratch by your child and is a must-have for the little budding engineer or scientist in your family.


Hatchimals CollEGGtibles are the perfect toy for kids aged 5 years and above. These little eggs all contain a special character which can be released by "hatching" the egg. All that your kid needs to do is press the purple heart on the egg till the color changes to pink and then open the egg for the special toy thats inside it. Since these are all collectibles, your child will have a fantastic time trying to put together the entire set for themselves.
Thanks to recent Hollywood movies, Deadpool is a much-loved Marvel character. This toy features a 12-inch replica of Deadpool with various hand attachments that help your kid in customizing this superhero.
The famous Lightning McQueen by Disney Pixar can now be your child's new toy. Featuring an app-based interface, your kid can now race the Lightining McQueen and also keep themselves amused with its emotive suspension and animated eyes.
The Destiny's Bounty is yet another intricate DIY ship from Lego. Featuring a 3-level deck along with action figures and ship-based weapons, this is the best strategy-based toy for your kid and will help boost their analytical skills and creative thinking.
This is a perfect educational toy for kids between the ages of 5 and 12 years. The Oslo Genius Kit was also Time Magazine's best toy of the year in 2015.
It helps your kids in learning and developing essential cognitive skills such as visual thinking, creative drawing, and problem-solving.
The Cars 3 Speedway Track is an interactive racing-track model that comes bundled with a Lightning MCQueen car. This entertaining toy allows your kid to build a racetrack from scratch and to race cars using several maneuvers such as changing lanes. A built-in motorized booster keeps the cars running so that this toy becomes a live racing experience for your child.
Cozmo is a ready-to-use robot that packs in amazing Artificial Intelligence to enthrall your child. The proprietary AI technology allows the Cozmo robot to express over 100 different emotions. This toy encourages your kid to solve puzzles and express their creativity and can be termed as the perfect learning companion for your child.
Codename is a spy-action board game thats meant for kids above the age of 14 years.
This is a perfect toy for sleepovers and parties when your kid and their friends can play this game which involves using codenames to connect with other secret agents and to find the spy in their midst.
Featuring 430 parts, this is an exciting DIY toy for your kid which helps them design a roller coaster from scratch.This toy comes bundled with a motorized car which makes the experience life-like. This toy combines Science, Math, Technology, Arts, and Engineering and helps boost your child's imagination and skills.
Action Figures collectibles Toys & Playsets
This is the perfect toy to gift for the upcoming Christmas season. Featuring the complete scene of Nativity, this toy from Fisher-Price will entertain a child while also bringing them into the festival mood.
This Guardians of The Galaxies figure is a toy thats perfect for kids below 4 years of age. With its gorgeous look and bobbing head, this Dancing Groot will keep your tiny tot engrossed and amused for hours.
Featuring 54 different toys, this set is perfect learning kit for kids of age 3 years and above.
This judge set features 54 different kinds of animals which help your child learn more about wildlife while allowing them to stay engrossed playing with these figurines.
This DIY set allows your kid to build their own house with over 3 floors and 12 different rooms. Its a fantastic multi-player toy and is great for your child to play together with their friends.
This replica of the Batcopter comes bundled together with a Batman figurine and is a proud possession for any young kid to have.
Featuring rotating blades, this model is a must-have collectible for your child and will give them immense bragging rights amongst their friends.
This is a set of 4 Calico Critters dolls and is the perfect toy for your little girl child. These dolls are customizable and feature extra sets of clothes that can be changed. Moreover, this toy will keep your little princess engrossed for hours as she creates an entire Calico Critters village.
Arts and crafts Toys & Kits
This coloring set for kids features 9 different stamps which can be used for making an outline that can be filled in with color. This set also comes bundled with 5 colored pencils and a 2-color ink pad to unleash the little artist in your child.
This Crayola set features over 100 different designs that your child can color in.
Moreover, this toy features a backlit-LED tracing pad which helps illuminate the images better to aid your kid's coloring process.The Crayola Light-up Tracing Pad also comes bundled with 12 colored-pencils, 10 tracing sheets, and 10 blank papers.
Featuring 20 activity pages, this toy is a paper-cutting book which allows your child to make different designs from pre-selected templates. This toy comes bundled with plastic scissors which are extremely safe for your child to use.
This toy is perfect for birthday parties or the times when your child plays together with their friends.
Featuring over 36 cans of Play Doh, this toy allows your kid to use their imagination for moulding this clay into different figurines and structures thus boosting their creativity.
This jar contains over 22,000 beads that your child can use for creating different designs. All that your little one needs to do is create a design, cover it with ironic paper and run an iron over it to fuse the beads together. This toy is meant for kids 5 years and above and is an excellent way of boosting their creativity.
Meant for children under 3 years, these gel-based beads help your little one in learning numbers and counting.
Moreover, these beads are non-toxic and evaporate when left out in the open so there's no worries about having to clean them up.
Best Baby & Toddler Toys
Shaking this toy lights up the Rattle-and-sing puppy and makes the beads rattle which is a great source of entertainment for young kids. Moreover, this toy features 20+ songs, tunes, and phrases for different gestures which helps your kid learn while being amused.
This toy is perfect for kids between the ages of 1 and 3 years. The fold-out xylophone encourages your kids to pound and create different sounds thus providing a base for learning melodies. This is the perfect toy for your little budding musician.
This toy helps build balance for extremely young kids and helps them take their first steps while walking. This piggy-back Giraffe ride-on is a great movement toy for your child and will greatly contribute towards their motor skills.
This set of 10 colorful building blocks helps your tiny tot in understanding and recognizing different shapes. Moreover, the shape-sorting lid functions like a puzzle and helps them learn shapes by putting the right blocks into the correct sockets.
This interactive soft-pages flip books allows your baby to learn about various animals in forests while also giving them an excellent opportunity to play and explore. This is the best first toy to gift your little child for Halloween this year.
Top Building Toys / Construction sets
This toy features 80 different building blocks that allow your kid to experiment and create different shapes.
Moreover, the blocks in this set are compatible with other Mega Bloks building bags thus providing your child with unlimited possibilities.
With 4 different action figurines and intricate details, this LEGO set allows your child to create a Manta Ray Bomber from scratch. This highly customized boat utilizes your child's DIY skills and features numerous add-ons like Manta Ray Bomber weapons, mini figurines, and a detachable boat.
Perfect for kids above 4 years, this LEGO set features a huge range of bricks in over 35 colors. Moreover, the bricks feature special add-ons and are compatible with other LEGO sets which unlocks the creative potential inside your child.
Best Dolls & Sets for Little girls
This light-up mermaid version of the iconic Barbie doll features an illuminated rainbow tail and is perfect for your little princess.
Moreover, dipping this doll into a tub of water illuminates her and is a source of great amusement and wonder for your kid
This doll house features over 17 pieces of furniture and has enough space to accommodate 4-inch mini dolls.
With plastic staircases and 3 levels of open spaces, this toy is a perfect addition to your little kid's playing set.
This starter packs features various accessories that your kid can use while playing with their dolls. This set come bundled with 10 clothes for dolls,10 different bags andover 100 different types of accessories which allows your child to customize their dolls.
This 3-storey set is the perfect first dollhouse to gift to your little daughter. This toy features a mom, dad, and child family with multiple kinds of rooms and furniture to help your daughter learn essential motor skills using her hands.
This patio furniture set is a perfect addition to your daughter's doll house.
It includes all the essential patio furniture pieces including flower pots, watering can, patio chairs, and a barbecue kit.
Dress Up & Pretend Play
This is a model dream house for your daughter's barbie doll and features 7 room along with 3 levels of floors.
Moreover, with the 70+ bundled accessories, you kid will have a great time building together this dollhouse.
This dress-up kids includes all the clothes and accessories that are used by doctors and is he perfect toy for the budding surgeon in your house. This kit allows children to feel familiar with the tools used by medical professionals and removes the fear of visiting doctors for check-ups or an injection.
Your little kid is always curious about cooking and wonders what you do in the kitchen when you whip up their meals. This pretend play kitchen set allows your child to replicate the cooking experience with their friends while also learning about different utensils.
This set features 10 different grocery can replicas that can be opened and shut easily. Its a perfect toy to encourage your kids to recognize different kinds of foods while also helping them to improve their sorting skills.
This Halloween, gift your child this perfect toy when they go trick-or-treating. This horse mask is made from 100% non-toxic material and is extremely safe for your child. Moreover, the mask features enough ventilation which not only keeps your kid comfortable but also allows them to consume food without having to remove the mask.
Cool Electronics for Kids
This nifty 2.0 megapixel camera helps your kid takes photos of objects around them as they keep learning. Moreover, with a selfie mode, video recording, and sporting a durable body, this camera will unleash the photographer in your little one.
This little toy Dalmatian follows your kid everywhere and can also bark and make other canine sounds.
CHiP, the robotic dog, communicates with your child using the CHiP app and is the best companion your tiny tot could have. The bundled Smartband helps CHiP recognize its owner and will be the perfect playmate for your kid.

This mini toy laptop for kids helps them learn the alphabet, numbers, musical rhythms, and details about the animal kingdom. Make this the first laptop for your little one and see them learning new things quickly on the go.
This toy studio helps your kid record their own music and play it back. Moreover, various sound settings help your child understand different genres of music while letting them explore their tonal skills.
With 20+ attachments, this play food truck is a perfect toy for the budding little chef in your house.
This interactive toy with a functional dashboard and food prep area will entertain your kid for hours.
This wireless set is perfect for your kids when they're playing team games and need to communicate with their buddies. Moreover, you can easily keep track of your kids while camping and talk with them using this set.
Board games, Trading card Games & more
This wooden domino set is perfect for games like Mexican Train and is ideal for children aged 6 years and older.
Be it for learning magic tricks or for playing games: these durable waterproof playing cards are perfect for your kids when playing outdoors.
With 48 cards, this game challenges your kids to match their favorite Despicable Me minions.
Its a perfect game that provides entertainment and boosts your child's memory skills.
This bag contains an assortment of over 100 playing dice which are made of different materials and can be 6, 8, 10, 12, 20, and even 30 sided.
This package bundles 4 ping pong rackets along with 6 three-star balls and is the perfect starter kit for your child to learn ping pong or table tennis.
This magnetic dart set is extremely safe and is perfect for helping your child hone their aim and coordination skills.
This board game is perfect for your little Pottermaniac.
The game consists of over 600 questions related to the book and is a fantastic entertainer for your child and their friends.
The idea of this game is to get 4 discs of the same color in a line.
This 2-player game is perfect for boosting your child's analytical skills and can be played by kids as well as grown-ups.
Toys and Games for Grown-Ups
This is a game meant for adults especially with the festive season round the corner.
With 435 cards, this game is perfect for the meme-lover in you and your friends.
This LEGO set consists of a model for an entire Parisian restaurant including 5 mini-figurines. Its a perfect DIY toy for a child aged 7 years and above.
This 750-piece jigsaw puzzle is among the hottest toys of 2018 for kids.
The pack includes a large bonus poster which provides clues for solving the puzzle.
This unbreakable drone is a perfect hi-tech gizmo for your child to fly around the neighborhood.
This drone is easy-to-use and hooks up conveniently with your cell phone through an app making it the best toy for your kid this Christmas 2018.
This 60" model of a skeleton is made with durable plastic and is the perfect spooky toy to gift your kid for Halloween 2018.
Remote Control vehicles, Trains, Models & more
This is the perfect superhero figurine for your child to add to their collection. The Unicorn Gundam UC Model features original Bluefin markings and is made with the latest gunpla design and technology.
Is your kid a budding astronaut? In that case, this is the perfect toy to gift them.
This model rocket launcher set helps your kid in building a functional flying rocket which can be successfully launched to a height of 1200 feet.
This remote-controlled racing track features cars that are illuminated giving them a variety of special effects.
Moreover, the adjustable race track allows your kid to create their own races when competing with their friends.
This built-to-scale desert buggy toy is realistic at 1/16 scale and can easily be maneuvered using a remote control.
This easy-to-fly remote controlled helicopter is meant for kids above the age of 4 years and is a wonderful new addition to their gizmo collection
This remote controlled boat can easily be raced on the water at a speed of 20 km/hr.
Moreover this boat can be controlled up to a distance of 150 meters and is perfect for your kid and their friends to play a marine boat duel.
This drone is the perfect gift for a child aged 10 years and above as it allows them to take gorgeous aerial photos of their neighborhood.
Controlled using an app, this drone is easy-to-handle and is great for camping and outdoor trips.
Furniture & Decor: Beds, desks, tents, tunnels & more
Does your child have a lot of toys? In that case, this Halloween gift them something which helps protect and organize these toys.
Made of high-grade durable material, the Delta toy organizer is a perfect tool for helping your child organize and collet all their playthings in one place.
This ready-to-use picnic table can seat 4 children and is perfect for children below the age of 5 years.
This table can be laid in your backyard and provides a good spot for your kid and their friends to hang out.
This is a perfect gift for your little girl child this Christmas.
Featuring glow-in-the-dark paint and a castle pattern, this tent is perfect for your little kid when their friends come home for a sleepover.
Learning & Education
Are you taking your kids on a vacation this Christmas? If yes, then this set of binoculars is a perfect tool for your little ones to explore a new destination while learning facts and things about it.
This Abacus is perfect for teaching counting, analytical skills, and addition to your little boy or girl below the age of 4 years.
This learning cube is perfect for kids of age 1 years and older.
Using this wooden cube, your child can learn the alphabet, learn to match animals with their name, and even entertain themselves with peek-a-boo doors.
This is one of the coolest toys of 2018 and is an excellent way to help your children learn the fundamentals of multiplication and mathematics.
Party Supplies
This is possibly one of the hottest toys for Halloween this year and will put your kid into the perfect festive spirit.This adjustable skeleton replica can be made to sit in various poses and is a great source of amusement for your child and their friends.
These balloons are a must-have for your child's birthday party and are super easy to inflate and put up.
This box comes bundled with 200 8" glow sticks that can be turned into wristbands, eyeglasses, flowers, balls, and several other designs.
This is a fantastic toy for a girl child and is a perfect gift for this Christmas season.
These are perfect picks for handling starters or for topping desserts during the upcoming Halloween festival 2018.
This is a full functional megaphone and is the hottest toy for your boy aged 4 years and above. Featuring volume control, talk, and siren options, this megaphone is a source of mighty amusement and entertainment.
The Rubik's Cube is always one of the best measures for sharpening your kid's IQ. Gift your kid this cube and help them improve their coordination and analytical skills.
How well does your kid know their country? This jigsaw puzzle features the map of all states of the contiguous United States and is a perfect toy to help sharpen your child's geography skills.
This 25-piece jigsaw puzzle is among the hottest toys of 2018 for children aged 2 years and older.
Your kid will have a fun time trying to assemble this puzzle with their favorite Paw Patrol characters.
This puzzle board helps sharpen your kids analytical skills as they try to figure out how 16 different types of latches work.
This is among the best toys of 2018 for children aged 3 years and above. Featuring 36 different pieces, this puzzle helps your tiny tot learn the alphabet in an easy and fun way.
This toy comes with a magnetic whiteboard where little animal figurines can be pinned up for helping your kid learn. Moreover, the pack also contains color chalks and an eraser which help your kid doodle while they're learning.
Featuring diagonal burr, snake cube and interlocking blocks, this handmade 3D puzzle set is made of high-quality wood and makes a perfect gift for your friends' children this festival season.
Sports & Outdoor Play Games
This inflatable set is perfect for your backyard to help your children play with their friends.
An in-built blower prevents the seams from tearing and allows your children to have a ton of fun.
This Nerf gun blasts darts to a distance of 90 feet and helps your kid improve their aiming skills. This toy is only meant for kids who are 8 years and above and should be handled with safety.
Live away from the beach? Worry not because this toy will help you create the sandy beach experience for your child in your home.
This table helps your kid use their hands in moulding sand castles and creating various shapes thus boosting their creativity.
This toy truck is perfect for use in a sandbox especially when your child is playing together with their friends.
This toy is the perfect way to get your kid involved in some outdoorsy activities. Kite flying is an amazing skills and this toy will help your child master that.
This swing chair is perfect for your little toddler especially when you take them outdoors to play.
Sporting a 44 inch backboard, this is the perfect toy for the budding basketball player in your house. Install this in your front yard and teach your kid to shoot a few hoops.
This basketball set is meant for kids who are just beginning to walk.Teach them how to put the ball through the hoop and see the delight of accomplishment on your little child's face.
This T-ball set is adjustable in height and can adapt to your child as he grows.
This toy is perfect for your kid as it helps improve their motor skills, balance, and batting skills.
This is the perfect example for your child's fist tree-house. As your child plays with his friends in this little lookout treehouse, it will serve as an inspiration to build his own when he grows slightly older.
This set of 100 crush-proof plastic balls is ideal for toddles to play together with their friends. Moreover, these balls are made from plastic and are extremely safe and non toxic for kids.
Stuffed Animals, Teddy bears, Plush puppets
Pokemon came about in Japan as virtual pets for children.
With this set of 9 toys, you can gift your toddler with the perfect set of Pokemons that'll become their virtual companions.
Kids as well as adults love some of the popular emojis thanks to ubiquity of cell phones. This set of 8 stuffed toy emojis will delight your kid especially if they're under 3 years of age.
What better way to lull your kid to sleep than giving them a pillow of their favorite cartoon? This Thomas The Tank Engine pillow is perfect for your kid especially when they're just learning to sleep separately from their parents.
Every Potterhead loved Hedwig! This stuffed toy is a perfect gift for your child especially if they're Harry Potter fans.
Recommended for kids who are 3 years and older, this stuffed toy makes a perfect bedtime hugging companion for your child.
This is an extremely amusing pop-up toy for kids as the cartoons springs out to say hello to them.
A little squeeze behind the years turns this adorable dog into a feisty one. This cute stuff toys are a must-have for your children this Christmas.
This washable stuff toy is a perfect take-along companion for your child and features Elmo who is one of the most iconic Sesame Street characters.
Toy Remote Control Vehicles & Batteries
Hot Wheels have always been the toy of choice for young boys. This set of 9 Hot Wheels cars is the best way to start your child's collection and to teach them how to take care of their cars.
This remote controlled vehicle has durable front and rear suspensions along with monster wheels making it the perfect off-road toy for your kid.
This wooden train system features over 10 different kinds of compartments and is among the coolest toys of 2018 for your little boy.
This set features over 30 accessories and 100 train sets and will keep your child entertained for hours.
This toy is a great way of sparking your child's imagination. Moreover, thanks to friction-control, this truck can run without needing batteries.
With music and flashing lights, this r/c race car is perfect for young toddlers.
Moreover, it features just a forward and back button making it extremely easy to operate.
Bikes, trikes, wagons, electric ride-

ons

, scooters, and more
Cycling is an essential life skill that every child must learn. This BMX Freestyle Kids Bike is the perfect toy for your child and will motivate them to learn how to balance themselves and ride a bike.
This little quad bike is the best first transportation tool for your toddler.
It will not only teach them how vehicles work but will also aid in improving their balancing skills as they learn to walk.
This is a cool way for your child to get around the neighborhood. Featuring 3 wheels, this mini scooter offers a brilliant balance and your child will totally love it.
A fantastic toy for a child aged 10 years and older, this skateboard will give them the necessary street crew amongst their friends while allowing them to get to school easily.
This wagon features 10" rubber wheels making it perfect for absolutely any terrain. Moreover, the design and handling is super easy especially for little kids who love to drag it around.
This is a simple use-at-home roller coaster with a 3 piece track.
Moreover, the 2 non-slip steps can be secured easily making it super safe and fun for your kid.
This push toy features 3 modes: rock, roll, and ride.
While the latter is perfect when your child is playing by themselves, the 2 former modes allow you to participate and play along with them.
Best Video Games for Kids to Play
This is an awesomely entertaining game for your kid to play especially if you have a Sony PlayStation at home.
Minecraft is another PlayStation 4 game which involves tons of excitement and battling with monsters.
Forza Horizon 3 is an Xbox One game thats meant for older kids. The game involves driving through various exciting situations which helps you score points.
Pokemon Platinum is an exciting Virtual Reality game for Nintendo gaming consoles.
With a variety of Pokemon and multi-player options, this game will ensure that your child has a ton of fun.
Best Gift ideas for Kids (For Boys & Girls)
Finding the perfect gift for your tiny recipient is no easy feat. Whether you have a scientist in the making, an aspiring coder, or future business owner on your hands, these gifts are sure to delight your little one all day long while teaching them the fundamental basics of approach, creativity, and more.
If you have a teenager, you know that they love to feign excitement over a gift and then rush to return it. But there's an ocean of cool gifts that teens are pining for, plus a few they don't even know they want. We're here to help you figure it out and find quality presents that your kids might genuinely want.
Here is a list of best gift ideas for kids to buy online:
Lay out the blueprints of healthy eating and make every meal a construction site of creativity with this fun, award-winning plate and set of equipment-inspired utensils.
With the bulldozer pusher, forklift, and front loader spoon, your little building will always be excited to clean his or her plate. Designed with function and play value in mind, these pieces feature textured, easy-to-grip handles and are lightweight, yet rugged. It's a great way to help your child develop fine motor skills and discover their independence during mealtime.
Mornings on earth can be mundane. By the time your little one finishes breakfast and suits up, it's a mad dash for the shuttle (car) for the next mission (school day). Take them from zero gravity to fire-fuelled with their own jetpack-inspired backpack.
Featuring two nozzles with strips of fabric fire that flap and flicker in the wind, a spacious interior, and rear rocket pockets, mini-astronauts will carry everything they need for a successful daily orbit. Jokes apart, this will also fuel your child's ambition as it's known that perception is key to everything. If he or she is made to believe that he or she can be anything, they'll aspire towards it.
The world would be better if we could play with our food. And with this mug with a hoop, your kid can slam dunk some oyster crackers in her soup or shoot a 2 pointer of mini marshmallows in his cocoa.
The creator of this innovative idea, Max, an entrepreneur and sports fan who just wanted to create a functional and fanciful basketball mug did so at the tender age of 8 in his art class. This could be an inspiration for your kid to try out new ideas as well, that could sell in the market and also flourish their creativity.
In his prime, the Tyrannosaurus Rex was a vicious jungle predator, but nowadays he's mostly into napping alongside your little one. Send them into a prehistoric dreamland with this whimsical bedding set.
Featuring a dinosaur with jaws stretched wide in a permanent roar, you'll turn bedtime into a Jurassic adventure they'll look forward to night after night. If you have a little Ross Geller in your house, this gift will be perfect for them.
From Casablanca to Jaws, if you have a movie buff in your house who has already seen some of the classics and blockbusters, this gift is a must have for them. Grab the popcorn and take a deeper dive into movie magic with this poster that invites them to screen 100 iconic films.
Use a coin to scratch off each title and reveal a surprise, movie related artwork underneath. It movies is what get your kid's creative juices flowing, this gift will give him or her immense joy. It's an interactive way to enjoy essential viewing for any film buff. And this way you can be a part in enjoying their hobby as well.
Sneakers are a necessity for every teen. These high-top Vans are made of leather, so they won't get destroyed by the elements during winter. As teens shift from favouring athletic styles to street styles, Vans is apparently one of the first brands they pick up.
They have a 'multi-generational' appeal which makes them unique, making it easily wearable to both teens and parents. Vans have this incredible ability to be cool with everybody and almost every outfit.
Inspired by military field instruments, the Ranger 45, from luxury accessories brand Nixon, is bold and sleek. He can wear it to school, special occasions, and his first job interview. Its rugged construction and concave dial ring add to the gravitas of its imposing new stature.
It's also an outdoorsy watch which'll encourage your teen to explore the outdoors and venture on travels that he has always been meaning to go on.
This cosy long sleeve cotton t-shirt is out of this world. Aside from providing warmth during the colder months, the NASA worm graphic logo with sleeve details is really chill.
Your kid can show off their interstellar style with this t-shirt. If you have a typical teenager, they'll have a graphic tee phase and this t-shirt will fulfil all their whims and wishes during that phase. Pull this gift out on a birthday or Christmas, and you'll be the best gifter in the house. Just make sure you always have the right size. It's not hard to annoy a teenager.
From food porn to selfies, your teen is constantly snapping photos. This Zip Mobile printer by Polaroid lets them print out their greatest shots and post them in the real world. For those who rely on a smartphone for their smartphones, the Polaroid ZIP is an interesting option.
It runs from a rechargeable battery and fits in a pocket, making it easy to carry this model along with the smartphone and make small prints on the go. Every teen's 'Instagram' dream come true. They can highlight their 'aesthetic' through this printer and you'll be the best parent in the whole wide world for this.
This fun toy storage sack/play mat is covered on both sides with cute, goofy images of things kids like to play with, do, and dream about. When playtime's over, kids just pull the drawstrings shut.
The mat becomes a sack, and blocks, dolls, cars, and balls are swiftly cleared away. It's pretty much a great gift for Mom as well. They'll be proud of both their colourful personalization and their self-sufficiency of putting away their own toys. Ideal for the beach, the park, holidays, or trips to visit grandparents and playdates with friends.
Unfold and assemble the castle in minutes without any special tools or wizardly. Kids will enjoy giving names and special powers to their new dragons and suiting up for heroic quests in pint-sized armour.
A backyard playhouse with a medieval twist. It's perfect for everyday play and imaginative games for princesses, knights and pirates. Your kids will spend hours of imaginative pretend play in their indoor as well as outdoor castle.
The adults of tomorrow have action-packed schedules, with stuffed backpacks to match. There's always room for this bike helmet which collapses to less than 50% of its volume. As protective as it is convenient, it has passed the strictest safety certifications. Sweet ventilation channels and add a set of cute, removable stickers to take care of both kinds of cool.
Pack these babies down and they can be easily slipped into a bag. And while folding helmets are yet to truly catch on, that's largely because there is a shortage of quality options. Now your kid can't cry 'but no one's wearing them!', these bad boys are travel friendly and they won't have to carry it around, flaunting their 'un-coolness'. On the other hand, these helmets will be the talk of the school, or at least among their friends.
JanSport backpacks have a lifetime warranty, so this is potentially the last backpack your teen will ever need. The Right Pack Expressions backpack comes in a variety of patterns, like this black varsity felt design.
They're also designed with a 15-inch laptop sleeve and padded shoulder straps. It's a classic, versatile backpack that's perfect for a host of different situations. The bag is super uncomplicated, making it a solid all-rounder for work, school, the gym or a short getaway. The sturdy nature of the cloth has a high resistance to tears and abrasions, which means that this backpack will serve your kid for many years to come.
t

In-ear headphones are easy to transport and fit under snug beanies and ear muffs. Happy Plugs is a Swedish fashion and lifestyle brand that offers earbuds in a variety of different finishes, including marble and gold detailing.
The braided cable is a generous length too, and should be more than enough for the average user. About a quarter of the way down, where the two independent ear cables meet, there's a handy little microphone hole and play/pause button. They're wholesome, complete and thick in terms of sound and the braided cable almost never gets tangled while worn either.

This sweet coming-of-age storybook is perfect for the teenager in your life. In it she'll find a guide to all the different boys she'll meet and all the relationships she might have, but she'll learn that the most important relationship of all is the one with herself.
With this lasting and powerful message, this is a book that can provide universal joy albeit with a few tears at the end. The transcendentally beautiful illustrations that grace each page, enhance the whimsical wonder of the story.
Best Gifts Ideas for Small Babies (New Born Baby)
So your best friend had a baby. And you're completely clueless about the whole business. You've admired baby products while in the store but that doesn't mean you know what makes a functional and practical gift.
What do you bring to the shower? Do you go with something cute or useful? Though they may have more fun with the box than anything in it, there are still plenty of fun gift ideas to add to their toy chest.
From activity gyms and bead toys to an adorable rocker and the softest play mat ever. There are also gifts that'll be more auseful to the parents than the bottle.
Here are the best gifts For Babies: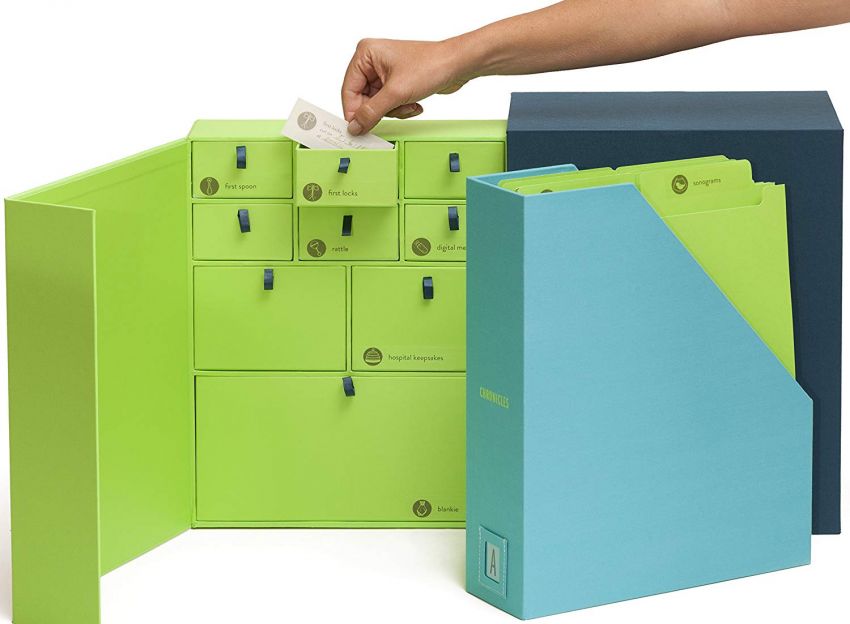 The years go by so fast, and humble yet precious objects scatter as the children grow. Someday – maybe not the first time they ask for the car keys, but certainly when they have their first child – they'll remember them, and your friend will, too.
So help your friend store cherished keepsakes like hospital name bracelets, lost teeth, and favourite binkies safely and all in one place with this library-style organizer using its illustrated labels, acid-free drawers, vertical files, and tiny envelopes. A cloth-covered casing resembling a museum-quality book makes this design an attractive addition to wherever they display their favourite collectibles.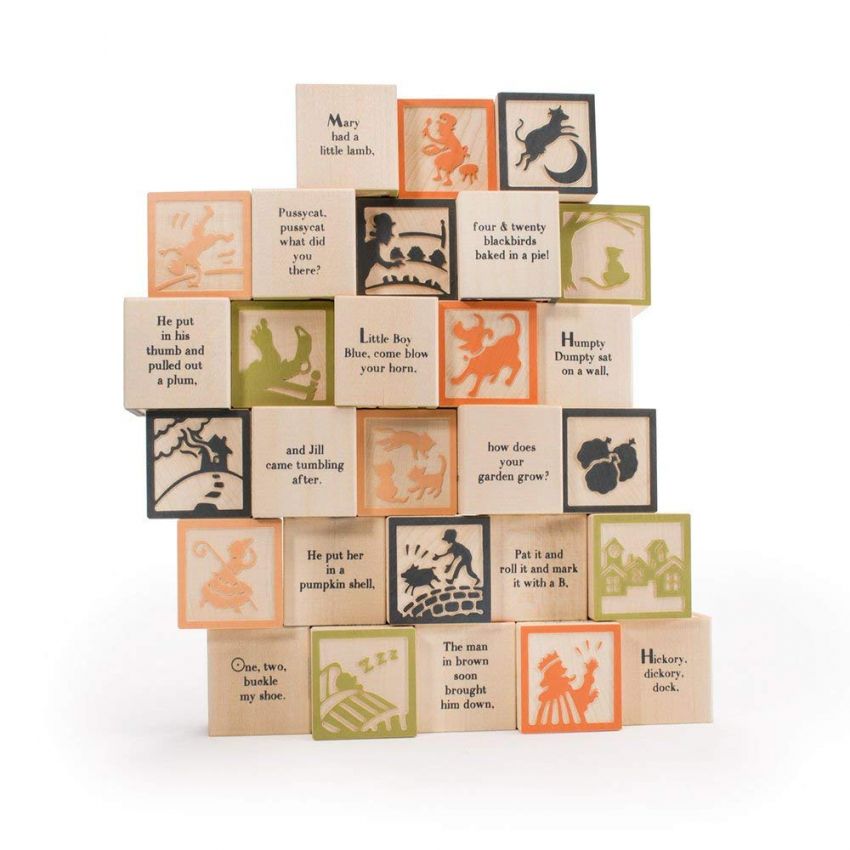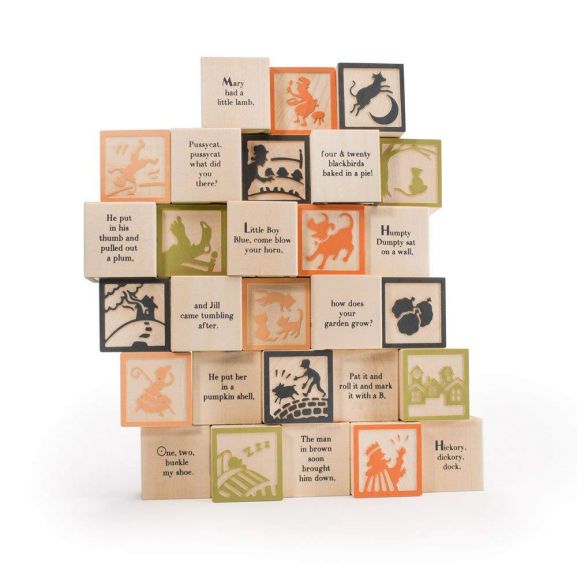 Great for play, early reading or as a nursery decoration, this set of 28 blocks tells Mother Goose rhymes via pictures and words. Timeless and simple, each block is embossed on opposite ends with two silhouette images from classic Mother Goose stories.
The nursery rhyme text is printed consecutively on the four remaining side. These classic blocks have slanting edged for a more comfortable hold. They are handcrafted in Michigan of Basswood grown in the Great Lakes area and printed with non-toxic inks.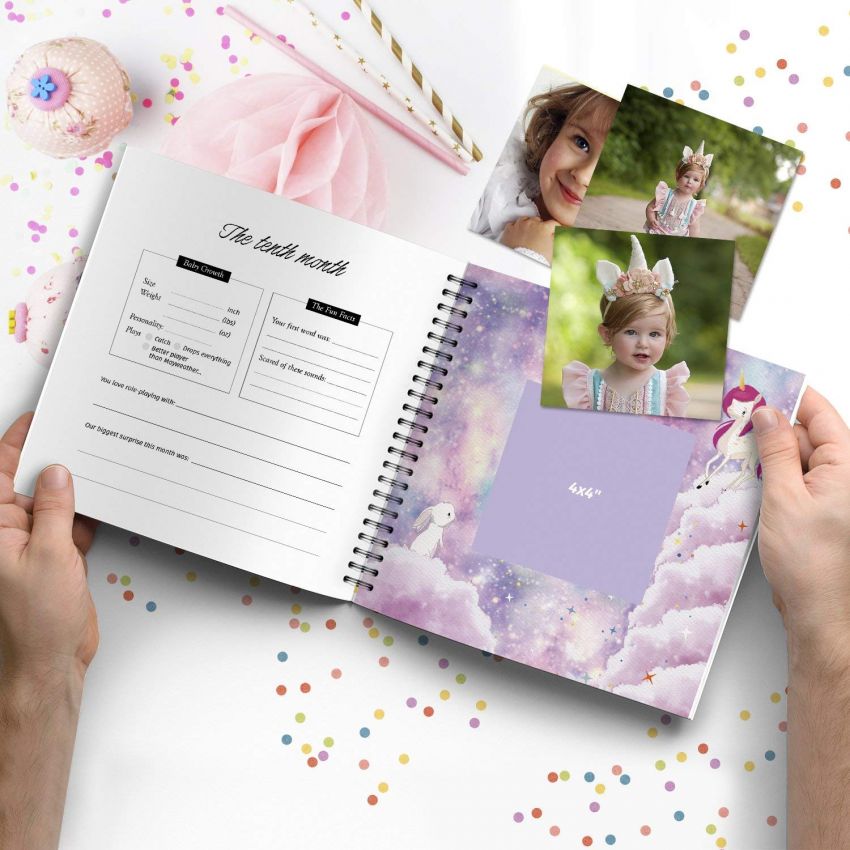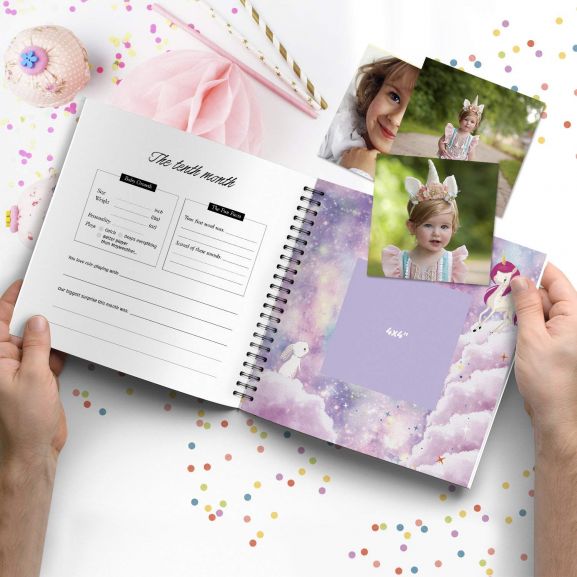 Picture this. And that. Oh, and that, too. For every captured moment of new baby bliss there is a handmade photo album to help new parents. This personalized photo book and journal is an easy to fill limited edition keepsake memory book.
It also includes an ultrasound matching card and is printed on undercoated cover paper which is acid free, pH neutral and uses soy based inks. This journal records memories connected to the photographs and every parents can just pull it out and grow through it every time they feel nostalgic.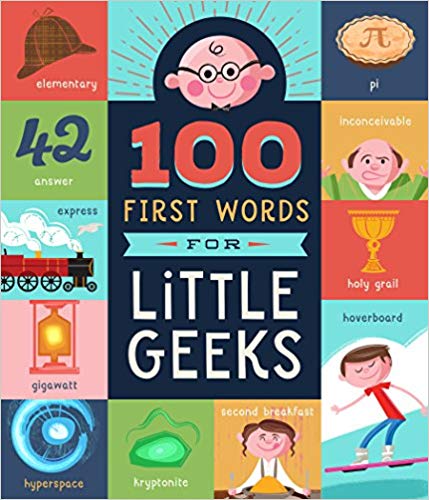 Sure, your friend's little one is clearly a genius, but can she make the Kessel Run in less than 12 parsecs? Nerdy parents will be delighted by this clever pop culture board book. It's a baby's first introduction to STEM words (Pi, Gigawatt), movie references (Kryptonite, Holy Grail), and all manner of fandoms (Tribble, Second Breakfast).
Would your friend be satisfied if their child grew up just babbling mundane words like "apple" and "cat"? Inconceivable. Be that fun, cool aunt or uncle who brings the things that are a learning experience but also somethings that the kid 'shouldn't' be learning.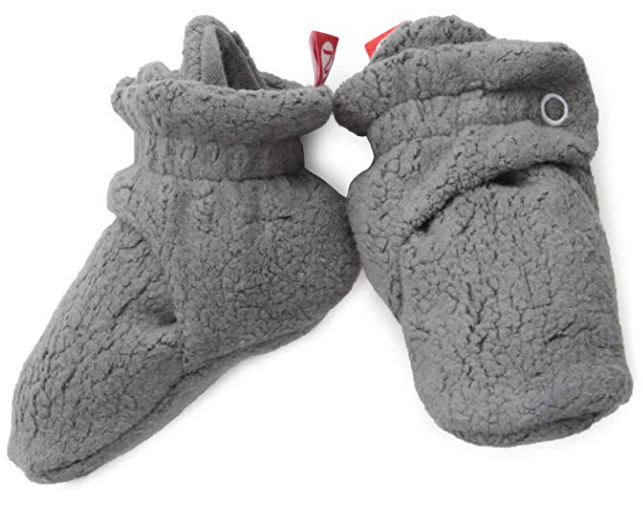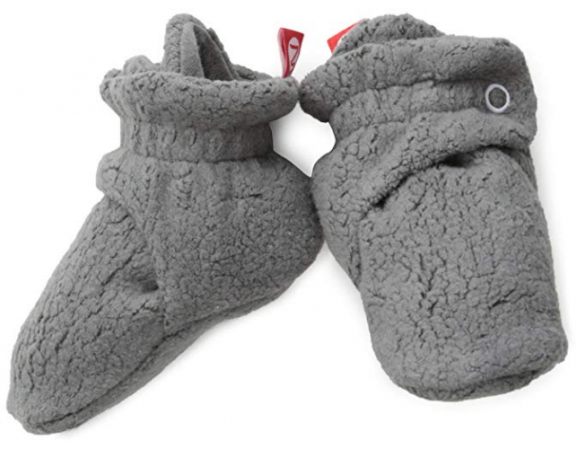 Baby socks are notorious for not staying on. These booties will stay on, come in a variet of colours, and for older, more mobile children they have ones with grips on the soles so skids don't slip on slippery floors.
When your friend's baby is on the road to walking, and his/her feet need to be protected and safe, these socks will protect them from dangers such as slipping, stepping on hot concrete when outside, or stepping on something sharp.
A flexible shoe helps mimic the natural flexibility of the foot, which is important for the normal development of the arch of the foot and these booties are smartly designed for doing so.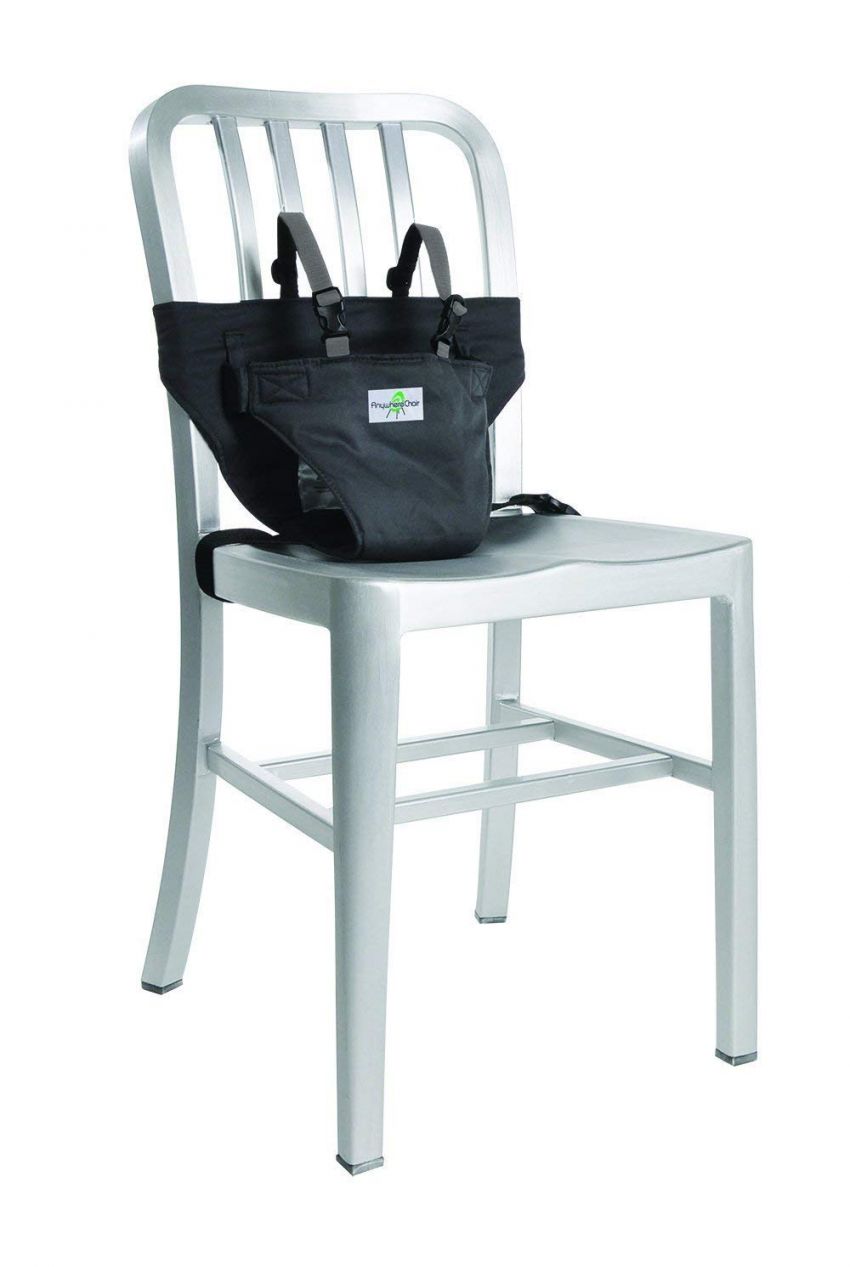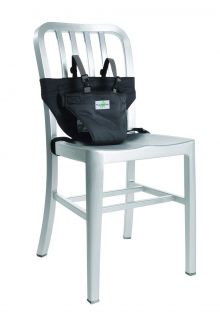 Strollers, snacks, diapers, toys. Kid-friendly outings entail lugging around lots of gear. During your friend's next mealtime excursion, they can leave the portable high-chair behind and opt instead for this lightweight design.
A five-point harness with adjustable straps, it compactly folds into its own carry pouch and can be lengthened or tightened to fit most chairs, both wide and high. If their kiddo is a squirmer, it can also be used on adult's lap for hands-free holding.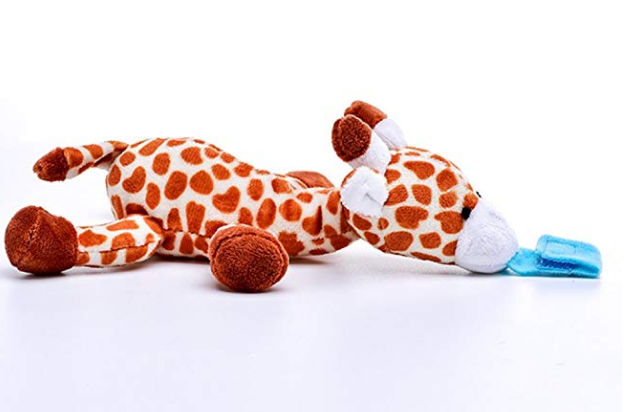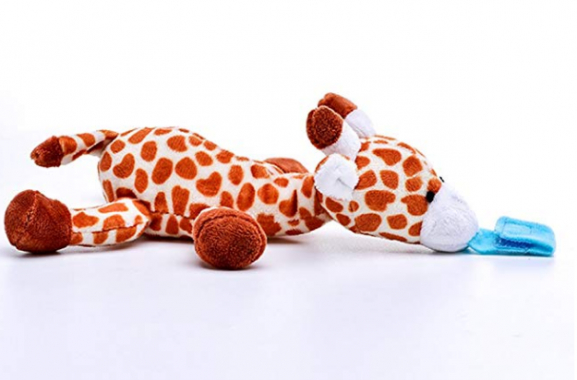 When kids are still on the younger side, they drop the regular pacifier from their mouth and need someone to come put it back in – or even hold it in place.
This giraffe pacifier is perfect so much so that your friend can wedge the animal part between things to keep the pacifier accessible for the baby even if it falls out of his/her mouth, and when they get a little older, they can grab it more easily themselves to put it back it. It's truly a life-changing gift, one less stress for the parent to deal with.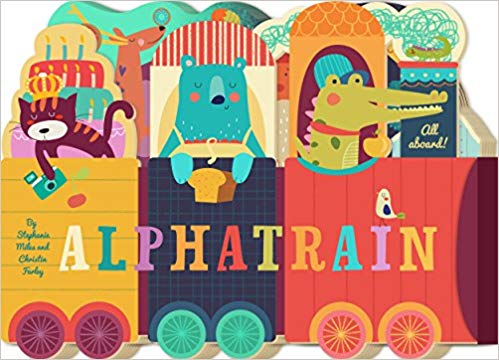 All aboard the ABC train. Just 26 stops. This adorable, multipurpose alphabet book will have little ones on the fast track to learning. Each page is illustrated with an animal to match its letter, and on the back is a list of other alphabetical items to search for – a fez on the fox, the bear's banana, etc.
When reading time is done, undo the clasp on the book's spine, and the whole things unfolds into a 42' train that invites some imaginative playtime. The sweet images even make this a great decorative accent for a nursery, bedroom, or playroom.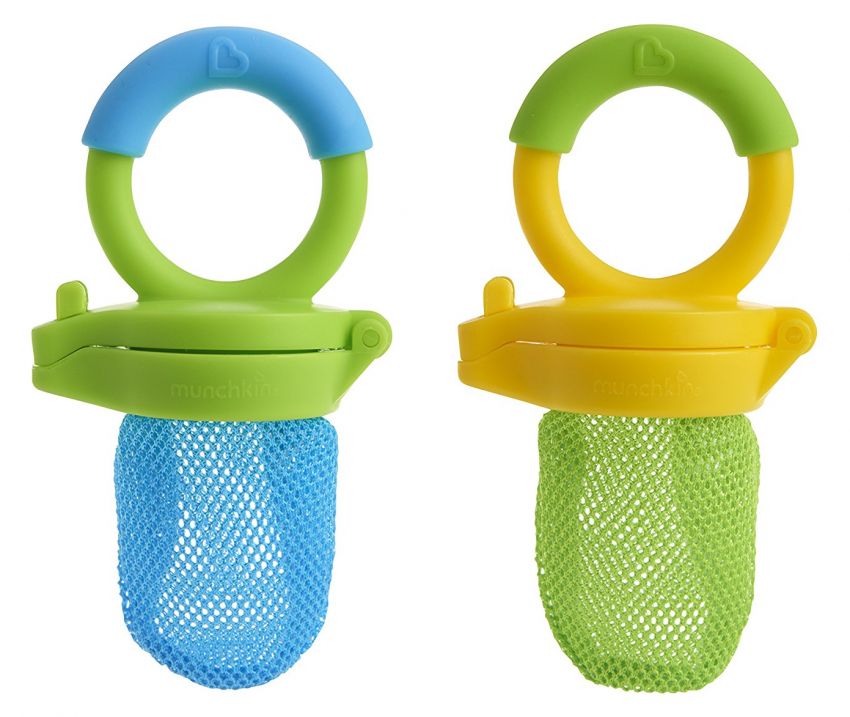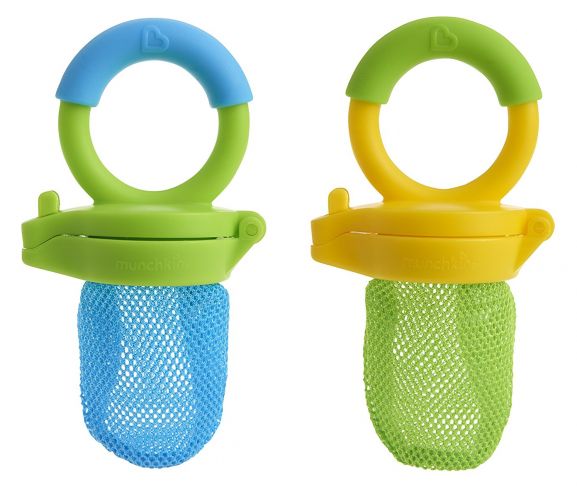 As a parent, life completely revolves around feeding the baby. It's really unbelievable how many hours of their current life your friend will spend planning, purchasing, prepping, feeding and cleaning up food.
So this fresh food feeder is something that'll become vital in their life. These little mesh feeders enable your friend to feed the baby fresh fruit and veggies without worrying about choking. They're also great to put ice in for teething.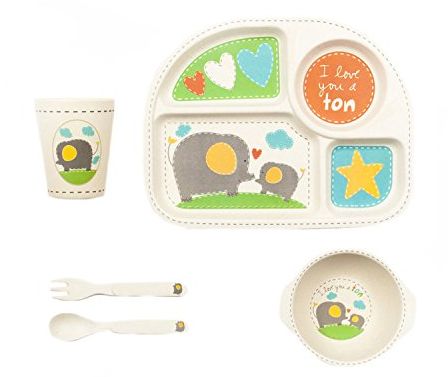 Make mealtime a pleasure and distract picky eaters with the playful jungle animals on this light, sturdy dinner set. The child-sized five-piece set (divided plate, bowl, spoon, fork, and cup) features a menagerie of book-worthy illustrated friends, including a peacock, hippo, lion, zebra, elephant, whale, crocodile, and birds.
The plate has divided sections that keep food in separate "cages," and the cutlery is light and easy for little hands to grip. Made of bamboo byproduct – leftovers that no one uses – it's safe for children and the environment, too, because it will fully biodegrade. By making mealtime fun, this dining set could end your friend's hunt for a way to get kids to eat nutritious food.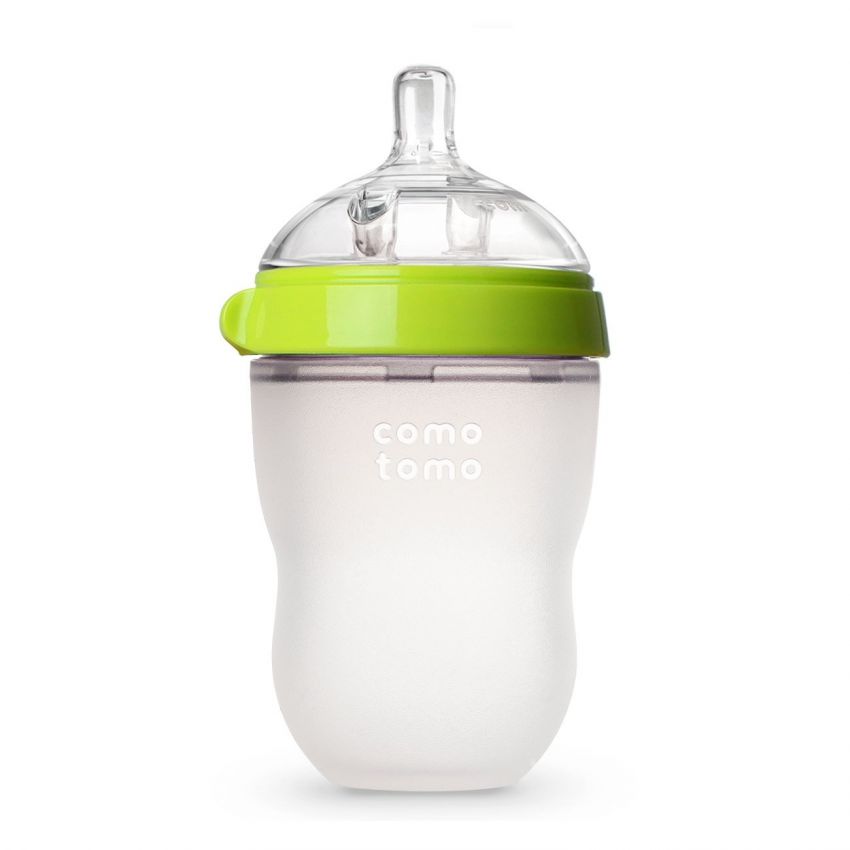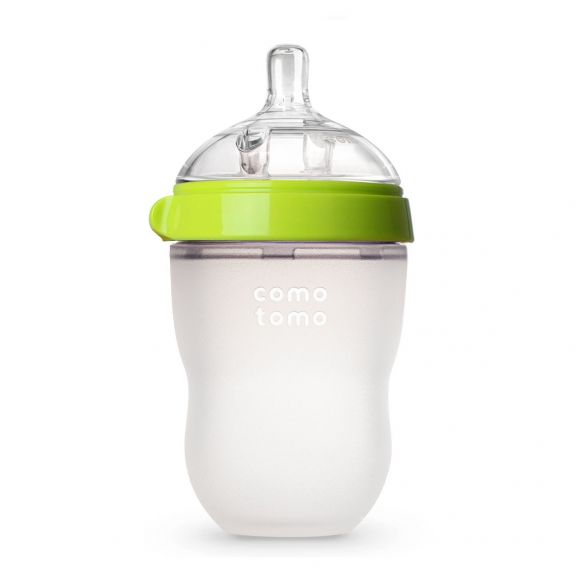 These are so great. They're a green product, and older babies can learn to hold these bottles more easily than others. Meant to feel just like the breastfeeding experience, this bottle was designed to help take some of the struggle out of switching between bottle and breastfeeding.
They're made of silicone, and both the nipple and the bottle are soft and squeezable, just like a mother's breast. The squeezable base works well for babies who are learning to hold their own bottles. Because the material gives, it lets little hands get a better grip on their bottle.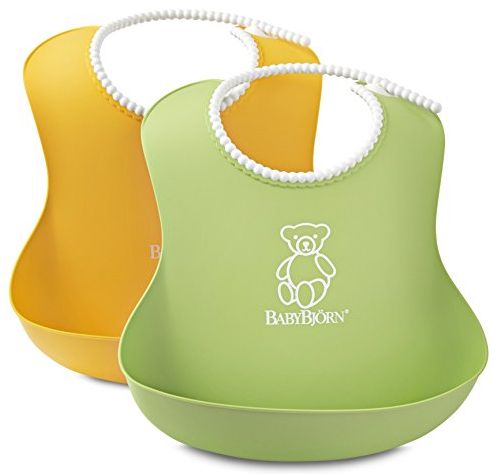 These are great for first time parents who don't know how difficult a task it is to feed a baby. When they see how much food collects at the bottom of those bibs, they'll understand the logic of choosing that particular material type.
Also, they can just clean them with soap and a sponge. Anything that doesn't need to be laundered is great, bibs especially. They get very soiled and stained. And honestly, the last thing new parents or veterans for that matter want to do is stain-treat a baby bib.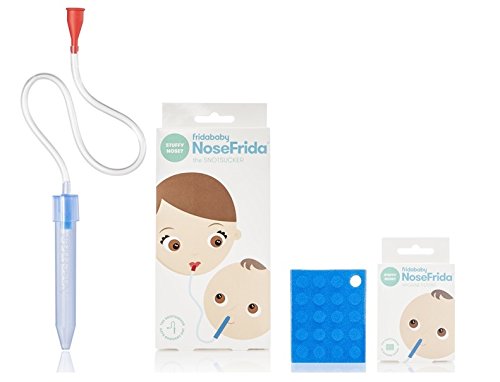 One health and safety item all new moms must have is a nasal aspirator. Babies can sometimes acquire a cold in which the parent have to suction out the nose to clear the nasal passages.
The typical method is usually to use a bulb syringe and, in fact, most new-born health care kits already contain one. But rest assured, the FridaBaby product is not only safe but completely hygienic. The concept sounds a bit gross but any product that helps make it a little easier to ensure that the baby can breathe better is something worth trying. And it's highly rated by new parents.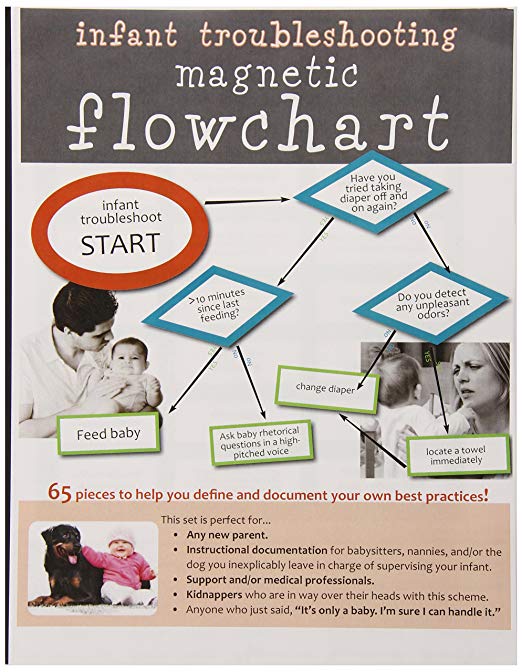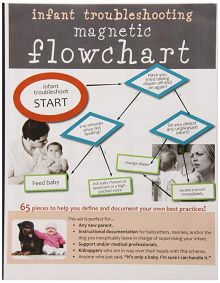 Is the baby on the blink? Leaking, shrieking, and with no reset button in sight? If all practical advice has failed, then why not turn to Infant Tech Support! Sadly, the tech support team is unavailable at this time, but they can offer your friend absolutely the next best thing: a troubleshooting flowchart.
It may not cheer up the child, but this playful magnetic set is sure to help hapless parents from whimpering. Spread the set of business-like arrows, process steps and decision boxes across the surface of a fridge, filing cabinet or metal door, and then have fun arranging them into all kinds of questionable parenting advice.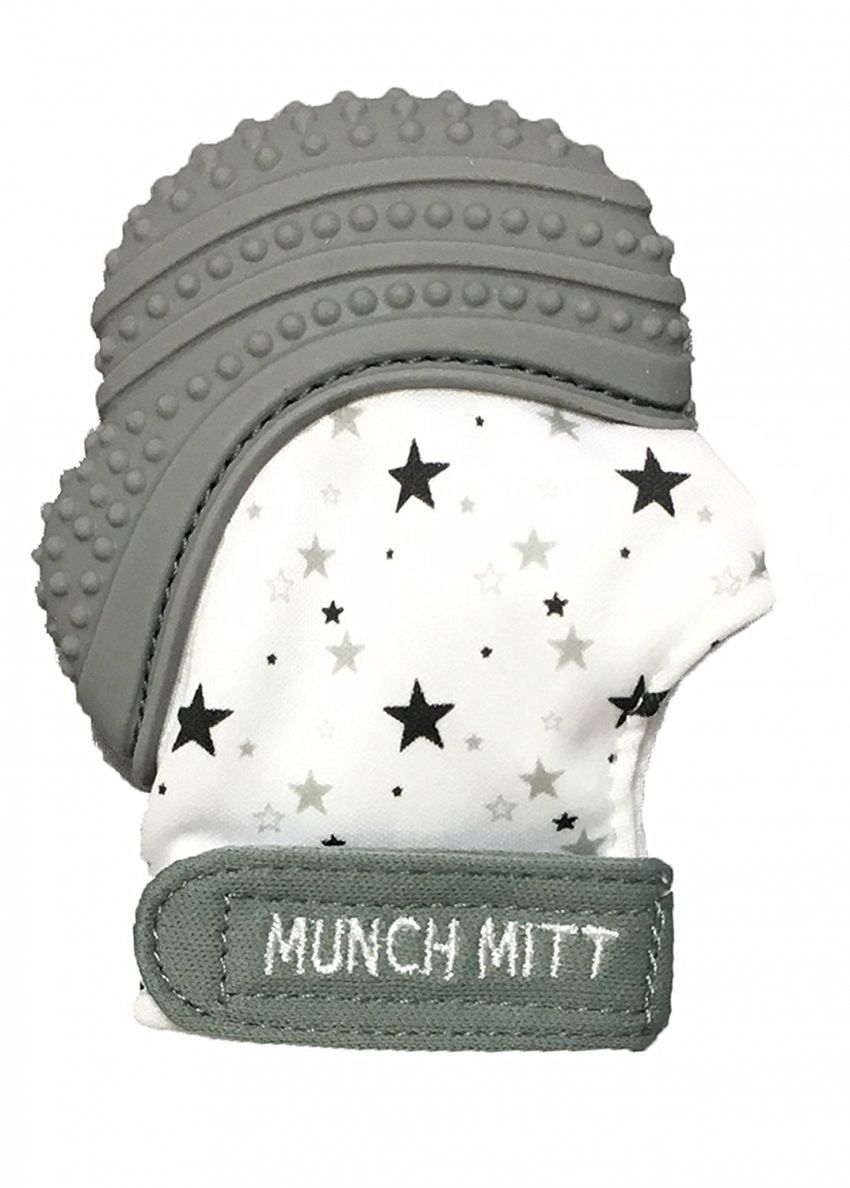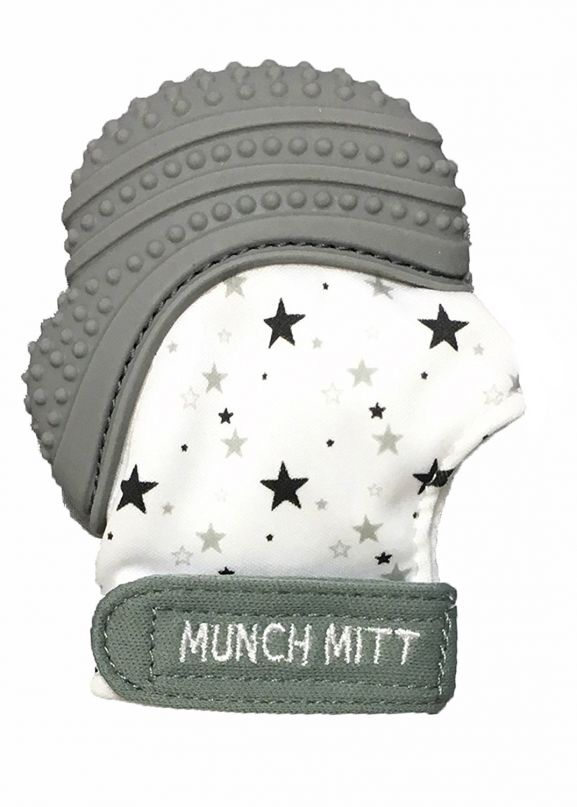 A comfortable solution for early teethers, this easy-to-wash mitt fits over your baby's hand to protect their delicate skin. Without needing the consistent grip or direction that comes with a standard teething toy, little ones can munch on the attached 100fi food grade silicone to ease teething pain.
Bright colours and a crinkle paper lining keep them engaged, while the textured silicone surface offers soothing relief.
Overall Ratings

10

Summary

List curated by us for you to get best gifts for Kids and Toddlers for Christmas 2018.