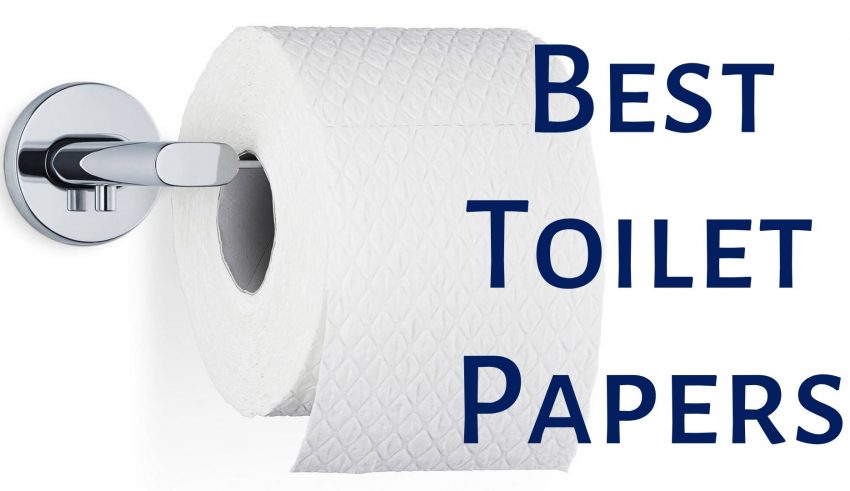 With the growing risk of health issues,communicable diseases, and other such risks combined with a rush for scarce water resources, there is a drastic increase in demand for hygiene accessories, of which, toilet papers are a must have.
You will find a variety of toilet paper rolls available online that cater to distinct personal preferences. We are here with some of the best, top rated toilet paper brands to enhance your levels of personal hygiene.
Here are the Best Toilet Paper in the world: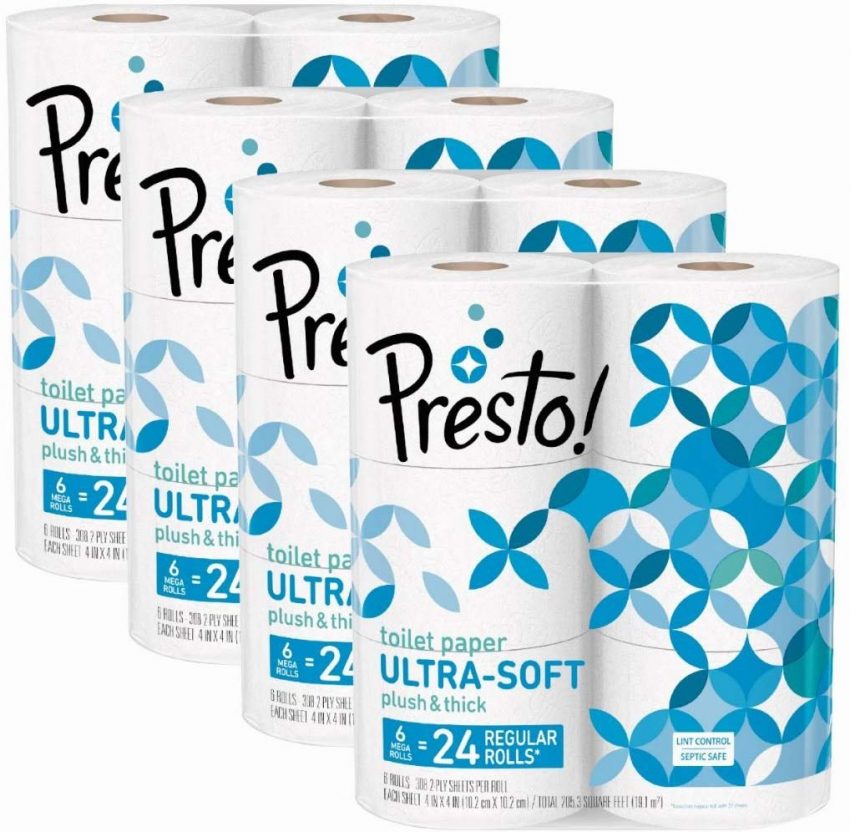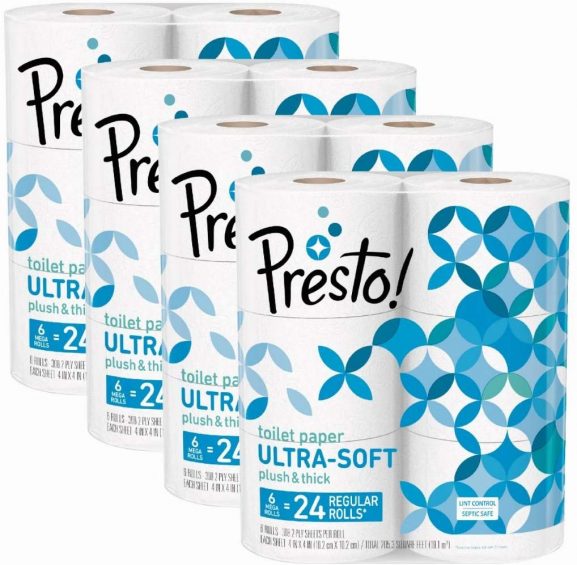 Manufactured by the famous brand, Tempo, made in Germany, these toilet tissues are currently among the best ones when it comes to effectiveness while cleaning. These dermatologically tested toilet papers provide extra resistance and strength along with a soft experience while cleaning your skin. These tissues are made of 100% virgin tree pulp and are gentle on skin while being suitable for all skin types.
They are free of any kind of injurious brightening chemicals, fragrance add- ons and dying agents. These tissues are quick absorbents and get easily flushed while being insoluble in water.The super-saver pack contains twelve assorted rolls, each with a huge number of three hundred sheets, thus making it an absolutely hygienic and a cost effective choice for your family.
---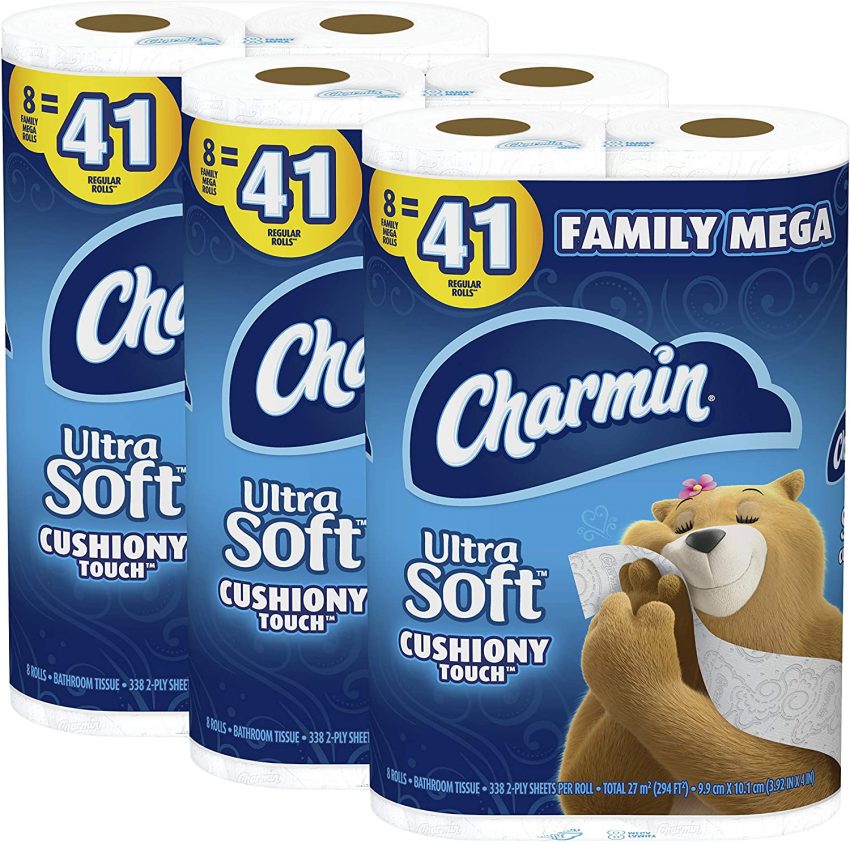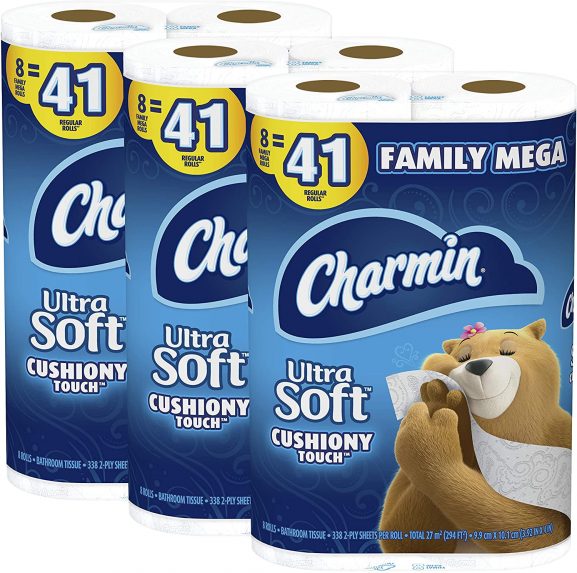 These super soft toilet tissue papers, made in the United States of America, come in a super saver family pack called Charmin Ultra Soft Family Mega Roll Pack. These exclusively manufactured toilet papers have an extremely soft cushiony touch and are highly absorbent. These tissues are a responsibly sourced product, with 100% of the virgin tree pulp used in manufacturing.
The brand is extremely septic-safe and and clog safe with a strong washcloth like texture that takes you to the next level of hygiene along with comfort. It is highly absorbent and has a soothing lotion on every sheet to leave you with a silky smooth and fresh experience.
It becomes one of the best choices as it is easy to tear from the roll, stays strong when wet and dry, and is incredibly soft on skin.The pack contains 24 rolls with 338 sheets per roll, carefully packed in hygienic packaging to render you an experience like never before.
---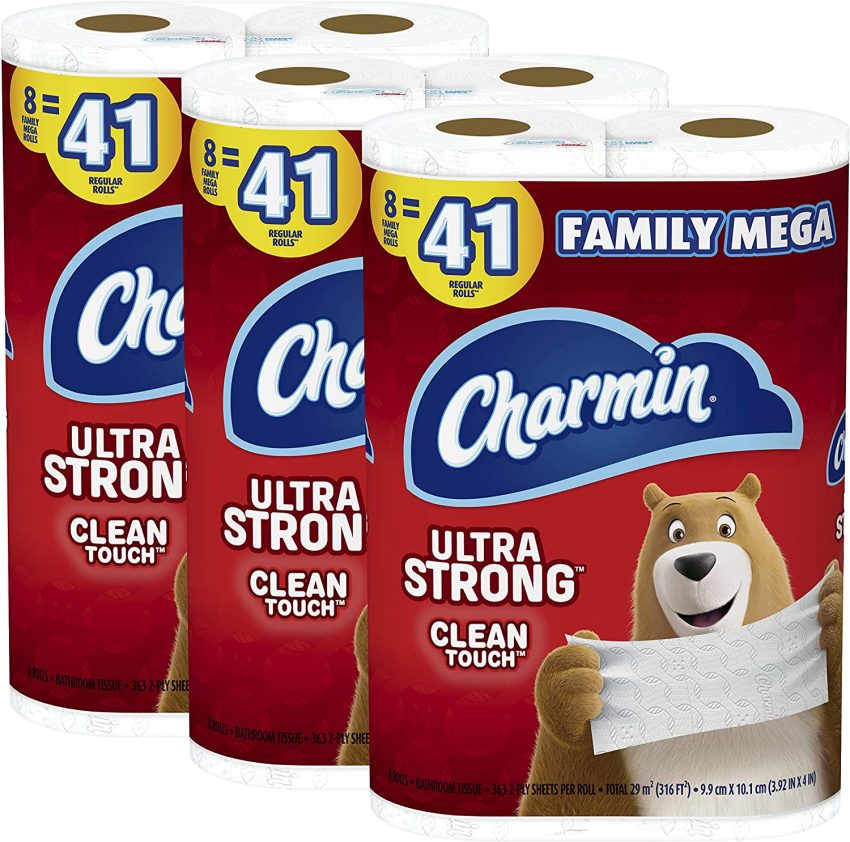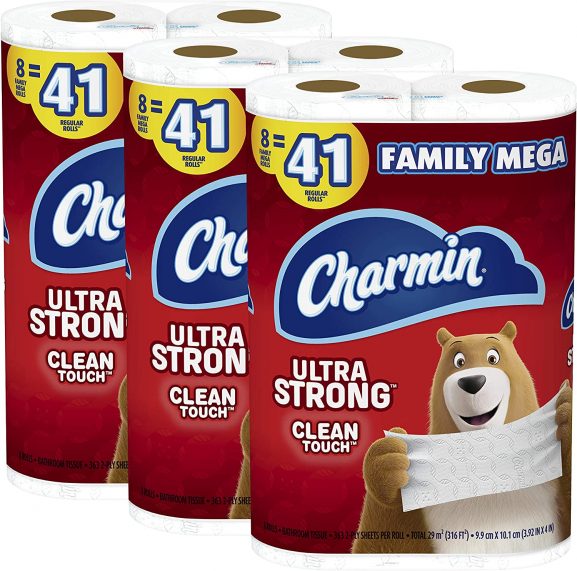 When it comes to hygienic cleaning in contemporary luxury toilets,washrooms, and kitchens, nothing works better than a carefully woven washcloth texture which is hard to find in common toilet paper brands.
Therefore, Charmin offers a spectacularly designed exclusive product, with a woven washcloth texture and yet a silky soft touch that is extremely gentle on your skin and suitable for all types of skin ranging from dry to sensitive. Made with soft fibres, this natural toilet paper is hypoallergenic and shows no trace of chemical additives.
The absolutely pocket friendly pack of Charmin Ultra Soft Toilet rolls contains 24 rolls of 363 sheets of ultra strong paper which is a family blockbuster deal. It is septic safe and authentically approved by Roto-rooter, hence it is sure to make you forget all your tensions before you indulge in an exclusive experience like never before.
---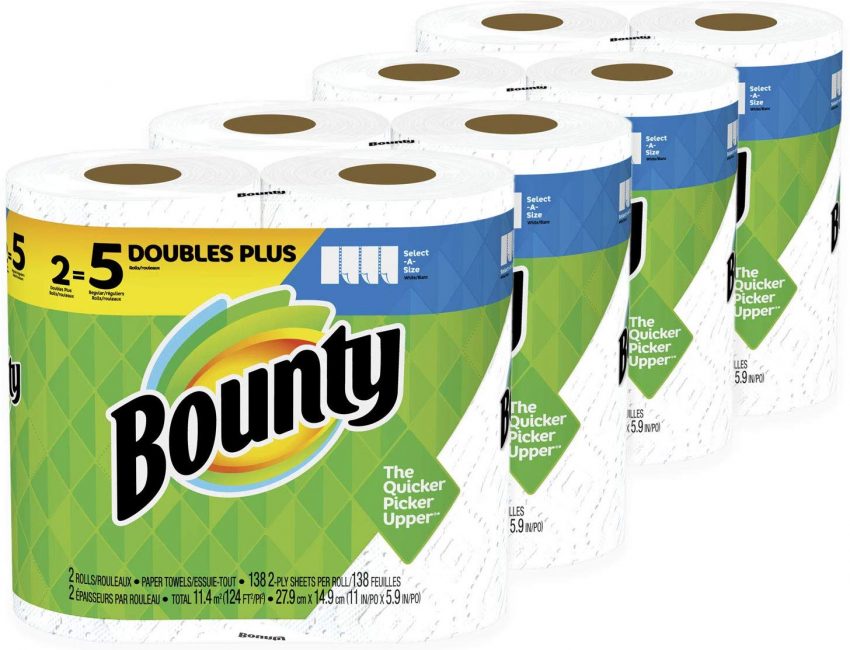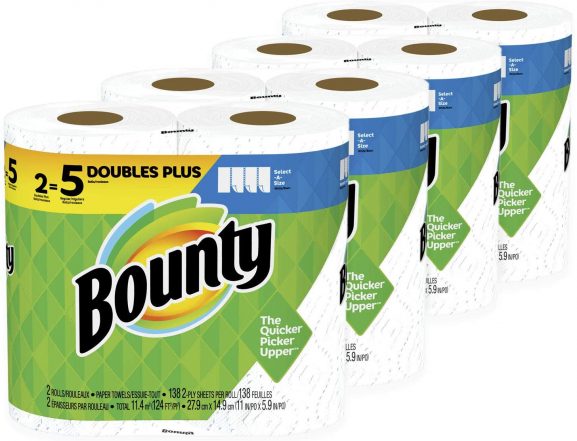 These extremely soft, large sized toilet towel rolls are one of the best sellers across the globe and are sold by the company in a mega pack of eight macro A-sized rolls. These dermatologically tested rolls are highly absorbent and extremely soft and skin friendly and are suited for all types of skin including that of children too.These towels by Bounty are easy to use and flush, even in RVs and campers and do not require any additional accessories while using them.
These toilet paper rolls are prefered for the pick your size option because sometimes just a small paper towel is needed. These towels hold up to the biggest spills or the smallest cleaning jobs. They have been carefully manufactured keeping in mind maximum utilisation and minimum waste strategies and hence are environment friendly.
---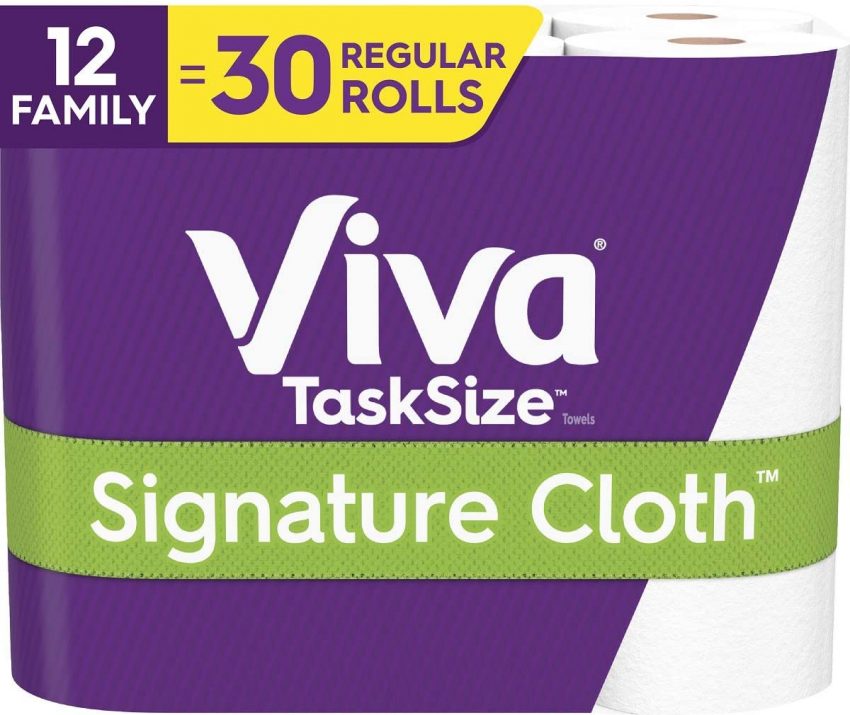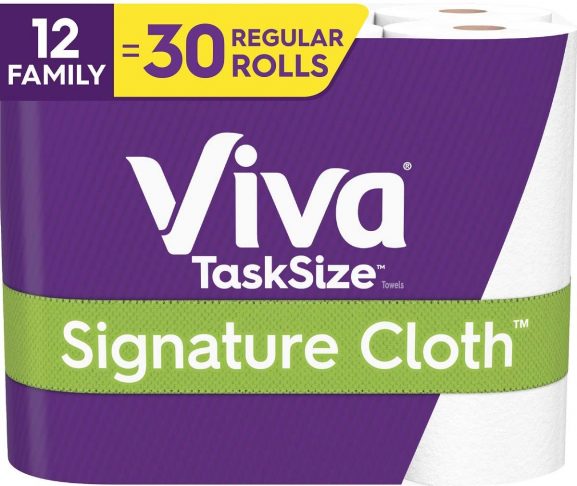 New Viva Task Size Signature cloth large size toilet papers are one of the best reviewed choices worldwide. These toilet tissues by Viva are stretchable, highly durable and are more of a soft cloth like product and thus they help you to provide exceptional cleaning on different surfaces, from the kitchen to the bathroom, these towels are among the ones with the highest utility.
These toilet rolls are available in a set of 2 packs of six family rolls. These rolls have 143 sheets each and thus provide one of the best family offers. Though the new rolls are smaller than the usual size, they are highly suitable for smaller surfaces and for cleaning purposes for babies and children as well.
---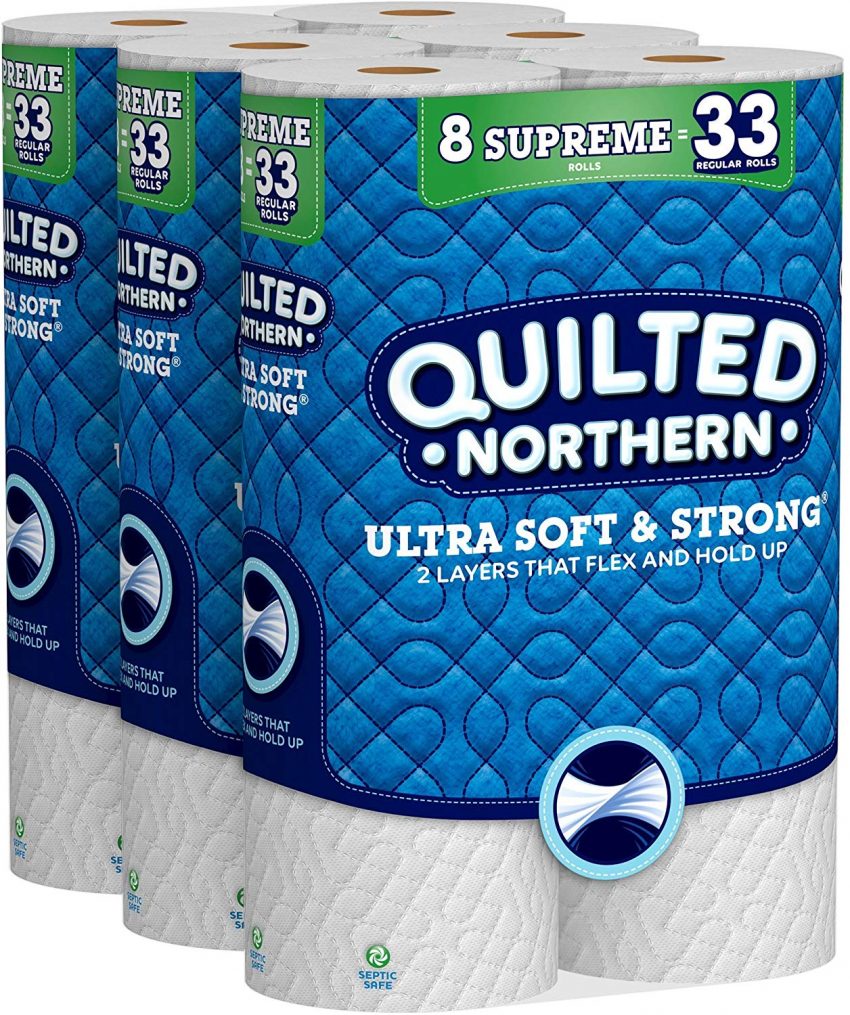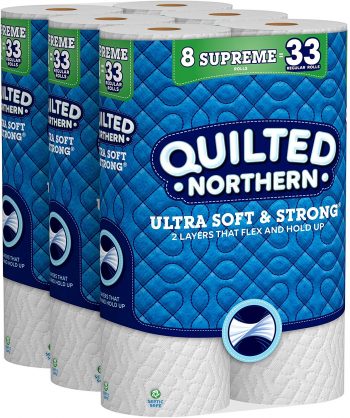 Quilted Northern Ultra Soft and Strong bath tissues manufactured by Wallgreens operated under Georgia Pacific, are a trusted name in the list of toilet accessories these days. These comparatively thick toilet tissues are made of three layers and thus are highly durable and absorbent and do not rip off easily, just to give you a thorough cleaning experience.
Apart from the outstanding quality, these tissues are eco-friendly too as they are made from pulp of sustainably sourced trees.With no dyes, fragrances, or chemical agents used, it is the best choice for people who are prone to skin irritation or skin allergies. The silky smooth texture is gentle on the skin and works efficiently to soothe away discomforts.
However, these toilet papers might not be suitable for low flush toilets and for campers and RVs as they may clog the sewer pipes. All of its packaging is recyclable hence reducing the amount of waste. Try it and you'll see the difference yourself.
---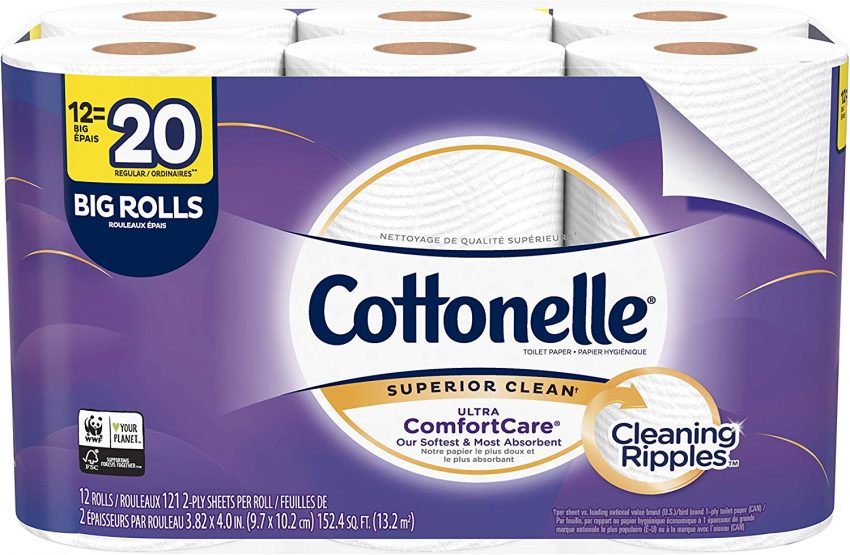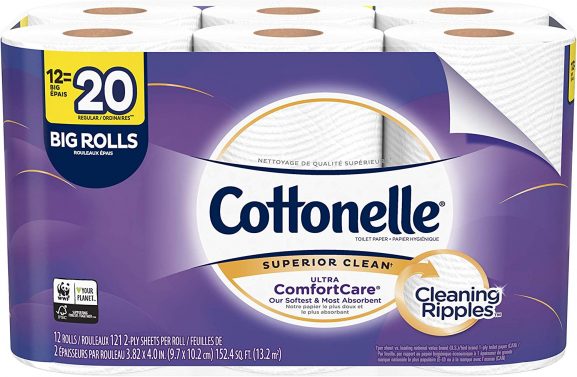 Cottonelle is a brand of toilet paper produced by Kimberly-Clark. Cottonelle Superior Clean two ply toilet tissues are uniquely designed to make cleaning easy and offers an unbleached tissue made of recycled paper and hence is suitable for all types of skin.The product is kept simple with no added dyes, fragrances or ink during the manufacturing process.
These tissues are extremely comfortable while using and help to remove three times more than the ordinary tissues. These tissues can be easily disposed of. They won't clog your septic. Hence, they provide one of the best options for daily use. Cottonelle Toilet paper that is made from fibers that are 100% biodegradable, and is free of added dyes. And for a superior clean, using dry & moist together vs dry alone, one may add Cottonelle GentleCare Flushable Cleansing Cloths to the bathroom routine.
It can be ordered in bulk to save with Subscribe & Save and get Cottonelle conveniently delivered to your doorstep. It is typically a bit expensive, but the value packs make it slightly more worthwhile, and there are periodically good discounts available online.
---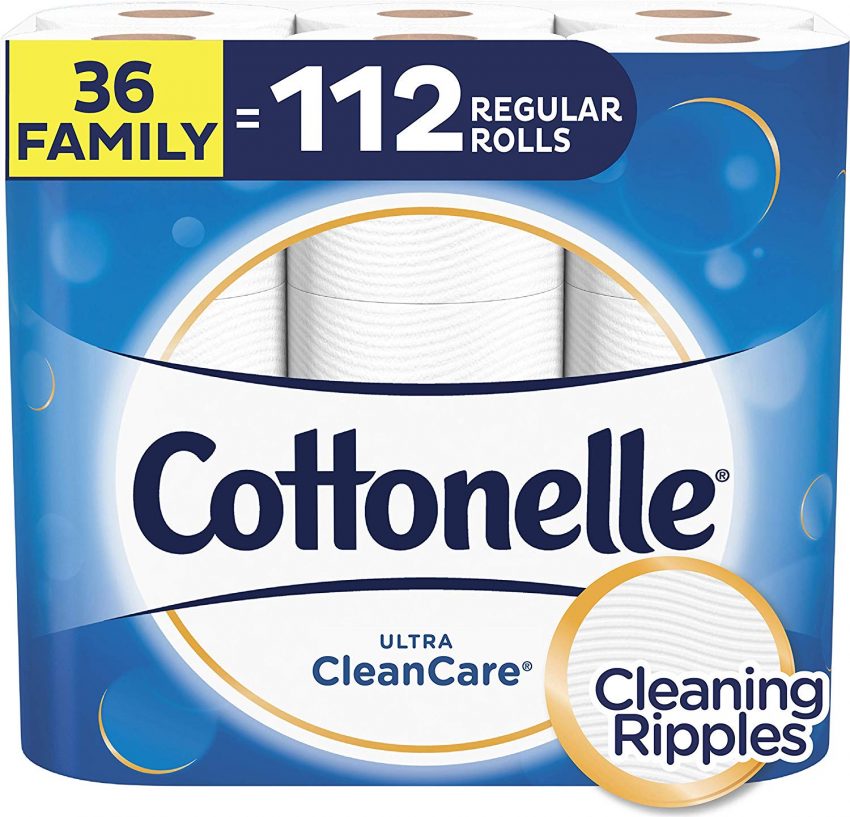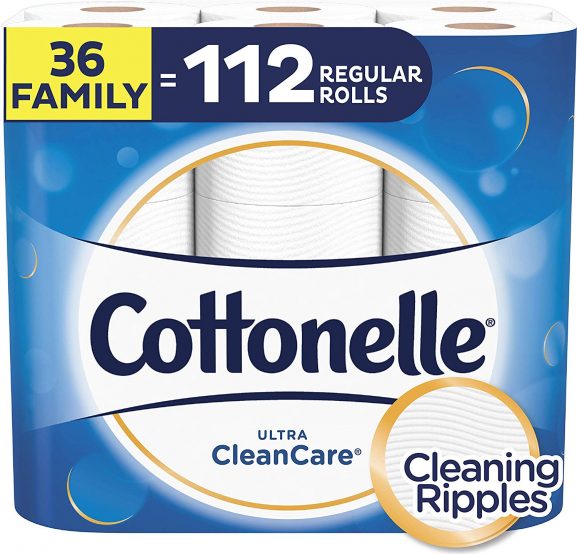 One of the most sought after products in the game, Cottonelle Ultra Clean Care is a must have toilet accessory. In addition to the typical Cottonelle soft and smooth experience, this uniquely designed addition has cleaning ripples to enable you to clean thoroughly, with its double strength and increased thickness.These 2-ply tissues have flower pattern embossing on each roll, making them really soft and smooth.
These rolls can also fit into any standard dispenser, so you do not have to worry about that either.The washcloth like texture, smooth finish and soft surface of the tissue papers enables you to thoroughly clean without irritating your skin.However, these toilet papers are likely take a long time for this product to break down in your pipes and hence are not recommended for use in campers and RVs.
One can feel the ultimate clean down there with Cottonelle.Cottonelle Toilet Paper can be paired  with Flushable Wipes to upgrade your bathroom routine. Cottonelle Wipes are flushable based on INDA flushability guidelines and offer a fresh, gentle and effective clean. The product also boasts of Aloevera and Vitamin E goodness that is extremely good for skin.
---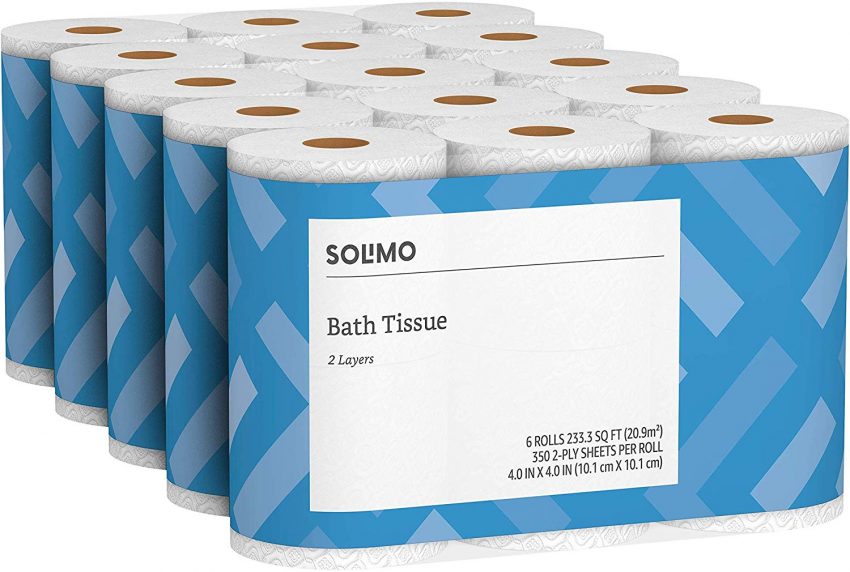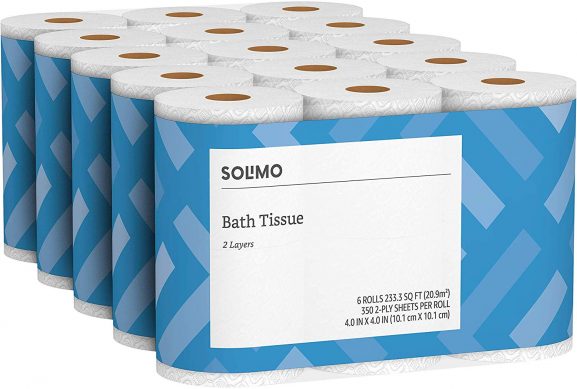 Solimo Bath Tissues are another trusted brand in the game. It is a two ply toilet paper with 350 sheets per roll, which makes it a safe and comfortable option for your daily chores. The packet has 6 assorted paper rolls each.These tissues are extremely safe for standard septic and sewer systems and even for low flush toilets.
It is recommended for use  in bathrooms most frequented by children and the elderly.The silky smooth texture is gentle on the skin and works efficiently to soothe away discomforts.This product is suitable for both large families, as well as businesses. The two layers in each tissue render your skin extremely clean and soft.
The offer includes 30 rolls, that is 5 packs of 6 rolls each. Each roll has 350 2-ply sheets, giving you a bumper 10,500 sheets in total. These tissues are suitable for all skin types and give you a unique experience. However, this item is not shipped to India by Amazon.
---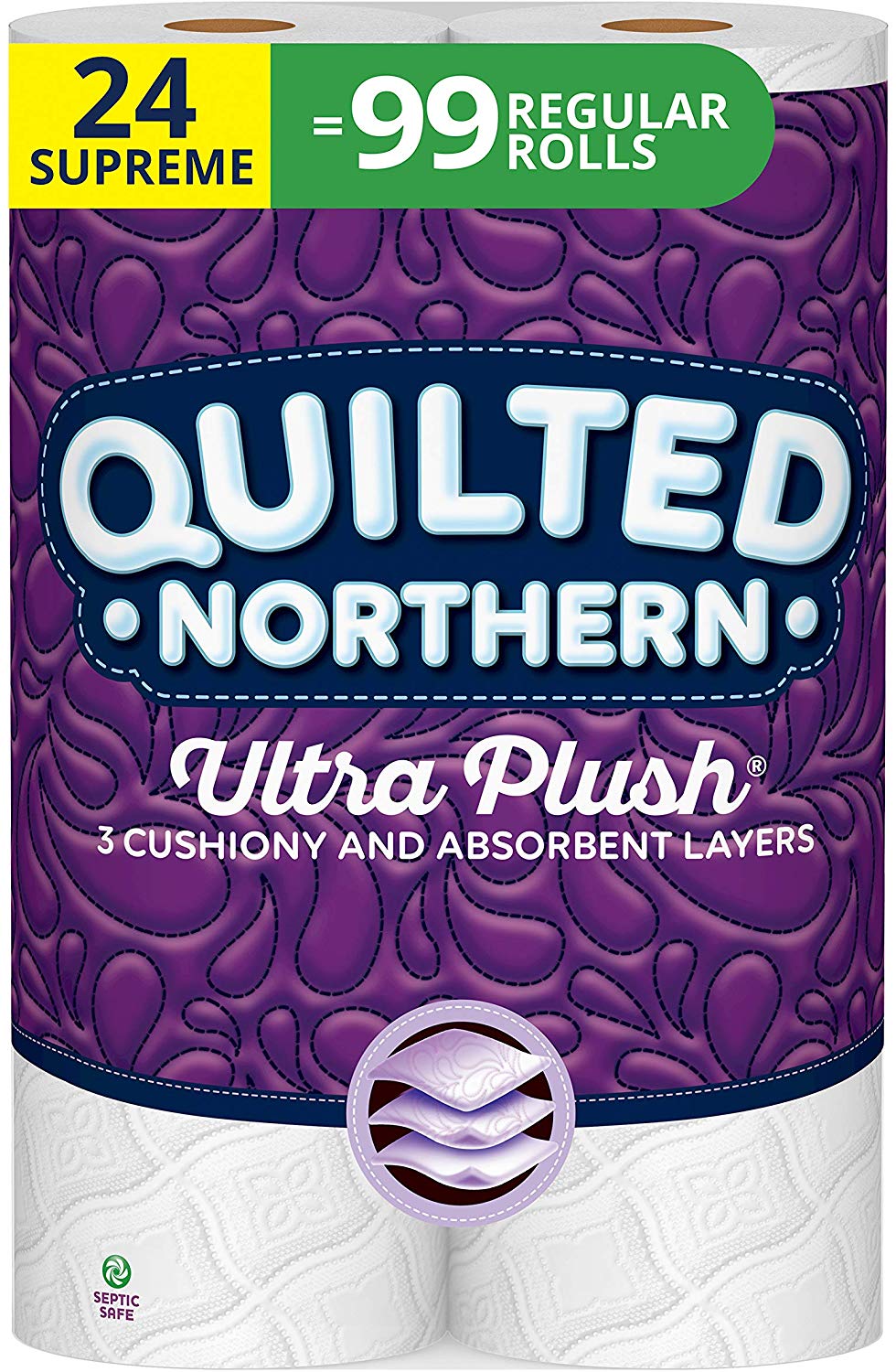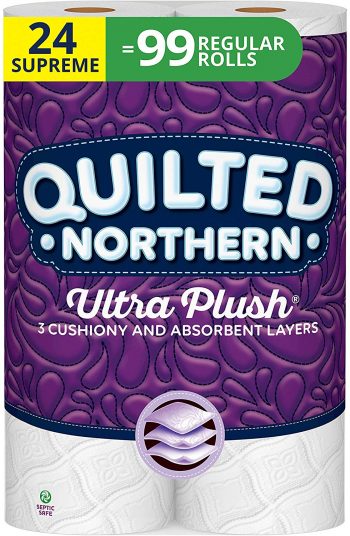 Quilted Northern Ultra Plush Toilet papers are among the highly trusted brands. The pack contains 319 3-ply sheets per roll, which means that each sheet is made of three layers, giving it a soft, cushiony outlook. These cushiony and absorbent toilet paper rolls are flushable and safe for standard septic and sewer systems. You get 24 supreme rolls in 3 packs of 8 rolls each. Made from 3 silky-soft layers, Quilted Northern Ultra Plush bath tissues deliver the softness you desire.
Our luxurious embossed design is soft, comfortable, cushiony, and highly  absorbent. With this supreme toilet paper roll, you'll get more than four times as many sheets as the regular roll—and that means less time changing out the roll from week to week.High-quality toilet paper is gentle on your sensitive region and cleans up the meds without leaving anything  behind.
---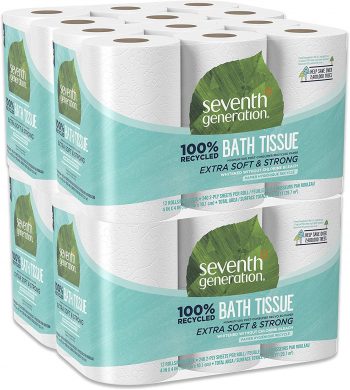 Seventh Generation 2 ply bathroom tissue designed for softness and strength is one of the top rated toilet paper brands. This product is known for its premium paper quality and for being gentle on the skin. It is one of the go to options when it comes to toilet accessories. It is made with 100 percent recycled paper with no added dyes, inks, or fragrances and the tissues have been whitened without the use of chlorine which makes them extremely gentle on all types of skin.
It is absolutely septic safe and compatible with low flow toilets, in RVs and campers. It  is an excellent choice for your mundane requirements. These toilet papers are readily available online and can be delivered at your doorstep at pocket friendly prices. Extremely hygienic and competitively priced, this product is perfect for families and businesses in search of a functional and economical toilet paper option. It is reliable and sturdy, with no fancy embellishments or additional features.
With a thick and absorbent structure, this not only feels delicate and soft on sensitive areas but it also effectively cleans the tougher areas. A great way to keep track of your family's hygiene and safety needs, without compromising or worrying about the quality and effectiveness. Whether you live alone or with your family, this product is perfect for people who are in search of excellent functionality, luxurious quality, and a superior feel.
---
Conclusion:
All of these extremely lovable and exclusive brands of toilet papers are readily available online through the given links. You may experience luxury with a single tap as you get them delivered at your doorstep.