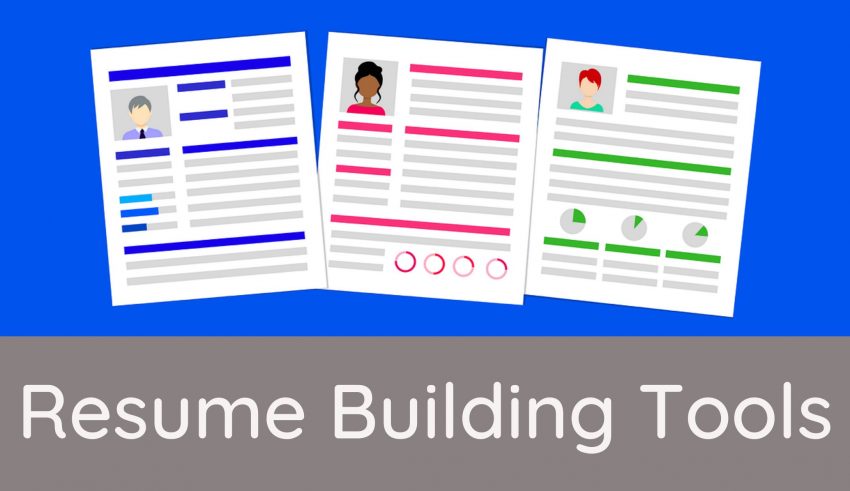 The first step to applying for a job is building a resume that can instantly attract employers. No matter which position you are applying for there will be a plethora of potential job seekers vying for the spot.
We are certain you can impress HR in the interview round, but you must get there first. And to do that you must have something special that will make you instantly noticeable. So, how do you stand out from the crowd under such circumstances?
Why your resume of course! A resume is more than just a piece of paper that lists all your accomplishments to date, it is a window to how much effort you're willing to put in to sell yourself.
A bland resume is the first and foremost mistake an aspirant can make. And we hope you're here reading this because you're well aware of its value. So without further ado let's check out some of the best resume-building tools available online in 2020.
Top 10 best and most efficient resume building tools: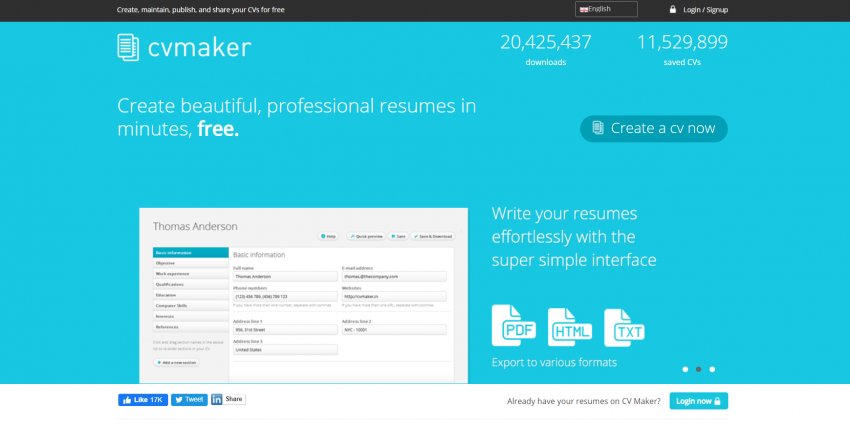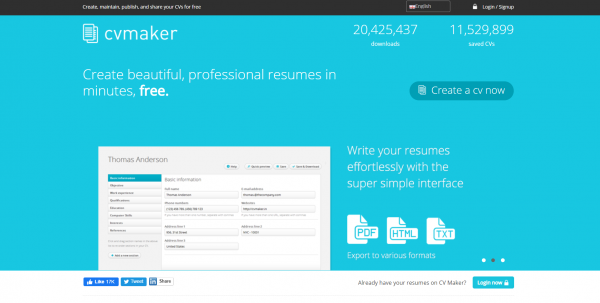 Resume builders have a feature of filling up your entire resume with preexisting job descriptions and while that makes your task much simple, you run the risk of ending up with the same content as most aspirants. CVMaker should be your choice resume-building tool if you already have your content prepared.
The tool helps you organize your academic and official details in a synchronized and efficient manner all within half an hour. The tool comes with an easy-to-use dashboard on the left side section wherein you can input all your data such as Basic Information, Work History, Qualifications, Education, Interests, References, and more.
The dashboard makes creating your resume oh-so-simple and straightforward that it will feel like anything but a chore. One can only download resumes once they have created and logged into their CVMaker account, so make sure that's one of the first things you do.
---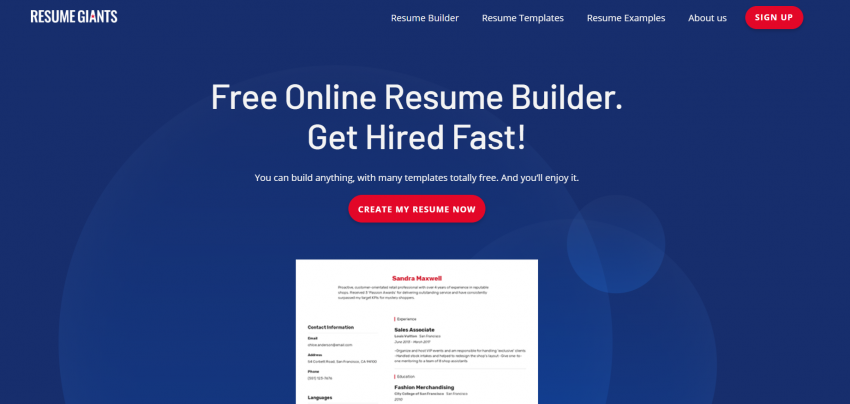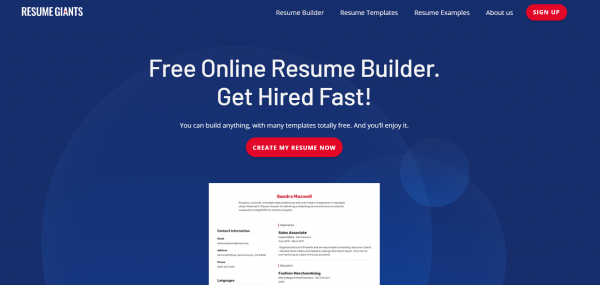 ResumeGiants, a resume builder specifically designed for university students. Unlike other similar tools, it's completely free and it increases the chances of getting interviews by 67% through professionally designed templates and expert guidance.
---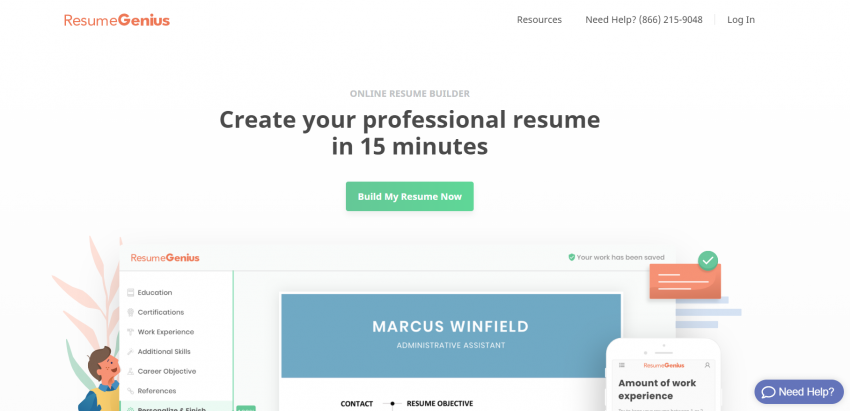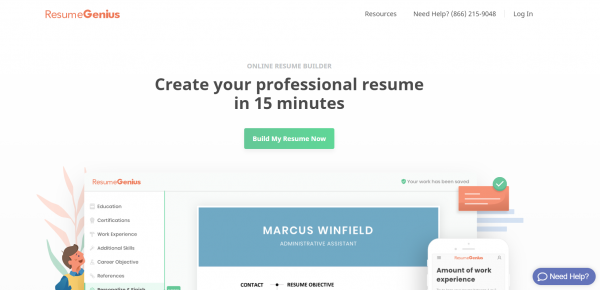 If simplicity is what you're looking for, Resume Genius is where your search for the best resume-building tool should end. Once logged in the tool will ask you a series of relevant questions and will complete half of your work for you by intelligently detecting your answers after you've typed in a few letters.
The only real work you have to do with Resume Genius is to insert the significant dates of your career. More importantly, the builder also has a special feature labeled "pre-written bullet points" that can instantly make you look classy, sophisticated, and tailor-made for the job you're seeking.
Many young aspirants make the mistake of simply mentioning their work experience and excluding their job responsibilities. But since Resume Genius puts added stress in said section seals the deal for us.
---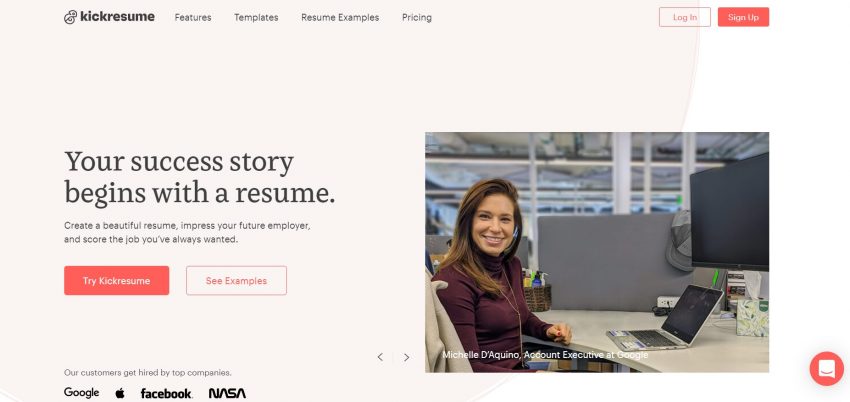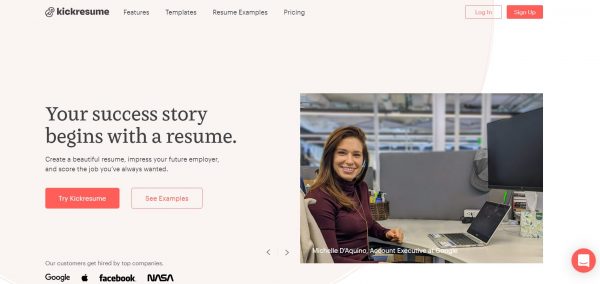 We are just going to go ahead and assume that you have a working LinkedIn profile because it is a job seekers paradise. And if you're not on it, this is your sign to get onto the popular job-finding portal right now.
To get started with Kickresume log in via your LinkedIn credentials and answer the quick survey you'll be immediately presented with. Once you are done filling up the survey form, you will be taken to a page wherefrom you can select a resume template of your choice.
Now, templates have no other purpose but to make your resume look good so feel free to choose one that attracts you the most. It is worth mentioning that some templates will be free while others will be "paid" or "Pro". However, Kickresume's free templates are just as clean and pleasing to look at, so no worries there. Don't forget to make use of their "add phrases" feature to glam up your resume.
---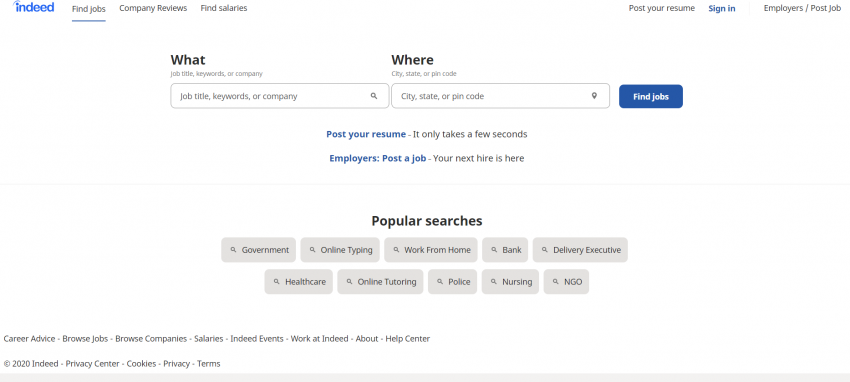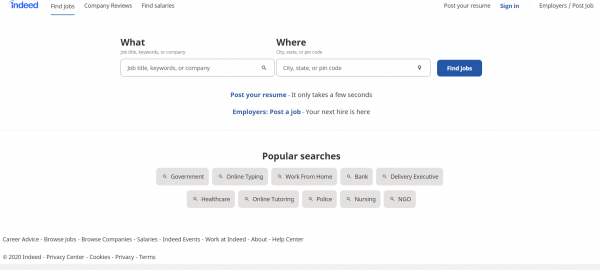 Yes, we mean Indeed – the popular job portal. Indeed's resume builder has so many benefits that we are not sure which to highlight. The resume is extremely detailed and allows job seekers to flaunt all their qualifications and work experiences without having to worry about templates, page space, and visuals.
Moreover, once you have built your Indeed resume you can begin distributing it to any organization you want on the website. And to top it all off, the tool is free and never asks you to upgrade your account. You can also reformat and make changes to your resume as the need arises with just a few clicks. Building an efficient resume cannot be any simpler than this!
---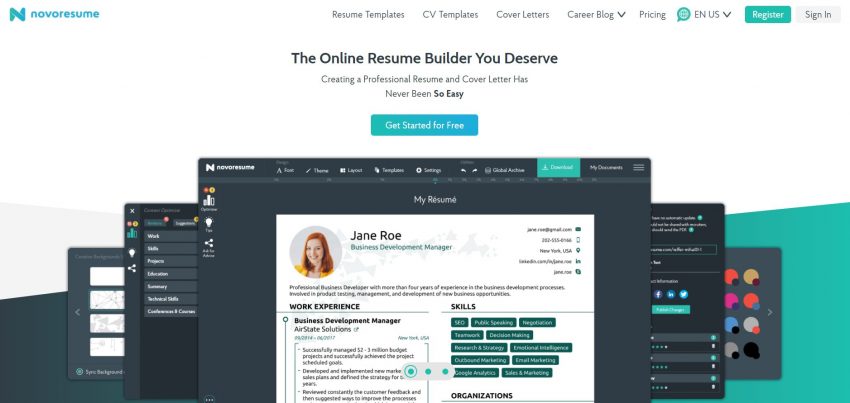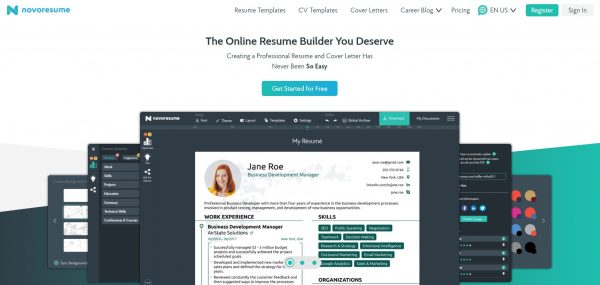 Contrary to popular belief, building a resume is no easy task. Another person less qualified than you with a better CV might end up bagging your dream job simply because they have a better resume.
To ensure this never happens, you can let Novoresume take over. They provide customized ideas and tips every step of your resume building thereby making sure you have a flawless application.
All templates and layouts provided by them are recruiter-approved so you can choose any of the free ones available without giving it a second thought. Want to refer to a few successful resumes before you venture into making your own? Novoresume has got you covered there too. Trust us when we say it doesn't get any easier and better than Novoresume if you're just stepping into the professional field.
---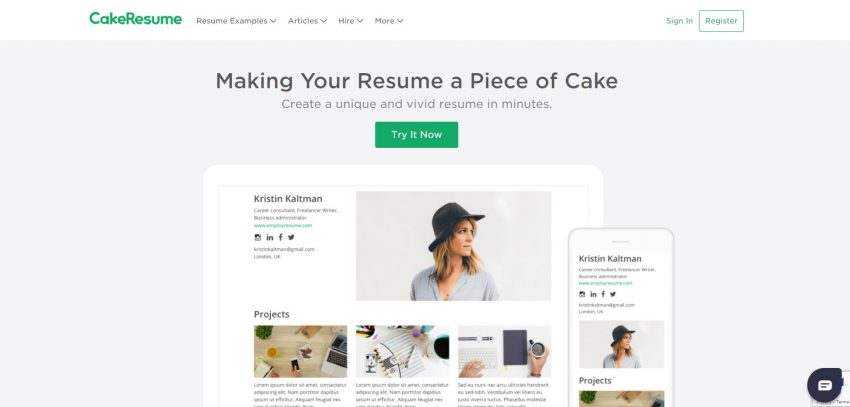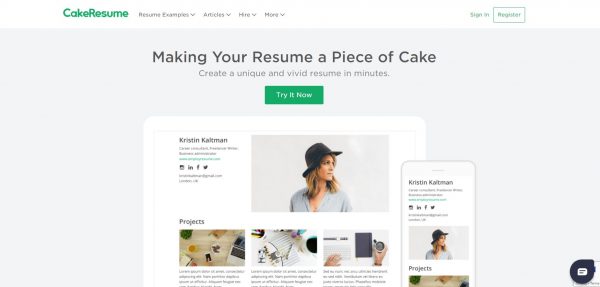 A piece of cake, literally! All you have to do to build a resume in Cake Resume is to create a free account and upload your existing resume (your LinkedIn or Indeed resume will do just fine).
Next, you can proceed to drag and drop necessary columns from the right side of the builder to your resume and that's all there is to it. The entire process is simple and quick enough to make you swear by the builder forever.
If interested you may also upgrade to a paid account to continue your job search via the website itself. If not, you can simply download and save a PDF version of your resume on your computer.
---
My Perfect Resume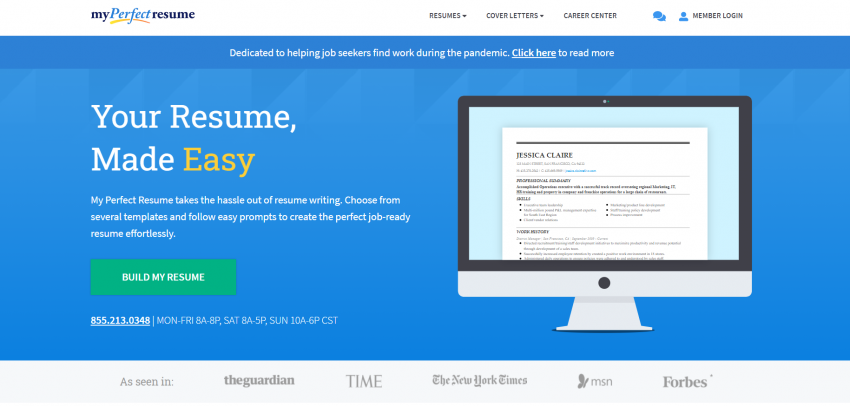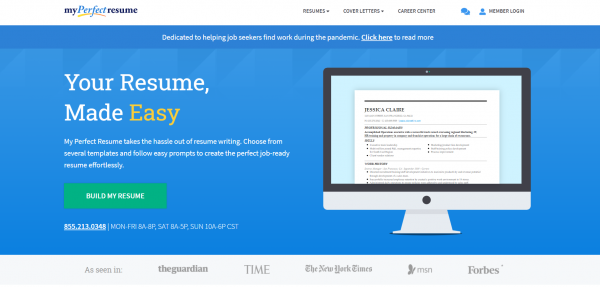 Just as their name implies, My Perfect Resume is the perfect choice for you if you're looking for a tool that does most of your work for you. The site lets you add in skills and pre-written text full of relevant keywords that help give your resume a boost.
You are also presented with an option to choose from 30+ executive templates which instantly magnifies your resume's grandeur. That's not all, My Perfect Resume goes the extra mile by giving you expert tips, recruiter-approved phrases, and easy formatting.
However, if you feel that building a resume isn't your forte, you can simply delegate the job to one of their business professionals and they will have a top-notch resume ready for you within 3 days.
---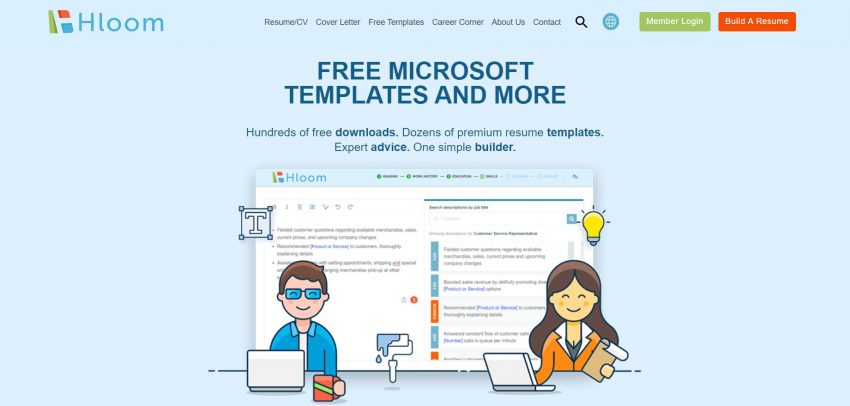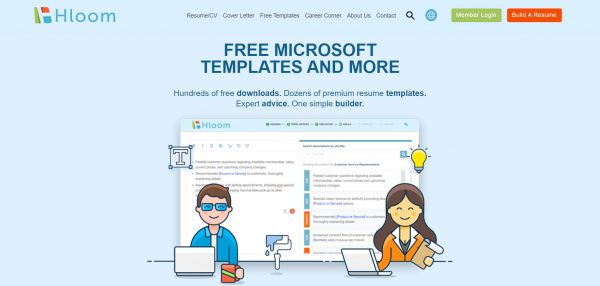 Although every resume-building tool mentioning in the list is top-notch, we must say we are a little biased when it comes to Hloom. No matter which tool you choose from the list, you have your work cut out for you but with Hloom everything is delightfully simple.
Job descriptions and summary statements are inarguably the toughest part of building a resume. Hloom offers multiple and truly diverse sets of pre-written statements which you can add to your resume after inputting your relevant details. Original templates to choose from, attractive colors and fonts, expert advice, pre-written content – Hloom is a diamond in the rough.
---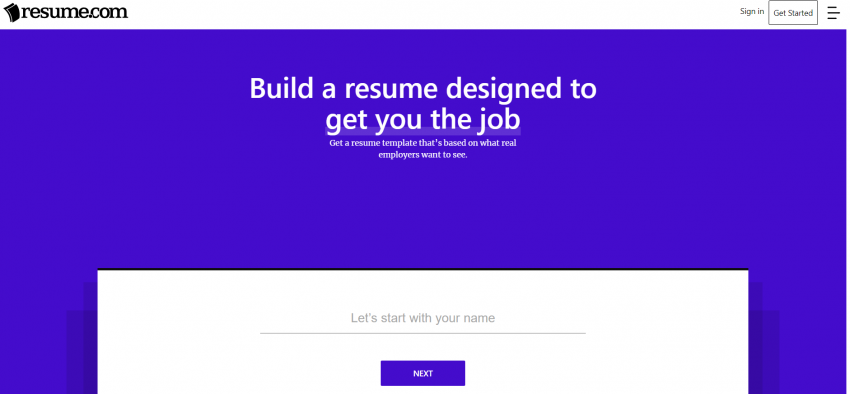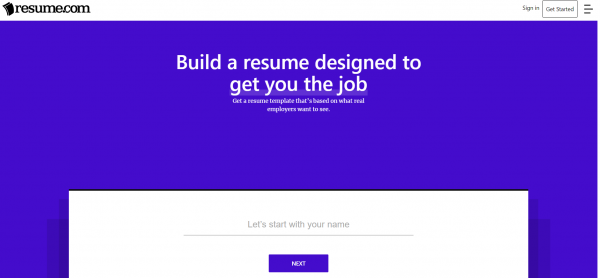 Resume.com claims to have helped over 6 million people on their job search. And we're quite certain that once anyone has tried Resume.com they will never shift to any other such tool.
The tool's USP is that it has been and continues to be explicitly involved with top-class recruiters in an attempt to find which kind of resume garners the most attention.
So, rest assured that all the information asked of you will only be vital in making your resume stand out. With Resume.com you can create your resume by choosing any one of their smart templates, access professional resumes, save your file in PDF, Rtf, Txt, or doc. format and even directly distribute the resume on Indeed. Oh, and did we mention that it is free?
---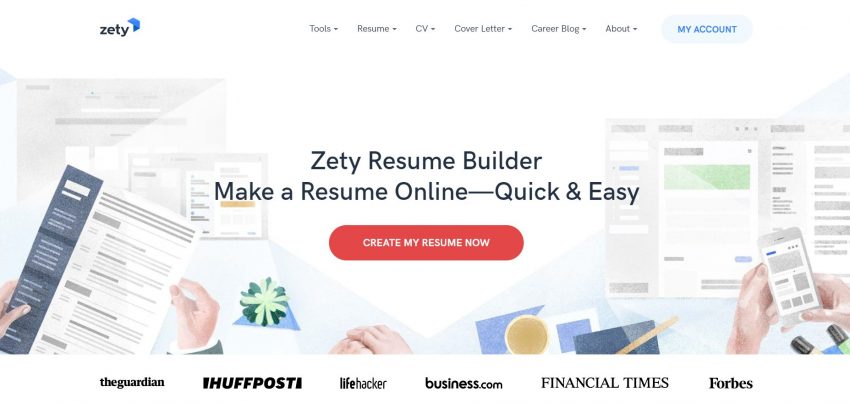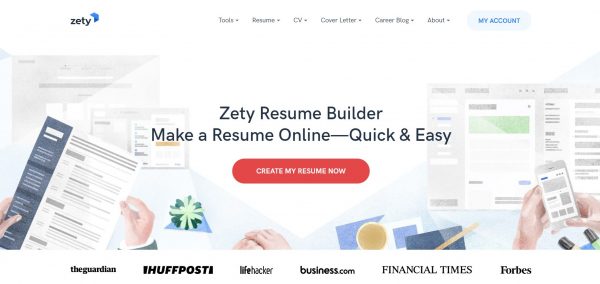 Zety is arguably the most popular resume-building tool on this list and we wanted to end our list with a bang, so here it is right at the end. There's just so much diversity with this one. Zety has 18 professional resume templates that are as useful as they are becoming. They are detailed and organized whilst being creative.
You may also change colors, line spacing, fonts, size, and layouts as per your need, so really you make the call. Zety also consisted of a very helpful section – "expert insights" which highlights the points you should keep in mind while constructing your resume. Why just stop at a resume? With Zety you can also customize your cover letter.
Now we cannot think of any better way to sway recruiters your way other than a personalized and elegant combination of cover letter and resume. Unfortunately, Zety does not offer free services but you can get a downloadable link for free from the "online resume" feature. You may use this link to save your resume.
---
Conclusion:
So, there you have it – the top hottest and best resume-building tools of the year (and many years to come). We have given you just the ammunition you need to get noticed in the professional field. With the help of these resume builders, your job hunt is destined to work out in your favor.