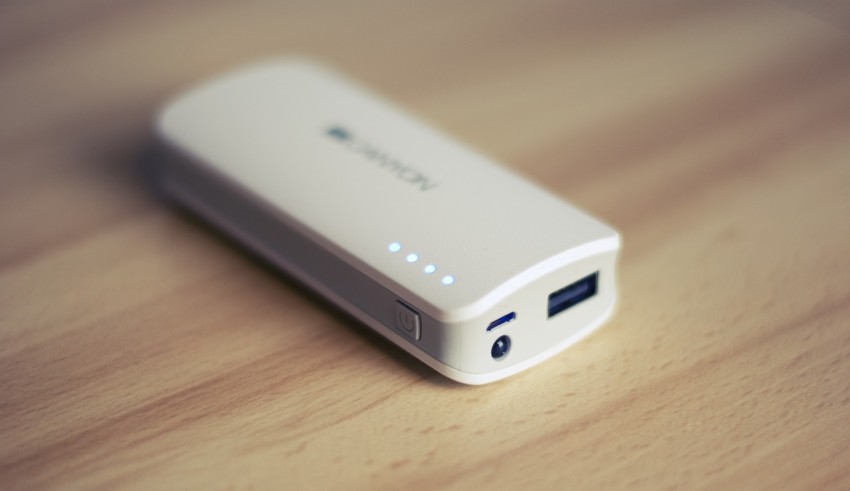 It doesn't matter what you know or don't know about power banks.
After reading this post, you will know everything about them including what is a power bank, what to look for, how to choose a power bank, and best 15 power banks in India.
Nowadays power banks are rightfully "must buy" devices in every Smartphone or laptop owners shopping list. The market flooded with hundreds of power banks from several manufacturers. This tremendous variety makes it literally impossible for any person to find the right power bank,
Hence, I don't get surprised when I receive several queries like these:
Which is the best power bank for mobile?
Which is a good mobile power bank in India?
Which is a good high capacity power bank?
Which is a reliable power bank?
Several questions like these encouraged me to write this article to help people understand what a power bank is, what to look for in a power bank, and lastly which the top 15 power banks in India are currently.
So, let's start off with first understanding the basics
What is a power bank?
A power bank, or a portable charger, is a portable device which can charge other gadgets such as mobile phones, tablets etc. They store power in their internal batteries and supply it to the gadget through the output USB ports. Similar to mobile phones, power banks charge by USB power supply. In a power bank, the batteries are placed in a protective casing and are connected to a PCB i.e. a circuit, which provides various protection and safety measures.
What does specification of power bank mean?
All brands of power banks relentlessly advertise their "specification" which is nothing but combination of few numbers and some features. To help you understand these specifications, here is the list of most commonly used numbers and features:
Capacity in mAh: mAh or milli Ampere-Hour, is the maximum amount of power that can be supplied by the power bank. The higher the mAh the more number of times it will be able to charge your gadgets. Higher capacity power banks have more batteries, which will make them bulkier, heavier and more expensive.
Conversion rate: The batteries inside power banks lose their charge as heat and to power the protection circuitry. Conversation rate is the remaining percentage of battery after these two losses. Power banks with conversion factor greater than 90% are considered good.
Number of output USB ports: It tells how many USB ports are present in the power bank for charging gadgets simultaneously. Higher number means you can charge more number of gadgets in one shot. Typically the power banks having higher number of output USB ports are more expensive.
Simultaneous charging and using: This feature indicates whether the power bank can be charged while it is charging some other gadget. It is a useful feature but generally comes at a little extra price. Not all power banks support this feature.
Output current rating: This specifies the amount of current that the power bank can supply. Generally people look for higher numbers for the output current rating because higher current can charge the gadgets quickly. However too high current poses a risk of damaging the gadget.
Battery level indicators: Generally power banks have some way to indicate the amount of power left in the power bank. It can be as LEDs or sometimes LCDs. So it is better to see if you will be able to understand those indicators easily.
Safety protections: Typically power banks have over charge protection, over voltage protection, over heat protection, over discharge protection and short circuit protections. Some of these protections protect the power bank when it is being charged or used. It also protects the gadget when the power bank is charging it.
As we are now armed with this knowledge and information, it will be easy for us to appreciate the best power banks in India, and what makes them so. Because there are hundreds of power banks we have filtered the top 15 based on several factors such as purpose, capacity, brand, popularity, budget, reliability and of course the look and feel.
Here are the : 
Top 20 movers and shakers of power banks in India
This 20100 mAh power bank packs one of the highest punches in one of the smallest sizes in its category.
This power bank 30% smaller and 27% lighter than standard 20,000 mAh power banks, and yet has little more capacity. It has two output USB ports of 5V/2.4 Amps. Even on the warranty front, this power bank exceeds the norm. It has warranty of 1.5 years.
This power bank also has surge protection and temperature control safety features. This power bank is for those who carry multiple gadgets and who need to charge any gadget anywhere anytime.
[ryvl video_url="https://www.youtube.com/watch?v=3qEdSSJFM4k" auto_play="yes"]Check out the video review of Anker Powerbank[/ryvl]
---
Also Check : 25 Best Mobile Phone Brands in India That Are Ruling the Year 2018
---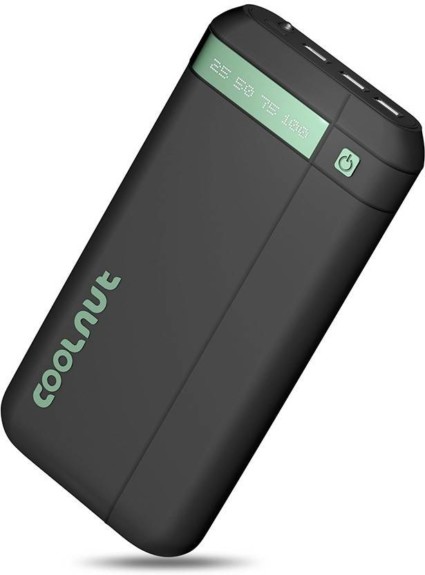 This 20,000 mAh heavy duty power bank is one of the most popular power banks in this category in India.
Few of its interesting features are three outputs USB ports each of 2.1 Amps, a digital LCD power display for displaying remaining charge which is much easier to read than reading LEDs, temperature plus input and output voltage protections, plus a stylish look and feel.
This power bank perfectly supplements the trendy, little geeky or gadget freak kind of people. I am sure that they will love the way it looks in their hands.
[ryvl video_url="https://www.youtube.com/watch?v=D1DDgFsZuZM" auto_play="yes"]Video review of COOLNUT Powerbank[/ryvl]
---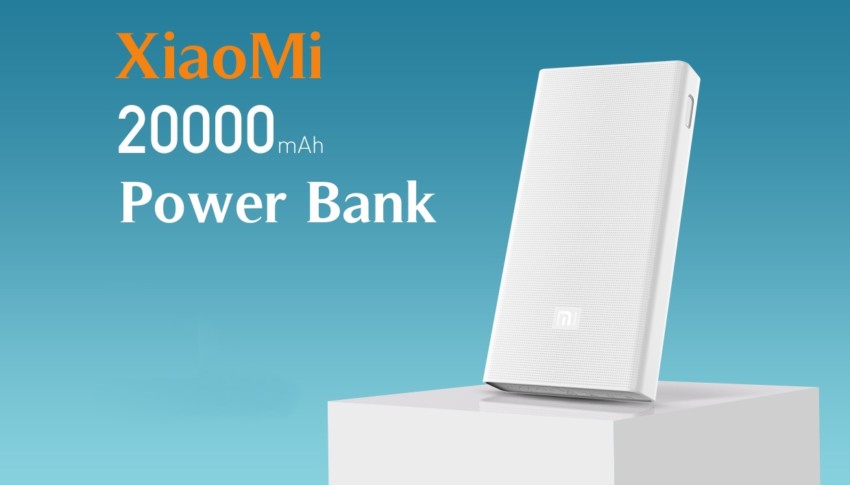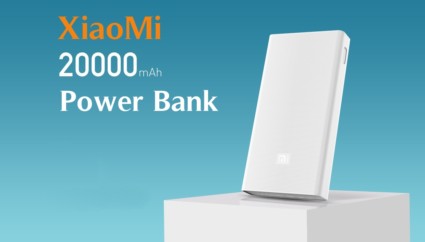 Mi is brand name of a Chinese company named Xiaomi. Even though relatively new and despite the pessimistic generic view about so called "Chinese quality", this company is proving its critics wrong. This White colored, Lithium-Ion based, 20,000 mAH powerbank from Xiaomi has two output USB ports with 2.1 amps each.
It has up to 93% conversion rate, and weighs nearly 340 grams. Its PCB is based on a TI chip, which provides this power bank with nine safety precautions.
The warranty of 6 months looks little less though. So if you are looking for an economic high capacity power bank in India, then you can consider this power bank. Typically this is for practical users who focus more on functionality than looks and size.
---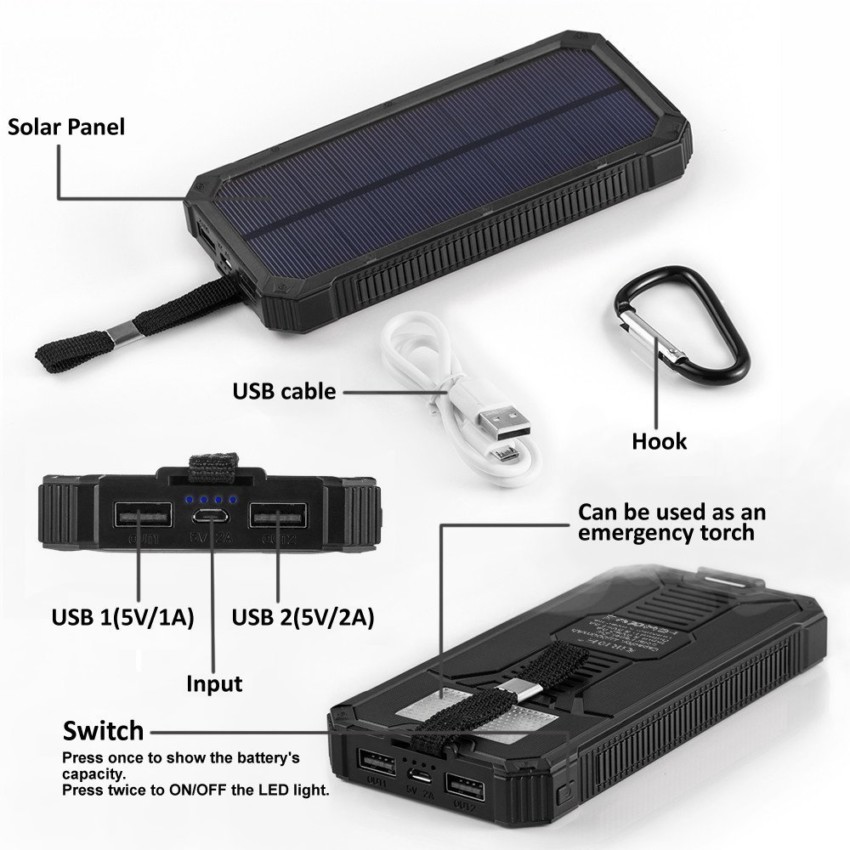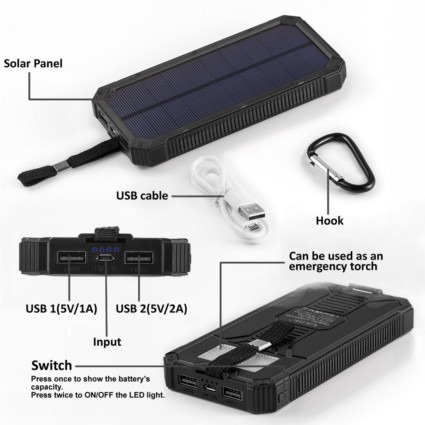 This one of its kind Li-Polymer batteries powered power bank boasts of 15000 mAh packed in water proof, dust proof, drop proof and shock proof body. It comes with 1 year warranty which also includes warranty for batteries.
It can be charged either by its solar panel or by the USB supply. It has two output USB ports of which one is 5V/1A for mobiles and other is 5V/2.1A suitable for tablets. It also has built-in LED flashlight. This power bank is designed for people who love outdoors such as camping, hiking, etc.
It is also useful for those people who have the tendency to drop their gadgets.
---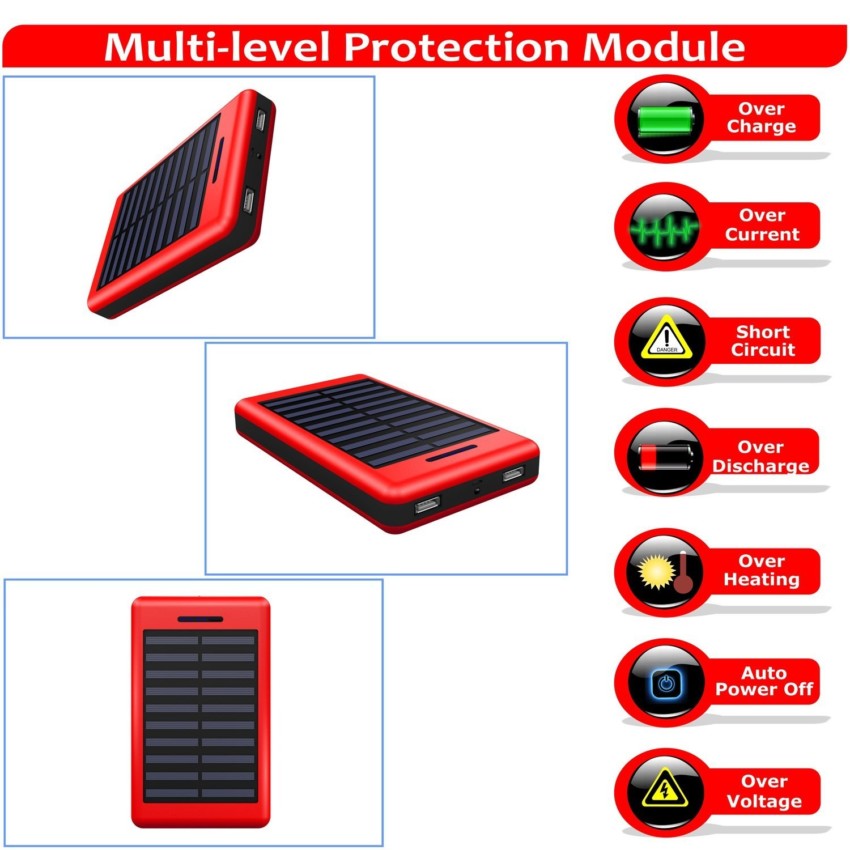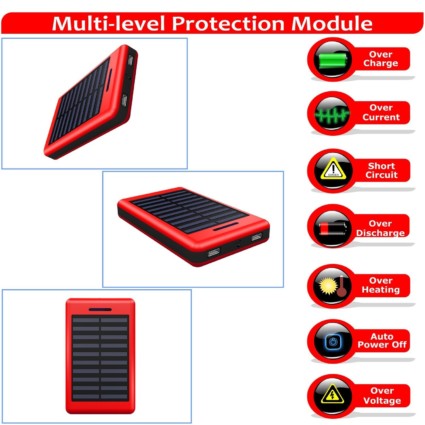 This power bank is similar to the above (IFITech) power bank. This power bank is based on Li-Ion batteries and it has multiple security systems to protect against short circuit, high voltage and over current situations.
This power bank is a good alternative for those who are seeking similar features as IFITech power bank, and are willing to compromise 2000 mAh of power to make the power bank more economical.
---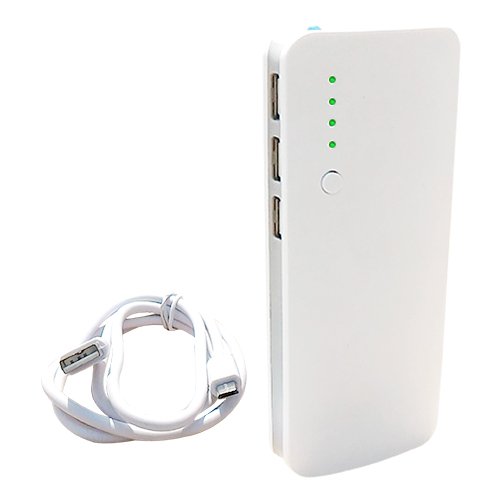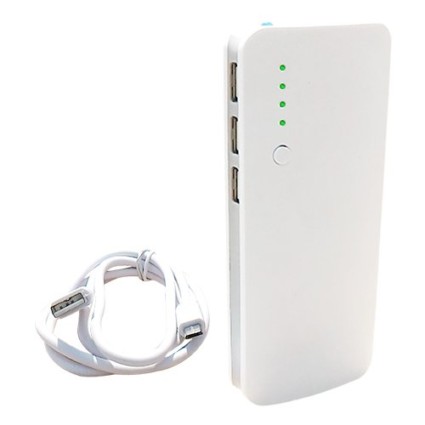 This is one of those power banks which combine practicality and style. This 13000 mAh Lithium-Ion power bank supports 3 output USB ports. As an add-on it has an LED torch which can be used in dark. It comes with one year warranty.
This power bank comes with printed design and not plain colors such as Black, White, and Blue. This printed styled power bank is not one of the most "show-off" items, but it also one of the most desirable gift items.
It goes well with people with style or strong individuality.
---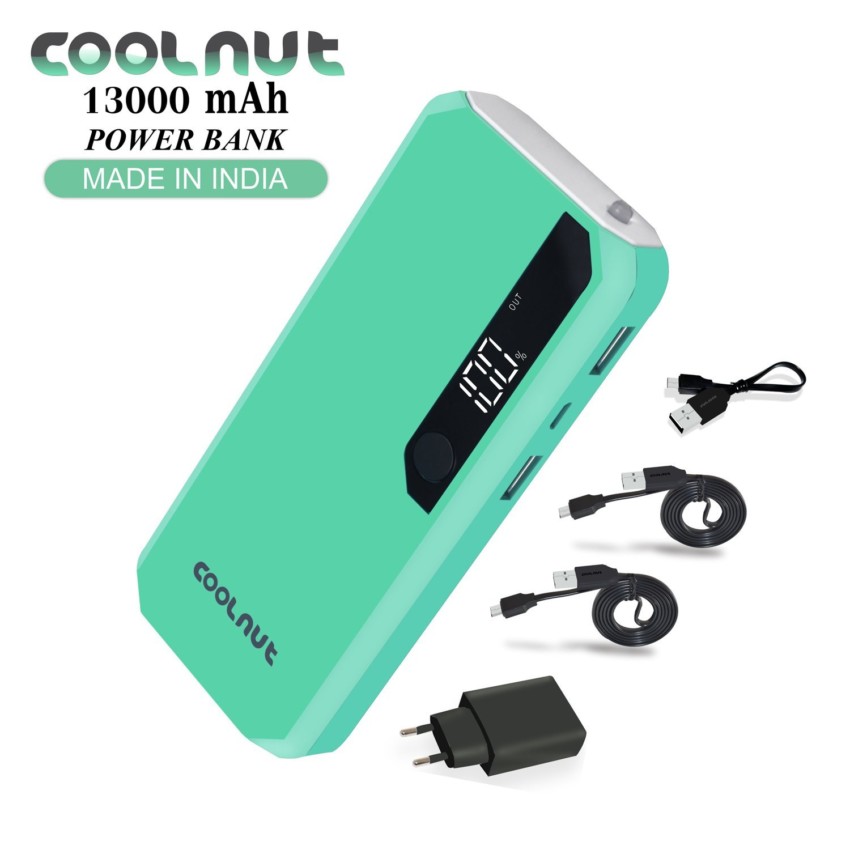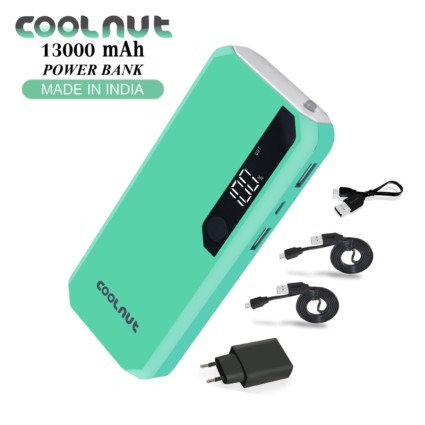 This power bank perfectly balances features, price and class. It has three output USB ports. Each of these ports can go up to 2.4 A. The power bank itself detects the optimum current to be supplied to your device.
This means that you don't need to remember high and low power ports, and connect accordingly. It has 1.5 A based quick charging ability.
It has protection against over charge, over discharge, over voltage, short circuit, over current and overheating. It also has LED based flashlight which can be rotated     180 degrees. This is for those who seek best features in best prices.
---
Also Check : 15 Long Battery Life Mobile Phones Available in India to buy in 2018
---
This 11300 mAh power bank from Samsung which is relatively economically priced, has two output USB ports, provides fast charging and weighs roughly 300 grams. One of the best things about this power bank is that the charging micro USB cable is embedded inside the power bank.
So you don't have to remember to carry the USB cable when you carry this portable charger. When required, simply out the cable and connect to your gadget.  It is backed by Samsung's well known support and warranty.
This is perfect for youngsters who play heavy games on their mobile phones. The 11300 mAh will easily give them at least one to two round of charges throughout the day.
---
Syska is a well known brand in India for LED bulbs. It will be surprising to many that Syska also makes power banks. Their Economy 100 power bank comes with a 30 cm long USB cable and in a small dimension of 16.6 x 10.6 x 3.2 cm.
Despite its small size and form factor, its user cannot stop adoring it. It has two output USB ports for charging two devices simultaneously.
It also boasts of safety features for protection against overcharging, over discharging, and short circuit. This tiny yet powerful power bank makes for a perfect gift.
---
This is one of the economy range power banks from Sony, which is one of the most respected brands worldwide. The price point of Rs. 1699 for a 7000 mAh power bank and that too from a renowned brand like Sony makes it a "must clinch" deal.
This power bank has Lithium-ion battery which is 1000 times rechargeable. It weighs merely 140 grams. The only drawback that few critics could ever find is that the in-the-box USB cord is "too small". I personally believe that this is not a drawback at all.
This Sony power bank is ideal for people who spend their entire day outside mainly for work and do not have easy access to charging points. Such people typically require one round of full charge during the day. This power bank can easily give this to them.
---
This is one of those power banks which are extremely handy and perfectly fits the pocket of the buyer both in terms of price, as well as size and weight. This 6000 mAh power bank is sufficient for most mid end mobile devices.
It weighs merely 180 grams which makes it very easy to be carried around. The Rs. 870 price point makes it one of the most economical power banks for this capacity.
It has two output USB ports for charging two gadgets simultaneously. College goers, what else do you need? Just throw it in your bag, and have the security of 6000 mAh power backup at very low cost and almost zero weight!
---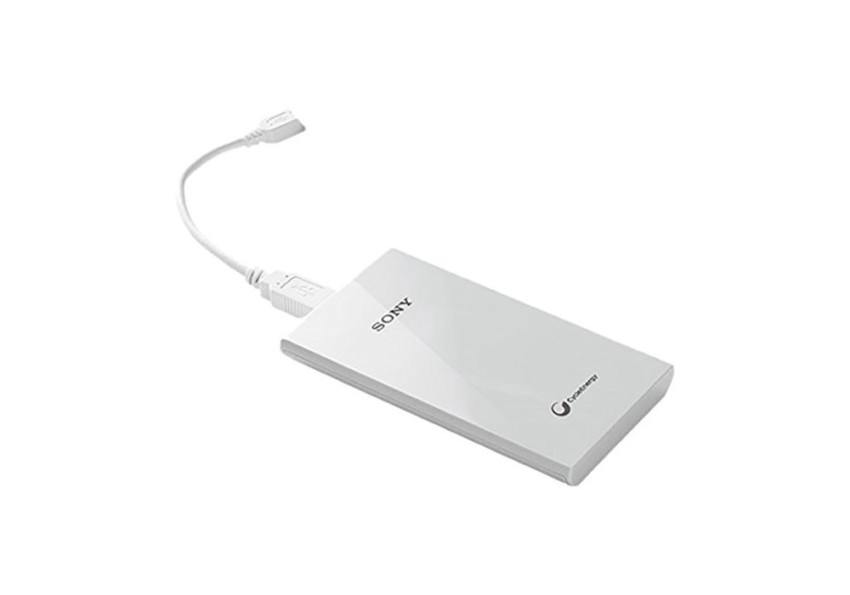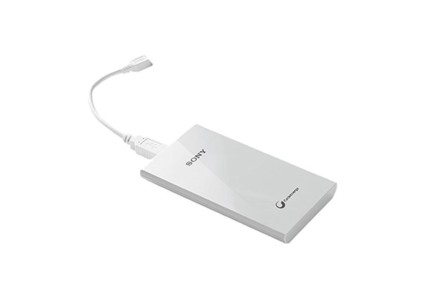 This mid-range Sony portable power bank of 5000 mAh capacity is good enough for giving you easily 4 to 6 hrs of talk time. Considering the Sony brand, the price of Rs 2104 is in average price range.
This power bank weighs merely 156 grams which makes it convenient to be carried around every day. This portable charger has been in market since past three years and it is still one of the favorites.
This classic power bank is ideal for those people who use their phones very heavily such as texting, but do not have frequent access to charging point.
---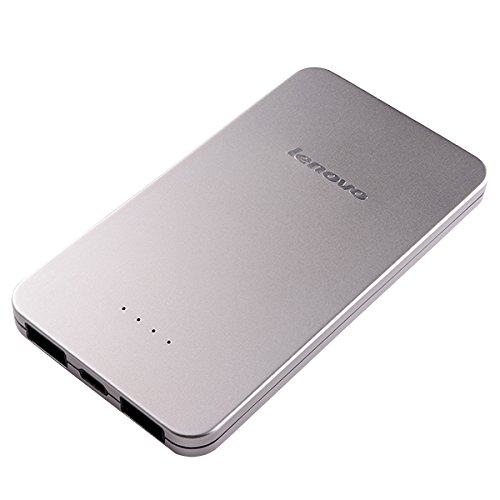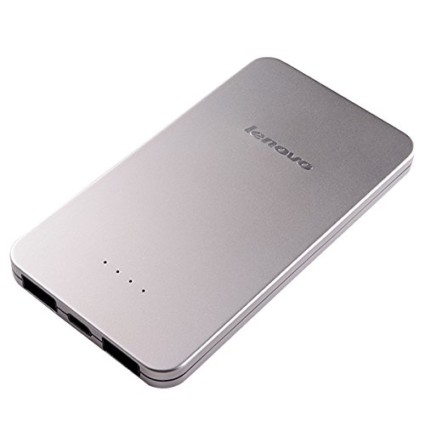 This lightweight 5000 mAh power bank has super slim design and overcharging protection. The overcharging protection will protect all your gadgets against all types of charging risks, which can cause really expensive damages to your gadgets in an instant.
The capacity of the power bank makes it an ideal companion for short travels where you will be unable to charge your devices, for example one full day business travel, or a twelve plus hours journey in bus.
This power bank also makes an ideal gift for your friend or family who does short travels frequently.
---
Also Check : Xiaomi Redmi Note 5 Unboxing & Review, Price, Features & All
---
This is a combo of 2 portable chargers each of 2600 mAh. Each of them measures 10 x 10.7 x 6.4 cm and comes with a key ring. The capacity of this power bank is not high but the small size makes it very portable.
This power bank can be easily carried around for that time when your phone battery goes dead when you need it the most.
This is ideal for those people who always forget to charge their phone and therefore are always running low battery. Such people usually also forget to charge the power banks, and this is where the combo of two power banks comes in handy providing backup power to backup power!
---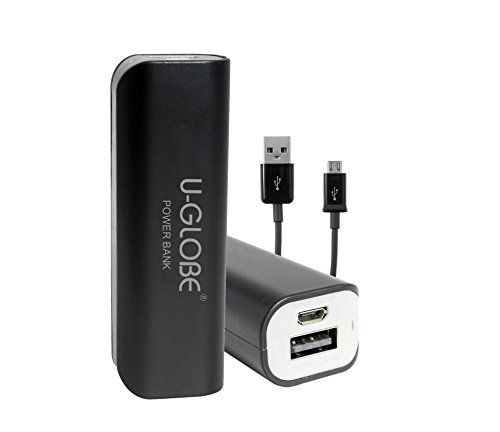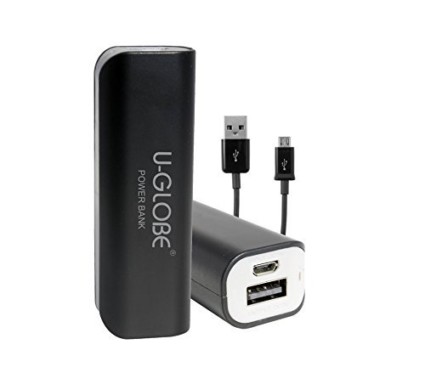 This sub Rs 500 power bank is a no frills power bank. It is just a Li-Ion based 2200 mAH power bank with 1 year warranty. That's it. This is perfect for anyone who is tight on budget such as students, or who wants to gift something cool to someone.
---
Mi10000MAh 
Power Supply : 5 V/2 A, 9 V/2 A | Weight : 240 g
Capacity: 10000 mAh | Domestic Warranty : 1 Year
Buy : Amazon | Flipkart
---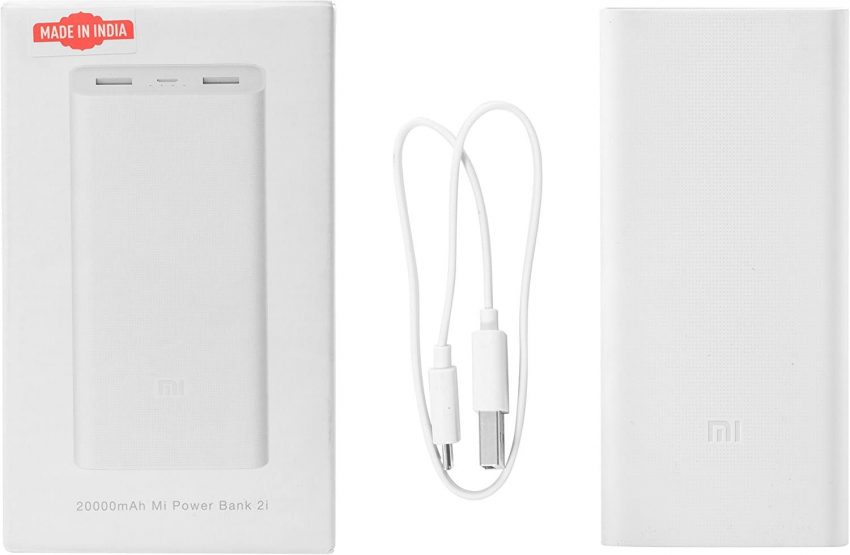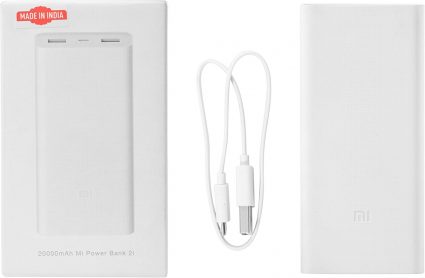 Power Supply : 5V2.4A 9V2.0A 12V1.5A | Weight : 358 g
Capacity: 20000 mAh | Domestic Warranty : 6 Months
---
Conclusion
Just like every person is unique, his or her requirements or needs or expectations from power banks are also unique.
So we understand that we might have missed out on your favorite power bank, or a power bank about which you wanted to know more.
Even though we didn't cover several other fantastic power banks, I hope that the knowledge and information in this article will help you choose the right power bank not only for yourself but also for your friends and family.