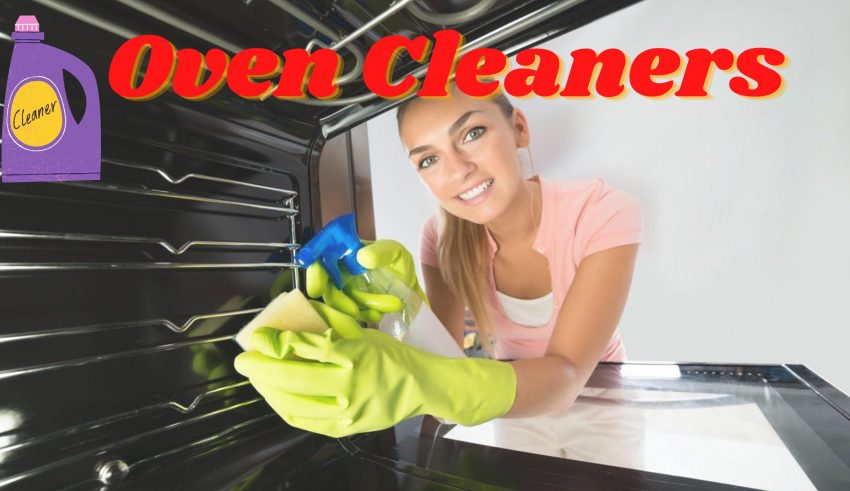 Ovens and grills are some of the most difficult kitchen appliances and cookware to clean. This is mainly because the food and oil spills that happen in them get baked-on or burnt during use and then these get hardened.
This makes it harder to scrub these spots off. This is why there's a bunch of oven cleaners out there to make your job easier. We have compiled a list of best oven cleaners for self-cleaning ovens, conventional ovens, grill racks, and other cookware that have similar soils. Read the instructions on which surfaces to use a particular cleaner.
Here is the list of 15 Best Oven cleaners on Amazon:
Easy off Professional Max Oven Cleaner

Let's start the list with one of the best oven cleaning products made by easy off. The easy off oven cleaner is meant to clean your oven as if it is done by a professional. One can contain 24 ounces of cleaner which you can use to get rid of undesirable accumulations from your oven.
This is a fume-free cleaner and contains the essence of lemons so that you get a good cleaning as well as have a good fragrance left after the cleaning is done. We all know how hard it is to clean tough baked-on spills but with the Professional Max Oven Cleaner on your side, you can finally get rid of those spills.
The product is meant to not create any lye or fumes which can be harmful to you. It is made in such a way that it penetrates the oven grease and provides efficient cleaning. This is thanks to the advanced cold-oven technology that the company has used to make this cleaner.
Easy-Off doesn't want its customers to be in harm's way and thus you do not need to use any protective gloves to handle this product as it contains no such harmful chemicals which can cause trouble to your skin.
You can also clean broilers and barbecue grills using this product. To use it first let your oven cool down and then just spray on the spot, stain or spill and wait for the chemical to do its job and dissolve it. Once done you can easily wipe it without having to scrub hard. You can buy this easy off oven cleaner on Amazon for $7.10. It has received great reviews from buyers so do give it a try.
---
Member Mark's Commercial Oven, Grill, and Fryer Cleaner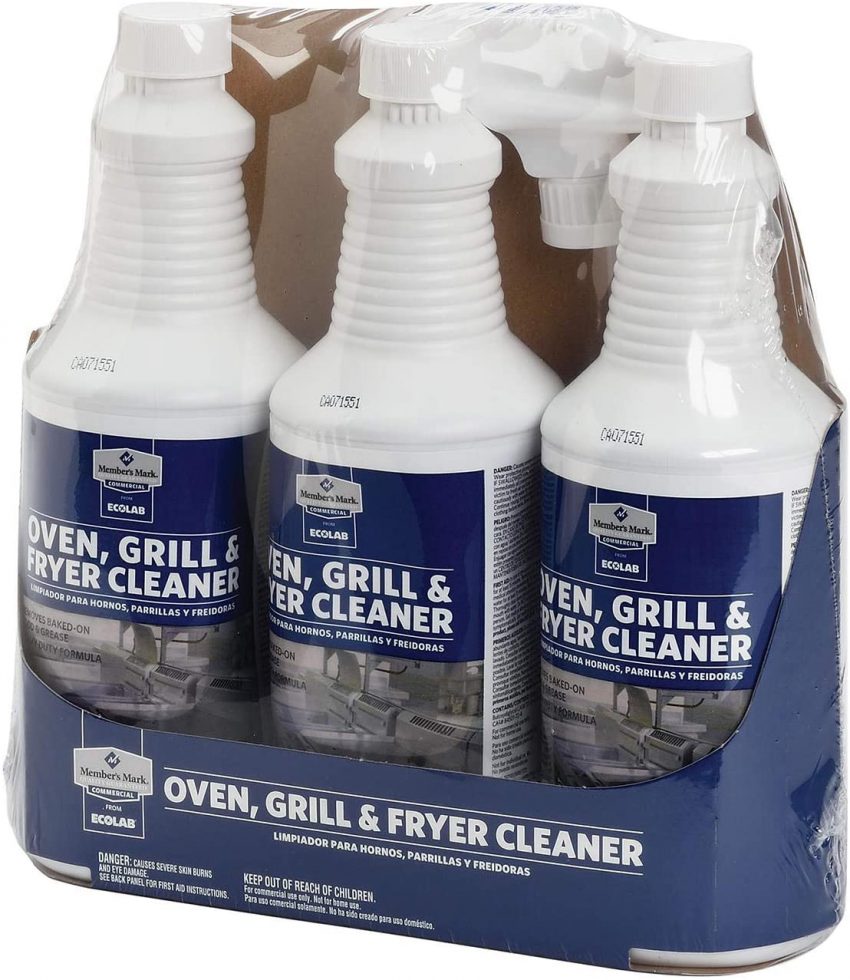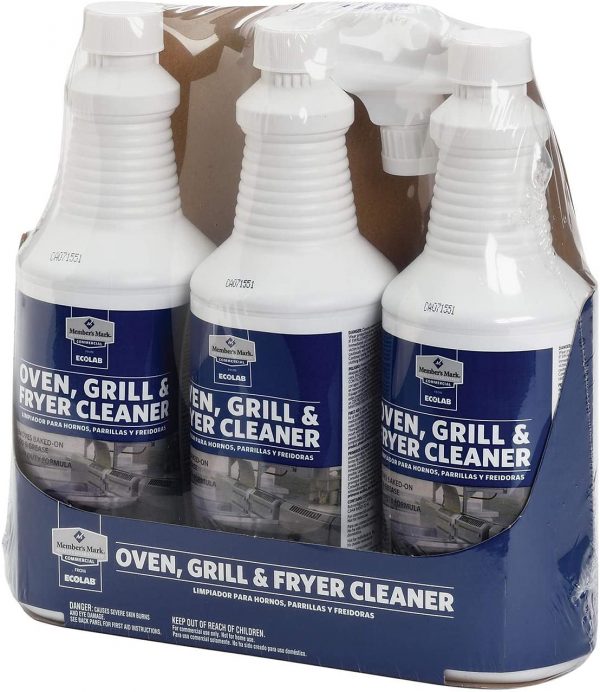 The next cleaner is from the brand Member Mark's. It is a commercial oven cleaner which you can also apply on grills and fryers to get rid of all the tough to clean stains easily without much hassle. This cleaner is restaurant-grade so you can be sure of its effectiveness while cleaning the ovens and grills.
This is a very efficient cleaner. Just spray it on the spots and watch it in action. It is made in such a way that as soon as you spray on the grease or baked-on spill it starts dissolving these and now all that's left to do is wipe off the residue with your cleaning scrubber or cloth.
You do not have to put a lot of effort into scrubbing out all the stains. To enhance the efficiency of its cleaning ability the product comes with a foaming sprayer attachment. This attachment can be useful for vertical cleaning jobs as well.
This product is commercial grade and will easily help you get rid of the tough to clean stains and baked spots with its heavy-duty action. The cleaner comes in bottles which make it easier to pour on fryers grills and ovens.
The company cautions against the use of the product at residential kitchens as it is too potent and you need to wear protective gloves while using it. It should not be used on soft metals for example on aluminum but you can use it on most hard metal surfaces with no paints. You can get this product on Amazon for $18.40. You get 32 Oz, 3 ok. for that price.
---
Goo Gone Oven and Grill Cleaner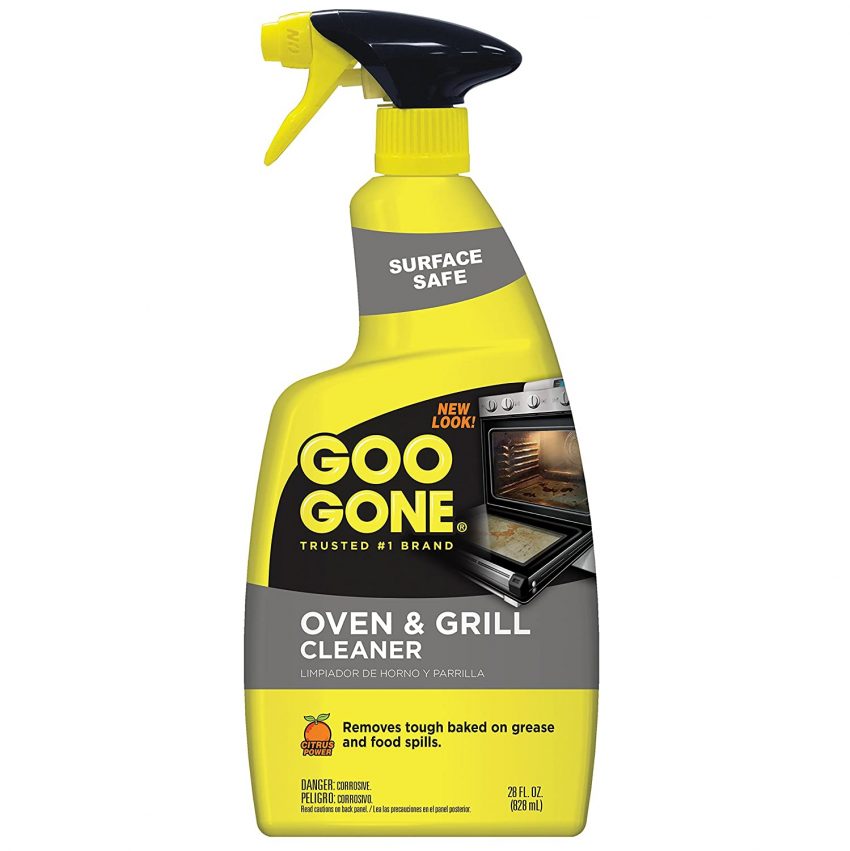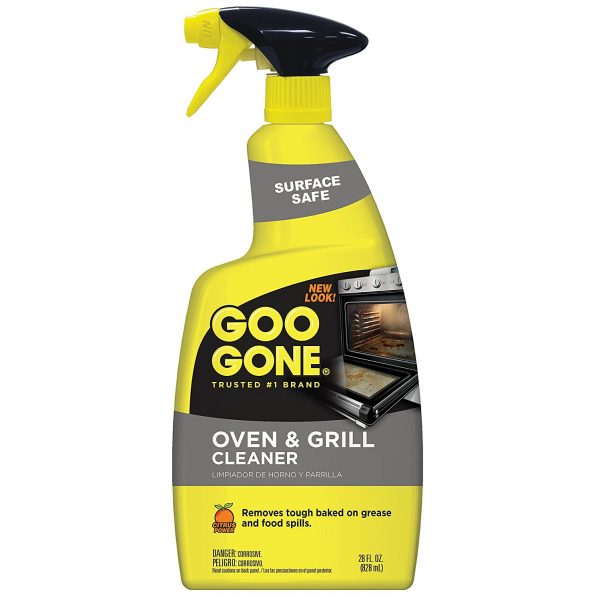 Goo Gone is a company that specializes in providing various types of cleaning products. The special formula that the company uses to create its cleaning products which have the added power of citrus is meant to clean all sticky and gooey accumulations that occur in your home.
All the tough to get stains will be a problem no more as you can use Goo Gone products to clean a variety of surfaces from fabric to fiberglass and make it free from the greasy and sticky stains.
It will feel as if your surfaces have returned to their original condition before being stained. One of the popular products of Good Gone is its Oven and Grill Cleaner. We all know how tough it can be to clean the grills and ovens as most of the stains and grease that get spilled on these are burnt or baked-on creating stains which can be very tough to remove. But with the help of Goo Gone Oven and Grill Cleaner, you can easily get rid of these spots and stains.
You can buy the Goo Gone Oven and Grill cleaner on Amazon for $13.93 for a 28-ounce product or buy the product directly from the website googone.com where it costs around $6.99.
The cleaner dispels a foam that stays at the place it is sprayed on and dissolves the grease and stains for easy cleaning. This spray can even cut-through the hard and tough burnt-on carbon deposits. Trying to be eco-friendly the company has tried to use many biodegradable ingredients to create the spray as well.
---
Angry Mom Microwave Oven Steam Cleaner by Wellin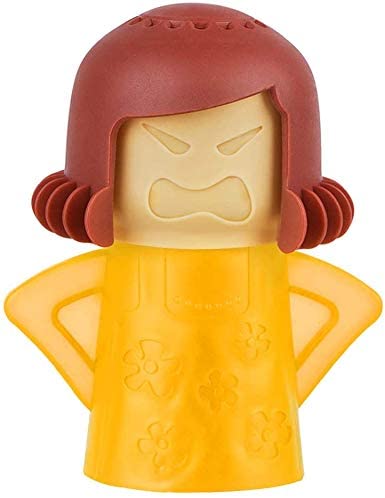 This is one of the most popular cleaning products on Amazon when it comes to microwave oven cleaners. This funny looking device resembles the shape of an angry lady. The cleaner is very easy to use. You need to pour in water and vinegar into the device after removing the head.
You can put a bit of lemon juice as well to get a fragrant scent after the cleaning is done. Do not put too much vinegar. Now, just place the cleaner inside your microwave oven on high heat.
The smart design of the holes let's steam come out of the cleaner and softens all the baked-on spills and stains for easier cleaning. The device is made from durable and environmental protection PP material which will not damage or release any harmful substance on high heat. Let the cleaner cool for a couple of minutes before taking it out. You can buy this product for $8.99 on Amazon.
---
Carbona 2 in 1 Oven Rack and Grill Cleaner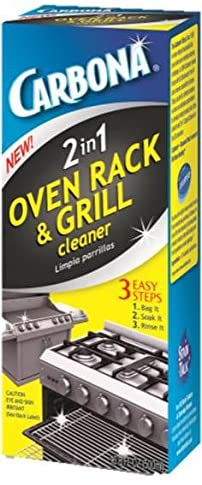 This 2 in 1 Oven Rack and Grill Cleaner is brought to you by the brand Carbona which crates various cleaning products. If you have ovens at your home, office which have racks made of stainless steel or enamel then you can use this oven rack and grill cleaner to help you efficiently and effectively clean those racks.
The cleaner is also very effective on grill grates and pans allowing you to clean these surfaces easily. This is an innovative and safe way to get the cleaning done. It is very easy to use this cleaner. All you have to do is to bag the racks then pour the cleaner.
Now, just wait and let the racks soak. Next, just rinse the residue and you have got a clean oven and grill rack. With this, you can preserve the new look of your oven and grill racks. You can get the product on Amazon for $13.64.
---
Diversey Breakup Oven Cleaner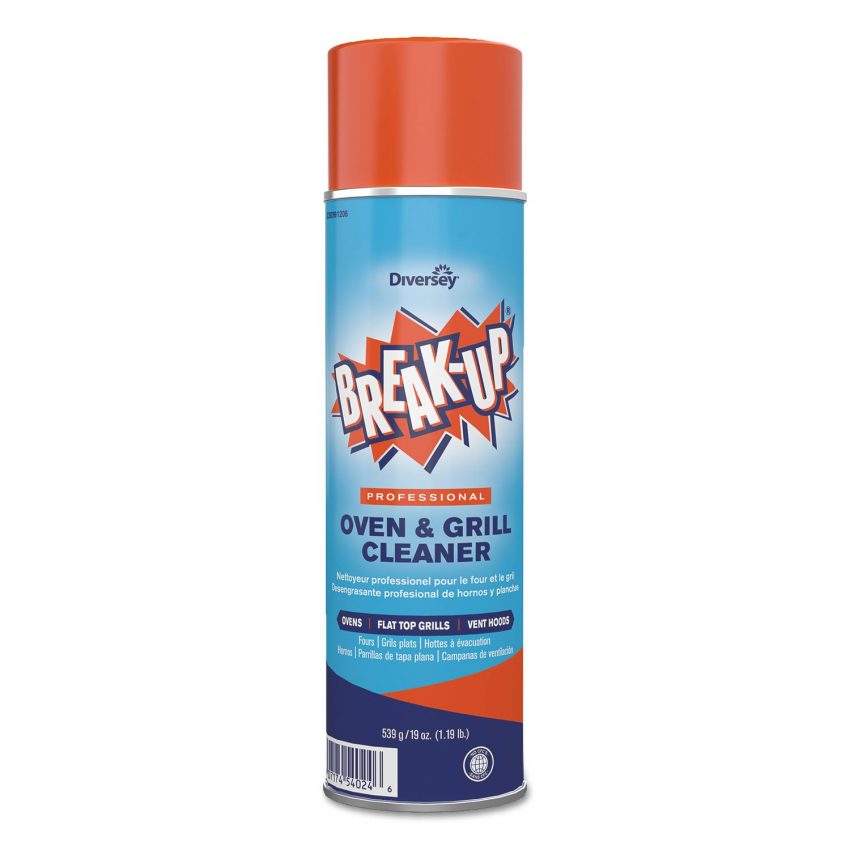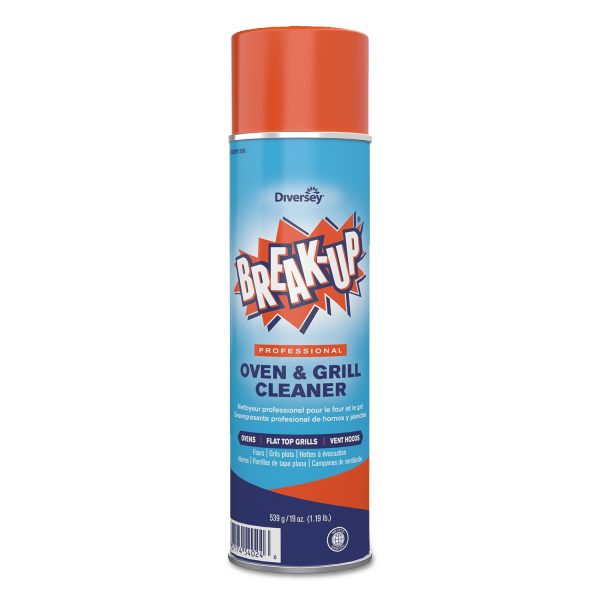 The next cleaner on the list is from the brand Diversey. The Diversey Breakup Oven Cleaner is a heavy-duty cleaner that is meant to be effective on a variety of surfaces and provide easy and effective cleaning without the person having to put too much effort. The cleaner starts working as soon as it comes in contact with the soils.
The advanced formula used to make the cleaning agent starts breaking down the grease and grime spots which are tough to clean allowing you to just rinse and wipe off the residue without much hassle.
Even hardened carbonized soils are easily cleaned by this product. The spraying can help reach angles and spots which are tough to reach. You can get this cleaner on Amazon for $14.99 and it weighs 1.1 pounds. You can use it on ovens, pots, pans, fryers, grills, and other surfaces that have similar soils.
---
Carbona Biodegradable Oven Cleaner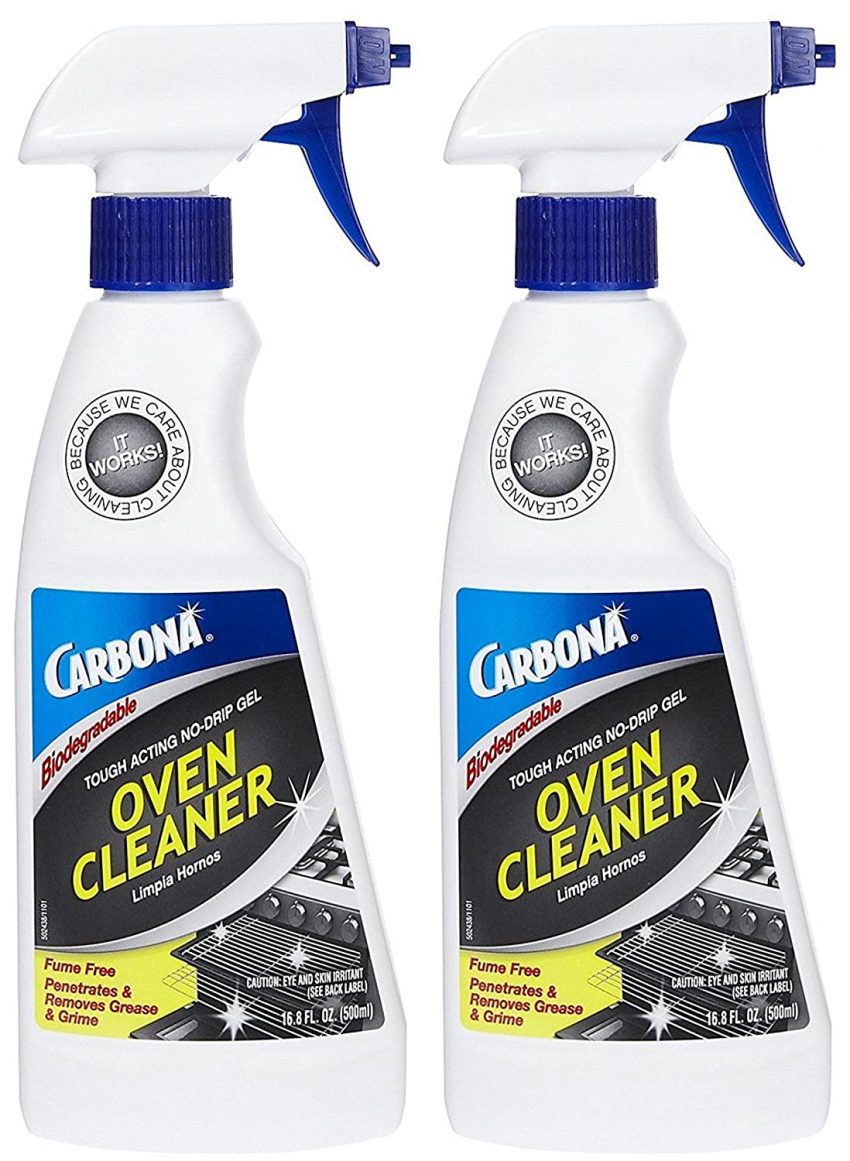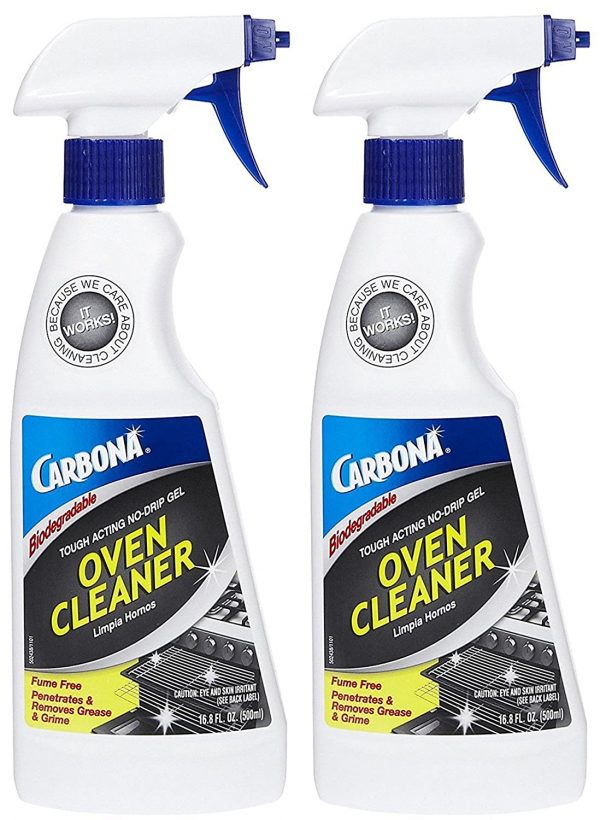 Up next is another oven cleaner product by Carbona. It is a biodegradable oven cleaner as the company is trying to make its products a bit more eco-friendly. You can get a 16.8 oz pack of 2 on Amazon for $15.96. The spray handle makes using the cleaner quite efficient and helps cover a wider area on each spray.
This is a quick, safe, convenient, and easy method to clean your relevant kitchen appliances. The cleaner agent is made in such a way that it clings to the surface even vertical ones and starts breaking down the oily, burnt, and greasy stains which you can then easily wipe off with appropriate material.
You can use the product on ovens, barbecue grills, baking pans, and fireplace windows as well. The company says that the cleaner is safe for usage in self-cleaning ovens but you have to follow the mentioned directions. This cleaner should not be used in plastic, lacquer, or damaged surfaces.
---
Zep Heavy-Duty Oven and Grill Cleaner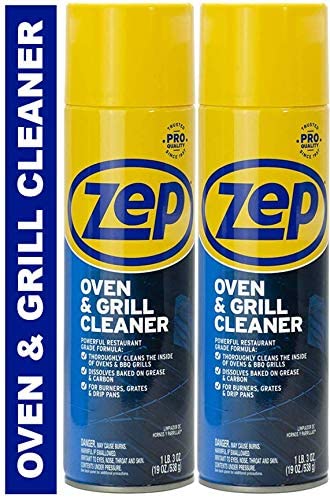 Another popular oven and grill cleaner brand that you can find on Amazon is Zep. It's Heavy-Duty Oven and Grill cleaner has a powerful formula which is restaurant-grade.
So, you can easily and effectively clean all the tough spots and stains that you had to spend a lot of time scrubbing off. If you have an oven with stainless steel, porcelain, or ceramic surfaces then you can use Zep's Heavy-Duty Oven and Grill Cleaner to reduce the effort you have to put in to get rid of the stubborn stains. You can use this cleaner on grills, pots, pans, and rotisseries as well.
The thick foaming formula of the cleaner clings to the surface and cuts through the toughest stains and dissolves the grease and other soils. The cleaner is available on Amazon for $21.75 for which you get two packs.
---
Astonish Oven and Cookware Cleaner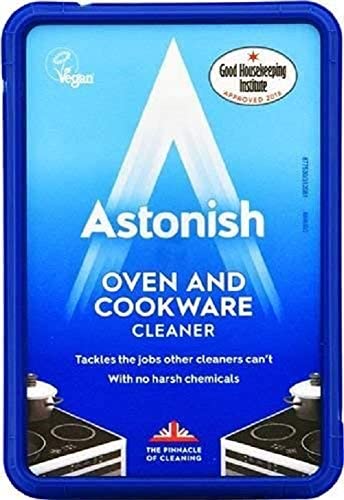 Up next is a product by a brand called Liteaid. The Astonish Oven and Cookware Cleaner are here to make the job of cleaning ovens, pans, cookware, and stovetops easy for you without having to use a bunch of harmful chemicals that may irritate or harm your skin.
It is made with biodegradable and other chemical agents which are non-toxic to your hand and thus you can clean the surfaces using this without having to worry too much.
The product is approved by the vegetarian society and is animal cruelty-free. So, if you are looking for one of the best natural oven cleaners then you can try this out.
The product is an excellent cleaning agent for glass and ceramic surfaces but can also do a good cleaning job for bathtubs, ceramic tiles, and shower doors. The product is priced at $6.47 and can be bought from Amazon. The item weight is 150 grams and does not contain any liquid.
---
Fuller Brush Self-Scouring Oven Cleaner

This cleaner is produced by the brand Fuller Brush which has been creating products for over a century. This product by the brand is a Self-Scouring Oven Cleaner which you can buy on Amazon for $21.99. The net weight of the product is 14 Oz. Using this cleaner can not only remove the stains from your oven or grills but also help you get rid of the order from these soils.
The cleaner is made to work fast. With just a spray you can cut through the grease, spills, and food splatter and gain efficient cleaning. You do not have to scrub hard. Just spray, let it sit, and then wipe.
All your appliances will look new without those grease stains, spots, and carbonized soils. You can use it to clean both a hot or cold oven. The cleaner meets the CPSC safety requirements and will not cause any harm if you follow the instructions of use.
---
Sprayway Heavy-Duty Oven and Grill Cleaner

This 20 Oz pack of 1 cleaner can be bought on Amazon. The price for this is $14.58. This heavy-duty cleaner is by the brand Sprayway which is an American brand established in 1947. This cleaner is meant to remove oil and grease from your oven, grill, and other relevant kitchen appliances and cookware. This will make your cleaning job much easier.
The formula used in this cleaner has professional strength which makes it quite efficient in easily dealing with oil, grease, and carbonized stains which are tough to get off. This can make it easier to use the cleaner. The heavy-duty foam which comes out of it clings to the surface and does not fall off. It dissolves and cuts through the stains and spots. This cleaner is an ideal choice for people who just want to spray, wipe, and get overnight cleaning done easily.
---
Smart Microwave Erupting Volcano Steam Cleaner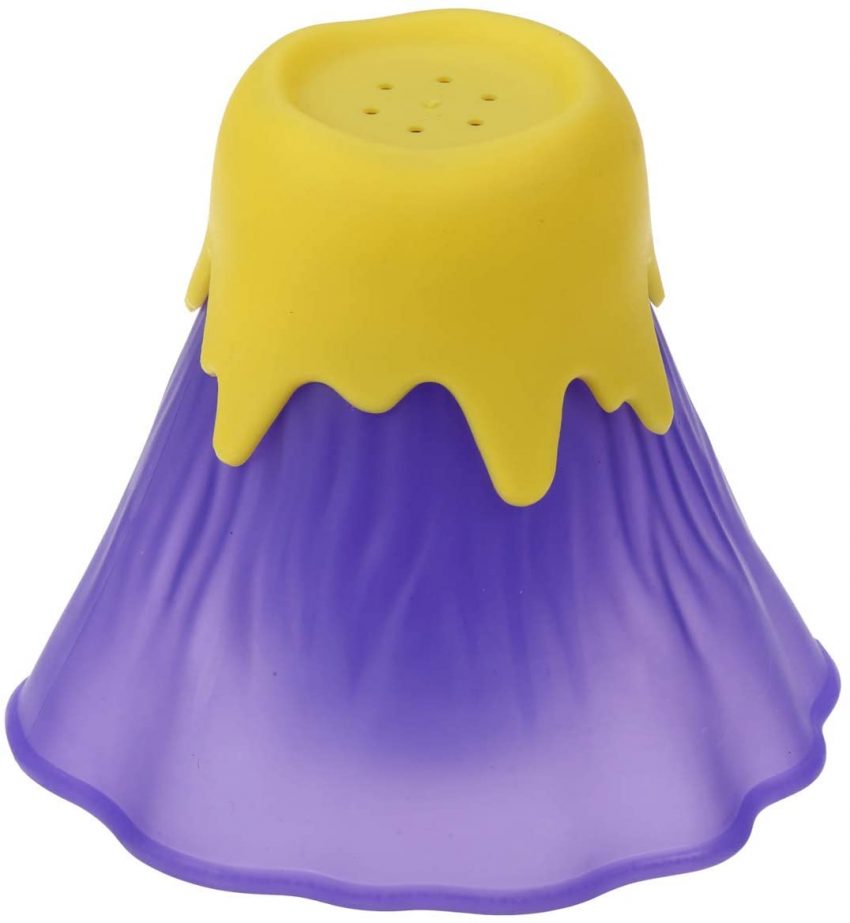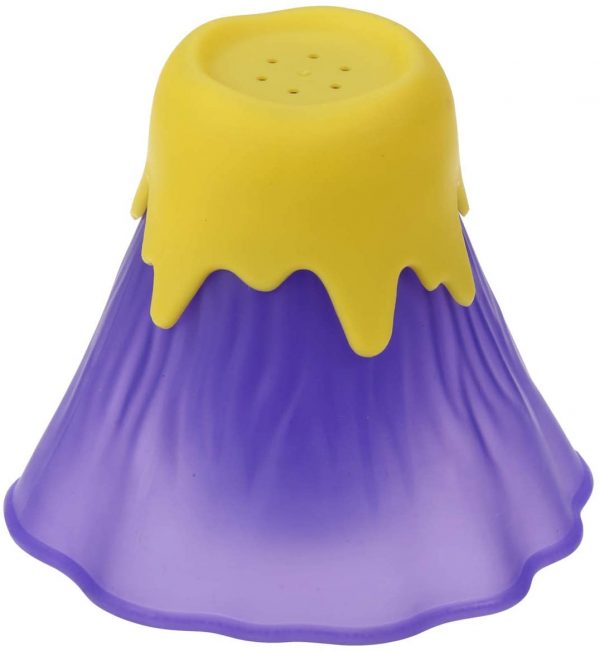 Up next is a steam microwave oven cleaner. This is a product that has been specifically made to help you clean your microwave oven. Whenever you heat food in your microwave oven there are spills that get baked-on and become hardened stains and spots. Using the Smart Microwave Erupting Volcano Steam Cleaner you can easily get rid of all this.
You need to add water and vinegar to this device up to the given mark. Now, just place this inside the microwave for 5-8 minutes on high heat. The steam will loosen and soften all the grime and you can easily clean them off with a sponge. This item is double-walled so that the outside surface remains cool and you can grab it without any harm. This cleaner costs $12.99 on Amazon.
---
Krud Kutter Oven and Grill Cleaner

This oven and grill cleaner is sold by the brand Krud Kutter which sells various products. This 12 Oz pack of cleaner is meant for superior cleaning of your ovens, grills, self-cleaning ovens, microwaves, grates, and other cookware that has greasy or baked-on messes.
Like many of the other cleaners, the Krud Kutter Oven and Grill Cleaner use foam action formula to cling to the surface and cut through the grease, oil, and carbonized soil and softens them so that it can be easily wiped off. You need to let it sit for some time before wiping it off. The cleaner does not release any toxic fumes. You can get the product on Amazon for $10.55.
---
Fantastik Max Oven and Grill Cleaner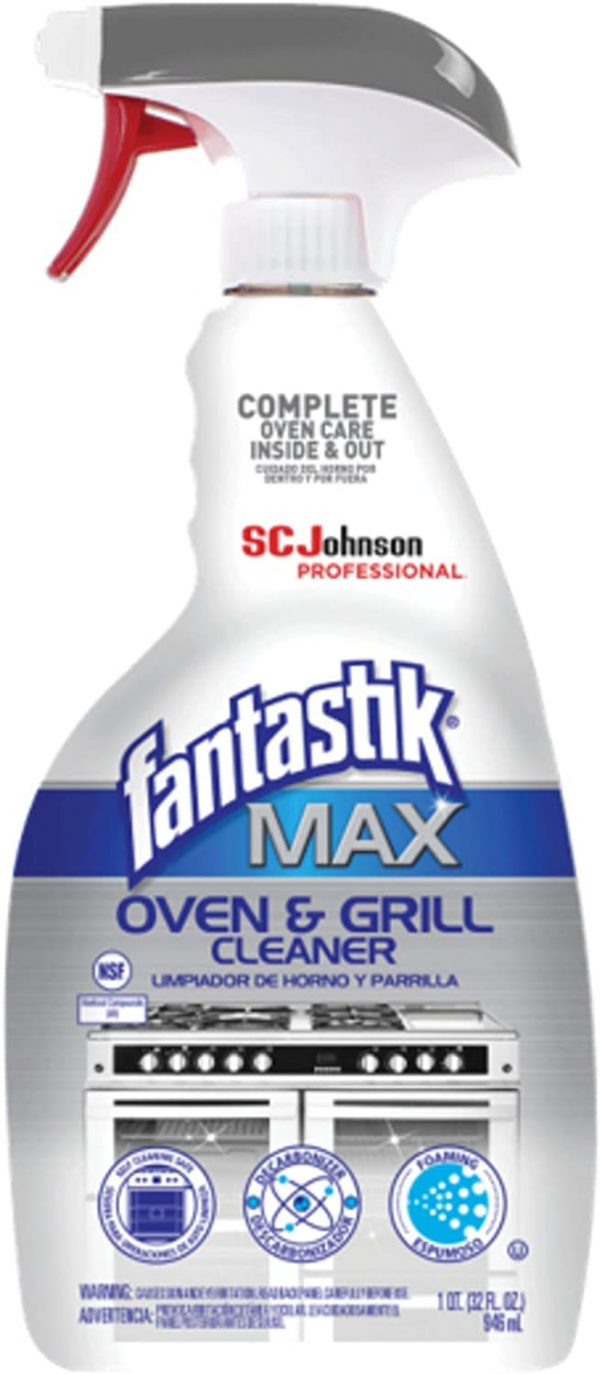 SC Johnson Professional is a brand that has been around for more than a century. They have created products to help consumers in various settings be it residential, commercial, or industrial. They have products from skincare to surface cleaning to pesticides. The Fantastik Max Oven and Grill Cleaner is one of their kitchen cleaning products meant for use in conventional and self-cleaning ovens.
The spray bottle will give a wide foaming spray which will help remove the tough stains. It is a non-corrosive cleaner that is safe to use on aluminum and glass. You can get this cleaner on Amazon for $9.79 for 32 Oz pack of 1. If you are looking to buy it in a bulk for your restaurant or commercial setting then you can get a pack of 8 for $60.96.
---
Miele Oven Cleaner

This oven cleaner is marketed by Miele and is meant for usage in self-cleaning ovens, and other surfaces which have hardened, burnt stains on them. It removes leftover residue which is present in casserole dishes.
The cleaner comes in a 500ml spray bottle allowing easy usage and may cover a good area on each spray. You can use it on PerfectClean surfaces, grill racks etc. as well. While using it in the oven you do not have to heat the oven. The price of this cleaner is $12.70 on Amazon.
---
Conclusion:
Oven cleaning can take a lot of time mainly because of the hardened and carbonized soils which can be tough to scrub off. These cleaners are some of the top-rated cleaners on Amazon which will make your job easier. Remember to follow the instructions carefully to keep yourself safe and use the cleaners more efficiently and effectively.