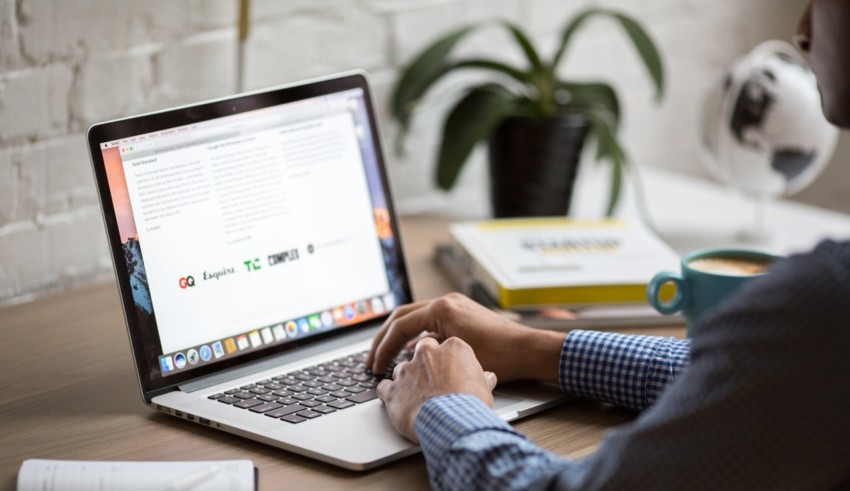 When it comes to the Data Analysis or Machine Learning model training, you need a laptop which works as efficient as you. Your laptop should be able to handle some serious processing power, especially during statistical analysis. To improve your productivity, all you need is a laptop with high-end specifications that can handle your extensive software.
But the thing is there are tons of laptops available in the market and finding the right is a little tricky ride. To make things easy for you, I will be talking about the best laptops for data science and data analysis in 2023. If you're someone who is pursuing a career in Data Science or is planning to, then this listicle is definitely worth checking out.
Apple MacBook Pro
If you're someone who needs power as well as portability, then Apple's latest MacBook Pro would be a solid option for you. When it comes to portability, no other laptop can beat the MacBook Pro. The laptop weighs just 1.83kg and can deliver you an exceptional battery life of up to 10hrs. Not only that, this laptop comes with 16GB of RAM which is more than enough for you to run all the software with maximum settings.
The 512GB SSD will make sure that you don't face low-speed or lagging issues whatsoever. Apple MacBook Pro also comes with a discrete GPU of 4GB memory capacity capable of handling graphics-intensive tasks. Another good thing about the MacBook Pro is the amazing retina display which provides good viewing angles and clear visuals. The MacBook Pro is on the overpriced edge but if you prefer portability, then no other laptop can give you what MacBook Pro can.
Pros: 
Amazing Retina Display
512GB SSD storage capacity
Blazing fast performance
Very lightweight and portable
Premium build quality
up to 10hr battery life
Cons: 
Overpriced
No RAM Upgradation Slot
Acer Predator Helios 300
If Apple MacBook Pro is not the best laptop for you economically, then you might want to check out Acer Predator Helios 300 laptop. Although it is a gaming laptop, you can still easily use it for your data analysis and data science. Acer Predator Helios 300 comes with top-notch hardware so that you can easily do all the heavy work. The laptop is powered by an Intel Core i7-7th gen CPU which even though is not the latest but still is a capable processor. There's a 4GB Nvidia GeForce GTX 1050Ti graphics card which offers amazing price to performance value.
For fluent performance, Acer has used a 128GB SSD storage which consists of pre-installed windows. For your other storages, there's also a 1TB Hard Disk Drive. It is worth noting that this laptop is not designed for portability meaning you will not be able to carry it around easily. Also, gaming laptops are known to have an average battery life of 2-3 hours. But again, you will not compromise with performance and if you game occasionally, then this laptop will be a perfect choice for you.
Pros: 
Amazing Price to Performance Ratio
Nvidia GeForce GTX 1050Ti is powerful
Cons: 
Poor battery life
Quite bulky and thick
Asus ROG Strix Scar II
If you're looking for a laptop with high-end performance and which does not compromise on portability, then this Asus laptop might be the right option for you. The laptop is priced far cheaper than the Apple MacBook Pro and surprisingly it even delivers better performance in Windows 10 of course. Asus ROG Strix Scar II runs on the latest 8th gen of Intel Core i7 processor paired with 8GB of RAM, 1TB HDD and 256GB of SSD. If you want, you can also upgrade the RAM in future.
The best thing about this laptop is its powerful graphics card. Asus ROG Strix Scar II has the latest RTX-series Nvidia GeForce RTX 2060 GPU. Although it still weighs around 2.4kg which is not even close to MacBook Pro. But, when you compare it with the other gaming laptop, this laptop still becomes a pretty decent option.
Pros: 
High-end hardware
RTX-series 2060 GPU
Ram is upgradable
Fewer bezels on the display
RGB keyboard
Cons: 
Still a little heavyweight
Dell XPS 13 9370
If you're not a big fan of Apple MacBook laptops, then Dell XPS 13 9370 would be the perfect option for you. This laptop manages to hit that sweet spot between performance and portability. The laptop comes with the i5-8th gen Intel processor which is paired with 8GB RAM and 256GB of SSD storage. To keep the laptop slimmer, there is no 1TB of HDD drive and no dedicated GPU.
Dell XPS 13 has the best display at this price range with ultra-thin bezels making it a very compact laptop. That laptop weighs just 1.2kg which is even lighter than the current Apple MacBook Pro lineup. Dell XPS 13 would be a perfect choice for data scientists who works from various remote locations. Although there is no dedicated graphics card, you would still be able to churn out a decent performance. The XPS laptops are very famous for their premium and solid build quality.
Pros: 
Very lightweight weighs just 1.2kg
Ultra-thin bezels
Impressive battery life
Premium laptop with top-notch hardware
Cons: 
Asus VivoBook S15
Your laptop budget should not stop you from becoming or achieving success in Data Scientist field. That's why I've included Asus's mid-range VivoBook S15 laptop. In terms of looks, the laptop looks very premium even though parts of its are made up of plastic. The laptop comes with the top-notch processor and a decent capable Nvidia MX150 2GB GPU. The RAM and SSD are upgradable so that's a good thing. It comes with Windows 10 preinstalled so you won't have to buy it separately.
The display on the Asus VivoBook S15 looks very amazing with great viewing angles. Thanks to those ultra-slim bezels on the side, the laptop is compact offering you 15.6-inch of display in the dimension of a 14-inch laptop. Also, the laptop is very thin, quite close to the Apple MacBook Pro. In future, if you need more performance, then you can upgrade the RAM to up to 16GB and SSD to up to 512GB. Not only this, the laptop also comes with a fingerprint sensor which no other brand is offering at this price point.
Pros: 
Slim laptop weighs only 1.7kg
Good price to performance ratio
Looks premium
Backlit keyboard at this price
Cons: 
Speaker output is poor
Webcam quality is average
Acer Aspire R 15 2-in-1
Acer Aspire R 15 2-in-1 is a 360-degree rotatable laptop which is why it would be perfect for someone who needs flexibility and does a lot of presentations. The laptop comes with a 15.6-inch touch display with 1920 x 1080 resolution giving you clear, accurate and rich display. The touch screen display comes in handy during presentations. Acer Aspire R 15 is powered by a 7th-gen Intel Core i7-7500U processor coupled with 12GB RAM and 256GB SSD.
Since it is from Acer, you can rest assured that you will get a premium build quality with a steady and sturdy screen. The laptop is very compact making it a perfect choice for data scientists. Another good thing about this laptop is the battery life which can last you for about 9 hours on a single charge.
Pros: 
Long lasting battery
Speedy and efficient processor
Old yet capable GPU
Great sound quality
Blazing fast performance
Cons: 
Lenovo 320 Business Laptop
This would be the last laptop which we will be talking about here in this listicle. This laptop is good for those who're very tight on the budget and can only buy a decent entry-level laptop. Although this is not a truly entry-level laptop, going below this budget will result in poor performance which you would not want if you're going for Data Scientist field.
Lenovo 320 laptop comes with a 15.6-inch display with regular size screen bezels. The laptop boasts Intel Core i5-7th gen processor, Nvidia 940mx 2GB graphics card, 8GB of RAM and 1TB of storage. It weighs 2.2kg which is not that compact and also not that heavy – the laptop sits between a sweet spot of portability. There's no operating system pre-installed so you'll have to do that part of thing by yourself.
When it comes to the business laptops, the brands don't compromise on build quality so you can definitely expect a premium and sturdy quality. This laptop can easily last you for a couple of years if used carefully and properly.
Pros: 
Business laptop
Upgradable memory
Great display quality
Old but capable GPU
Cons: 
No operating system pre-installed
Weighs 2.2kg
Not high-end hardware
That will be all for this laptop and I hope with the help of this listicle you're able to choose the right laptop for yourself. If you're looking for more such content, then don't forget to stick around.