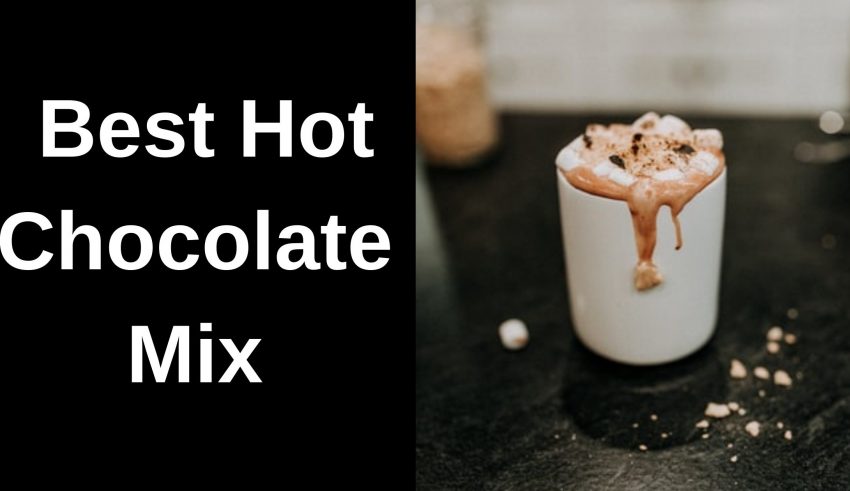 One of the most popular American beverages is hot chocolate. This delicious creamy hot beverage is meant to warm you up and give you a good dose of refreshment. Since a lot of people are working from home this year, we decided to compile a list of some of the best hot chocolate mixes that you can get on Amazon. You can purchase the one which suits your taste and treat yourself to a delicious beverage during your breaks.
Here is the list of 15 Best Hot Chocolate Mix to buy:
Swiss Miss Milk Chocolate Hot Cocoa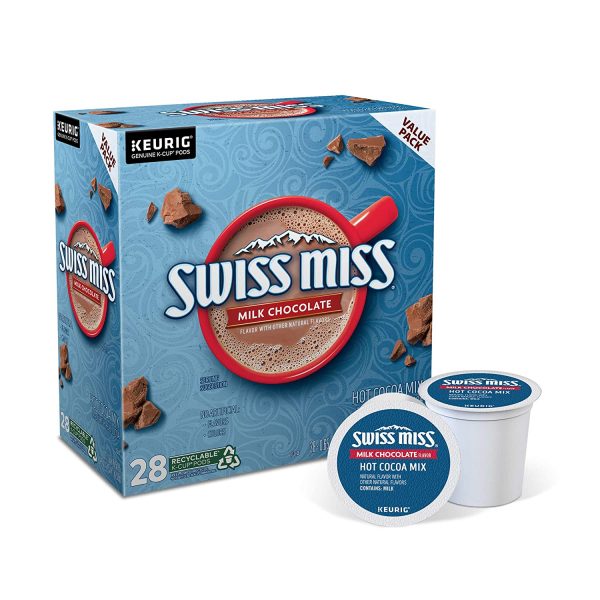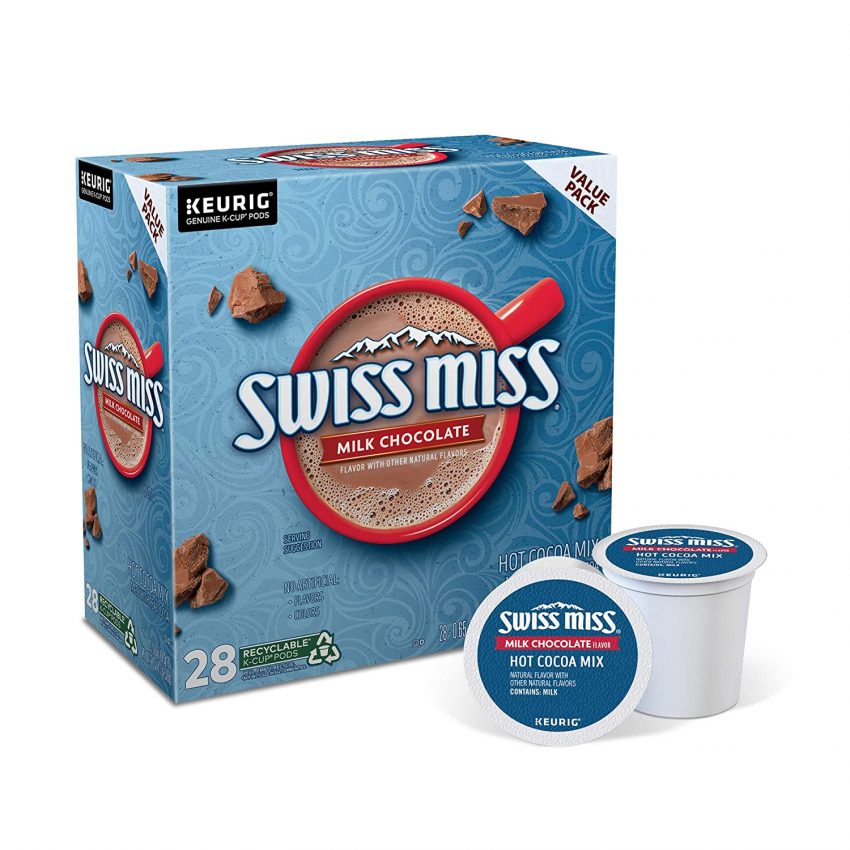 Swiss Miss is one of the most popular brands on Amazon when it comes to various hot chocolate mixes. This product 28 k cup pods each of which provides you with a single serving of the delicious mix which you can use to whip yourself a mug of hot chocolate. The flavor of this mix is milk chocolate.
This means it will be more on the sweeter side than the bitter one. A lot of people like milk chocolate as it has a good balance of sweetness, with the wholesomeness of the milk and very slight bitterness from cocoa. No wonder the milk chocolate flavor has received a lot of positive ratings on Amazon.
Swiss Miss says that while drinking the hot chocolate that you make from the pods you will experience the familiar chocolatey flavor which will warm you up and make you feel good. Each pod contains the right amount of mix to help you create a good cup of hot cocoa.
The good thing about pods is that you do not have to measure or guess the amount to mix in your hot milk as each serving contains the right amount for a balanced taste. But if you are looking for something stronger or sweeter you can use another pod or try the other products on the list. The price for the 28 pod pack is $16.47 on Amazon. A pack of 88 pods is also available and is priced at $55.96.
---
Ghirardelli Sweet Ground Chocolate and Cocoa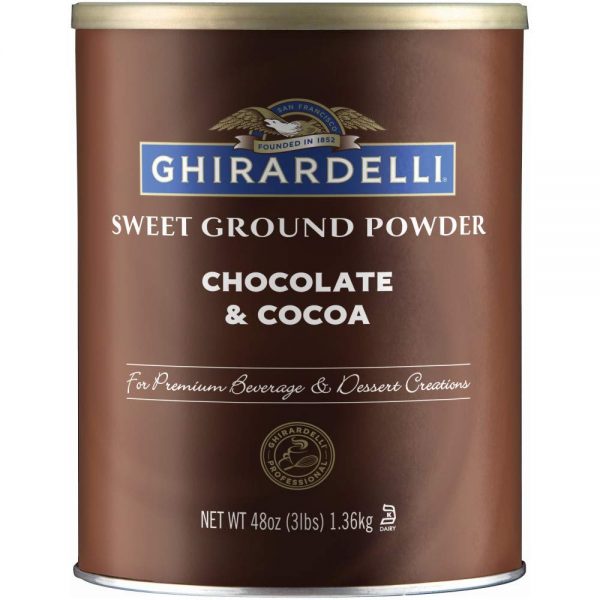 This chocolate powder or mix by Ghirardelli comes in a canister of 48 Oz and costs $17.84 on Amazon. This brand is one of the top baking brands in the US and it is known for its premium products. All the baking items that it produces for the consumers are of high quality.
This quality comes because the flavor of this powder is not two dimensional as it has depth in it. The texture of this mix is quite smooth as well. With the help of the Ghirardelli Sweet Ground Chocolate and Cocoa mix, you can make various desserts. The mix is very easy to use and you can make tasty chocolate-flavored desserts with this.
The mix is quite versatile. You can use it wherever you would like to get a bit of chocolate flavor. You can add it to your beverage and create hot cocoa or hot chocolate. Creating chocolate-flavored iced mochas and chocolate frappes will now be easier as you do not have to ground or add melted chocolate. It is a 100% all-natural product.
It is also one of the best-selling Cocoa mixes on Amazon. With this, you can make really tasty hot chocolate. Since this does not come in a small pre-measured pack that you find in other local stores you can make your hot chocolate as strong as you want. So, do give this mix a try.
---
Swiss Miss Marshmallow Hot Cocoa Mix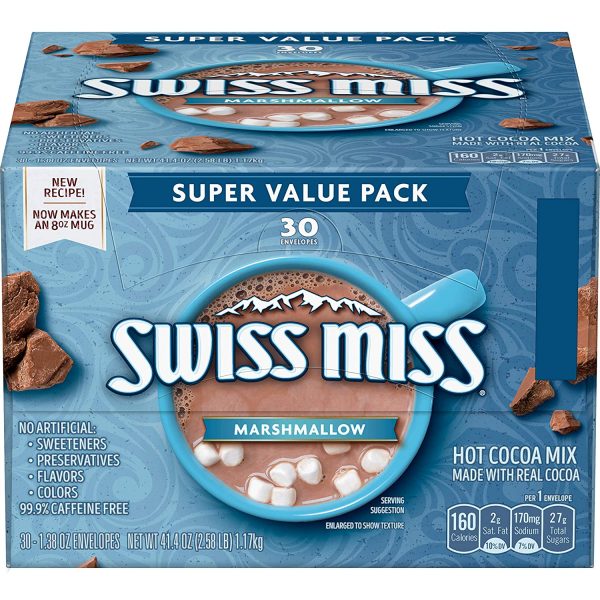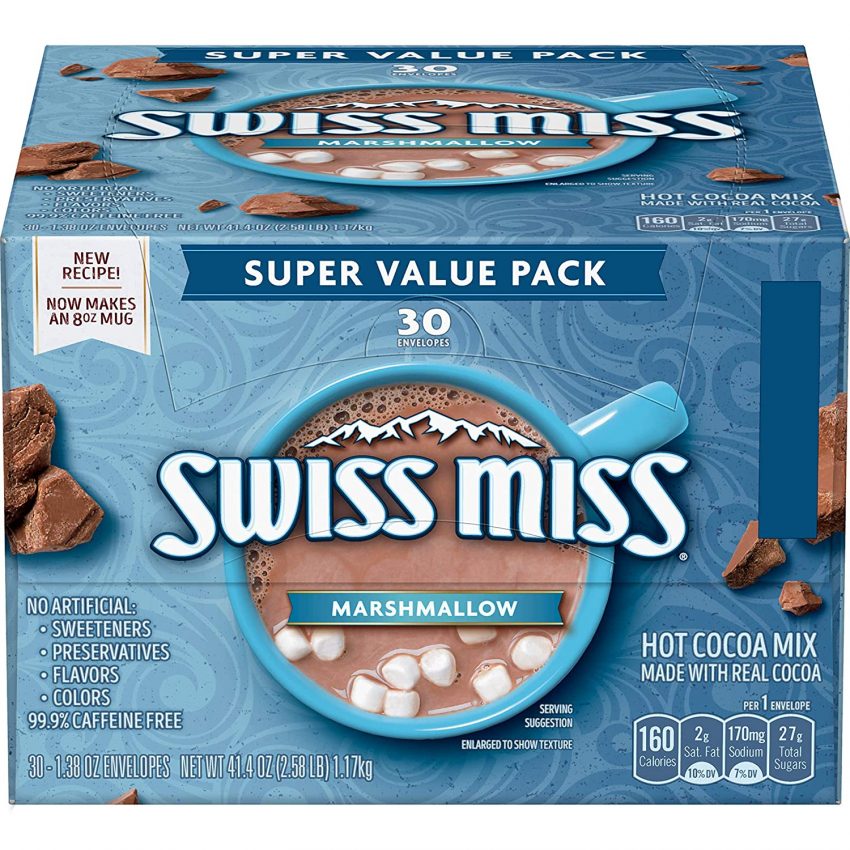 The next hot chocolate mix is again produced by Swiss Miss. The company is quite popular for its hot chocolate mixes because the sweet and chocolatey flavor that it provides is quite delicious. The chocolate mixes by Swiss Miss are quite popular on Amazon and there might be a few more entries on this list of other popular flavors of chocolate mixes by Swiss Miss.
This particular product by Swiss Miss contains marshmallows. Yes! A lot of people enjoy good fluffy marshmallows with their hot chocolate. It has been a long tradition in many households. If you have been a fan of this combination then try out this hot cocoa mix and experience the familiar taste from your childhood.
This pack of the product contains 30 envelopes with each envelope containing 1.38 ounces of the product. To make a cup of this delicious marshmallow hot chocolate just pour the contents of the envelope into a mug.
Now, add hot milk (if you want a thicker and richer taste) or water and mix it well. Now, enjoy your hot chocolate with fluffy mini marshmallows. Each serving of the hot cocoa mix with marshmallows contains around 160 calories. So, if this sounds like something you would want to try then get it. It is currently going for $4.98 on Amazon.
---
Land O' Lakes Cocoa Classics Variety Pack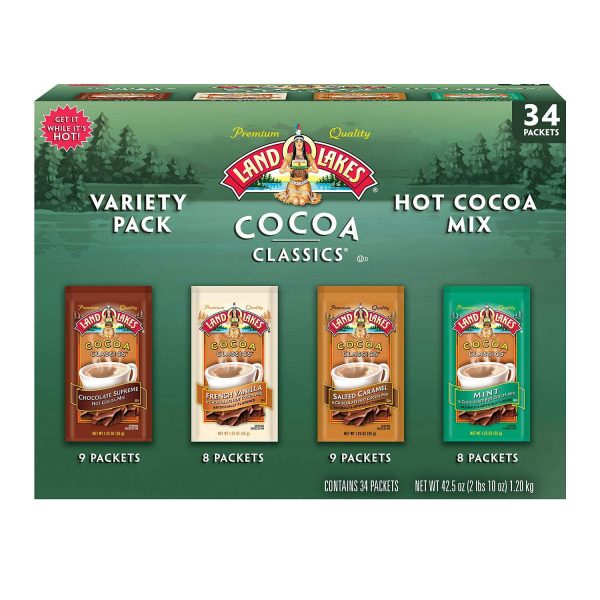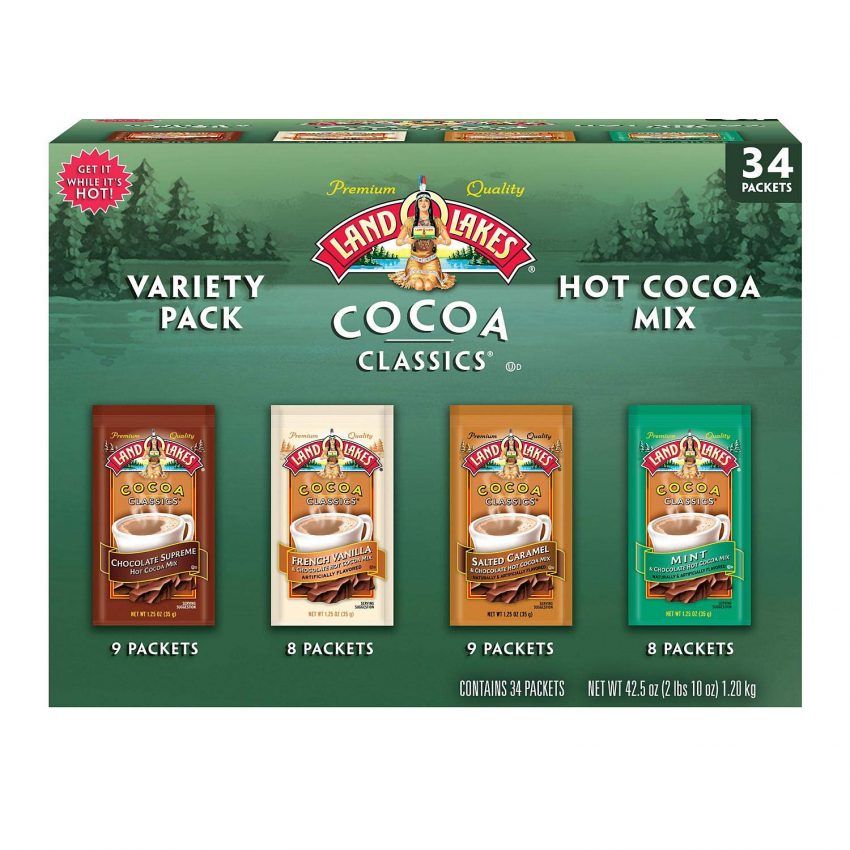 Up next is a cocoa mix from the brand Land O' Lakes. This is a very old company with a century of experience and expertise in this field. It has been farmer-owned since it's conception when around 320 dairy farmers met and decided to band together and deliver consumable milk products to customers.
You can use the chocolate mix made by Land O' Lakes to make a glass of hot chocolate which will warm you and give you a really creamy and rich texture with a delicious taste. A good thing about the Land O' Lakes Cocoa Classics is that it is a box of 34 packs. But you won't be getting 34 packs of the same flavor but rather 4 different flavors to hell you switch up and enjoy a variety of flavors.
When you buy the 34 pack box of the product you get 9 packets of cocoa classics with salted caramel flavor, 8 packets of mint-flavored cocoa mix, 8 packets of French vanilla flavored cocoa mix, and nine packets of chocolate supreme cocoa mix.
The flavored packets contain artificial flavoring agents as well as natural ones. Each packet contains around 1.25 Oz of the mix. So, the total net weight of the product is 42.5 Oz for a box of 32 packets. It is currently priced at $26.99 on Amazon.
---
Swiss Miss Indulgent Collection Dark Chocolate Hot Cocoa Mix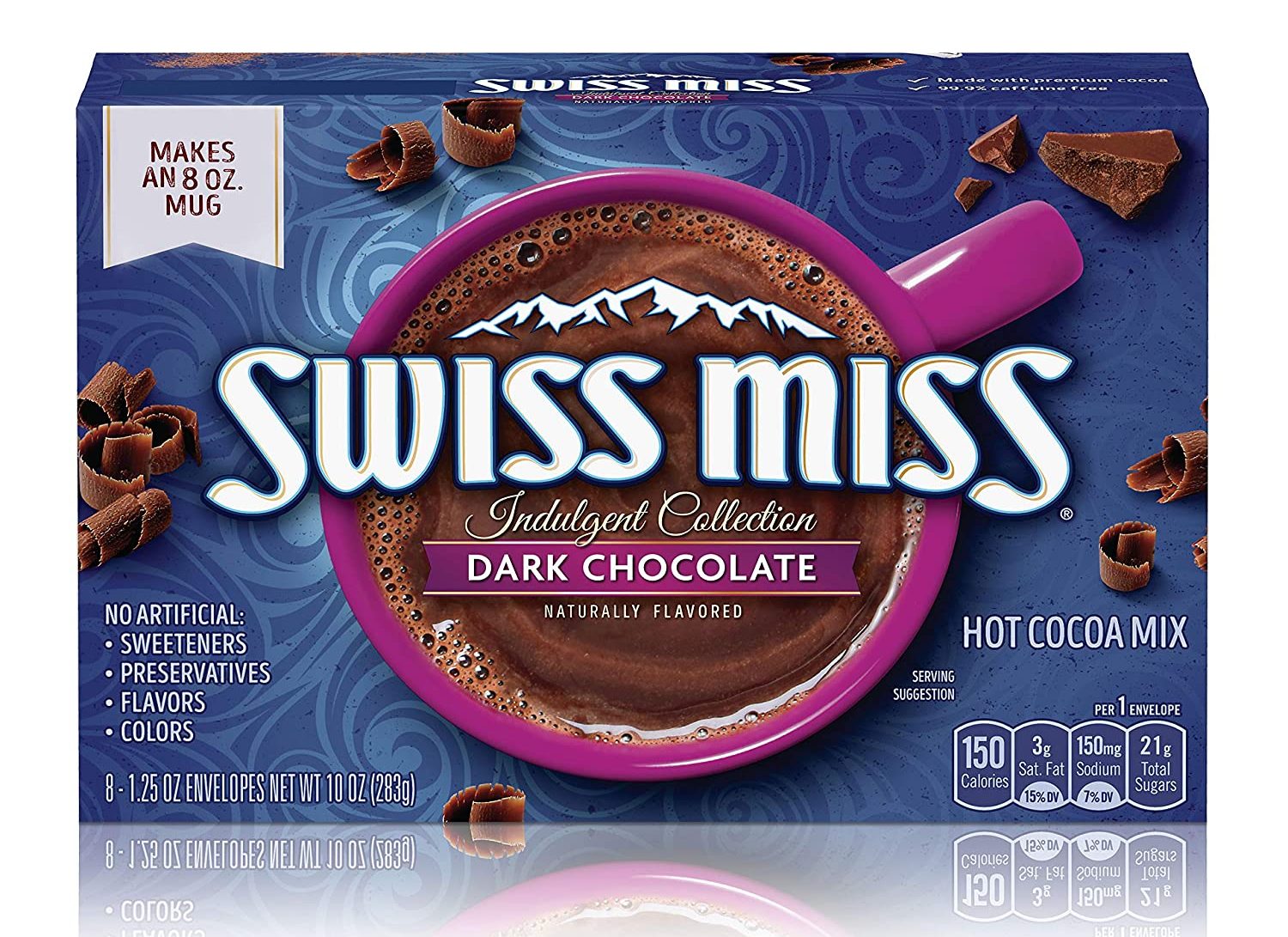 Well, Swiss Miss is back with another delicious hot chocolate mix for you. This particular product contains 12 10-ounce, 8- count packs of the tasty indulgent collection dark chocolate sensation hot cocoa mix. You will get eight 1.25 Oz envelopes to create the rich, creamy, and chocolatey hot chocolate for your beverage break.
Each of the 1.25 envelopes contains 150 calories, 19 grams of sugar, and a couple of grams of protein. You can empty the content of these envelopes in your mug or cup and then pour around 8 Oz of water or milk and mix the contents. Voila! You have a delicious beverage at your hand to consume and give yourself the warm pleasure.
The dark chocolate flavor gives it the signature bitter taste of cocoa. It will be quite a delight for anyone who loves dark chocolate. If you have tried the regular or milk chocolate version of the Swiss Miss Cocoa mix then you will notice that there's more percentage of cocoa present in the mix to bring out the dark chocolate taste.
No artificial sweeteners, preservatives, flavors, or colors have been added to this mix. It is made from cocoa of premium quality and is over 99.9% caffeine-free. It costs $21.45 on Amazon to purchase this product excluding shipping charges.
---
Ghirardelli Double Chocolate Hot Cocoa Mix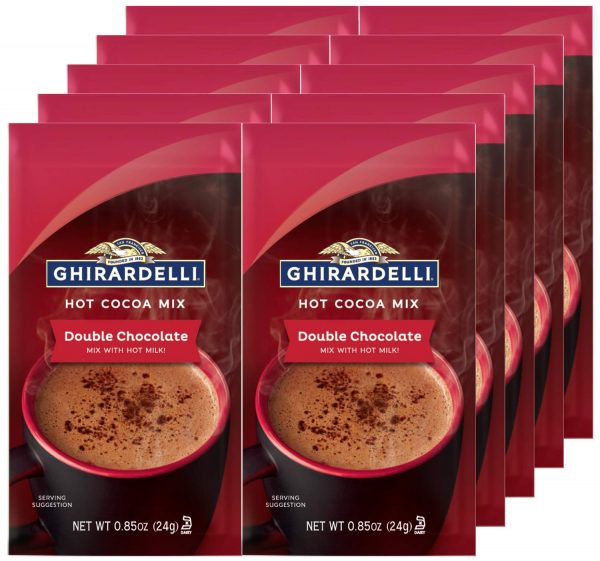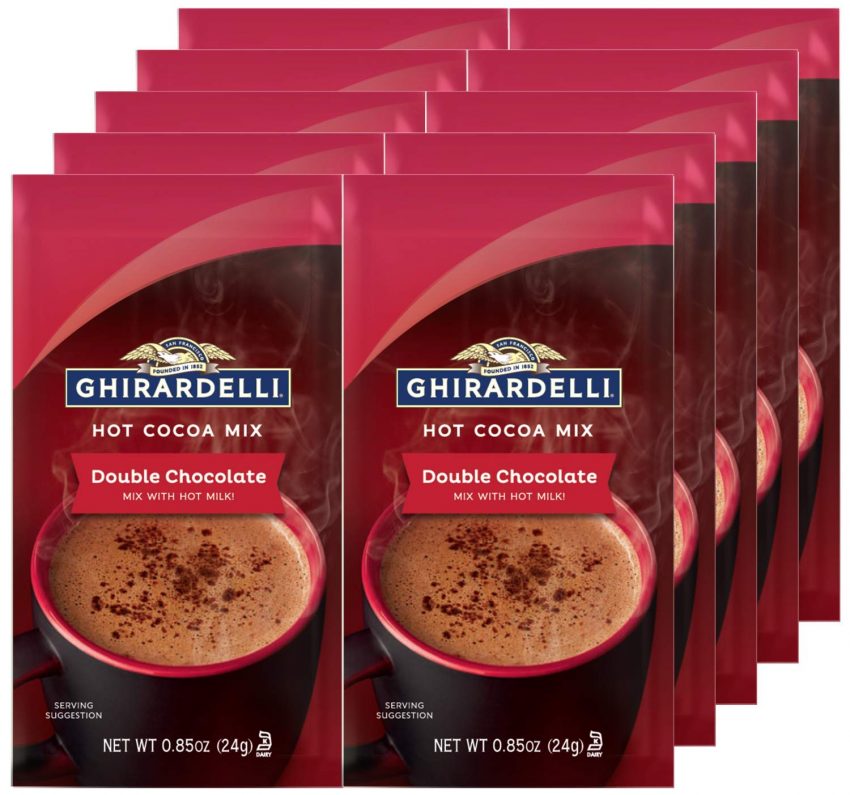 Up next, we have another familiar brand. We talked about the ground chocolate powder by Ghirardelli which you can use to make desserts as well as a mix for your hot chocolate. This product is another mix of the same brand and is more geared towards hot chocolate.
Ghirardelli has been manufacturing various baking products and bringing them to consumers for quite some time. The company produces chocolate-based baking products that are of top quality. So, they have a good knowledge of chocolate as well.
This mix has been created with their expertise to help you enjoy a rich, creamy, and chocolatey glad of hot chocolate. Just mix this double chocolate mix to a mug or cup of hot milk and enjoy. You can purchase a pack of 10 0.85 ounce packets on Amazon for $13.24. This product has been made in the US.
---
Castle Kitchen Classic Caramel Dark Chocolate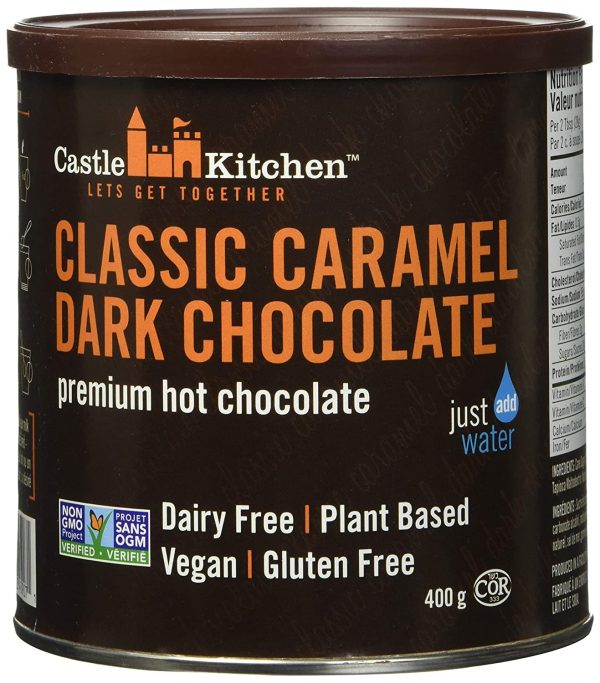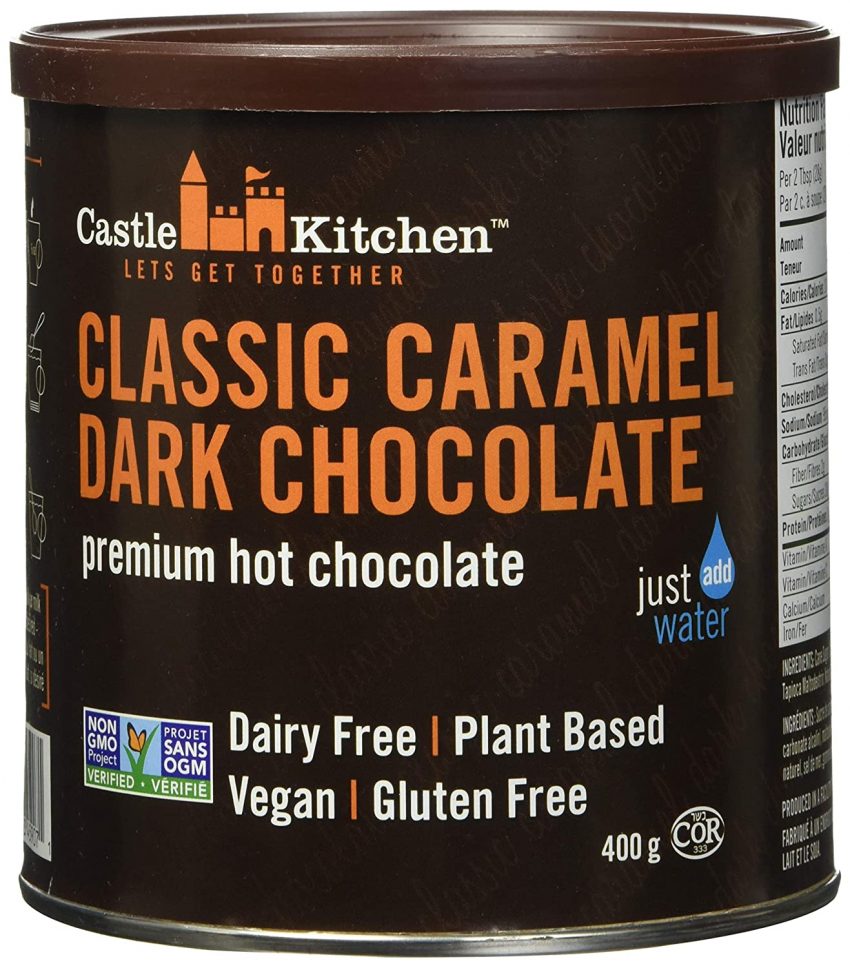 The next hot chocolate mix is produced by the brand Castle Kitchen. Unlike other brands, Castle Kitchen is a fairly new brand with around 7 to 8 years of experience under its belt. The founder of the company was frustrated that he couldn't find any healthy food ingredients which were allergy free as well that his kid and his friends would enjoy.
This led him to create his own line of products with the sole aim of providing tasty food products that are healthy and the consumers wouldn't have to worry about allergies.
This same principle went into the creation of the Castle Kitchen Classic Caramel Dark Chocolate mix. It is a plant-based, vegan product with a non-GMO project verified. It is dairy-free, gluten-free, and soy-free. It also maintains the Kosher standards. To make yourself a hot glass of this hot cocoa you can just use hot water and taste this delicious product. The 14 Oz canister costs $11.95 on Amazon.
---
Junior Mints Hot Chocolate Pods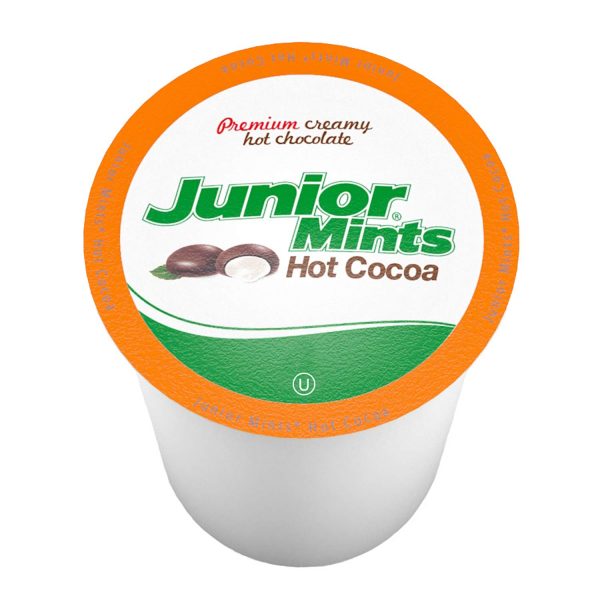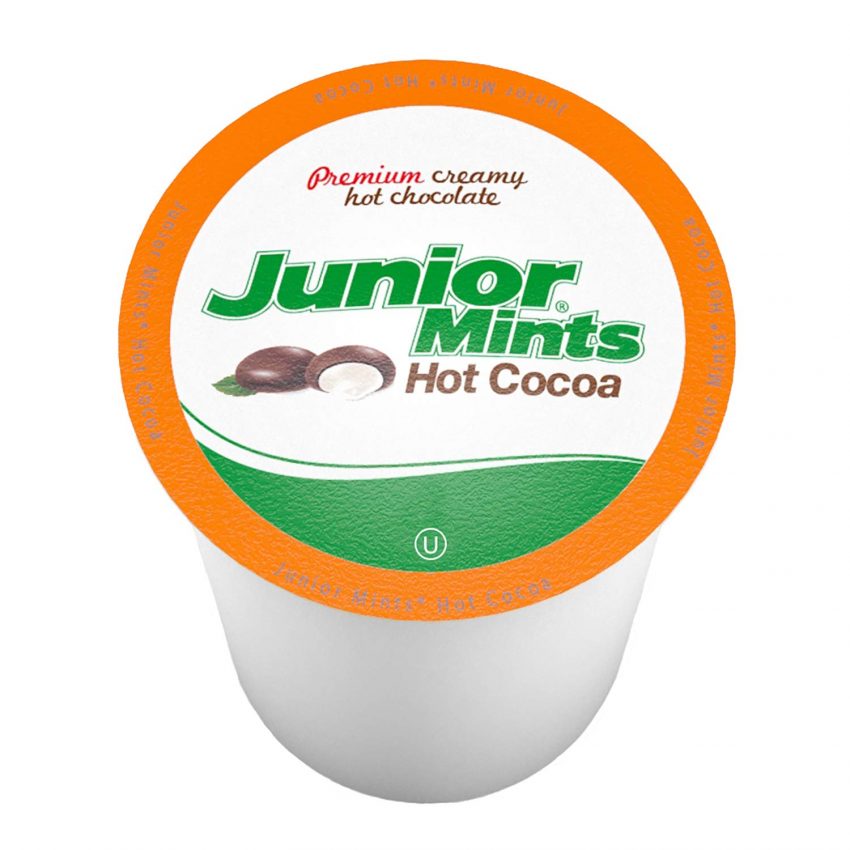 To enjoy a glass of premium and creamy hot chocolate you can try the Junior Mints Hot Chocolate Pods. This product is compatible with Keurig K cup brewers and contains 40 pods in it.
This product is manufactured by the brand Tootsie Roll. If you enjoy the flavor of peppermint in your hot dark chocolate drink then the Junior Mints Hot Chocolate Pods can be something that might be to your liking.
With these pods, you can whip yourself one of America's popular beverages i.e. a cup of rich and creamy hot chocolate with a month flavor. Each of the pods can help you brew a cup of the delicious hot beverage. Each serving contains around 60 calories and contains 0% cholesterol and 1 g saturated fat. You can purchase the product on Amazon for $22.83
---
Grove Square Hot Cocoa Dark Chocolate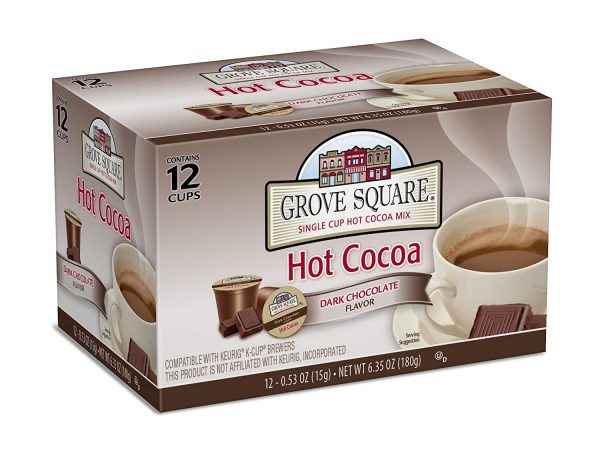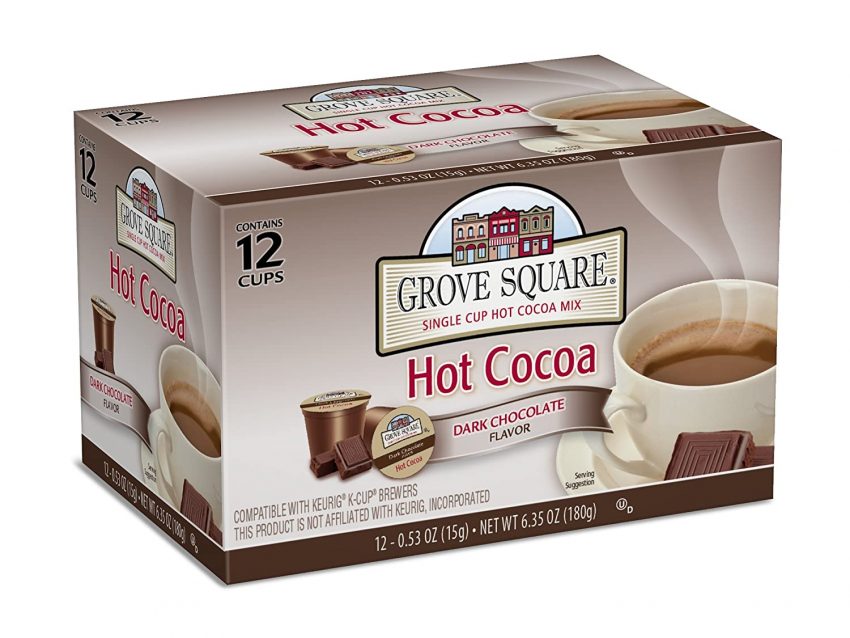 Let's move onto the next brand on the list which is popular on Amazon. It is Grove Square. This brand sells a hot chocolate mix that people who like dark chocolate will enjoy. Each pack contains 12 serving cups. So, you can whip yourself 12 cups of creamy and delicious hot chocolate from 1 pack.
A single-serve contains 15g of the mix. With this single-serving pack, you can very easily create this hot beverage. You do not have to worry about measuring or trying to balance the flavor.
Just rip off a single serving pack and create the hot chocolate. If you have got a pack of mini marshmallows at your disposal then adding it can enhance the experience of consuming this drink. You can purchase this hot chocolate powder on Amazon for $45.98. It contains 3 packs with 12 servings in each.
---
Nomu Skinny 60% Cocoa Hot Chocolate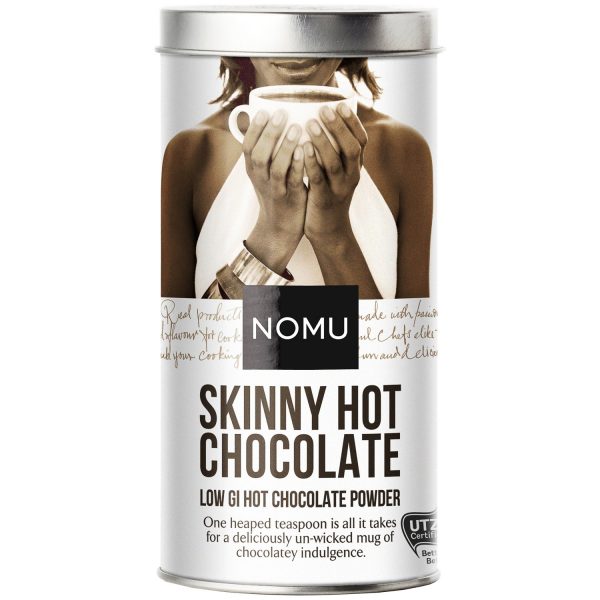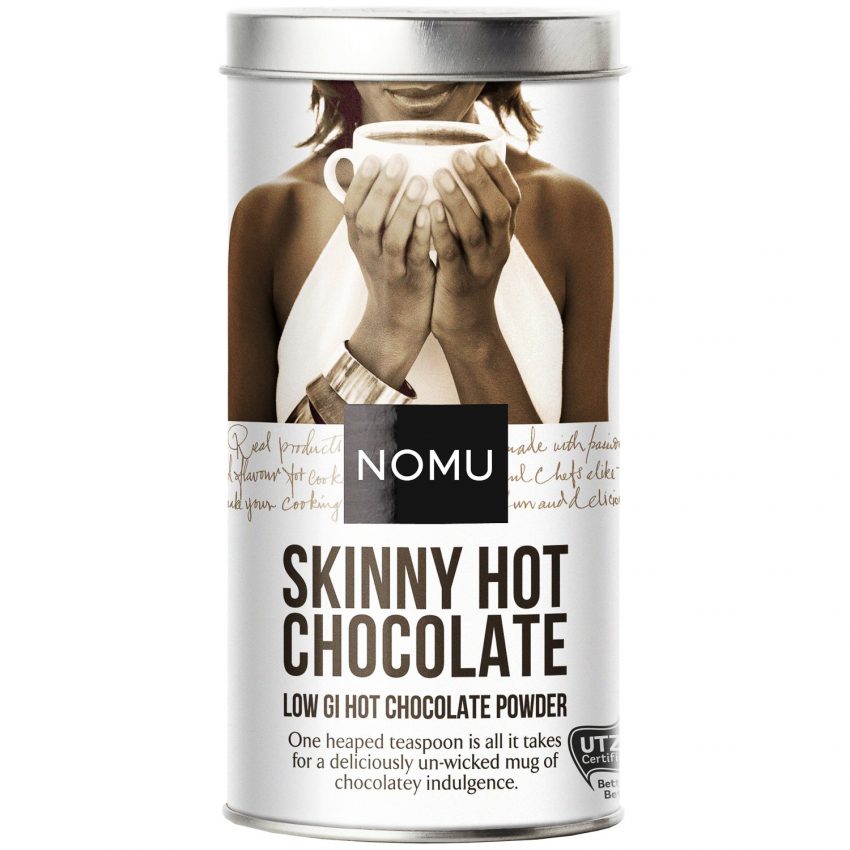 Up next is a hot chocolate mix by the brand Nomu. It has created a delicious and healthy hot chocolate that you can enjoy with your family. This healthy alternative does not elevate the sugar levels of the individuals consuming it. You might be skeptical about the taste of this product as generally products made for dieting or as a sort of healthy alternative tend to taste nothing like the original and are often tasteless.
But Nomu has taken steps to ensure that you still experience the rich and creamy taste of your favorite hot beverage. It tastes really good that you can easily replace the sugary, high carb version with this. This mix contains around 60% cocoa powder and does not contain loads of sugar or corn syrup. It is keto-friendly and provides only around 20 calories. You can purchase a 7.05-ounce pack of 1 on Amazon for $8.53.
---
Lake Champlain Chocolates Traditional Hot Chocolate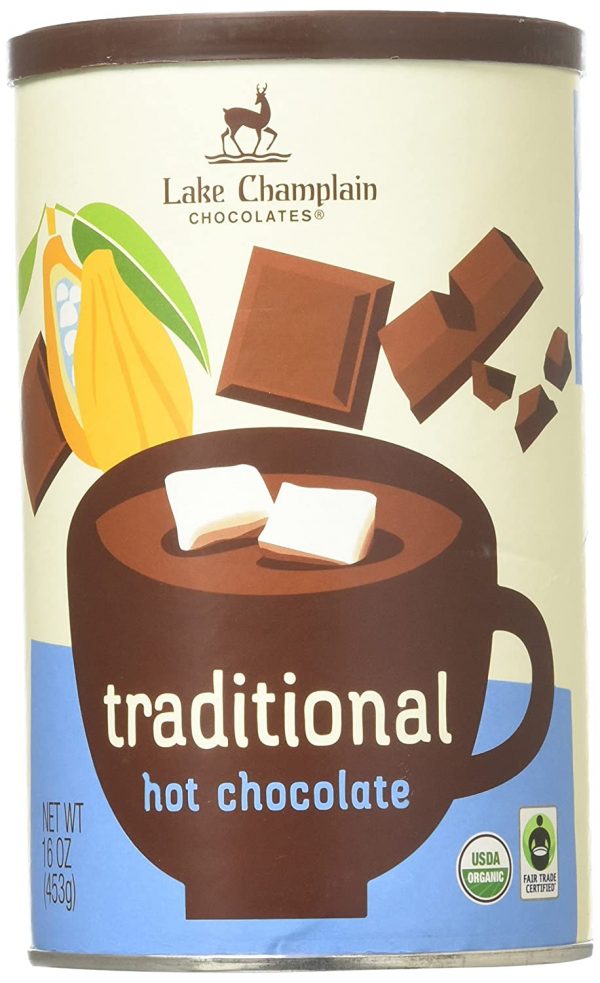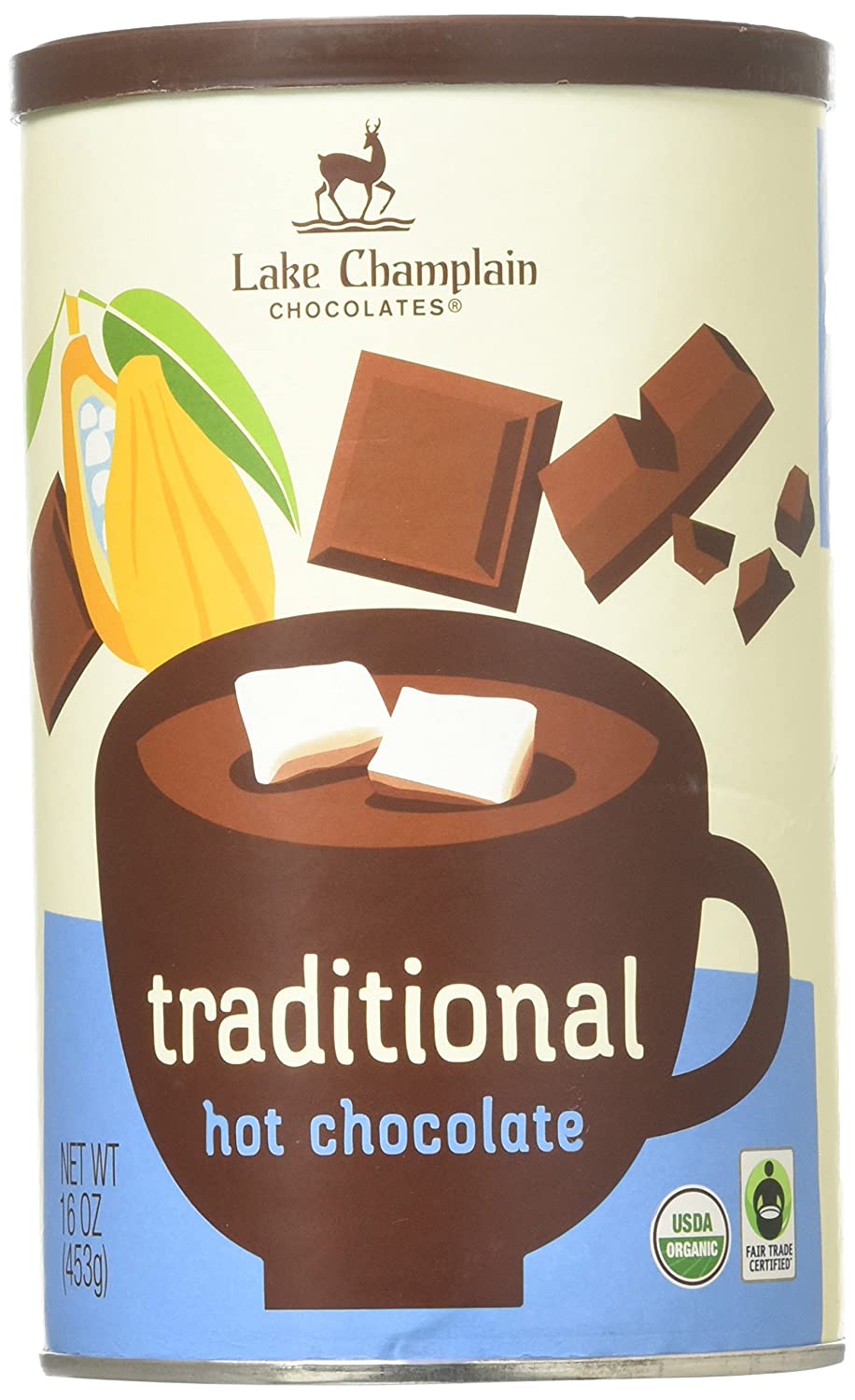 This organic, kosher standard vegan hot chocolate mix is sold by the brand Lake Champlain Chocolates. It is a delicious chocolate mix that you can either combine with water or your choice of milk and get the rich creamy hot chocolate with milk chocolate flavor. It has just the right amount of sweetness to give you the refreshment you need.
With this, you can whip yourself a rich, full-bodied, and deeply satisfying cup of hot chocolate. It does not contain any dairy products. You can mix it with soy, almond, or rice milk if you are allergic to dairy products. You can purchase a canister of the Lake Champlain Chocolates Traditional Hot Chocolate which weighs 16 Oz for $13.66 on Amazon.
---
Frankford Hot Chocolate Bombs Made With Gourmet Belgian Cocoa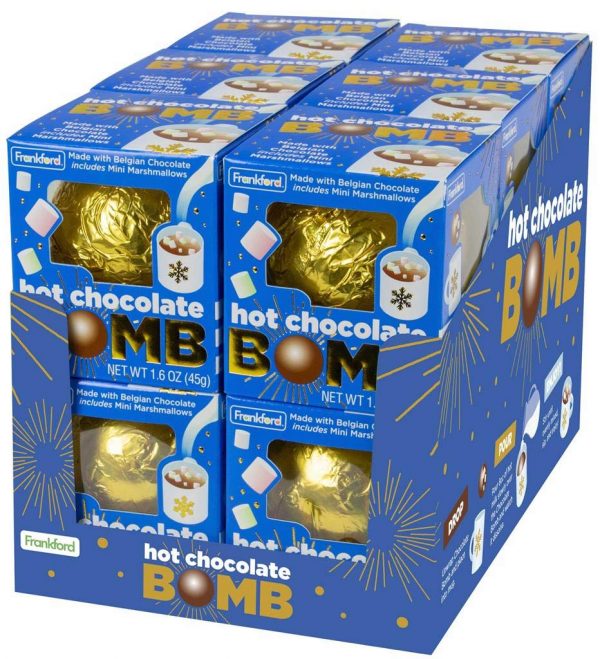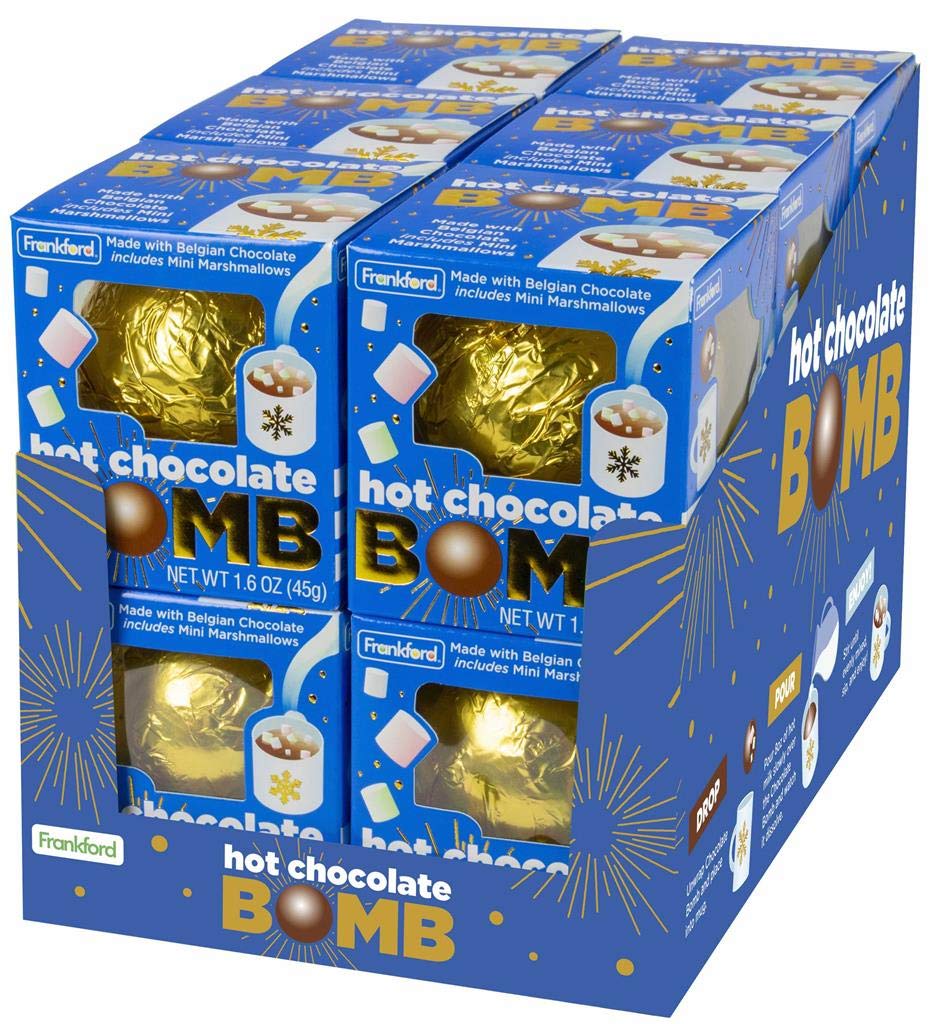 These hot chocolate bombs are made from premium-quality gourmet Belgian Cocoa. It also contains mini marshmallows packed in it. With this product, it is easy to make yourself a cup of delicious hot chocolate with marshmallows.
You can add the bombs in a cup of hot water or a glass of hot milk and watch the bomb dissolve and the marshmallows appear to give you a rich and creamy hot chocolate with mini marshmallows. This product is a bit hard on the budget. You can get a pack of 12 bombs on Amazon for $199.99. But hey, if you have the budget for it you can enjoy a delicious hot beverage to give you the perfect refreshment.
---
Thoughtfully Gifts Bombombs Hot Chocolate Bombs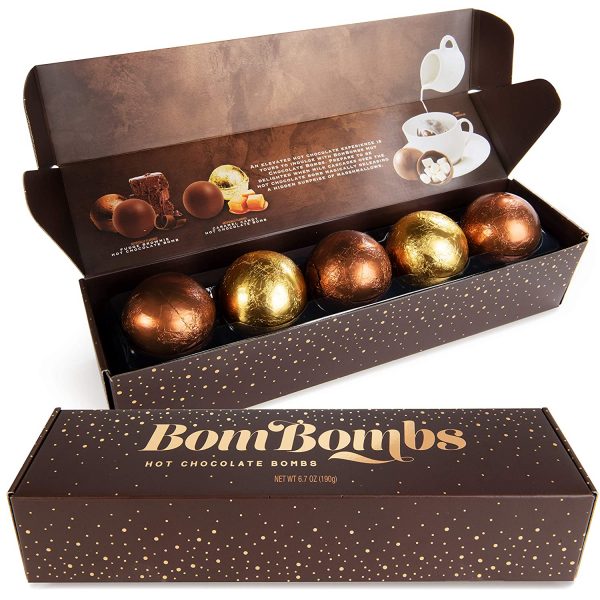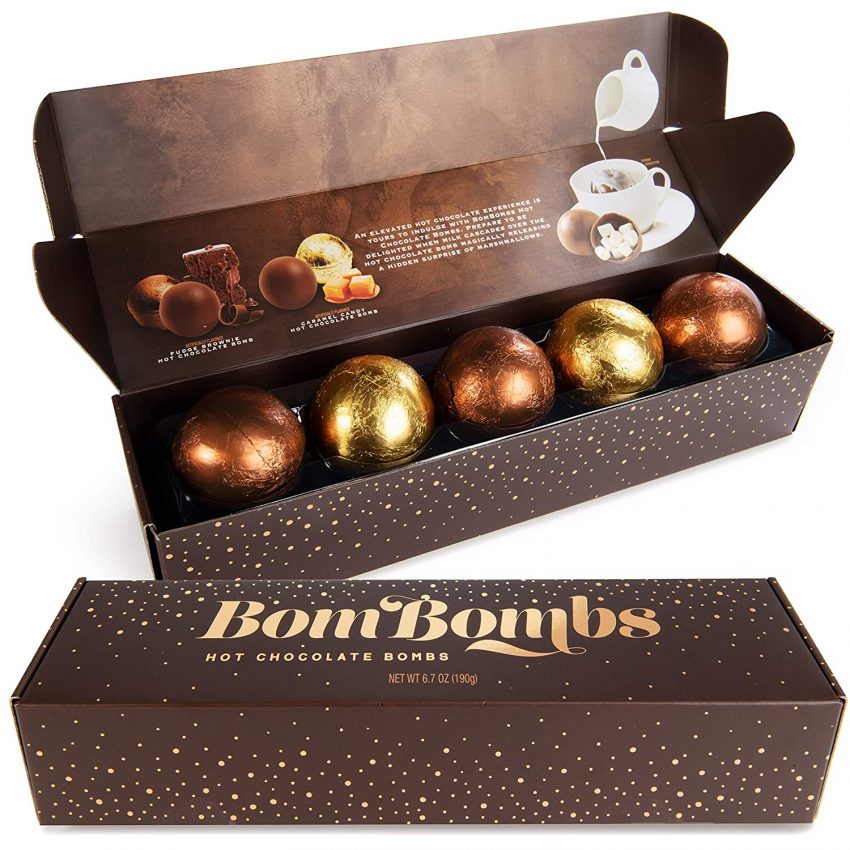 Up next is another hot chocolate bomb mix which you can just put in a cup of hot milk and enjoy a delicious cup of hot, chocolatey beverage. These chocolate bombs are manufactured by the brand thoughtfully. Each pack contains 5 bombs with two different flavors.
You get fudge brownies as well as caramel candies as flavors. If any of your relatives or friends like hot chocolate then this item can be a perfect gift for them. It already comes in a gift-ready form.
These bombs also contain marshmallows in them. To make the beverage just place one bomb in a cup and pour around 6 Oz of hot milk on it. Let it dissolve and stir to mix it evenly. The cost of the Bombombs Hot Chocolate Bombs on Amazon is $19.99 for a pack of 5 bombs.
---
Ghirardelli Chocolate Sweet Ground Chocolate White Chocolate Flavour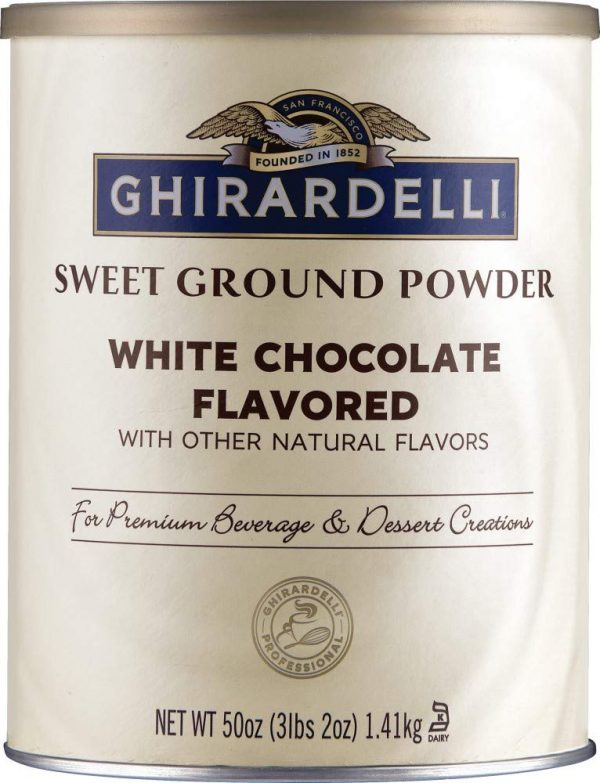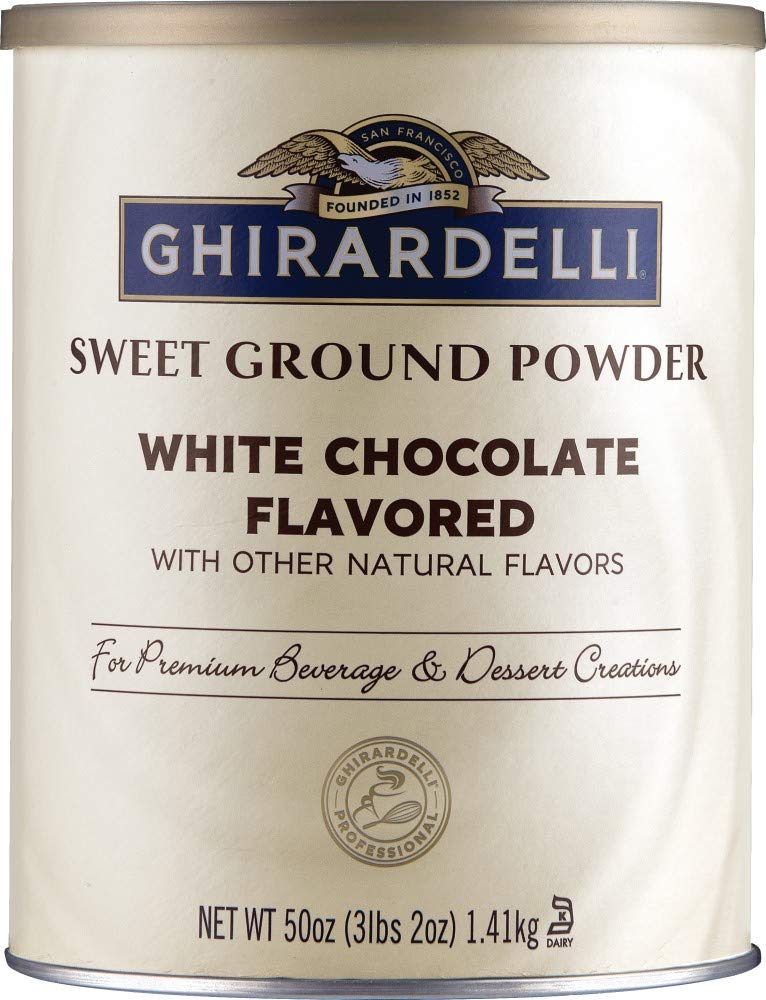 Well, Ghirardelli is back with another product. This time we have the white chocolate flavor of the sweet ground chocolate powder which you can mix in milk or water to make yourself a refreshing and warm cup of hot chocolate. Ghirardelli is a premium American baking brand and has handled chocolate products for years.
A good thing about the Ghirardelli ground chocolate powder is that it's versatile. You can easily create premium beverages or chocolate-flavored desserts with this product. You can get a canister of 3.1 pounds of Ghirardelli Chocolate Sweet Ground Chocolate White Chocolate Flavour on Amazon for $22.99.
---
Nestle Hot Chocolate Packets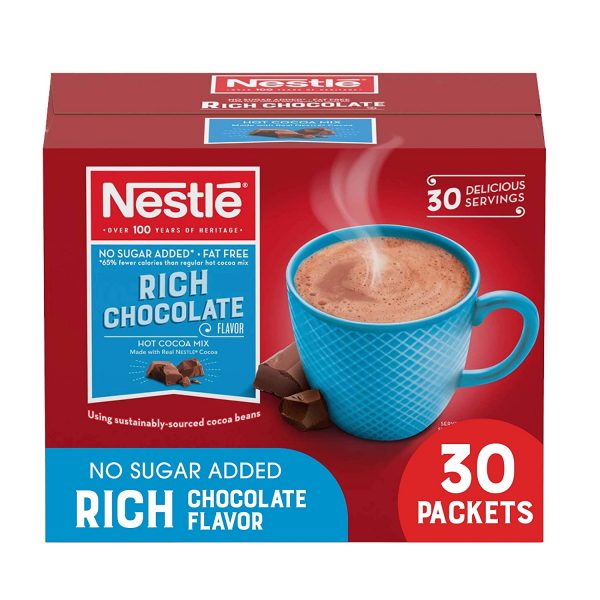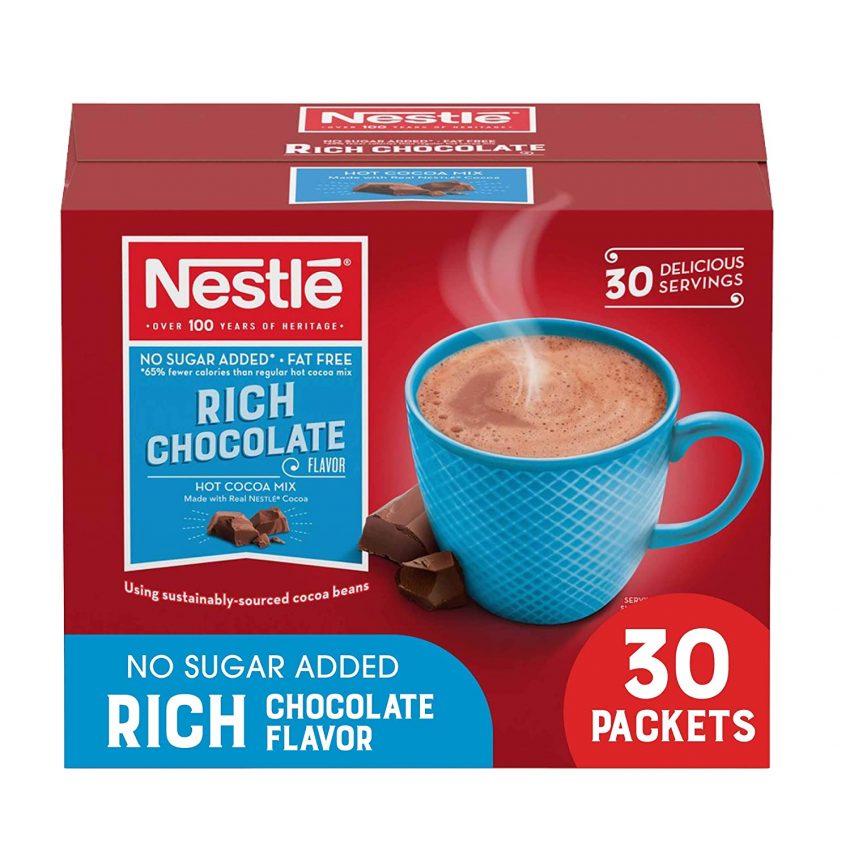 Well, when it comes to beverages one of the most popular brands to produce ingredients to make your own beverages at home is Nestle. We decided to keep this brand on the list as it is popular worldwide and has received a lot of positive ratings on Amazon. You can purchase a pack of 30 servings for $10.35 on Amazon.com. This pack of hot chocolate contains no added sugar and is a fat-free chocolate mix.
The mix has been made from Nestlé cocoa which has been extracted from sustainably-sourced cocoa beans. It is a 99.9% caffeine-free product. It has a shelf life of 15 months. These hot cocoa servings are perfect for offices, cafeterias, and restaurants. Nestlé is also one of the most popular swiss chocolate brands in the world.
---
Conclusion
As you can see there are a lot of different options when it comes to a hot chocolate mix. If you do not have allergies or any other reservations then why not try the products from the various different brands. Most of these products are within the normal budget and who knows you might end up finding a couple of new favorites.