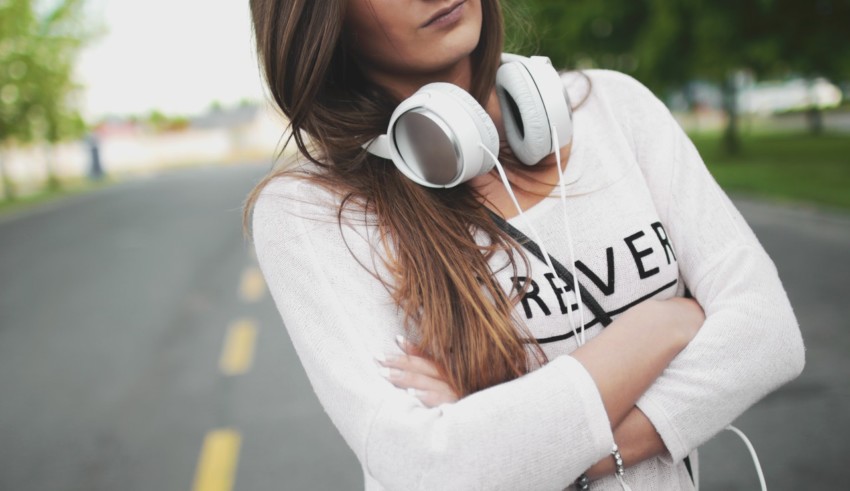 Headphones are the best way to take your music with you. And it's not just about music. Headphones make taking and making calls a lot easier because of the hands-free functionality that they offer. When it comes to budget headphones, the market is filled with a ton of options for various uses and purposes.
In this article, we have listed out some of the best headphones under $50 for various categories, like sports, wireless, noise canceling, etc.
These headphones are perfect for those who like experimenting with different brands and features, and something that even students can afford. So all you audiophiles take a look!
Best Sports and Workout Headphones Under $50
BlueAnt – Pump Zone Over-Ear HD Wireless
BlueAnt is a very fitness-conscious brand that aims to inspire people into embracing the fit lifestyle. It creates audio products specifically for active use, and all of its headphones and earplugs are built to handle the action of a workout.
The Pump Zone over-ear headphones feature a sturdy make, great looks, and specially-designed ear pads to handle sweat effectively. The 'Thunder Bass' feature aims to put the 'pump' back into your workout.
Pros:
Great battery with a 30-hour playback on a single charge.
The auto-sleep features powers off the headphones when a phone is disconnected to save power.
If the battery runs out, you can connect the Aux cable and continue to listen to your music.
The sweat-proof, antibacterial earcups make these headphones good for intense workouts.
The folding design makes them easy to carry and store.
Cons:
The bass isn't as effective as claimed.
The noise canceling feature is ineffective in loud or widely-open spaces.
The ear pads are not comfortable for people with bigger ears. They hurt after a while.
The Bluetooth isn't as strong. It keeps breaking off if the wearer goes a short distance away.
[ryvl video_url="https://youtu.be/s14BsAPFU8M" auto_play="yes"]Watch BlueAnt – Pump Zone Over-Ear HD Wireless Full Review[/ryvl]
Over Ear Headphones, Mixcder ShareMe Wireless Bluetooth 4.1
Mixcder is one of the leading companies in the wireless/Bluetooth headphones market. The company focuses on 4 main aspects – comfort, performance, price, and sound quality. The ShareMe range is created for the active folks who are fond of the music-exercise blend.
The headphones come in all color combinations ranging from funky to stylish. The unique ShareMe feature plays video or sound from one device on 2 of these headphones simultaneously.
Pros:
The ear pads are very comfortable and sit nicely on the ears, with a Technical Ergonomics design. They are simulated to suit human skin texture and sensitivity.
The wired and wireless connectivity lets you listen to music both, hands-free and by connecting the aux cable.
The battery is very powerful, with 20 hours each for music and talking, and 300 standby time.
Ultra-large drivers, powerful capacity and copper-coated aluminum wires in the horn give a clean, smooth and clear sound, bass and treble.
The foldable design and light weight make these headphones easy to carry.
Cons:
These headphones do not capture voice at all and are unsuitable for calls. The mic does not isolate incoming sound well in the wireless mode.
The ShareMe feature, although innovative, invites a lot of lag. The audio and video often lose sync very soon and keep breaking up frequently.
The Bluetooth is not suitable for calling either and keeps breaking up when the wearer moves away from the phone.
These headphones connect only with Siri for music. The calling feature supports other OS and brands, but not for audio/video.
[ryvl video_url="https://youtu.be/rdmpY-IgpGk" auto_play="yes"]Watch Mixcder ShareMe Wireless Full Review[/ryvl]
iHome Color Changing Rechargeable Headphones with Mic and Remote 
iHome makes intelligent lifestyle products that don't just make your life easier, but your mind and body sounder. It manufactures smart clocks, lighting, plugs, speakers, headphones; the highlight is the lighting feature on the products. For instance, the Alexa clock changes hues at speeds that sync your circadian rhythm with your sleep-wake cycle so that you are well rested! The 1B37 headphones feature the same cool color changing effects.
Pros:
These headphones feature an adjustable headband for a better and more comfortable fit.
Padded ear cushions offer comfort for extended use as well as an effective, smooth, and isolated sound.
Color effects can be changed according to the wearer's mood. The featured modes are a favorite color, color pulse, strobe to the beat, and color spectrum.
The in-built mic and remote have an in-line design that doesn't get in the way of a workout. The wearer can easily manage calls as well as music.
Cons:
There is no wireless/Bluetooth feature on these headphones.
The design isn't as sturdy as one would hope for a workout and sports headphones. They need to be used carefully.
Any jerks or rough use can render the earpiece useless. Since the headphones are wired, a sudden tug can create loose connections inside.
[ryvl video_url="https://youtu.be/_yGyyWaOTt8″ auto_play="yes"]Watch iHome Color Changing Full Review[/ryvl]
Best Wireless Headphones Under $50
Ausdom Wireless Bluetooth EDR Over-Ear Headphones 
Ausdom is one the well-known electronics companies in the wireless audio, camera, and accessories domain. It mainly manufactures products for cars and audio. Headphones, car stereo speakers, bluetooth speakers, cameras, car DVRs, and many accessories. Ausdom products are made keeping utility and consumer psychology at the fore. The wireless bluetooth EDM M06 headphones work with the TV, PC, phones, music and calling.
Pros:
These headphones offer a superior bass experience, a 3D surround sound, and a unique detailed wireless sound system technology.
A 3.5mm jack and connector cable serves as a good alternative for connecting to non-Bluetooth devices or when the battery runs out.
The lithium battery supports 20 hours of playback, which is quite good for extended use.
Earmuffs are made out of artificial protein leather to give long-lasting comfort to the wearer.
These headphones connect to a variety of devices, making them very versatile.
Cons:
The loud sound can get too loud at times, enough for people standing nearby to know about your musical choices.
For those looking for sturdy headphones, this one may be a downer. The make isn't very strong or robust.
Sometimes, the sound isn't smooth and clear but muffled and muddled. The high volume and powerful bass may throw off sound quality.
[ryvl video_url="https://youtu.be/rGQD2ZNL2b4″ auto_play="yes"]Watch Ausdom Wireless Bluetooth EDR Full Review[/ryvl]
Photive BTH3 Over-The-Ear Wireless Bluetooth Headphones
Photive is a company that prides itself on serving the movers, doers, and wanderers with devices that let them take their music everywhere. It manufactures Bluetooth headphones, speakers, and a host of other products. The BTH3 over-the-ear headphones are completely wireless, designed with the latest Bluetooth technology, and created to offer a surreal musical experience.
Pros:
These headphones are easy to carry because of the slim design, less weight, and travel case that comes with them. They are great for taking on trips.
Enjoy brilliant connectivity with the latest version of Bluetooth – the 4.0. It streams music from a distance as wide as 33 feet.
It features 40mm driver to deliver clear, smooth, and decipherable bass and treble.
The headband and outer structure are made of a soft, rubberized material for an ergonomically sound and tactile experience.
These headphones are compatible with all smart devices.
Cons:
The slim build doesn't hold up for longer-term regular use. The headphones can break down if not used gently. As a must.
The battery gives only 12-hours playback, which isn't very impressive. Additionally, it takes 3 hours to charge completely, which seems a lot for such short battery life.
Although the headband is flexible and made of rubberized material, people with bigger ears or heads will have difficulty and discomfort using them for long periods of time.
[ryvl video_url="https://youtu.be/h7kx40xbWGQ" auto_play="yes"]Watch Photive BTH3 Full Review[/ryvl]
RCA WHP141B 900MHZ Wireless Stereo Headphones
RCA has been a family name in the world of electronics and home appliances since 1920. The company has gone from manufacturing the first radios to the smart-home digital appliances of today. Besides headphones, RCA also manufactures television sets, smartphones, tablets, lighting, home appliances, and accessories. The highlight of the WHP141B headphones is the otherwise compact and concise design, with more emphasis on the connectivity and earmuffs for a powerful yet comfortable experience.
Pros:
The phase lock loop technology is innovative and ensures a consistently strong sound no matter where you roam around in the house without the connected device on you. It can lock sound up to 150 feet.
The headphones are designed to lose the bulkiness of other bigger models with a sleek, compact make.
They are compatible with many audio sources, such as DVD, CD, HDTV, etc.
The 40mm headphones provide a strong sound and 3 channel selections and a transmitter for quick tuning.
The headphones charge themselves on the transmitter, so there's no hassle of plugging in.
Cons:
The battery compartment is difficult to get into. Sadly, there aren't many instructions for this either. If the battery needs to be replaced, then opening the compartment will be a task.
The headphones don't connect to the TV unless a special stereo cable is connected to them; which does not come with the product.
Speakers tend to lose their power and smoothness after regular, repeated use for months.
The earmuffs hurt after a while and are not suitable for people with big ears.
[ryvl video_url="https://youtu.be/lGmyV9KWQ1g" auto_play="yes"]Watch RCA WHP141B 900MHZ Full Review[/ryvl]
Best Noise Cancelling Headphones Under $50
Marshall Major Headphones
Marshall headphones aim to be versatile and multipurpose, giving you the freedom to take your music wherever you want. It manufactures headphones, speakers and accessories. These noise cancelling headphones are meant for isolating sound and giving you a complete musical experience. Marshall Major headphones aim to offer the best audio in all scenarios and situations.
Pros:
The ear cushions are made of extremely soft and flexible material for maximum comfort. The square design of the earmuffs makes it usable for extended periods of time.
The collapsible body makes these headphones easy to store and carry.
The bass is really great on these headphones, giving your music a great punch.
Cons:
The construction is not as sturdy as would hope, especially out of completely foldable headphones.
The noise canceling feature isn't as effective. Outside sound is muffled but not completely, you can still hear some ambient noise.
[ryvl video_url="https://youtu.be/TARvrjgmd_4" auto_play="yes"]Watch Marshall Major Headphones Full Review[/ryvl]
Active Noise Cancelling Bluetooth Headphones Liwithpro
Liwithpro is an electronics and lifestyle company that manufactures electronics, home improvement products, pet supplies, patio furniture, home automation, and more. These active noise canceling headphones are quite versatile and work on various devices like TV, computer, and phones. They can be used for work, travel, or just chilling out!
Pros:
The active noise canceling technology features an ANC switch which when turned on, drowns out ambient noise.
The lightweight headphones are very easy to carry and store.
Earmuffs are made of artificial protein for added comfort, and swivel 90 degrees for flexibility.
The 40mm earmuff drivers aim to give a superior sound and powerful bass effect.
The headphones have both, a wired and wireless feature for continued audio playing even when the battery runs out.
Cons:
The build of these headphones isn't as sturdy and hence, they must be used very gently. The same goes for the earpiece swivel. A little rough regular use can cause them to break.
The USB port isn't centrally aligned, and so charging the headphones or using them with the cable can be a bit frustrating.
[ryvl video_url="https://www.youtube.com/watch?v=SfDuKjkzpu0" auto_play="yes"]Watch Active Noise Cancelling Full Review[/ryvl]
HoldSound NCH-108 Active Noise Cancelling Headphones
HoldSound makes headphones that are universal and can be used by almost anyone. The NHC-108 active noise canceling headphones feature a bidirectional rotation shaft structure that makes the earmuffs tilt inwards for the comfort of use. This ensures that the headphones can fit people with big and small heads and faces equally well. These headphones are designed keeping ergonomics and comfort as the top priority.
Pros:
These headphones work on reducing ambient noise by 15dB and filtering 85% of unwanted sound.
The earmuffs are quite comfortable and don't hurt the ears.
The mute button is easily accessible and mutes audio instantly, allowing the wearer to do things like talking to other people in between.
The sound quality of these headphones is quite smooth and good. The earmuffs have a thin polymer film diaphragm that allows effective and clear sound output.
Cons:
The bulky build of these headphones and lack of flexibility makes it difficult to find a case for them, or to store them.
Over-Ear Headphones Under $50
Audio-Technica ATH-M20x Professional Monitor Headphones
Audio Technica is one of the leading companies when it comes to manufacturing useful, problem-solving audio equipment. It makes headphones, microphones, wireless systems and more for home and office use. The ATH-M20x professional monitor headphones are great for sound engineers and musicians who track and mix music or other audio.
Pros:
The sturdy design is very durable and can withstand long-term, continuous use.
These headphones offer enhanced low-frequency performance that doesn't bother the ears.
The earmuffs feature innovative circumaural design contours that effectively isolate sound in loud environments.
There is a single cable at the side for all applications. The 3.0m long cable makes using these headphones very convenient.
Cons:
The headband and earmuffs can wear out after extended regular use.
These headphones can be too bulky for folks who'd like to carry them around since they lack a compacting/folding feature.
The size can be uncomfortable for people with big heads and people who wear glasses. The padding on the headband and earmuffs becomes warm if used continuously.
[ryvl video_url="https://www.youtube.com/watch?v=4oGmO6agMck" auto_play="yes"]Watch Audio-Technica ATH-M20x Professional Monitor Full Review[/ryvl]
Skullcandy Crusher Headphones
Skullcandy is a very well known name in the electronics market, particularly when it comes to headphones. The audio equipment that this company manufactures ranges across all budgets and uses, with an immense variety of features, looks, and functionalities. These Crusher Headphones are wired, with an inbuilt amplifier, and very stylish camo design.
Pros:
The in-built amplifier creates deep and very clear tones.
There is a slider that's built into the ear cup to allow adjusting of bass intensity.
Earmuffs have a three-panel cushion padding covered in top-notch quality synthetic leather. This gives a brilliant noise canceling the effect.
The foldable design and satin bag makes these headphones a breeze to cart around.
Let's not forget the fashionable camo design that makes these headphones look uniquely stunning!
Cons:
The sound can get very loud at times, which can hurt the ears. If you turn down the volume though, the bass loses its effect.
Some users may find these headphones too big or bulky to wear.
[ryvl video_url="https://www.youtube.com/watch?time_continue=3&v=ekR3IlAF_h4" auto_play="yes"]Watch Skullcandy Crusher Headphones Full Review[/ryvl]
Avantree 40 hr Wireless / Wired Bluetooth 4.0 Over-the-Ear Headphones - $49.99 
Avantree is a high flyer in the audio segment, manufacturing some serenely premium headphones among other products. These Audition headphones offer some awesome functionalities like the latest Bluetooth 4.0 version, long battery life, ease of use, and superior sound quality. These are one of the best budget headphones that you can buy.
Pros:
The innovative aptX Hi-Fi technology produces a powerful and clear sound. The range of audio reproduction in these headphones is quite superior.
These headphones have a substantial 40-hour battery life and a wired overdrive for when the battery runs out.
The overall weight of these headphones is very low, making it extremely easy to carry them around.
Connecting to 2 phones simultaneously is possible with these headphones. The NFC feature offers a one-tap-connect option, and the headphones auto-connect to any device easily.
Cons:
The drivers aren't as powerful, particularly when the headphones are connected to 2 devices.
The outgoing sound isn't clear. When using the microphone, especially with Bluetooth, the sound clarity is quite poor.
Sound quality overall isn't as great as one may hope. Audio distorts or blurs slightly.
The headband can get quite warm if worn for extended periods of time, particularly if it's a snug fit.
[ryvl video_url="https://youtu.be/soc95z6C2q8" auto_play="yes"]Watch Avantree 40 hr Wireless / Wired Full Review[/ryvl]
Best with-Mic Headphones Under $50
Edifier P841 Comfortable Noise Isolating Over-Ear Headphones With Microphone And Volume Controls 
Edifier is one of the leading speaker manufacturers in the world. Besides headphones, it makes speakers for all intents and purposes, both wired and wireless. The P841 wired headphones are great for making calls because of the powerful built-in microphone with noise isolation and volume control. These are great multipurpose headphones on a budget.
Pros:
These headphones are designed to generate a powerful and reverberating base and are highly recommended for modern music genres like EDM and hip-hop.
They are compatible with both, Android and iOS phones.
The microphone and volume controls have a comfortable in-line design, making access and use conveniently.
The build and make it durable and sturdy to effectively withstand regular use.
Cons:
Although these headphones come with noise canceling capability, the isolation quality isn't as great.
The earmuffs become hot after a while and are not breathable at all. This can cause sweating and discomfort.
[ryvl video_url="https://youtu.be/48BoeNFtrXw" auto_play="yes"]Watch Edifier P841 Comfortable Noise Isolating Full Review[/ryvl]
23362i H501 Over-Ear Noise Cancelling Headphones with Microphone
The iSelector H501 headphones from 23362i are aimed mainly towards travel use, with their highlight being an impressively-long battery life. They are specifically meant for air travel, owing to the noise cancellation feature. The peculiar thing about these headphones is that it comes with replaceable AAA batteries and not in-built rechargeable ones.
Pros:
These headphones have a 50-hour long noise cancellation feature, which is quite impressive.
The microphone allows users to take/make calls and listen to music handsfree, as well as control volume.
You can pair these headphones with both, Android and iOS phones.
The earpads are made of premium protein leather and memory foam for a comfortable wear.
Cons:
The only issue is the replaceable battery. Hence, you always need to have a backup although the headphones offer an impressively-long playback time.
JBL J88i Premium Over-Ear Headphones with JBL Drivers, Rotatable Ear-Cups and Microphone
JBL has been a pioneer in the audio systems market, manufacturing a massive range of headphones and speakers among other products. The budgets and functionalities span across a wide range. The J88i headphones belong to the premium range but in an affordable budget. The stylish design features a complete single-color look with silver accents for the name.
Pros:
These headphones have big 50mm drivers for a clearer, better sound.
The earmuffs have a 180-degree DJ pivot feature that lets you listen to music and still not be drowned out of the surrounding.
The folding mechanism makes these headphones very easy to store and carry. And they come with a padded carry pouch too!
Cons:
Versatility is an issue here since the headphones are only compatible with iOS and not any other devices.
They only come with a wired design.
The sound quality isn't as great as promised; the audio tends to leak.
[ryvl video_url="https://youtu.be/7Lq3xbBWlv8" auto_play="yes"]Watch JBL J88i Premium Over-Ear Headphone Full Review[/ryvl]
Conclusion
So there you have it; the best of the best in a budget. This list will be pretty helpful to all those who don't want to spend a fortune on your headphones, or are still trying to find your perfect pair. Fret not, because as you have seen, there is a lot to choose from. And at awesome prices to boot!