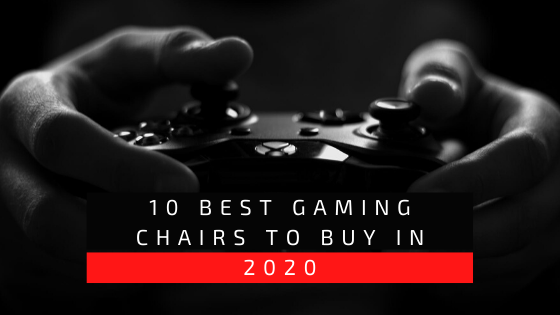 Gaming is now one hell of a business, right? I bet the inventor of the first game would have never thought that this small invention of his would become such a big thing in the near future. But gaming is a big thing! It really is! 
Gaming on the current time is not limited to any kind of enjoyment or fun only. It is something bigger and better than that. Gaming is now responsible for running someone's home because it is now one of the biggest source of incomes.
It will be hard to believe but it is a true fact that hangers today income more than some of the biggest businessmen! Hell yeah! People, who are called streamers, play these games live for their audience. This is called live streaming bruh! And this brings money!
If anybody has noticed a steamer or has been watching a steamer for a long time, he will notice that a game has to sit for countless hours and play games to impress his audience.
The biggest streamers of today once had to play for at least six to seven hours altogether! Not only streamers play a game for long hours, even the proper game freaks play for countless hours. And frankly speaking, sitting in a constant position and playing a game for six or seven hours straight is not that easy!
It is not that easy until the platform on which the gamer is sitting is comfortable. And what is that platform? A small chair! Yes, a small chair is the primary and main reason for gamers to play for long durations.
And gaming does not involve any of those regular chairs. Specially made chairs called gaming chairs are available only for gamers.
Since these gaming chairs are very necessary, we have made a list of some really awesome and comfortable chairs which will aid gaming for long hours, in case any of our readers wants to be a gamer or streamer!
Here is the List of Best Gaming Chairs:
RESPAWN Skull Trooper V Gaming Chair: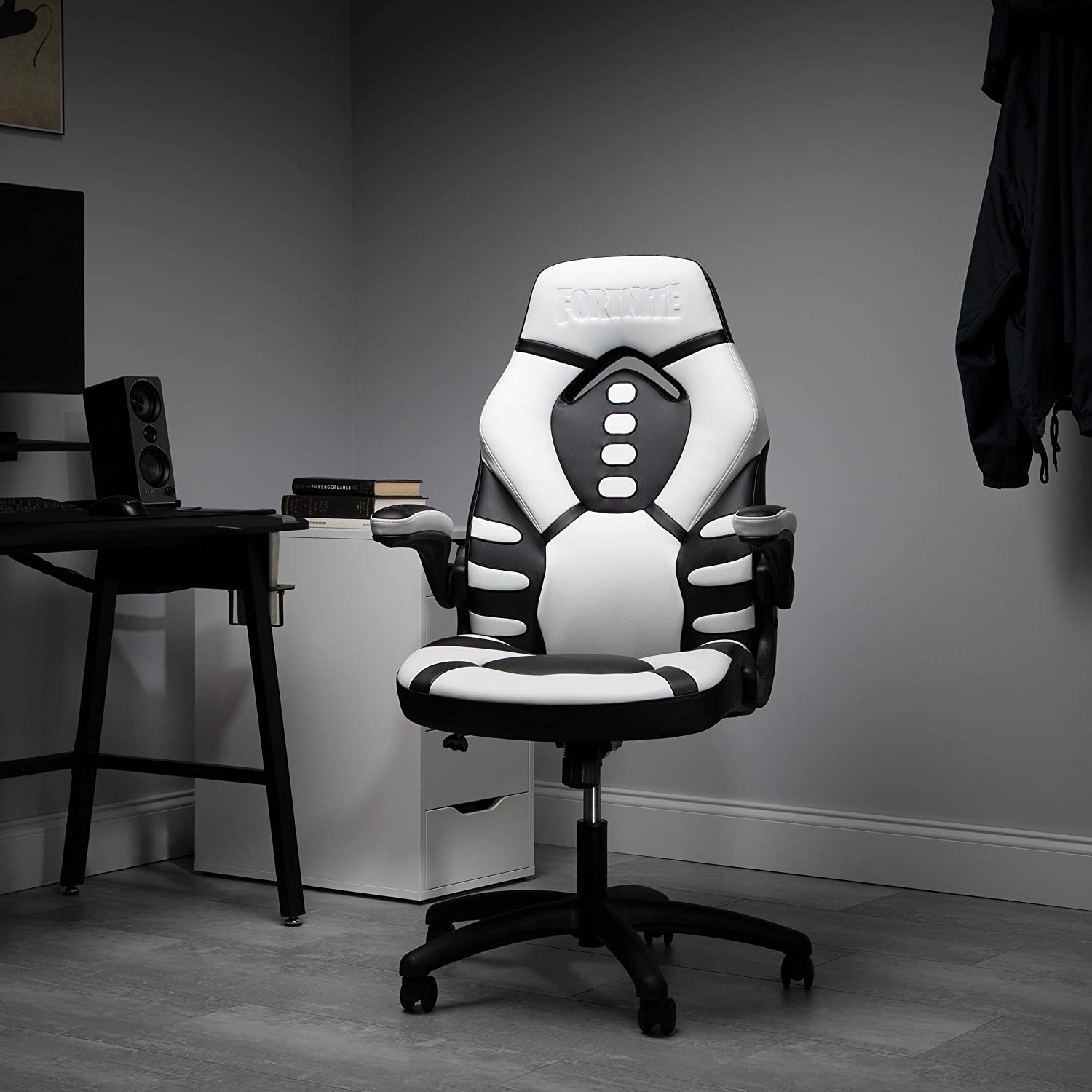 Buy From Amazon
If anyone is going to ask me, then I'll tell that this chair is one of the best looking chairs that I have ever encountered and yeah, it has a durable performance as well! The Respawn company brings for the Fortnite lovers a gaming chair with the Fortnite theme! 
The Respawn Skull Trooper V Gaming Chair is the limited edition Fortnite themed chair which is made with a blend of God's performance as well as luxury. It is a racing-style chair styled with the famous Skull Trooper Character from the game of Fortnite and had been one of the most bought chairs online! It is black and white skeleton themed chair which looks great and has a Fortnite logo embossed on the headrest. 
Coming to the features, it has a high back with segmented padding and inbuilt head supply. It has flip up arms which is adjustable and the back can recline at an angle between 90° and 105°.
Other ergonomic features like centre tilt, tilt tension and height adjustment are available too! It is stain-resistant and is made up of heavy-duty steel, PVC, Vinyl and Bonded Leather. Smooth roller casters are present to provide mobility.
---
OFM Generation 1.0 Racer Style Gaming Chair: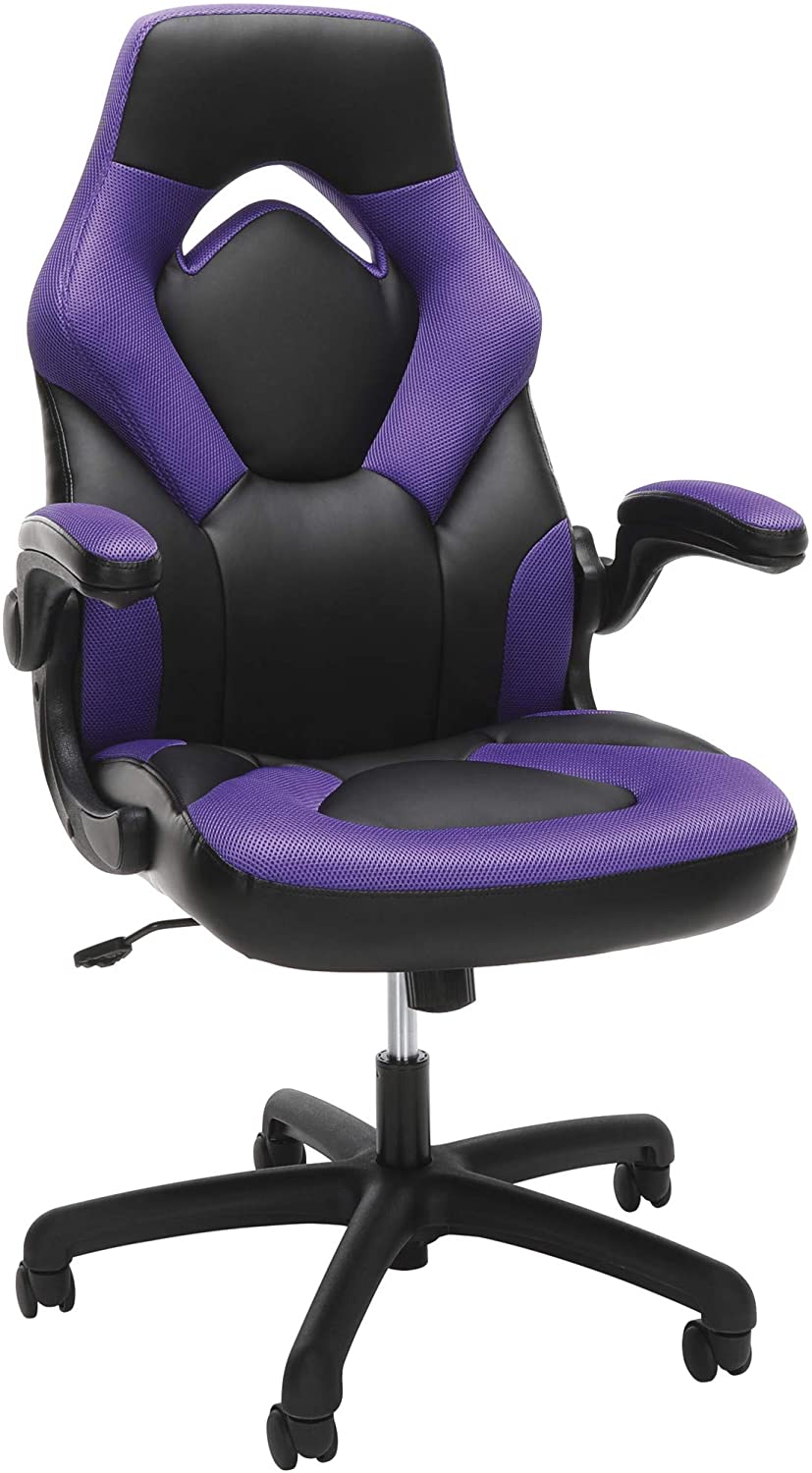 Buy From Amazon
The OFM Generation 1.0 is a specially designed gaming chair mainly for the ones who have the guts to spend a whole day gaming! The OFM ESS 3085 PUR Generation 1.0 is one of the most comfortable chairs at a reasonable price. 
The chair is made for both long hours of gaming or any desk work. It is a smooth, beautiful and comfortable chair which is completely adjustable and customizable according to the needs of the user.
It is made keeping in mind the ergonomic design with contoured segment padding, integrated padded headrest and padded arms. It is built with a blend of wood and sandwich.
Various customizable features available include height adjustment, centre tilt control, flip up arms and 360° complete swivel. For all the aggressive gamers, the chair is made with a design of SofThread Leather and contrasting coloured upholstery. It is available in nine different colours.
---
KingSo Adjustable Gaming Chair: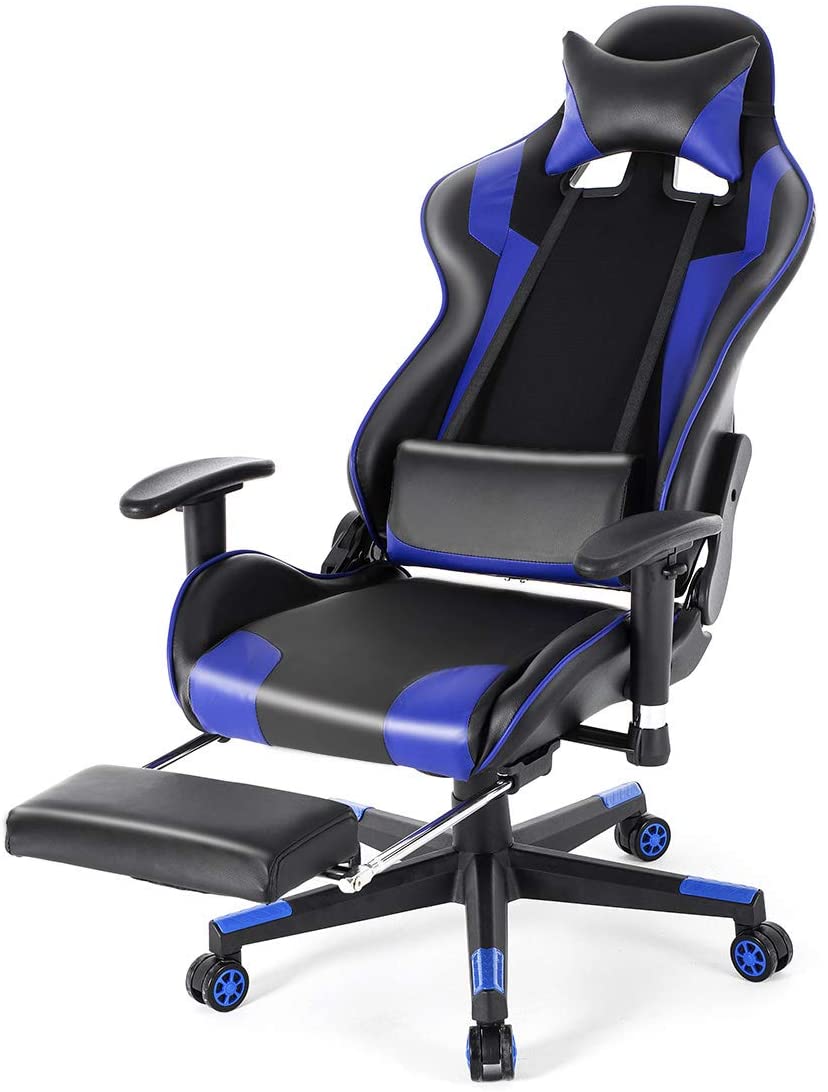 Buy From Amazon
The KingSo Multi-adjustable gaming chair is one of the most comfortable and spacious gaming chairs available or in the market. In fact it is one of the best-reviewed and most bought gaming chair online!
The KingSo Adjustable Gaming chair is an awesome chair with the whole body frame badge up of steel thus making the chair strong and sturdy for long use.
It has a classic and luxurious design and has been ergonomically designed keeping in mind there intense gaming sessions or any kind of relaxation or long hours of work. It has an angular adjustment feature where it can bend from 90°-180° completely and can be laid down like a bed for resting.
The adjustable headrest and lumbar cushion are very comfortable aided by the retractable footrest. The backrest is adjustable along with the rotatable armrest. The Nylon 5-Claw Universal wheels, Nylon smooth-rolling careers, and heavy-duty base take care of the stability and mobility of the chair!
Related: Best Gaming PC's
---
Go plus Massage Gaming Chair: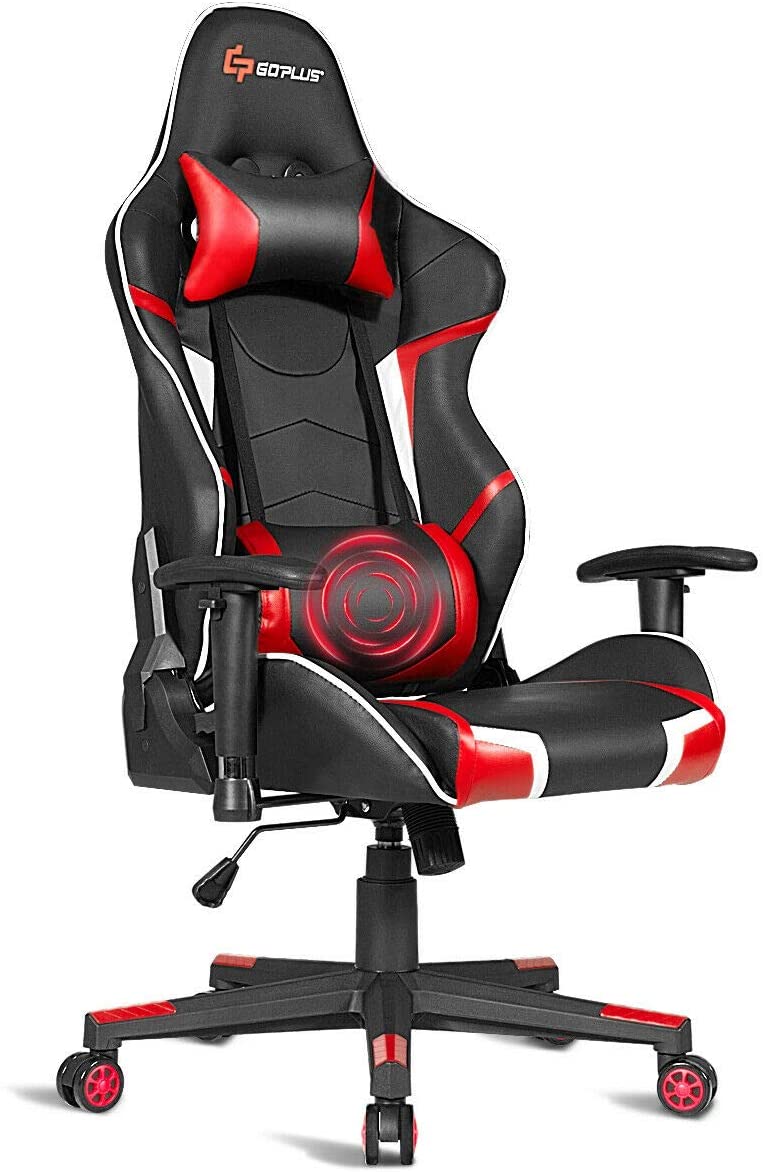 Buy From Amazon
So what now? Go Plus has brought for the players a proper gaming chair and thus one has an inbuilt massager! Now gaming brings along with it relaxation as well!
The Go Plus Massage Gaming Chair is a greatly designed chair with an ergonomic design with a detachable head and lumbar cushion. The lumber cushion is the main attraction because it contains the motors for massaging the neck portion.
The chair backrest is a wider one and is adjustable where it can angle itself from 90°-150° angle thus making it a laying bed for a short relaxation break. The handrails are adjustable as well and they can be moved up and down as per requirement.
The complete chair is a sturdy one with steel structure and the 5 Claw smooth-rolling casters disperse the pressure and make movement easy. The backrest, lumbar and head cushions are filled with different matters for different functions. It is available in three different colors.
---
Homall Ergonomic High Back Racing chair: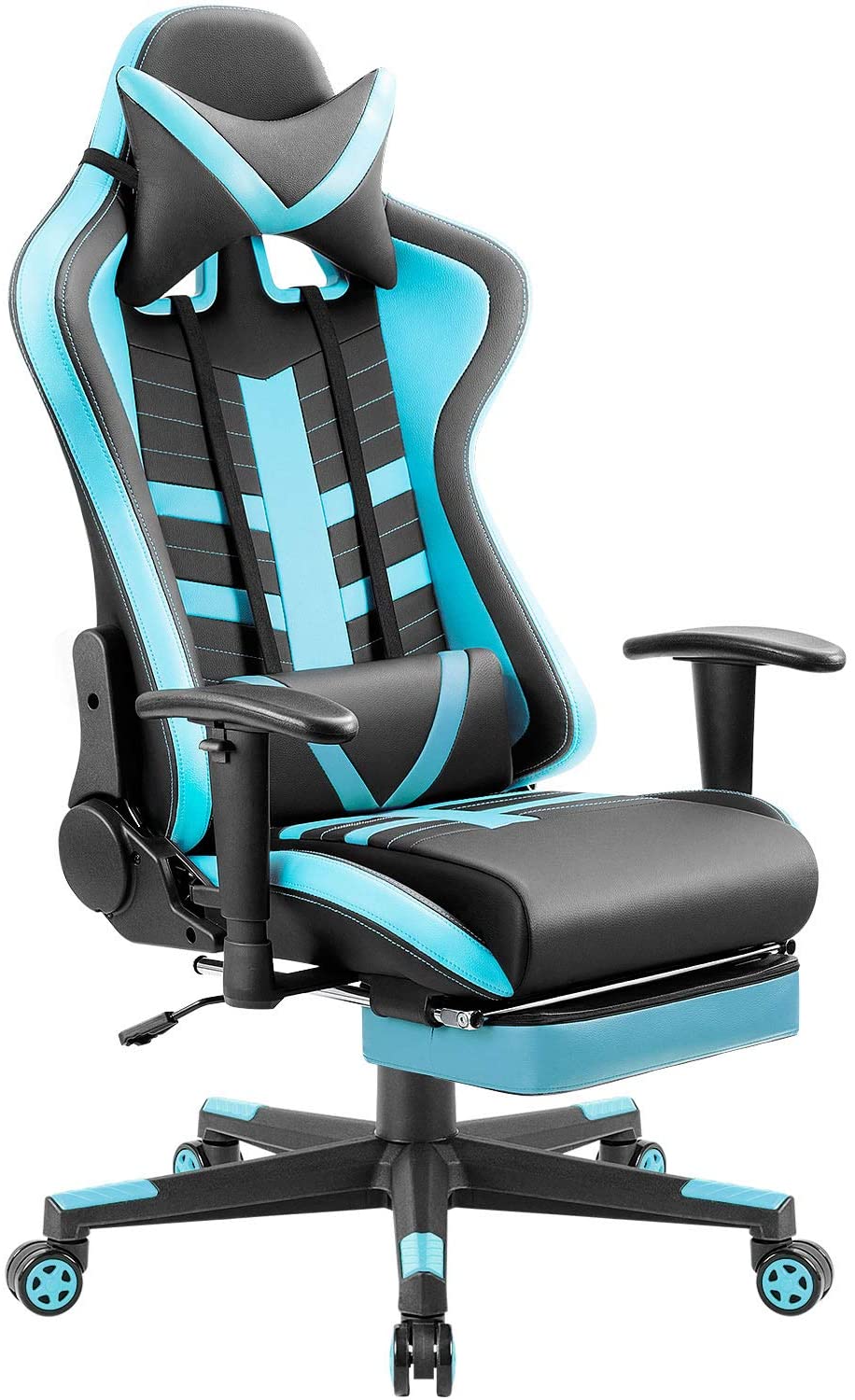 Buy From Amazon
The Homall Ergonomic High Back Racing Style chair is designed for all the gamer's who have a plan to spend their whole lifetime in front of their computer screens! It is available in 5 colors.
The chair is a greatly designed chair that is made up of 100% legit PU Leather. The chair contains a headrest, armrests, lumbar region rest pad but no footrest. The backrest is a complete adjustable one where it can bend from about 90° to 180° to make itself comfortable enough for a power nap or soonest.
The 360° swivel function ensures that players can move from their computers to the dinner table or the bookcase with a whoosh! The vertical adjustable armrest and removable headrest pillow and lumbar cushion are great additions.
The charity is made up of high-quality legit PU Leather and has a thick padded bucket seat. The chair is completely string and sturdy with the body frame made up of Heavy-duty steel.
---
Dowinx Racing Style Gaming Chair: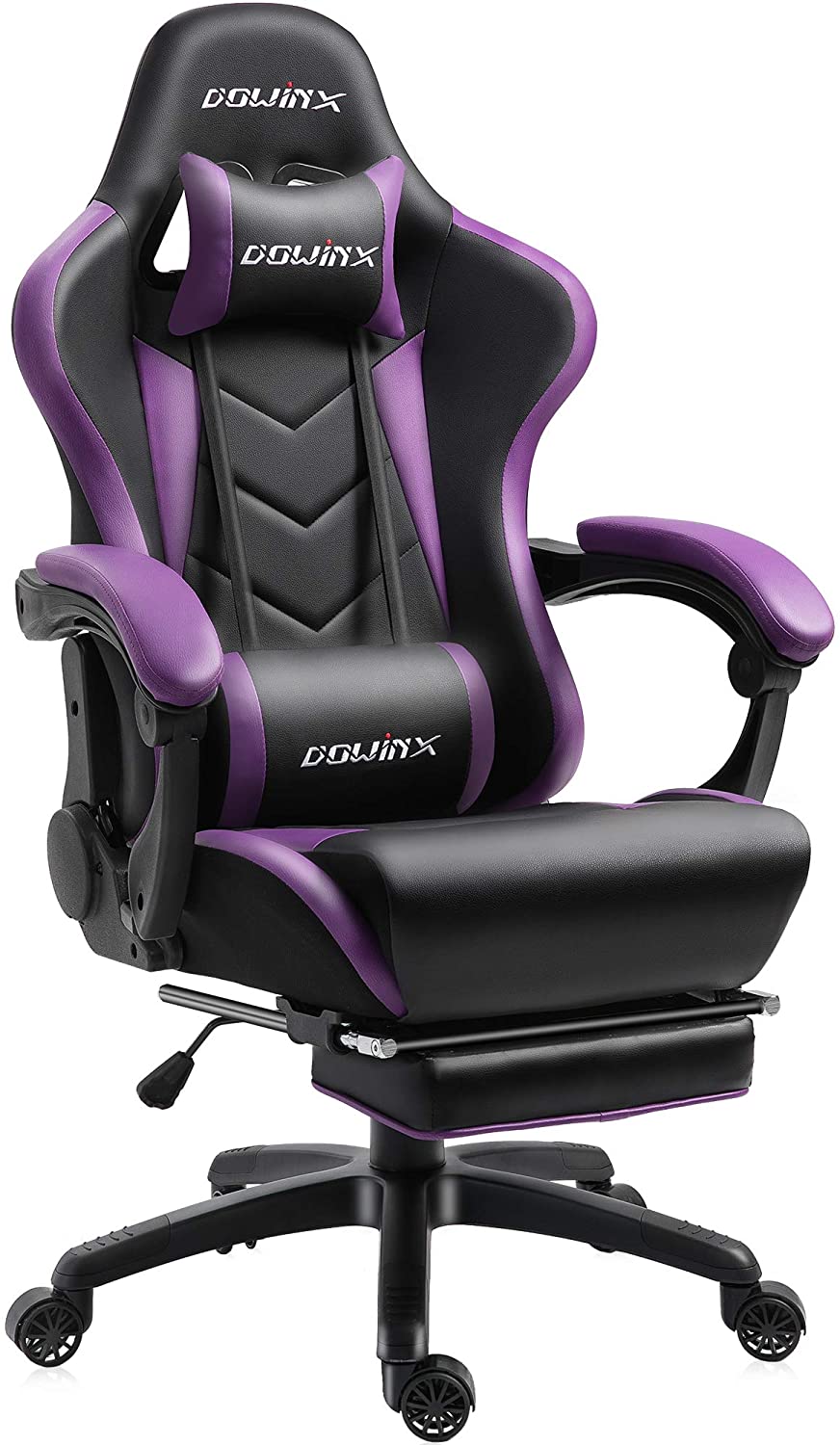 Buy From Amazon
The Dowinx Racing Style Gaming Chair is specially designed for those players who are either beginners in the streaming business or are seated in front of their PCs for a long, long duration. It is available in only one single color.
The Dowinx Gaming Chair is special because it has an inbuilt massager both near the neck region and lumbar region so that players sitting for long durations can have a soothing massage whenever they are tired or exhausted.
The massagers are USB Cable Power Supply massagers which can be powered up just by connecting to the computers or main power supply or even power banks in the USB port! The 90°-180° reclining action makes the chair an adjustable bed and is aided by the adjustable seat height, headrest, lumbar test, and footrest. 
Another notable feature is the Wind Back which aids multipoint body contact to reduce the pressure on the spine. The chair has 360° swivel and smooth-rolling casters for mobility as well. The strong and sturdy steel body provides strength.
---
Arozzi Verona V2 Advanced Racing Chair: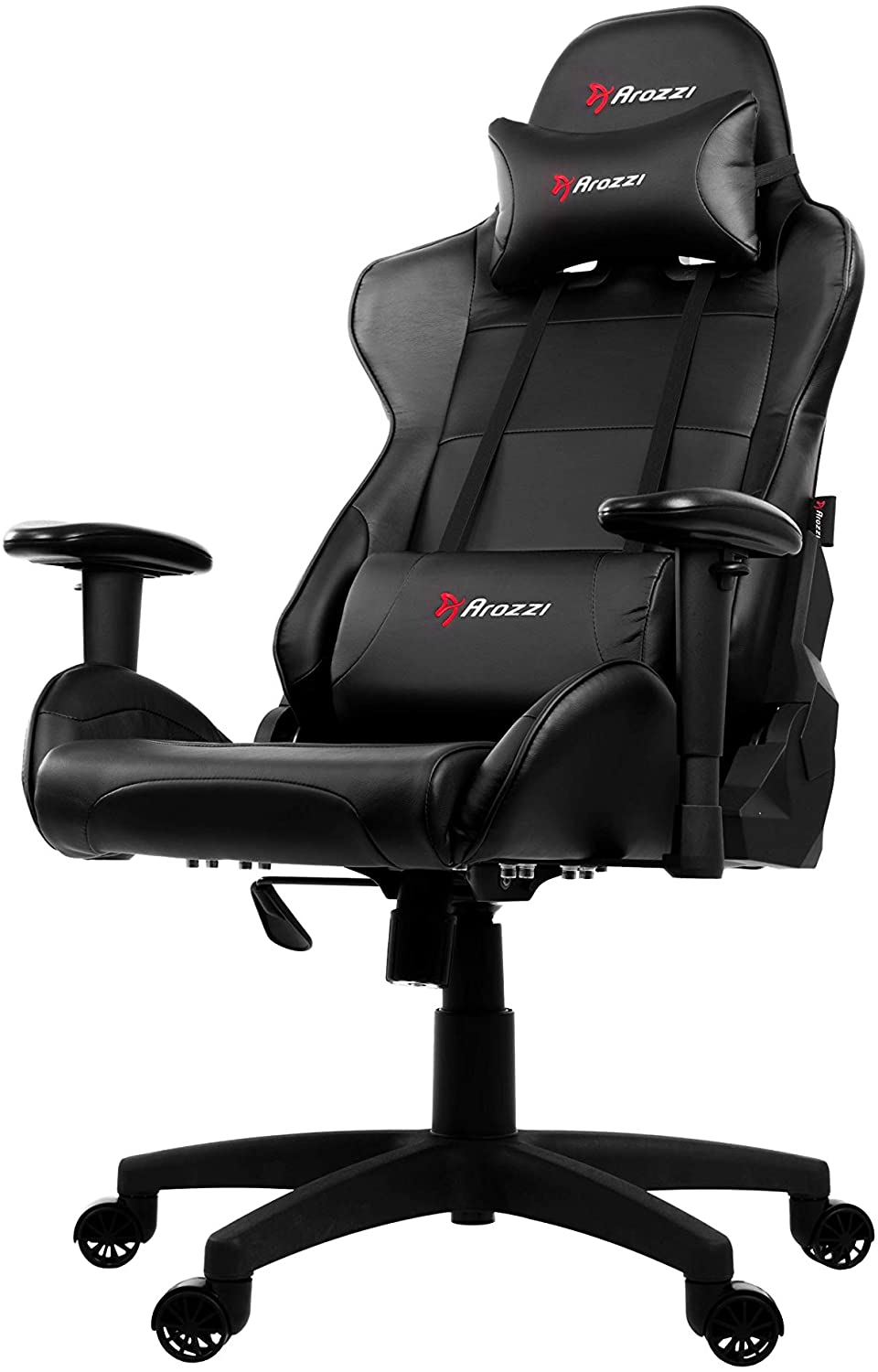 Buy From Amazon
AROZZI Verona V2 is one of the simplest looking chairs in the market. But as the saying goes that everything that looks simple isn't that simple, the chair in itself has a lot of awesome features to make one hell of a desirable one.
The chair is ergonomically designed and beautifully built with a blend of sturdiness and luxury. The chair receives great stability and strength from the heavy-duty steel – but it's lightweight – and iron body frame which makes it eligible for long use.
It can adjust a maximum weight up to 220 lbs. The headrest and lumbar rest pad are present and both are stuffed up with very soft material to give a mild relaxation. The footrest is detachable.
The 360° swivel feature and the rolling casters provide great mobility. The angular reclining action makes the chair elastic and movable within an angle of 90°-155°and the armrests can be adjusted according to required height of the user.
---
Muzii BIFMA Certified Gaming Chair: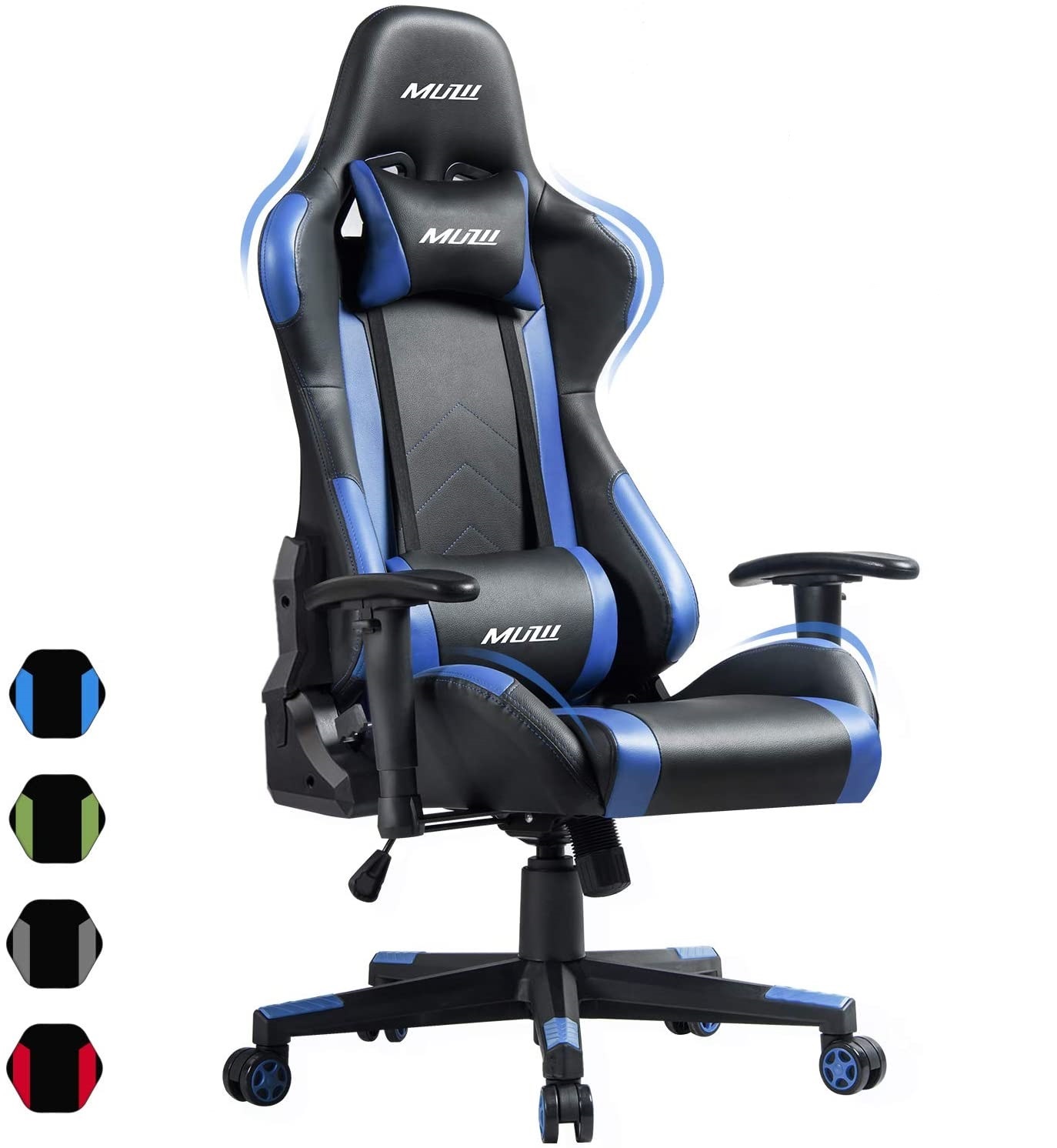 Buy From Amazon
The Muzii Gaming chair is an awesome and greatly comfortable gaming chair designed for the multi-purpose uses like gaming, office work, desk work or relaxing. It is available in a total of nine colours and is a nice chair at a price of around ₹ 12K.
The Muzii Gaming chair is an ergonomically designed chair with included headrest, footstool, lumbar rest pad and neck rest pad. The chair has a high back which is wide enough to enhance the longitivity of working and it is designed to curve and protect the natural shape of the back.
The footstool is retractable and relaxing and opens wide. The armrest is adjustable according to the use and the seat height can also be modified. It has an angular reclining feature where it can recline within an angle of 85°-180° and the rocking feature aids a power nap.
Other features include the 360° swivel action and the smooth roller casters which provide mobility. The headrest pillow and lumbar cushion are removable.
---
GTRACING Gaming Chair: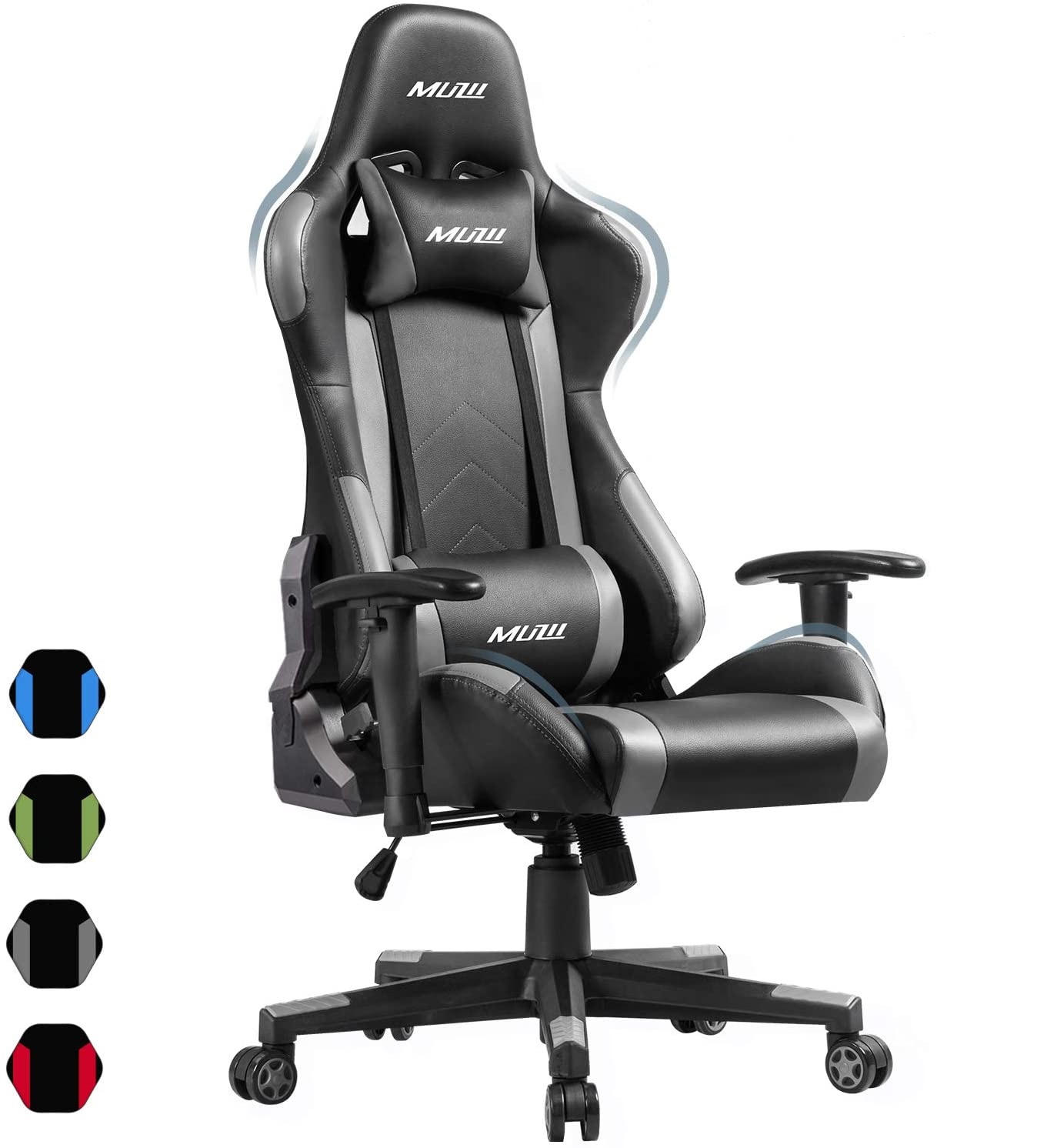 Buy From Amazon
Within a price range of ₹13.5K, GTRACING had brought for the players an awesome and cool gaming chair which had in-built Bluetooth speakers for enhancing the gaming experience. The chair comes in only one colour 
The GTRACING Gaming chair is a strong and sturdy chair built with strong but lightweight metal frame. But the highlight of the chair is the in-built Bluetooth speakers.
The chair has two Bluetooth speakers installed which when connected to any Bluetooth enabled device like smartphones or tablets or any other device give an awesome surround sound with solid bass and clear audio.
It can run up to 6 hours on a single charge. It is ergonomically designed with adjustable seat height and armrests which can go up, down, left or right. The reclining action encores it to be adjusted from 90°-170°.
The chair is made up of PU Leather and cushions are stuffed up with high density foam. The heavy-duty chair has provides great stability and the Nylon smooth rolling casters provide mobility. The headrest pillow and lumbar cushions are removable.
---
Hbada Racing Style Gaming Chair: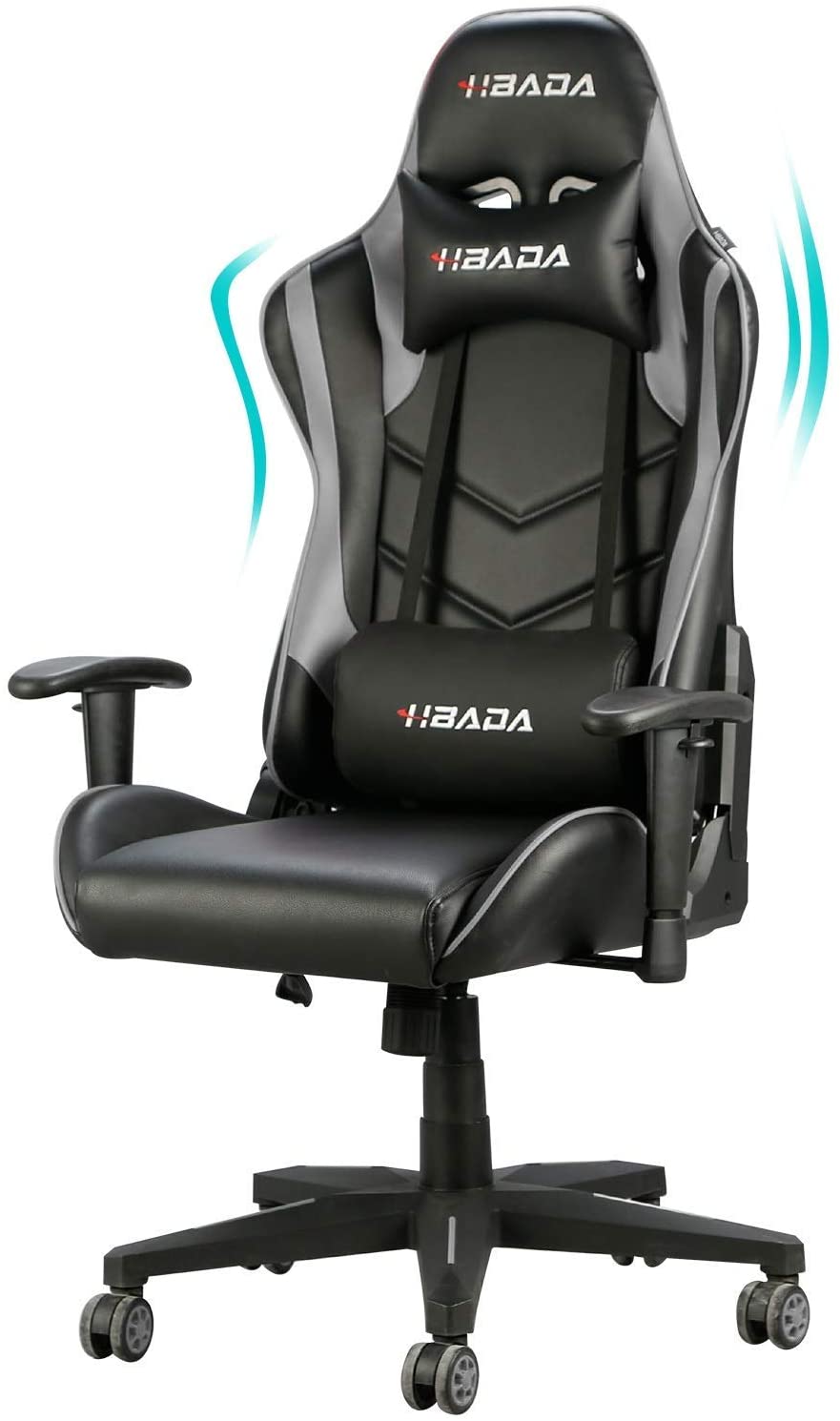 Buy From Amazon
The Hbada Racing Style Gaming Chair is one of those chairs which performs the function of a chair as well as a resting platform after a long gaming session. It is available in 3 colours and at a price of ₹ 11K, it is a gaming chair worth buying.
The Hbada Gaming chair is an ergonomically designed chair with attached headrest, armrest and lumbar rest pad along with a large seat for comfortable usage.
The chair is made in a bucket seat design so that players and users can have a great jolly time while wearing on it. The chair is strong and sturdy with a heavy-duty steel frame and the outer designed is made completely of PU Leather.
The reclining action makes the chair adjustable within an angle of 90°-155° and can be adjudged along a height of 7cm max. The armrest can be flipped up and down along with the adjustable height and the seat height can be modified according to will.
The Rocking feature makes it usable during a short relaxation period to reduce stress. It comes in two versions – Basic version with no footrest and Footrest version with an attached footstool.
---
These are the 10 best gaming chairs available in the market currently:)