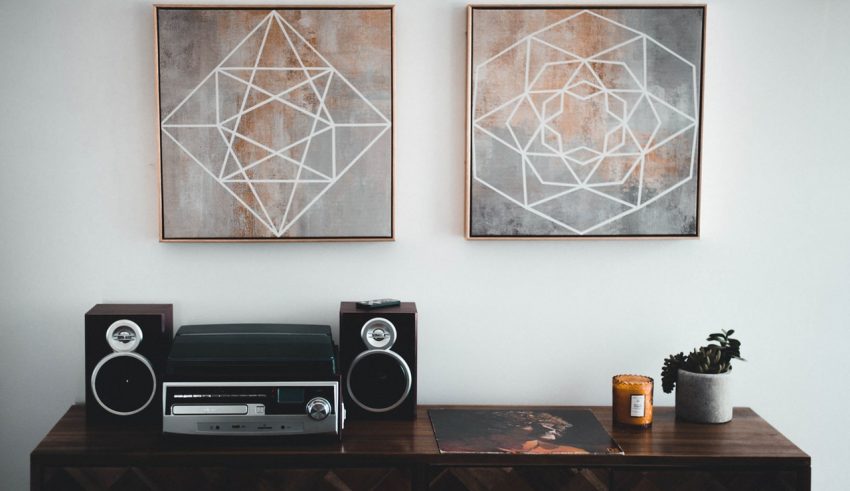 A pair of good portable speakers is essential for any gathering. Even if you're someone that watches movies at home, a good pair of portable Bluetooth speakers can help you improve your experience drastically.
The best portable Bluetooth speakers also improve your music listening experience. Therefore, regardless of whether you're doing some work or running some errands around the house: a good pair of speakers will keep you entertained. No need to keep your headphones plugged on anymore as you can now use your speakers to brighten up your home with your music.
The next question you'd have is: what speakers to choose within a limited budget range? Well, fret not.
Here's a list of the best portable Bluetooth speakers under ₹3000:
JBL GO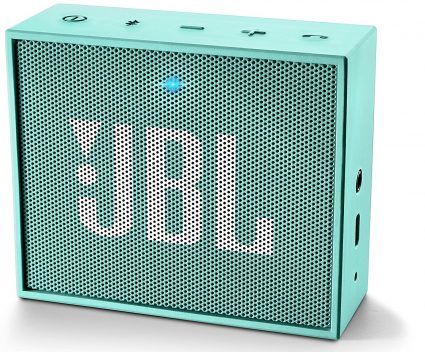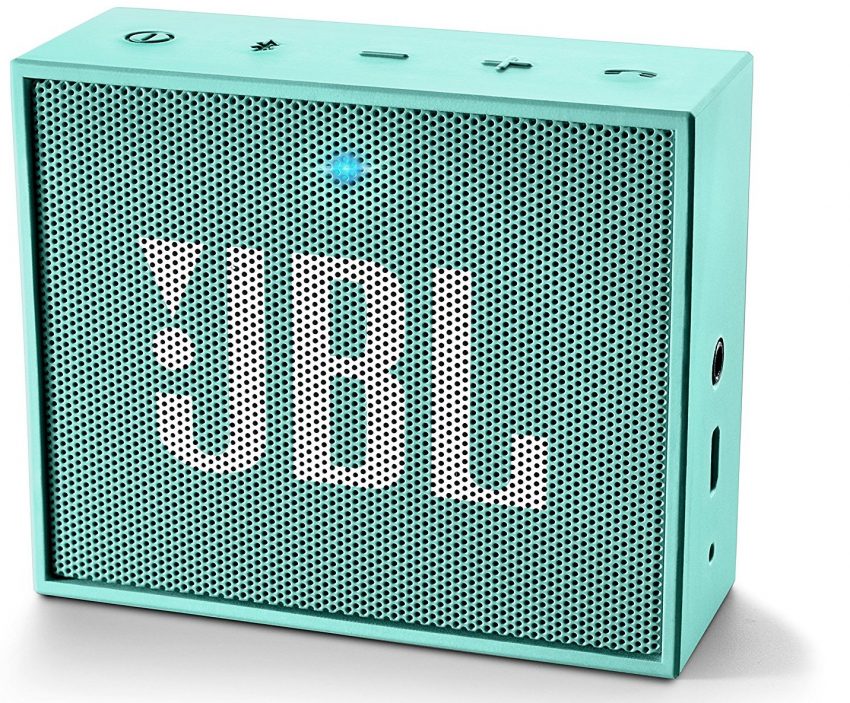 Product Dimensions : 8.3 x 3.1 x 6.8 cm | Item Weight : 132 gm
[ryvl video_url="https://www.youtube.com/watch?v=sG55kUxqjhQ" auto_play="yes"]

[/ryvl]
The JBL Go is a block-shaped Bluetooth speaker which is lightweight with just 130 grams and is small enough to fit into bags. Its dimensions of 82.50 x 29.95 x 67.91mm allow it to even fit inside a trouser pocket.
The overall sound quality of the JBL Go is definitely better with the audio performance which is reasonably loud without distortion till about 60-70% of the maximum volume level.
The JBL Go can response up to 3 m if there is no hindrance in between and, can last at least 5 hours on a single charge, which suffices most of the purposes.
If you want a well-designed Bluetooth speaker at an affordable price and further that can intensify your laptop's sound, the JBL Go could be the best bet.
Logitech X300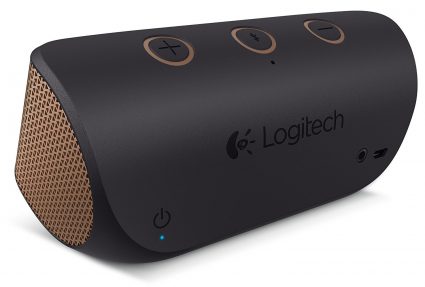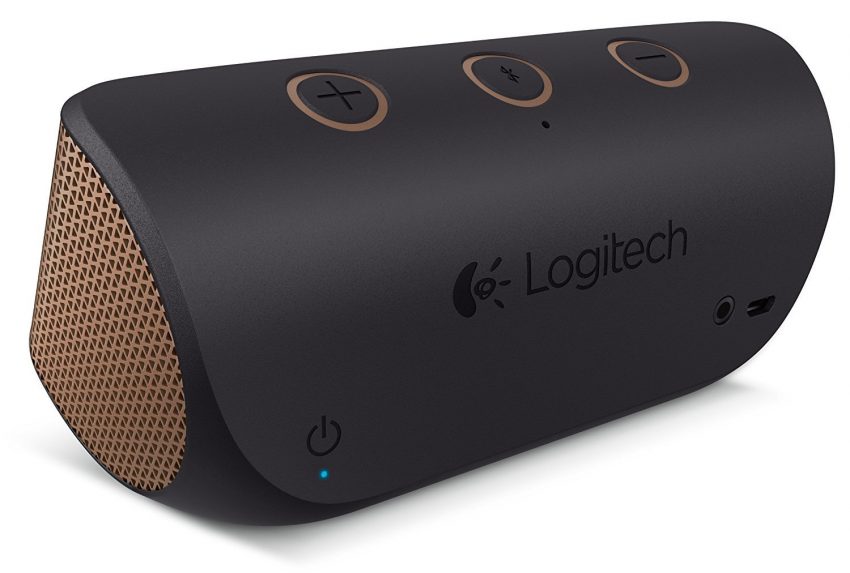 Product Dimensions : 15.2 x 6.9 x 7.1 cm | Item Weight : 336 gm
[ryvl video_url="https://www.youtube.com/watch?v=BY_HTJguxsQ" auto_play="yes"]

[/ryvl]
The Logitech X300 is a compact wireless Bluetooth speaker which offers decent sound for its size and is well-designed with a reasonable price. It has a built-in microphone for calls and can be laid down horizontally or stood up vertically.
The X300 is about six inches long and three inches thick. It's fairly light when compared to other Bluetooth speakers, at 335 grams.
The X300 is loud, especially for its size and has great audio quality when playing pop and classical tracks which can easily fill an average sized room without any distortion or loss in clarity.
The X300 has a decent battery life that can last up to five hours of continuous playback. Overall, the Logitech X300 is a well-built speaker, that can fit and place wherever you want as it finds firm footing on most flat surfaces whether you put it horizontally or vertically.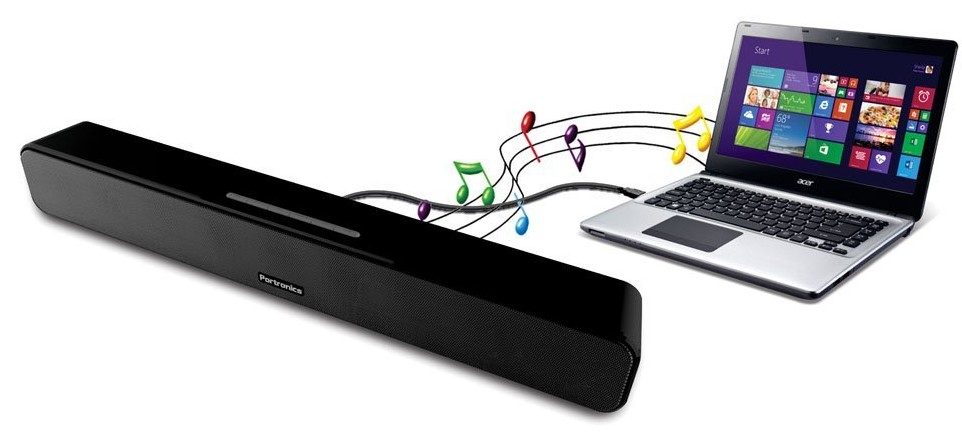 Product Dimensions : 45.6 x 5.8 x 6.4 cm | Item Weight : 1.35 Kg
[ryvl video_url="https://www.youtube.com/watch?v=23fejEC_FIs" auto_play="yes"]

[/ryvl]
Portronics POR-118 Portable Pro BT-II is a portable Bluetooth Speaker which offers quality sound. It has excellent Bluetooth connectivity which ensures clear sound and can be connected easily with all Bluetooth enabled devices such as Tablets, Laptops, iPhone 5, smartphones or regular mobile phones with Bluetooth connection.
Portronics POR-118 has one Aux and one micro USB port Aux port allows users to connect other devices, while the USB port can be used to charge the speaker. The amplifier has a marked output of 5 W, which renders a great listening experience along with remote control through which you can easily control sound, volume without using buttons.
The Portronics Pure Sound Pro BT 2 Por 118 Speaker has a powerful inbuilt Li-ion battery that supports long hours of playback time which allows you to enjoy your favourite music loud and clear wherever you want.
It comes with multiple added features that make it worth buying. Some of these features include two strong 5 W Drives along with two passive radiators, provision to use Micro SD card, FM connectivity with internal antenna and more.
Zaap AQUA BOOM Waterproof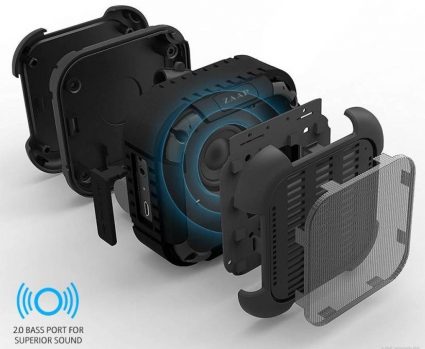 Product Dimensions : 9.5 x 8.5 x 4 cm | Item Weight : 290 gm
[ryvl video_url="https://www.youtube.com/watch?v=AIHEr49VHYk" auto_play="yes"]

[/ryvl]
Rugged, lightweight and stylish, ZAAP Boom is a waterproof speaker with immersive 360-degree sound including rich deep bass designed for travellers& music lovers.
Since it is IP67-certified, this speaker is waterproof, shockproof, snow and dust-resistant, making it perfect for your outdoorsy lifestyle. ZAAP Boom features 7 W drivers to offer a 360-degree sound quality in high definition.
The 1500mAh battery of this speaker is rechargeable and can provide up to eight hours of non-stop music with a single charge. Whether you're travelling or you're swimming you can easily listen to your favourite tracks on this portable ZAAP Boom waterproof speaker.
Boat Stone 1000
Product Dimensions :27.8 x 11.9 x 12.5 cm | Item Weight : 1.5Kg
[ryvl video_url="https://www.youtube.com/watch?v=bhAWPZGaU9E" auto_play="yes"]

[/ryvl]
Get ready to groove on the rich sound quality of Boat Stone 1000 Bluetooth Speaker with a 14W speaker which produces louder bass and crystal-clear sound.
The boAt 1000 Bluetooth speaker not just has an appealing design but is also robust with an extended powerful battery of 3000mAh, which can last at least 10 hours and enables you to chill with your friends even longer and party even harder.
That's not it, stone 1000 comes with a talk time of up to 20 hours. This rugged wireless speaker is IPX5 certified water resistant and shock resistant that protects the speakers from splashes and spills but you can't submerge this under water.
The speaker is quite big in size, so there is a handle also which helps you to carry it around. The speaker sounds loud and clear which is perfect for music to movies, parties and even for your daily life.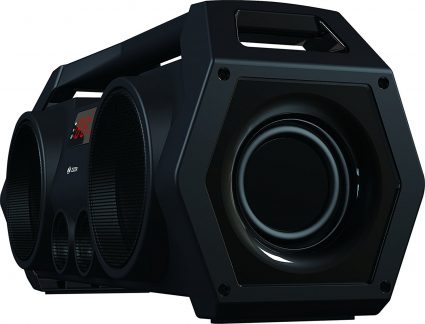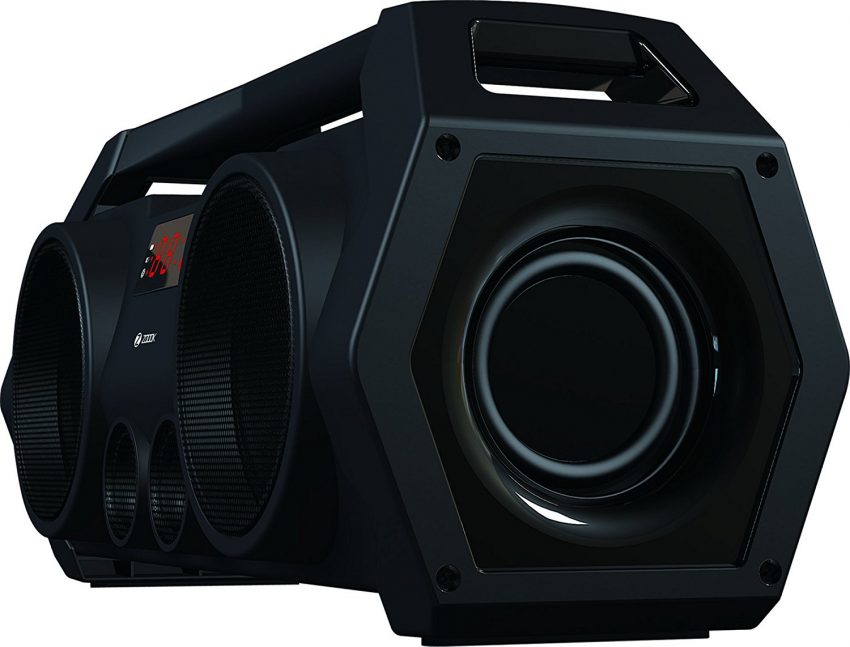 Product Dimensions : 39 x 16 x 19 cm | Item Weight : 2.46Kg
[ryvl video_url="https://www.youtube.com/watch?v=zK9TjDOBOCY" auto_play="yes"]

[/ryvl]
Experience awesome music with the ZOOOK Rocker BoomBox+ Portable Bluetooth Speaker System! It has two 32-watt indoor-outdoor speakers that make your party even grander with thundering bass from the passive radiators.
You can control it from your device or the top-mounted bass/treble and volume controls. You can easily carry it through the handle and can party anywhere you want.
It can be easily adjusted by the top-mounted bass/treble and volume control button. It has a rechargeable battery which lasts more than 9 hours' playing. So, enjoy good sound quality and battery backup at a reasonable price with the ZOOOK Rocker speaker.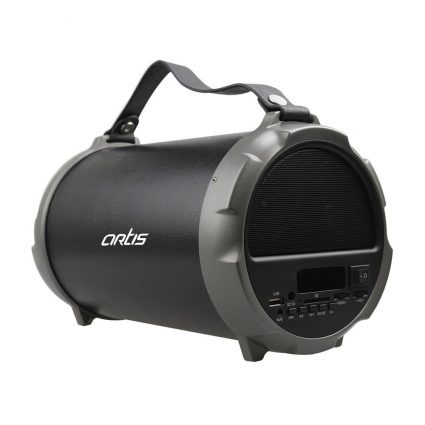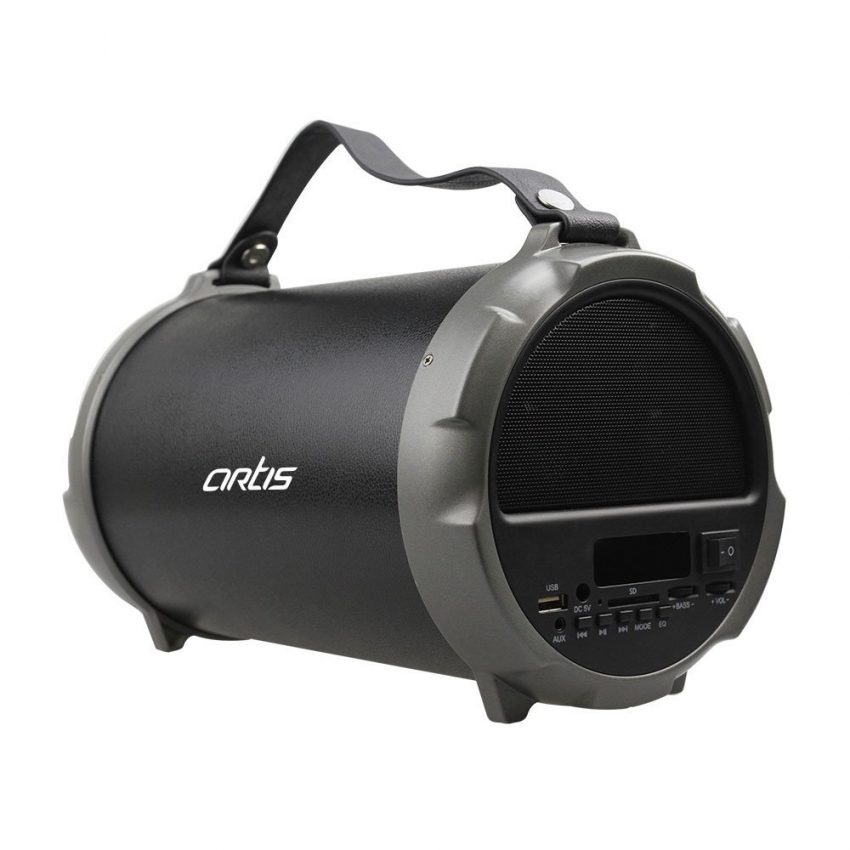 Product Dimensions : 30 x 18 x 20 cm | Item Weight : 1.4Kg
[ryvl video_url="https://www.youtube.com/watch?v=2OlZ69AMp3M" auto_play="yes"]

[/ryvl]
Artis BT405 is a compact outdoor Bluetooth Speaker with LED display. This speaker offers excellent quality music with sound effects which are powerful & loud at the same time.
It can be connected wirelessly to your mobile phones and other Bluetooth enabled devices.
The pairing process is simple and user-friendly in this speaker and it has been equipped with the extra features of a USB port through which you can play your music by connecting a Pen Drive, an Aux in a slot to connect various other media devices, an SD Card reader with audio Playback & an FM radio to enjoy the latest tunes playing on the air.
It has 10 meters operating range which lasts up to 4.5 hours hence, it provides hours of entertainment at a reasonable price and you can carry it wherever you want whether it is a house party, cultural events, or even if you are hanging out with your friends.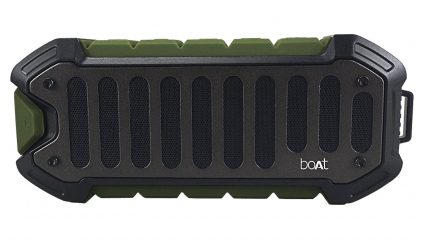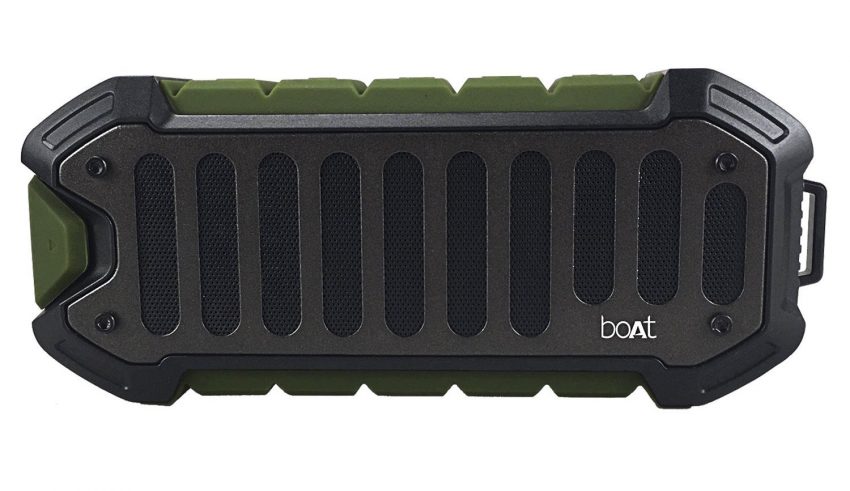 Product Dimensions : 19.9 x 8.2 x 5.7 cm | Item Weight : 503 gm
[ryvl video_url="https://www.youtube.com/watch?v=I8WFG2wr23Y" auto_play="yes"]

[/ryvl]
The Stone 700 is a speaker noted for its water resistance and drop protection. It supports Bluetooth v4.2 (low energy). The speaker includes buttons on top for power, volume, pairing and a multi-function button (play/pause/call accept) includes a built-in microphone for voice calls that works fine.
There are dual speakers inside that deliver 10W and can be connected using Bluetooth or a 3.5mm wired connection and it lasts almost 8 hours in a single charge. The sound is crystal clear with a good amount of bass, balanced sound quality and waterproof design.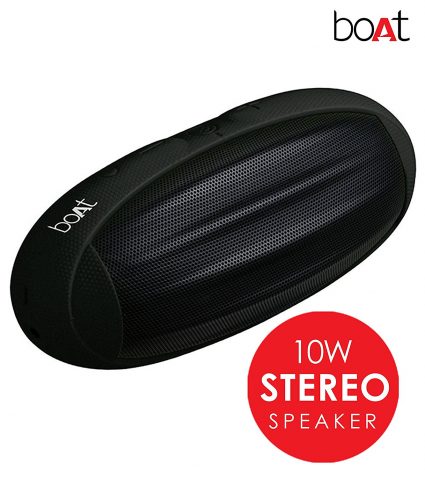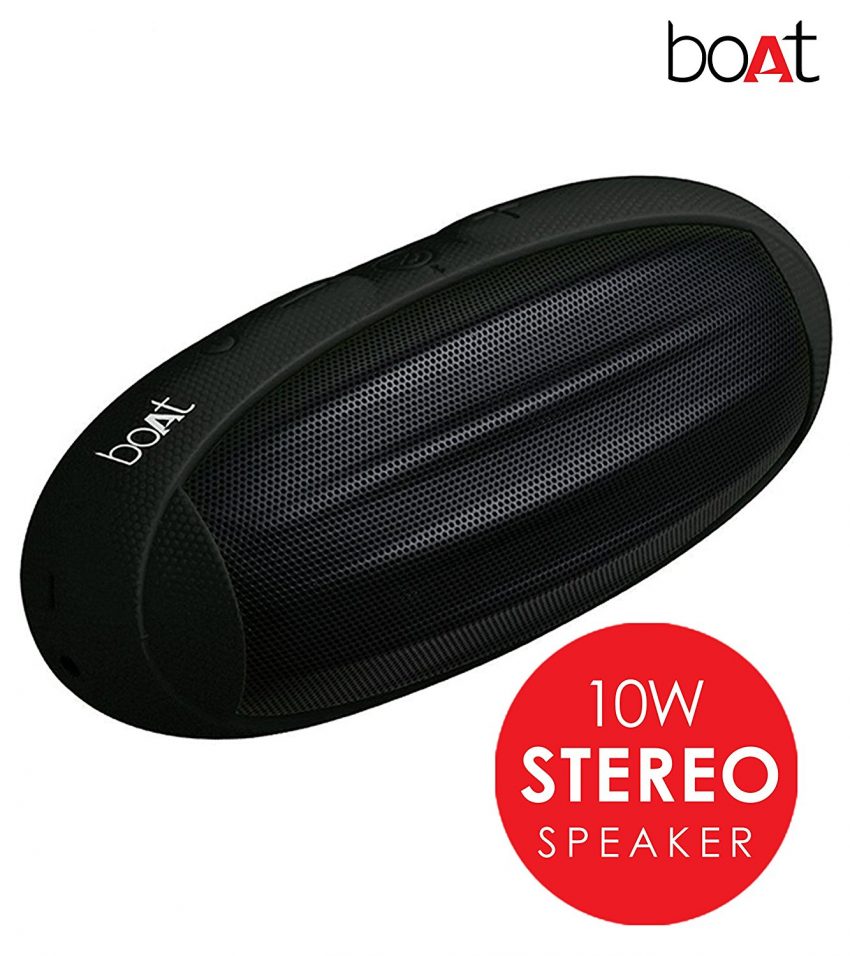 Product Dimensions : 19 x 8.1 x 8.1 cm | Item Weight : 490 gm
[ryvl video_url="https://www.youtube.com/watch?v=csAX93Napjc" auto_play="yes"]

[/ryvl]
Rugby speaker has a rugged body and powerful audio playback quality. Uniquely designed, this speaker system is compact and highly portable with a built-in microphone to capture and record sound.
The speaker has a great sound technology that reduces echo and cancels noise. It can amplify power up to 2 x 5 watts for a louder sound experience. We can connect BoAt Rugby speaker to multiple Smartphone and tablets to play music.
If you do not want to use Bluetooth option, then you can connect it with an AUX input and cable which allows you to connect your headphones, Smartphone and MP3 players to it. The battery has a capacity of 1800mAh hence the speaker lasts up to 8 hours so, enjoy longer hours of playback with Boat Rugby speaker system.

Product Dimensions : 27.8 x 12.5 x 11.9 c | Item Weight : 1.2Kg
[ryvl video_url="https://www.youtube.com/watch?v=WHyHJh2Mcnk" auto_play="yes"]

[/ryvl]
Zoook Rocker M2-Mean Machine speaker has A2DP Stereo Bluetooth playback. It can be connected through any Bluetooth-enabled device such as your mobile phone, notebook, or other portable audio devices.
The speaker can cover a range of 32-foot if there is no interference. If you do not want to use Bluetooth option, the 3.5 mm Aux Jack can be adapted to plug directly into your Speaker and you can listen to your preferred music no matter what media device it is on.
It is light in weight and also has a strap that makes it highly portable. It has a built-in 3 inches 10 Watt subwoofer which distributes incredible sound and delivers thumping bass that can be easily packed up and taken anywhere you want plus its cylindrical shape makes it easy to fit into any bag and is perfect for travelling.
Conclusion:
Along with good portable Bluetooth speakers, we'd also recommend getting a subscription to a music streaming service. That way, you can have your favorite tracks at your fingertips without needing to use YouTube constantly or rely on limited storage.
Which of these best portable Bluetooth speakers under ₹3000 did you like the most? Do let us know in the comments section