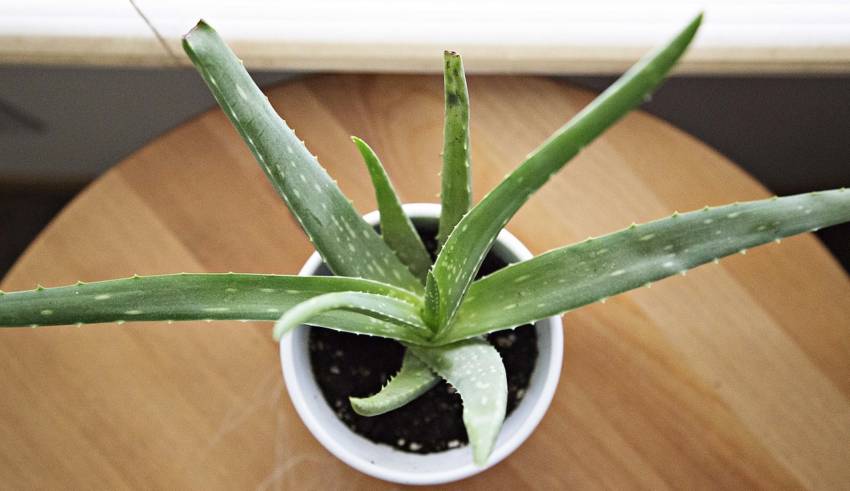 Aloe Vera, a natural ingredient works like magic in reviving your health. Aloe vera is rich in antioxidants and encourages cell reconstruction and growth. It helps to strengthen the immune system of our body. The juice because of it's anti-inflammatory properties is a boon for victims of arthritis. Drinking Aloe vera juice on a daily basis provides essential vitamins and nutrients to maintain healthy skin.
It helps in rejuvenating the skin from within and delays the aging process. For a healthy lifestyle, one should take a glass of aloe vera juice daily, first thing in the morning.
Aloe Vera has antifungal, anti-inflammatory, anti-aging, antibacterial, cooling and healing properties.
Aloe Vera promotes the uniform growth of cells and helps in the reduction of melanin secretion, prevents the occurrence of wrinkles, fine lines, blemishes, freckles, acne, rashes, sunburn and blackheads. It acts as an astringent, which seals the pores that help in retaining moisture and keeps the skin hydrated.
Aloe Vera is extremely effective if applied on the hair. It checks hair loss and cures dandruff. Men can use it as a natural aftershave.
Challenging lifestyles today require you to stay fit and healthy. While fitness is a trend, it is equally important to include healthy lifestyle. One of the inexpensive and readily available boons is the medicinal plant of aloe vera. Aloe vera has innumerable health benefits. It is easy to use and accepted by our body.  You can use the fresh gel from the plant or consume aloe vera juices available in the market.
Top 10 Indian Brands which supply Aloe Vera Juices are the following:
1) MSG ALOE NECTAR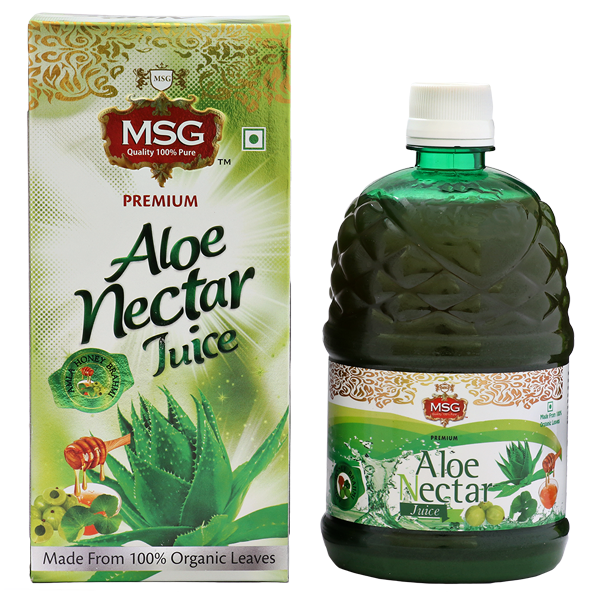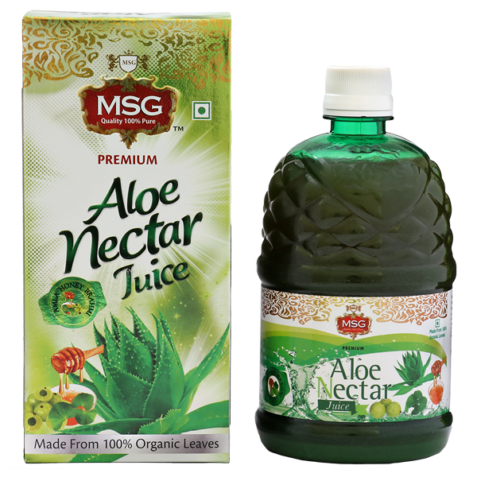 MSG Aloe nectar is a nutritional supplement with aloe vera as it's key ingredient.It is a registered trademark product of Sach Herbotech Products Pvt. Limited. This brand has brought you several other varieties to add to your health kit.It is cold pressed and should be regularly consumed for a complete body detox.
It is available to you in four unique combinations –  with Amla, Honey and Brahmi if you like it sweet, with Amla and Brahmi (sugar free version), With Safed Musli & Honey recommended for males, with Ashwagandha and Honey.
Aloe nectar with its four variants is a steal deal with price ranging from Rs.185 to Rs.225 for 750 ml.
You can buy Buy from here.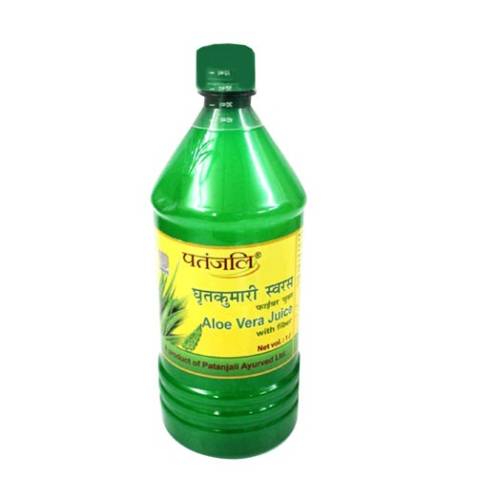 A trademarked product by Patanjali Ayurveda Limited. One of the best aloe vera juices produced in the country as per customer reviews.
It is available in two variants- pure aloe vera juice and aloe vera juice with orange flavor. The juice tastes bland and the package is not travel-friendly. The bottle displays a strict warning for breast feeding women and pregnant women from consuming the juice. You can either have the juice directly or mix it with water.
It is very efficiently priced at Rs.200 for a liter.
You can buy from Amazon.
List of All Products by Patanjali
3) ST. BOTANICA WHEATGRASS WITH ALOEVERA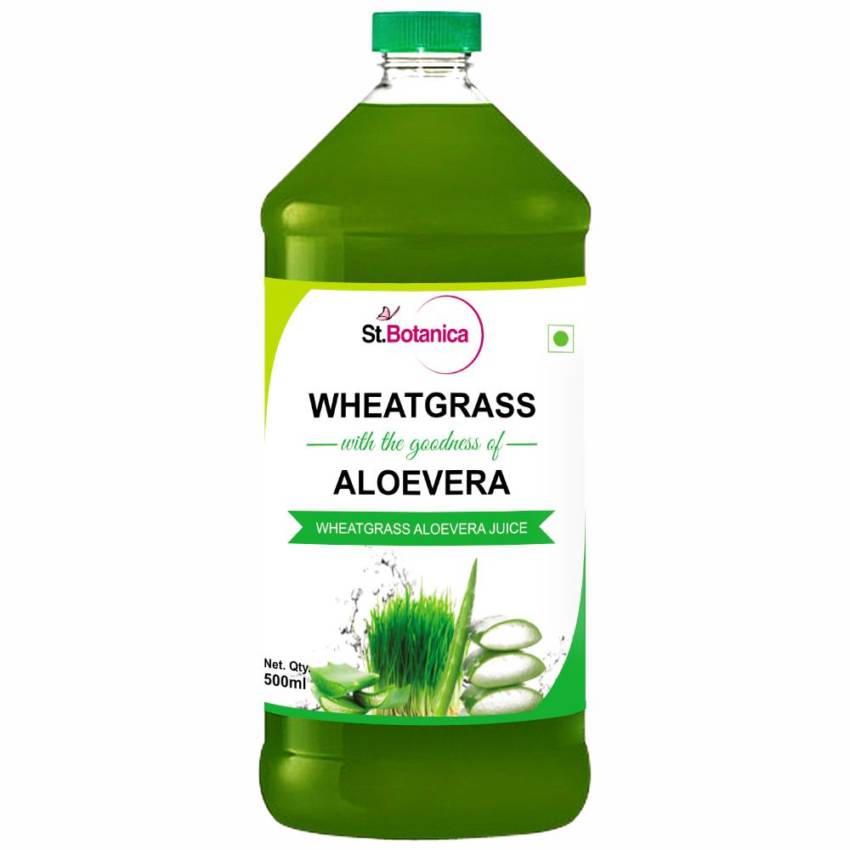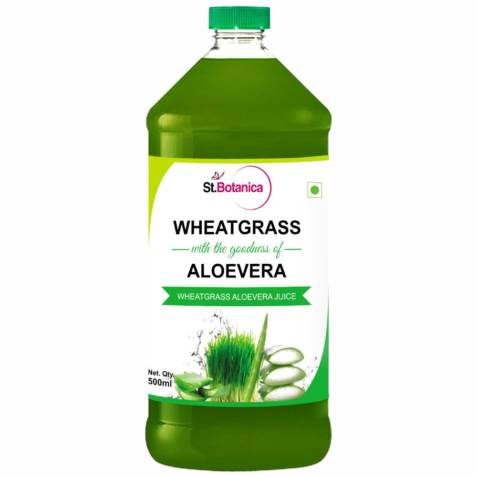 St. Botanica Wheatgrass Juice with Aloe Vera is rich in the power packed with nutrients. It is a mix of 60% wheat grass juice and 30% aloe juice and stabilizers.
Wheatgrass juice is a rich source of nutrients including amino acids, vitamins A, C and E, calcium, magnesium, and iron. Aloe vera juice contains folic acid, vitamins C and E. Wheatgrass juice contains up to 50% – 70% chlorophyll, which is an important blood builder and keeps it purified.
It acts as antibacterial and protects the body against diseases.
It is priced at Rs.349 for 500 ml. You can buy it from Flipkart.
[divider style="dashed" top="30″ bottom="30″]
4) NOURISH VITALS ALOE VERA JUICE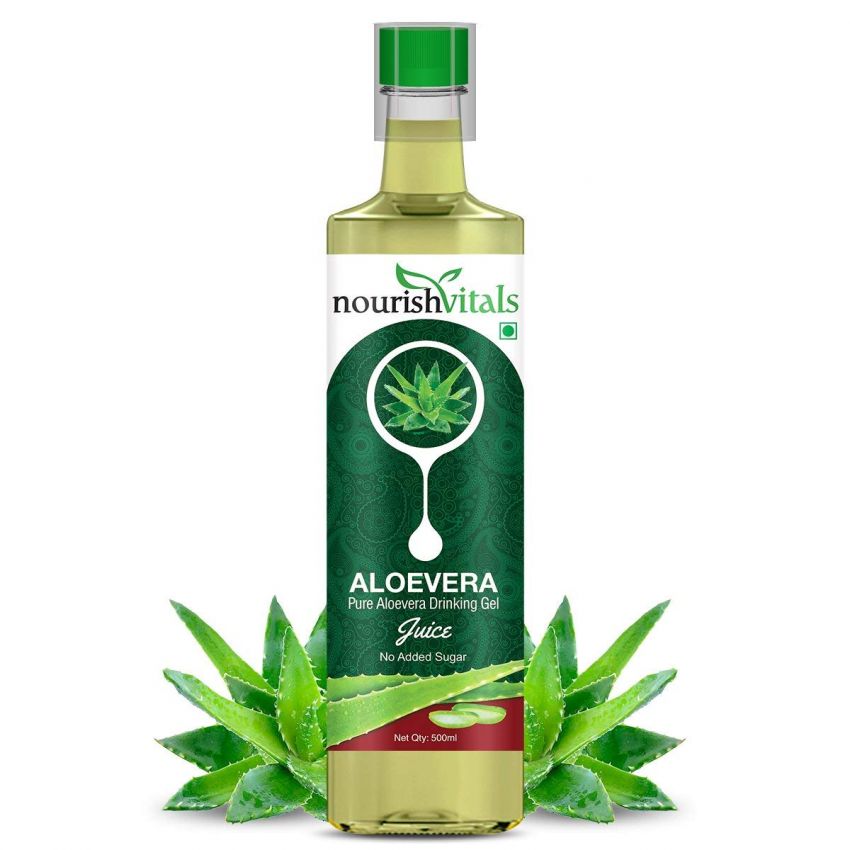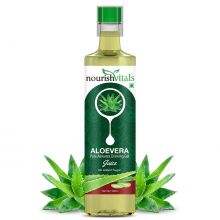 NourishVitals uses Farm Fresh Wheatgrass in a GMP and is an ISO 22000 Certified Facility.
It provides a 95% pure aloe vera juice without any added sugar. It also offers a powerful juice derived from wheatgrass and aloe vera providing a good amount of minerals and vitamins. It helps neutralize the toxins in the blood and environmental pollutants in the body.
Wheatgrass juice provides a good amount of vitamins A, B-complex, C, E, land K. Aloe vera juice is the most effective cleanser strengthening the digestive system and detoxifying the body naturally.
The price ranges from Rs. 299 to Rs.499. Buy here.
[divider style="dashed" top="30″ bottom="30″]
5) HEALTHVIVA ALOE VERA JUICE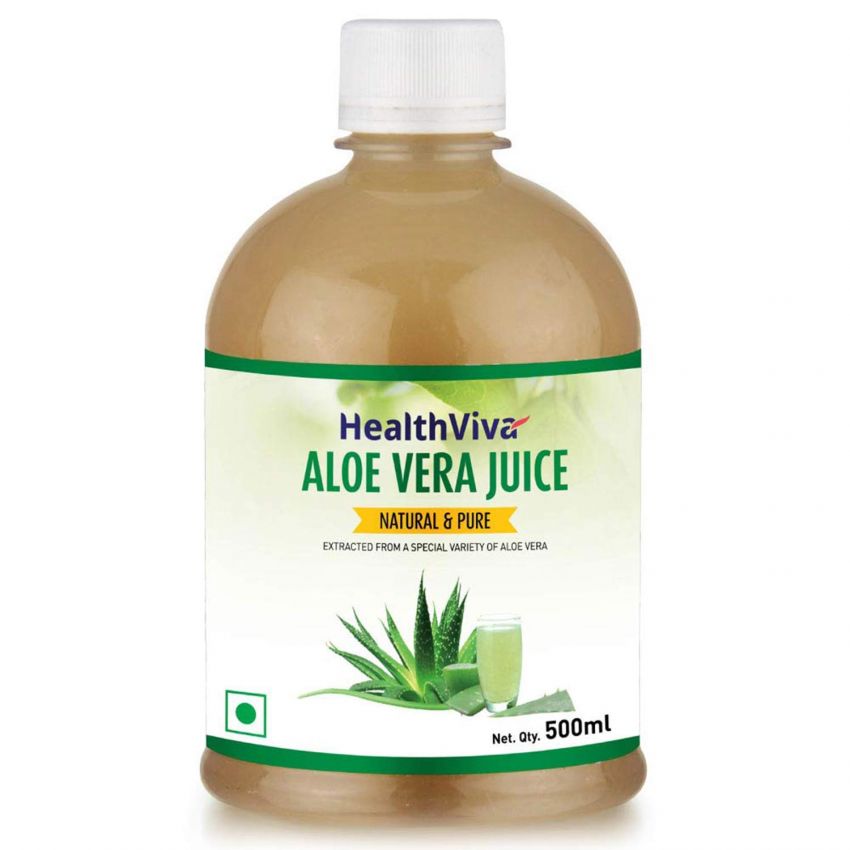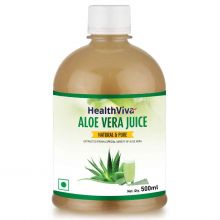 What better than aloe vera juice to keep you healthy and hearty. This juice has 95% pure aloe gel and stabilizers.
It has been extracted from a special variety of aloe vera, popularly known as Aloe Indica. It contains no artificial flavour and is sugar-free.
This juice is pretty popular among customers as it is a very rich source of calcium and vitamin D.
Have it empty stomach the first thing in the morning and say bye to your tummy problems.
A very effective drink priced at Rs. 225 to Rs. 300 for 500 ml. Buy here.
[divider style="dashed" top="30″ bottom="30″]
6) HERBAL HILLS ALOE VERA HEALTH JUICE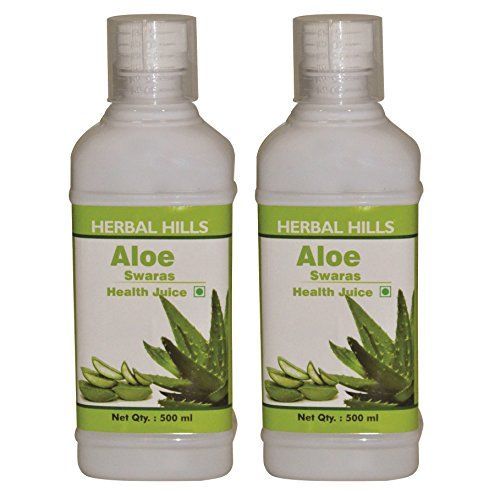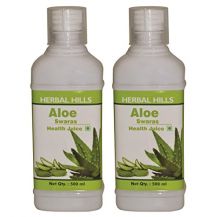 Aloe vera juice if consumed daily is a boon in maintaining fair and healthy skin. It is a nutritional storehouse of the necessary enzymes, amino acids, minerals, and vitamins.
It is useful in the building of muscles and tissues, supports digestion and enhances nutrient absorption in the blood. It is also considered to act as an anti-oxidant, neutralizes free radicals and acts as an immune booster. A compact potion of innumerable health benefits.
Certifications: ISO, GMP, USDA, HALAL, VOCA, APEDA, USFDA. This juice is your shot at an inexpensive health routine to keep yourself healthy.
It is priced at Rs. 330 for 500 ml.
[divider style="dashed" top="30″ bottom="30″]
7) UMPL ALOE VERA JUICE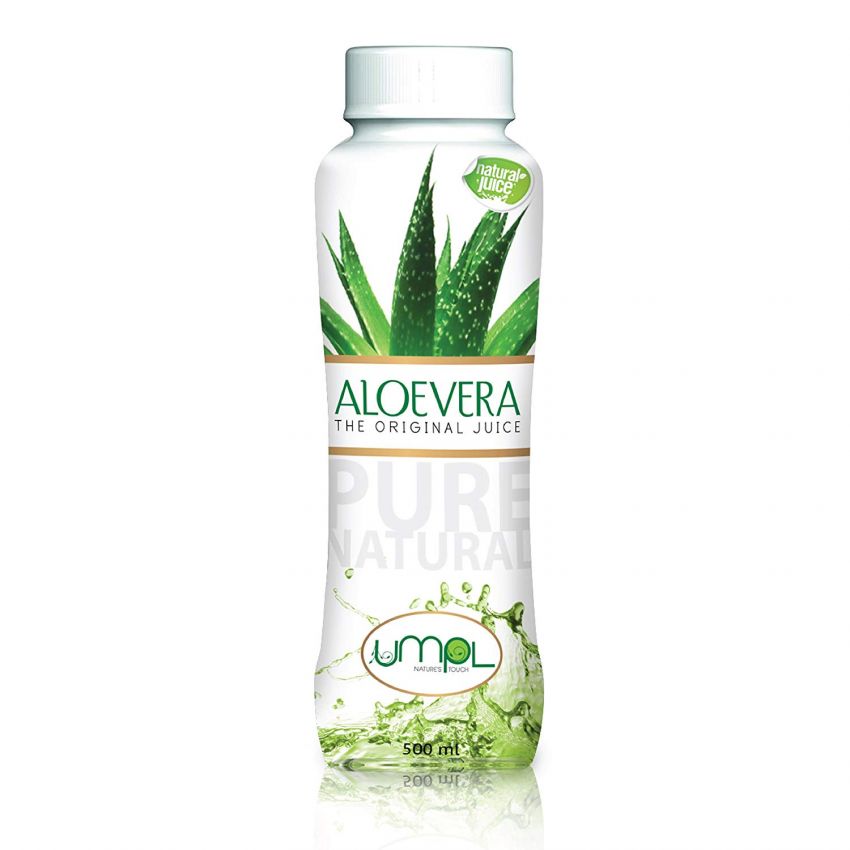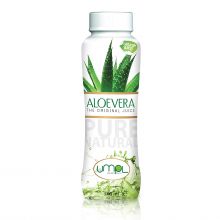 This juice is a product of a UMPL INDIA (P) LTD BRAND, an ISO 9001-2008 certified company.
UMPL Aloe vera juice is crammed full of amino acids, minerals, and vitamins making it one of nature's most effective cleansers.
It strengthens digestion and related disorders.The Sanskrit name for aloe vera is "kumari" meaning 'princess', attesting to its ability to help you maintain a healthy glow and be beautiful.
The bottle is portable and easy to use.The price is Rs.325 for 500 ml.
Buy here.
[divider style="dashed" top="30″ bottom="30″]
8) GOSEVA ALOEVERA JUICE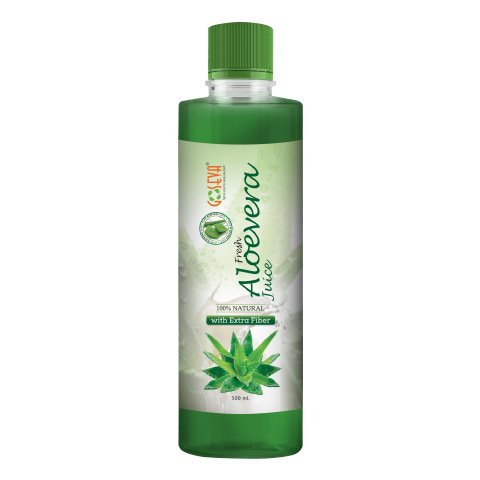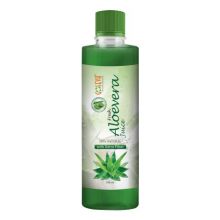 GOSEVA aloe vera juice is well known for its healing and soothing properties. Aloe vera juice is also called the magic potion for its medicinal qualities. The juice relieves you from heartburn, indigestion, cures constipation and also helpful in treating the ulcer.
The juice contains minerals and vitamins which boost the body energy levels and helps in controlling body weight. GOSEVA Aloe Vera Juice has been effective in weight loss as well.
It is quite cheap at Rs. 110 for 500 ml.
Buy here.
[divider style="dashed" top="30″ bottom="30″]
9) KAMA AYURVEDA ALOE VERA JUICE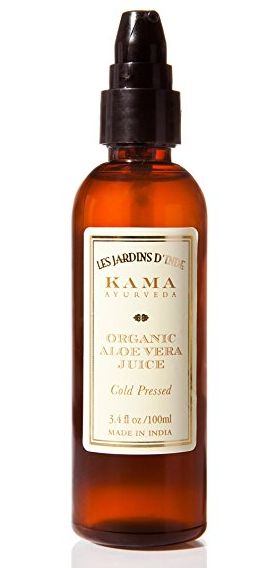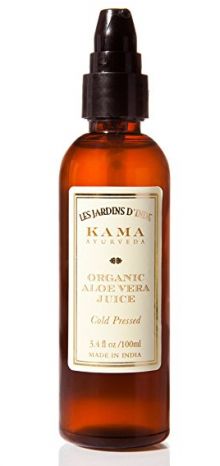 Kama Ayurveda is a 100% Organic Aloe Vera Cold Pressed Juice which is is an ideal daily remedy for the naturally glowing skin. Aloe vera juice is rich in Vitamin A, C, F, B and amino acids.
It is excellent for drinking in an empty stomach or to be used for applying onto your skin. You can also use it for burns and bruises. It can be used by men as an aftershave. It is cooling and relaxing.
The bottle is sturdy and travel-friendly but it can be slightly expensive. A 100 ml bottle is priced at Rs.500.
Buy here.
[divider style="dashed" top="30″ bottom="30″]
10) FOREST ESSENTIALS ALOE VERA JUICE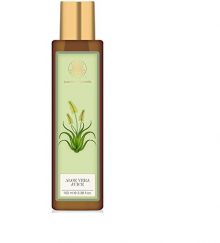 It is processed by Mountain Valley Springs PVT Limited. Aloe Vera has been a well known medicinal plant. It is a well-known source of moisture.
It stimulates skin regeneration, softens, soothes and moisturizes the skin.The pure extract from the Aloe Vera plant is a natural humectant.
You can opt for this juice for your beauty regime as it is an expensive buy but you can rest assured of the authenticity of the product from this brand. A 100ml bottle costs Rs.525.
You can Buy from here.
[divider style="dashed" top="30″ bottom="30″]
Conclusion
Aloe vera used fresh from the plant can be best used for applying directly on skin or making face packs but juice is ideally recommended for daily consumption. Drinking of aloe vera juice daily immunes your body against pollutants and germs. It is magic potion inexpensive but bountiful. The market is full of companies supplying aloe vera juices. International and national brands are making it easier for you to avail the juice at your doorstep. From medicinal companies to beauty brands, they have their own line of aloe vera juices.
I have listed the top ten national brands supplying aloe vera juices in India.
All these brands have an option of online delivery. Some of these brands also provide you the combinations of wheatgrass, safed musli, ashwagandha to add to your health benefits. Aloe vera juice can be taken directly or diluted with water.
Women, as well as men, are recommended to include aloe vera juice in their diet.
However, one should test and find their choice of brands to be assured of the authenticity of the product.
How do you find aloe vera juice useful? Which brand do you recommend the most?
Please share your views in comments! Start drinking aloe vera juice as soon as you read this!!