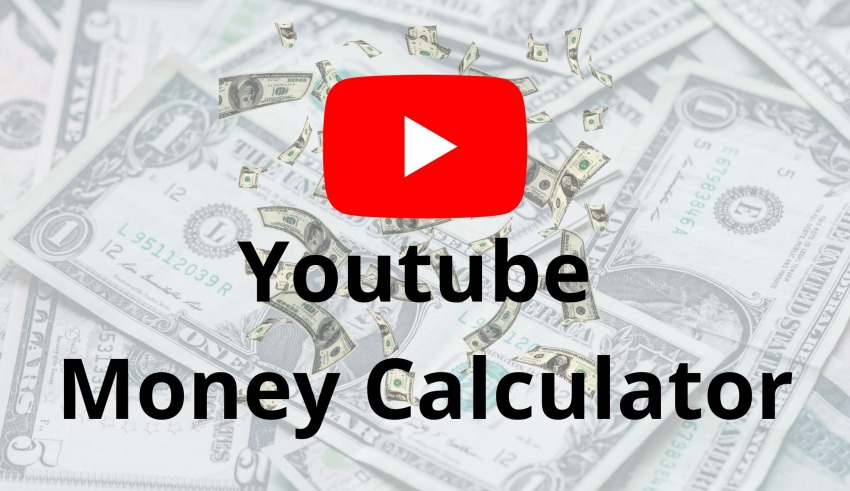 YouTube has been around for more than a decade and is probably the biggest and most popular video-sharing platform. It has become a big corporation and creators on YouTube can live off of the platform quite lucratively. So, anyone looking to become a YouTuber would be anxious to know how much money they can earn given their current status from YouTube's ad revenue. There are a number of platforms that provide a youtube money calculator that takes into account your current status on YouTube and shows the approximate earnings for you. Thus YouTube channel money calculator looks at the views to guess the earnings thus, they act more like a YouTube views money calculator.
This makes sense because the amount of money you make from ad revenue depends on the number of views your videos get. This list is all about sites that provide YouTube calculator money that can be used to get an idea about the earnings of an individual.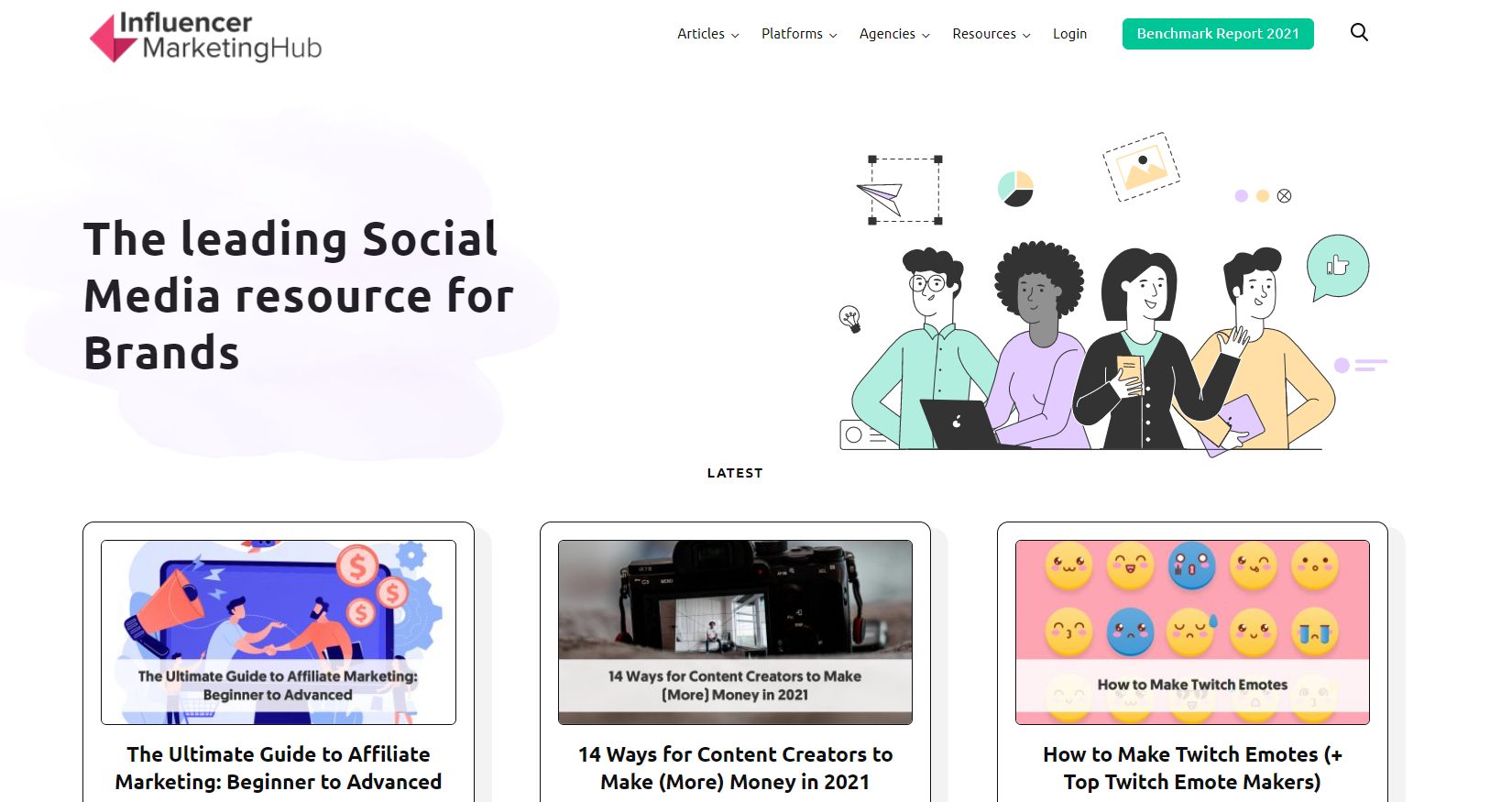 Let's start with a popular platform that has been used by many social media users to learn more about social media marketing and promotion and get better at boosting their online presence on some of the most popular social media channels.
Whether you want to become an influencer or you are looking to optimize your influencer marketing processes this platform is meant to help you keep getting better and optimizing your strategy. You will find various informative articles, resources, platforms and agencies on Influencer Marketing Hub.
The platform also provides various tools both free and priced which can be used to get better insights on the performance of your strategy or analysing other social media users' profiles. YouTube has been the topmost social media platform when it comes to video sharing. If you have a YouTube channel that is pulling in, consistent views, and you want to estimate how much potential you have when it comes to earning money from YouTube via ad revenues then the YouTube money calculator that you will find on this site can be quite helpful.
There are two parameters that you have to set in order to use this YouTube view money calculator. You have to put in the daily video views and the click-through rate or engagement rate. The engagement rate or CTR can be given based on the past performance of your channel.
Once you provide the data and click on calculate the tool will provide you with an estimate of the daily earning range. The site provides details about how the YouTube channel money calculator works and provides insights on the formula used.
---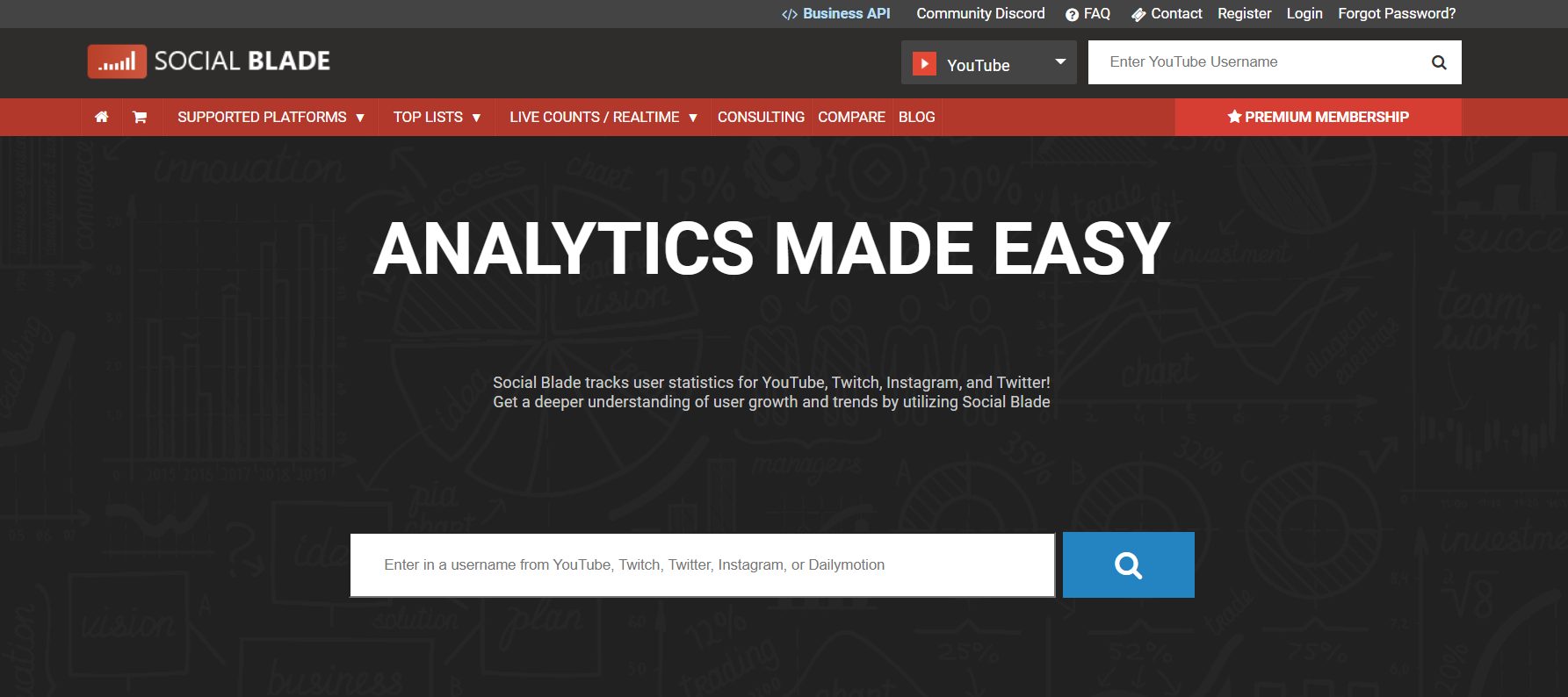 Social Blade is a social media service provider for a bunch of popular social media platforms including Twitch, YouTube, Instagram, Facebook, TikTok, Twitter etc. The company wants to make the job of analyzing any user profile easier. It has a bunch of tools that can help you track the statistics of users across various social media platforms.
The site uses a public database to store all the various info that is publically available for any content creator on different platforms. This site provides access to these databases and anyone can use the tools to gain the relevant statistics for any profile they are interested in.
The company is always in the evolving mode and wants to keep upgrading the cute features and adding new ones so that clients can use the tools for various use cases. Using services that Social Blade provides you can gain info on growing your channel and ranking your videos. You can also find influencers.
The API that the site provides allows you to integrate the power of the tools into your own website or application. People who are interested in looking at their estimated earnings on YouTube or the estimated earning potential of any YouTube channel can use the YouTube money calculator on this site.
You can import any YouTube username and provide the input for the daily views parameter and the estimated CPM as per history or other sources. The site will give you an approximation of your daily earnings, monthly earnings and yearly earnings.
---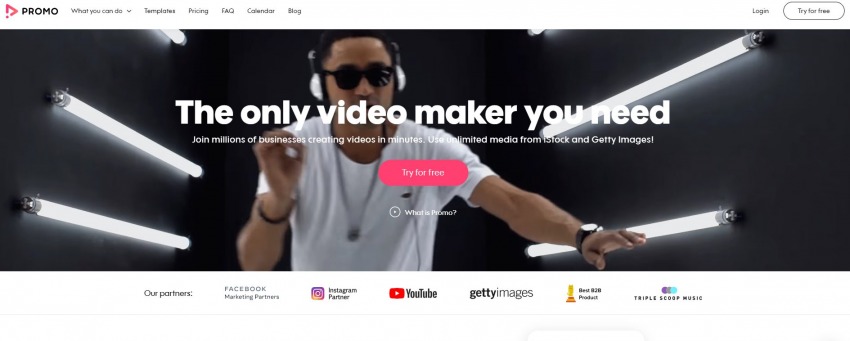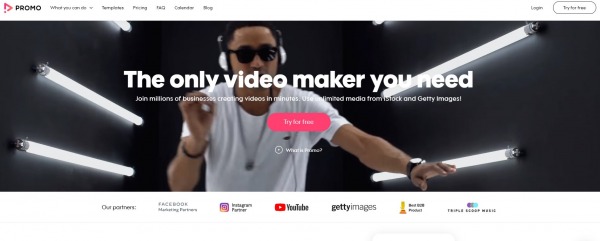 Promo.com is a site that deals with promotion. You could have easily guessed it from the name. The site believes that its clients should be able to promote their brand, products and services via videos. It wants businesses and brands to have no limits when it comes to transferring their vision to top-quality video promotion and market stuff the way they want to.
But going about it manually can be a problem which is why Promo.com has all the right tools and templates that one can use to create promotional videos of top quality that drives home the point that the business wants. Using these tools your promotion will be more creative and effective. The people at the company have lots of experience and expertise when it comes to promotion.
Previously they had created a slideshow company that helped lots of people all over the world. By creating promo.com the company wants to provide top-quality templates and services required to create the best video promo. Promo is the marketing partner for Instagram and Facebook and a creative partner for YouTube.
It constantly wants to ensure that the services are of high quality and new stuff gets added. The YouTube channel money calculator that the site provides is free to use. As long as you have the estimate of the daily views that any profile gets and some idea about the CPM you will be able to get more accurate results. But of course, this is just an estimate so it should be treated as such rather than concrete proof.
---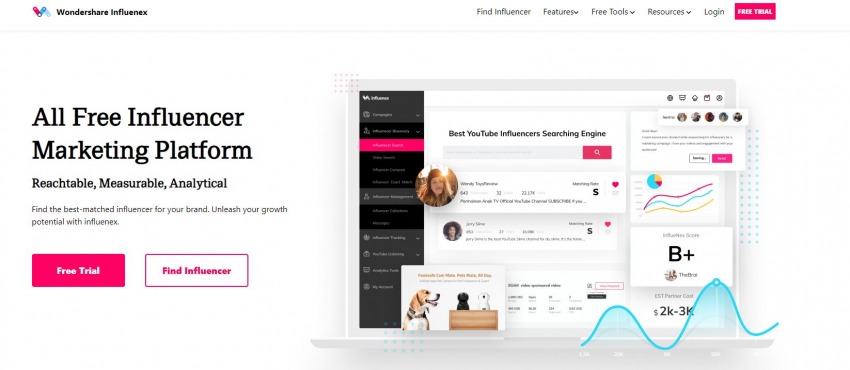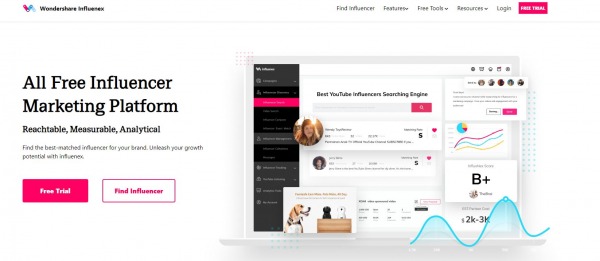 Influenex.com is a site that leans towards serving clients who are looking to have a better experience with their influencer marketing process. The tools and services that you find on influenex.com are meant to aid with your influencer marketing. There's a lot of things that Influenex can do for you. Using the YouTuber discovery tool you can search for relevant influencers on YouTube.
The company provides advanced filters that one can use to narrow down the searches and find the right YouTuber for your social media marketing campaign. The site also has the YouTuber insight tool which serves the purpose of an analytical tool to analyze relevant influencers on YouTube that can be who for your brand.
Once you have found the right influencer you can use this site to manage them as well. The site also makes it easy for clients to work in teams and collaborate on a project. You can even set the filters to automatically recommend you relevant Influencers so that you don't have to keep putting in the filters and searching through the database all the time.
The YouTube view money calculator on Influenex.com is free to use. You just have to put in the YouTube channel URL and get the estimated earnings of that channel with just a click. Other free tools that exist for YouTube include an analytics extension, live sub count and video analytics tool. So, if you were looking for a bunch of free tools to help with your YouTube analytics then visit this site.
---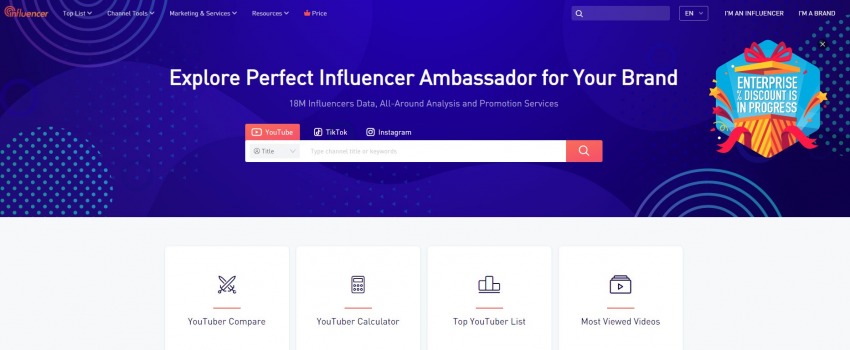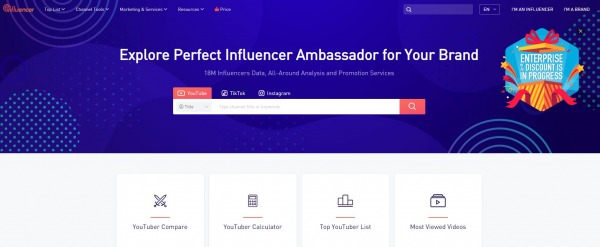 Noxinfluencer is a site that has tools and software that can be used to analyze social media platforms. These tools can give you an idea as to what topics are trending on any of the popular social media platforms. You can just search for specific keywords and filter the results. You can also search for influencers and other top social media user profiles and analyze their stats.
This can help you figure out whether a profile is genuinely an influencer and is gaining enough engagement or not. Then there are the calculator tools. These can be used to estimate the earnings of a particular profile that is present on any of the supported social media platforms.
If you want to get an estimate for a YouTube channel then you have to use the YouTube money calculator. This tool can give you an approximate calculation of how much a YouTuber is earning. Just put in the parameters mentioned and click on calculate to get the result.
---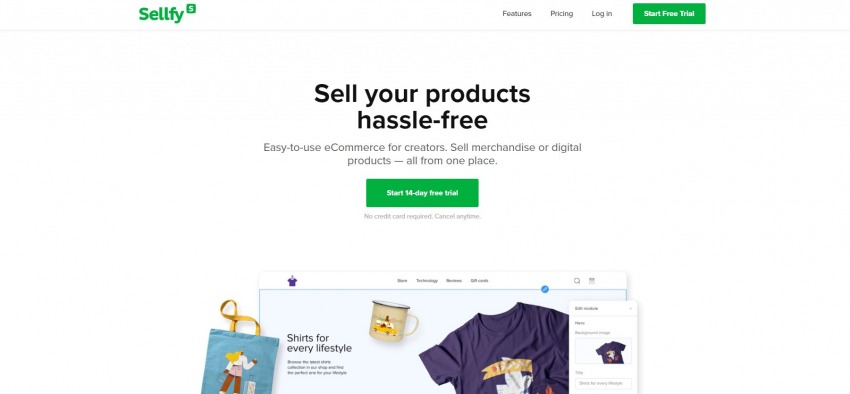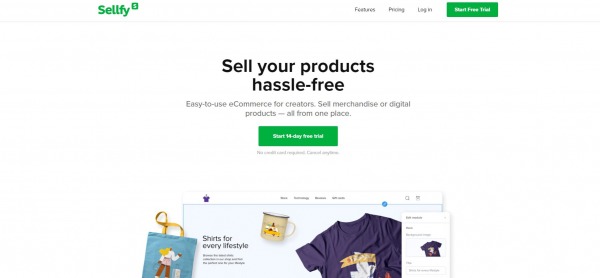 Sellfy.com provides a platform for creators to sell stuff. One can sell merchandise or any kind of digital product on this online platform. Oftentimes, a lot of complexities and multiple steps are involved when it comes to opening and operating an online store. This often turns off many creators or sellers who have interesting products that they want to sell to interested parties.
Sellfy makes everything easy. In a matter of minutes, you will be able to get your store up and running on the platform and start doing business. The site also provides various tools, one of them includes a YouTube view money calculator. You can use this tool to gauge your potential earnings as a YouTuber. Here too, the site has made everything simple and easy to use. Just enter your monthly views and estimated CPM and the site will let you know your estimated earning potential.
---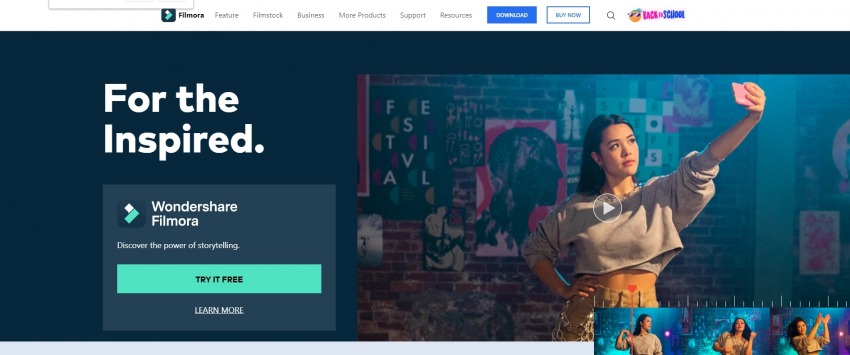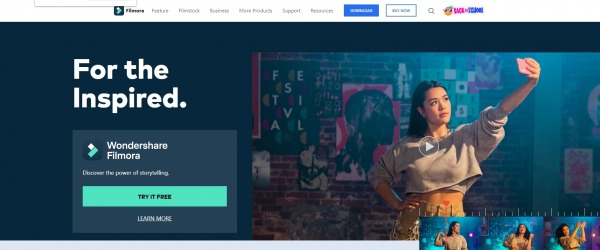 You may have already heard about filmora since a lot of content creators use this tool to edit their videos. Millions of people have already started to use this tool and it has a hugely positive response from the customers. This is a tool that has a lot of different features that can help beginners, as well as experienced video editors, create cool videos that can impress anyone.
The effects pack and stock video formats of wondershare filmora are quite creative and can add jazz to any video. But why is this site on this list of YouTube calculator money? Well, it also provides a free YouTube money calculator that can be used to calculate effective earnings from your YouTube channel. There are a couple of metrics that you put in and the calculator will provide the result. You just have to use the sliders provided to put in the parameters.
---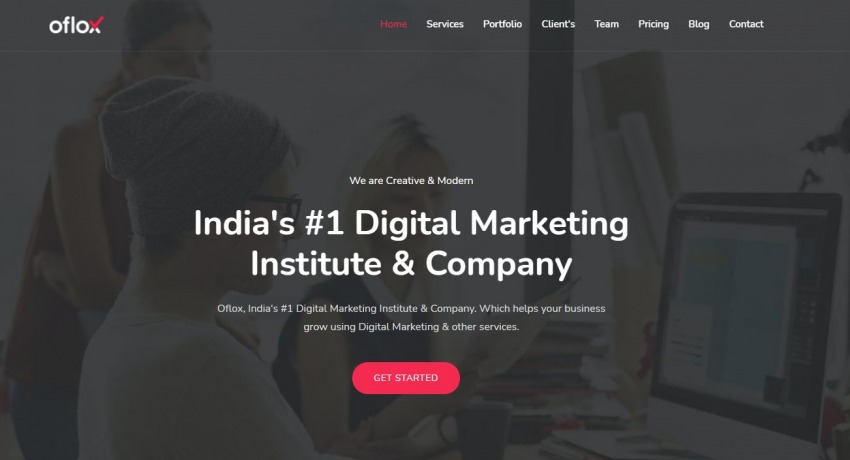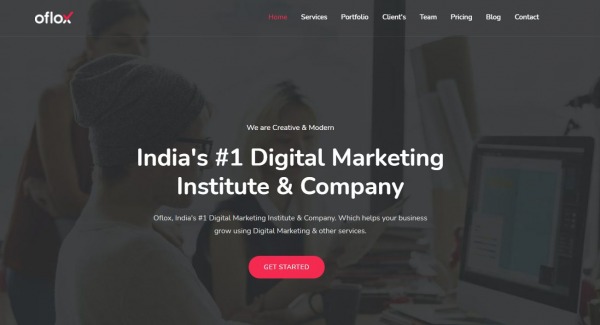 The next site on this list is Oflox.com. This is a site based in India that deals with digital marketing. It has a huge list of services when it comes to digital marketing and promotion. The company has been creating websites providing not only technical input but creative input as well. Whether you want to make an app, or software, or any kind of graphics the company will help you with the creative design.
The customer services provided by Oflox.com are active throughout the day. The company is also a big digital marketing institute as well. It does have an online YouTube channel money calculator that is very simple and easy to operate. You have to enter three parameters. The daily views, the CTR and the CPC. Once you have out of the three parameters the tool will provide your daily estimated earnings from YouTube.
---


The influencer marketing business has become quite popular. People know that promoting on social media platforms is very important these days and companies are going to pay money to influencers to get their brands, products or services promoted. This is why many platforms have started providing influencer marketing services trying to connect companies with influencers and making a bit of a buck in the middle.
HypeAuditor is one such company. It wants to provide its services to brands looking to use influencer marketing to gain more exposure. The site claims that it provides fraud-free influencer marketing that will actually be effective to your brand's exposure.
HypeAuditor makes it easier to calculate your YouTube earnings. It just asks for one input. You have to enter your YouTube channel in the box provided and click on the check button to fetch the results. Yes, it is that easy. So, head on to the site if you want to use this tool.
---


The last site on the list is auxmode.com. The site has different services related to online marketing and promotion and can help you with analytics and growth on social media. The site also provides a free YouTube money calculator which can give you an estimate of your earnings based on your daily view count.
---
Let's end this post with some tips about how to get more views on your videos on YouTube. We have talked about the YouTube money calculator that can help you estimate your earnings but to turn that earning into the reality you need to have a lot of views. In this section, we will briefly go over just a few general tips that can get you more engagement on YouTube.
The quickest way to build an audience on YouTube is to find a niche or sub-niche and to keep making content in that niche. Yes, you will not get millions of subscribers doing this but you will start gaining thousands of followers who would regularly watch your content. You can slowly start experimenting with more general videos once you have established a loyal fan base.
Post As Often As Possible
Posting daily or at least multiple times a week can give you more growth than posting less frequently. Many big YouTubers post daily content. This is because you have to stay relevant and keep growing. That is the nature of social media. 
Trying to churn out multiple videos a week should not hamper the quality of the videos. They need to be entertaining and interesting enough for people to watch and engage with them. It takes a lot of hard work to create multiple videos of top quality in a limited time but growing on YouTube does take that amount of hard work to succeed. 
Build a Positive Community
Trying to build a positive community is a nice way to gain loyal fans. People love positivity on the internet. They get more attracted to such content. Of course, if your shtick is to be negative and you want to attract followers who are into that then that's another story. But in general, if you interact with your audience and try to spread positivity then you will have much better chances of growing on YouTube and gaining consistent views and likes on your videos.
So, that marks the end of our post on the sites that offer YouTube calculator money to people looking to gain insights on how much their potential earnings can be. We suggest you use the YouTube view money calculator as an approximation rather than a statement because the ad revenue rates keep changing from time to time. Also, ad revenue is not the only way a YouTuber can earn these days. In the end, we hope you become a successful YouTuber and can keep making entertaining videos.