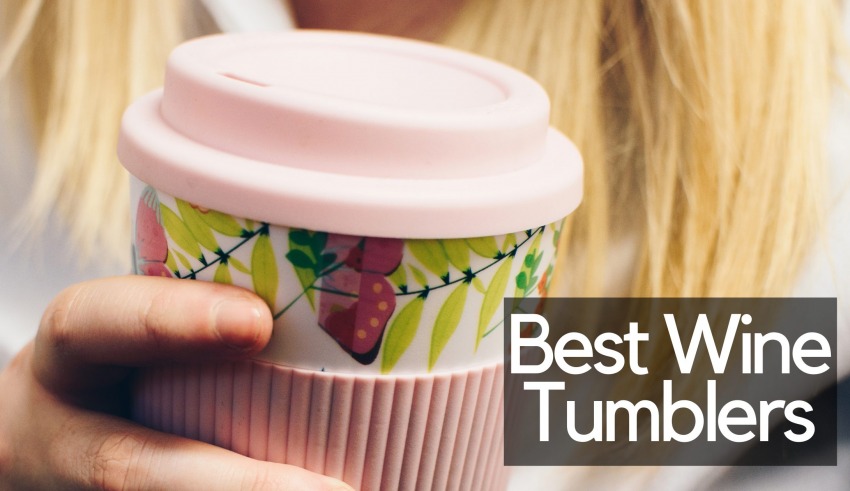 Wine is an extremely obscure drink that is prized for all of its flavors and aromas. Fortunately, the wine is not just for dinner or any formal occasions because now you can take it with you anywhere you go using it. Sounds like a wine lover's best dream come true right? Wine tumblers are mostly made from shatterproof, food-grade stainless steel and are fit for traveling and picnics. The best part about these wine tumblers is they also keep your beloved wine cold and crisp wherever you go.
Though the wine tumblers are specifically designed for wine and cocktails. The vacuum-sealed insulation in the wine tumblers can even keep coffee or tea hot for up to three or four hours. Next time whenever you are going for a really long weekend trip or even a cute picnic, do not leave your wine tumbler at home. It may come in handy for your sudden wine craving.
Here is the list of the 12 best wine tumblers to buy in 2022.
Insulated Rose Gold wine tumbler with lid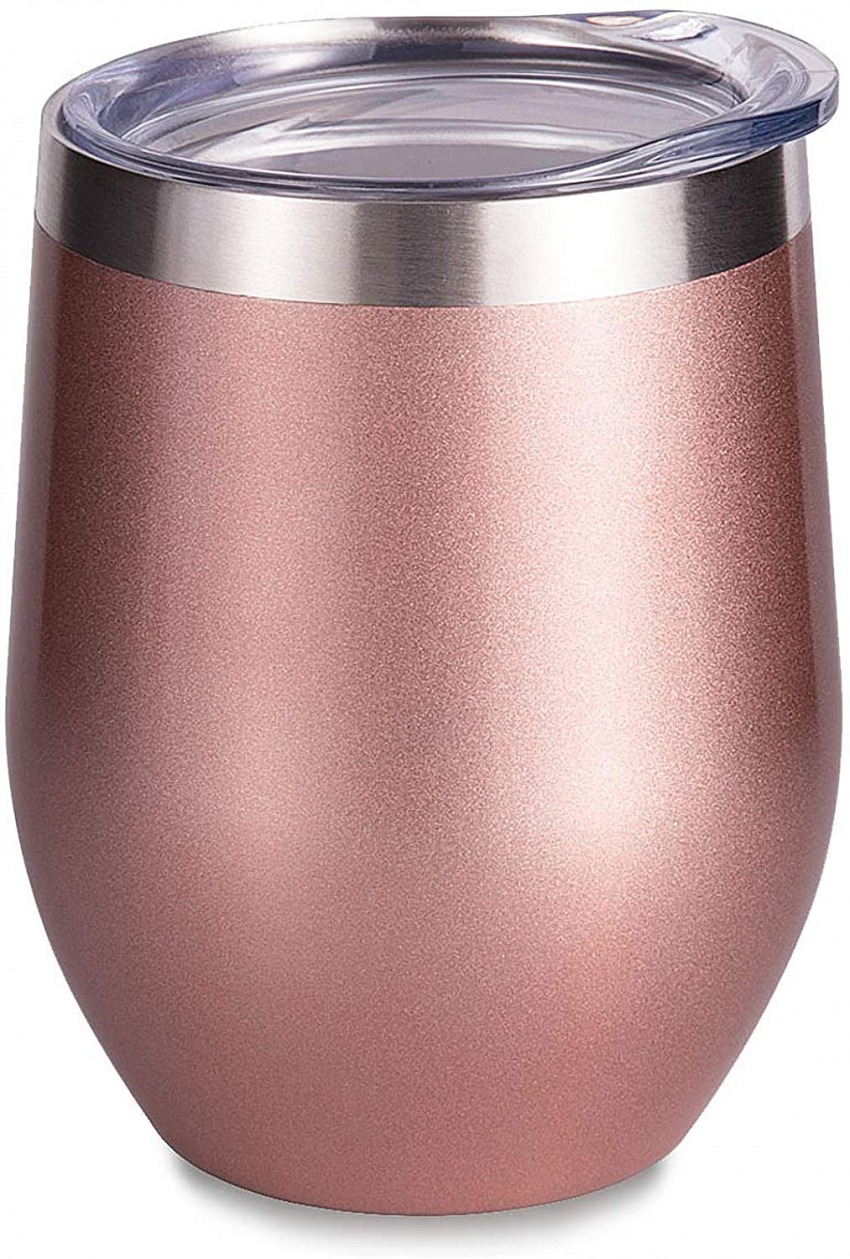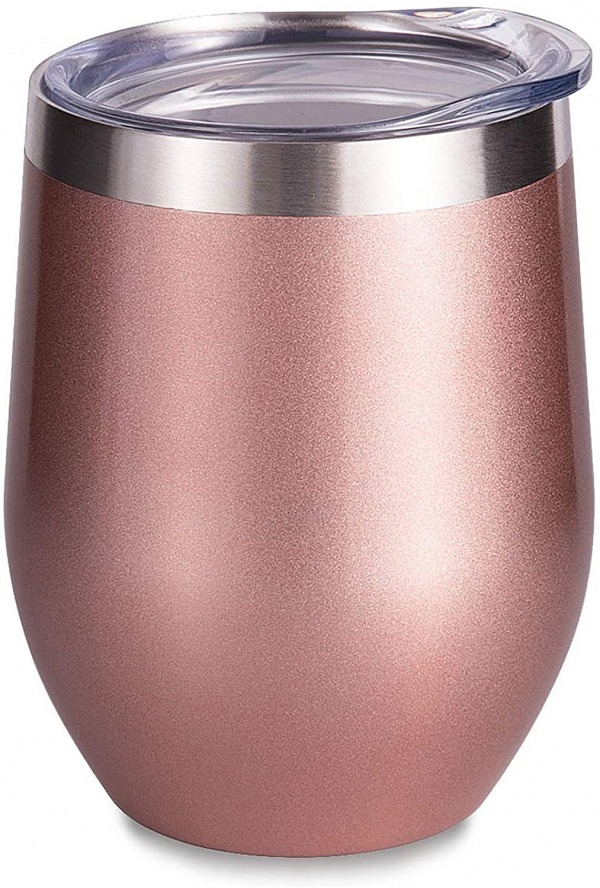 This gorgeous-looking rose gold wine tumbler is made of stainless steel and holds up to 12 ounces of wine. This Vacuum Wine Tumbler is Insulated with Double-Wall Technology in order to Keep your wine chill for more than 9 hours. As it is made from high-quality 18/8 of 304 Grade stainless steel, it is very convenient lightweight, and lead-free with high durable quality. This wine tumbler is rust-proof and sweat-proof. And it is very easy to wash and is unbreakable.
These insulated wine tumblers come with an eco-friendly lid, along with an extra gasket sealed in order to provide the maximum splash-proof capability. It also has a drinking hole on the top for easier and spill-proof sipping. 
It has a 4.7 out of 5 customer rating and is ranked as 8th best seller in wine glasses. Several reviewers said that they are obsessed with this wine tumbler and it stands up to their expectations.
---
Stemless Wine Tumbler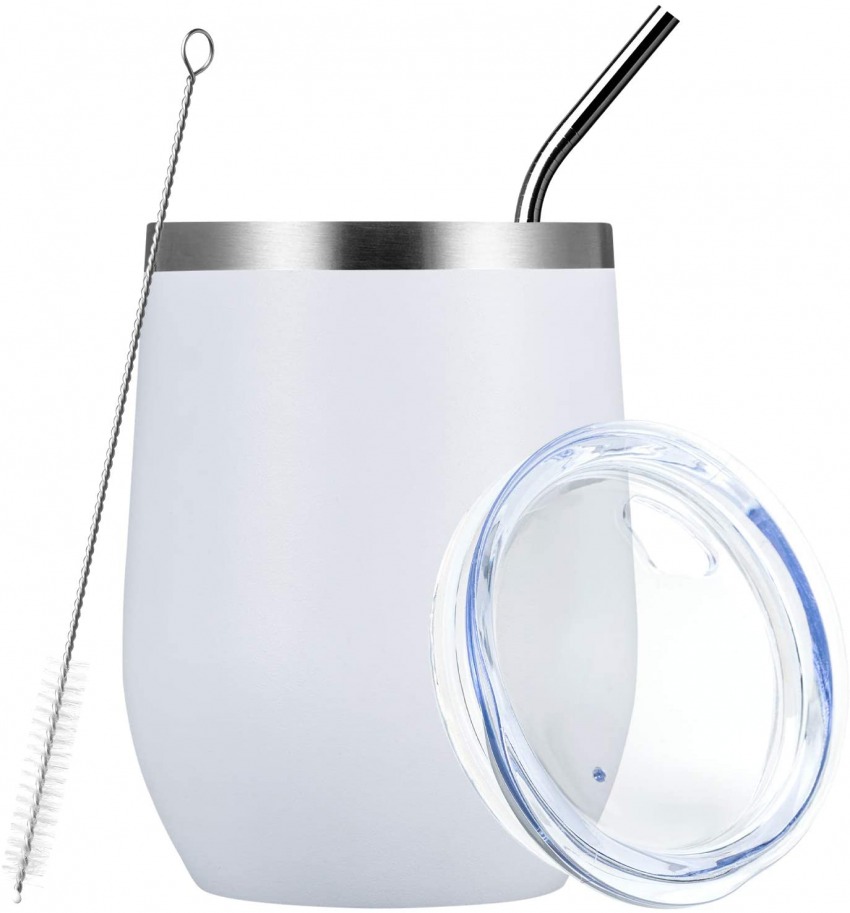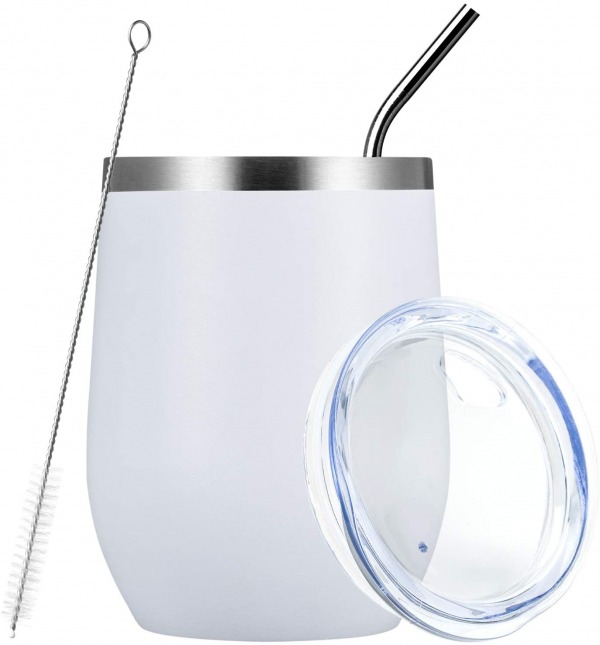 This unbreakable double-insulated wine tumbler comes in so many radiant colors that you can choose from. The Double-wall vacuum insulated in this wine tumbler is perfection. It is made from lifelong Stainless Steel.
It is one of the best ways to set off on your refreshing picnic, hiking, or even your camping adventures as it keeps your wine cold and crisp for more than 9 hours and your hot coffee or tea hot and fresh for more than 3 hours. The body of this wine tumbler has gone through some special treatment in order to minimize the fading away of the color on the body of the wine tumbler. 
This stemless wine tumbler comes with a 1 x 12oz wine tumbler, 1 x splash proof cover with hole, 1 x unbreakable steel straw, 1 x straw brush, and 1x beautiful gift box. If you did not get any of these in along with the product then you can contact the manufacturer immediately within the given time and get a replacement or refund. 
The reviewers seem to be very much satisfied with this product and also the customer service provided by the manufacturer. They say that the tumbler stands up to the advertising and it is splash-free and sweat-free, making the wine time more delightful.
---
Wine Tumbler with Lid and Straw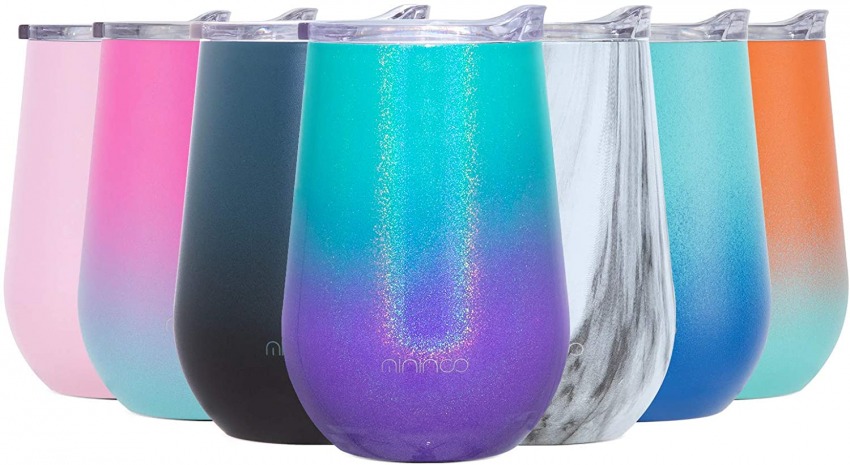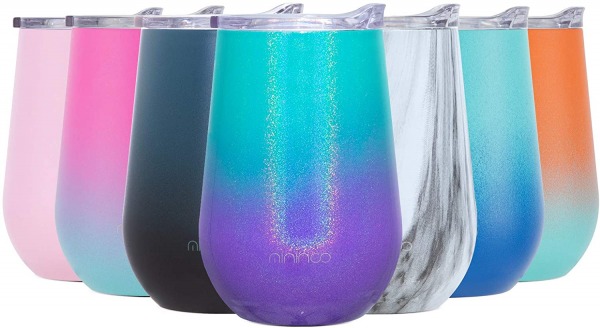 This wine tumbler is so comfortable to hold in hand when compared to some gigantic tumblers. Despite being cute and petite this wine tumbler holds up to 12 ounces, so there is no compromise on the holding capacity. This wine tumbler with lid is made from premium grade 18/8 stainless steel with an excellent quality powder coat that is rust-resistant. It has a straw hole for each lid, which is very good for easy sipping with straws.
It also comes with a slide cover in order to keep the straw hole clean. The BPA-free lid in this tumbler has a silicone collar in order to control leakage. It has a smooth cup mouth which makes it safe for kids as well as adults. This wine tumbler with lid and straw makes your adventures with water, wine, or cocktail icy-cold for more than 9 hours or your coffee and tea scalding-hot for over 5 hours. 
---
6 Pack Stainless Steel Wine Tumblers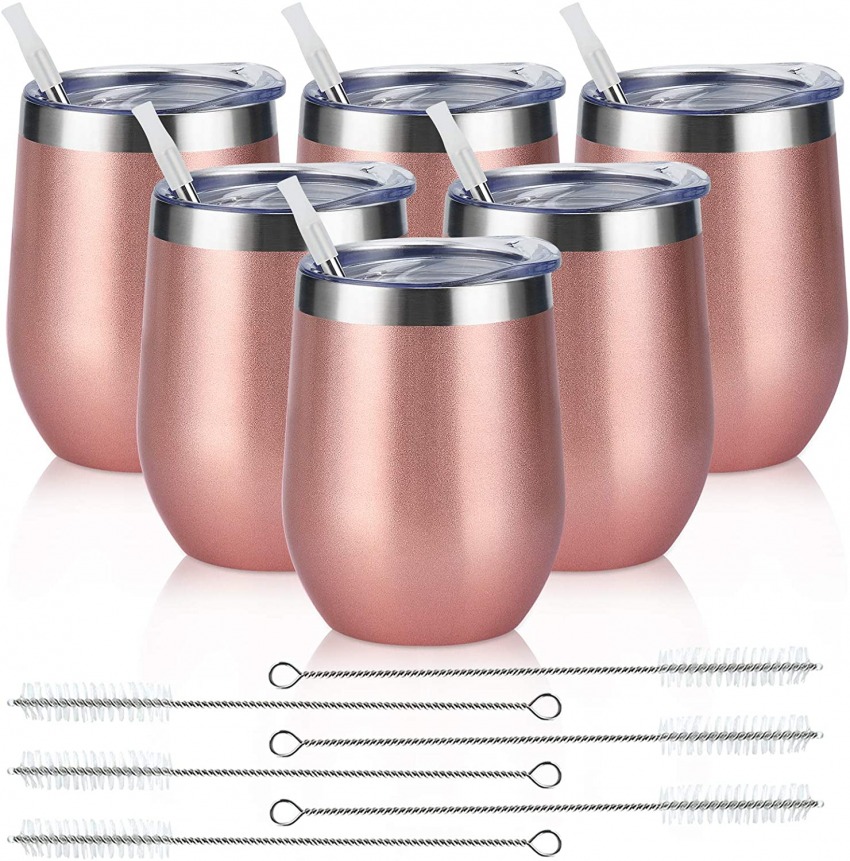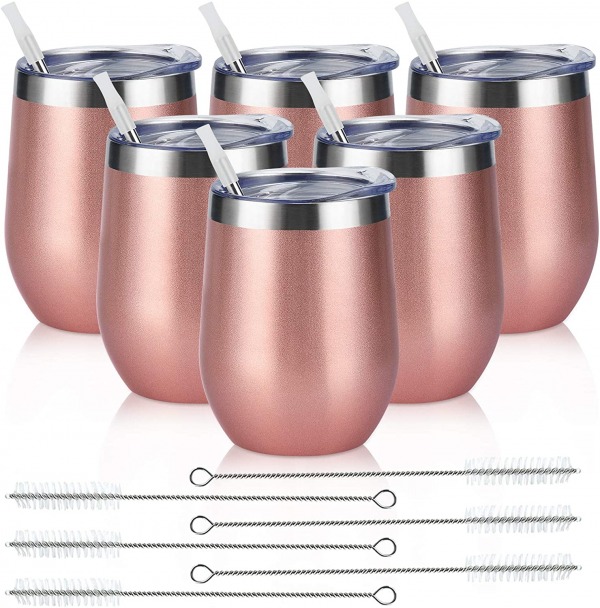 These 6 pack wine tumblers are made from premium quality 18/8 of 304 stainless steel. These insulated wine tumblers are durable, lightweight, lead-free, unbreakable, and are super easy to clean. These stainless steel wine tumblers packs embrace the technology of double-walled vacuum insulation that keeps your beverages hot or cold for hours and prevent sweating or condensation. So even whether it is summer or winter or any season, this double-wall vacuum-insulated wine tumbler will give you a better drinking experience in your daily life. It holds up to 12 ounces of fluid. 
In order to make it convenient for you to enjoy your favorite beverage, these 6 pack wine tumblers come with complete accessories that include: 6 x stainless steel eco-friendly straws, 6 × lids that fit perfectly with the wine tumbler set, 6 × straw brushes to clean the brush, 1 × cup brush for the wine tumbler cleaning.
---
12 oz Mint Stainless Steel Vacuum Insulated Wine Tumbler with Lid and Straw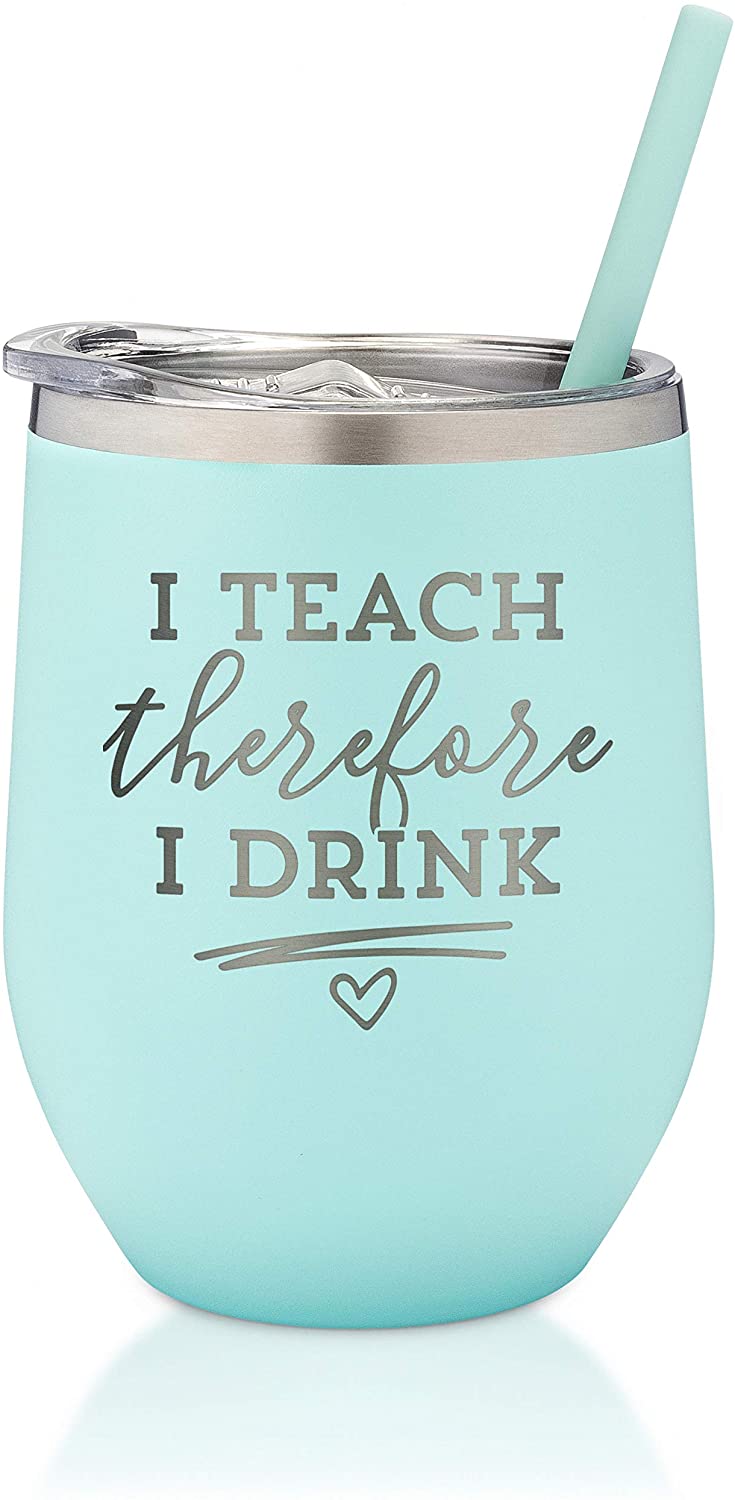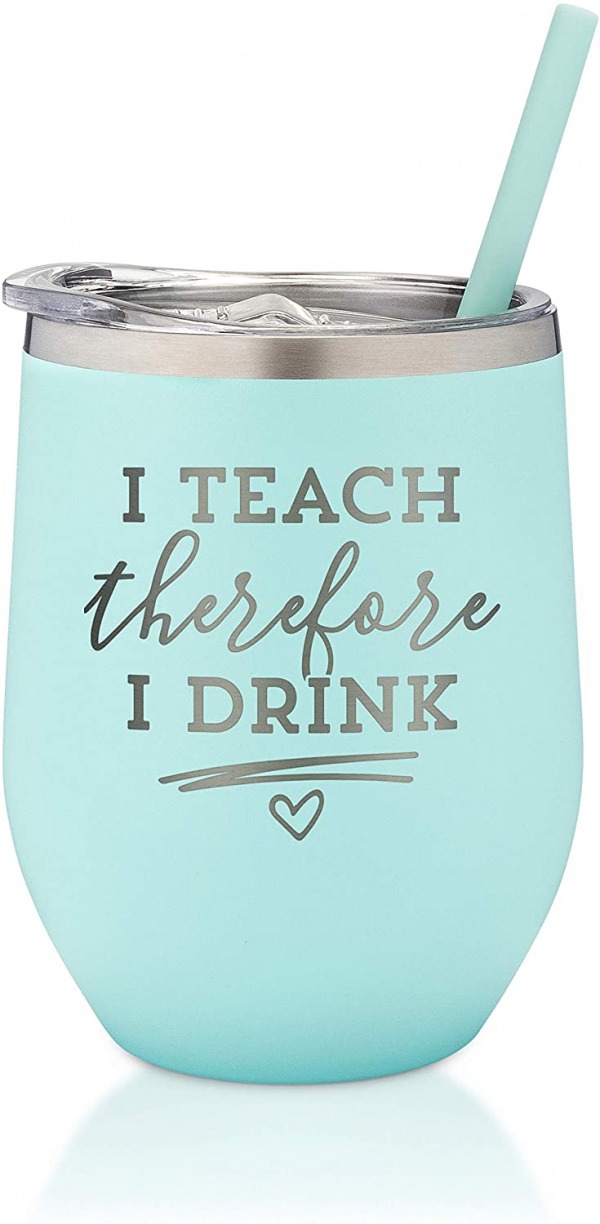 This mint-colored I teach therefore I drink wine tumbler is one of the best gifts for your teacher. It is made from premium quality stainless steel and holds up 12 ounces of wine or any beverage. This mint stainless steel vacuum insulated wine tumbles come with a spill-proof eco-friendly lid and an eco-friendly straw. It is sweat and spill-proof. 
This sassy wine holder got around 4.7 out of 5 customer ratings. The reviewers are so satisfied by the wine tumbler and quoted it as possibly the best gift to give. 
---
12oz Stainless Steel Tumbler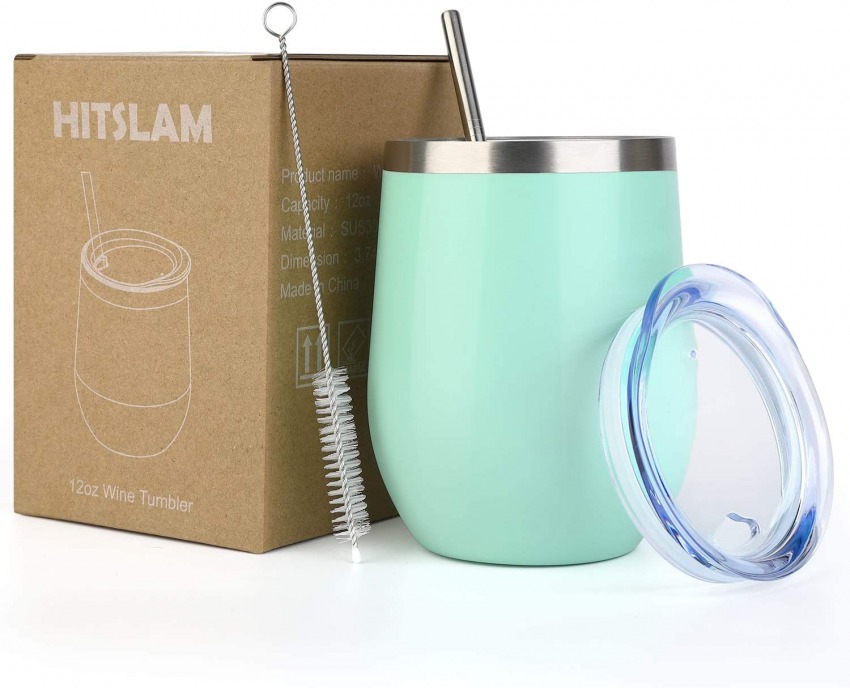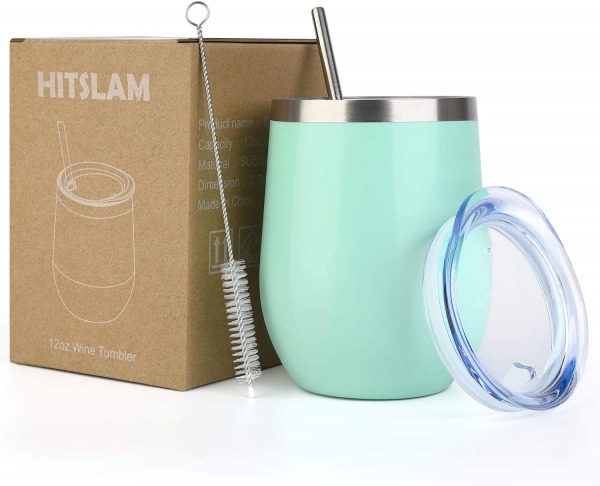 Tired of stainless steel tumblers? Want to try something new? Then this 12-ounce stainless steel tumbler is for you. Confused that I still recommended a stainless steel one? Well, it is a stainless steel wine tumbler coved with a layer of silicone. Stade from 18/8 lightweight, lead-free stainless steel that is top-rack dishwasher safe and won't alter flavors or leach chemicals, BPA, and is toxin-free. And the silicone layer on the top of the body is designed to prevent it from sliding and spilling and it gives you amazing grip. With its technology, it keeps your cold drinks cold and hot drinks hot for a really long time. 
Along with this tumbler, you will get a lid, straw, and a cleaning brush. this reusable travel mug will never sweat or be hot or cold to the touch.
---
Simple Modern Spirit 12oz Wine Tumbler Glass with Lid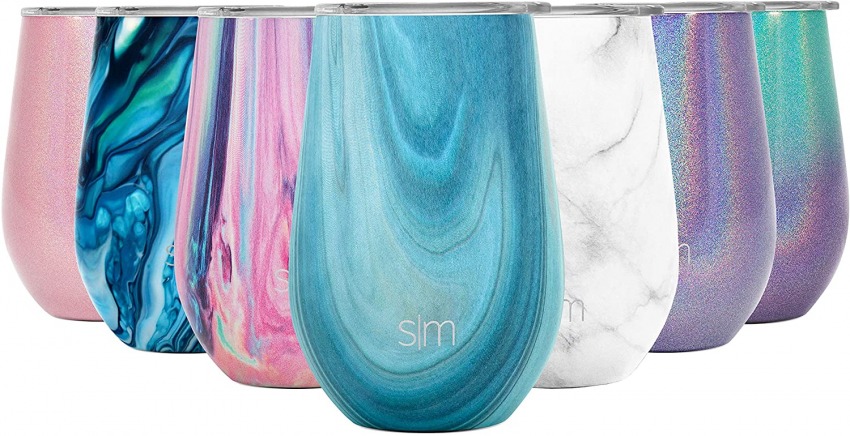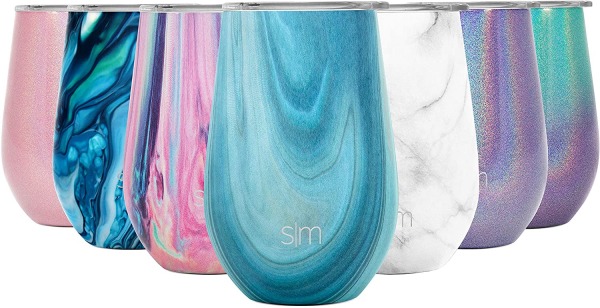 The wine tumbler is made up of stainless steel and therefore the exterior of the inner wall, within the vacuum sealed area, is coated with a skinny layer of copper for added extra insulation. This tumbler comes with a clear lid which makes you savor your favorite wine not just with your taste buds but also with your eyes. It keeps your wine chilled for more than 9 hours. It is dishwasher safe and has multiple colors to choose from. 
This fancy wine tumbler is rated 4.8 out of 5 stars by its customers. Reviewers quoted that these 12-ounce wine tumblers are perfect for vacations, and are a perfect gift for a wine lover.
---
12 oz Stainless Steel Stemless Wine Glass Tumbler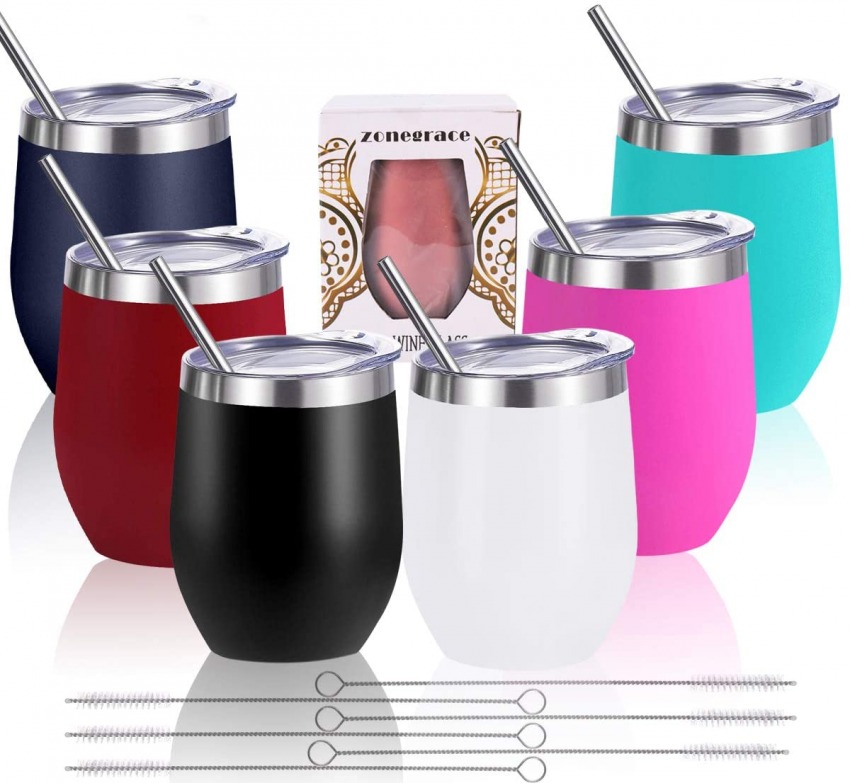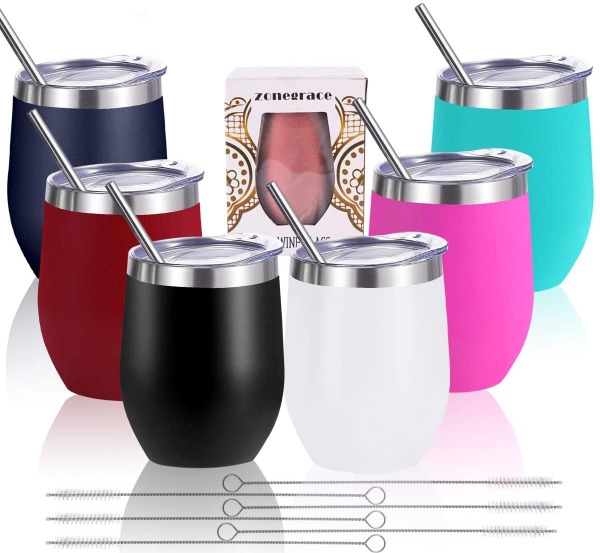 These 6 pack wine tumbler comes with different colored tumblers which are made of 304 stainless steel. These wine tumblers are more durable than other ordinary glasses; And they are unbreakable. The double-insulated technology used in these wine tumblers is good for keeping your drinks warm or cold for a longer time. You can use it in the winter or summer season. The lid of these tumblers is designed with a straw hole for the cup on the surface, which is really good for easy sipping with straws. Therefore there is no room for all the accidental splish slash. 
The wine tumblers are super easy to clean, and the 12 pieces wine cups are enough for spare and application at home, office, or other places. Several reviewers stated that these cups are very sturdy and can be cleaned in the dishwasher. They feel like these wine tumblers make an amazing gift. And the best part about these wine tumblers is they are customizable, so get your personalized wine tumbler now!
---
Stainless steel double wall wine tumbler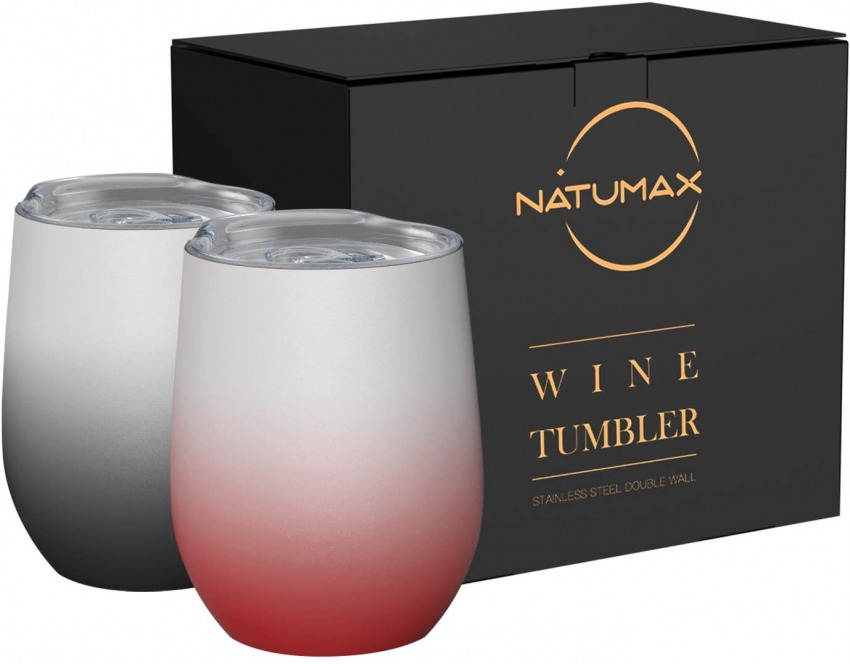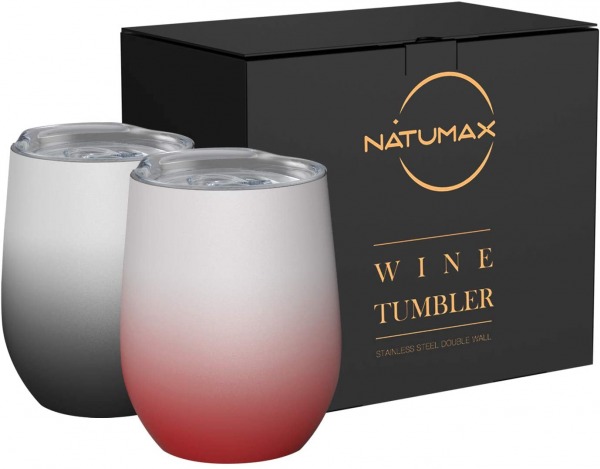 This 12 Oz capacity wine tumbler will add color to your life, rather than your wine or beverage time. It is very comfortable in the hand, portable, and lightweight which makes it perfect to take on your outdoor adventures. With this wine tumbler, you have no need to worry about your little adventurers breaking their wine or smoothie or juice or water or milkshake cups. This wine tumbler is unbreakable and extremely safe for kids, teenagers, and even adults. It is a cute, trendy, and youthful colored metal wine tumbler. 
 It is made up of unbreakable 304 18/8 food-grade chrome steel, with double-wall insulation. These specifications are what make your wine or any beverage stay cold and crisp for a long time, not just chilled wine it even keeps your hot coffee and tea hot and fresh. Some reviewers said that this wine tumbler even kept their frozen drinks frozen for quite a long time. What are you waiting for? Go grab your wine tumbler now.
---
Funny Stainless Steel Wine Tumbler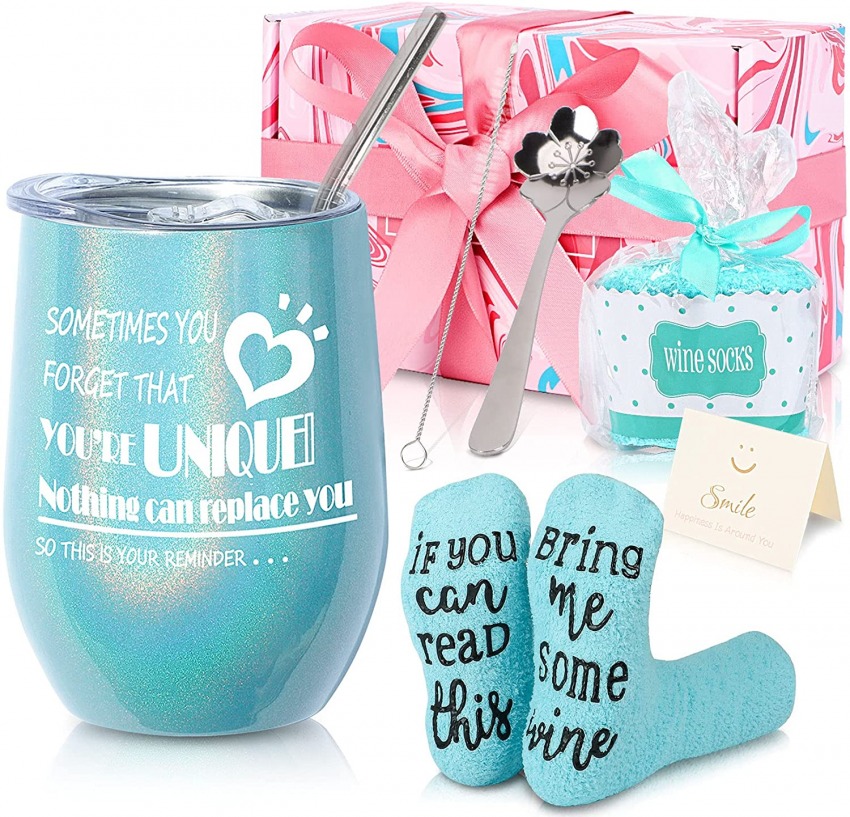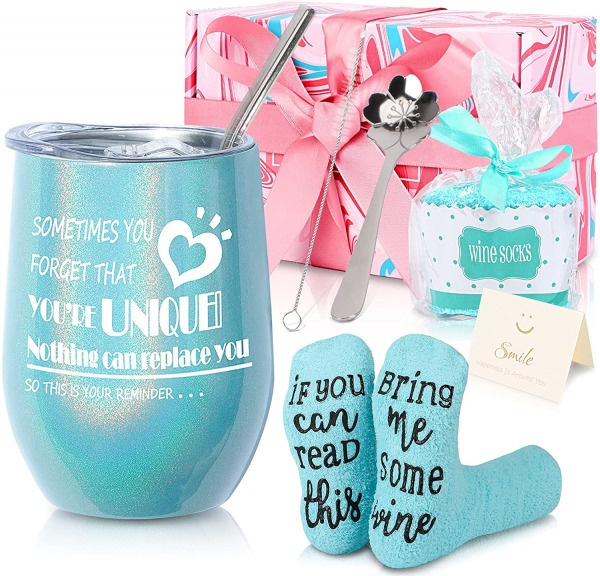 This wine glass tumbler is one of the best inspirational gifts for her. With the humorous saying "SOMETIMES YOU FORGET THAT YOU'RE UNIQUE, Nothing can replace you". Your best friend, mother, or wife will get huge encouragement from this pretty wine tumbler and short conversation. This is definitely one of the most compelling ways to interact with your loved ones. The insulated wine glass is formed of 18/8 304 quality stainless steel. It is more durable and extremely light in weight.
It has a food-grade plastic lid and straw, which lets you enjoy your chilled wine. The advanced double-wall vacuum insulated technology used in this wine tumbler makes the vacuum wine tumbler have an excellent insulation effect, keeping your drinks cold for more than 9 hours and hot for 8 hours. This 12oz wine tumbler is suitable as a wine tumbler cup, vacuum coffee mug stemless cup, beer insulated tumbler, juice mug, soda, and other drinks.
 This wine tumbler comes with a splash-proof sliding lid, safe and eco-friendly. The drinking hole on the top is for easy sipping. The eco-friendly lid provides a splash-proof experience. This package includes 1 x 12 oz wine tumbler, 1 x leak-proof lid, 1 x cupcake wine socks, 1 x greeting card, 1 x coaster, 1 x straw with a brush, 1 x coffee spoon, and 1 x ribbon making it a perfect gift. 
---
Wine tumbler set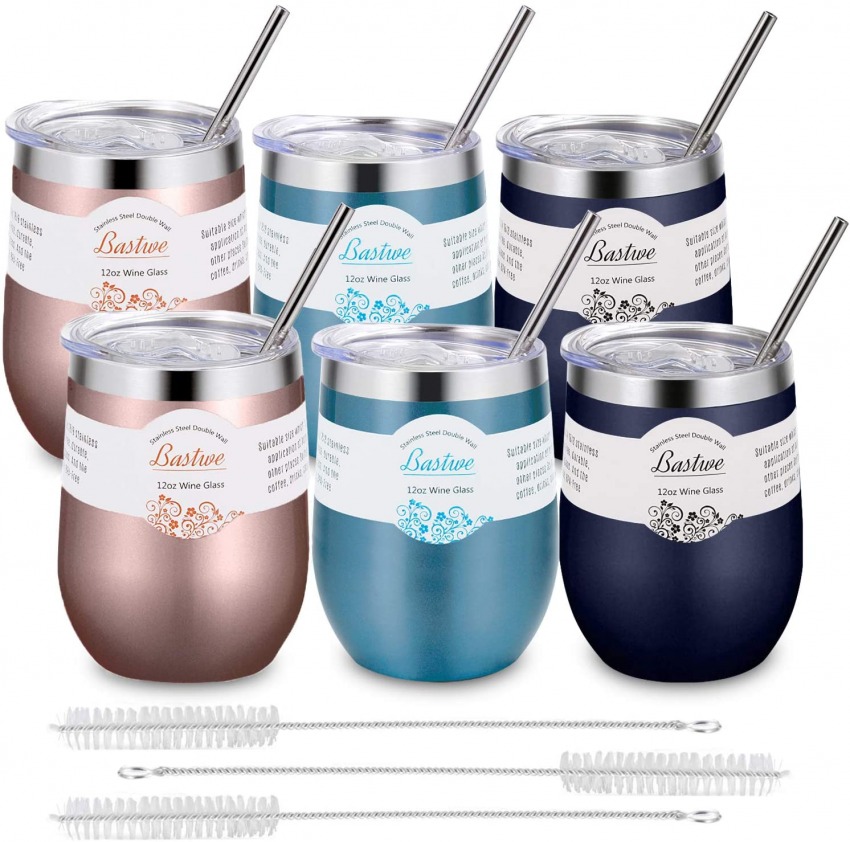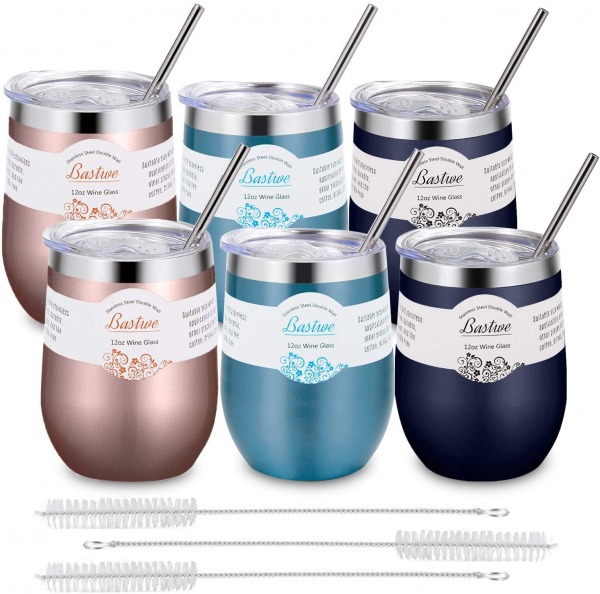 This wine tumbler set comes with 6 wine tumblers. These wine cups are made with 304 stainless steel. And these are BPA Free, Lead-Free, durable, unbreakable. They are extremely easy to carry and easy to wash. These stainless steel tumblers come with insulated double-wall technology making them excellent in heat or cold preservation. It protects against heat or cold transfer and keeps your drinks cold or hot for so many hours. The lid of these wine tumblers is made of ABS, BPA-free.
The surface of the lid has a straw hole design, which makes it extremely convenient for you to insert a small stirrer or straw. These Eco-friendly wine tumbler with lid come with a white silicone rubber ring which to keep the heat and reduce the spill. This wine tumbler set is of 12oz capacity each. You can pour in and enjoy your favorite Champagne, coffee, Wine, juices, beer, cocktail, and other drinks
---
6 wine tumblers with lid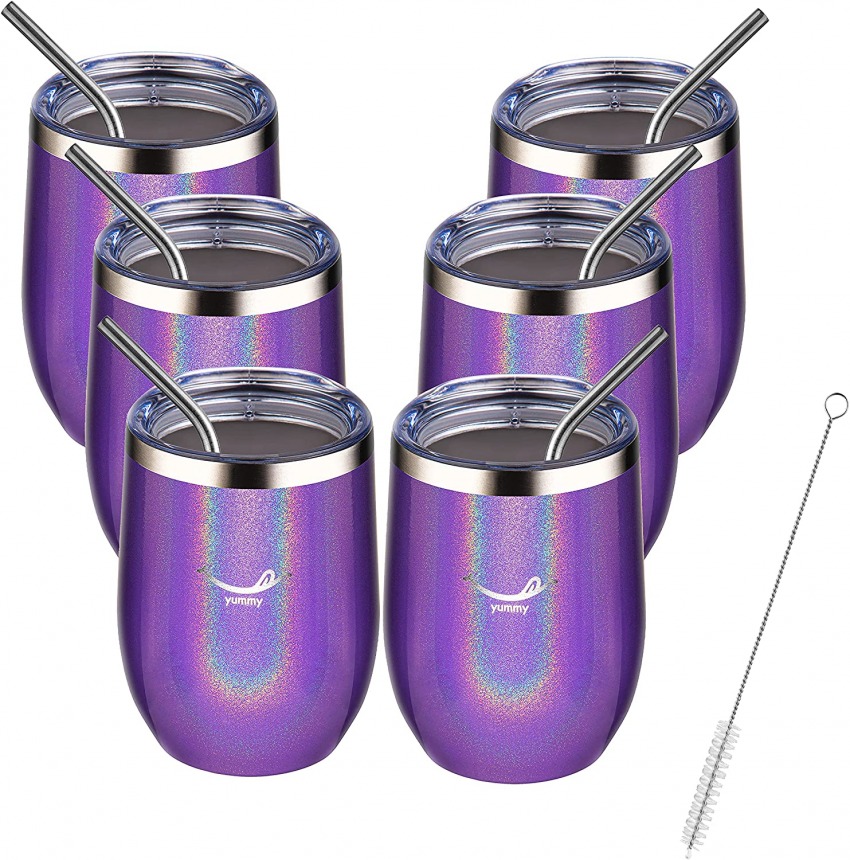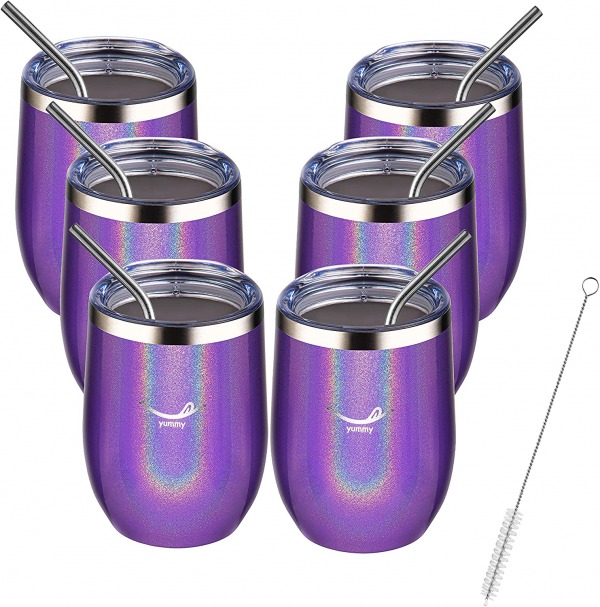 In this wine tumbler set, you will get 6 wine tumblers with a lid, staw, and a cleaning brush. These are of beautiful purple shimmer and are made from 18/8 food-grade stainless steel. These wine tumblers are BPA-free, environmentally friendly, and highly durable, which guarantees the unaltered taste of the beverage. Also, the outer wall is brightly colored and has been specially processed in order to guarantee that it does not fade to the greatest extent.  
The double-walled insulated vacuum design. Which can keep the temperature of the beverage longer. Which can keep drinks cold for 12+ hours and hot for 9+ hours. Wine tumblers are durable and the inside of the cup is easy to clean.
---
Conclusion
Wine tumblers are ideal for those who do not partake in outdoor wine drinking. They are worried about spillage or even breakage. This wine glass tumbler with a lid is also perfect for traveling and even cute picnics. You do not have to be conscious about packing your wine glass because. These vessels are not fragile and are highly durable. 
So, pick out a tumbler or a wine tumbler set according to your taste from the above list, you even have an option of getting a personalized wine tumbler. What kind of wine tumbler do you want to buy?