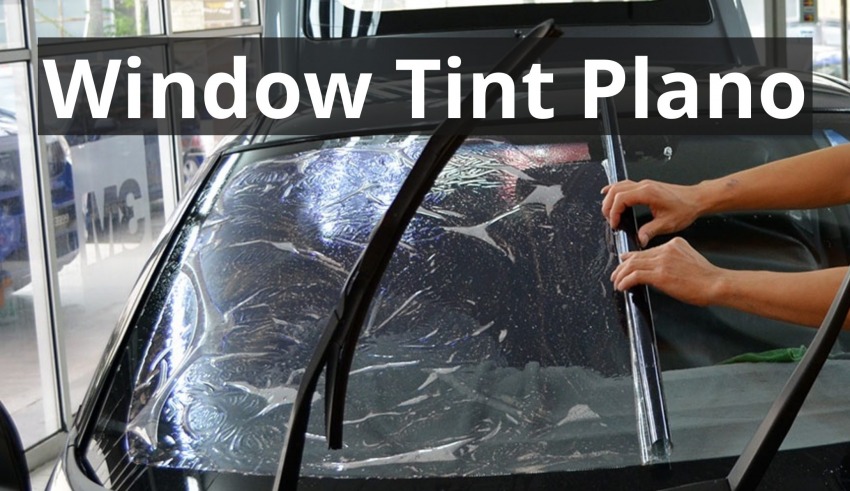 If you are from Plano, you will be familiar with the scorching heat of the summer. If you are a car owner or a homeowner, having a heated seat or room is going to be a common thing these days. The uncomfortable internal environment prevails as the sun's rays fall directly. If you are planning to beat the heat, then tinted windows are everything that you need. Getting the services for Window Tint Plano, people need to visit the best servicing places. It will keep the cars cooler even when parked outside and you can enjoy the ride without the heat and glare from the sun.
If you are from Plano, Texas, just move to the nearest place among the best window tinting places. Getting tinted windows will be cheap, perfect, and simple for homes and businesses. Some of the best places offer instant service so that you can contact them and book an appointment at the earliest convenience. Many people also do it for privacy and safety while they work. In every way, these places are going to offer the best services to clients.
Here is the list of the 15 Best Window Tint Plano.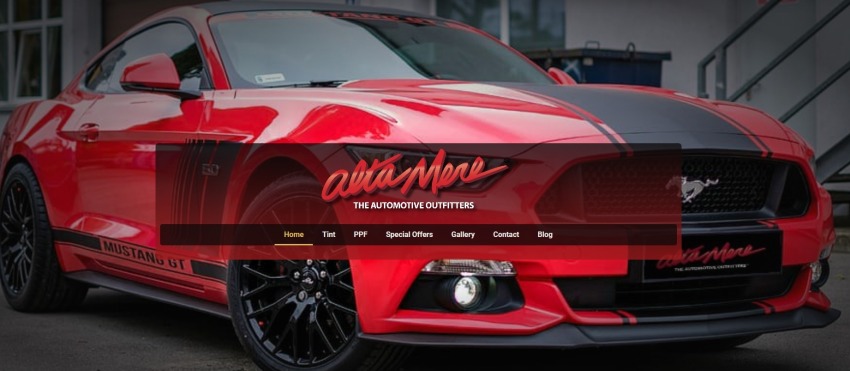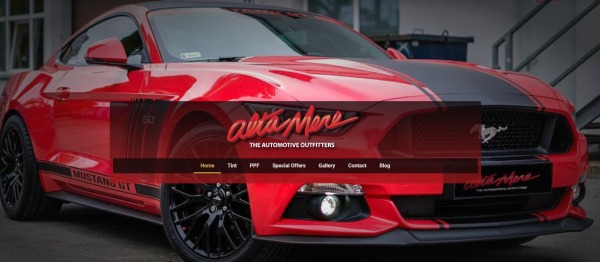 Separate quality packages are there for car window tinting based on the type of material used in the process. Budget packages like Econo Plus tint come in two shades for those who want the most affordable rates. If you are looking for a medium-level package, then go for the SolarGenics tint. This is made up of carbon-plastic hybrid and thus efficiently reduces half of the heat.
But getting 90-100% heat reduction is only possible with Solar Ceramic tints. It is the most popular choice among car enthusiasts. It is perfect for your supercar and comes with a lifetime warranty from Alta Mere. All these come with a high level of protection against UV rays making the internal environment pretty comfortable.
Here technology meets comfort with the best quality products. If you are spending money on a car, might as well make it comfortable enough for a long drive. They keep offering premium packages for the car on sale with added services of paint protection. You can get complete security at the best prices for Window Tint Plano TX with the car tint packages. Select your suitable one and head over to Alta Mere between 8 AM and 5 PM.
---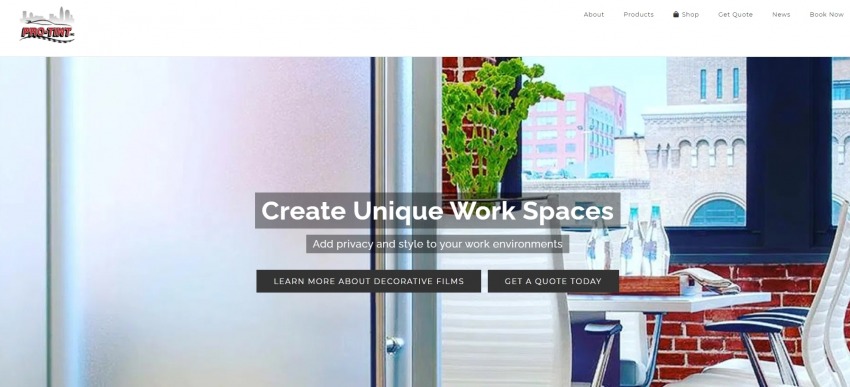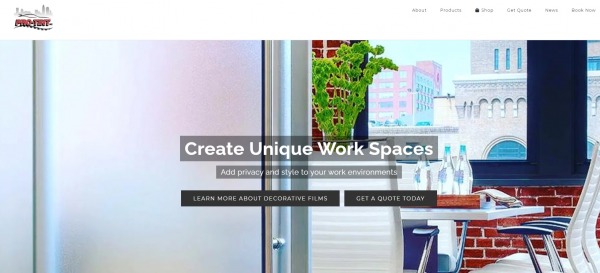 Pro Tint has come up with custom tint designs for the cars. Different shades are available as customers like for the cars. If you are interested in getting a window tint, just contact them with your requirements. They will give you an estimate on-call and you can get it on your car during their working hours. Highly experienced experts of services for Window Tint Plano deal with the work. So, your car is in safe hands as they custom cut the tints that fit the windows perfectly.
Customer satisfaction is guaranteed with their service and choices. Many people have positive things to say about their service. They are fast at their job, efficient and are available all the time during work hours for a free estimate. You are going to get the best prices here with a lifetime warranty from the manufacturers.
The quality of window tints is efficient enough to reduce the car temperature by about 30 degrees. This is with complete UV block keeps the car exactly same as left at the parking space. Just give a call to (972) 818-8468 and get your estimate right now. Getting your comfort your way with a touch of privacy and safety through window tints has never been cheaper.
---


A complete solution for car modifications is available at EarMark Car Audio and Tint. They have separate modifications for driver safety, automobile audio solutions and even window tinting. All the services are top-notch with everything that you want from your car. EarMark offers the best quality Window Tint Plano for cars.
It is not just about the customized look of the window tint. This gives both safety and comfort to the cars. So, the chance of glass scratches or shattering will never be there. The car remains cool from the inside with enough privacy for people traveling. But the best thing is UV protection and anti-glare effects and the iconic finish after the tinting work.
Glare from coming headlights causes accidents under certain situations. This makes driving safe and the internal car seats and dashboard stay protected from getting faded over time. All these benefits keep the car owner satisfied with the long drives they have under the Texas sun. A cool car environment reduces air conditioning usage. You can save a lot by investing in window tints for the cars. Just move through the social media and you can get the details to contact and get the modifications.
---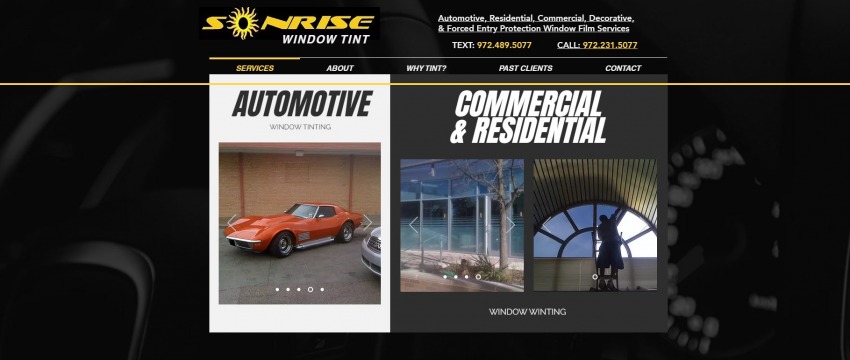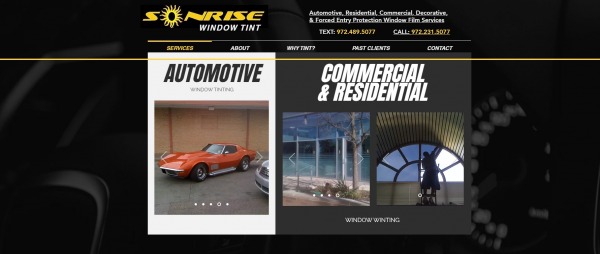 SONRISE is an iconic window tinting service not bound to just car windows. Commercial and residential windows get the best quality tints looking as great as a sports car. They offer all kinds of services for getting the protection of the internal environment at every place. Options are available to make sure people get a variety even while buying tints for them.
Sports cars, multi-storied buildings need that perfect look with best shades of tints. If you seek a stable environment in the cars or even your place, just order their services. They have the fastest possible service for tinted windows. SONRISE as a great place for Window Tint Plano TX makes it even better with some great options and safety. It protects people from the scorching heat they need to face while on road.
The exclusive client list proves that their services are perfect. So, just send them a text or give them a call for the estimates and get your favorite quality of Titanium Nitride Ceramic. This thing will truly last and deliver the safety from UV and IR radiation as it claims. Lasting material makes spending every penny worth it for the future.
---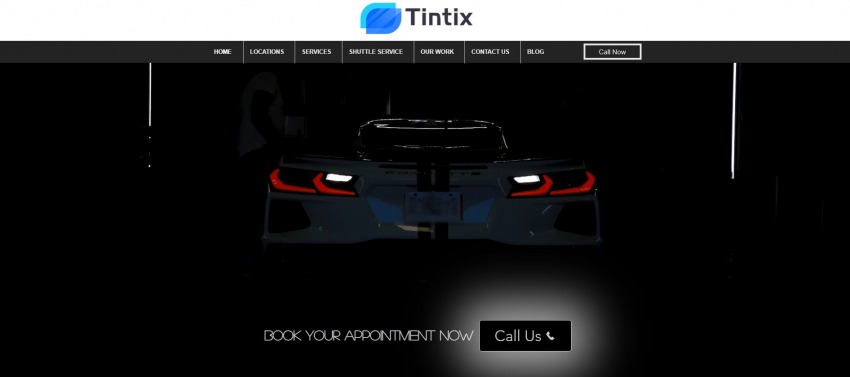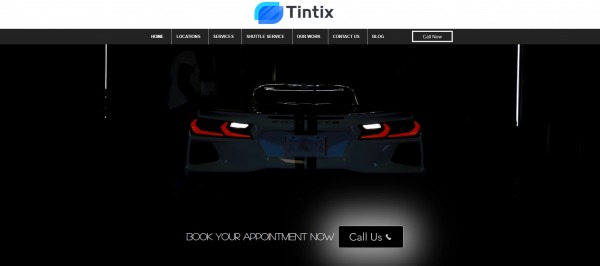 If you are looking for that classy touch on your car, then Tintix will grab your attention. Extensive services are available for every car owner based on their choices. Just check out their previous work and you will be happy to see the results. It is not just basic window tint and ceramic tint that they offer. There are paint protection films and car wraps for keeping the car as new as the day you buy.
Right now, they are offering window tint at the discounted price of $99. Material is perfect for all surfaces, glass or polycarbonate for the Window Tint Plano. Some of the options which you can select include plastic dyed, carbon hybrid, 3M Ceramic IR, XR Blue. This effective material in the film comes with an additional warranty even at this price. All facilities like UV protection, privacy and security and heat resistance are available here.
Better the quality of tint material more will be the protection. You can choose the level of shade for a specific quality as per your need. If you just contact them and book an appointment, you can instantly get a quote with the best discounts. So don't wait anymore and give a call to (469)-290-2000.
---


With over 20 years of experience in the market, Frisco Tint is one such place that offers best Window Tint Plano TX to people around Texas. From residential, commercial to cars, they cover everything. If you are too fussy about their services just move through the gallery. Getting the window tint from here will give you a warranty.
For car window tint they deal with the insurance in-store and offer an easy lifetime warranty. Window tint is manufactured in such a manner that the tint stays consistent with the glasses. Warranty is because of the assured quality of the services. Better visibility and least heat absorption are the qualities they possess. Their store and business are in Texas, which is why clients can reach out at all times.
Getting an estimate is too easy and free from hassle. You can either contact them or request an estimate on their website citing your needs. There are different shades and colors to choose from. So, get an estimate and book an appointment immediately and get tinted windows from the best stocks.
---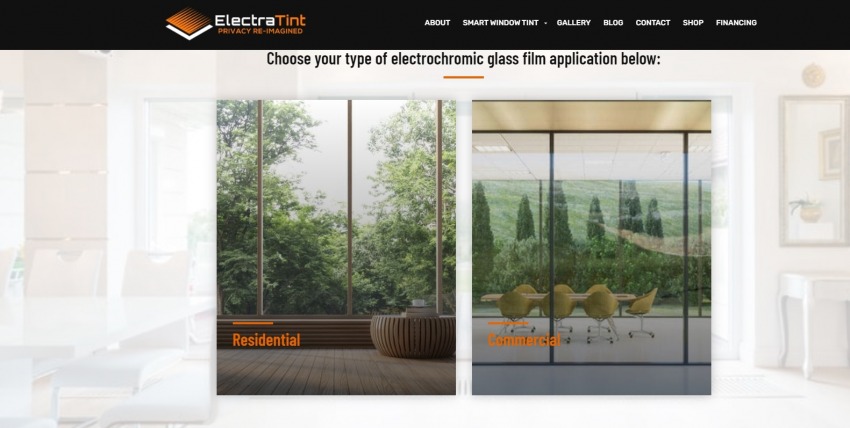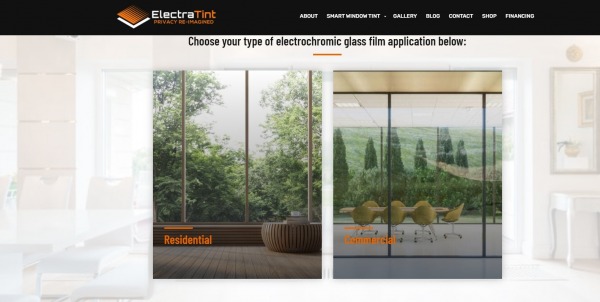 On the hot summer days, people want their house to remain cool. Making the most out of the thermostat temperature is all they look forward to. Window tinting services for commercial spaces, residential places are pretty common among service providers. But they have special provisions for hospitals and correctional facilities. This will definitely keep the patients comfortable at hospitals as they can rest throughout the day.
ElectraTint offers a 4-year warranty after getting services of Window Tint Plano installation. They are good at their job, which is why they complete installation process of whole buildings within 2-3 weeks of order. Unique smart window tints are available that are perfect for placing in the office. These smart tints can be converted from transparent to tinted instantly. ElectraTint connects it to electricity during installation so that customers can get the office windows as they like.
Electrochromic glass is pretty unique and it is perfect for offices. Now the choice can be in your hands about when you need a tinted glass and when a transparent one. Get started with the choices and contact them for the fastest service around Texas.
---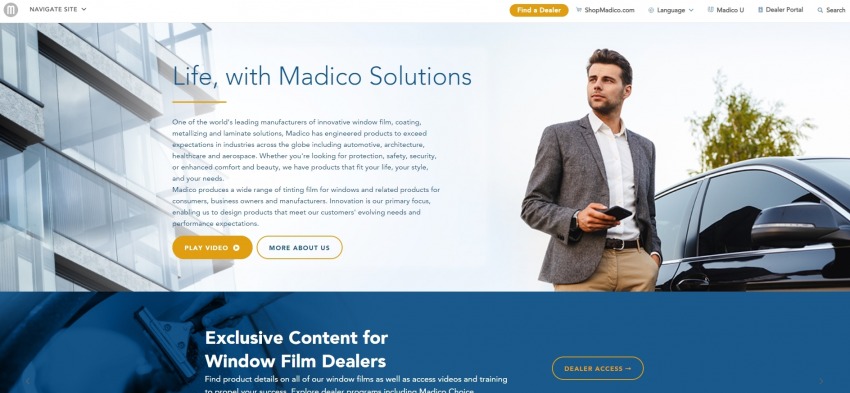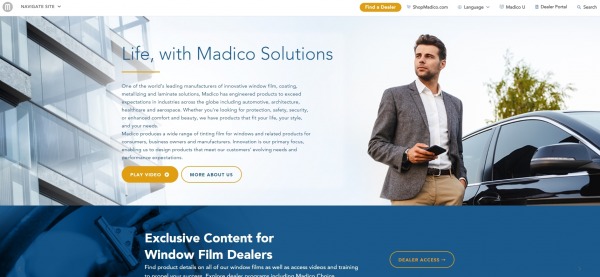 MADICO services are manufacturers of window tint and film. So, their quality assurance of products is the top priority. MADICO dealers in Texas offer special window tinting services to ensure security for the cars and residential or commercial spaces. Since they produce the materials, they offer a warranty from their side only. You can contact them with all your issues at any time.
Starting with security and safety there are residential and car window tints too. Customers can get their tinting requirements sent to them through their contact page and get a free quote. Both classic and contemporary styles come as attractive additions to cars and buildings. Choosing the iconic tint is an art and the people at MADICO dealership will help you get the best one.
You can stay cool indoors or inside your car and stay protected from the harmful rays of the sun. Brand new Automotive Tint Simulator works best to help you with the selection of Window Tint Plano TX. With this comfort comes the essence of heat reduction and privacy. They will deal with everything, from giving a legal depth of tint to warranty plans. Just call them up or ask for a quote through the contact page.
---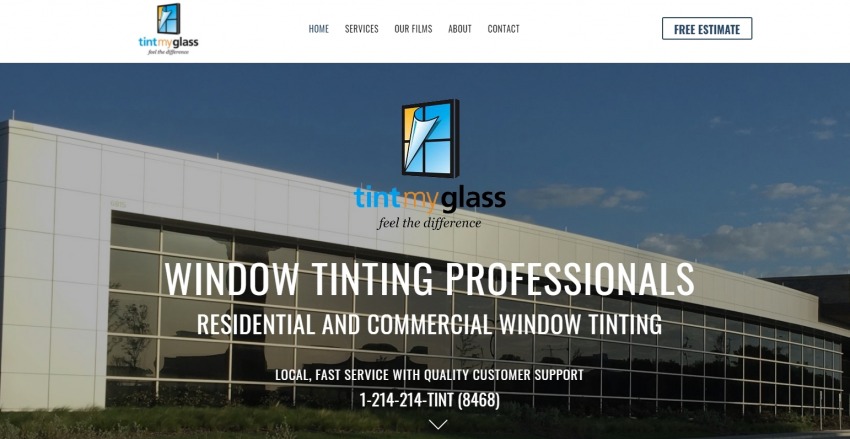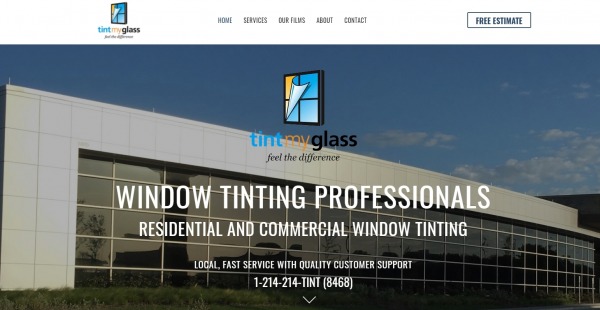 As professionals of window tinting for residential and commercial places. TintMyGlass is a common name. They are authorized dealers offering people the Window Tint Plano from 3M, Graffiti Shield and Saint-Gobain. Products from this place will be perfect for UV protection, privacy and the best level of safety.
With residential tints, a person can enjoy the experience of a comfortable place with a varied selection of shades and colors. Choose the perfect one that suits your place which can cut down the charges of the thermostat. If you have your own workplace, you will like the security and privacy from outside. Carbon negative solution in the commercial tints keeps the glare away and keeps the internal environment cool.
TintMyGlass are professionals in the field of installing SolarGard films for home. This reduces about 80% of the heat which protects against the Texas sun as well as solar radiation. Decorative films, security films and cool graffiti for the commercial places makes the business offices look attractive. So, just add their number to your list and give them a call.
---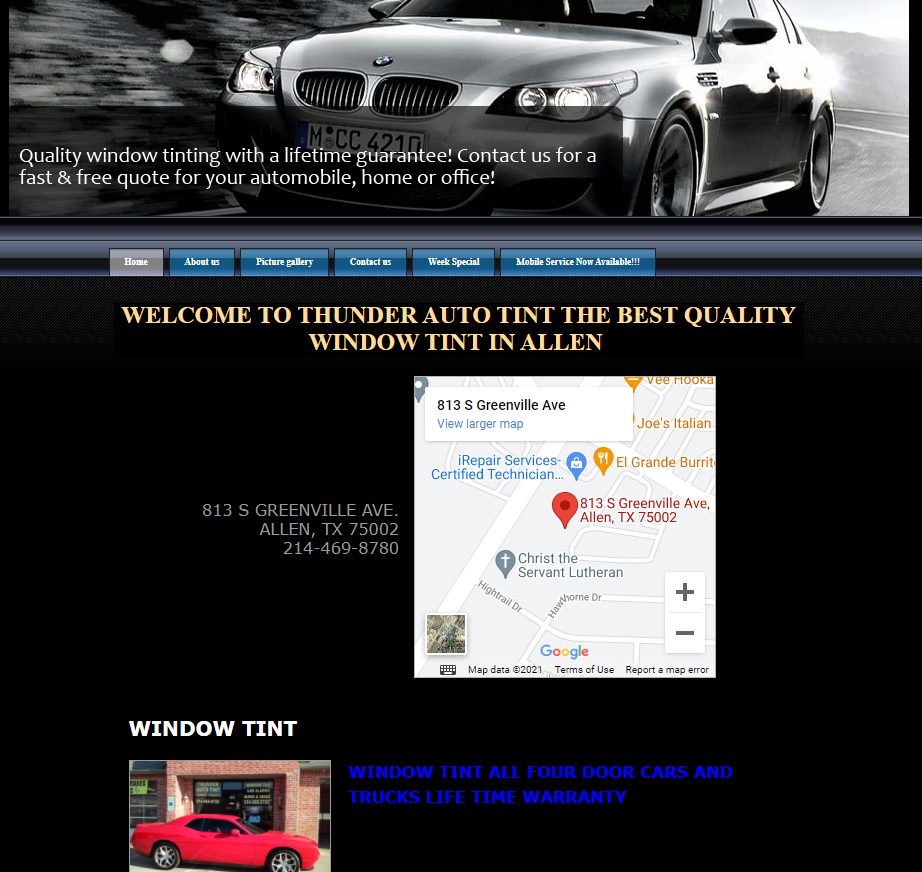 The best quality window tint from Thunder Auto Tint makes every penny worth the investment. They have a 1-year warranty as a starter but you can get a lifetime warranty with the tints for just extra few bucks. They offer special window films from SUNGARD. The long-lasting quality of SUNGARD manufacture reduces heating and attracts more buyers.
Protecting the investment is important, so you must make these changes to your car or house. Window Tint Plano TX will look perfect with your lifestyle and keep your things secure. You can have constant comfort at your place. For just $149.99 you can enjoy all these facilities and experience the choice of working in a peaceful environment which stops the entry of too much heat.
They will introduce the SUNGUARD as per the legal standard of Texas. You do not have to deal with anything. Just drive your car here and get tinting from the fastest service possible. Just give a call to 214-469-8780 and get your tinting as you like.
---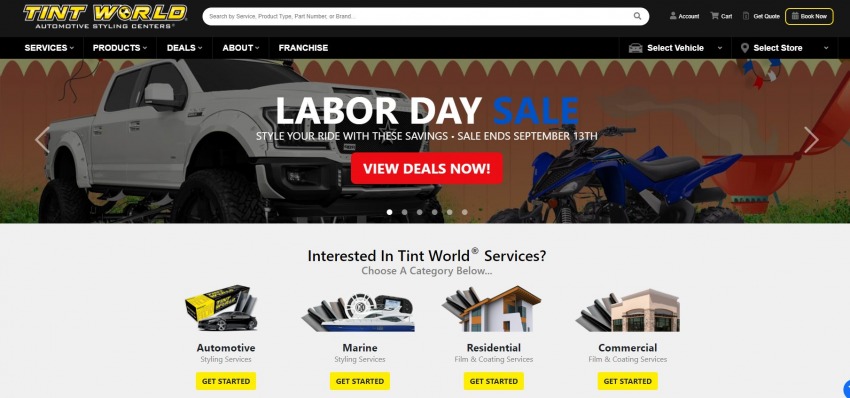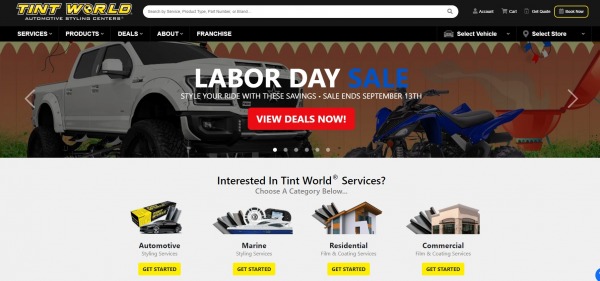 Tint World is famous for its unique feature of going beyond commercial and automotive window tinting. They also offer tinted windows as marine styling services for your boats. So, it is pretty famous among the people who own their boats and go fishing. They can have the comfort of the interior of the boat under the sun.
Styling and coating products like this are from multiple companies. So, there are different types, shades and qualities of products available for the windows. They have all services to remodel a car from the base. So, car enthusiasts like this place to get all their needs under one roof. Solar films protect both the UV rays and act as surface protection creating a long-lasting effect.
You can instantly get a quote from their website or just add the items you need to the cart. Their services are fast, effective but take just a few bucks. So, if you are up for the best quality Window Tint Plano TX at the cheapest ranges then just go through the choices at Tint World. You will find some exclusive product ranges and multiple services, just ask for the estimate.
---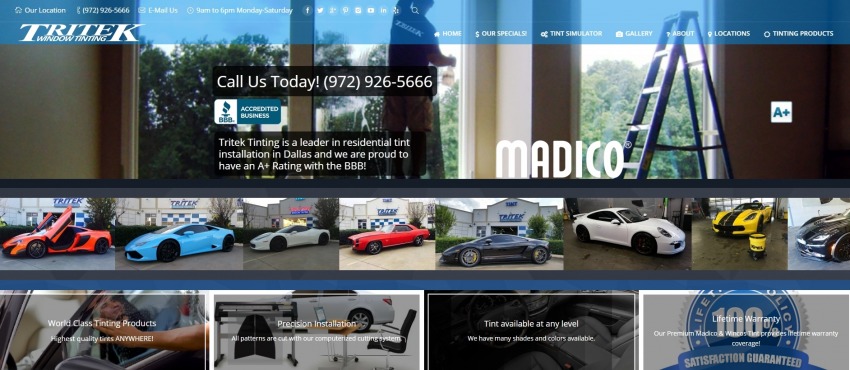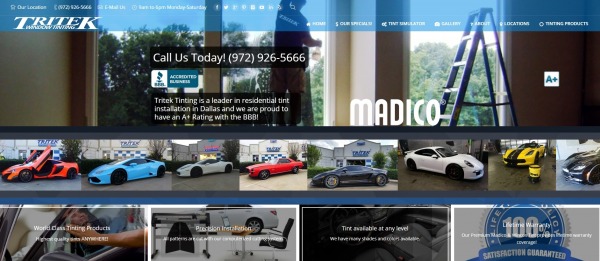 A limited-time offer of a special discount coupon is available here. If you are looking for window tinting, do so at the cheapest possible prices. They take pride in the lasting effects of the window tint. Tritek tinting is famous for its tint simulator with Window Tint Plano services. The tint simulator helps detect the best possible option among Charcool, Advanced Ceramic, CS for the car or the household.
This is perfect for getting a proper choice before calling them so that you can get the free estimate instantly. Reach out to them on the email or contact number as they stay open from Monday to Saturday 9 AM to 6 PM. The tints are of the best quality that gets installed with precision. All these come with the lifetime warranty of the product proving their ever-lasting ability.
From cars to residential window films, they cover everything. The attractive shades and designs come with complete protection against the sun and a constant heat reduction. So, once you invest in this, you can enjoy the comfort that you expect at home.
---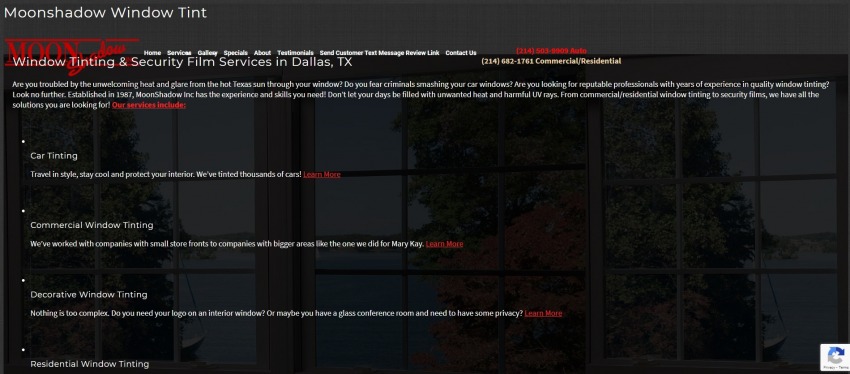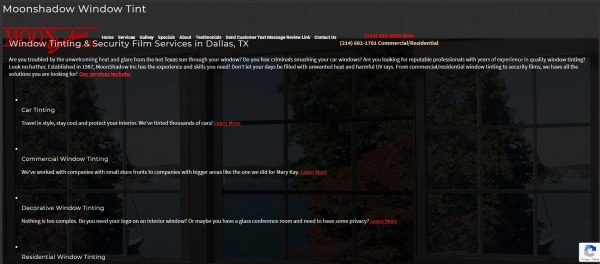 People come to the MoonShadow Window Tint firstly for a 10% discount on premium films. It is not just the money they save but the lifetime guarantee they get with it. They have window tint from some of the great companies like LLumar, SunTek, SolarGard. MoonShadow makes sure that only their customers get the best quality films only.
You can contact their experts directly for either car window tinting or residential. They offer a range of services other than cars and residential Window Tint Plano. There are decorative window tinting for interior decoration and security films especially for the buildings that need to remain safe from vandalism. But the most unique feature is the custom graphics on the tinted windows as your business needs.
You can confirm the best tinting options for the specific windows and get an appointment. They encourage you to look through the gallery and see their expert work. Previous expertise of MoonShadow really makes people believe in them and take every facility they provide with window tints.
---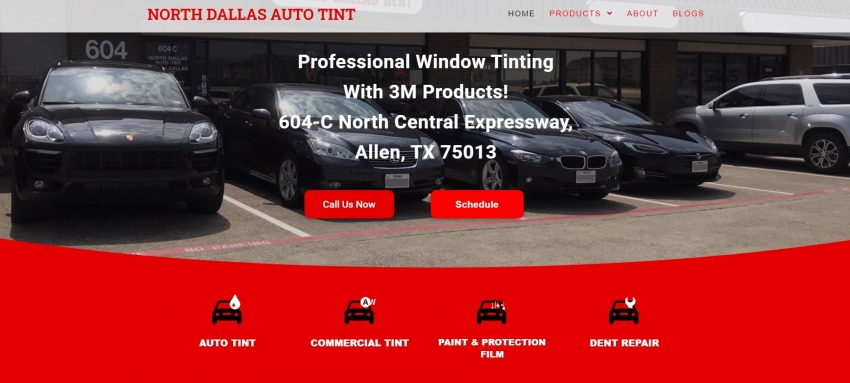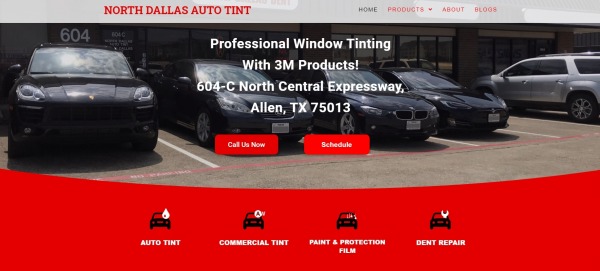 North Dallas Auto Tint offer authorized tinting service with the 3M products. 3M products are top-notch and considered one of the best among Window Tint Plano TX. Even though they started with auto tinting, now they provide services for commercial and household tinting. All these services are with the customized films from 3M that ensure complete protection against harmful rays.
The protective film keeps up the safety and privacy as users like it. All of this comes with services like car films for paint protection and dents. Car owners are going to be very happy with their services. It gives the car repairs and additional protection from both the sun.
North Dallas Auto Tint remains active all the time through their contact support. Just ask them for the prices and choose between their exclusive Ceramic and Crystalline tint. Plano residents can get direct service from their commercial spaces too. They are just a call away to book the appointment.
---
J&J Quality Window Tinting
From cars and commercial spaces to home offices, J&J Quality Window Tinting has experts helping with every possible service. If you do not want your office to get the heat from the scorching sun of Texas just add their number to your contact list. They are going to deal with all the problems and offer a steady solution to you.
Here they also have the smart film installation for Window Tint Plano. If you want to design your office as a unique space then this will be the eye-catcher. Just the push of a button makes the windows transparent and opaque. This is perfect for bigger office spaces if you are having a private meeting or a conference. So, set up your space as you like and get the most supportive experience.
Even the government buildings like police departments take their services. They are so efficient that they can provide everything that you like. Decorating your office spaces and cars has never been faster and easier. Just call them on +1 214-455-3511 and you will surely call them back in the future for more services.
---
Conclusion
All these places offer the best services maintaining the legal level of tinting in cars or homes. Abiding by the limit is important, or else you are going to get tickets every time you are driving the car. Best places for Window Tint Plano TX are aware of the legal limits of it and you do not have to worry about changes in the windows of offices or businesses that you make. They will take care of everything while tinting the windows and the custom modification you need for the services.