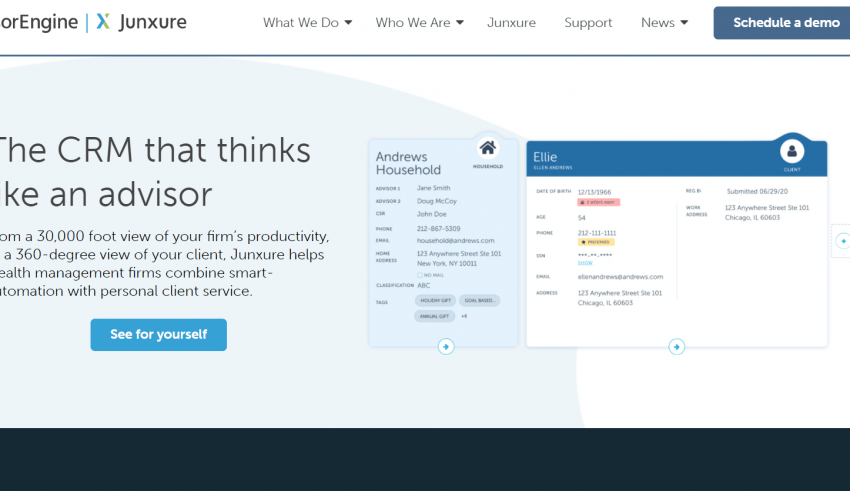 Technology is of the utmost importance to a modern financial advisor. So much of a financial professional's everyday job is reliant on the virtual world.  It is vital for an advisor to have the right tools at their disposal in order to fulfill their client's needs. When it comes to technological tools, the software is the king and especially the cloud. What are the important aspects of a software service that an advisor needs to consider?
Software That Understands Your Challenges!
As a financial advisor, you have a unique set of challenges to deal with daily. Much of an advisor's day is spent on a computer using a Client Relationship Management database. While there are many different CRM platforms out there, not all are designed to be independent financial advisor software. Too many times advisors get stuck with a generic software brand that does not relate to the work of a financial advisor.
It is imperative that you have the software infrastructure to keep track of these areas. There are many different business-to-business software products out there, so it is important that you choose a product that is a great fit for your everyday needs.
An advisor is constantly monitoring investments, so software that allows an advisor to integrating investment strategy into the platform is critical! On a similar note, a platform that can handle fees and billing will save an advisor a whole lot of time. An advisor needs a software service that works for them, not one that creates more work!
---
Improve Your Efficiency!
Can you imagine being an advisor today without any type of software support? Me neither! Software like CRM systems help you efficiently navigate and organize your firm's data. In today's age, clients demand more attention for less money. In order to demonstrate the client comes first, a savvy advisor will need to have the technology in place to meet their needs.
Today's advisors rely heavily on data analysis when running their business. Firms need to build client profiles, which enables the advisor to give personalized financial advice. Important information about potential clients is vital in today's financial prospecting world. Having a CRM setup that can seamlessly allow for integrations is crucial whenever a profile needs to be updated.
---
It's All About The Clients!
As many have been told in business, the client comes first! When considering what software to choose for your practice, the quality of client data storage is crucial. A reliable CRM can record client interactions in a manner that allows advisors to build off previous conversations. This data organization can also make an advisor look good in front of their clients. For example, a CRM can allow clients to be organized by birthdate, so when the special day comes for each client an advisor can surprise them with a gift!
Software that can create customized client profiles is also important for the modern advisor. Clients have diverse financial situations and goals, so the ability to personalize a client profile is needed.
This way an advisor does not have to rely strictly on his memory for important information, like client goals. During meetings with clients, an advisor can refer to the client's own personal profile. They can review their goals and risk tolerance, reminding them what they chose in their last meeting. A solid client-centric software system adds a personal touch to any financial advisor's practice.
---
What Advisor Software Is Available To Me?
So now that you understand the need for financial advisor software, you need to decide what software to use. What option makes the most sense for your firm? While there are many different CRM platforms out there, some are better catered towards financial advisors than others. AdvisorEngine is a wealth management software platform made by financial professionals for financial professionals. Many consider this upstart company to be the best independent financial advisor software in the industry.
What makes the advisor engine particularly impressive is its advisor-focused CRM system Junxure. Junxure does an impressive job of capturing critical client data and allowing you to organize it in an efficient manner. The workflow automation is also an added bonus, this can ensure advisors within the firm can coordinate to complete tasks together.
Many clients have come to appreciate Junxure's robust integrations as well as its open technology design. In fact, Junxure currently has a 98% customer satisfaction rating. AdvisorEngine's Junxure platform can add a lot of value to any financial advisor's practice.
There are also solutions too, Oranj is a wealth management platform with a lot of features and good support. RIA in a Box is a standalone compliance tool that helps advisors keep up to date and fully in compliance with all regulations.