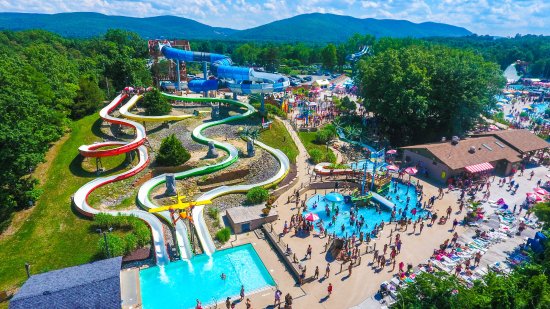 Those who have visited Goa are sure to have experienced the remarkable beauty of this place. The presence of wide shorelines, beautiful temples, churches, and the magnificent hotels and resorts makes Goa a collection of beautiful features and adventures for people from a wide range of age groups. In addition to all these, water parks in this city are an added part of fun and enjoyment. Along with the beautiful seashores, the large numbers of water parks are a part of additional beauty. Goa is home to big water parks that offer proper vacation time for you and your family and friends. Imbibed with beautiful surrounding and adventure rides, these water parks in Goa will surely provide you with an enhanced experience whenever you travel to this city.
Water parks in Goa are indeed outstanding alternatives for the seas and beaches available in this city that also offer you numerous means of entertainment and adventures. The facilities available in these water parks help you indulge in rides, swimming, amusement options, and numerous other factors that make your quality time in these water parks cheerful. Let us thus look into some of the top-notch water parks present in Goa for you to enjoy to the fullest when you visit them during your holidays.
Splashdown Water Park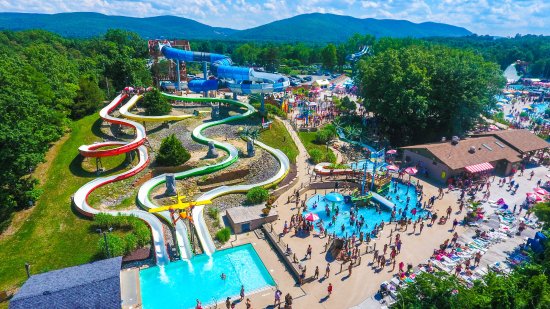 Location – Calangute-Anjuna Main Road, Padre Agnel Vaddo, Gauvaddi, Anjuna, Bardez-Goa, India
Splashdown Water Park is undoubtedly one of the outstanding water parks in Goa. In this park, you will find out different types of 4-storeyed water slides that are tailored to the conditions of specific age groups, various cannonball slides, walks that are adventure specific, leisure water pools, and more.
As exciting as these features of this water park sound, they are equally thrilling thus consuming the stress you have been building up from personal as well as work life. In this water park, you will also find a beautiful resort and specific season pass that allow you to spend quality time of your holidays in a comfortable environment.
Some other unique facilities available in this water park include BBQs, Cafe corners, Pizza Stations, an outstanding backdrop for your friends and family, and more. The cost of the ticket for adults above the height of 48 inches is Rs 990, for children below the height of 48 inches is Rs 763, for senior citizens above the age of 60 years is Rs 585, and for children under the age of 2 years is totally free. During the weekdays, i.e., from Monday to Friday after 3:00 pm the ticket fare is Rs 649.
There is also a special Splash N Play facility on Thursday from 9:00 am to 10:30 am for which the tickets cost Rs 325. The daily timing for this water park is from 10:30 am to 6:00 pm. You can also purchase or rent swimwear in this water park. Wearing Lycra or Nylon dresses in the water park is a must.
Froggyland Water Park


Location – Pateapur, Nuvem, Goa, India
Froggyland Water Park offers you a variety of facilities that make you excited to visit it as many times as possible. Also, you won't regret going to this water park because all of its features are equally unique making you spend more time in each of the rides or slides.
Some of its remarkable activities include group-racing slides, mushrooms, lazy rivers, laughing jokers, lily pads, huge tube slides along with various other amusement options such as rain dance, wave pool, zorbing, giant bumper boats, and more. As adventurous as these activities of the water park sound, there are also strict rules set for ensuring the safety of people riding these rides.
Another feature of Froggyland is its easy approachability because of the fact that this water park is just at a distance of fewer than 20 miles from the center of the city Goa. The cost of the ticket for adults above the height of 4 ft is Rs 500, for children below the height of 4 ft is Rs 350, and for spectators that do not intend to use the water, pools are Rs 300.
The timings for this water park is from Tuesday to Sunday from morning 10:00 am to evening 6:00 pm. This park is closed on Monday. You can also avail swimwear in this water park by purchasing them or by renting them. However, wearing Nylon or Lycra clothes is a must whenever you visit this water park.
Blue Whale Water Park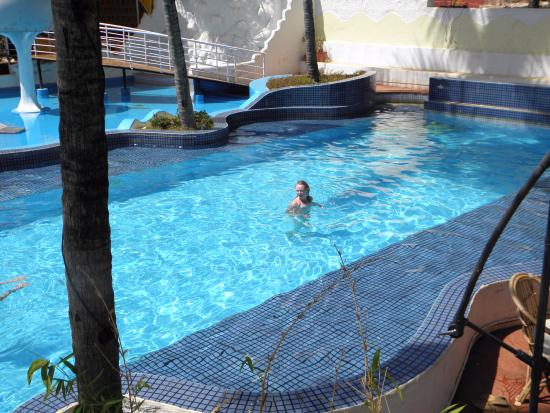 Location – Baga – Arpora Road, Near to the Goan Beach Club, Arpora, Goa, India
Blue Whale Water Park comprises of outstanding slides that could send chills down your body. The super fast blaster boats, the serene and clear swimming pool, and numerous other facilities present in this water park make it a major attraction for those willing to beat the summer heat with their family and friends.
This water park is regarded as the appropriate value-for-money park, all thanks to its inbuilt unique amenities and adventurous activities. With its theme set for family, friends, amusement rides, and greener parks, you will undoubtedly love to visit this water park time and again.
The most unique attraction of this water park is the Jumping Castle named Finding Nemo where you will be indulged in exciting adventurous activities. Further, to lighten up your mood you can dance to the beats of the songs played by the DJs and feel enlivened. The cost of the tickets for entering the park is Rs 300 per person.
This water park is open from morning 9:00 am to evening 7:00 pm every day. You can purchase or take on rent suitable swimwear for wearing inside the water park. Also, wearing Nylon or clothes made up of Lycra in the water park is quite important.
Nagesh Water World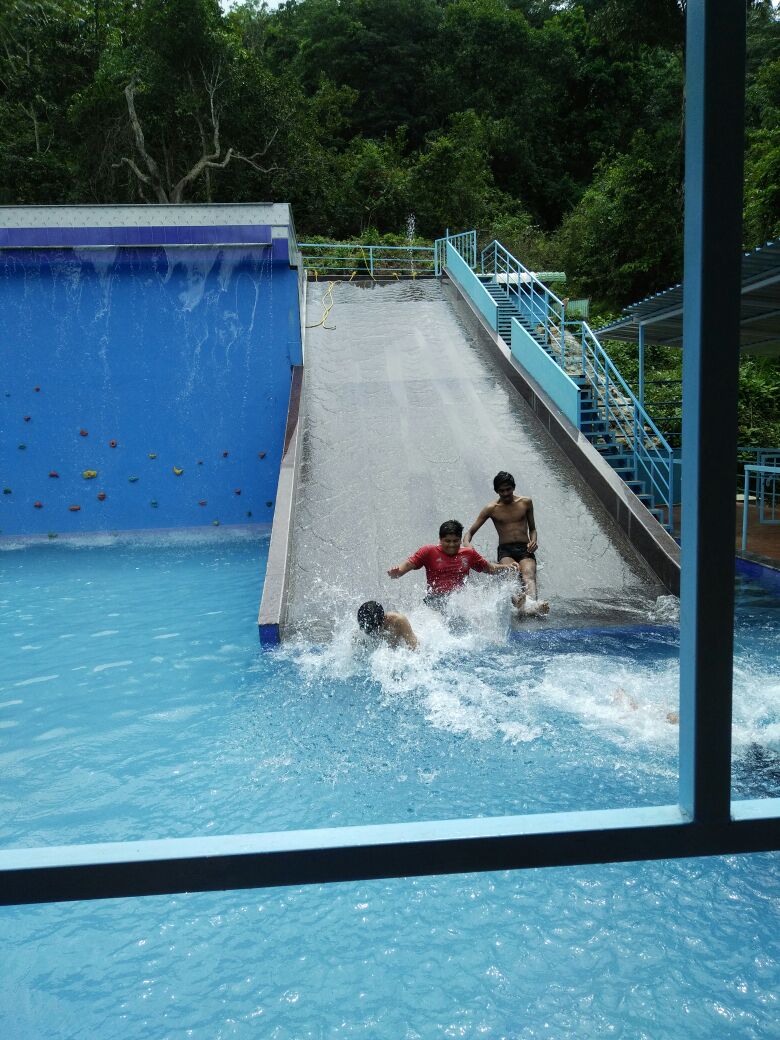 Location – Nagesh Water World, Near Pascol Firm, Opposite of Nestle Factory, Khandepar – Tisk Road, Ponda, Goa, India
Nagesh Water World is regarded as one of the best water parks in Goa because of its goal to ensure eco-tourism in the city. You will find numerous venues in this water park that will not only enthrall you but also excite you to visit this place time and again. These venues include Eco Tourism or Adventure Trip, Agro Tourism or Organic Farm, Wedding or Party Halls, and Cultural Program Hall.
The names of these places itself imbibe a sense of inquisitiveness and excitement in the mind of thousands of tourists that visit this place. You will find an amalgamation of nature's beauty as well as a range of adventurous rides when you go to this water park thus providing you an unrivaled experience. You will also find several cottages located in the middle of extreme greenery that helps you enjoy your stay in these rooms while relishing upon the natural beauty surrounding you.
For those looking to celebrate birthdays or anniversary or any special occasion, can also book the poolside section to have a gala time with their friends and dear ones. The cost of ticket packages is determined by the total number of people accompanying you. For information regarding this, you can visit their site and get an overview.
This water park is open to its visitors from 10:00 am to evening 5:00 pm every day. Although there are no such strict rules for clothes, it is usually recommended to wear polysynthetic clothing while getting up the rides.
6 Shades of Nature
Location – Quepem Market Road, Nirmal Nagar, Xeldem, Goa, India
6 shades of nature since established on a farm, creates an environment of natural beauty and lusciousness for the visitors coming here to beat the scorching summer heat. You will witness your stress vanishing not only with the help of crystal clear water pools and adventurous rides but also from the very fact that you are able to flourish in the lap of nature.
Those that love the nature a lot, can always plant a tree in and around this water park and contribute towards developing natural beauty. You will also find several cottages inside this water park along with beautifully streaming waterfalls that help you indulge in magnifying your senses and spirit.
The cost of ticket and entry fares is determined by the services that the visitors want to avail. It is open 24X7 for its visitors. Although there are no strict rules for clothes to wear, it is recommended that people wear polysynthetic clothes while entering the rides.
Does this article inspire you? Don't forget to share your experience below.