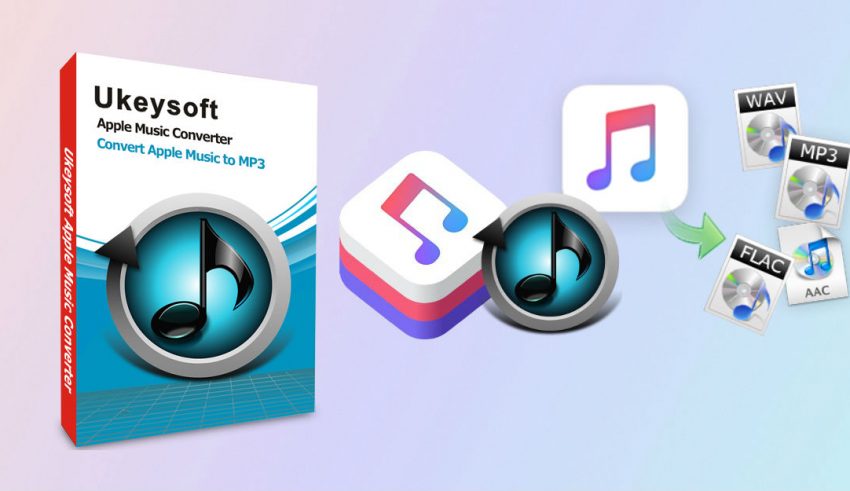 Apple Music is streaming music service, Apple Music subscriber can download the app for other devices like iPhone, iPad, Android phone, and the Apple TV. You can access the service via the iTunes app for Windows or Mac computer, and your Apple Music subscription will work via Sonos and Amazon's Echo family of smart speakers. But, Apple Music is protected by DRM, even if we have paid for Apple Music, we can not still play it in another device, like MP3 player, iPod Nano, PS4, Xbox, Android TV and other unauthorized device.
Worse, we can't keep Apple Music songs forever after canceling subscription, although we have downloaded the songs, because we don't really own Apple Music tracks, since songs downloaded from Apple Music are encoded in DRM M4P format that can't be played on MP3 player or other multiple portable devices and players.
Why do we need the Apple music converter?
Since Apple Music file is AAC format and the downloaded Apple Music file is M4P format, no matter the files downloaded or not, both two types of Apple Music files added DRM protection.
An apple music converter is required to convert the M4P Apple Music files into a DRM-free audio format (usually mp3). This is mainly because Apple music does not allow generic audio converters to transfer or convert M4P Apple Music tracks and an authorized computer is required.
Do you want to remove DRM from Apple Music tracks? Looking for a way to convert Apple Music to MP3 without spoiling your sound experience? Don't worry. UkeySoft has got you.
In order to keep Apple Music files playable after canceling the subscription of Apple Music and to really own the downloaded Apple Music files, so we always want to convert Apple Music to MP3, M4A, AAC, AC3, FLAC, AU, M4R, and MKA. Right now, we have found a popular Apple Music converter, it named UkeySoft Apple Music Converter, which also is an Apple Music DRM Removal tool and iTunes audio converter. We have tested this UkeySoft Apple Music Converter Mac version and write this review article, in order to helping Apple Music subscriber convert Apple Music to MP3 with ease. UkeySoft also provides Windows version, you can convert Apple Music to MP3 at up to 16X speed in Windows 10/8/7/XP.
---
UkeySoft Apple Music Converter for Windows and Mac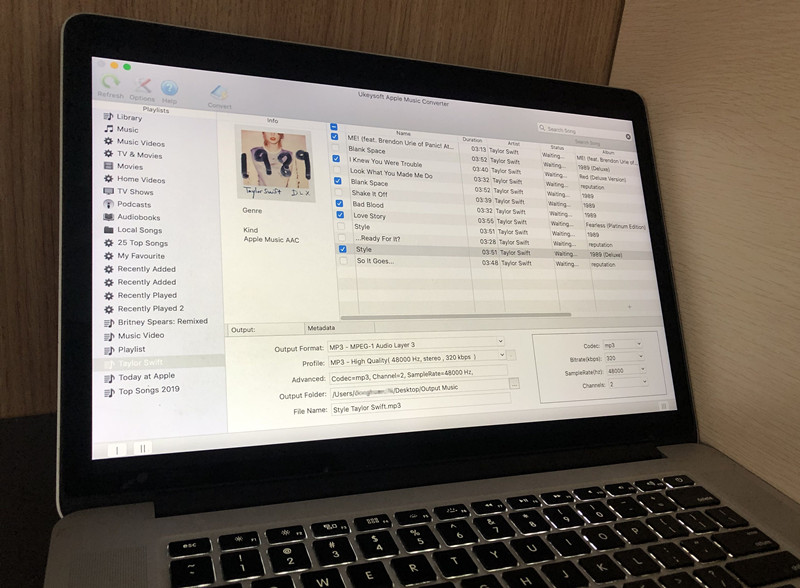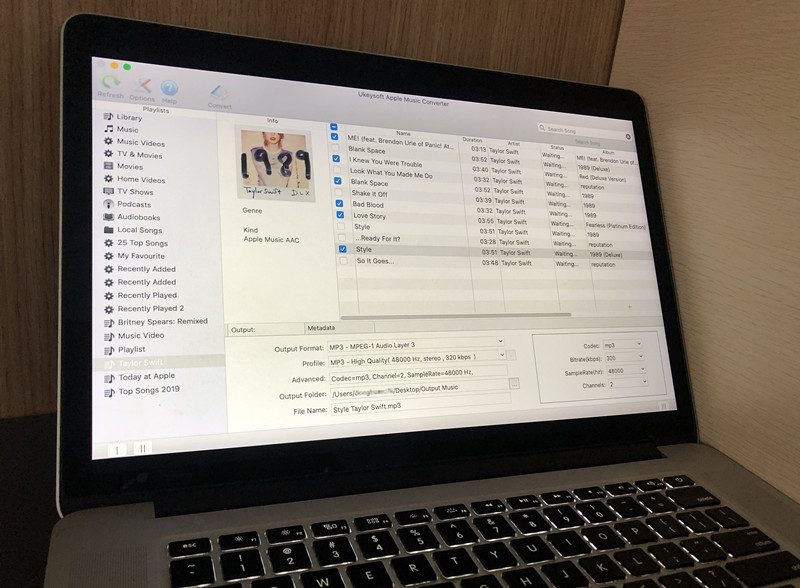 As one of the most premium and popular Apple Music conversion software, with one of the highest quality and options for up to 16 times the regular conversion speed, UkeySoft Apple Music Converter has ensured a state of the art experience for all of its users by preserving ID tags, metadata information, album artwork and the original audio quality of downloaded files when you convert Apple Music to mp3.
UkeySoft Apple Music Converter is a Apple Music downloader application that facilitates the online streaming music downloading and format conversion of audio files without slowing down the process, and deterioration of sound quality. This application removes DRM from Apple music files. It is a premium and reliable application that is very widely used to convert Apple Music songs and iTunes M4P songs into common audio formats, like MP3, M4A, AC3, AAC, FLAC, AU, etc, you will found that UkeySoft Apple Music Converter is different with other generic audio converters and audio recorders, it can read and save music metadata, such as the song title, artist name, album name, genre or album artwork after conversion.
In addition, it can also be used as an audiobook converter, you can use this application to convert Audible AAX/AA audiobooks and iTunes M4A/M4B audiobooks to MP3, M4A, etc, it can preserve Audiobook chapter information after audiobook to M4A conversion.
---
UkeySoft Reviews: Pros, Cons, Features & User Guide
A leading pioneer in the field of successful, and zero rates of bad quality, UkeySoft Apple Music Converter has quickly created a big name for itself by surpassing all previously leading music converters. It has proved that quality is what makes or breaks your brands and has constantly worked in pushing its limits to be the best. Though there may be a few nitty-gritties that can be upgraded and made better, UkeySoft has taken every feedback and worked towards it constructively, making it one of the best in the market.
UkeySoft Apple Music Converter Review – your best tool to convert Apple Music to MP3 for playback anytime anywhere you like. To help users understand the function and performance of the software more clearly, we have tested and recorded its features, pros and cons, you also can learn how to convert Apple Music songs to MP3 with ease by using UkeySoft Apple Music Converter(Mac/ Windows).
Key Feature of UkeySoft Apple Music Converter
Enjoy Apple Music Offline on Any Device
One of the main problems with apple music converters is that you can only play the converted audio on a few authorized devices.
Thus, playing or even transferring music onto other devices like Android & Windows devices, MP3 players, iPod Shuffle, Xbox, PSP, SanDisk, Sony Walkman, etc is impossible.
---
Remove DRM from Apple Music
Due to the DRM being of a locked nature, less a paid subscription is availed, cancellation of your subscription does lead to restriction of the availability of any transferred or converted songs.
This can be of high inconvenience to users who have used an Apple music converter in the past, only to face the disappointment of restriction of downloaded content.
---
Convert Apple Music and iTunes M4P Files to MP3, M4A, AAC, AC3, FLAC, etc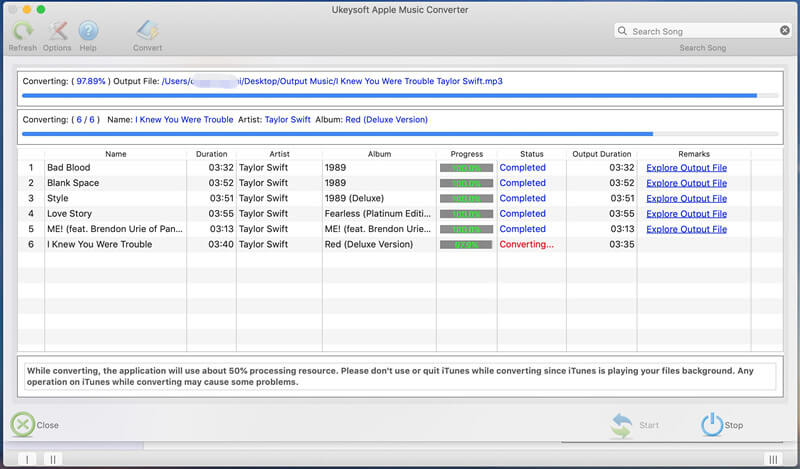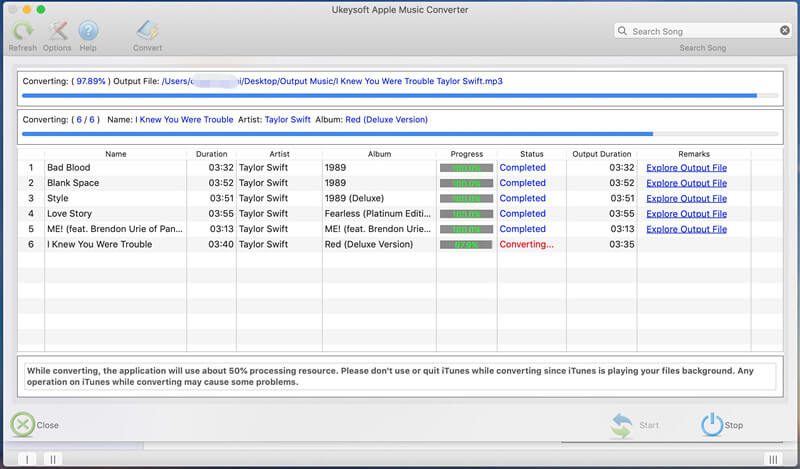 These are the problematic areas of music conversion wherein UkeySoft comes into action. This software is unique in a way that it eliminates all DRM and is able to convert Apple Music into MP3 of non DRM format as well.
Due to this, sharing Apple Music files and offline listening to Apple Music songs on any device becomes so easy. UkeySoft Apple Music Converter is not only the best choice for the conversion of Apple Music to MP3 but also of all the audio files of iTunes. It is fairly easy for the user to use it.
---
Convert iTunes videos and audiobook to MP3, M4A, etc.
The software can be used to extract audio from podcasts, audiobooks, iTunes M4V music videos, movies, and TV shows. This offers a varied range of output formats like MP3, AC3, M4A, AU, AIFF, MKA, FLAC, and M4R, it is currently the best and most sought after music conversion software in the market.
---
Batch Convert Apple Music Songs at up to 16X speed
With speed 16 times than that of regular music converters, for Windows computer, and 1X conversion speed for Mac it retains 100% audio quality, which is very unlikely the other music converters and does not fall in their capacity of performance.
A tried and tested, a user-friendly supporter of Windows XP, 7, 8, 10, it is the first Apple Music converter that has a flawless sound effect and wide array of compatible devices.
---
UkeySoft User Guide: How to Convert Apple Music to MP3
Step 1. Install and launch UkeySoft Apple Music Converter on PC or Mac.
There are both Mac and Windows versions of the UkeySoft Apple Music Converter. After launching UkeySoft, it will launch iTunes automatically and load all your iTunes media together with playlists.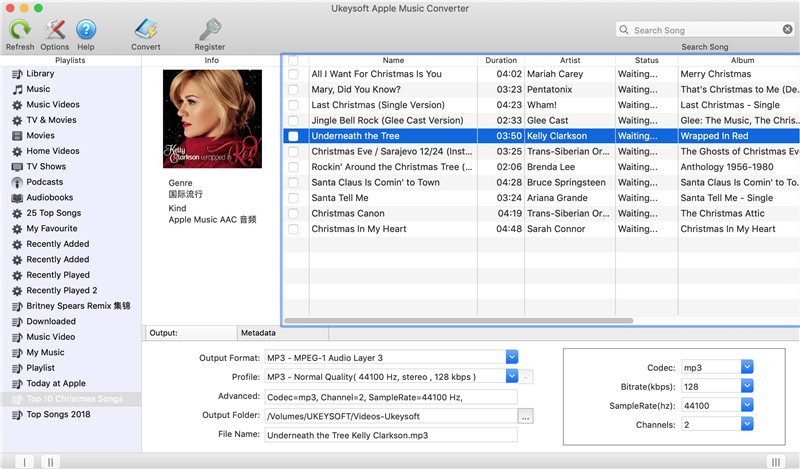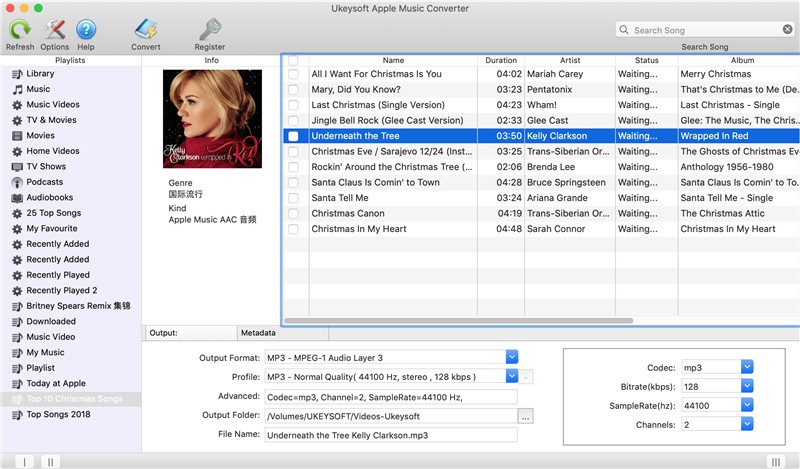 ---
Step 2. Select Apple Music Tracks
Select a playlist in the left panel, and all the tracks in the playlist will be listed on the right panel, if you want to select all the songs in the playlist, please check the checkbox in the information bar of the top.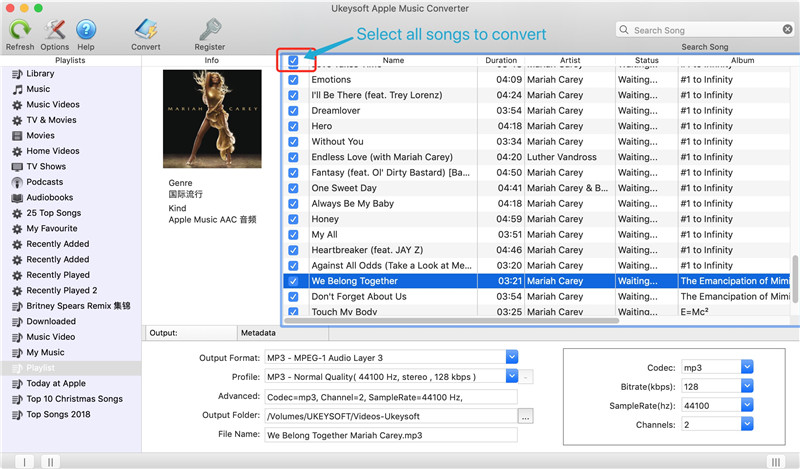 ---
Step 3. Choose output format – MP3
By default, the program will use 44100Hz, 128kbps MP3 as output format, you also can choose AAC, AC3, AIFF, AU, FLAC or M4A as output format, the Mac version also supports convert Apple Music to M4R, and MKA.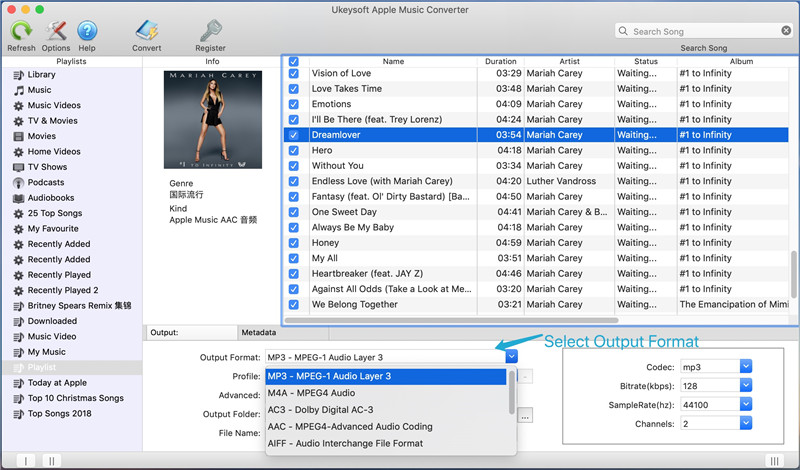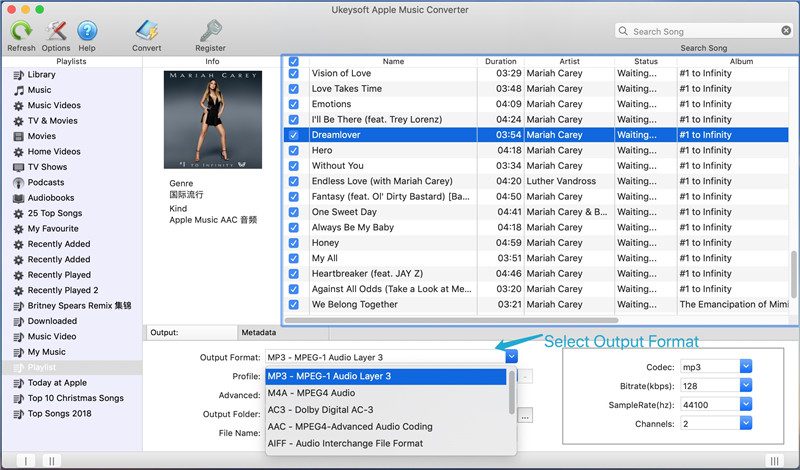 ---
Step 4. Convert the Apple Music and iTunes M4P files to MP3
Click "Convert" button to start converting Apple Music or iTunes audio files to MP3 format, the UkeySoft will help you remove the DRM during Apple Music to MP3 conversion.
Once an Apple Music song has been successfully converted, you can click "Explore Output File" button to find the output songs, you can see those converted Apple Music files is MP3 format, which saving as local audio file for offline listening or sharing.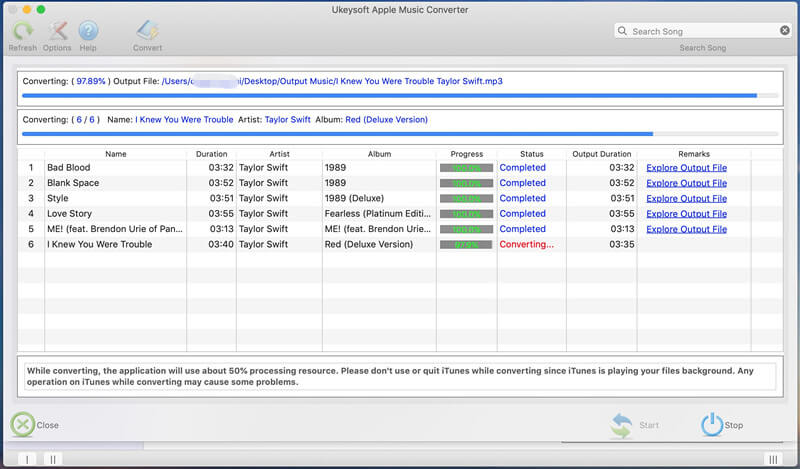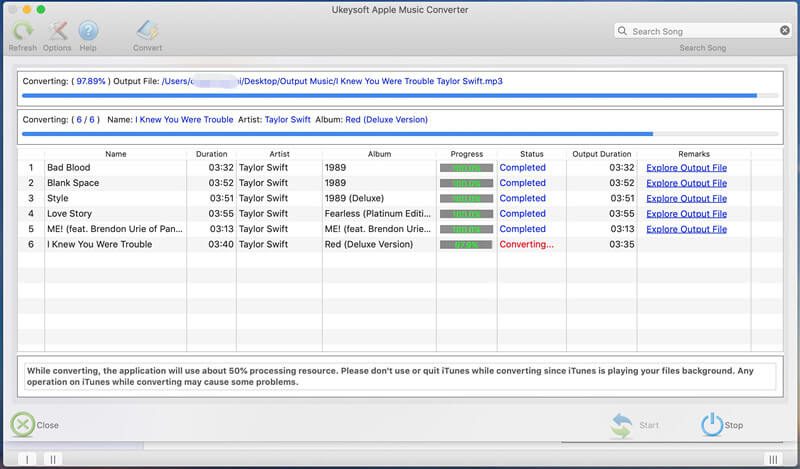 ---
Pros
While many software may not be legally entitled to eliminate DRM from Apple Music, UkeySoft has the legal derivative to remove DRMs from Apple Music so as to delete any restrictions for passage to any device.
All thanks to UkeySoft, all the Metadata Info and ID3 Tags are preserved implying retention of all the necessary information of the audio file, without any loss of identity.
Isn't it so frustrating to realize that most of the music details have been lost, in the lengthy process of conversion? As an extra negative, it also often loses its sound quality. With the aid of the UkeySoft application, it is now no longer an issue for avid Apple Music users to lose any details or data. Three cheers for ID3 tags.
UkeySoft has also addressed its users' requirements for a monetarily beneficial user interface and experience. It offers good value for money since it does realize how expensive Apple Music itself can get. This serves as a great iTunes and Apple Music files converter.
UkeySoft is an useful tool to keep Apple Music forever and make Apple Music songs available offline playable on any devices and players. Free users allowed to convert the first 3 minutes of each audio, you can purchase the full version to unlock the restrictions, this is a software worth buying, great value for money.
Cons
Before launching the UkeySoft application, the user need to exit the iTunes application. This is because the software application needs to launch the iTunes application again and loads all media files of iTunes together with the other playlists, automatically.
Don't use iTunes to play other files during the process of conversion. During converting, iTunes plays the Apple Music tracks in the background (muted), and UkeySoft records and convert songs quickly, so you'd better not using iTunes until the conversion done, please wait patiently.
---
Conclusion
UkeySoft Apple Music Converter has proved to give one of the most reliable solutions solve Apple Music DRM restricts, it can bring free music and let's us enjoy streaming music freely.
Keeping aside all other things, UkeySoft also can bring free audiobooks, videos, movies, if you want to remove DRM from iTunes movies, Spotify music and Audible/iTunes Audiobook, please go to UkeySoft official website and download more software. In a word, this Apple Music converter application can change the way you enjoy Apple Music.