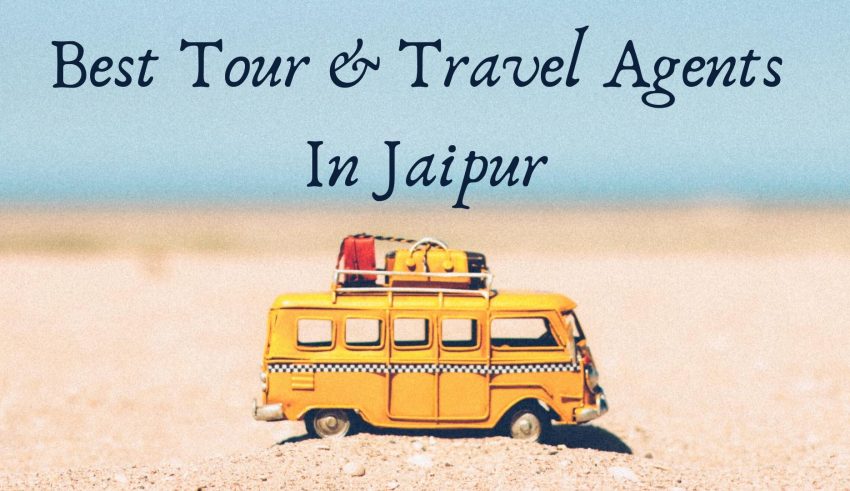 Jaipur also known as the Pink city of the country is a major tourist location in Rajasthan. This capital city of Rajasthan is the royal destination of the country. This desert state holds the country's most beautiful palaces and forts. It evokes the royal touch in everything starting from its colourful culture to the sophisticated and elegant palaces and forts. One looking to experience the luxurious royal culture must certainly visit this city of kings and queens. Apart from that, the architectural excellence is also one of the notable aspects of Jaipur. It's easy to lose oneself into this vast expanse of beauty.
It is always a pleasure to visit Jaipur and submerge oneself in the historical and cultural treasures of this city. Take on the adventure and visit this glorious place which is the epitome of beautiful architectural buildings. Thus, to guide you through the city and let you experience the life of the people in Jaipur, we have shortlisted some travel agents in Jaipur who will help you throughout your time in this royal city.
Here's The List Of 10 Best Travel Agents In Jaipur:
Travel Agency in Jaipur
A leading and well-known tours and travels company, Travel Agency offers the most lucrative travel packages in Jaipur. They try to give their customers a detailed experience of the city. They offer cab services which are highly comfortable and are preferred by many tourists.
They value their customer's time and provide the best tours to them by apportioning prominent time to sight-seeing. The staffs are well behaved and work with utter determination to deliver a memorable experience to their clients.
Address:  70/71, Jai Ambey Nagar, Tonk Road, Ambey Nagar, Jai Ambey Nagar, Jaipur, Rajasthan 302018
Contact: 092144 02320
---
Jaipur Tours and Travels is basically a taxi service provided within Jaipur and certain nearby regions. They are efficient in their work and offer you one of the best deals in the city. They know the importance of their customer's valuable time and hence try to proceed with such responsibilities in mind while travelling the city.
They also provide their taxi services in Ajmer, Kota, Agra and Delhi within an affordable price range. Further, the behaviour of the drivers are appreciable and also this tours and travel company respond to their client's good and bad experiences and take necessary actions.
Address: KC-05, 3rd Floor, Jaipur Textile Market, Model Town, Malviya Nagar, Jaipur, Rajasthan 302017
Contact: 093141 51305
---
Whether you are looking for a Jaipur sight-seeing package or sight-seeing taxi service, this travel company provides you with all your requirements in the best way possible. They offer professional guides who see through till the end that you understand the importance of each and every place you visit and can see the glorious past of this beautiful land more distinctly.
The cabs provided for sight-seeing are well maintained and organised. They are highly professional in their work and are worth every penny you spend on them.
Address: A-99, J.P. Colony, S.N. 3, Shastri Nagar, Jaipur, India, Jaipur, Rajasthan 302016
Contact: 099830 78901
---
It is a friendly and professional travel company based in Jaipur. They have been catering to the travelling needs of the people since 1993. This company of highly professional personnel strive to give the finest travel experience to their clients, one that is worth remembering. They utterly give their best for customer satisfaction and to provide their customers with the best quality products is their main principle.
They believe that while you are in Rajasthan, only an experienced person can give you the authentic travel experience of this luxurious land of culture and history. Hence, they offer their highly skilled guides to help throughout your journey in Jaipur.
Address: C-20 / B-2, Umaid Mahal Hotel, Jai Singh Highway, Bihari Marg, Bani Park, Opp. Lane of K.P. Automotives, Jaipur
Contact: 0141 220 5528
---
They are a leading travel company offering one of the finest travel services in Jaipur. They also offer Car Rental Services, Rajasthan Tour Packages, Himachal Tour Packages and Jaipur Sight-seeing, all in an affordable price range. Their main goal is to give their customers an optimum and authentic tour which satisfies them in all respect.
They are renowned for their management skills and also for prominently and carefully planning their tours keeping in mind every aspect of customer comfort and satisfaction. They also provide custom tour schedules for individual and group travellers, government and company delegates.
Address: C-4, Opp. Bhawani Niketan School, Sikar Road, Ambabari, Jaipur, Rajasthan 302023
Contact: 096607 79266
---
Rajputana Tour and Travel
This is a taxi service which provides taxis for sight-seeing in Jaipur and all over Rajasthan according to the client's budget and tour planning. They put up the best deals for you grab on the luxurious cars letting you enjoy the Jaipur city in the most contented way. You can available service for half day or full day according to your requirements for enjoying the fascinating beauty of this elegant city.
They provide comfortable cars that can be driven at your own pace letting you spend enjoy your precious time in your own way. They even offer AC buses and coaches for accommodating larger groups as per the needs of the travellers.
Address: Plot No 36, Vivek Nagar, Near Sindhi Camp Bus Stand Metro Station, Jaipur, Rajasthan 302006
Contact: 092143 05050
---
Leisure India Tour
To experience a complete authentic Jaipur tour, they are the best tours and travel company based in Jaipur. They have the custom of perfecting everything related to your tour thus enabling you to have the flawless travel experience.
The cabs offered by them are comfortable and the clients are all treated like royalty. They also offer camel rides, elephant rides and rickshaw rides to let you experience Jaipur to the roots. They give high importance to customer satisfaction and relaxation and thus create a well-planned tour which suits your requirements.
Address: 204, 2nd Floor, Axis Mall, Bhagwan Das Rd, C Scheme, Jaipur, Rajasthan 302001
Contact:  0141 403 7555
---
Around India Tours
Around India Tours is a renowned travel company which tries to offer a hassle free journey in and around Jaipur at an affordable price range. They pay a lot of attention while planning for your tour so that you are comfortable in every possible way. They provide a comfortable trip offering their skilled guides to help you know the historical background of the important places.
Furthermore, they offer theme based and customised tour packages meeting the demands of the travellers. Travelling through Jaipur is not enough, you need to experience it at its heart and this company makes this possible through their luxurious services and facilities,
Address: Madhyam Marg, Mansarovar Sector 1, Mansarovar, Jaipur, Rajasthan 302019
Contact: 089555 88222
---
Monuments India Tours
Monuments India Tours is a Government Authorised Travel Agency. They offer all kinds of Tour Packages and Services in and around India. The drivers are well experienced and the cars and coaches are very comfortable.
They are a responsible bunch of people working to offer you the travel experience worth remembering. They are well organised and they value their customers. They have offices in everywhere in India so as to attend to their customers anywhere in the country. Enjoy your time in a comfortable way in Jaipur enjoying the services provided by Monuments India Tours.
Address: 26, First Lane, Madhav Nagar, Opposite Durgapura Railway Station, Durgapura, Jaipur, Rajasthan 302018
Contact: 093514 13441
---
Rajaji Package Tours
Have an amazing travel experience with Rajaji Package Tours and enjoy your stay in Jaipur. They plan a well organised and comfortable tour satisfying the needs and aspirations of your customers. They provide the finest of the hotels and vehicles to their clients.
The tours are generally affordably priced keeping in mind the comfort of the customers. They believe in providing the best tour package in terms of cost, planning, transportation, etc. They are not only skilled and professional but also have a warm approach to their clients making the tour all contented.
---
Jaipur Royal Desert Tours
Presenting the most attractive and lucrative Jaipur tour packages, this company has been working since 2006. It has a commendable record offering the most comfortable journey taking in account the needs and requirements of their customers.
They also offer customized tours requested by their clients. Experience a safe and secured journey through this admirable land of golden sand with Jaipur Royal Desert Tours.
Address: Balaji Tower 6, Office Number 302, IIInd Floor, 06, Airport Rd, near Hotel Reddison, Durgapura, Jaipur
Contact: 098875 52550
---
Now all you need to do is to pack your bags and get ready for an awesome adventure all the way to Jaipur. To the city of Kings and Queens sheltering various palaces and forts, this is the ideal place to spend your vacations and have a memorable time with your friends and family.