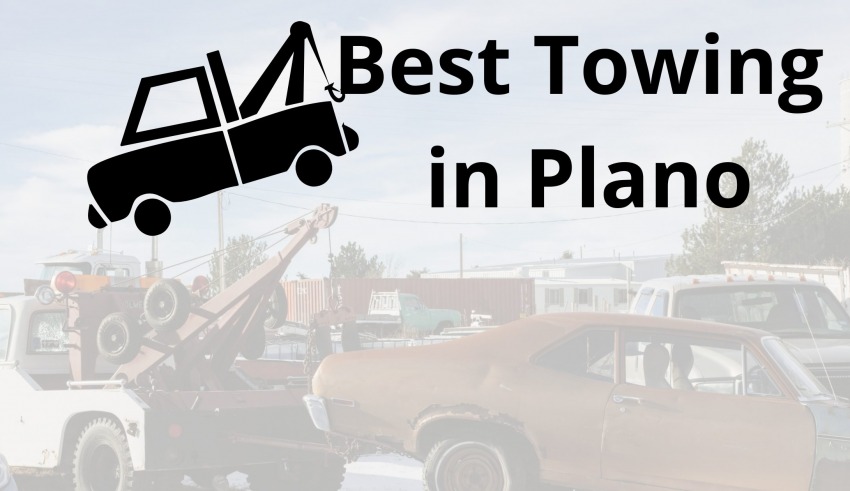 When you are out there cruising on the highway or driving to your work you may end up in an unfortunate scenario when your car breaks down. Your engine shuts down and won't start or your car battery is discharged or you have got a flat tire or you forgot to check the fuel indicator and now you are out of gas. Hopefully, this list can solve your problem. If you are searching for the best towing in Plano and the surrounding cities then this list picks up some of the best towing service providers out there in the city.
Being in such situations can be quite an unpleasant experience and it can be more frustrating when you can find a good towing company to provide quality service at reasonable rates. All these companies promise to provide quality towing services and road assistance and either get your car fixed on the spot or tow it safely to the location you desire. So, let's take a look at these companies, shall we?
Here is a list of the 10 Best Towing In Plano.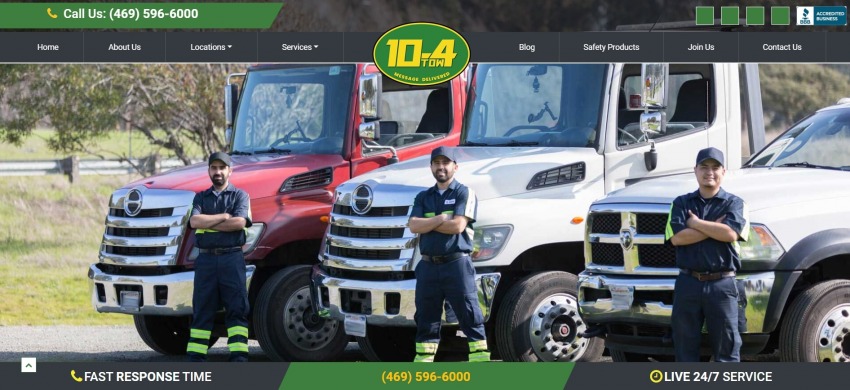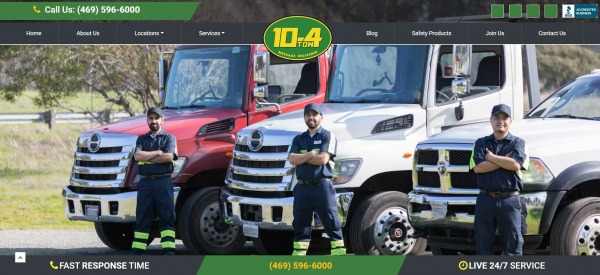 10-4 Tow is a towing franchise that has had great success and in just 15 years they have been able to open several branches. You can find their branches in California and Texas. They are proud of their success and are always looking to provide good service to customers. The company provides services to allow clients to find the best towing experts near them. Due to the quality of the service that 10-4 Tow provides it has been able to quickly gain a lot of success.
If you need top-quality towing service or excellent road assistance then you can easily pick this company as they can be an option for the best towing in Plano. The rates are quite competitive as well which means that you not only get quality service but also pay a reasonable amount for it. The company has high goals for itself. Though proud it doesn't want to be satisfied with where it is currently at. Rather, it wants to keep growing until it has become a national franchise and is providing quality towing service to customers nationwide.
The team here also wants to change and revolutionize the current state of the towing industry. You will get timely service when you decide to choose this towing company. It also provides quality customer care so that your experience with them is top-tier. This is a family-owned business and all the affiliate experts that it works with are family businesses as well. With 10-4 towing on their side these businesses can be connected to clients better and have better customer support from their company. So, if you are looking for the best towing in Plano this can be one of your choices.
---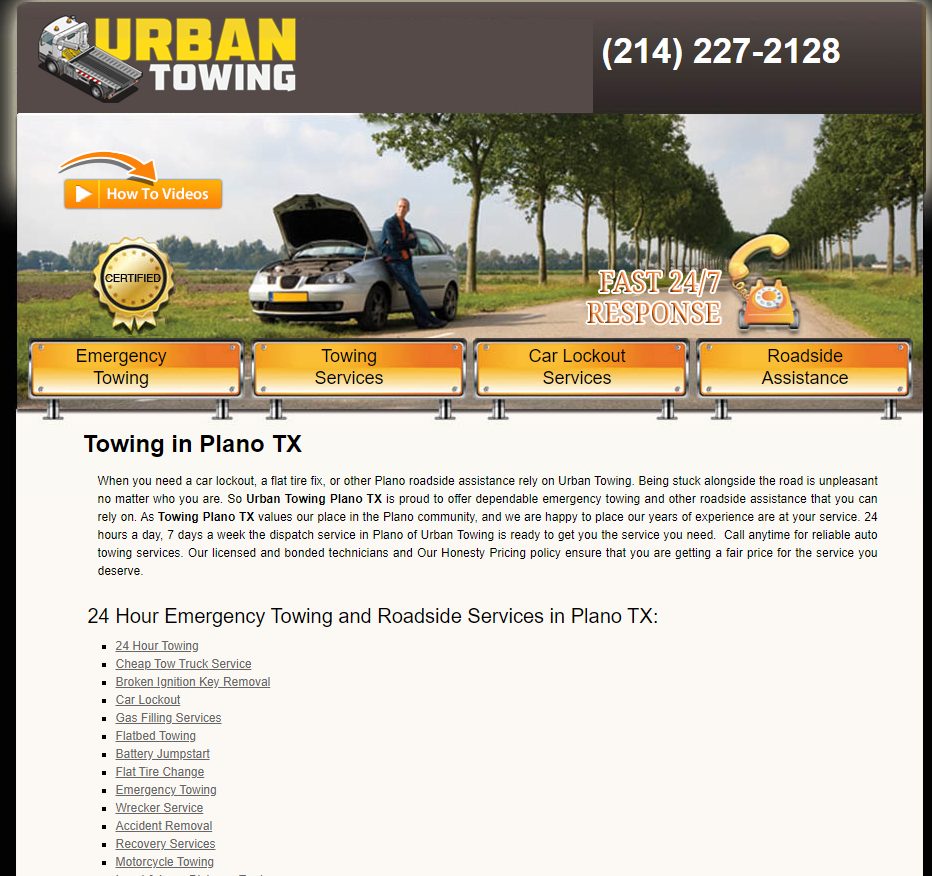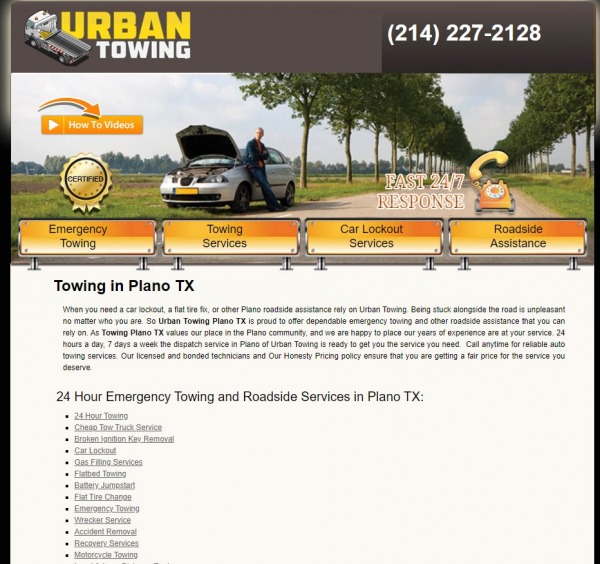 Urban Towing is another choice for the best towing in Plano if you are looking for some road assistance. The company is very good at providing towing services to customers in need. Whether your car engine just stopped working, or you have got a flat tire or your car is totaled after an accident you can always rely on Urban Towing to help get your car to a service station or where you want it taken to. The company knows that being stuck on the road once your car has stopped working can be quite an unpleasant experience.
It will become more annoying if you can't get the service of any towing company to tow your car. But in these cases, if you are near Plano, Urban Towing can help alleviate you from the current situation and help transfer your car to the place you want. The company wants to play its role in the community and values the community a lot. It wants clients to rely on it when they are in such a situation.
From emergency towing to normal towing services, to car lockout services to roadside assistance you will get all kinds of services of high quality when you connect with Urban Towing. The company has had years of towing experience. The team is expert at it and are willing to bring all this experience and expertise to help you when you need their assistance. You can call anytime for reliable assistance. The company provides services throughout the day every day of the month. Visit the site for more info and contact information.
---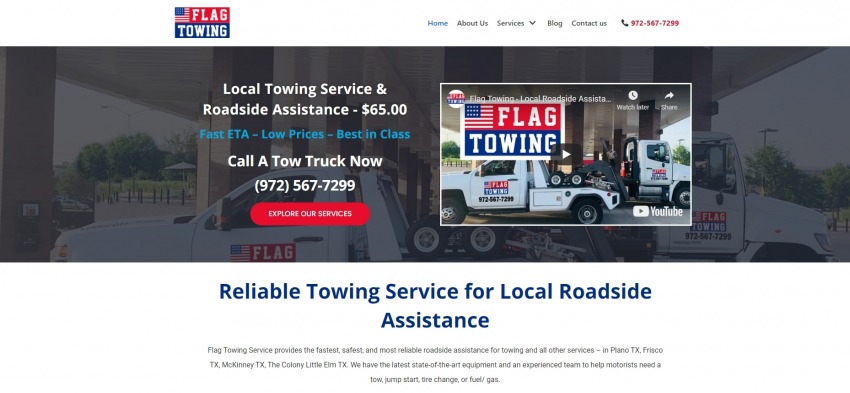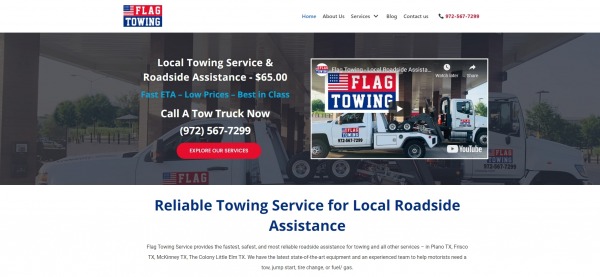 Up next we have Flag Towing which provides towing service in and near Plano. For local towing and road assistance, the prices start at around $65. The company has some years of experience when it comes to providing towing services. Thus, when you contact them you can be assured to get reliable towing services. The company has a team of experts who know all there is to know about providing road assistance to customers. If your car has been in an accident and you want to get it towed to a certain location or your car is not starting and you need to be jump-started or you have got a flat tire and you want the tire to be changed, you can always rely on Flag Towing.
The people here know their stuff and will help resolve your problem quickly and efficiently. Even if you have just run out of fuel and need some gas to resume your journey you can get assistance from Flag Towing. To ensure that it is always ready to serve clients the company maintains a fleet of vehicles to help customers out. They have flatbed tow trucks and wheel lift wreckers.
These vehicles help them provide the reliable service that they continue to provide to this day. All the emergency services are available 24/7 so you can always be assured that in case of any emergency service you can call them. The company is quite quick in getting a tow truck or a mechanic to your location. You can get your luxury car towed, your motorcycle towed, get your car unlocked if you mistakenly left the keys inside and much more. Visit the site for details of the services.
---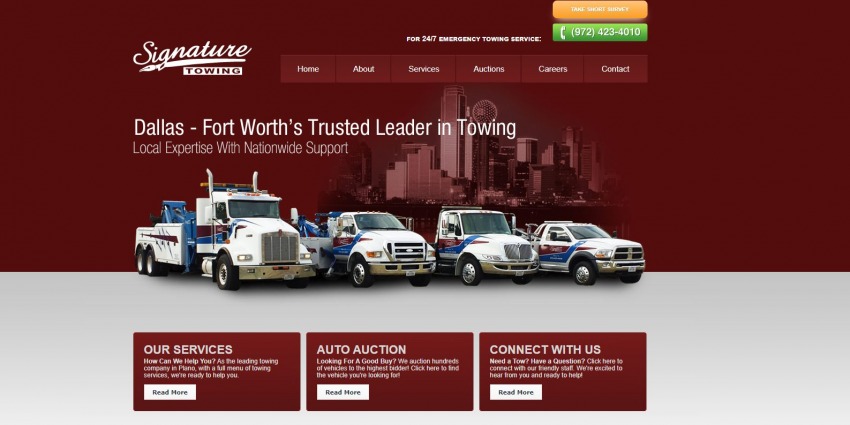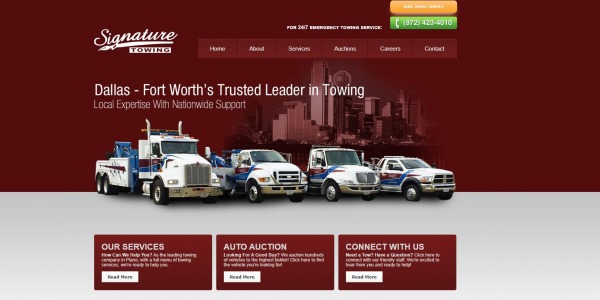 Signature Towing wants to make the towing service industry better. The team here is working towards redefining the towing experience for people. They are doing this by ensuring that skilled people and people who know how to get the job done the best way possible are hired. They have also invested in good logistical technology, and innovative equipment to ensure that the clients get high-quality road assistance and towing services when they are in need of them.
When you get into a situation where you need the help of a towing service the situation isn't that convenient. Signature Towing aims at giving you good services and help make the situation better by providing effective services that can resolve your current predicament. The company promises that you will get a really good service when you call them. It wants to become your go-to company for towing services and road assistance and they want to keep maintaining that position by ensuring that your experience with them is good, be it the service you asked for or be it the customer service that the company provides.
The way that this company has grown over the years is by having their goal to build long-term relationships with the customers which have led them to keep providing awesome services and high-quality performance to help with your situation. With this approach, the company has built a big client base. Each customer is treated individually. When you reach out to them for any service you can rest assured that you will get professional service of high quality. You can get the contact information and details about the services on the website.
---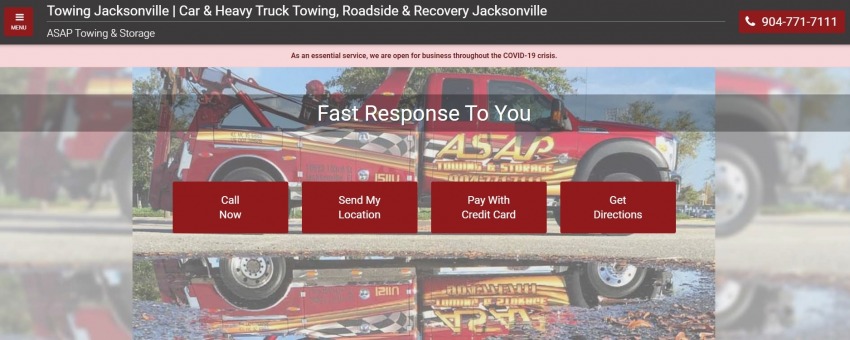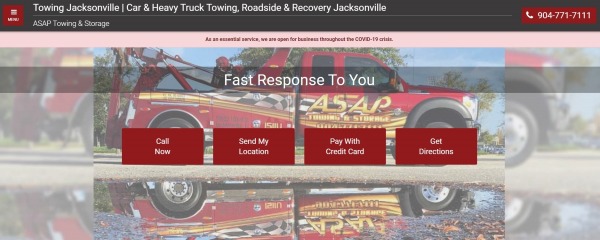 ASAP Towing is located in Allen, Texas. As you can easily surmise from the name of the company ASAP Towing wants to help you get the towing service or roadside assistance that you need as soon as possible. So, if you want quick and efficient service then one of the choices for the best towing in Plano is ASAP Towing. If your car is stuck in Allen or any of the surrounding cities you can rely on the services provided by this company. Just give them a call and you will see that they respond quickly and you will get a vehicle down at your location in the quickest time possible.
All the services that ASAP Towing provides are reliable. They want the customer to have a safe and positive experience. So, let's say you want your car towed. You call the company and they send a tow truck or wreck wheeler to pick up your car. You can rest assured that your car will reach the location you want safely and securely. They have light-duty trucks as well as heavy-duty trucks to tow small-sized vehicles to bigger vehicles. You can get services like getting your car pulled out of mud, getting your trailer loaded or unloaded, getting your car towed, accident towing, towing of any equipment, and much more.
In case of road assistance, the company provides tire change, fuel delivery, winch-out, jump start and much more. The company had all the knowledge and the right equipment to deliver the best service they could in this field. So, if you are in Plano and need such a service you can give them a call. Visit the website for more info.
---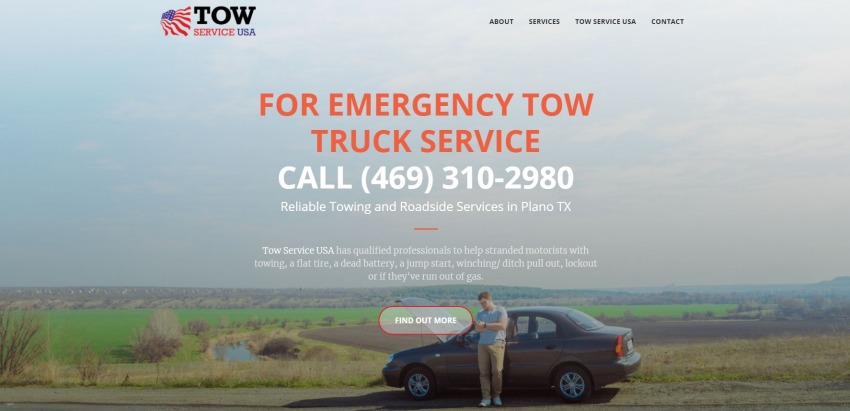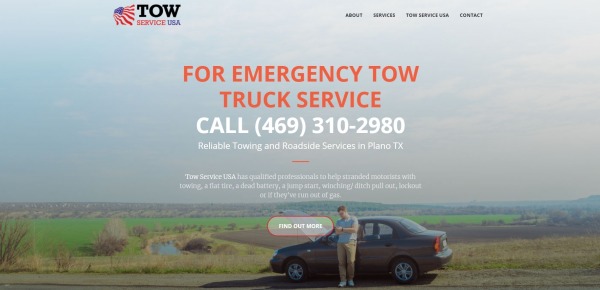 Let's move onto the next towing service provider on this list. It is Tow Service USA. This is a company that ensures that no matter how you get into your current predicament if you need any kind of road assistance provided or need towing services for your car then you will get the most professional help from it to solve your problem and get you out of your unfortunate situation. The team of dispatchers that work at this company are very knowledgeable.
They know which service you need and what vehicle to send given your situation. The tow service professionals will get started to reach your location and provide you with the service or assistance you need. Tow Service USA wants to let people know that they can always trust this company to provide quality towing services whenever you need them. The drivers that work with the company are available throughout the day so that it doesn't matter whether you call early in the morning or in the middle of the night, you will get a towing vehicle sent to your location if you need it.
Once the company has picked up your vehicle you can give them the location you want your vehicle to be delivered to. The drivers are very careful to safely pick up and drop off your vehicle to where you need it delivered, be it your home, a repair shop, or a showroom. You won't face any problems with the delivery of the vehicle. The company also provides roadside assistance in Plano, Allen, McKinney, Frisco, Little Elm, Fairview and Dallas. So, if you want your car tire changed for example, and you are in one of the cities mentioned you can call Tow Service USA as well.
---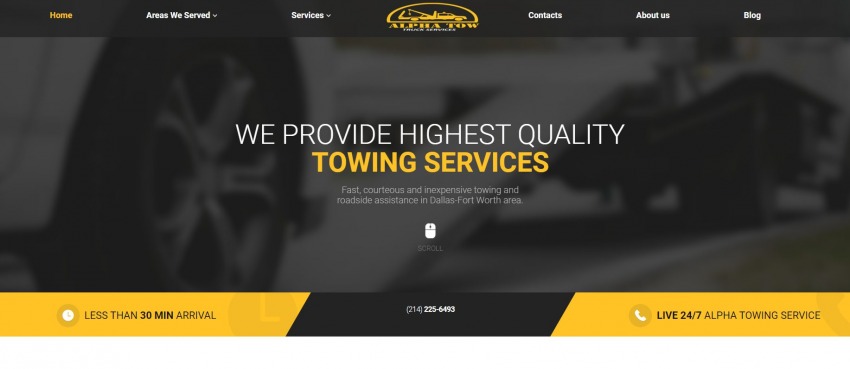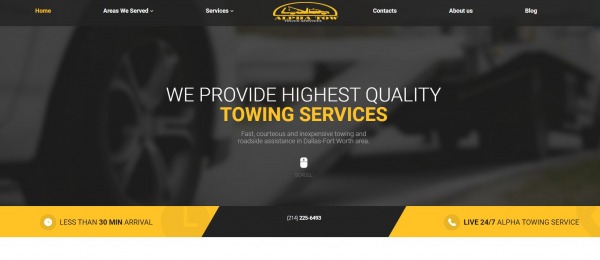 If you want a towing service provider that can provide you with 24/7 service then you can always trust Alpha Tow Truck Services. This company is always ready to provide quality services to its clients. So, if you are stuck on the road or need your car towed to some other location then you can give this company a call.
They have 10 years of experience in this industry and so far more than 2.7k vehicles have been towed by this company. The company has 24 workers who are quite competent and skilled. With a team like this, you will get a tow truck to your location in very little time. The services provided by the Alpha Tow Truck Services are Wrecker Service, 24 hours towing, car lockout, long-distance towing, flat-tire change and much more. If you are looking for the best towing in Plano then you can check out this company.
---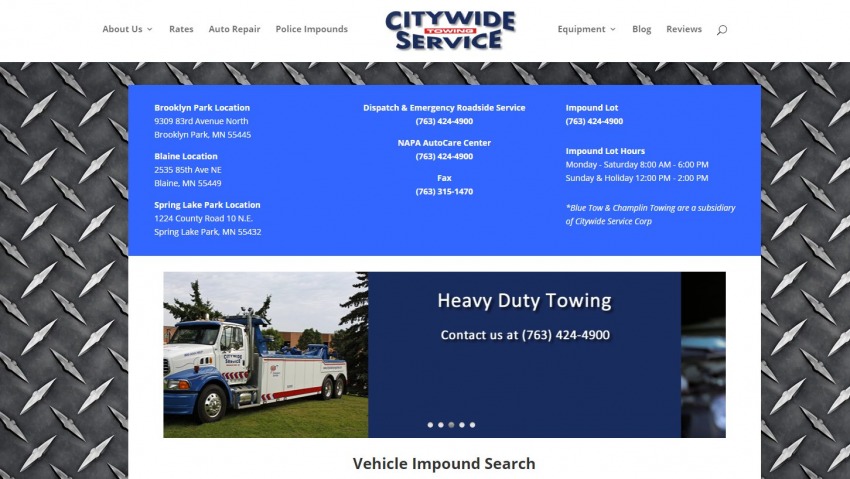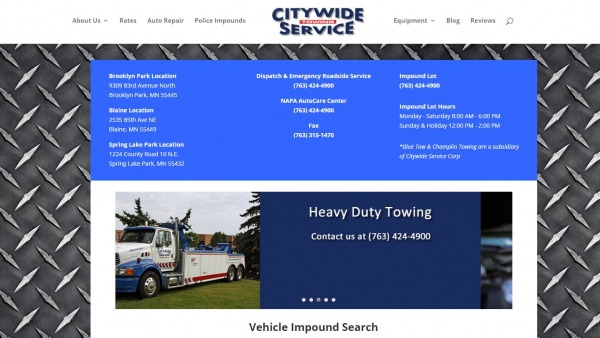 Citywide Towing is the last entry on our list of best towing in Plano. This is a family-owned business. It is completely licensed to handle these kinds of jobs and situations and is fully insured to keep providing the services that it provides. All the tow trucks and wheelers are well-maintained so that when a client needs them they can be rolled out as quickly as possible.
The company does provide 24/7 service to customers. The dispatchers that work here are quite helpful. They will understand your situation and dispatch appropriate vehicles to your location to assist you as soon as possible. If you want roadside assistance then you can get quality service for that as well. All the technicians are trained and they will help you with flat tires, jump start of cars, car lockout etc. So, visit the site if you want more details on the company and the contact info.
This list is meant to provide you with multiple options for the best towing in Plano. No one likes to be stuck on the road for long. So, if you have the number of a quality towing service provider then you can quickly get out of such a situation. Visit the website of the companies we have mentioned. Some of them provide estimates on their rates as well. We hope our list is useful to you in your time of need.
---
Bill's Wrecker Service provides auto carrier services. The company is located in Plano and due to its excellent performance, it has won the Plano small business excellence award in the category of towing. It is one of the top towing companies in Plano. When you call Bill's Wrecker Service for services related to towing you will get good-quality performance at a price that can fit your budget. The company has over 4 decades of experience and it uses all of it to ensure that you get the best service whether you want your car picked up or your motorcycle or your off-road vehicle or any big commercial equipment.
You will always find the right service when you reach out to Bill's Wrecker Service. If you are not from the city and you need services that provide long-distance towing then you will find that service here as well. The company also provides vehicle recovery services and road assistance. For example, let's say you have forgotten that your car key was inside and you ended up locking your car. Now, what to do? Well, you can give Bill's Wrecker Service a call and they will come and solve your problem.
Other road assistance provided by this company includes changing flat tires or jump-starting a car. They provide over 9 different services and you can find the list on the website. You can also request estimates directly from the website. The company has got good reviews and a lot of people recommend the services provided by Bill's Wrecker Service.
---
Ken's Premier Towing
Up next, on our list of best towing in Plano is Ken's Premier Towing. The company knows that you are in an unfortunate situation if you need your car towed and you want it done efficiently and effectively. So, it ensures that you only receive high-quality services from them when you call them for road assistance or to tow your car to a maintenance shop. The owner of the shop and the staff here are very cordial and provide a sort of personal touch to each of the services they provide.
It makes the experience more positive and makes you feel more relaxed even though you are in an unfortunate situation. The company will act fast and send you the tow truck so that your car can be towed to the location of your choice. Though the company is only 4 years old the team here has more than a decade of experience in providing road assistance and towing services. The company wants to let you know that when you are in such a situation where you need towing or other assistance you don't have to scroll through average options.
You can directly contact them and get the best services possible to resolve your problem. The company is actually based in Carlton in Texas but does provide services in and around the city. Whether you want tire changed, fuel-filled, long-distance towing, or local towing services you can rely on Ken's Premier Towing and give them a call at 214-356-3990. A good feature of the company is that it provides discounts to veterans and seniors. So, don't forget to ask about that when you call them.