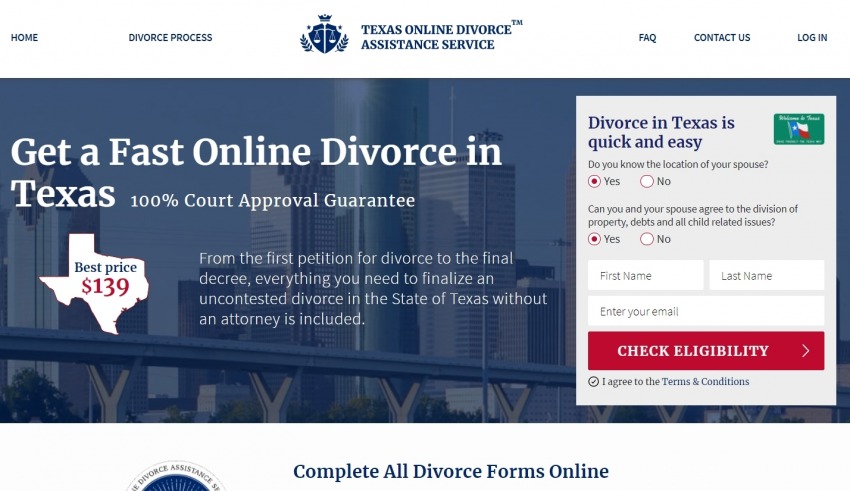 Technological development influences all levels of human existence and can even make life easier in some ways. Today, people no longer need to go to a bank to make a money transfer.
They can work on their self-development via the Internet using various educational platforms or buy things from the comfort of home. Not to mention working, communicating, dating, searching for a future spouse, and even divorcing if a marriage doesn't work out.
So-called "online divorces" are becoming more popular as they have many benefits. However, one should understand that this term does not mean that a person can actually get a divorce over the Internet.
Online divorce refers to preparing divorce documents using special Internet platforms. One more thing to note is that this option doesn't suit everyone—only those couples where both spouses agree with the decision to break up and the grounds for divorce. Moreover, spouses must agree on all possible family issues, including the division of marital property, alimony, child support, custody, etc.
Such a divorce is called uncontested. It may not require a lawyer's intervention.
Those spouses who can't reach a consensus aren't eligible to prepare divorce documents online as the process becomes contested. It may take more time because of lengthy court battles and cost more since filing and legal fees are higher.
However, if the spouses aren't ready for this and want to turn their case into an uncontested one, they can go back to negotiations or hire a mediator who may help them solve all the marital issues.
Many sites offer online divorce form preparation services. Quite a few are nationwide platforms. But today, we'll review a tool that specializes in one specific state, namely Texas. Let's take a closer look at TexasOnlineDivorce.com and find out why it should be the first choice for divorce in the Lone Star State.
TexasOnlineDivorce.com: What Is It?
TexasOnlineDivorce.com is a divorce paper preparation platform that also provides the necessary information about the divorce process in Texas, including:
residency requirements;
grounds for divorce;
mediation;
property division;
alimony;
child support and custody.
Moreover, the site shares some information about the specifics of the divorce of military and same-sex couples.
It is crucial to understand that TexasOnlineDivorce.com is not a law firm, and it doesn't provide lawyer's services. If you think you still need an attorney, you can fill out a special form at the bottom of the homepage and contact a local specialist.
How Does TexasOnlineDivorce.com Work?
We will talk about the benefits later. For now, we'll focus on how easy the platform is to use. To receive the completed documents, spouses need to perform several fairly simple steps.
Check Eligibility
First, spouses need to check if they qualify for online divorce form processing.
To do this, the client has to answer two main questions in a special section on the homepage:
Does one spouse know the location of the other one?
Can spouses agree on the division of property, debts, and child-related issues?
The client also needs to enter their first and last name, contact email and check the box to confirm that they have agreed to the Terms of Service.
If one spouse knows the other party's location and they have discussed all the issues related to the divorce and reached an agreement, the eligibility can be confirmed, and the client can proceed to the next step.
Provide Case Details
At this stage, the client should answer a more detailed questionnaire that covers all aspects of divorce. Personal data is the first item on the list. Then the client needs to state whether they are a military servant.
When it's done, the client answers some questions related to marriage: When was the marriage registered? Who is filing for divorce? etc., children: Are there minor children in the marriage? Is the wife pregnant now?, and property: Do the spouses have common property or debts? Do they live in a marital house?
These answers are crucial because they help the platform identify the required forms and fill them out following Texas requirements.
The final step at this stage is to pay the $139 fee. To do this, the client needs to fill out a payment information form and pay the mentioned amount.
TexasOnlineDivorce.com protects the confidentiality of all data. Thus, the client can be sure of personal information safety.
That's all. The client only needs to wait for two business days to get filled-out documents and file them with the District Court in the county where either spouse lives. Additionally, the platform provides written instructions on how to file the signed documents.
Pros and Cons of Using TexasOnlineDivorce.com
Having figured out how TexasOnlineDivorce.com works, let's go through the advantages and disadvantages of the service. It will help spouses who want to prepare a divorce application online understand why it is worth using this particular platform.
It Saves Time
Preparing documents online saves time because spouses will not need to go to a court or meet a court clerk to get the forms.
And with TexasOnlineDivorce.com, they save even more time than expected. Instead of spending hours puzzling over how to fill out complicated legal documents, soon-to-be-ex spouses simply need to answer the marriage questionnaire.
The service will do the rest.
It Saves Money
The average divorce in the United States may cost around $15,000, including filing and legal fees, hired experts, etc.
The court fees range from $50 to $400, depending on the state, while lawyers usually charge an hourly rate which depends on the case complexity and the lawyer's level of expertise.
TexasOnlineDivorce.com offers its services at an affordable price. For just $139, a married couple gets completed papers that only need to be signed and then filed with the court.
If the spouses can reach an agreement and solve all the marital issues independently, they can save thousands of dollars on lawyers and additional experts.
Keep in mind that this price doesn't include a filing fee. The couple will still need to pay the court separately. However, with the money saved, it may not be such a heavy financial burden.
It's Easy to Use
Answering a marriage questionnaire can be easier than filling out a bunch of legal documents, especially if spouses are not familiar with legal terminology.
TexasOnlineDivorce.com turns complicated paperwork into a simple 3-step process, where spouses check whether they qualify, answer questions regarding their marriage, and get filled-out forms.
Additionally, the system guides the user through the questionnaire, providing simple explanations and laws to read.
It's User Friendly
TexasOnlineDivorce.com is very user-friendly. Its interface is well-designed, and navigation is straightforward. Moreover, it adapts to different devices, meaning that the client can answer questions using a desktop computer, laptop, tablet, smartphone, regardless of screen size.
If the user has technical difficulties other than legal, the support service is ready to help 24/7.
It Provides High-Quality Services
TexasOnlineDivorce.com is constantly working on its improvement. Forms and instructions are updated to ensure that clients receive only relevant and up-to-date documents that are 100% accepted by Texas courts.
The platform provides all necessary divorce papers suitable to the user's particular case, filled out following all state and county requirements. However, the service is not responsible for mistakes made by the client while answering the questionnaire.
As for the TexasOnlineDivorce.com disadvantages, there are not so many of them. As stated earlier, the platform is not a law firm. Thus, it doesn't provide legal advice.
But, the website does offer clear explanations at each stage of filling out the questionnaire and laws related to the divorce process. Moreover, TexasOnlineDivorce.com allows contacting licensed attorneys through a created account with an additional fee.
Key Takeaways
TexasOnlineDivorce.com is an excellent tool for preparing documents for an uncontested divorce in Texas online. Those spouses who have reached an agreement on all family issues can use it to make their legal paperwork easier, making the whole process less stressful.
The platform has a good reputation and receives many positive reviews that confirm all its advantages. Such a reliable assistant will help spouses save their time, money, and nerves. And it is local, which means that all provided forms comply with state laws and regulations.