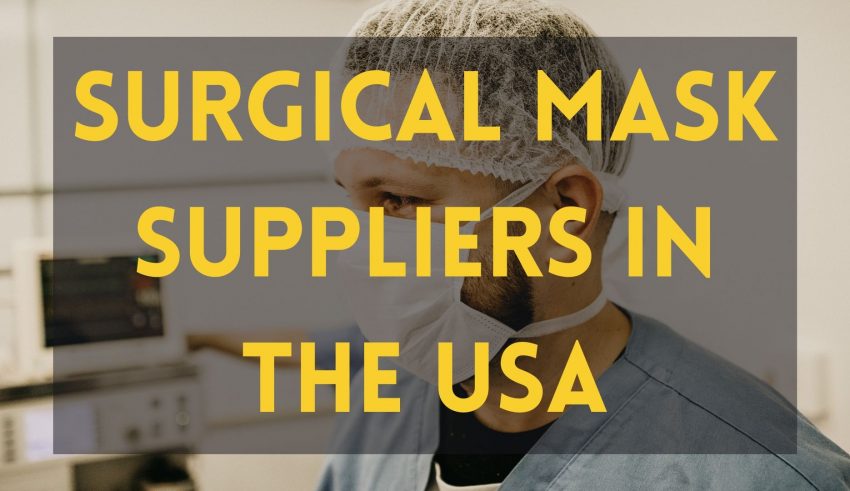 The coronavirus crisis has got the world engrossed in panic and fear. More than half of the planet is under self-quarantine and people are trying their best to deal with the COVID-19 situation in their own way. Some people are fighting the war by staying at home and some people are on the frontline, like caregivers, emergency workers, doctors, nurses, sanitation workers, etc.
No matter which category you fall in, please note that it is imperative to own basic PPE (personal protective equipment) for the times you come into contact with people. For a simple errand such as visiting the grocery store, you need to have a mask and gloves at the minimum to avoid contracting the virus. In such a perilous situation, you must know where to get your supply of masks.
If surgical masks are what you're looking for, we have a list of the top 10 surgical mask suppliers in the United States. Get surgical masks from these companies for protection against germs, especially COVID- 19.
Here are the Best Surgical Mask Suppliers In the USA:
Quicklotz.com
Quicklotz is a reliable wholesale liquidation company in the United States, which stocks and sells products belonging to almost all categories. Needless to say, it has a wide range of masks at subsidized prices. The products available here are quality-guaranteed and authentic.
If you want to buy masks in wholesale for your family or for a medical establishment, Quicklotz offers you stock in pallets and cases. You can buy N95 masks as well as surgical masks. Just place your order and the package will arrive at your doorstep.
---
3M
This American manufacturer specializes in cleaners, safety products, lubricants, abrasives, adhesives, insulation tapes, and much more. They are also making different types of masks and supplying them all over the country and beyond. 3M deals in products related to health care, worker safety, and consumer goods.
They claim to be one of the largest manufacturers of N95 and surgical masks in the United States and are working hard to increase their manufacturing capacity each day to meet the increasing demands for protective equipment.
---
The Kimberly-Clark Corporation is an American company that sells its products in over 175 countries. They have specialized products to fight against the coronavirus, like masks, filters, gloves, disposable as well as non-disposable products. They also make paper towels, surgical gowns, incontinence care products, etc.
In their range of masks, you will find surgical masks for medical workers as well as N95 respirator masks. They deliver products all over the USA and also in several other countries. Their masks are made in several sizes, including children's masks. Check out the COVID-19 response page on their website for more information.
---
Moldex-Metric, Inc. is a reliable resource when it comes to the manufacture of healthcare and medical products and equipment. They have their headquarters in Culver City, California. Chiefly, this company manufactures respiratory aids, filter technology, full face masks, etc.
They have flat foldable masks as well, with respirators, along with surgical masks, N95 masks, face shields, and much more. They supply products to many countries across the world, with their primary markets in the US and Germany.
---
Honeywell is a well-known developer and supplier of surgical masks in the USA. It is based in Santa Ana, California and sells its products all over the country. The items they manufacture include respirators, mask filters, cartridges, oxygen masks, etc.
Honeywell has been working hard to support the country in its battle against the coronavirus. They have pledged to take care of their workers' needs and safety and the integrity of their manufacturing plant. They have a range of protective masks, from surgical masks to N95 respirators and masks with or without valves.
---
Based in New Jersey, BD is another leading medical equipment manufacturer in the USA. This company supplies protective gear and also contributes in the research about coronavirus and how to control its spread. Their equipment is reliable and extremely suitable to fight against the current crisis.
Apart from their range of medical supplies, diagnostic products and laboratory equipment, BD manufactures surgical masks, N95 respirators, disposable face masks, reusable face shields, etc. They also provide helpful safety tips and information on their website.
---
This Danish company manufactures diagnostic items as well as life-supporting products. They take care of the development and supply of medical equipment to hospitals, emergency workers, medical professionals, and rescue services. Established in 1937, Ambu has a strong hold over the markets of cardiology, anesthesia, and neurology.
For protection against COVID-19, Ambu is selling face masks, surgical masks, laryngeal masks, resuscitators, and much more. They have a variety of N95 respirator masks, filter masks, as well as disposable face covers.
---
Prestige Ameritech is arguably the largest domestic surgical mask manufacturers. They also make goggles, wound care dressings, N95 respirator masks, catheter holders, and other such medical equipment. Although it is only serving people in America currently, it is still one of the top healthcare product manufacturers in the world.
This company supplies surgical masks, respirators, face shields, fluid resistant face masks, anti-fog masks, filter respirators, etc. You can also order customized masks from their website.
---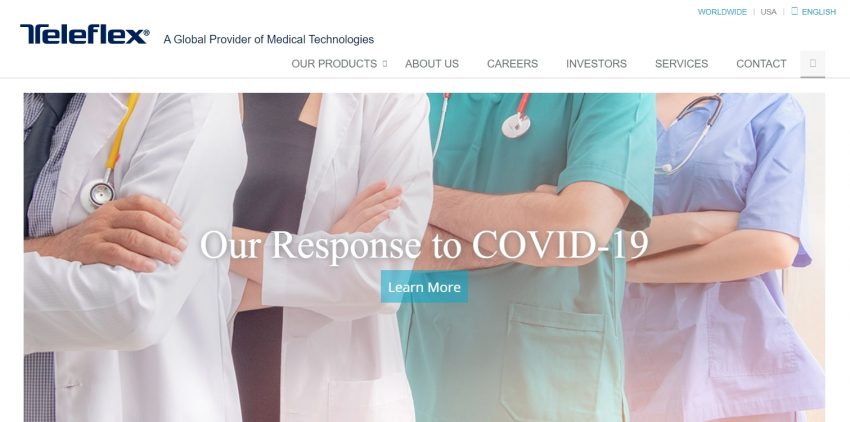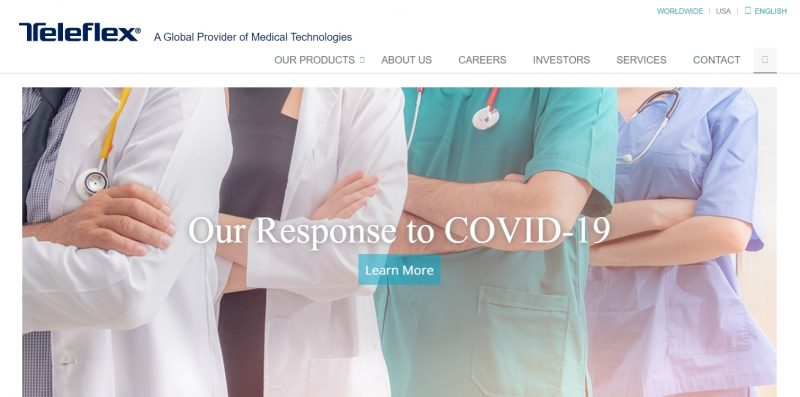 Teleflex makes and sells disposable medical tech equipment, hospital supplies, protective gear, and so on. They are based in Wayne, Pennsylvania and have manufacturing units in several locations in the US, Mexico, Malaysia, Germany, and the Czech Republic.
They are one of the world's leading manufacturers of surgical masks. They ship products to over 40 countries and supply aid to medical professionals all over the world. They also make respirator masks, surgical covers, gowns, gloves, operation theatre accessories, and much more.
---
Alpha Pro Tech is a reliable manufacturer and distributer of medical supplies and personal protective equipment. Their products have been approved by the NIOSH and are trusted by leading medical experts. You can buy different kinds of protective gear from this company, like masks, covers, gloves, gowns, etc.
Their mask range includes face shields, surgical masks, N95 masks, beard covers, veils, respirators, etc., along with hoods, scrubs, dental tools, industrial and pharmaceutical cleaners, infection control paraphernalia, and much more. Their products come in both disposable and non-disposable varieties.
---
Masks help to keep medical workers as well as common people safe from the coronavirus, so they are an important object to have at this time. Make sure you're stocked up for the quarantine days!